A Southern Book - The Majorettes Are Back in Town is a guest post by my college friend, Phi Mu sorority sister and author, Leslie Anne Tarabella. She has written a wonderful book called The Majorettes Are Back In Town: And Other Things To Love About The South.
On the far left is your dear blog hostess, Lise — Mom Loves Baking, before she was ever a mom. She was a cutie and everyone loved her. If you look closely underneath all the hair next to Lise, you'll see . . . ME! I'm surprised I could hold my head up straight with the 20 pounds of hair and Aqua Net holding it all in place! Adorable Debi and Beth and with us, just hanging around the Phi Mu house being our glamorous young selves.
If someone had whispered to us, "someday the two of you will be bloggers!" we would have looked at them like they'd just said a bad word. Blog? Bloggers? What's that? Grody to the Max! Gag me with a spoon! That is like totally rad, but lame!
But oh my . . . look at us now.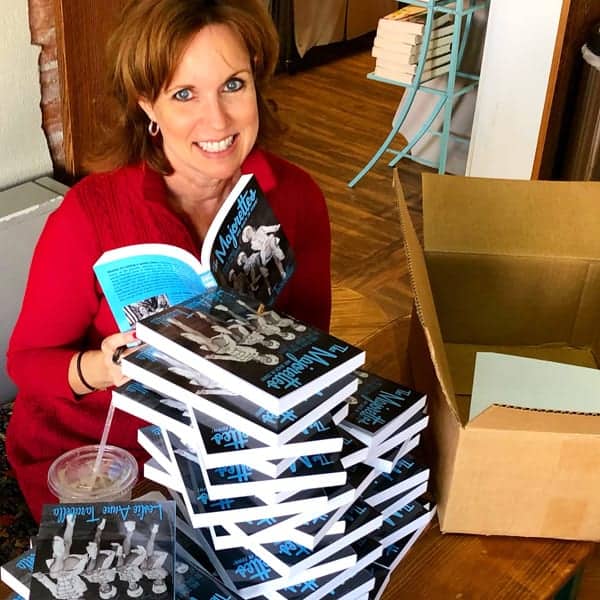 Lise has found her calling as a baker extraordinaire and my blog has led me to a career in writing. My weekly column appears in the Mobile, Birmingham and Huntsville Alabama papers as well as along the Mississippi Gulf Coast. Lise has become the expert on all things fun, easy, quick, beautiful and delicious from the oven. She's won major contests for baking and has successfully found a way to combine family with her amazing career.
The funny thing is, in college, when this first photo was snapped, I was the baker. I had some of the Phi Mu's over to my apartment one day to help bake cookies for the Sigma Phi Epsilons who were holding a contest between the sororities, and what better way to sway the vote than to go through their sweet tooth? Lise wasn't there, probably because she was studying and being nice to people — hahahaha! – but really . . . we baked our hearts out and won that contest! Even without our future baking queen helping us!
I have over 200 cookie cutters and at one point after college actually had a cookie business, producing custom cookies for weddings, birthdays and other special moments. I quit the business when I looked around my house one Christmas and it looked like a powdered sugar factory had exploded in my kitchen and sprinkles were sparkling on my eyelashes. My children told their teachers all they'd had to eat in a week was cookie dough and Royal icing. (tattle tales!). I realized I had allowed the work part to overtake the fun part of baking and decorating I originally loved. I was kind of lost and didn't know what to do.
God shows us surprises every day, and my blog was definitely one of those strange adventures I tried, then the local newspaper called and asked me to write a column, then the larger AL.com approached me about working for them and all of the sudden . . . I had a book — The Majorettes are Back in Town!
Well, mercy doodle dandy! Who knew? (say "God did" and you'll get a gold star).
Both Lise and I have been led down paths that God knew we would love. Baking. Writing. Raising our children. In love with our dreamy husbands. Serving our churches and communities. It hasn't been perfect with rose carnations thrown in our paths every day, but we are happy real-life grown-ups with lives we love and cherish. God knows what we'll love before we do and He has plans to delight us just like a real earthly father!
Cookies, blogs, photography and books. Lise and I are probably in total shock over the paths our lives have taken, yet at the same time I think we knew all along God would see us through to take us to the exact place he wanted us at the exact right time. It comes down to trust and listening. Trusting God will use us to do His will and listening to His directions. (and humming a few verses of the old Phi Mu songs while we wait doesn't hurt . . . "If they could see me now, that little gang of mine, I'm pledging with the best Phi Mu is just my kind . . .")
I'm not the awesome cook and recipe designer Lise is, but my book, which is a collection of my most popular columns, does contain an entire section of stories about "Our delicious Southern Food" with short stories like; Everything old is Roux again, My shameful Southern secret (hint – I don't like sweet tea!), and BBQ is a food, not a party in your backyard. A few recipes for old timey favorite dishes are thrown in, so if you have to go to dinner on the grounds you'll have something good to take (don't you dare show up with store bought vittles in a store-bought plastic container). Gracious, what has the world come to?
What is God's plan for your life? Is He showing you a new gift or passion and wanting you to be bold and give it a try? It may not be baking or writing, but maybe it's your skill as a good listener or as an encourager that will lead you to a new adventure. Who knows? (say "God!")
Hugs to my darling college friend and all of you — her loyal readers. I invite you to pop over to say hello at my blog sometime HERE and you can find my book on Amazon HERE.
Thanks, Lise and happy baking and reading to all of you!
Leslie
Leslie Anne Tarabella is a columnist with AL.com newspapers in Mobile, Birmingham and Huntsville, Alabama. Her book, The Majorettes Are Back In Town, is full of fun Southern short stories. Click here to read more about Leslie Anne.
About her book: The Majorettes are Back in Town is a compilation of Leslie Anne's most popular columns from the last five years from newspapers in Mobile, Birmingham and Huntsville, Alabama as well as Mississippi, Leslie Anne Tarabella focuses on quirky and warm Southern values. Finding joy in any occasion and turning it into a reason to celebrate, these short stories will make you laugh and bring you to happy tears. With a loyal following of not only Southerners, but those who are Southern at heart, Leslie Anne knows how to tell an engaging story. Well mannered children, brides who can't keep their strapless dresses pulled up, and the love of family and friends are all topics covered in this entertaining book. "Welcome to the world of a modern woman who holds fast to her beliefs." — review, Harriet Outlaw, AL.com If you love dinner on the grounds and a good deviled egg, and if your mama told you to "sparkle and shine,"this is a book you'll love.
Follow Leslie Anne on Facebook or Instagram.
Order the book on Amazon here.
For information and to read reviews on the book, go here.
Note from Lise: Has this post gotten you to crave sugar cookies? Here's Lise's favorite sugar cookie recipe for the holidays... Mary's Sugar Cookies (from my Aunt Emily in Dothan, AL). The recipe actually came from a Betty Crocker cookie book from 1965. They are slightly crunchy on the outside and very soft on the inside with a hint of almond flavor. Yum! Click here for the recipe.
I hope you enjoyed this guest post - A Southern Book, The Majorettes Are Back In Town. If you liked it, please share on social media. Share on Facebook, Instagram, Twitter or Pinterest! Thanks!