This shop has been compensated by Collective Bias, Inc. and its advertiser. All opinions are mine alone. #PurelySimple #CollectiveBias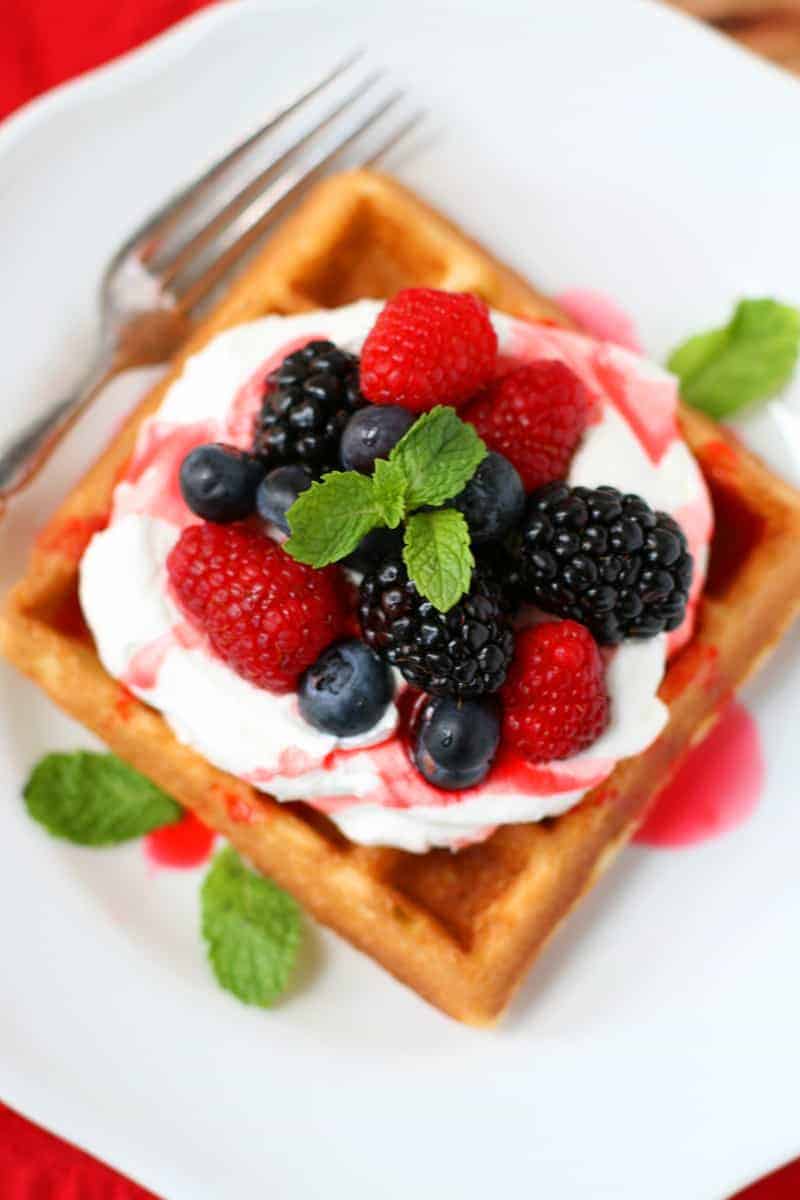 It's your lucky day! This is like a THREE for ONE blog post. Today I'm sharing how to make delicious waffles from cake mix in two flavors (white cake and chocolate cake) AND ALSO how to plan a fun Waffle Bar Party at home!
Did you know that you can make AH-MAZING waffles using cake mix? I used the new Pillsbury Purely Simple White Cake Mix for these berry-licious dessert waffles. The great thing about these new cake mixes is that they have no preservatives, artificial colors or bleached flour. In other words, they're just plain good! I can definitely tell a difference. So yummy!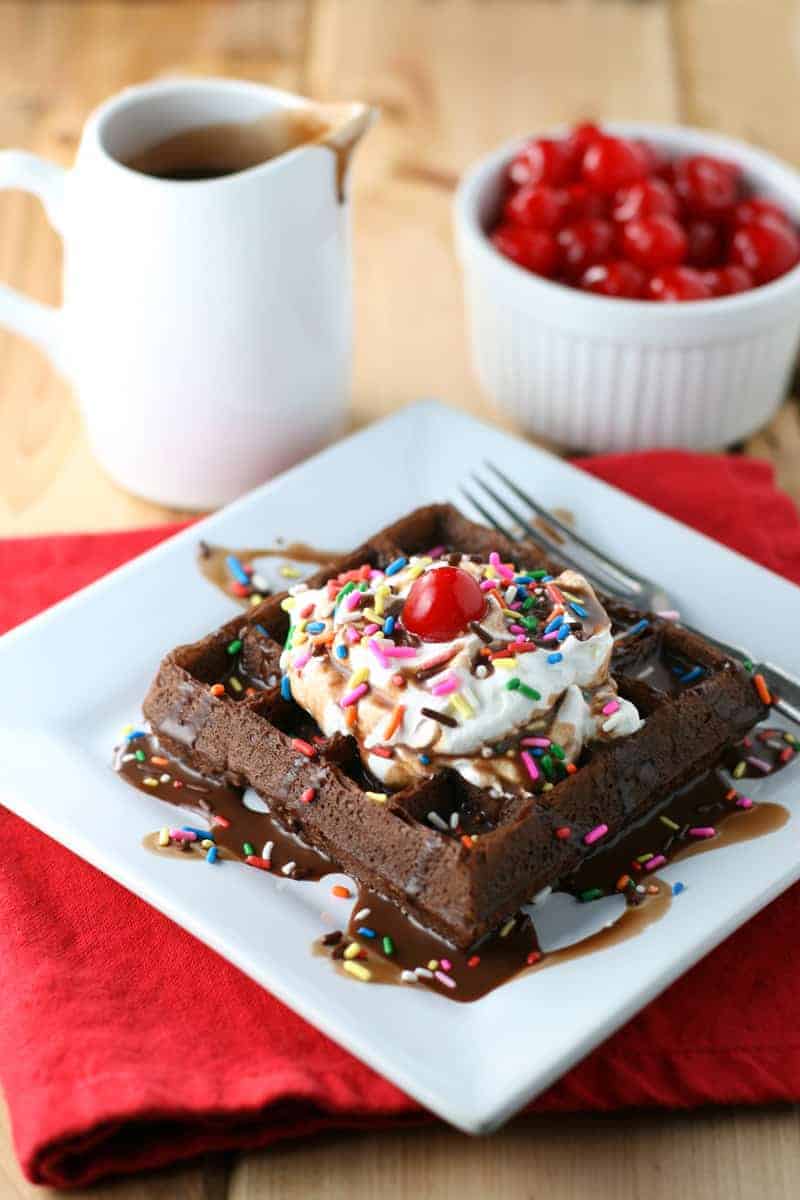 Then I used the new Pillsbury Purely Simple Chocolate Cake Mix to make these "hot fudge sundae" Cake Mix Waffles. How gorgeous are these!
Note: Can you see the HEART shape in the hot fudge sauce on the right side of the plate in this photo? That was a total accident. Don't you love it? It reminds me of when you can see fun shapes in the clouds. I guess what I'm trying to say in hot fudge sauce is that I HEART these waffles. Chocolate is my love language after all. Ha!
But seriously folks, you've gotta try these Cake Mix Waffles! So, so, so, so good!
The new Pillsbury Purely Simple Cake Mixes were easy to find at Kroger on the Cake Mixes aisle. They also have Pillsbury Purely Simple Brownie Mix.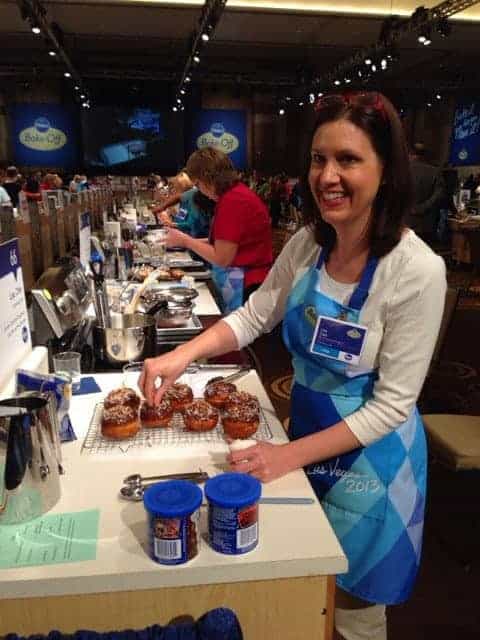 I'm a big fan of Pillsbury products. I was even a finalist in the Pillsbury Bake-Off two years in a row. It was a dream come true for me. Ever since I saw the bake-off on tv back in 2003, I knew I wanted to be a part of it one day. It looked like so much fun. I never thought it would actually happen though! Click here to read more about my bake-off experience. You can also check out my winning recipes for German Chocolate Doughnuts (2013) and Lemon Blueberry Muffins (2014).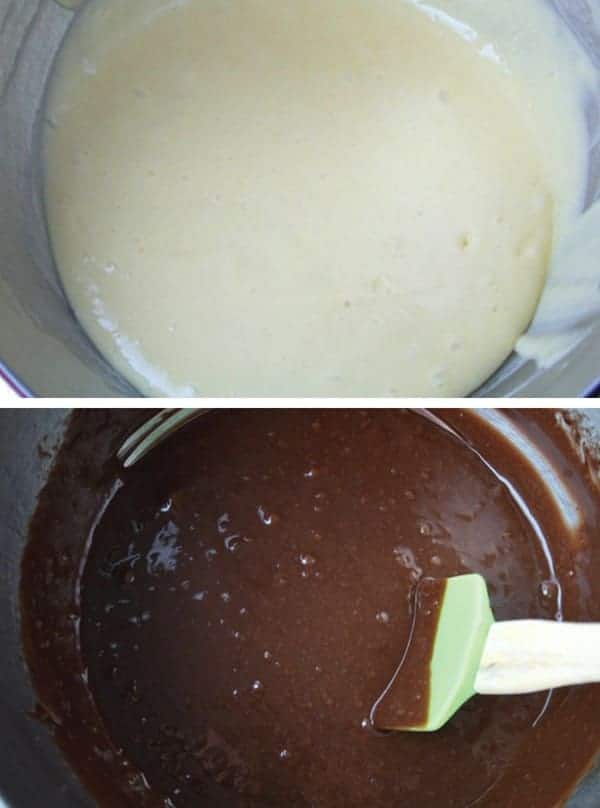 Making the waffles from cake mix was super easy. For the white cake mix, I added 1 cup of water, 1/2 cup of vegetable oil and 3 eggs. I mixed it on low with an electric mixer for about 30 seconds, then turned it up to medium for 1 1/2 minutes. Then I did the same thing for the chocolate mix.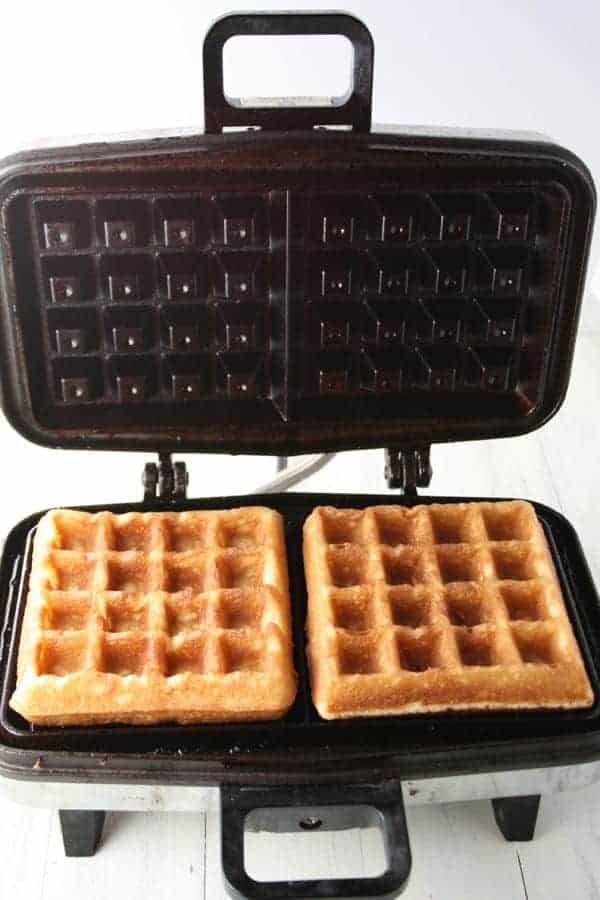 Waffle irons differ slightly, so you will need to follow the manufacturer's instructions for yours. For mine, I brushed a little bit of oil on the waffle iron before pouring the batter. I used about 1/3 cup of batter for each waffle, closed the preheated waffle iron and let it cook for 1 1/2 minutes.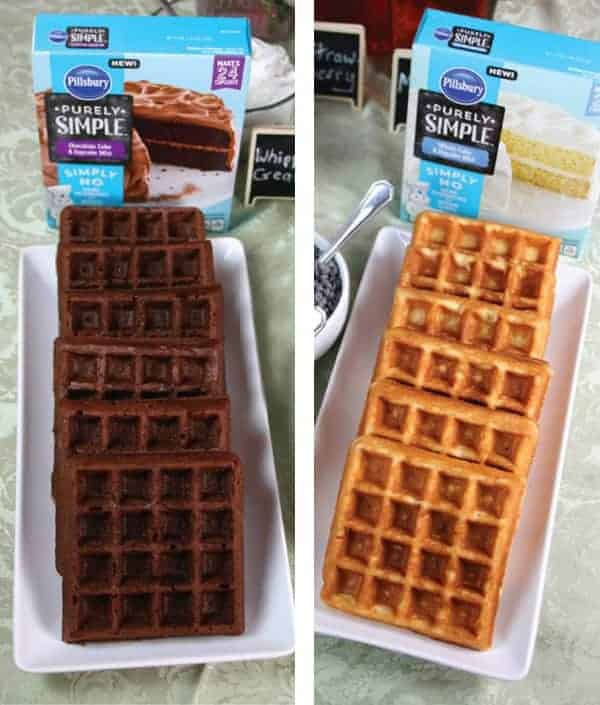 Each box of cake mix made 12 waffles, so I ended up with 24 waffles total. You might be able to make a few more or a few less, depending on the size of your waffle iron.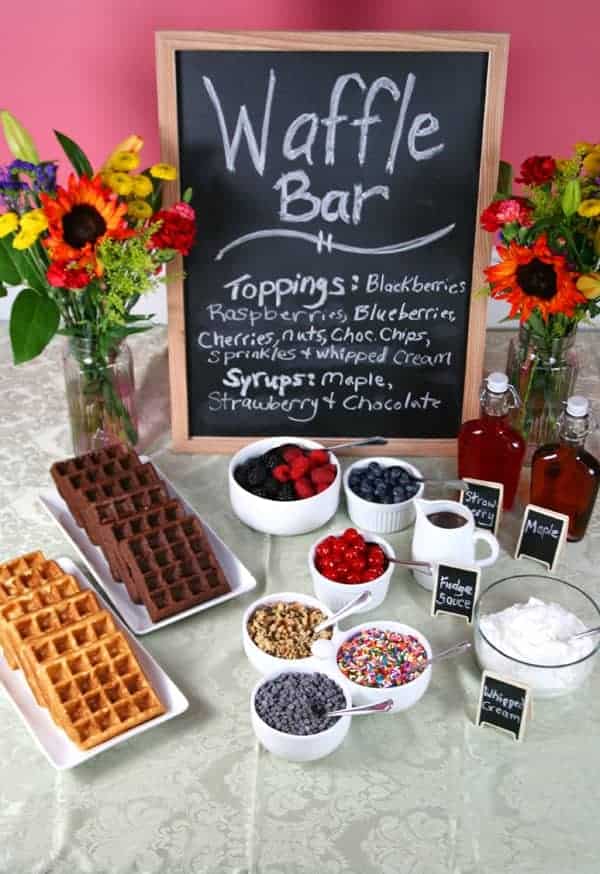 To make my waffle bar look fancy and a bit like a restuarant, I used a black board to list all of the toppings and syrups. You can pick your favorite toppings and syrups for yours.
My Waffle Bar Party was for a ladies bunco night. The toppings I chose were to create delicious dessert waffles. But you could also create a Waffle Bar to serve to guests as a brunch or mid-morning party such as a bridal shower or baby shower. If I was serving them as a breakfast item, I would change the toppings. Yogurt, honey, oatmeal, nuts, raisins, fresh fruit, butter, powdered sugar, etc. I might serve bacon and sausage on the side as well.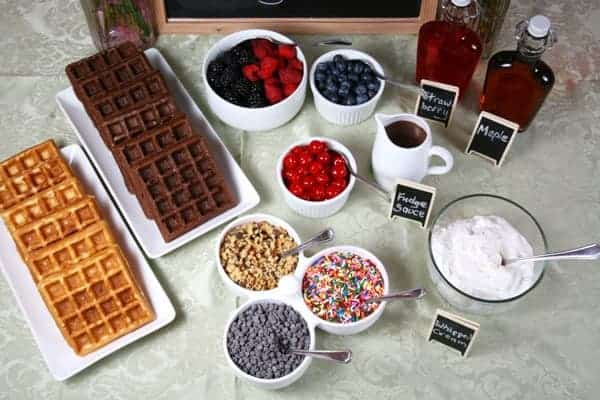 These are the toppings that I chose for the dessert waffles: Raspberries, Blueberries, Blackberries, Cherries, Nuts, Sprinkles, Chocolate Chips, Whipped Topping, Hot Fudge Sauce, Strawberry Syrup and Maple Syrup.
It's so much fun for guests to be able to create their own dessert. There are so many wonderful combinations you can make with these awesome toppings, paired with these scrumptious chocolate and white cake mix waffles!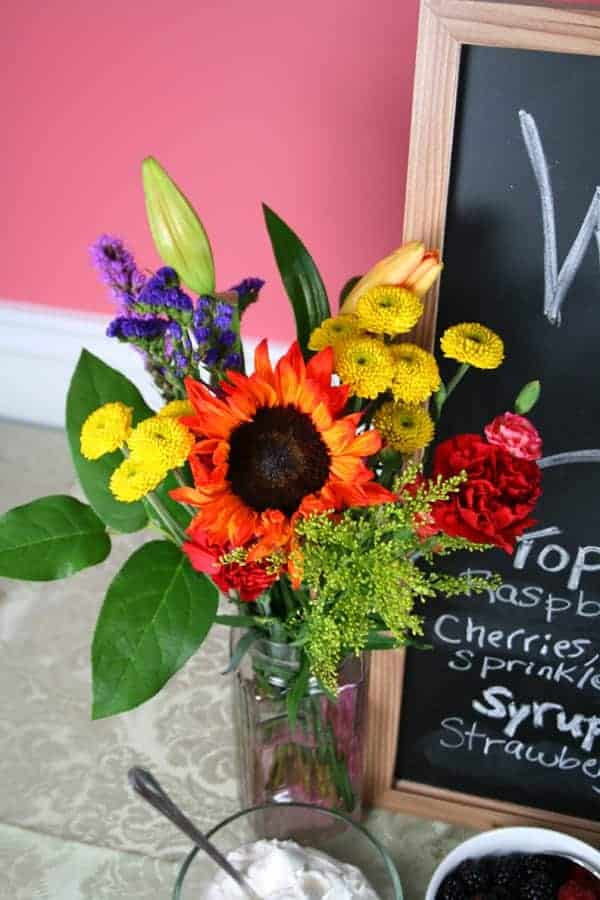 Fresh flowers are always a nice touch at any party. I love how they framed the table at my Waffle Bar! The pop of color is just beautiful!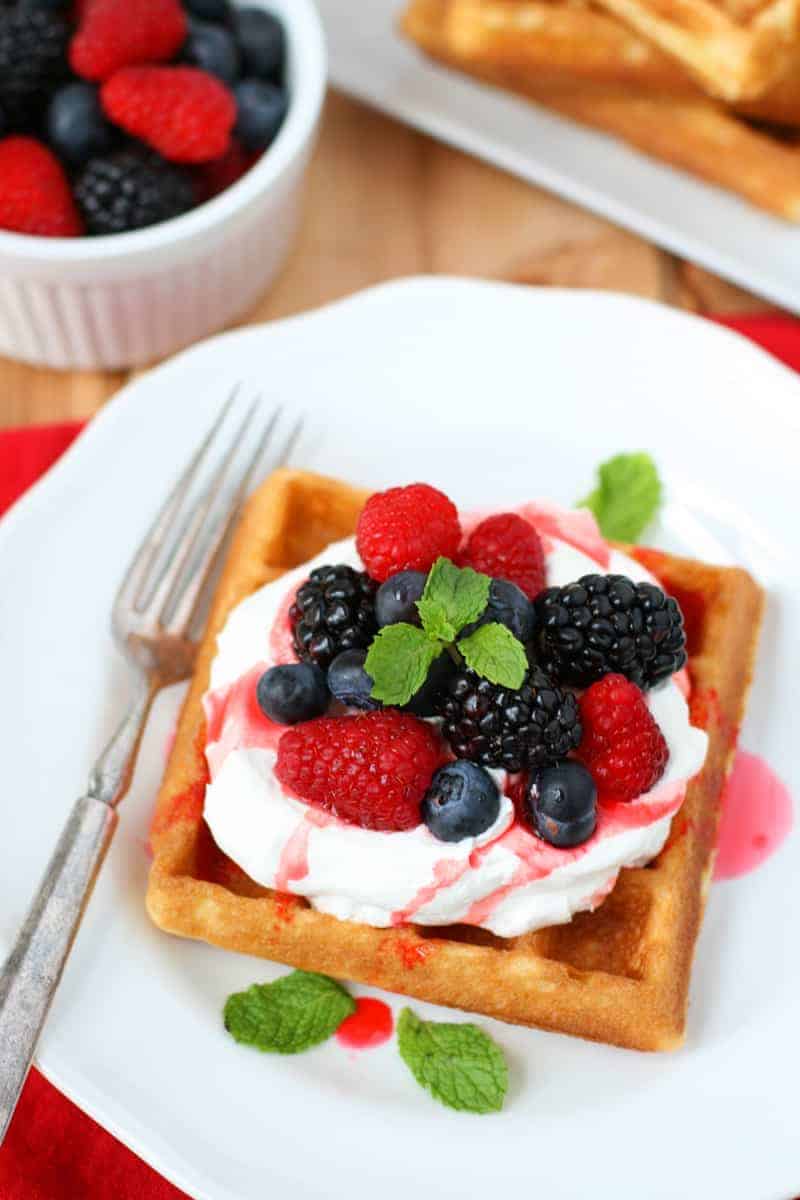 For the white cake mix waffle, I thought berries, whipped topping and strawberry syrup would be lovely and I was right. Good to the last crumb!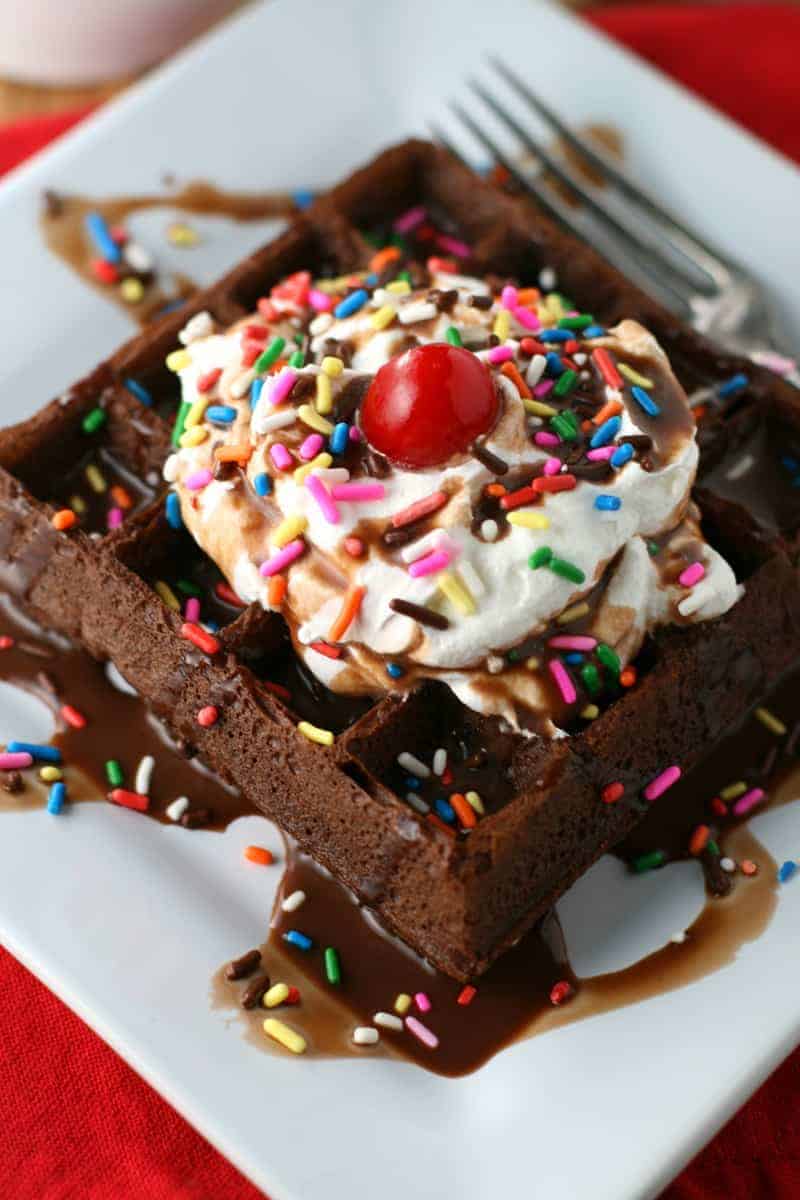 This is a great combo for chocolate lovers. Chocolate Cake Mix Waffles drizzled with hot fudge sauce, sprinkled with sprinkles, whipped topping and of course, a cherry on top. Such an amazing dessert!
If you were at my party, what flavor waffle would you choose? What would be the perfect topping combination for your dessert waffle? I'd love to hear your ideas in the comment section below!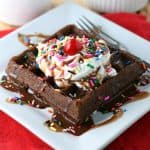 Print Recipe
Cake Mix Waffles
Servings:
10
-12 waffles (depending on waffle iron size)
Ingredients
For the waffles

1

box Pillsbury Purely Simple Cake Mix

Flavor of your choice - white or chocolate

1

cup

water

1/2

cup

vegetable oil

3

eggs

For the hot fudge sauce

1

cup

hot fudge

3/4

cup

heavy whipping cream
Instructions
For the waffles

Place all ingredients to a large bowl. With an electric mixer, beat on low for 30 seconds. Turn mixer up to medium speed and beat for 1 1/2 minutes.

Heat waffle maker according to manufacturer's instructions. If it's not non-stick, then you will need to brush waffle iron with vegetable oil or spray with non-stick cooking spray.

For each waffle, pour batter onto center of hot waffle iron (check manufacturer's instructions for batter amount). I used 1/3 cup of batter for each square waffle. Bake for 1 1/2 - 2 minutes or as directed in your manufacturer's instructions. Carefully remove waffle to a cooling rack. Repeat process for remaining waffles until batter is gone.

Serve waffles warm or cold with hot fudge sauce and/or toppings of your choice. Store in covered in refrigerator for up to 3-5 days.

For the hot fudge sauce

Place the hot fudge and cream in a small, heavy saucepan over medium low heat. Stir until smooth and heated all the way through. Do not let it boil or burn. Remove from heat as soon as it's smooth and thin enough to pour. Add more cream if it's too thick. Store in air tight container in the refrigerator for up to 1 week.

Topping suggestions include: Berries or fruit of choice, nuts, chocolate chips, sprinkles, cherries, whipped cream, strawberry syrup or maple syrup.