How to Grow a Huge Instagram Following Organically is a blog post by Lise Ode, author of the Mom Loves Baking food blog.
Do you have an Instagram business account? Are you trying to grow your following but getting frustrated because it's not growing? I understand how you feel!
I'm a food blogger and have been using Instagram since 2012. I started my account before my blog which I first published in 2013. Instagram is a great resource for bloggers who want to drive traffic to their site which is what I was trying to do for over 4 years without any luck. My Instagram initially grew to 2,000 followers then just got stuck there for several YEARS! I was doing everything I thought I was supposed to do to grow it. I was posting fairly regularly and engaging with my audience but it wasn't working!
Do you have the same problem? Have you been trying everything you can think of to grow your Instagram and nothing is working? I get it! It's totally frustrating!
I discovered a simple system to growing my Instagram and my account finally started to grow! My account grew from just 2K followers to now over 155,000 followers in just a little over a year! FINALLY! I found something that worked! And guess what, not only is Instagram driving traffic to my website, but I'm also earning INCOME directly from my Instagram account which is so amazing!
Between Brand Sponsorships, Affliliate Marketing, and Selling Shout-Outs, I'm making more income than I ever made from my blog alone! To give you an idea, I've made over $5,000 just from my Instagram account in the last month! And as my number of followers goes up, I can earn more! This is real money that contributes to my family's income in a big way!
I'm so excited about my Instagram growth that I want to teach you how to do it too! I recently launched an online course: The Secrets to Growing a HUGE Instagram Following Organically and with Real Engagement! In this course, I've recorded 8 instructional video modules where I spell it all out clearly. It's a very simple system which WORKS! It takes a time commitment of at least 1-2 hours per day. Once you learn the easy steps I'm teaching then you will be on your way to growing your Instagram business account. You can gain 300-500 new followers every single day, organically and with real engagement. Then you will be on your way to earning an income from your Instagram account too! The growth doesn't happen overnight but after a few months, you will see the numbers starting to go up and up. And then it will just keep growing as you keep working on it!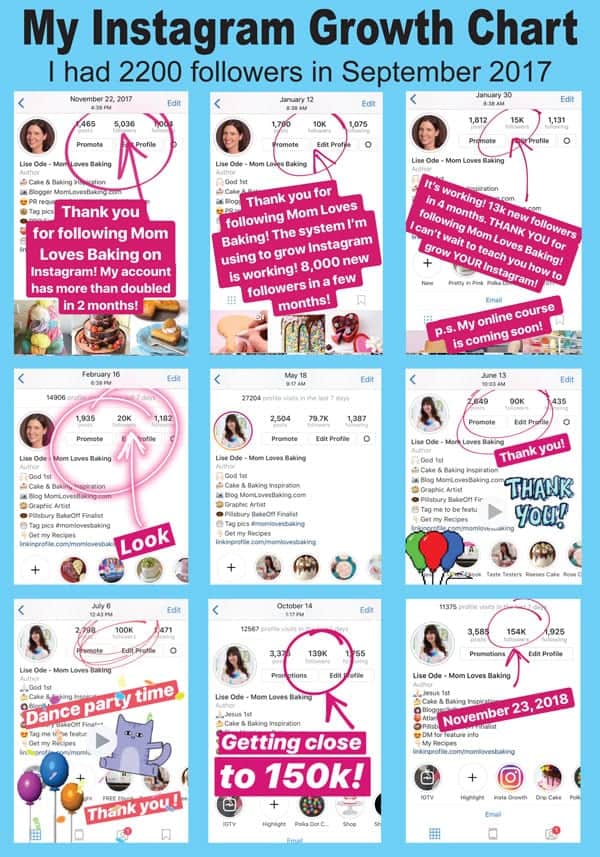 Do you want to grow your Instagram business account by 300-500 NEW followers every day?
I can't wait to show you how! If you're interested, take my quick survey to see if your business is a good fit for this program. Click here to take the survey.
Note: I'm offering 30% off through Cyber Monday 11/25/2018 which is a great savings, so if you're interested, go ahead and take the survey to see if you qualify.