How to Make Patriotic Sugar Cookies is a guest blog post by contributing author, Jill Chidre of Nibble Cookie Co.
Jill just launched a FREE online class teaching you how to make these adorable cookies. Click here for the video class. Scroll to read Jill's cookie story, plus more how to's and helpful hints on creating super cute decorated cookies!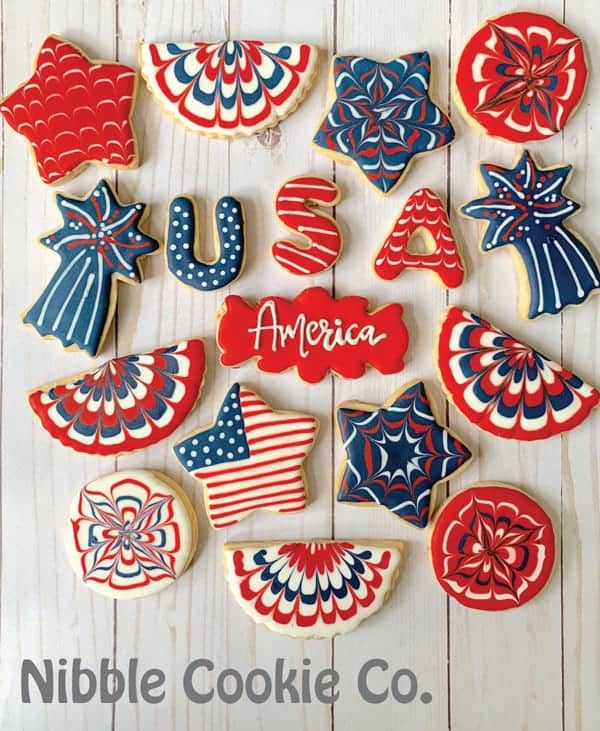 The Art of Cookie Decorating
Have you ever caught yourself in a memorizing loop of watching awe-inspiring, cookie decorating videos? I'm pretty sure we all have, myself included, and I'm a professional cookie decorator! It's easy to watch those clips and think it's something you could never do, but I'm here to convince you that you absolutely can. Like many artistic endeavors, cookie decorating is a learned skill. Many cookiers, like myself, are self taught through trial and error. The kitchen is a great place to flex those adventurous muscles!
How I Learned to Make Cookies
My love affair with cookie decorating began about 8 years ago. I'd like to be able to share a memorable story about my early inspiration, complete with an illuminating epiphany and angels singing, but it didn't exactly progress like that. I just wanted to make impressive looking desserts for my kid's parties and school events. Yes, I am that mom. However, what I found was a creative outlet so fulfilling that I wouldn't stop until I'd mastered technique after technique. This didn't always result in victory. There were vast numbers of horribly hideous cookies sacrificed along the way, many ending up on the scrap heap of my husband's late night snack plate. It's here I'll insert important life lesson #1: I KEPT TRYING! I'd pick myself up off the floor, dust off the flour and try-try again.
From Beginner to Teacher - Cookie Decorating Classes
In 2017, I began teaching decorated cookie classes. I was surprised at selling out multiple classes a month and realized people were not only eager to learn this craft, but also eager to engage in creative community. The cookier community, especially, is one of a kind. Much like the cookies we create, it's filled with different shapes and shades of people all united by the love of cookie art!
From the Classroom to Online Classes
Once I'd maximized the number of classes I could reasonably teach per month (hello, busy homeschool mama of three kiddos!), the momentary constraint served as a catalyst for me to explore additional, more far-reaching outlets. The online community deeply added to my early success as a cookier and is a key part of cultivating the creative community I envision. Online classes have allowed me fellowship with burgeoning cookiers well beyond the confines that my super-cool mini-van can take me (I did mention the three kids.)
You Can Do It Too
The best thing about decorated cookies is that cookie art can be as simple or elaborate as you want. I teach beginner students basic, eye catching techniques that are adaptable for many occasions. These serve as a springboard for more elaborate designs as your skills grow. I believe setting you up for cookie success, from the beginning, is critical for nurturing your creative confidence.
Cookie Decorating Resources Online
I want my online community to feel completely equipped to create their own decorated cookies at home. I've created tutorials starting at the beginning with dough prep, making royal icing, and then thinning it down to the desired flood consistency. All these helpful tutorials can be found on YouTube and on Instagram.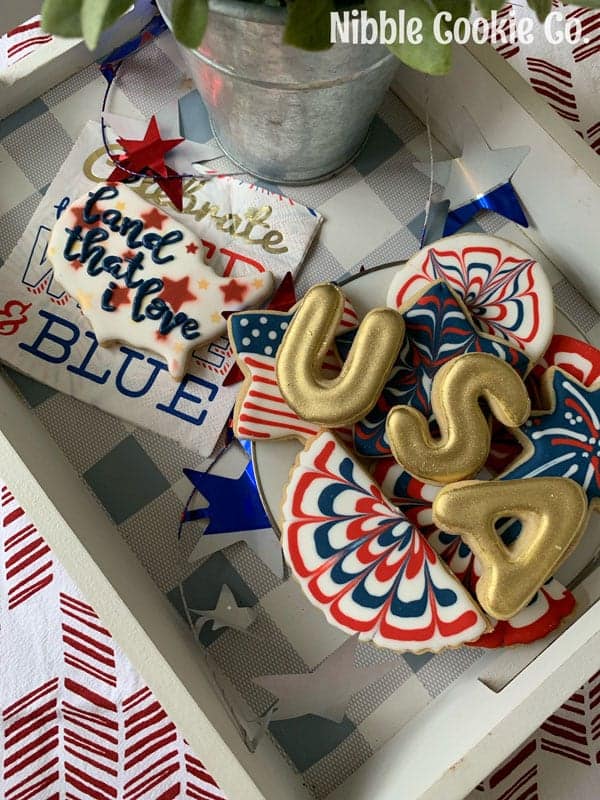 My FREE Online Patriotic Cookie Decorating Class
My step-by-step, virtual cookie decorating class was created with the beginner cookie decorator in mind. With unlimited access, you can press play as many times as needed to master each cookie decorating technique. So, quit oogling the decorated cookie videos and allow me to virtually walk you through creating your own cookies! After all, decorated cookies are every occasion! Click here for the FREE How To Make Patriotic Sugar Cookies class.
Have fun, be playful and keep up the kitchen adventures!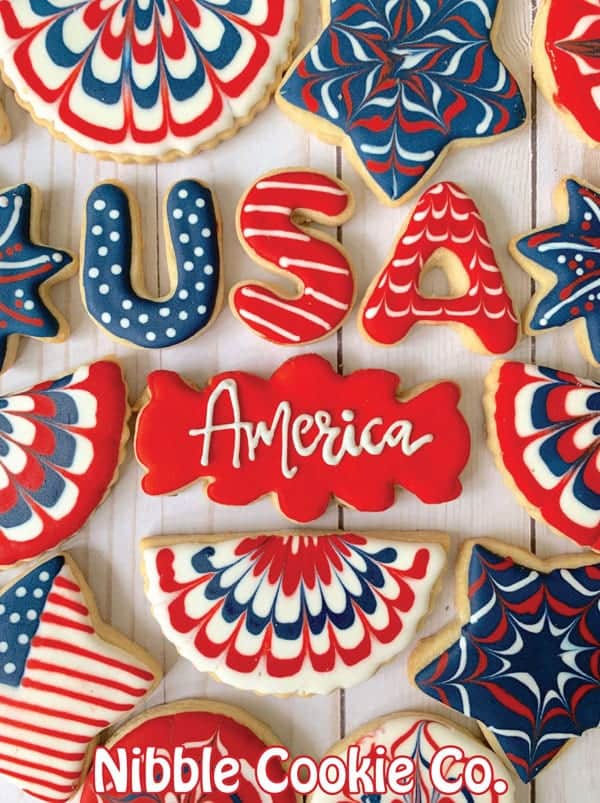 Now, a few helpful tips before you get started…
-I recommend just 4 products to get started. Product recommendations can be found at here.
-Always use concentrated gel colors for coloring your icing. I like Americolor (bonus- it's Amazon Prime!) Grocery store food colors will not get the job done.
-For cookies that keep their shape, it's necessary to use a dough recipe specifically for decorated cookies. I'll email you a great recipe after joining the class. My personal favorite recipe is the Chocolate Chip Cut Out Cookie recipe from Semi Sweet Mike.
-I DO recommend making your own royal icing, but I have seen a few students have success with some store bought cookie and decorating icing.
-As a beginner, use a thick flood icing to both outline and flood cookies. This way, you are only mastering one consistency icing at a time.
About Jill: Nibble Cookie Co. is a family owned, small business in North Georgia. As a cottage baker, Jill provides her local market with specialty, custom decorated cookies, but her true passion is teaching others the art of cookie decorating. Teaching others her craft is the perfect blending of her educational background and mastery of decorating skills. For those curious but intimidated by the prospect of decorating their own cookies, she'll leave you with the following quote:
"I am always doing that which I can not do, in order that I may learn how to do it." ― Pablo Picasso
I hope you enjoy this How to Make Patriotic Sugar Cookies guest post!
Check out more Patriotic Desserts on Mom Loves Baking...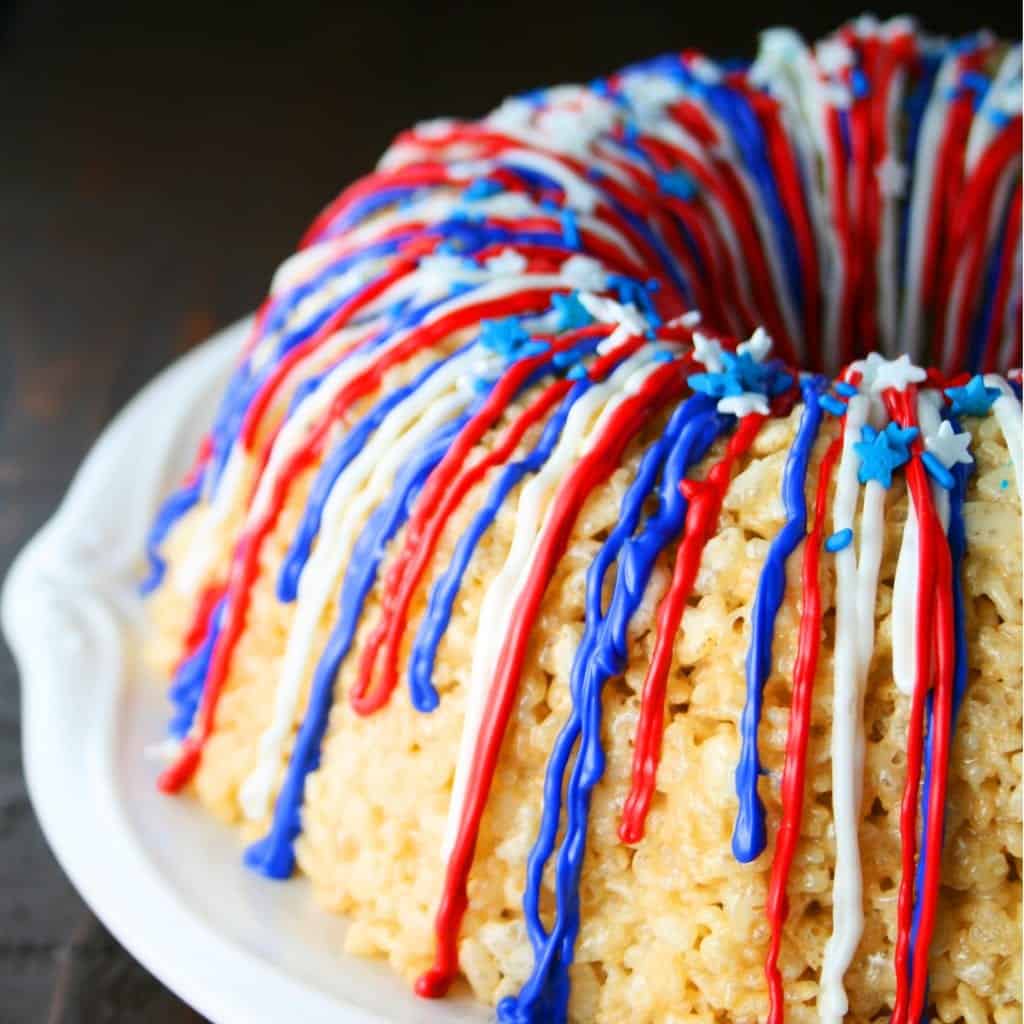 Red, White and Blue M&M'S® Candy Cake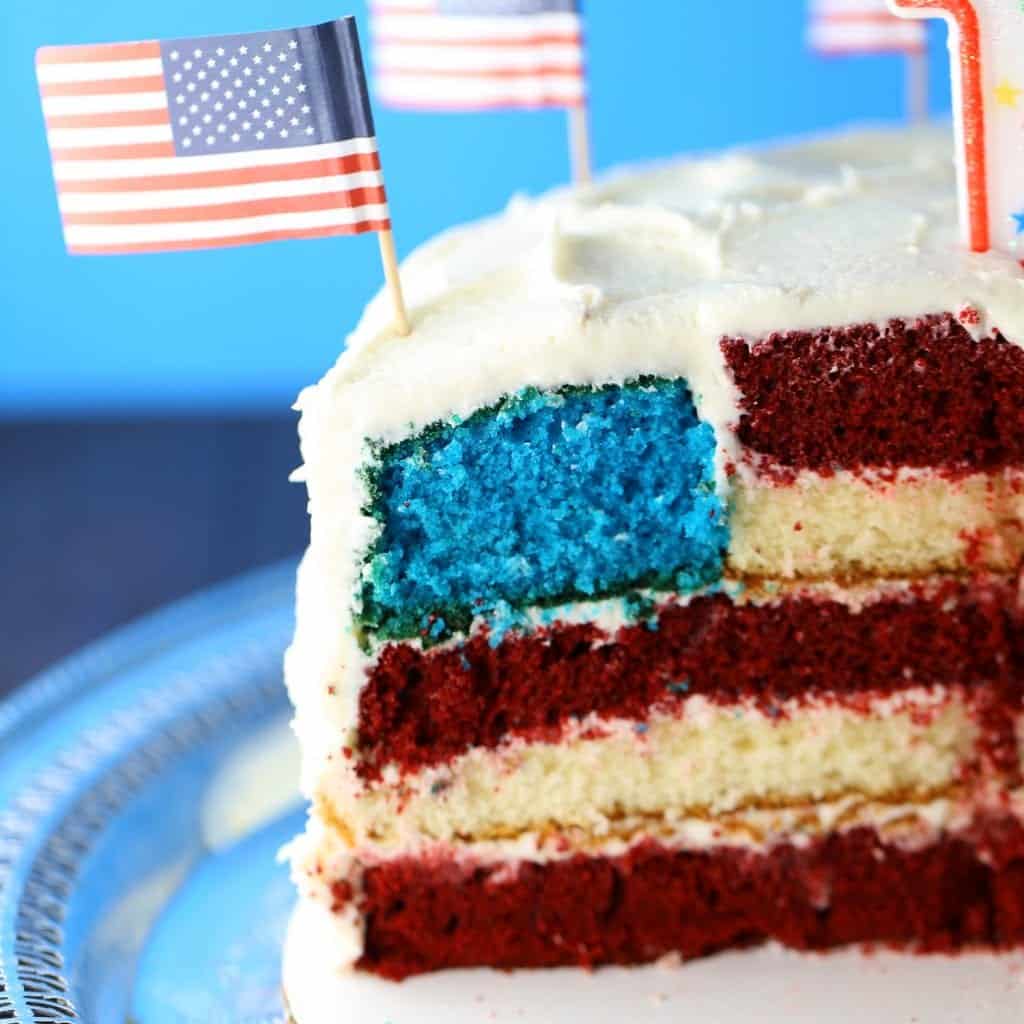 Don't forget to PIN to Pinterest!