Author Amy Lyle shows me how to make what she calls, "the easiest dish on the planet." Baked Spaghetti is a casserole with layers of pasta, meat sauce and cheese and it truly is the easiest dish on the planet!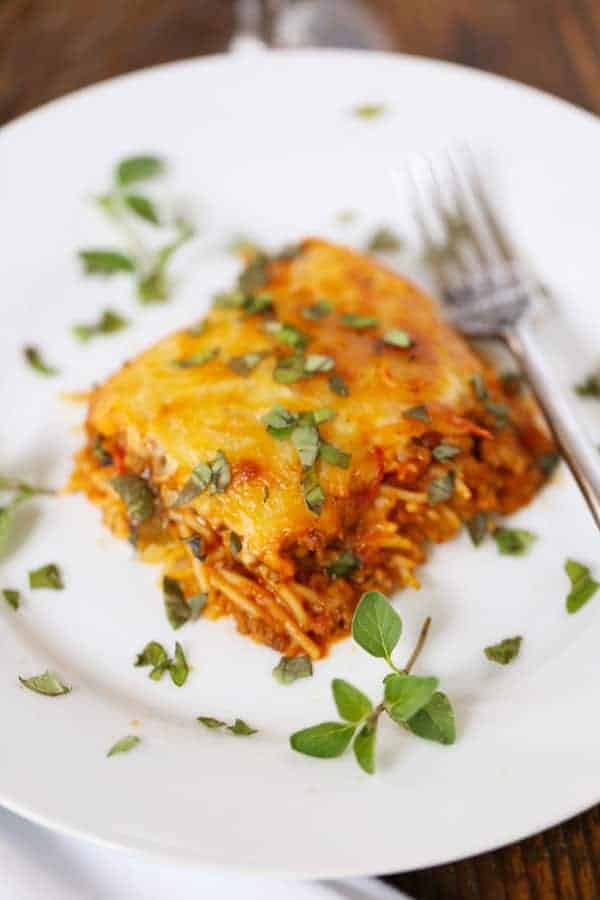 Hello Friends of Mom Loves Baking! I'm Amy and I am culinarily challenged, BUT when Lise asked me if I had ever heard of baked spaghetti, for the first time in my life I could offer a recipe.
My mother grew tired of watching spaghetti grow cold because my father was returning home from work late. Her solution, smothering the dish with cheese and popping it into the oven, making baked spaghetti a family favorite.
To get started: Crank your favorite music and open a bottle of wine. Cooking is more enjoyable with Ed Sheeran and a bottle of Cabernet.
What you will need:
A half a box of noodles- my favorite is angel hair but you really could use just about any noodle including ziti or penne
1 large jar of marinara sauce- any flavor- sausage, red pepper, garlic and four cheese are my favorites, sometimes I mix a jar of marinara with a jar of vodka or alfredo sauce
1 pound ground meat – hamburger, veal, turkey burger, sausage or a mixture (this dish tastes good without meat as well).*
2-4 cups of mozzarella
Optional:
Fresh or dried oregano, garlic and basil, to add to sauce and as garnish. Fresh or canned diced tomatoes, seasoned or unseasoned
Olive oil- to drizzle on bread.
Parmesan cheese, to taste.