When you're baking for a movie star, may I suggest the Hollywood Walk of Fame Star Cake (yellow cake with fresh strawberries, buttercream and a personalized Hollywood star made of fondant).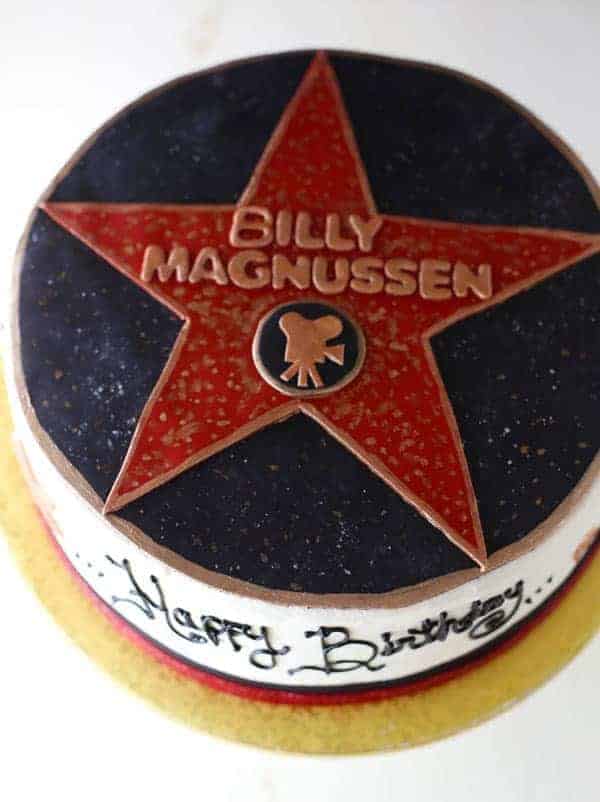 I'm so thrilled to share this cake with you! But this isn't your typical food post.
This is more of a story than a recipe, although I will share how to make my favorite buttercream frosting at the end of this post along with my secret. I made this Hollywood Walk of Fame Star Cake for a very talented, young actor named Billy Magnussen. He is from Cumming, GA where I live and just happens to be filming a movie here in the Atlanta area.
You might have seen Billy in the blockbuster films The Big Short or Bridge of Spies. Or maybe you saw him in Into the Woods as the handsome prince. He also played Kato Kaelin in the tv series called American Crime Story which aired last year. He got his start on As The World Turns where he played Casey Hughes from 2008-2010. Coming soon, you can see him in his latest film called Ingrid Goes West, due to hit theaters in August. Click here to see Billy's IMDB (Internet Movie Data Base) page.