To Cruise or Not to Cruise? 5 Tips for the First Time Cruiser is a travel post by contributing author, Amy Lyle who shares her tips and experience cruising the Bahamas with her family on Royal Caribbean Cruise Lines at Christmas time.
Amy Lyle is an author and filmmaker that lives in Atlanta with four teenagers and three dogs.
Click here to buy Amy's latest book on Amazon: We're All A Mess, It's OK!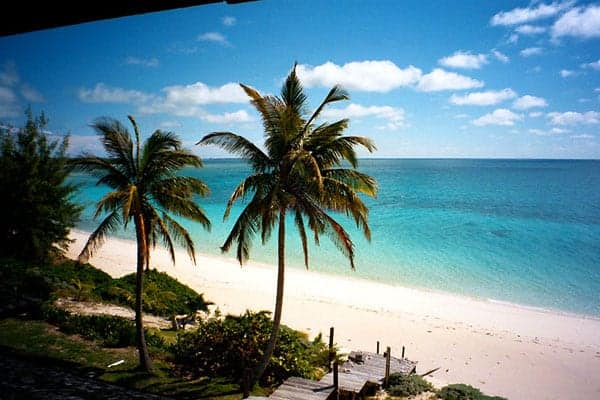 We have two kids in college and two in high school. Over the holidays we decided to give the gift of an adventure- we went on a cruise to the Bahamas. We caught our ship out of Cape Canaveral, Florida.
BOARDING A CRUISE SHIP
Checking in feels similar to booking a rental car- you enter an enormous, clean, parking lot with staff waving you into the correct spots. Next, you weave through various security checkpoints and photo booth opportunities while listening to Caribbean music. You wind around, not unlike the waiting line at a theme park to board the eleven-story ship.
LET GO OF YOUR LEO DICAPRIO FANTASY
My only exposure to cruise ships was the movie Titanic. I had envisioned a similar experience, complete with the wide, sweeping staircases, bronze cherubs, and Turkish baths. I expected all of it really- Celine Dion singing, giant suites, and a violin band- everything except for my outfits (no corsets) and the sinking part. I was mistaken.
Once we boarded the ship we were greeted by dozens of staff members clad in white oxfords with black vests and bow-ties, but they were not offering us martinis and showing us to our staterooms, they were aggressively pitching everything from upgraded dinners, Marlboro cigarettes, and all-you-can-drink packages. I felt hustled. However, in our escape from the hustlers, we went to explore the ship and found a theatre, a large spa, and several bars. Things were looking up.
Tip #1 –
Read the material the cruise line sends you regarding the dress code. My husband and I were fine in dressy shorts to our (included with the ticket) sit-down dinners, but formal dinners are available and have dress requirements.
WHAT DO THE STATEROOMS HAVE IN THEM?
We had an exterior room, with a window. I thought it was the smallest room I had ever seen until our children summoned us to their rooms, which were interior rooms with bunk beds. I had a flashback to my childhood years when I heard my husband say a phrase that echoed my father's philosophy of traveling, "You won't be in the room that much, so who cares!" Each room did have a tiny bathroom with a tiny sink, a tiny shower, and tiny soaps. It was fine. I did enjoy returning to a clean room every day where the staff would leave us funny towel mascots. My favorite was the elephant with googly eyes.
FOOD ON A CRUISE SHIP
Imagine making food available to 2,000 people twenty-four hours a day. I can't even get my tripled green bean casserole recipe to be the right amount of moist and crunchy at Thanksgiving, so I give the chefs a lot of credit. We were never hungry, every cuisine from around the world was offered at some point during our four-day jaunt, from grilled hamburgers to escargot. The kids loved the availability of unlimited ice-cream, that's provided in multiple venues on the ship. Their favorite meals were in their own cabins via room service (available for an $8.00 upcharge per room) because room service is something we would normally not allow them to do in a hotel. "We're not Kennedy's," we frequently remind them.
NAVIGATING EXCURSIONS
We landed in Nassau and lined up to take our first excursion- a tour of Atlantis Paradise Island. During our twenty-minute van ride, I was surprised to see so many dilapidated and barbed wired properties on our way to a resort that boasts of suites that cost $25,000 a night. The driver shared a little of the island's history. I'll give you an abbreviated version. In 1670 a Britsh Nobleman established the island. By the early 1700's it was being occupied by the French or the Spanish but mainly a home base for pirates. In 1718 the British regained control and yada, yada, yada, it became an Independent commonwealth in 1973.
The visit was nice – a guide weaved us through a shopping mall/casino/bar/gift shop to various aquatic exhibits featuring tiny sea turtles to giant groupers that are swimming around in eight million gallons of water.
Tip #2 –
If you choose to explore Atlantis- do not book your trip through the cruise line. We learned this the hard way. A taxi van would have taken all of us to the island for around $50. We paid $70 per person to take a tour that is FREE.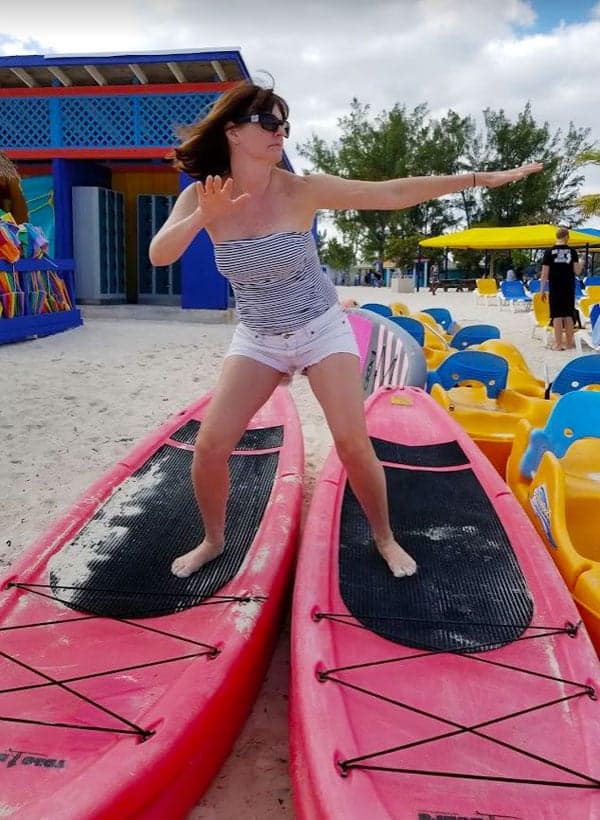 WHAT IS THERE TO DO IN NASSAU?
When we returned to Atlantis, we meandered around the town. I was struck on how lovely the people were, and I have high expectations of friendliness, having lived in the fine state of Georgia for over twenty years. Even street vendors trying to persuade you into their shops and restaurants were polite. "We just had lunch, but thank you," I said to an islander encouraging us to dine – he said, "I hope you join us later, enjoy this beautiful day," and I think he really meant it.
My husband and son strolled through the cigar and rum ball stores while my daughters and I perused the knock-off shops. They were overwhelmed at the sight of the appearance of the most luxurious brands in the world and spent the cash their grandparents had given them on "Chanel" bags and "Gucci" belts. Unfortunately, the stapled rather than hand sewn wares fell apart within the first week of returning home.
Tip #3 –
You can negotiate with the vendors. Simply saying, "I'm going to see what the other shops are charging," will give you the upper hand with your offers. Many only take cash so plan accordingly.
MORE THINGS TO DO IN NASSAU
We only had a few hours to explore, if you have several days in Nassau, you have plenty of options including:
By land –
• Walking or Bus Tours: Culinary, cultural, Rum and historical
• Scooter, Jeep, Segway, golf cart or beach buggy tours
• Fritter making
By sea –
• Sailboating
• Sub Bahama Adventure
• Snorkeling/scuba diving/swimming
• Kayak
• Parasailing
• Jet ski
• Private boat charter
Tip#4 –
Bring your own snorkel gear and save the $40/day rental fees.
COCOCAY
Back on the ship, we enjoyed dinner (the lobster was offered as a special, it was very good) and a comedy show. The next morning we visited CocoCay, which is Royal Caribean's private island. A variety of activities were available to enjoy in the crystal clear water including renting sea dunes and kayaks to dolphin encounters and scuba adventures. Everybody that visited CocoCay had access to a Caribbean style lunch that included fresh roasted pork, local fish specialties, and island cocktails.
Tip #5 –
Book your Nassau trip in March or after for warmer water. Many people were swimming and diving, but the water was quite cold.
A BUCKET LIST ITEM SHOULD BE TO CRUISE AT LEAST ONCE IN YOUR LIFE
I had never been on a cruise ship or visited Nassau and enjoyed the experience. If I were to travel to the Bahamas again, I would pick a more remote island, such as Exuma to unwind. However, getting an almost all-inclusive vacation for under $500 a person that included such a wide variety of meals and activities plus much-needed sunshine to escape the winter blahs, I don't think my Christmas could have been any merrier.
Amy Lyle is an author and filmmaker that lives in Atlanta with four teenagers and three dogs.
Click here to buy Amy's latest book on Amazon: We're All A Mess, It's OK!
Click here to buy Amy's first book (on Amazon): The Amy Binegar-Kimmes-Lyle Book of Failures
Don't forget to Pin this Article on Pinterest!