Dark Chocolate Cranberry Skillet Cake is a coffee cake filled with nuts, cranberries, and chocolate chips, topped with streusel crumbles, then baked in a cast iron skillet.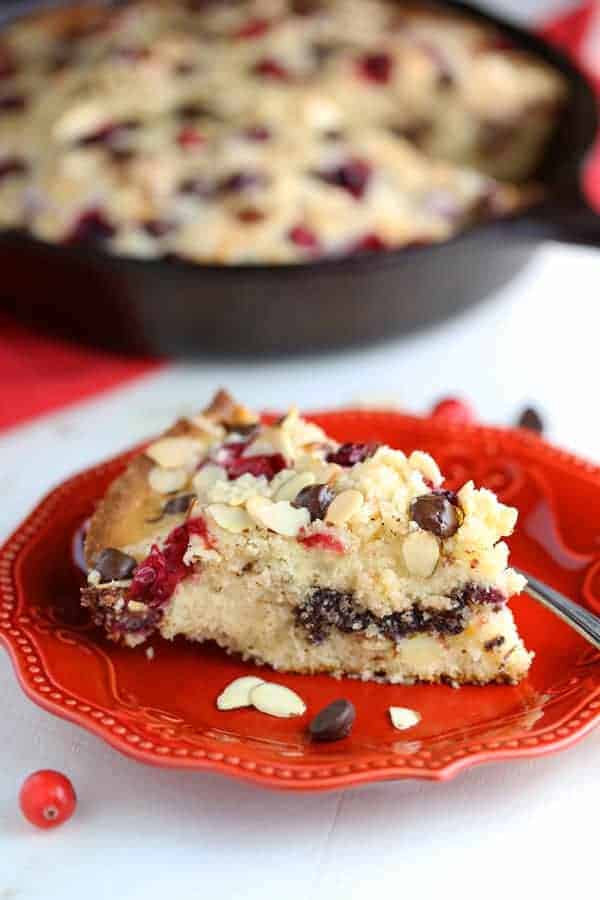 It's the last day of November and I'm a little sad to see the beautiful leaves disappear. We still have a few left on the trees and I'm savoring every moment. A tree in our front yard has been covered with the most beautiful orange leaves all month and there are just a few left now. Sniff, sniff.
Of course I took a photo, so I will share that with you at the end of this post.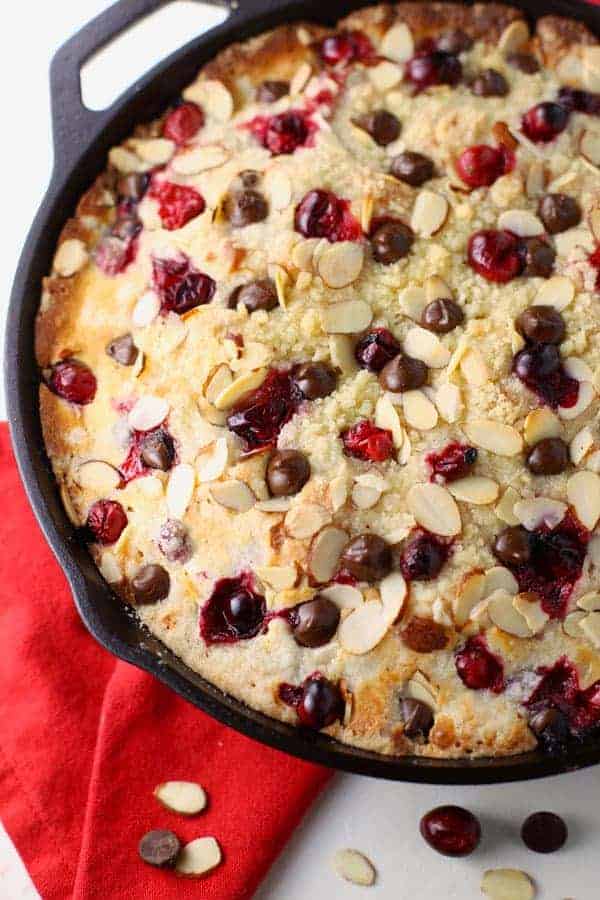 To welcome December and all the holiday flavors to come, I created this delicious Dark Chocolate Cranberry Skillet Cake. Cranberries and chocolate just go together so well. Two of my favorites! And I've been wanting to make a cake in my mom's cast iron skillet which she recently gave me. I suppose you could make this cake in a regular cake pan, but I don't think it would taste as good. The cast iron skillet gives it a nice crispy, golden brown crust around the edge which is quite tasty!
Part of the charm of this cake is the streusel topping which is also layered in the center of the cake too. To make the topping, mix together the flour and sugar in a medium bowl. Add cubes of cold butter and cut it in with a fork or a pastry blender which is a handy tool perfect for this job.
You keep cutting the butter in until you have coarse crumbs like this.
Here is the pastry blender which I used in case you want to get one too (affiliate):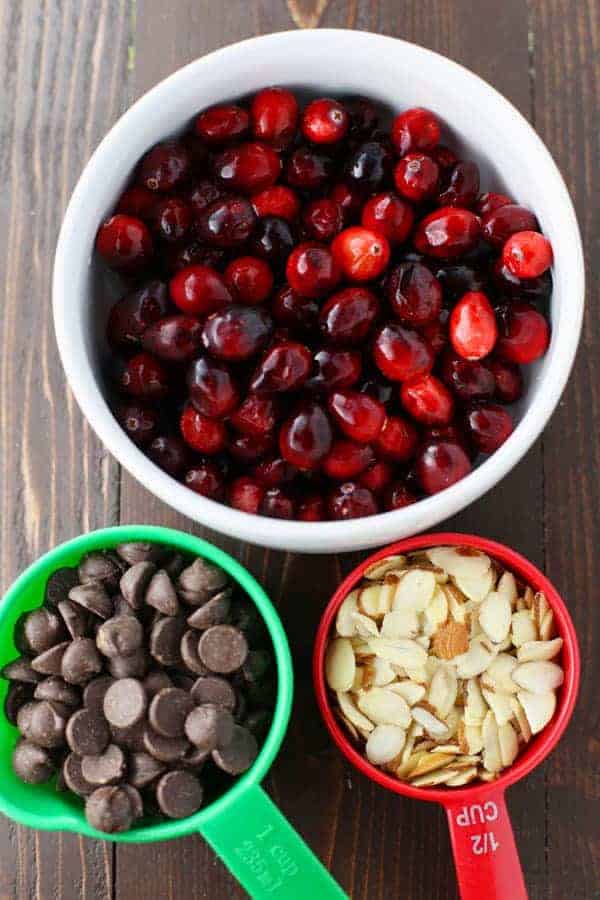 Next, you whip up your cake batter (full recipe at bottom of this post). Pour half of the batter into a greased 9-inch cast iron skillet or cake pan and spread it around to fill pan. Sprinkle half of the streusel topping, half the almonds, half of the cranberries and half of the dark chocolate chips over batter.
Here's a 9-inch pre-seasoned cast iron skillet like the one I used for this recipe (affiliate):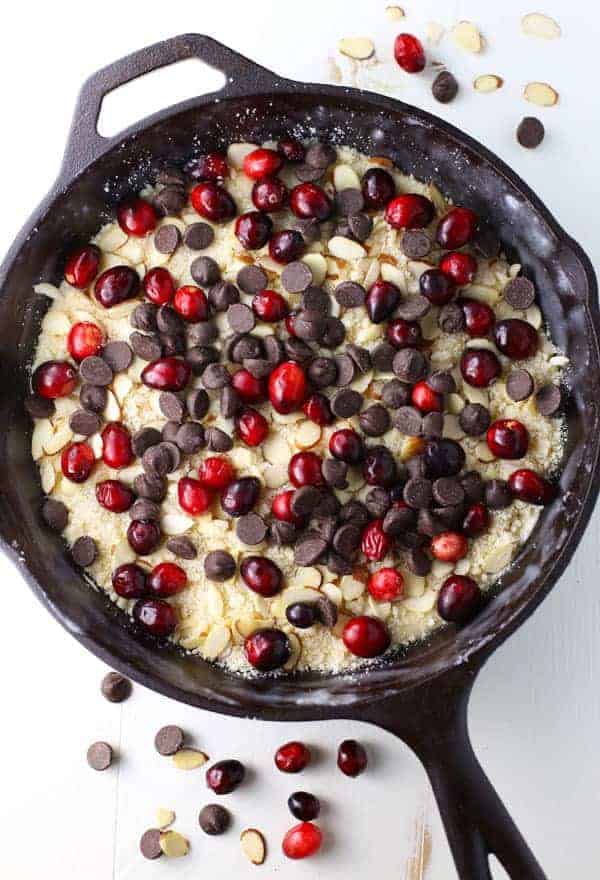 Here's a photo of my first layer of batter with all the toppings. Aren't the cranberries just gorgeous! I love the deep red color with varying hues.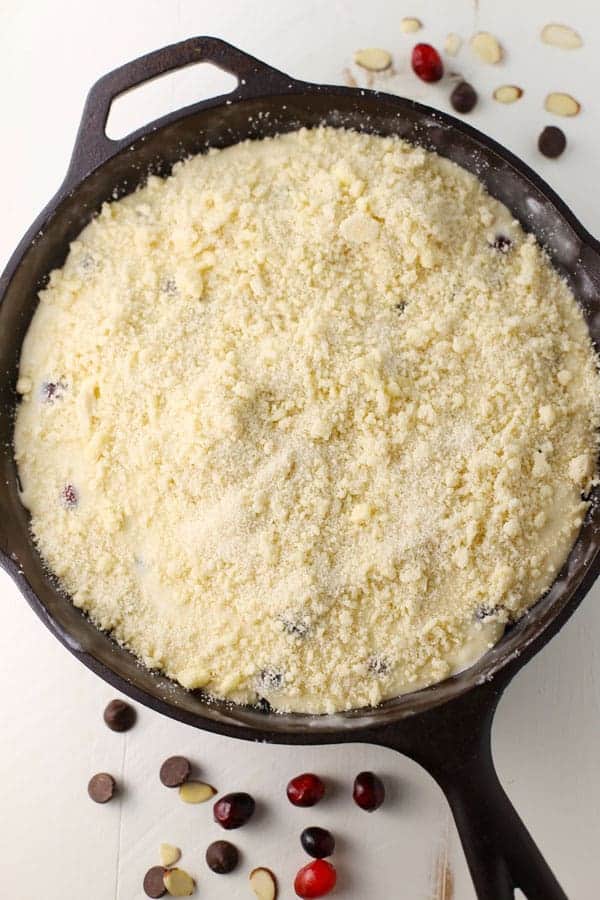 Then you repeat the same process for the second layer. Here's the streusel topping on my second layer, before I added the berries, nuts and chocolate.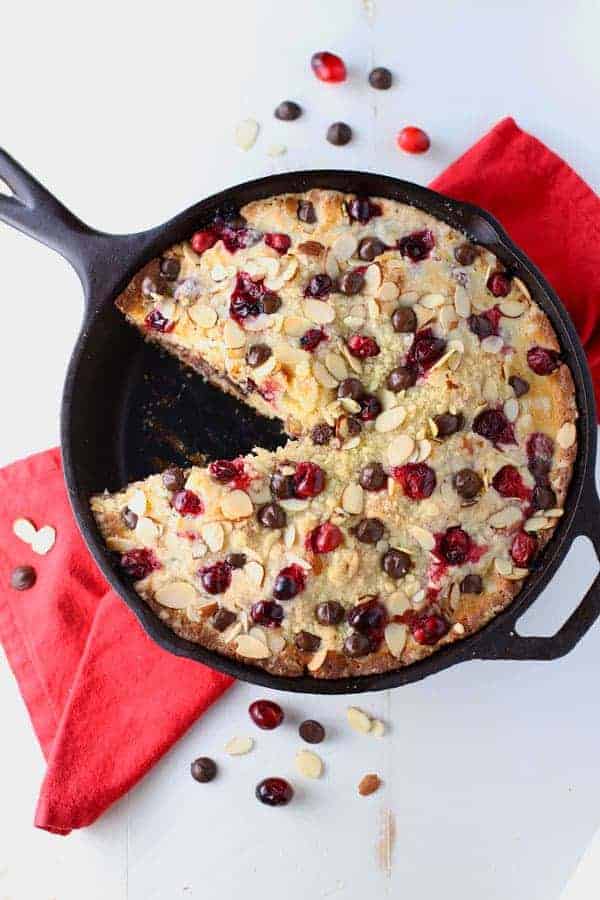 Bake in a preheated 350°F. oven for 45-50 minutes or until a toothpick inserted into the middle comes out clean. I love the golden crust around the edge which gives it a little bit of a crisp texture while the inside is soft and fluffy.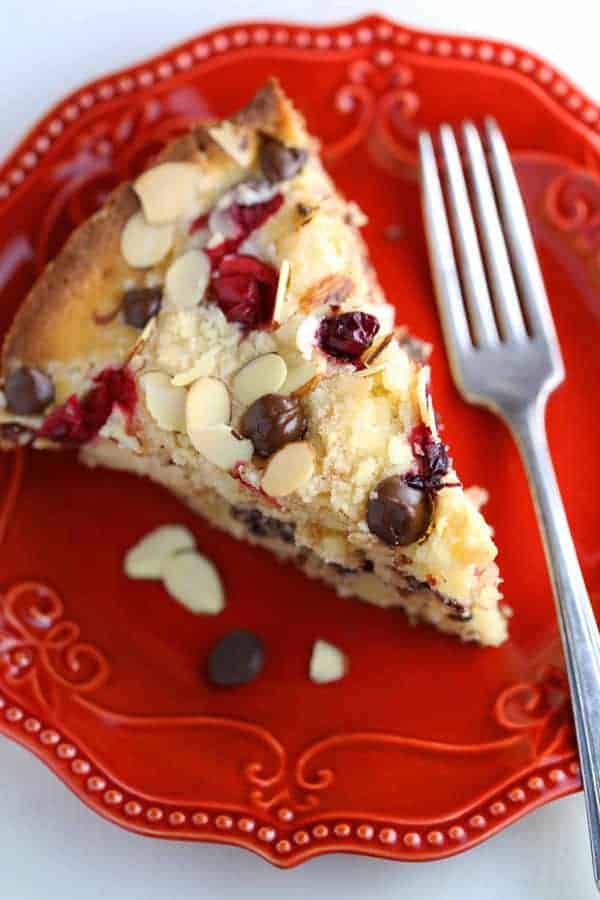 Let it cool slightly, then slice it up and enjoy. Dark Chocolate Cranberry Skillet Cake would make a lovely breakfast or brunch during the holidays. The cranberries, chocolate and nuts all go together so well and make it a little extra festive.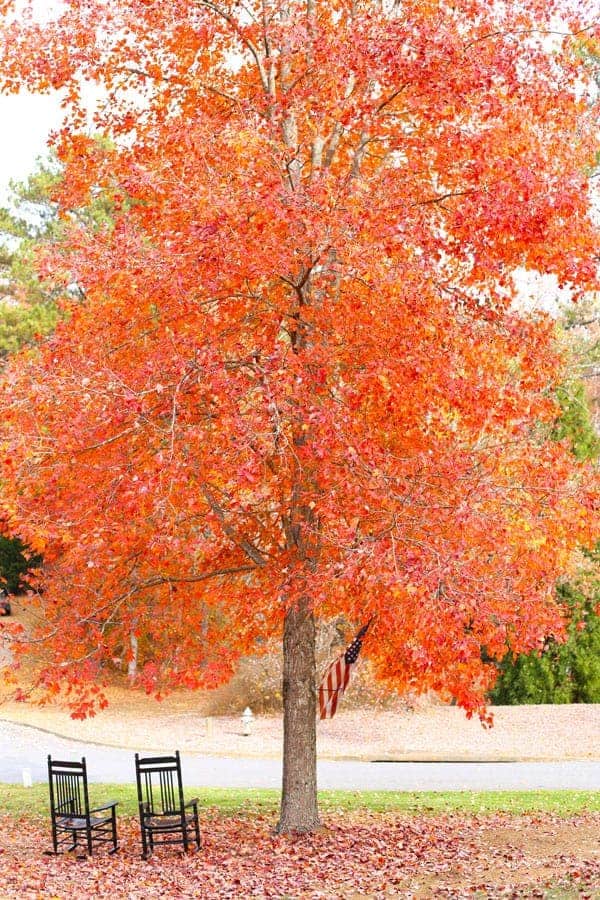 As promised, here is the beautiful tree in my front yard with leaves that are the most incredible color of orange I've ever seen. We've only lived in this house for 2 years and I don't remember it being this orange before. I don't even know what kind of tree this is. Does anyone know?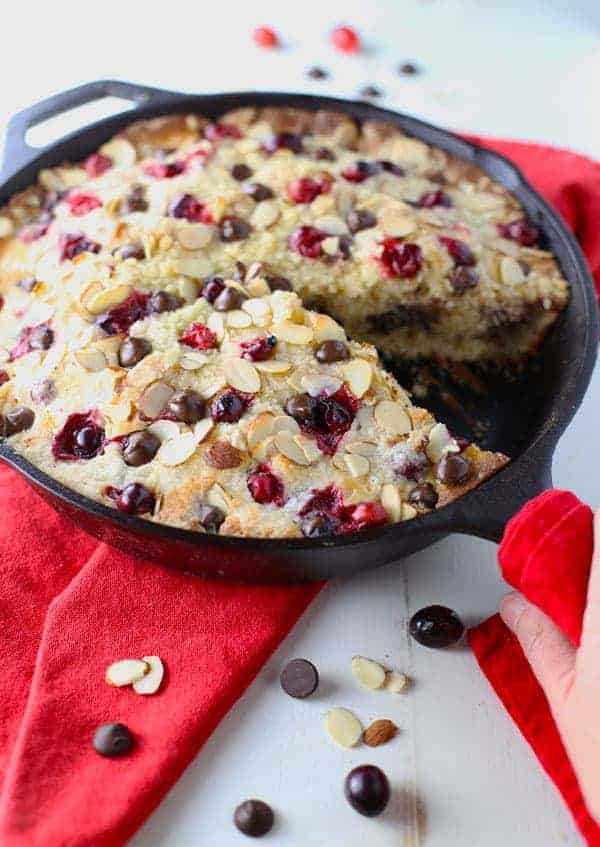 I'd love to hear from you. Maybe you know what kind of tree that is or maybe you could tell me what you like to bake during the holidays. Do you have a special recipe that you make every year? Is it cookies? Or maybe it's a special cake or pie. Let me know in the comments.
Happy December!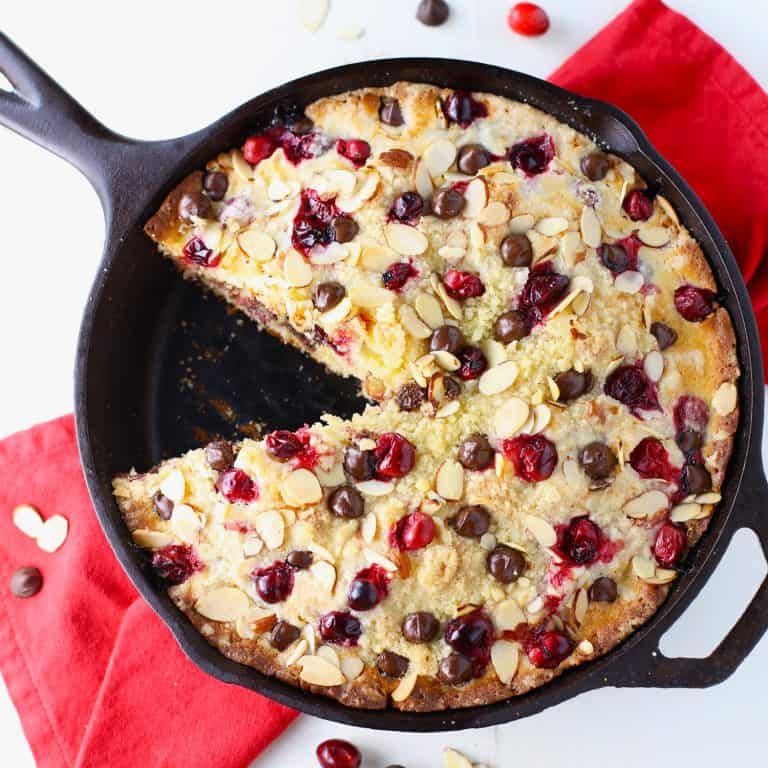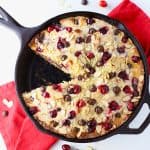 Print Recipe
Dark Chocolate Cranberry Skillet Cake
Ingredients
Topping

4

tablespoons

60g unsalted butter, cold, cut into cubes (I used organic)

1/2

cup

100g granulated sugar (I used organic evaporated cane juice)

1/2

cup

60g all-purpose flour (I used organic Arrowhead Mills)

1/2

cup

65g sliced almonds

1

cup

dark chocolate chips

2

cups

fresh cranberries

Cake

2

cups

250g all-purpose flour (I used organic Arrowhead Mills)

1/2

cup

100g granulated sugar (I used organic evaporated cane juice)

4

tablespoons

60g unsalted butter, at room temperature (I used organic)

1

cup

240mL buttermilk, at room temperature

1

teaspoon

vanilla extract

2

teaspoons

baking powder

I used aluminum free

1/2

teaspoon

salt

2

large eggs

at room temperature (I used organic)

Note: You will need extra butter to grease the skillet
Instructions
Preheat oven to 350°F. Generously grease a 9-inch cast iron skillet with softened butter. Set aside.

For the topping (make this first): Place flour and sugar in a medium bowl. Stir to combine. Add cold cubes of butter. Use a pastry blender or fork to mash the butter into the flour mixture until you have coarse crumbs. Set aside. (Note: You will add the almonds, berries and chips later.)

For the cake: Place all of the cake ingredients into a large bowl. With an electric mixer, mix on low until everything is combined (about 1 1/2 - 2 minutes.) Do not over mix! You can also mix this batter by hand.

Pour half of the batter into the prepared skillet. Spread it out so it is smooth on top. Add half of the topping, half of the nuts, half of the chips and half of the cranberries. Repeat for second layer.

Bake for 45-50 minutes or until a toothpick inserted in the middle of the cake comes out clean.

Let it cool a little, then serve. This cake is best the first day. Or you can store it covered at room temperature for up to 3 days or in the refrigerator for 5 days.

Recipe inspired by Sally's Baking Addiction's Dark Chocolate Raspberry Coffee Cake