Hello and welcome! I'm Lise, a mom of 2 from sunny Florida. I enjoy sharing family favorite recipes, holiday dessert ideas, and quick edible craft projects you can make in minutes.
Here are my kids in the kitchen a few years ago. Aren't they cute! I miss those days...
Baking is something I've always enjoyed doing as long as I can remember.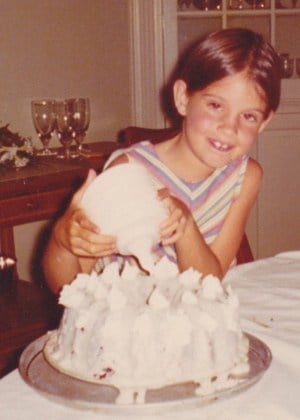 Here I am (age 6) decorating a cake at my grandparents' house in Alabama using some sort of accordion squeeze bottle for piping Cool Whip onto the cake. I thought it was the coolest thing I'd EVER seen! And I remember frosting that cake like it was yesterday!
I'm also a two time Pillsbury Bake-Off finalist (2013 and 2014). Being in those contests made me realize how much I love to create original recipes.
What you'll find at Mom Loves Baking: All kinds of desserts which include some healthy choices. Some gluten-free recipes, some vegan recipes, some skinny recipes and a savory recipe here and there. I love to bake using the recipes of my grandmothers and great-grandmothers. Celebrating with sweets is so much fun. You'll find some nifty cake decorating projects as well. And as you will see after taking a look around my blog, I almost always include step-by-step photo instructions of all my recipes to make it easier for you to follow along at home. I'm very visual and have always enjoyed cookbooks with lots of pictures. It's so helpful when you decide to make a new recipe if you have pictures to go by, don't you think?
You will also find a bible verse of the week (on the right side of my blog page, under the About Me section). Why? Because I'm an avid reader of the Holy Bible and the New American Standard Version is my favorite. Reading God's word is an important part of my faith and I hope you will find encouraging words in the verses that I post. Psalm 119:105 - "Your word is a lamp to my feet. And a light to my path." - is one of my favorite verses.

Some random facts about me:
I was a flight attendant when I was 23. I also worked as a yacht stewardess one year when I was 31.
I love chamomile mint tea.
I was born in Alabama and love my Southern roots. I love my big Southern family with lots and lots of aunts, uncles and cousins!
I love bible study.
I have a Maltese Poodle we rescued.
I love the 70s channel on Sirius radio.
I used to work at The National Enquirer.
I've been to Istanbul, Turkey.
I'm an only child with 2 half sisters, 2 half brothers, a stepsister and a stepbrother.
I have a B.S. in Fashion Merchandising from FSU. Go Noles!
I love to dance.
I make a lot of green smoothies.
I save take-out containers to use for giving away desserts.
I might have left the Christmas tree up until February one year. Then had a Valentine's party and decorated the tree with hearts.
Sometimes I'm too tired to make dinner after baking all day.
I went to London for a semester in college.
The other day, my son asked me what I wanted to be when I grew up. I said a mom and he laughed uncontrollably.
I'm so glad you stopped by and hope you will stay a bit. If you ever have any questions, don't hesitate to drop me a line and I will do my best to get back to you as soon as I can. You can reach me at Lise (at) Mom Loves Baking (dot) com.
Happy Baking!
Lise Ode
p.s. A few years ago, I had a little cake business where I made wedding cakes and party cakes from my home. Click here to see some photos of my cakes.
Note: Family photo credit Jennifer Scott Photography
Privacy Policy for momlovesbaking.com
The privacy of visitors to momlovesbaking.com is important to us.
At momlovesbaking.com, we recognize that privacy of your personal information is important. Here is information on what types of personal information we receive and collect when you use and visit momlovesbaking.com, and how we safeguard your information. We never sell your personal information to third parties.
Log Files
As with most other websites, we collect and use the data contained in log files. The information in the log files include your IP (internet protocol) address, your ISP (internet service provider, such as AOL or Shaw Cable), the browser you used to visit our site (such as Internet Explorer or Firefox), the time you visited our site and which pages you visited throughout our site.
Cookies and Web Beacons
We use third party advertisements on momlovesbaking.com to support our site. Some of these advertisers may use technology such as cookies and web beacons when they advertise on our site, which will also send these advertisers (such as Google through the Google AdSense program) information including your IP address, your ISP , the browser you used to visit our site, and in some cases, whether you have Flash installed. This is generally used for geotargeting purposes (showing New York real estate ads to someone in New York, for example) or showing certain ads based on specific sites visited (such as showing cooking ads to someone who frequents cooking sites).
You can chose to disable or selectively turn off our cookies or third-party cookies in your browser settings, or by managing preferences in programs such as Norton Internet Security. However, this can affect how you are able to interact with our site as well as other websites. This could include the inability to login to services or programs, such as logging into forums or accounts.