Cinnamon and cloves add the spice to this pumpkin sheet cake, topped with cream cheese frosting and rolled into a festive log.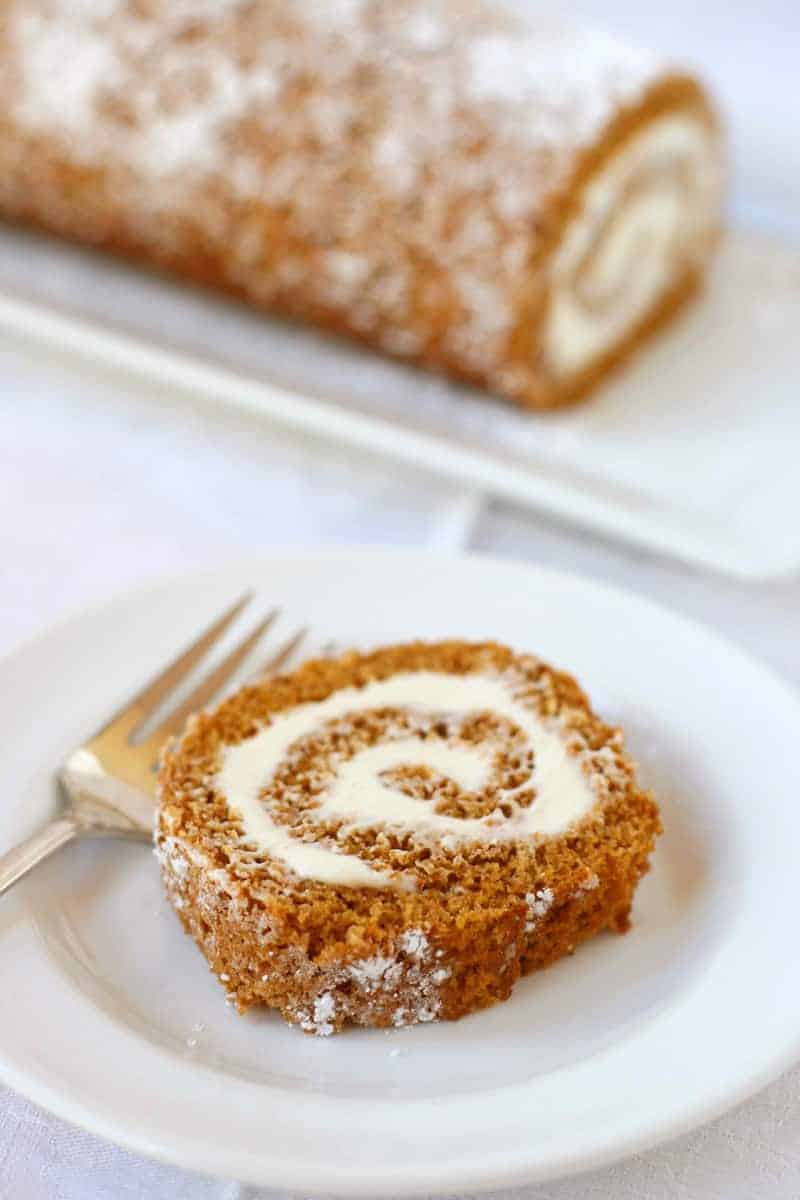 Fall is finally in the air and I'm in the mood for pumpkin. Have you been getting some cooler weather in your neck of the woods too? I'm in Georgia and boy has it been a hot summer. The last few days, it's gotten down to the 50s at night and up in the 70s during the day. Just heavenly!
This Classic Pumpkin Roll isn't an original recipe but has been in my recipe box for years, waiting for me to make it. The first time I tried this cake was back in 2010 when I went to an after work-out brunch hosted by my Jazzercise instructor, Cathy. She invited everyone to come over after our Saturday morning class and bring a dish to share.
One of the ladies brought this delicious cake. I asked her for the recipe and she said she got it on the back of the can of Libby's pumpkin. Really? So I went home and looked on my can and sure enough, there it was. It only took me 5 years to actually try the recipe. And I'm so glad I did! Why did I wait so long!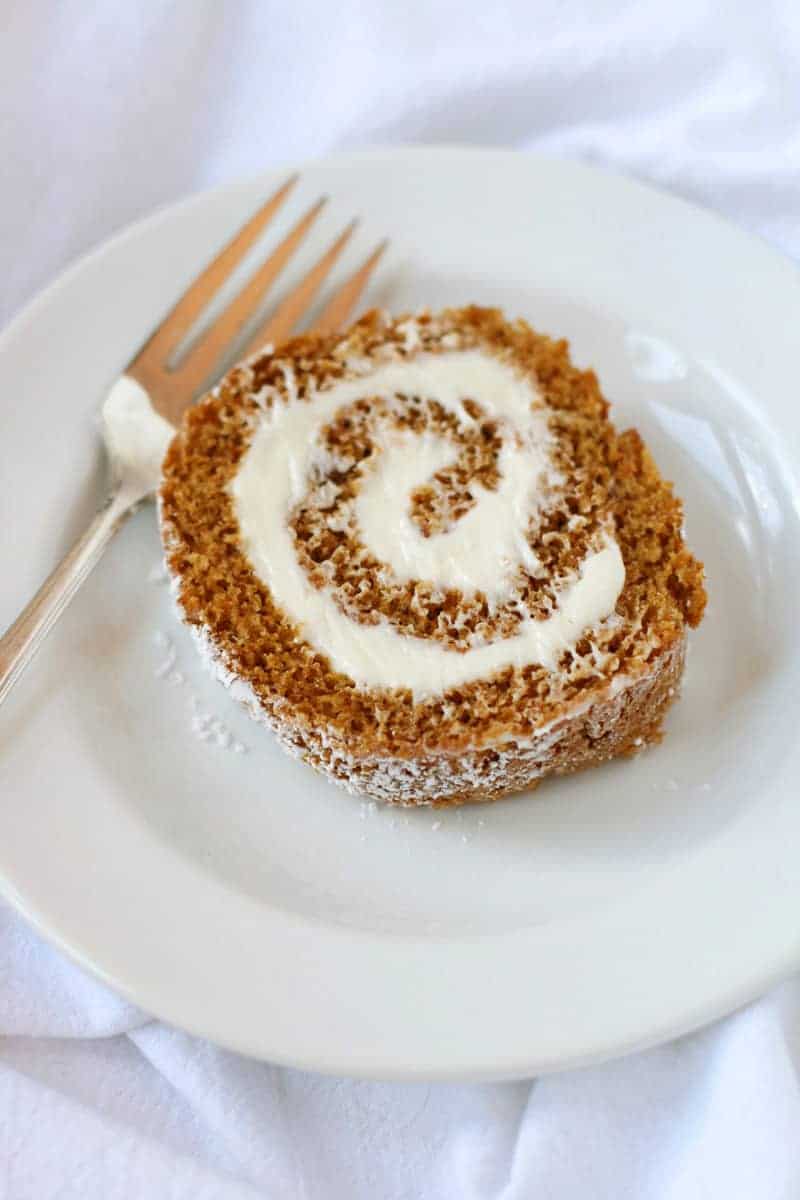 I'm always hesitant to make any kind of "roll" cake because I think it's going to be difficult and time consuming. It's really not. As long as you grease your pan well, cover with parchment, grease again and dust with flour, the cake comes out easily. Then you immediately turn it out onto a kitchen towel that's been dusted with powdered sugar and roll that baby up until it cools. Not that bad!
Plus, the batter came together rather quickly and what I was surprised about was that there is no oil or butter in the cake. Yet it comes out so moist and tasty!
The first thing you do before mixing up the batter is prepare the pan. Grease it generously. I used Crisco shortening. Add parchment paper. Then grease the paper and dust with flour. I used this little strainer but you could also just sprinkle it with your fingers.
Here is the pan I used. It's called a Half Sheet Pan (size 13″ x 18″). Click below to order the pan on Amazon (affiliate):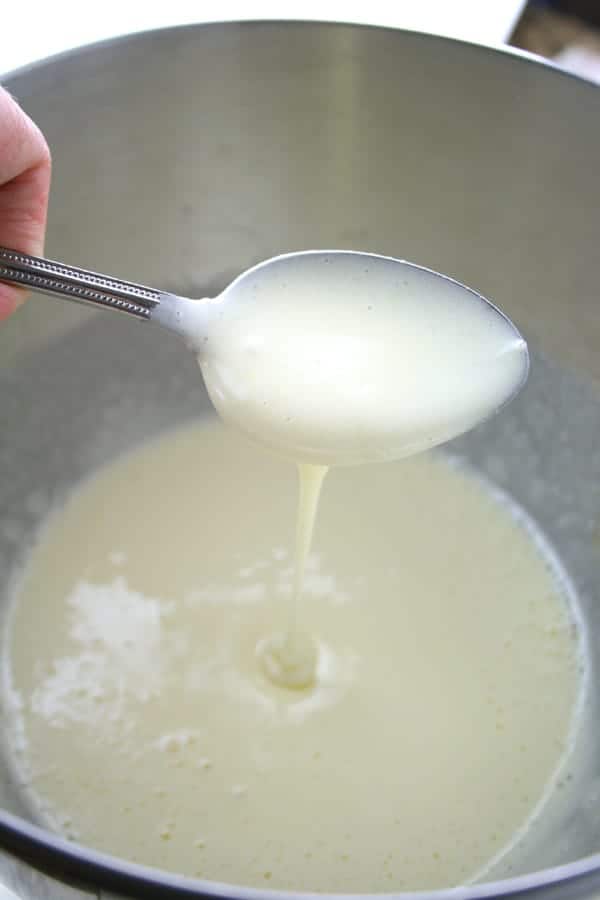 Next, beat up the eggs and sugar until thick and pale yellow.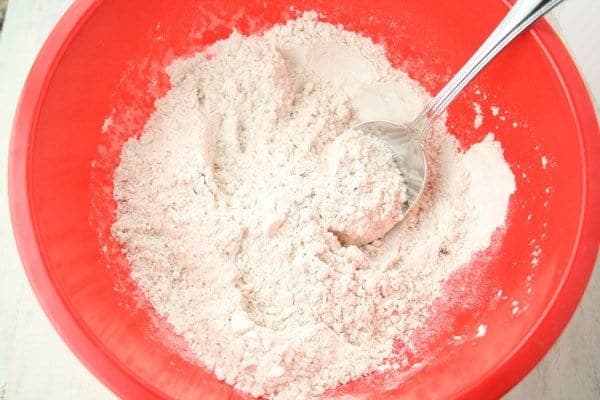 Combine the dry ingredients in a small bow, then add to the egg mixture, along with the pumpkin. Stir together until smooth.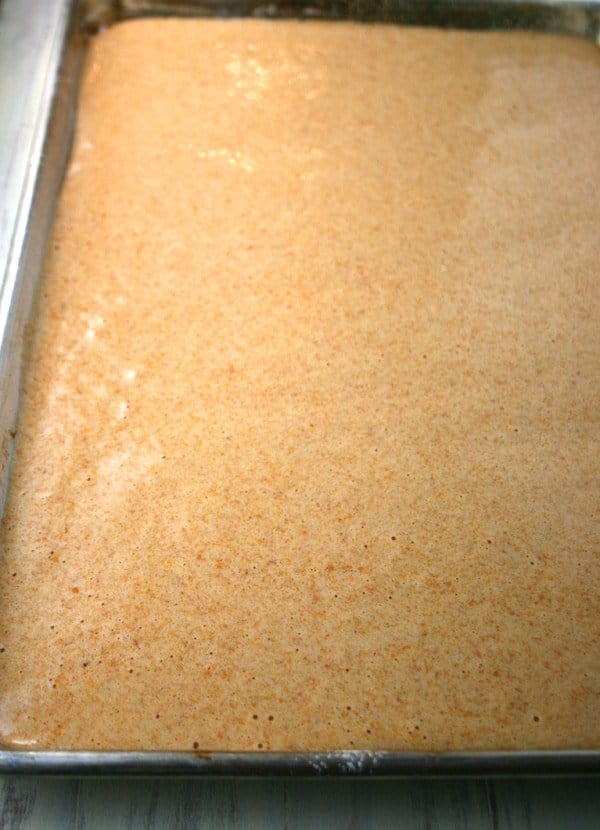 Pour batter into your prepared pan.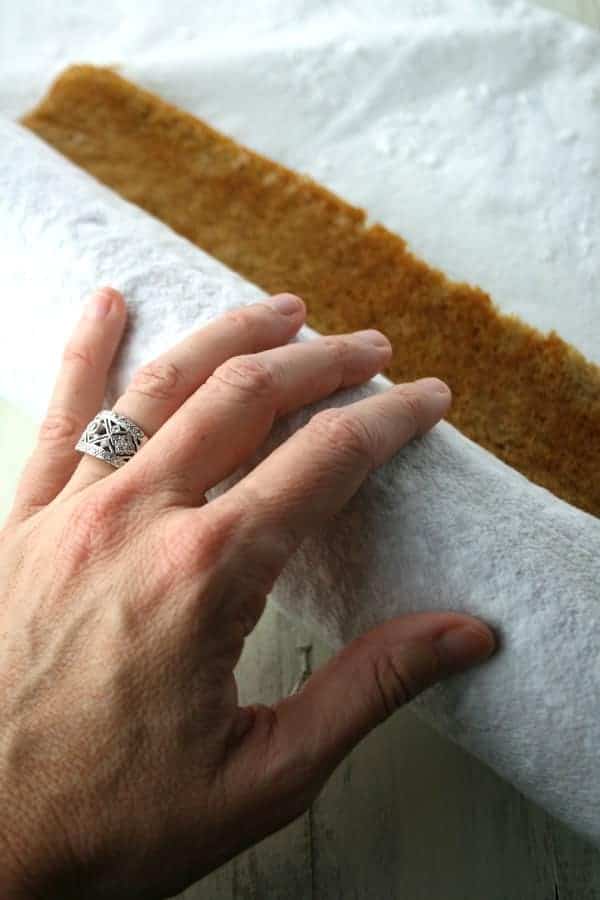 Spread a kitchen towel on the counter and sprinkle with powdered sugar. You will use that after it bakes. Bake the cake for just 13-15 minutes at 375°F. As soon as it comes out, turn out onto the prepared towel, then roll up the cake with the towel. Let it cool.
I used a Flour Sack Towel to roll the cake. Click below to order a set of Flour Sack Towels from Amazon (affiliate):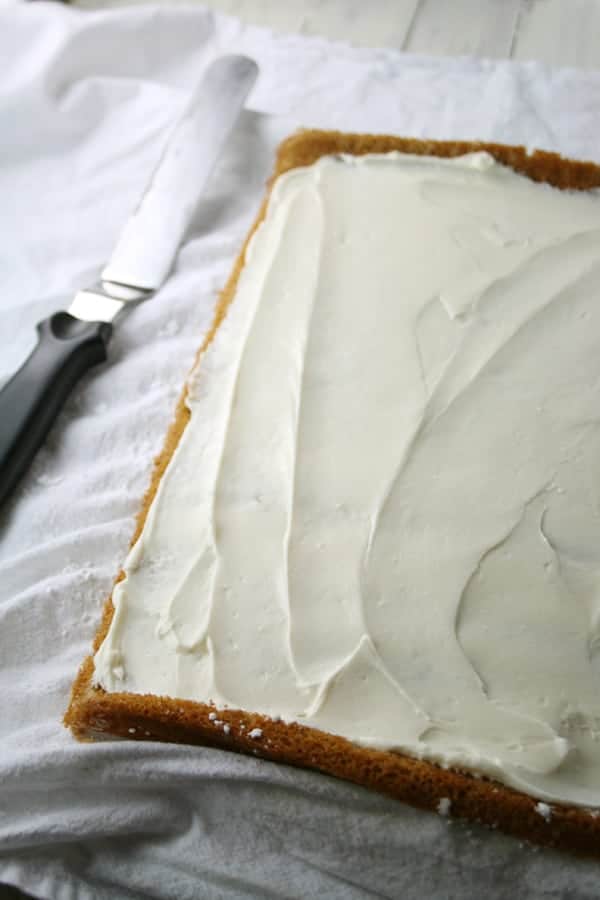 For the filling, beat the cream cheese and butter in a large bowl with an electric mixer until smooth. Gradually add the powdered sugar and vanilla. Once combined, turn up speed to medium high and beat for about a minute. Spread onto cooled cake (after you unroll it, of course).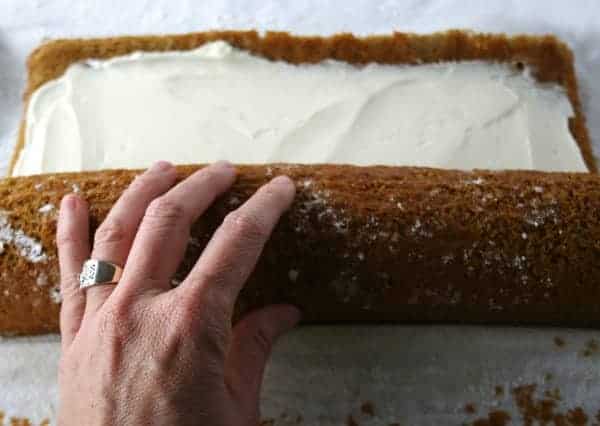 Roll up the cake. Wrap in plastic wrap and refrigerate for at least an hour. Sprinkle with powdered sugar. Slice and serve.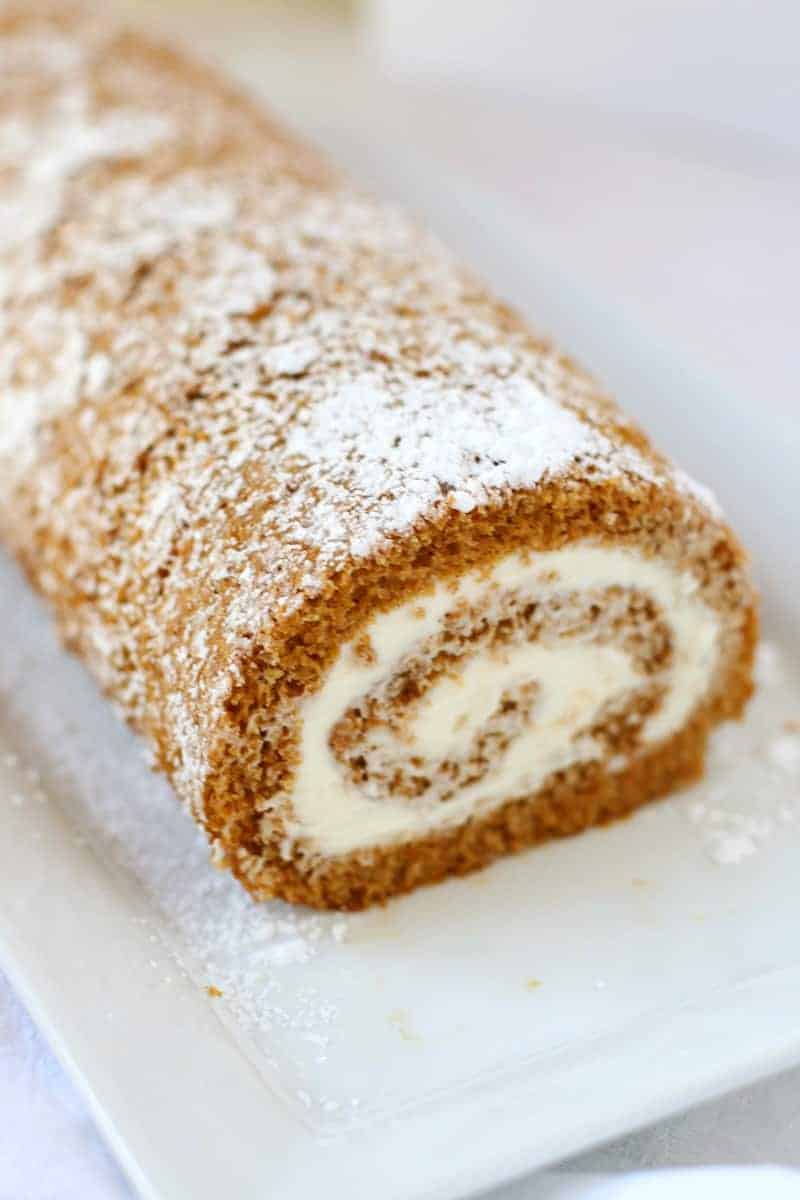 This cake is so moist and tender. The filling is so sweet and creamy. It reminds me a little of carrot cake. It's so good, y'all!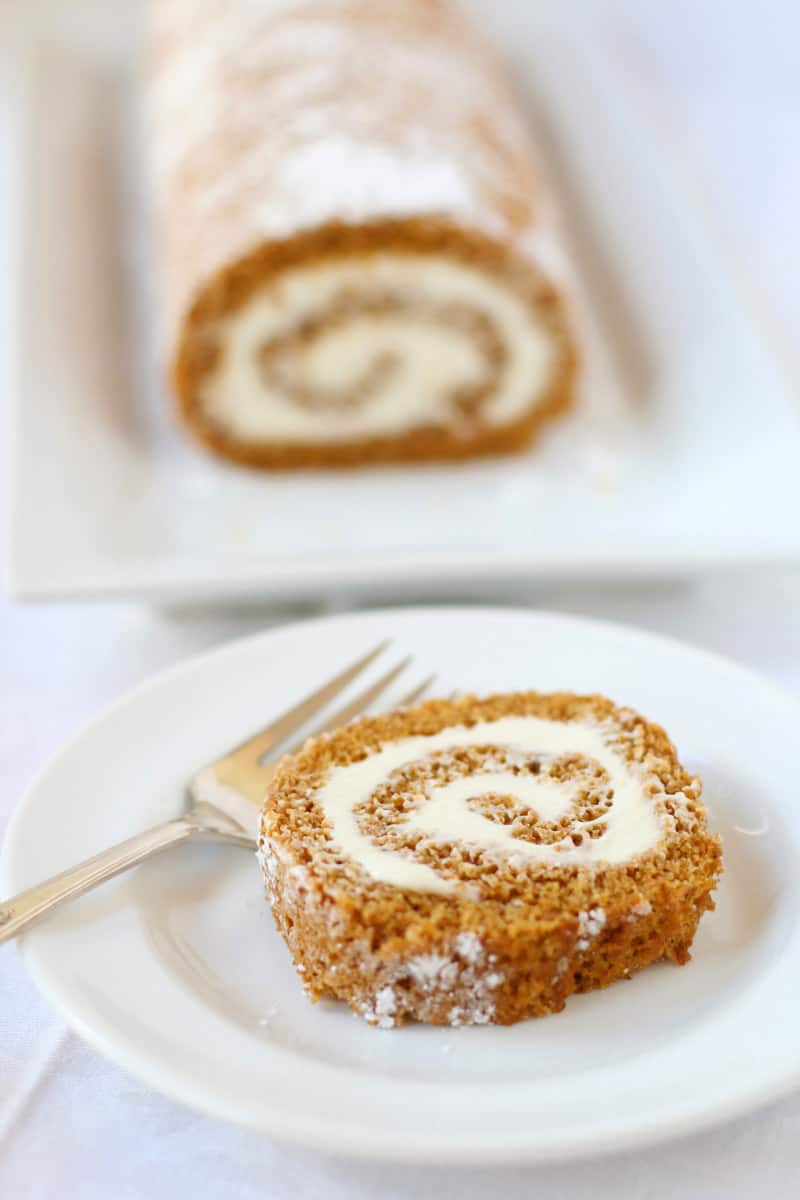 Fall officially starts in about 5 days which is the perfect reason to whip up this Classic Pumpkin Roll. What are you waiting for, go bake!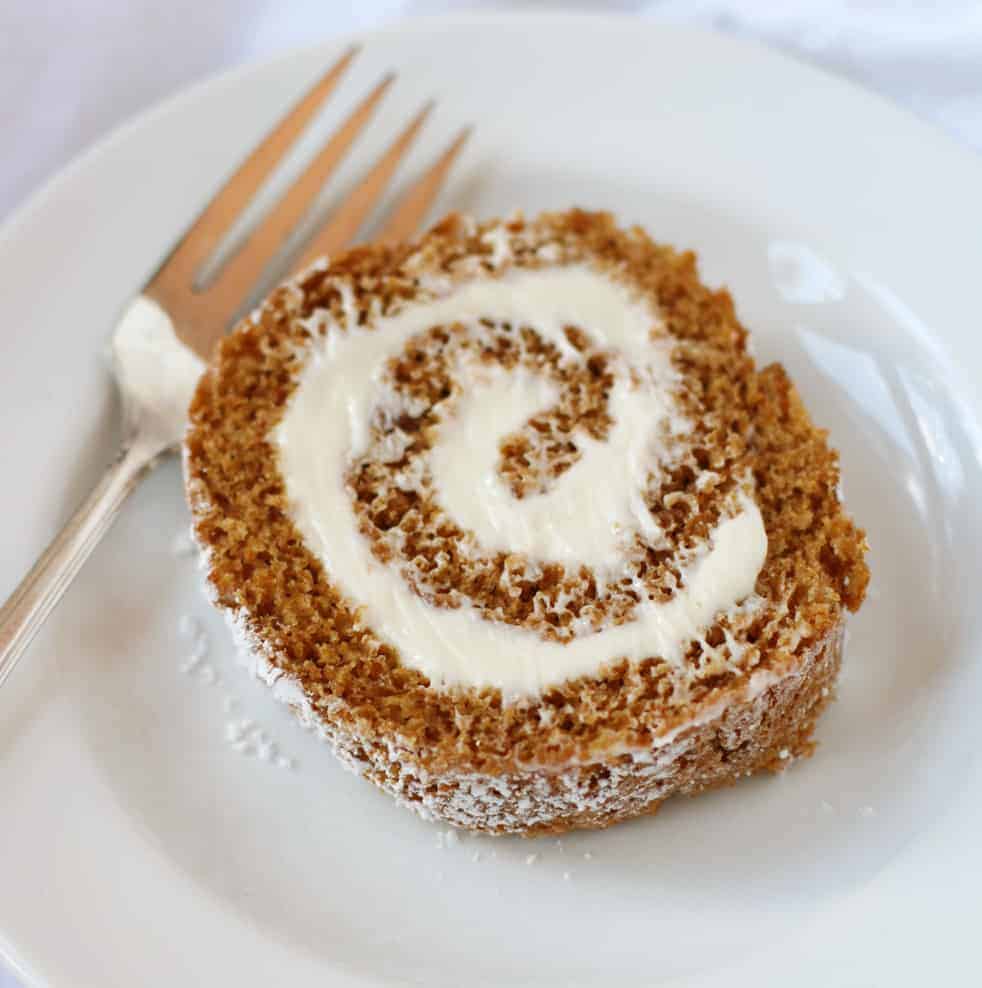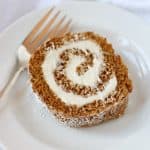 Classic Pumpkin Roll
Ingredients
For the cake

3-4

tablespoons

powdered sugar

3/4

cup

115g all-purpose flour

1/2

teaspoon

baking powder

1/2

teaspoon

baking soda

1/2

teaspoon

ground cinnamon

1/2

teaspoon

ground cloves

1/4

teaspoon

salt

3

large eggs

room temperature

1

cup

225g granulated sugar

2/3

cup

175g canned pumpkin

For the filling

1

package

8oz/227g cream cheese, softened

1

cup

125g powdered sugar

6

tablespoons

84g butter, softened

1

teaspoon

vanilla extract

More powdered sugar for garnish

if desired
Instructions
For cake: Preheat oven to 375° F. Grease a 13x18-inch half sheet pan; line with parchment paper. Grease and flour paper. Sprinkle a thin, cotton kitchen towel with the 3-4 tablespoons of powdered sugar.

Combine flour, baking powder, baking soda, spices and salt in small bowl. Beat eggs and sugar in larger mixer bowl until thick and pale yellow in color. Beat in pumpkin. Stir in flour mixture. Spread evenly into prepared pan.

Bake for 13-15 minutes or until top of cake springs back when touched. Immediately loosen and turn cake onto prepared towel. Carefully peel off paper. Roll up cake and towel together, starting with narrow end. Cool on wire rack.

For filling: Beat cream cheese, powdered sugar, butter and vanilla in small mixer bowl until smooth. Carefully unroll cake; remove towel. Spread cream cheese mixture over cake. Reroll cake. Wrap in plastic wrap and refrigerate at least one hour. Sprinkle with powdered sugar before serving, if desired.

(Recipe adapted from Libby's brand pumpkin.)