Alabama Lane Cake is a bourbon-laden layer cake with a coconut pecan icing that's traditional in the American South.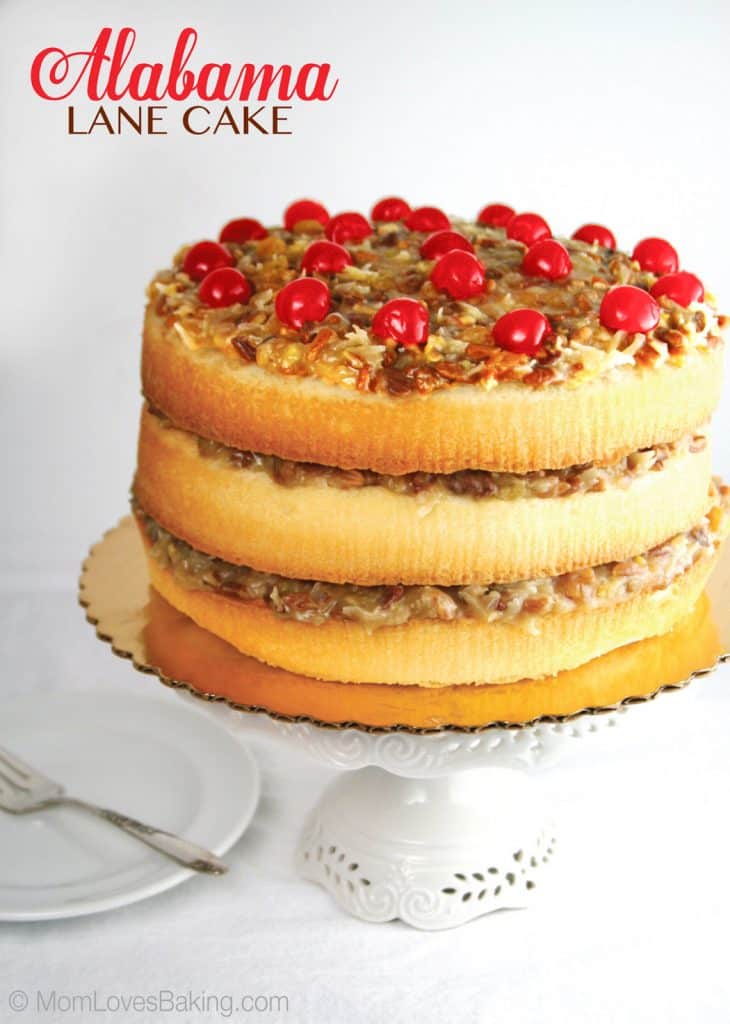 A Family Tradition
Have you ever heard of Alabama Lane Cake? It's a favorite in my family. The recipe has been handed down for generations. We call it simply Lane Cake in my family but I'm calling it Alabama Lane Cake in this post so readers know its origin. I'd never made it myself before now, but I have my grandmother's handwritten recipe. That is not a huge help though since it gives no directions. Only ingredients. My mother has tried making it several times, as well as some of my cousins. They have all had trouble getting it to turn out just right. We recently had a family reunion and it was my cousin, Amy, who inspired me to finally attempt to make this much loved confection. Challenge accepted!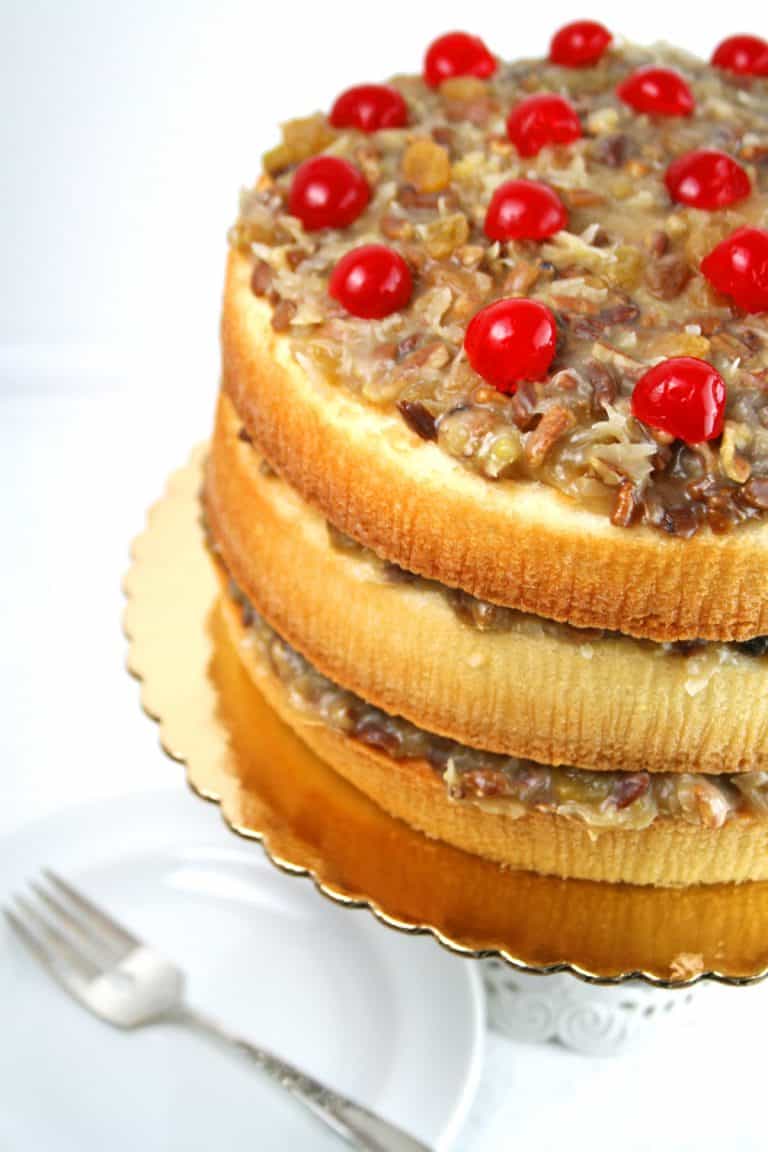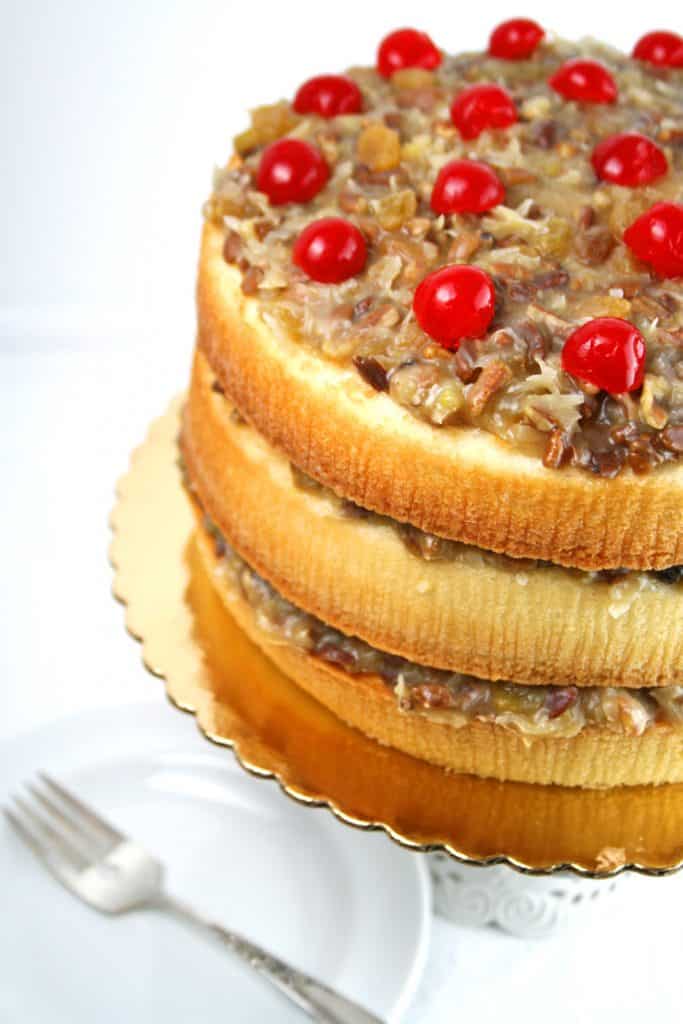 Vintage Recipe
I decided to use my grandmother's original ingredients, with the exception of a few additions and my own baking method. I was so delighted with the outcome. It came out great and that is why I am thrilled to share the recipe with you and all of my family members who would love to make this very special cake.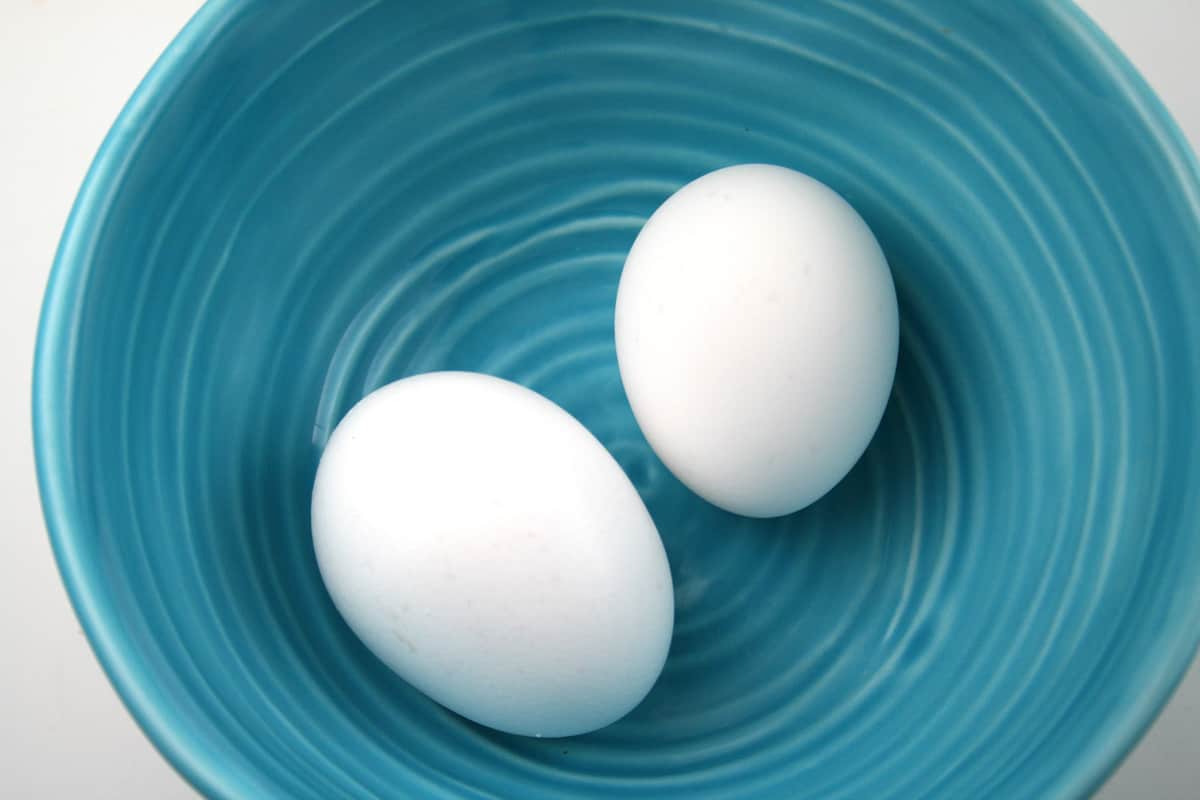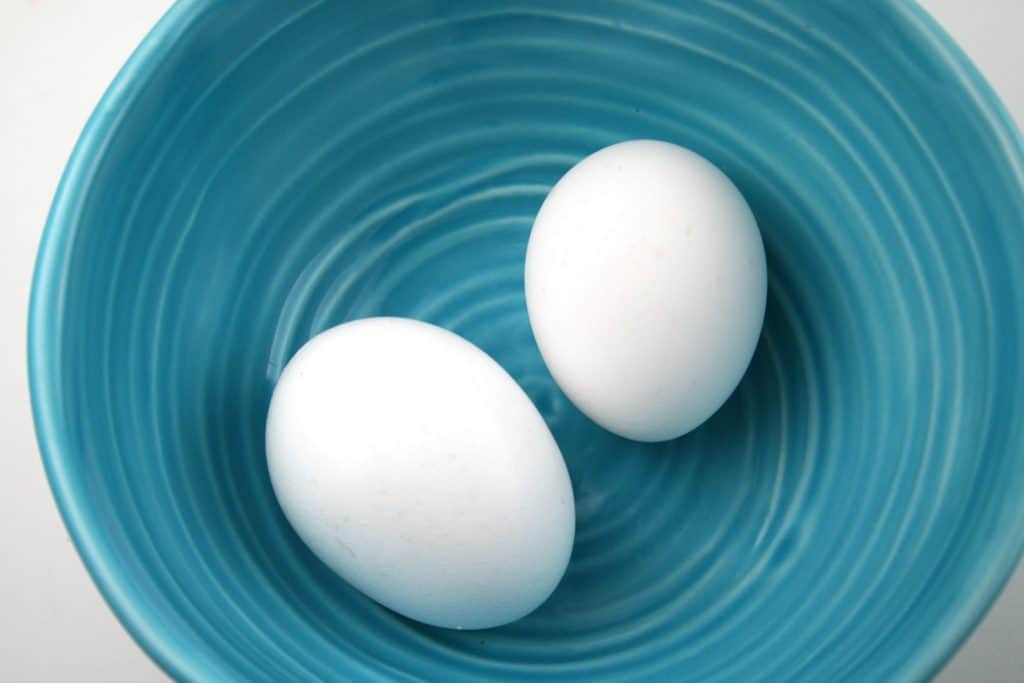 Use Medium Sized Eggs for the Recipe
I used medium sized eggs for this recipe (it's the egg on the right in this photo). Can you see the difference? The one on the left is large. I thought the eggs might have been a bit smaller at the turn of the century when my great grandmother was first making this recipe. Smaller eggs would provide for a smaller quantity of eggs whites. If you can't find medium eggs, then you can measure the egg whites. You will need exactly 1 cup.
How to Make Alabama Lane Cake
To make this cake, I used a method that is not the traditional creaming the butter and sugar, then adding eggs, dry ingredients and milk. No. This is the opposite and it works surprisingly well. So you start with your sifted cake flour, sugar, baking powder and salt. Mix it together.
With your mixer on low, you slowly add cubes of very cold butter. It's sort of like making a pie crust. Continue to mix on low until you have achieved fine crumbs.
Add your milk and vanilla. Mix on low for 5 minutes.
Gradually add your egg whites and mix on low for 3 more minutes. Voila! You have your beautifully perfect Lane Cake batter.
I used a Kitchenaid Mixer like this one to make the cake. You can find it on Amazon (affiliate):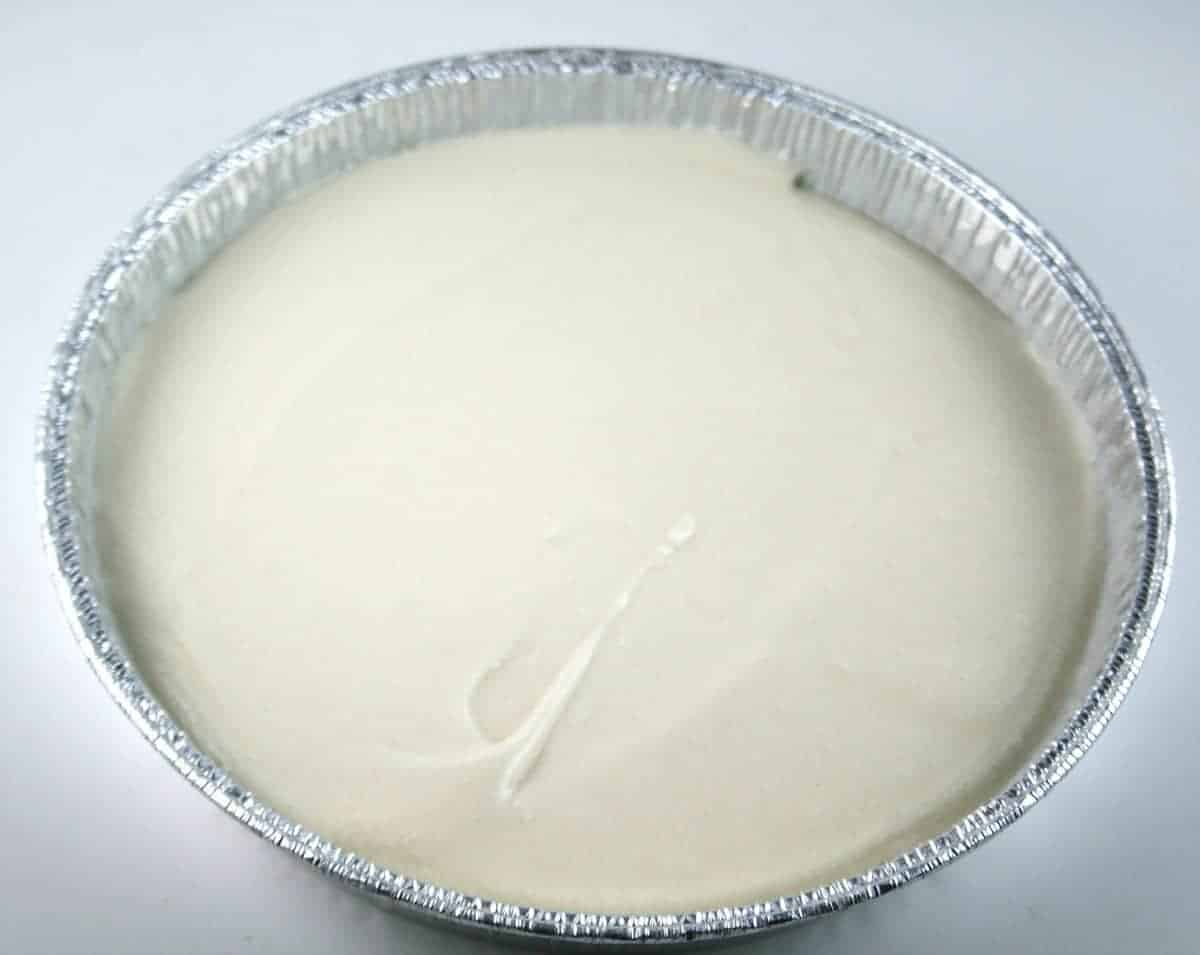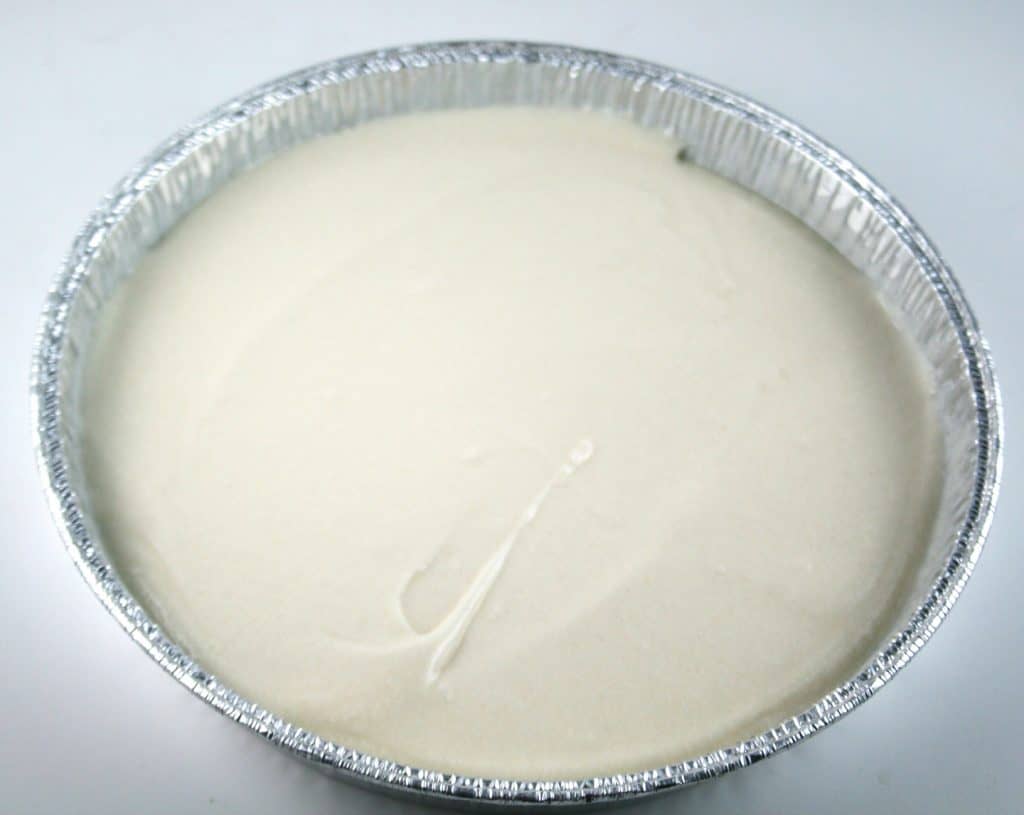 Baking the Cake
Divide the batter equally into your 3 prepared cake pans. Believe it or not, I used disposable cake pans (8"x1.25" Hefty EZ Foil). It's very important to prepare your pans properly so that your cakes won't stick. I use Homemade Pan Release (Goop - see recipe below) and I also cut my own parchment circles.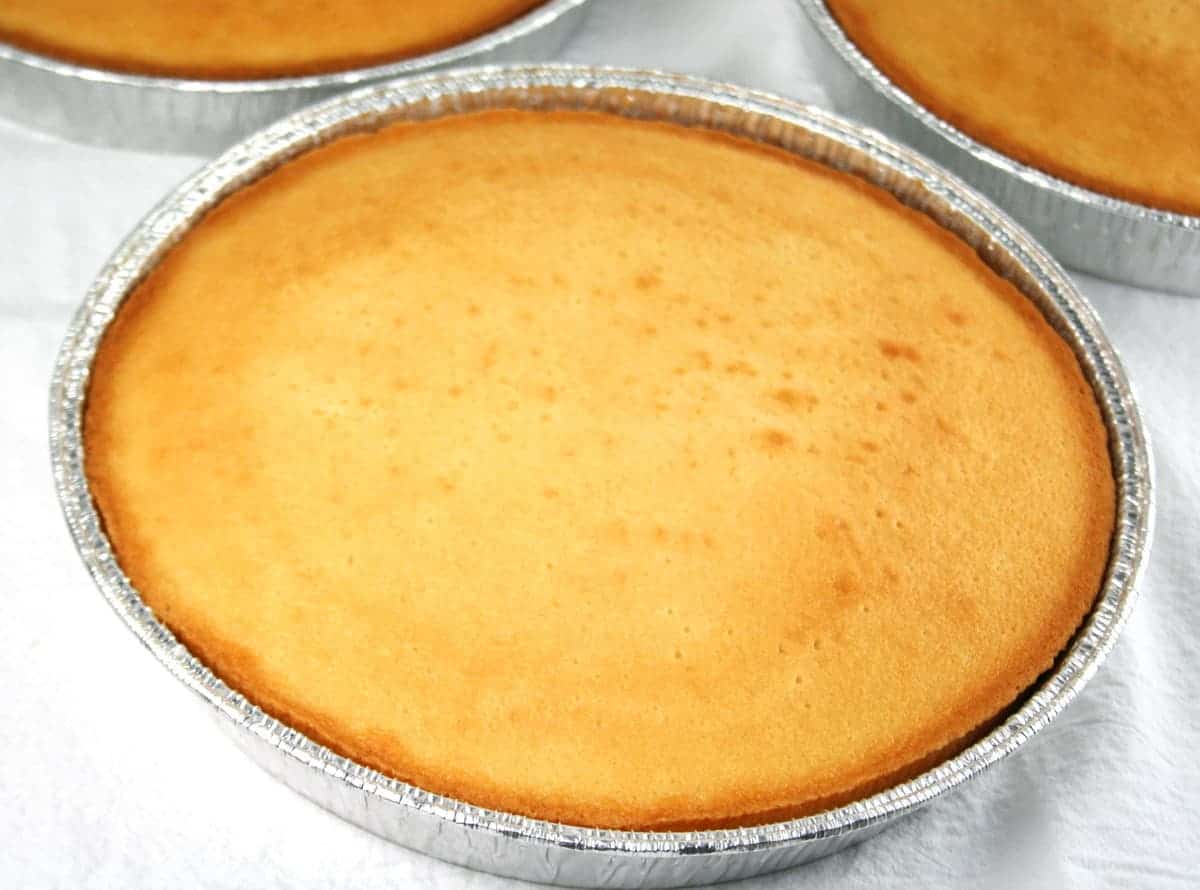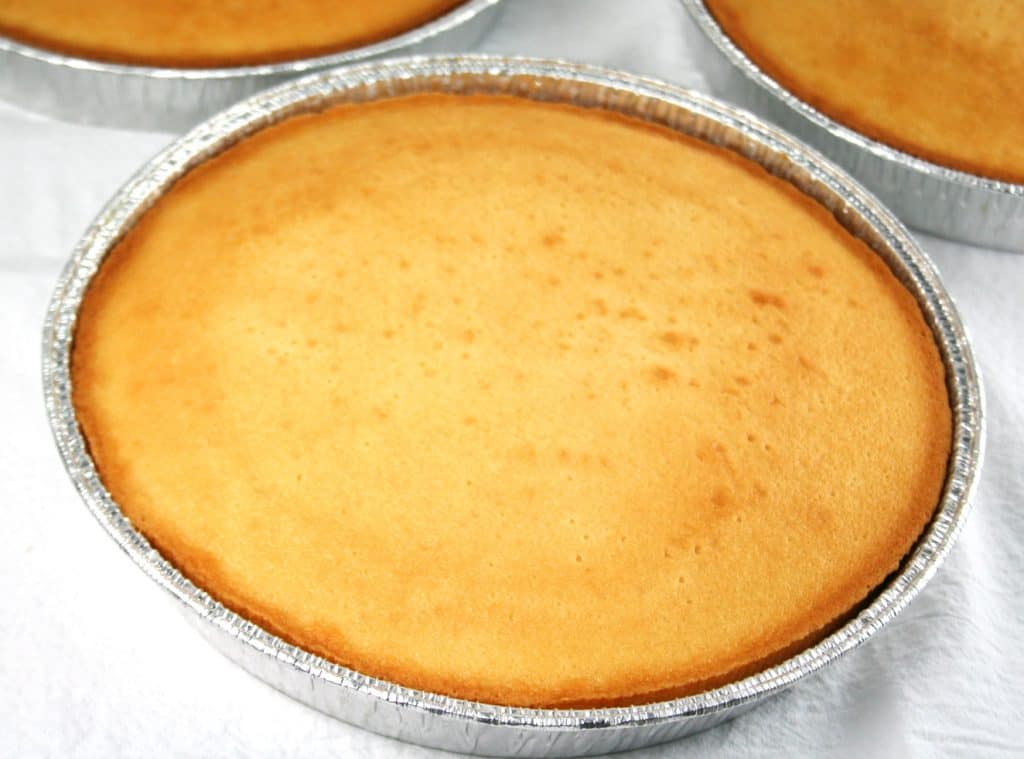 Divide your batter equally amongst the 3 pans so that the cakes will be equally sized. DO NOT OVERBAKE. This is the key to a delicate, moist cake.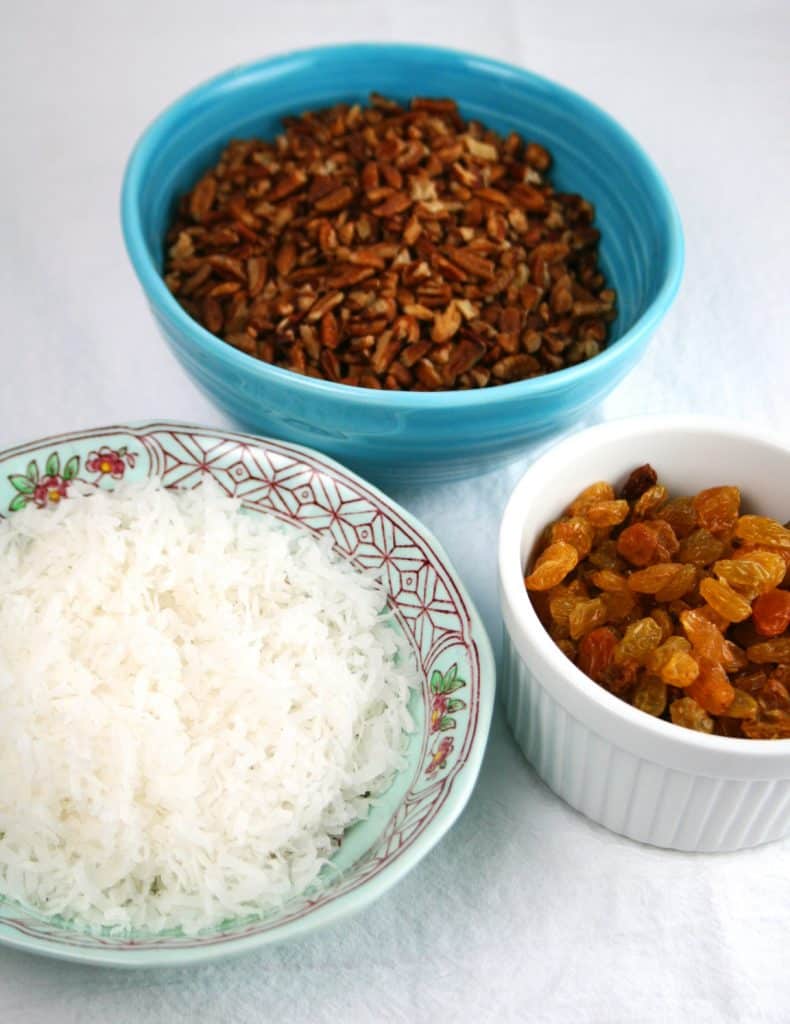 Filling the Cake
The filling ingredients. My grandmother didn't specify golden raisins, but I thought they would be pretty.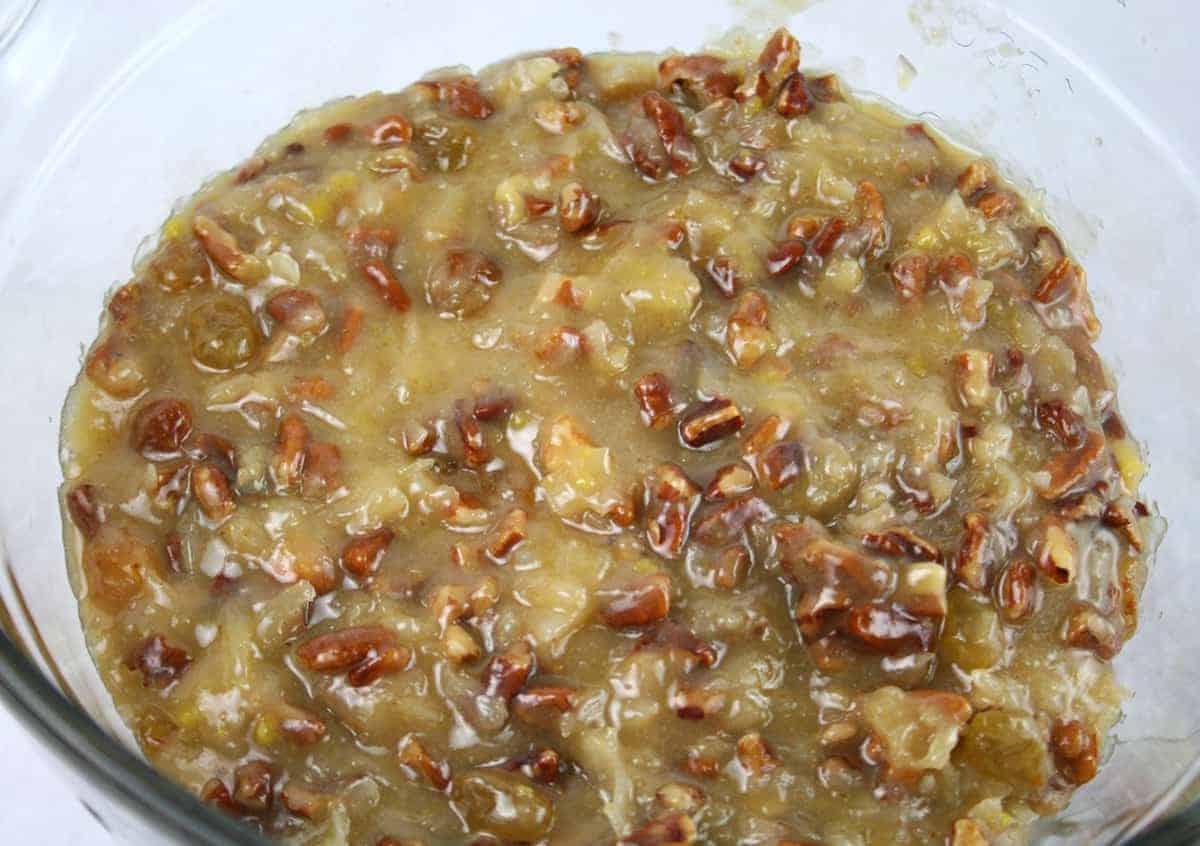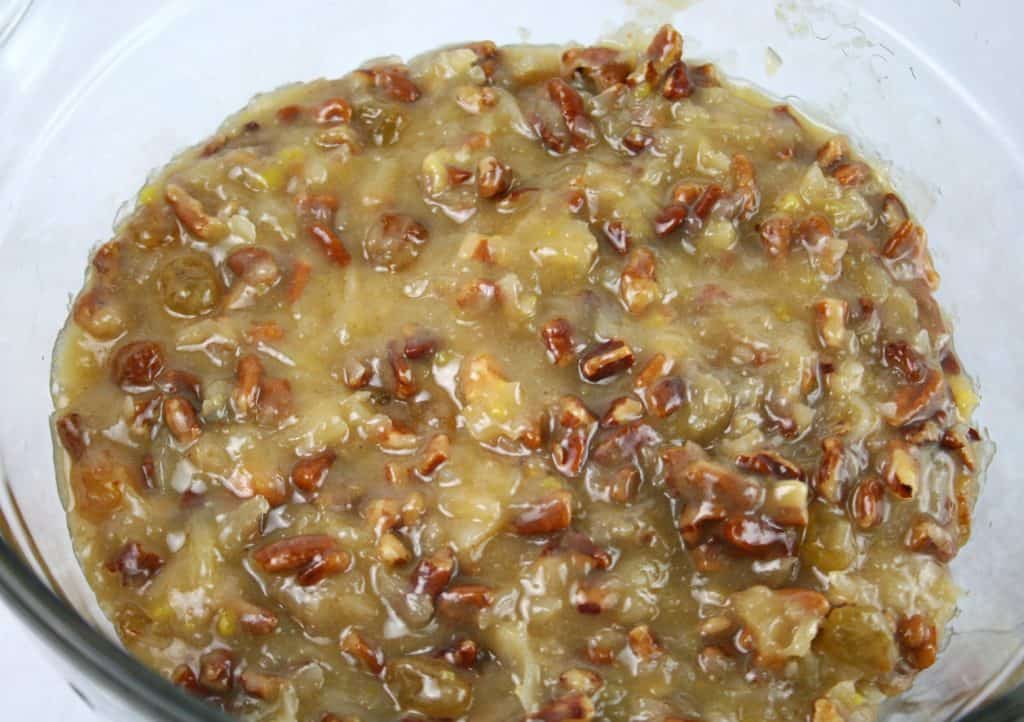 A Word About "Spirits"
My grandmother also didn't have bourbon in her recipe but I thought it would be a nice addition. She had the word "wine" on her recipe card, but I wasn't sure what kind. The bourbon turned out great. It gives it a boozy flavor which is lovely. When making the filling on the stove, stirring is the key. Don't stop stirring or you might get scrambled eggs. Once it's done, you will need to refrigerate, so that it thickens up enough to spread onto the cake without spilling over the sides.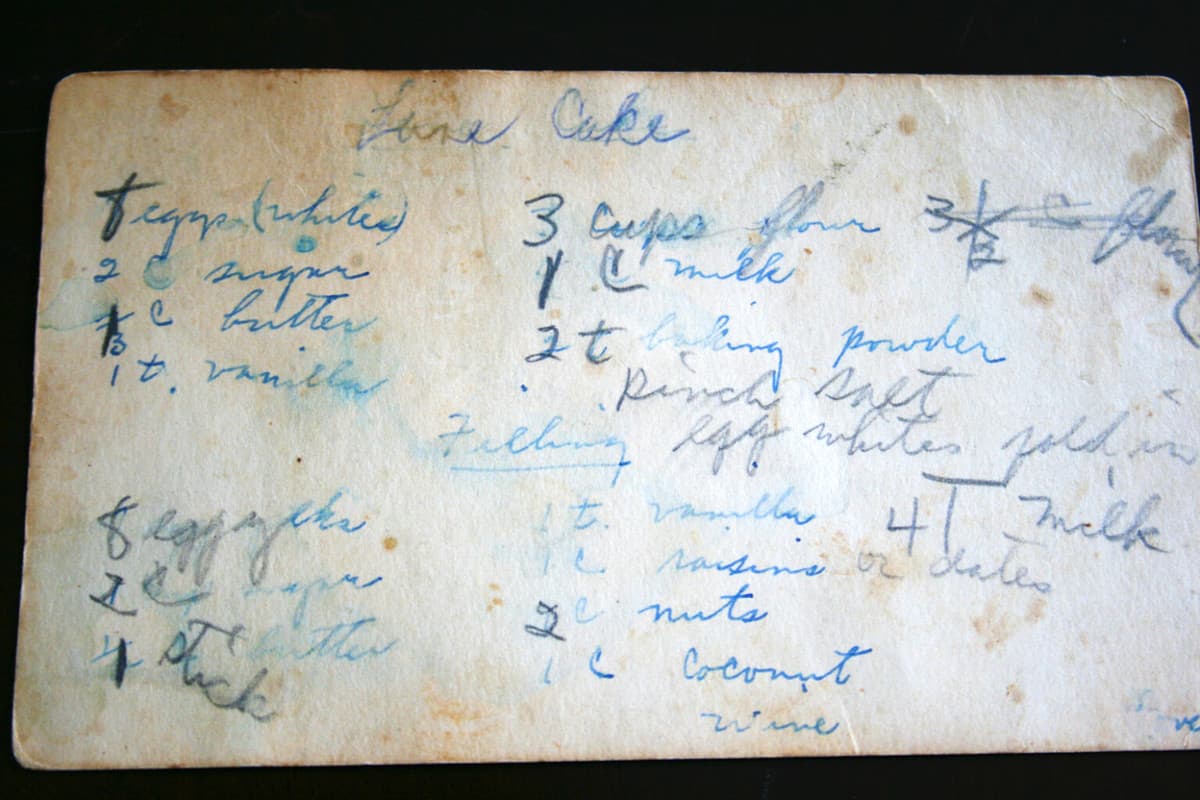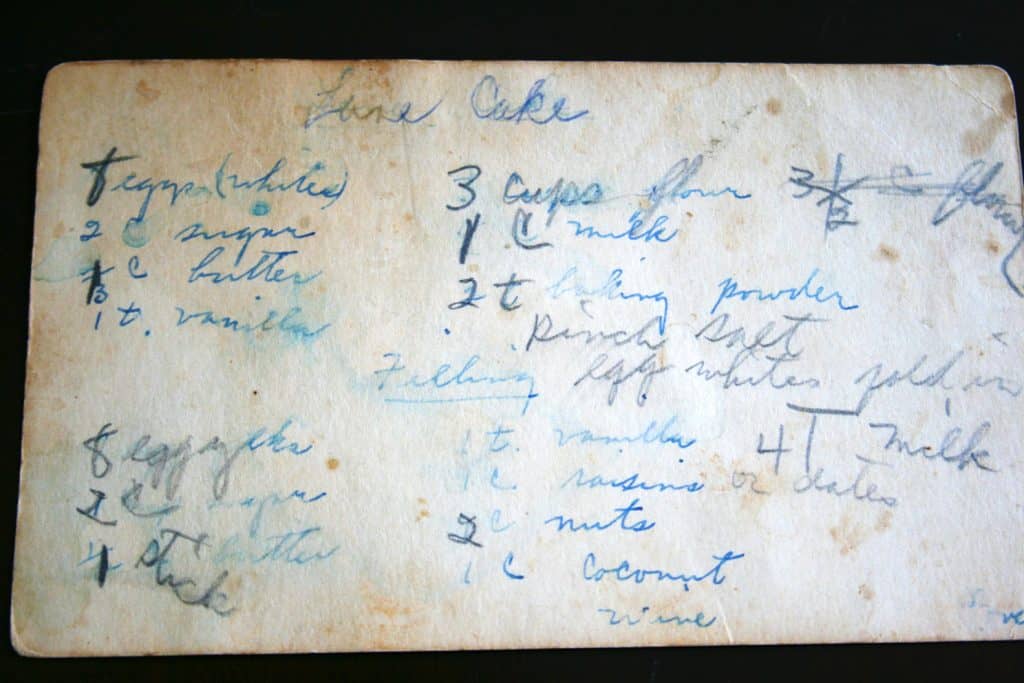 Here's my grandmother's recipe card. Her handwriting wasn't the best because her finger was damaged in a childhood collision she had with a fan. The index finger on her right hand was always straight. She couldn't bend it but she could play the piano beautifully and she taught many students as well as played the organ at her church. And arranged flowers (from her garden) for her church every Sunday for 30 years!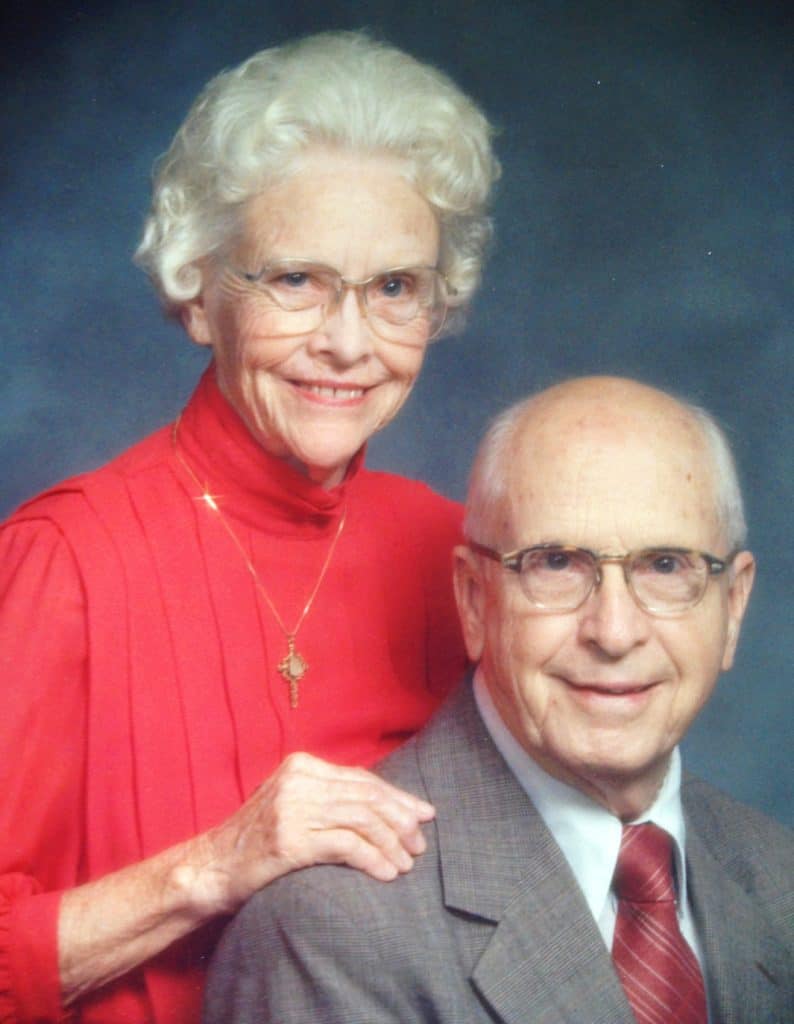 My grandparents, Dorothy and Glenn. The sweet lady behind this special cake and her loving husband who was a big fan of her desserts. (You can see her forever straightened index finger in this photo.)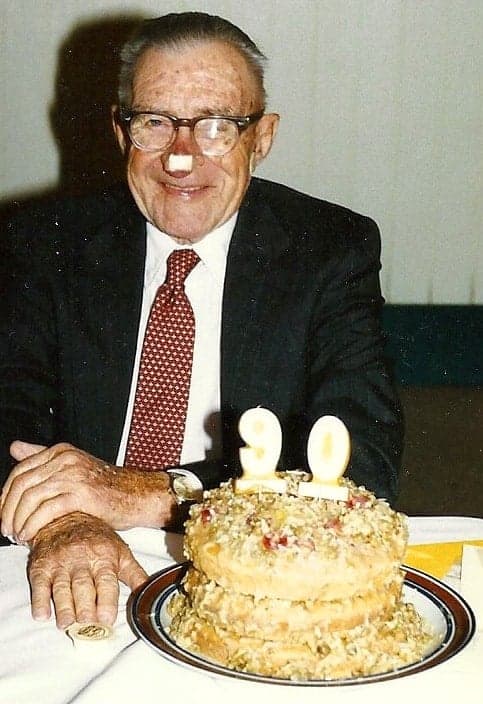 This is her brother, John Glenn (Uncle Gus), and an Alabama Lane Cake for his 90th birthday. I'm sure my grandmother would have made it for him if she had lived long enough. We think this one was made by his wife, Aunt Doris (around 1995).
According to Wikipedia, the original inventor of Lane Cake was Emma Rylander Lane, of Clayton, AL who won first prize with it at the county fair. This makes total sense to me since my grandmother is from a small town not far from there called Hartford, Alabama.
I hope you enjoy this cake as much as my family has! Let me know if you make it and how it turned out in the comments below. Also, is this a tradition in your family? Tell me about it.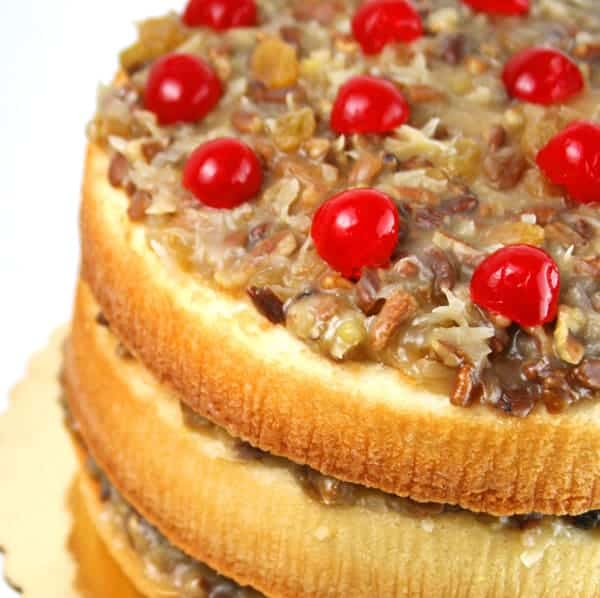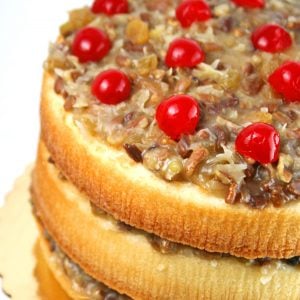 Alabama Lane Cake
Alabama Lane Cake is a bourbon-laden layer cake with a coconut pecan icing that's traditional in the American South.
Print
Pin
Rate
Ingredients
For the cake
3

cups

cake flour, sifted

340g

2

cups

granulated sugar

400g

1

tablespoon

baking powder

½

teaspoon

salt

1

cup

unsalted butter, cold and cut into cubes (store in refrigerator until ready to use)

226g

1

cup

whole milk, at room temperature

225ml

1

teaspoon

vanilla extract

8

egg whites

at room temperature (1 cup or 225ml)
For the filling
1

whole egg

2

cups

granulated sugar

400g

½

cup

unsalted butter, softened

113g

¼

cup

whole milk

55ml

1

teaspoon

vanilla extract

½

cup

bourbon (such as Evan Williams)

120ml

1

cup

golden raisins

150g

2

cups

chopped pecans

200g

1

cup

sweetened shredded coconut

125g

10

maraschino cherries

drained and cut in half
Instructions
For the cake
Preheat oven to 350°F. Prepare 3 round 8-inch cake pans by brushing with homemade pan release* (goop), lining with parchment rounds and brushing on more goop.

Place cake flour, sugar, baking powder and salt in a medium bowl. With an electric mixer on low, combine the dry ingredients for about 20 seconds.

Take the butter out of the refrigerator. With the mixer on low, add the butter, one cube at a time. Mix on low until you have achieved fine crumbs.

With mixer on low, add the milk and vanilla. Continue to mix on low for 5 minutes. Then gradually add the egg whites in several batches. Mix on low for 3 more minutes.

Pour batter into prepared pans with equal amounts in each pan (about 1 ½ cups or 388g per pan). Bake for 25 minutes or until a toothpick inserted in center comes out clean (a few crumbs on toothpick is ok). DO NOT OVERBAKE! Let cakes cool in the pans for 15 minutes. Then remove from pans and cool completely on cooling racks. Frost when cooled. Store in an airtight container at room temperature for 1-2 days. To keep fresh longer, store in airtight container in refrigerator.

*Goop is homemade pan release. You can easily make it by combining ½ cup vegetable shortening (such as Crisco), ½ cup vegetable oil and ½ cup flour in the bowl of an electric mixer. Beat on medium speed until smooth and creamy. Brush on pans to prevent sticking. Store in the refrigerator in an airtight container for months. Or you can use non-stick cooking spray. To cut the parchment circles, place a clean pan on top of parchment paper. Use a sharpee marker to trace the outer edge of pan onto paper. Cut with scissors.
For the filling
Combine egg, yolks, sugar, butter, and milk in a medium saucepan. Stir constantly and bring to a boil over medium high heat. It's important to keep stirring, so you don't have scrambled eggs. Once it's boiling, continue stirring vigorously for 2-3 minutes. Remove from heat and cool for 5 minutes. Stir in vanilla, bourbon, raisins, nuts and coconut. Refrigerate for about 1 hour or until completely cooled. It's ready to frost the cake. Divide into thirds.
To assemble cake
Place one layer of cake on a cake board or platter. Frost with one third of the filling on the top only. Do not frost the sides. Place another layer of cake on top and spread another ⅓ portion of filling. Repeat for last layer of cake and filling. Place cherry halves on top. It's ready to serve.
Nutrition
Calories:
657
kcal
|
Carbohydrates:
82
g
|
Protein:
9
g
|
Fat:
33
g
|
Saturated Fat:
15
g
|
Polyunsaturated Fat:
4
g
|
Monounsaturated Fat:
11
g
|
Trans Fat:
1
g
|
Cholesterol:
156
mg
|
Sodium:
184
mg
|
Potassium:
312
mg
|
Fiber:
3
g
|
Sugar:
61
g
|
Vitamin A:
717
IU
|
Vitamin C:
1
mg
|
Calcium:
94
mg
|
Iron:
1
mg
This recipe is featured on Meal Plan Monday at the Southern Plate.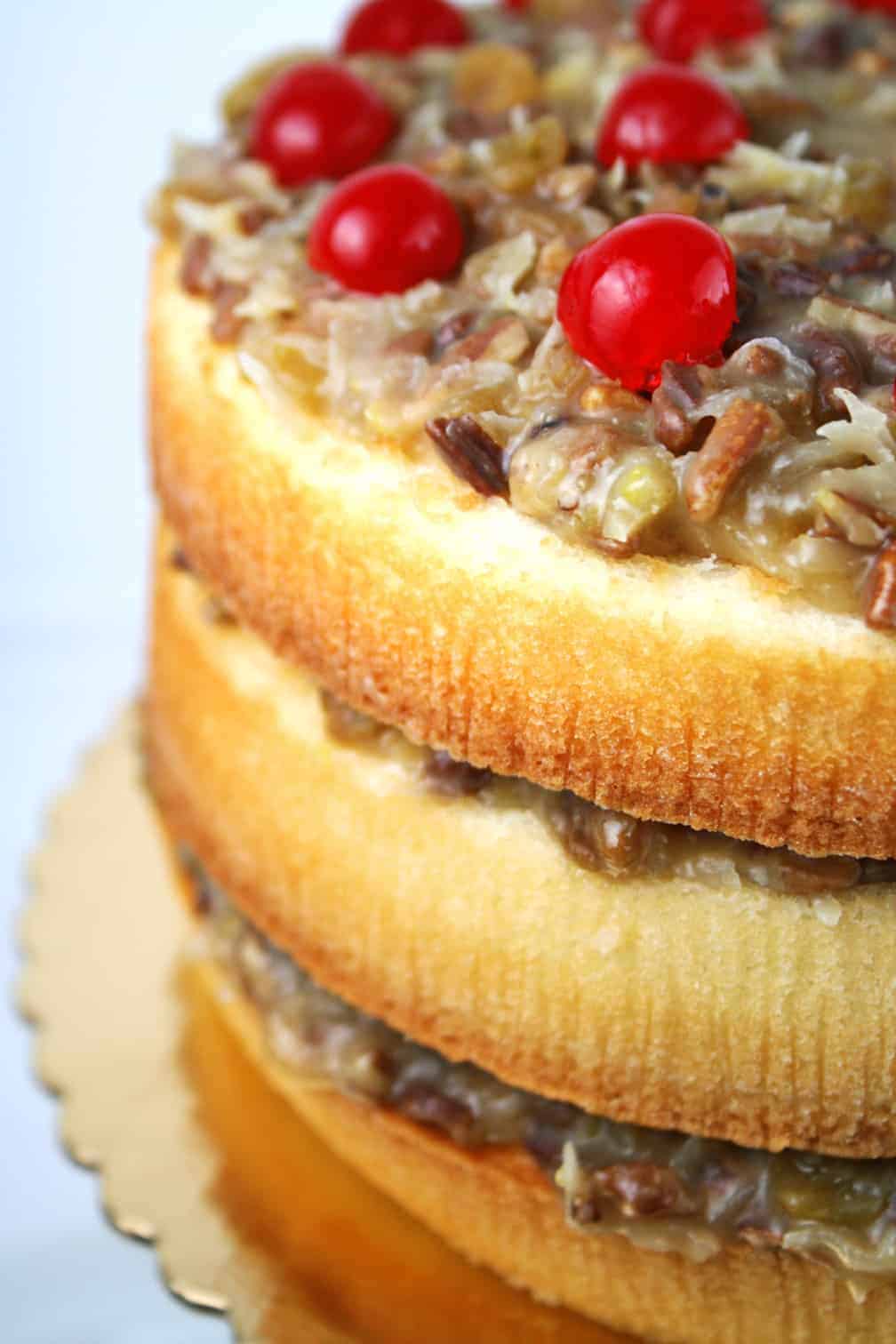 The Lane Cake was a success! And well received at the family reunion. I hope you will try it. My cousin describes it as a blonde German chocolate cake and I think that's exactly right.
You also might like this cake from my grandmother's recipe collection. It's called Watergate Cake.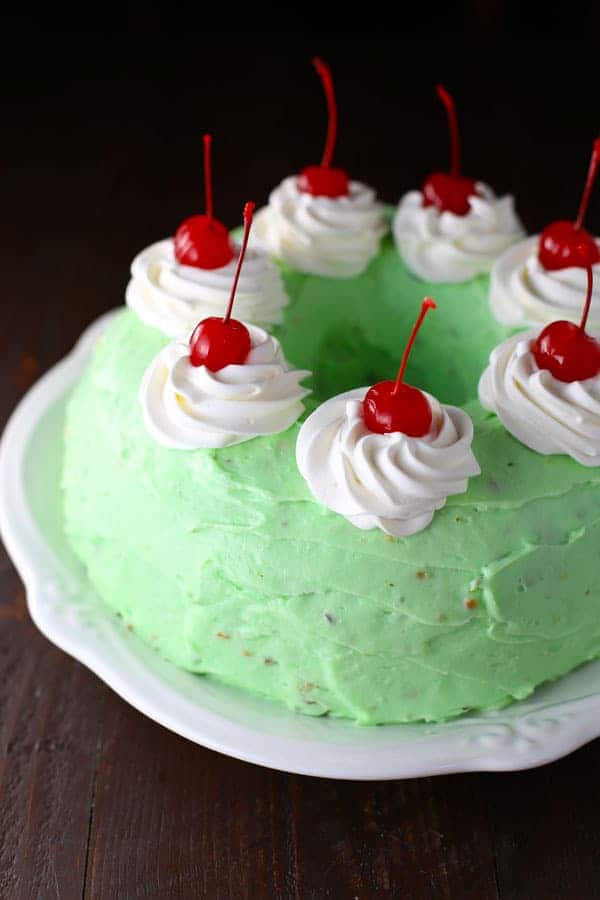 All text and images © Lise Ode for Mom Loves Baking. Please do not use my images without prior permission. If you want to republish this recipe, please re-write the recipe in your own words, or link back to this post for the recipe. Disclaimer: Nutrition information shown is not guaranteed to be accurate. This post may contain affiliate links.