Watergate Cake is a pistachio flavored Bundt Cake with pistachio frosting.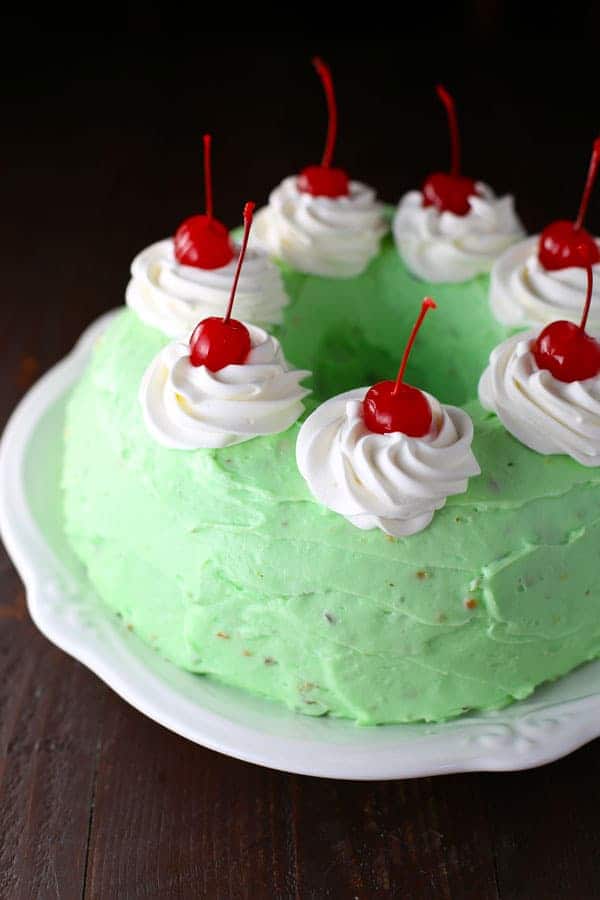 Watergate Cake is a vintage cake recipe. It comes from my grandmother's recipe box and I'm pretty sure she made it in the 1970s when the famous Watergate scandal was happening.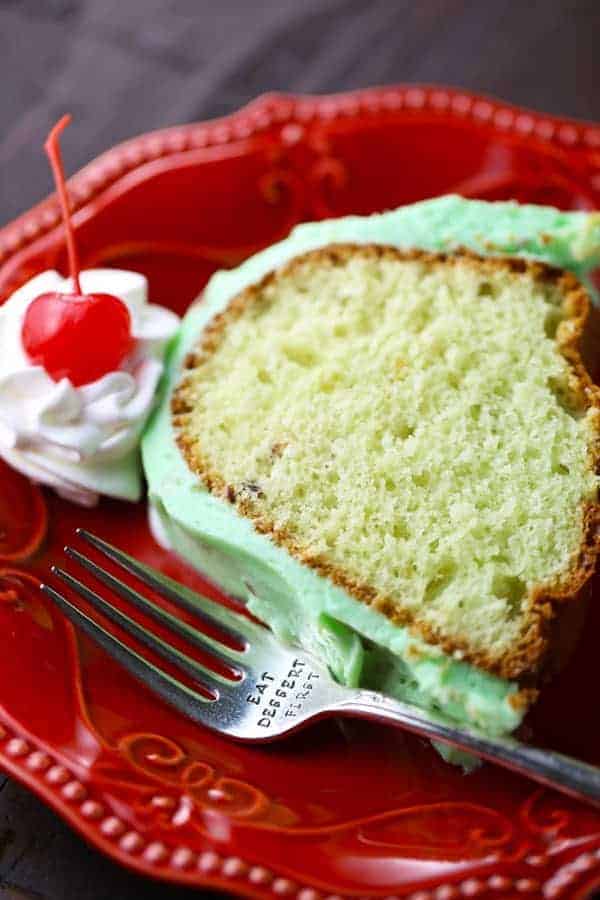 There are several different stories as to the origin of the name. Some say that it was originally a salad which was created by a chef at the Watergate Hotel. Others say it was named Watergate Cake because of the scandal (the cake has a 'cover-up' icing and is full of nuts) and satirically named recipes were a trend at the time.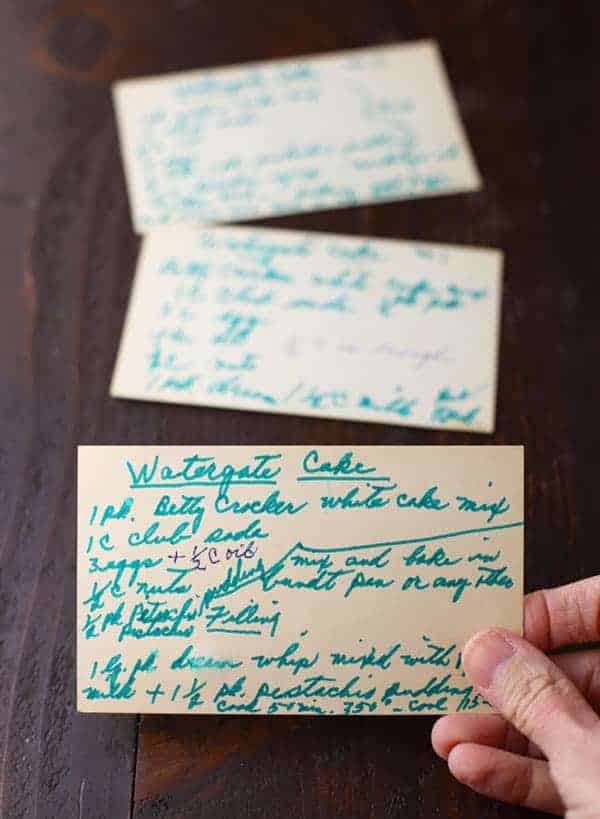 The only thing I'm sure of is that my grandmother really, really liked this recipe. She wrote it on THREE different recipe cards and she wrote it in green ink which I thought was so cute! She even says on the card that it's, "yummy!" And I agree with her!
Her handwriting was very distinctive and also hard to read. That's because she injured her finger as a child. Her index finger got caught in a fan and when it healed, she couldn't bend it anymore. It was always straight which made writing a little difficult. But she could still play the piano beautifully. And the organ too! (Scroll to bottom of post to see a photo of my grandmother – Dorothy – and I.)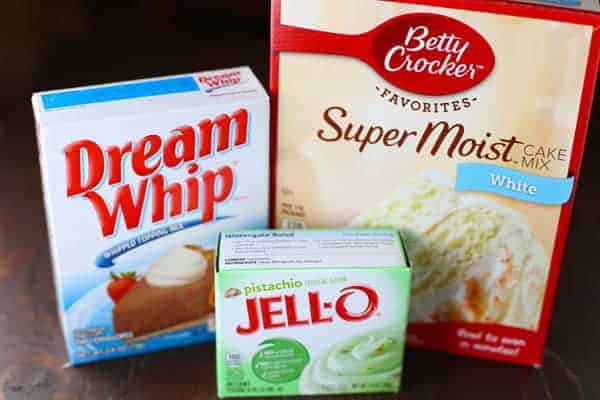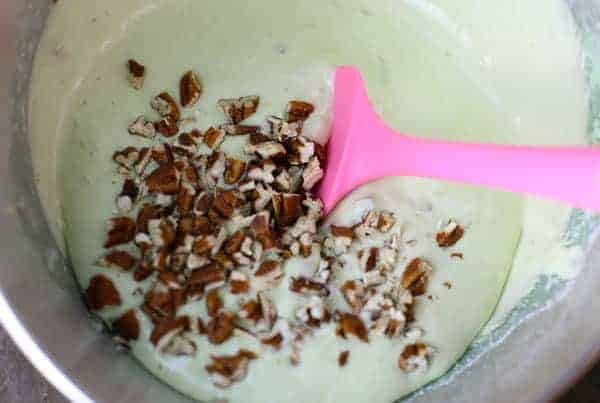 The batter consists of a white cake mix made with club soda, eggs, oil, pistachio pudding mix and nuts.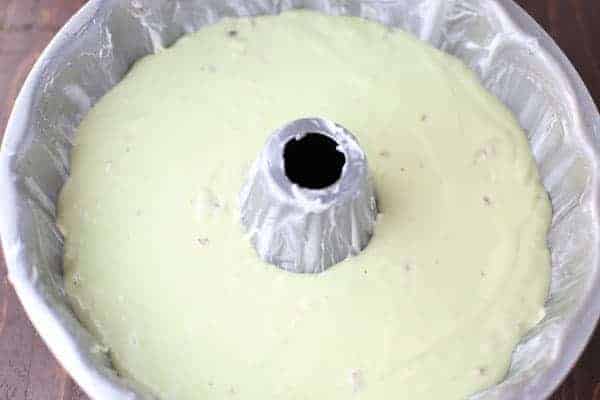 I greased my Bundt pan generously with vegetable shortening, then poured in the batter.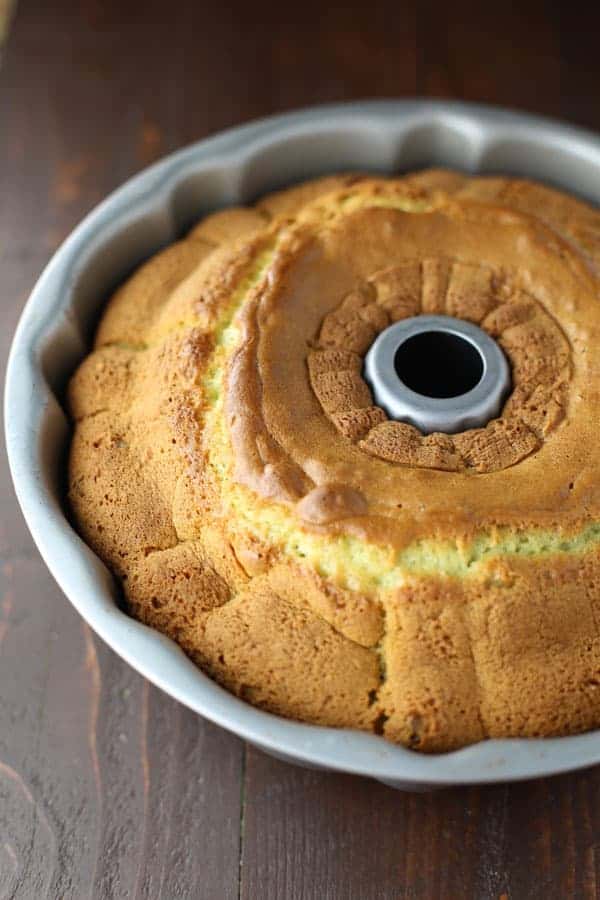 Bake the cake according to package instructions.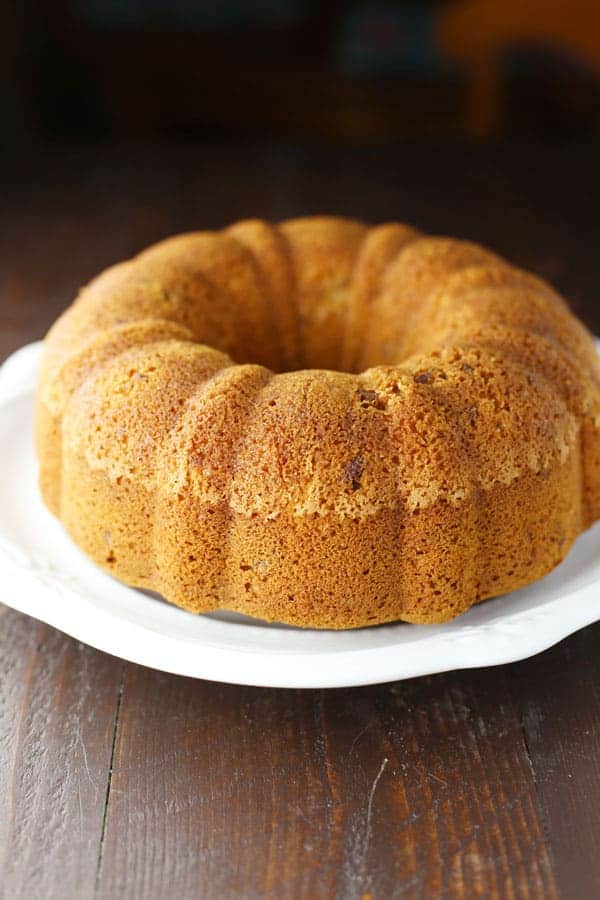 I baked mine at 350°F. for 45 minutes.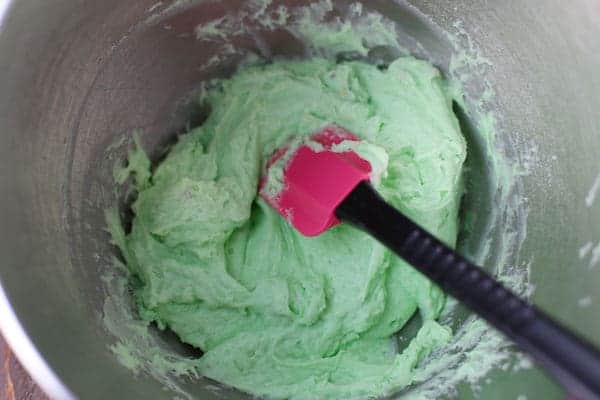 Then you make the frosting which is Dream Whip, pistachio pudding mix and milk.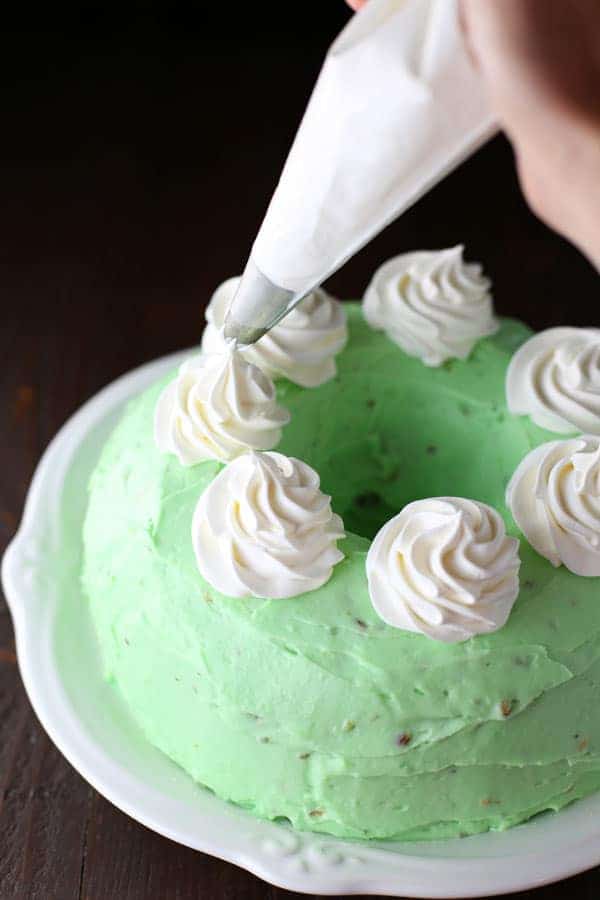 Frost cooled cake, then pipe Cool Whip on top.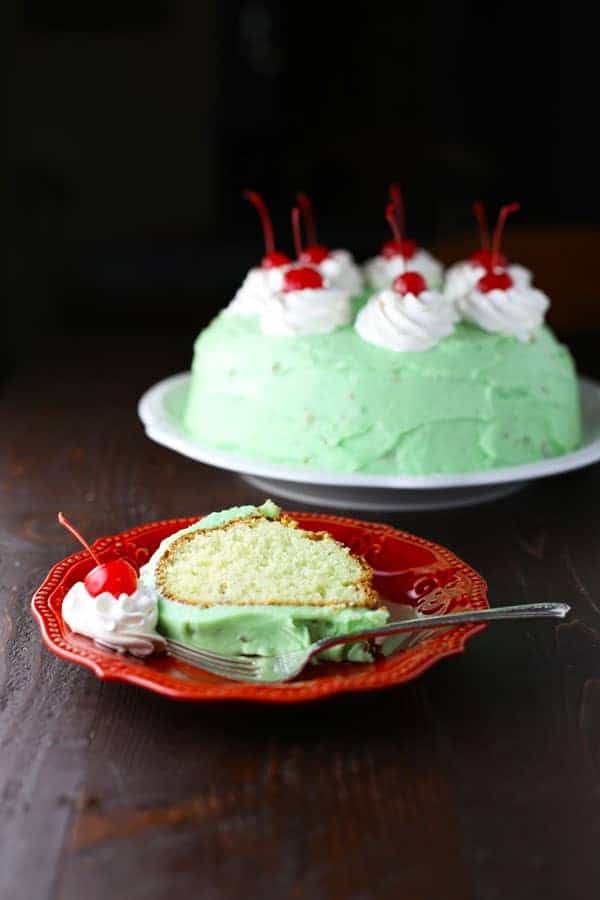 Add cherries for a pop of color. This step wasn't in the original recipe, but I thought it was pretty.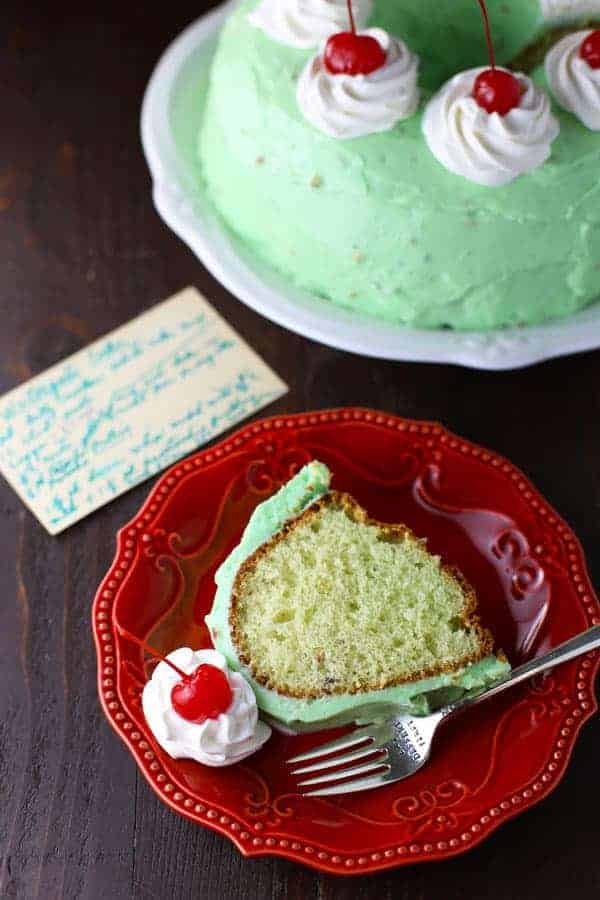 Slice and enjoy. I brought this cake to a dinner party and EVERYONE loved it! Such a YUMMY cake! My grandmother wasn't kidding when she said that! I love this cake!
Here's my grandmother and I. She was a piano teacher and loved giving me a lesson when she would visit. We lived in Tallahassee, FL and she was two hours away in Ozark, AL. She passed away in 1987 and I really miss her. Such a sweet and talented lady.
p.s. Can you see the John Denver album cover in the background of this photo? He's still one of my favorites.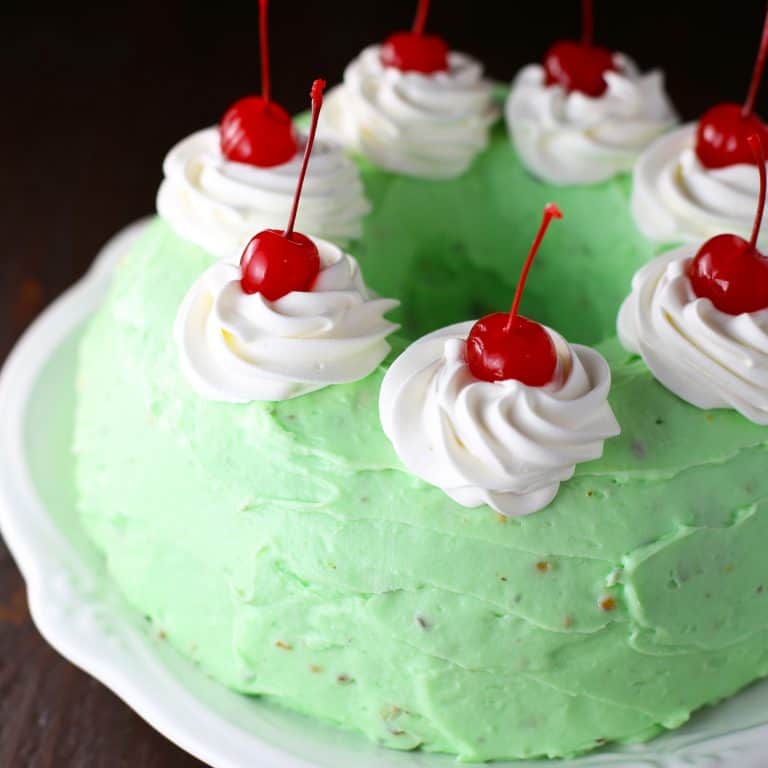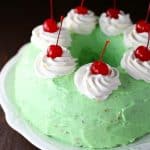 Print Recipe
Watergate Cake
Ingredients
For the cake

1

18.25 oz. package white cake mix (I used Betty Crocker)

1

cup

club soda

1/2

cup

vegetable oil

3

eggs

1/2

of a 3.4 oz package of pistachio flavored instant pudding mix

reserve the other half for frosting

1/2

cup

chopped pecans

For the frosting

1

envelope Dream Whip

from a 2.6 oz package which includes 2 envelopes

1 1/2

packages of pistachio flavored instant pudding mix

use the 3.4 oz packages

1 1/2

cups

cold

whole milk

For the topping

Cool Whip

Maraschino cherries
Instructions
Preheat oven to 350°F. Grease a Bundt pan generously with vegetable shortening. Set aside.

Place all of the cake ingredients in a large bowl. With an electric mixer, beat on low until combined, then turn up to medium high and beat for 2 minutes. Pour into prepared pan and bake for 40-45 minutes or until a toothpick inserted into the middle comes out clean. Let cool.

Meanwhile, prepare frosting. Add frosting ingredients to a large bowl. Mix with an electric mixer on medium high until thickened. Spread onto cooled cake. Garnish with Cool Whip and cherries. If desired, place Cool Whip in a pastry bag fitted with a 1M pastry tip to pipe onto cake. Store covered in refrigerator for up to 3 days.
Nutrition
Recipe featured on Meal Plan Monday #57 by The Southern Plate.