If you're looking for Amazing Christmas Bundt Cake Recipes, you've come to the right place! The holidays are around the corner, so there's no time like the present to plan your dessert table. And the most important dessert at Christmas is the cake. Am I right?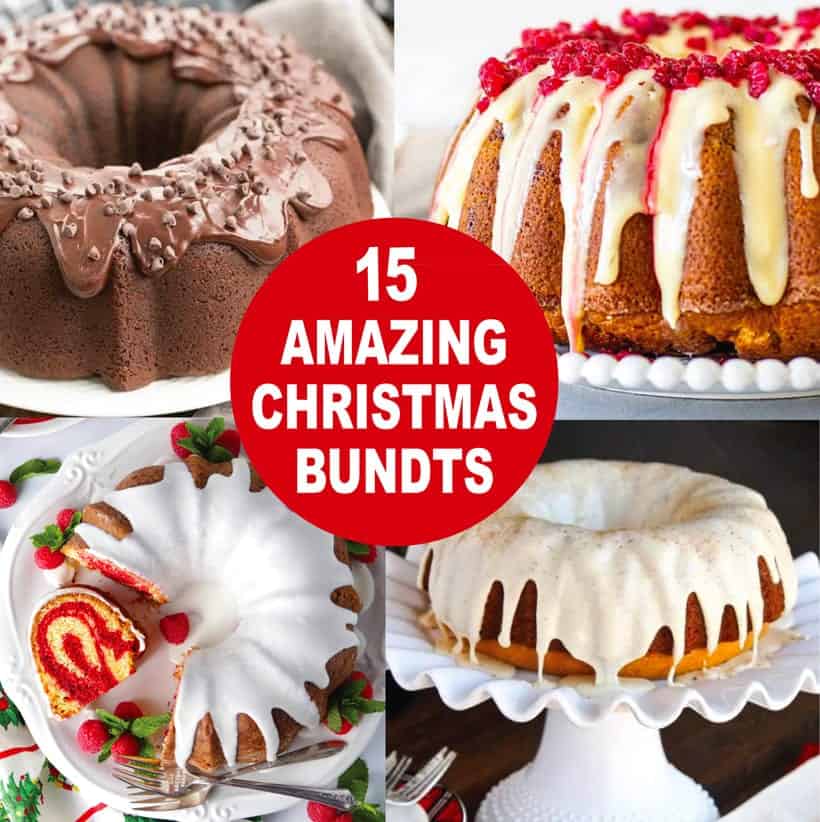 So I've rounded up the best Christmas Bundt cakes for you to try this year. There's nothing better than a homemade cake to brighten up your time with family at Christmas. I hope you enjoy these wonderful recipes!
#1 Red Velvet Marble Bundt Cake
Swirls of classic yellow cake and red velvet cake batter gently scooped into a greased bundt pan to create a beautiful marble pattern that's perfect for the holidays. Drizzled with vanilla glaze, your guests will ooh and ahh as you slice into this beauty to reveal the beautiful red and gold marble pattern.
Recipe from Mom Loves Baking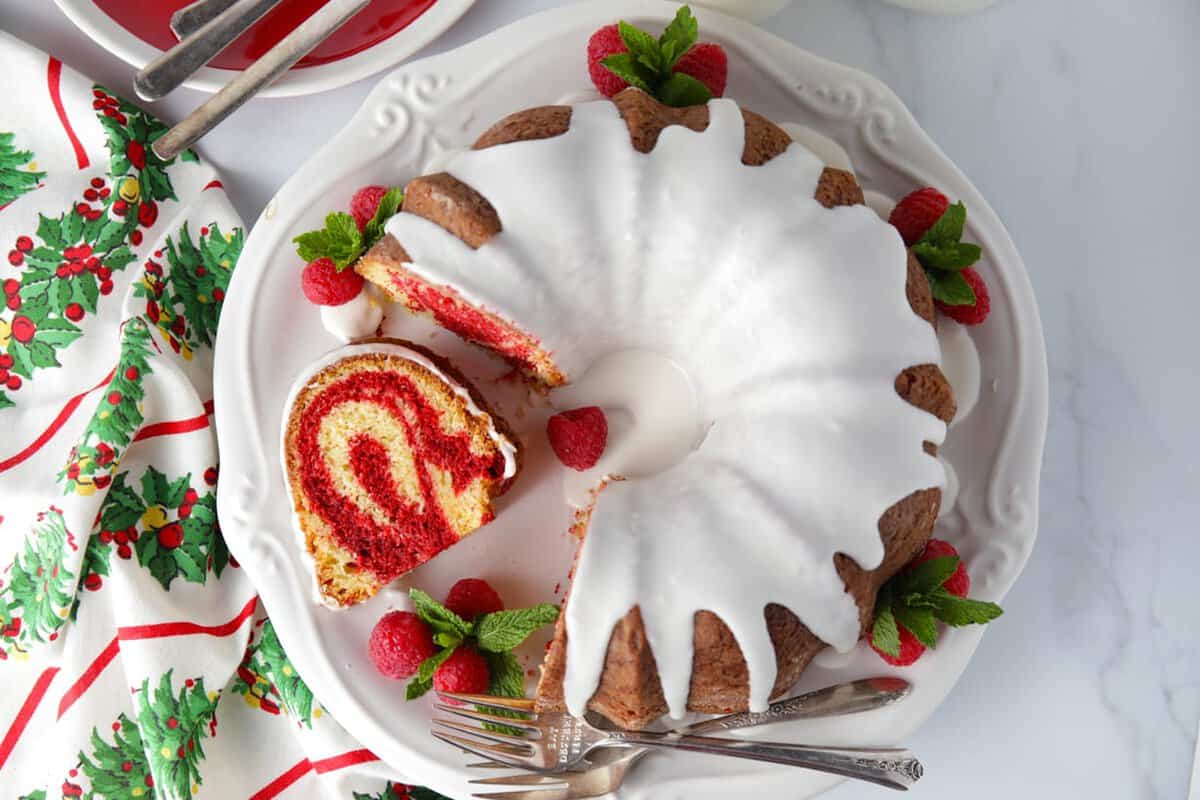 #2 Gingerbread Bundt Cake
Gingerbread Bundt Cake is a moist, flavorful cake traditionally served around the holidays. It's full of warm spices, molasses, and drizzled with a sweet maple glaze.
Recipe from More Than Meat And Potatoes
#3 Christmas Bundt Cake Recipe
I love this Christmas Bundt Cake. It's an easy holiday cake recipe that can be made in a pinch. This is the perfect busy mom's recipe to wow your guests this holiday season.
Recipe from Balancing Motherhood
#4 Peppermint Mocha Cake
Are you looking for an easy but delicious holiday bundt cake? You will love this Peppermint Mocha Cake— a rich chocolate cake, with a homemade espresso peppermint ganache that gets poured over the top. Grab a fork and dive in for a crave-worthy Christmas cake that is so simple to make.
Recipe from Crayons & Cravings
#5 Cranberry Orange Almond Pound Cake
Cranberry Orange Almond Pound Cake is an easy recipe for a festive Bundt cake to serve during the holidays!
Recipe from Mom Loves Baking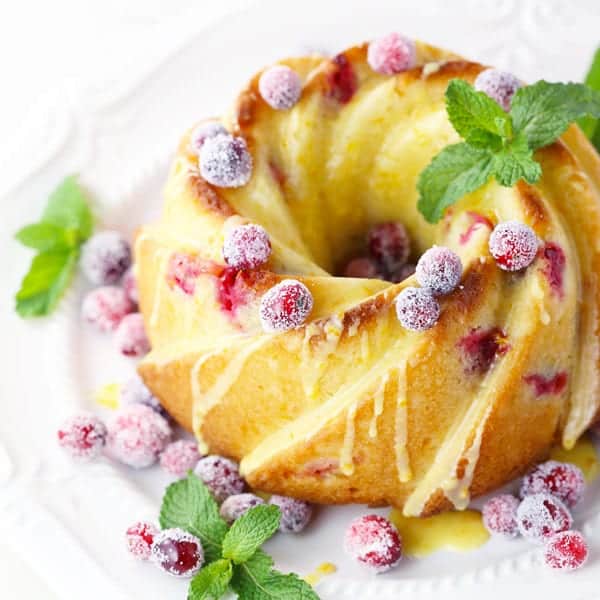 #6 Eggnog Cake
What do you do when you find the first eggnog container of the season, well you make an eggnog cake of course! The delicious flavor of eggnog is packed into this simple, yet easy-to-make, Eggnog Cake. This holiday cake recipe is a must make for eggnog fans.
Recipe from Love from the Oven
#7 Mulled Wine Cake
This old fashioned German Mulled Wine Cake is a delicious blend of cake, chocolate, and spiced wine. Perfect for cold winter days! Enjoy with a cup of coffee, tea, or just make a larger batch of mulled wine.
Recipe from Cheerful Cook

#8 Peppermint Bark Cake
If you love peppermint bark, and you love chocolate cake, then my easy Peppermint Bark Cake is made for you! This moist chocolate bundt cake contains a peppermint cream cheese filling, and is topped with a dreamy white chocolate peppermint bark ganache glaze. Delicious enough to make for a special occasion, this cake is easy enough to make for a weeknight treat during the busy holiday season.
Recipe from Love from the Oven
#9 Grandma's Husband Cake - Spiced Bundt Recipe
Grandma's Husband Cake -a vintage recipe from the 1960s – is a spice Bundt cake with nuts, raisins and the most amazing cream cheese fondant icing drizzled on top.
Recipe from Mom Loves Baking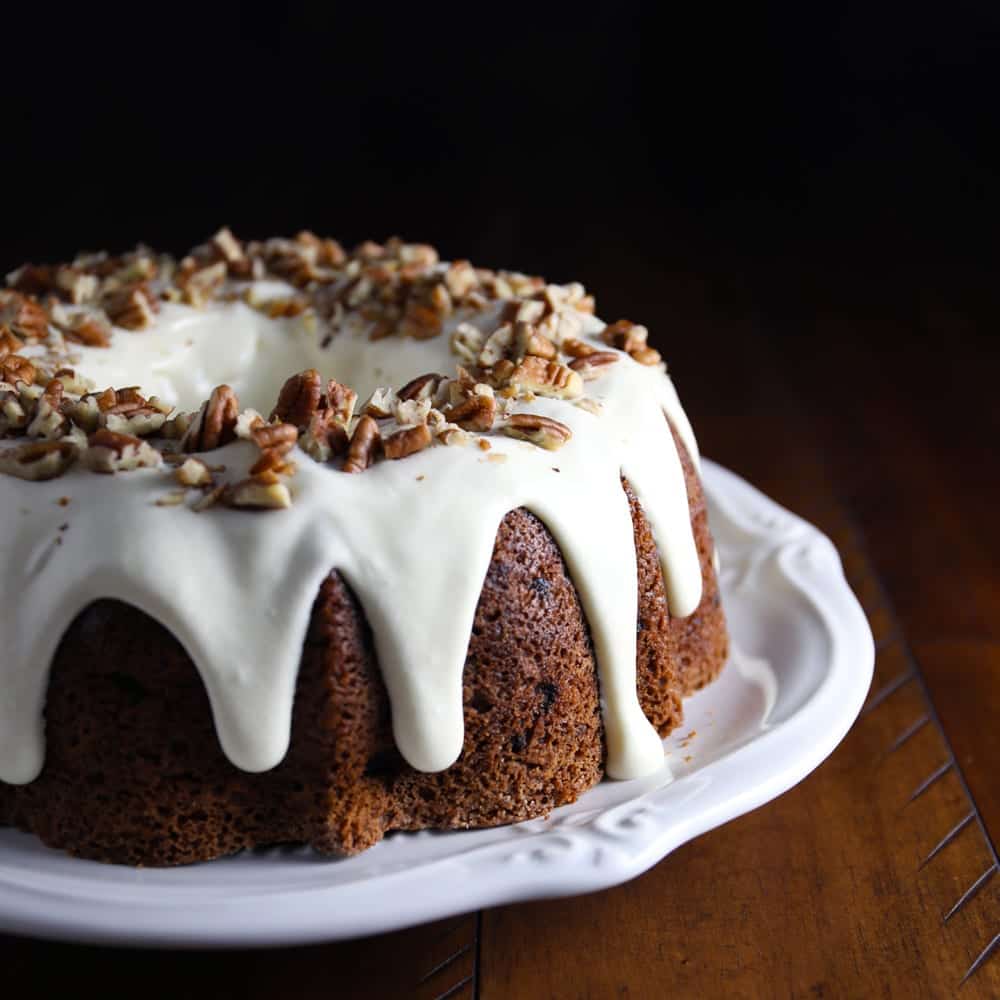 #10 Copycat Nothing Bundt Red Velvet Cake
Copycat Nothing Bundt Red Velvet Cake is amazingly delicious! So good, y'all! It tastes so much like the store bought version, but it's much more economical! Nothing Bundt cakes are a bit expensive, so why not make one at home! It's also super simple with my doctored up cake mix recipe. Click below for the EASY recipe!
Recipe from Mom Loves Baking
Viral post alert! This cake has been pinned over 120,000 times on Pinterest, check it out!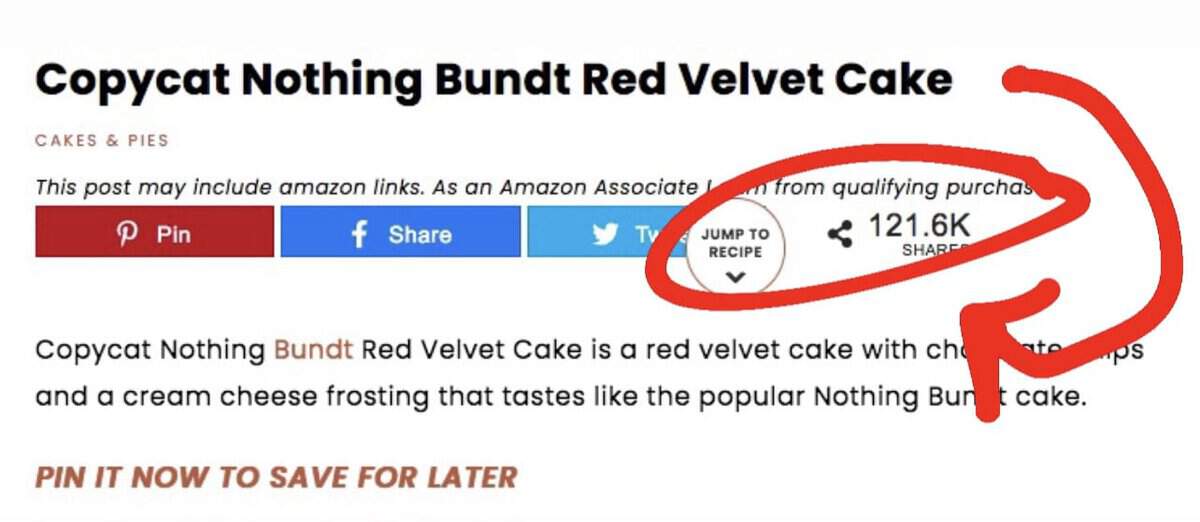 #11 Cheesecake Stuffed Chocolate Bundt Cake
Cheesecake stuffed chocolate bundt cake is the perfect holiday dessert! Rich and decadent chocolate cake, stuffed with creamy homemade cheesecake filling, topped with a layer of chocolate ganache. Christmas just calls for a chocolate cheesecake recipe like this one!
Recipe from That Skinny Chick Can Bake
#12 Cream Cheese Pound Cake
Cream Cheese Pound Cake is a classic, Southern recipe for a delicious pound cake made in a Bundt pan. This is a very special, vintage recipe that comes from my great aunt in Alabama who is now in her 90s. Perfect for the holidays! If you have any leftovers, we have this little tradition in the South where we take slices of day or two day old pound cake, spread butter on top and toast in the oven for breakfast. It is just heavenly and I highly recommend it!
Recipe from Mom Loves Baking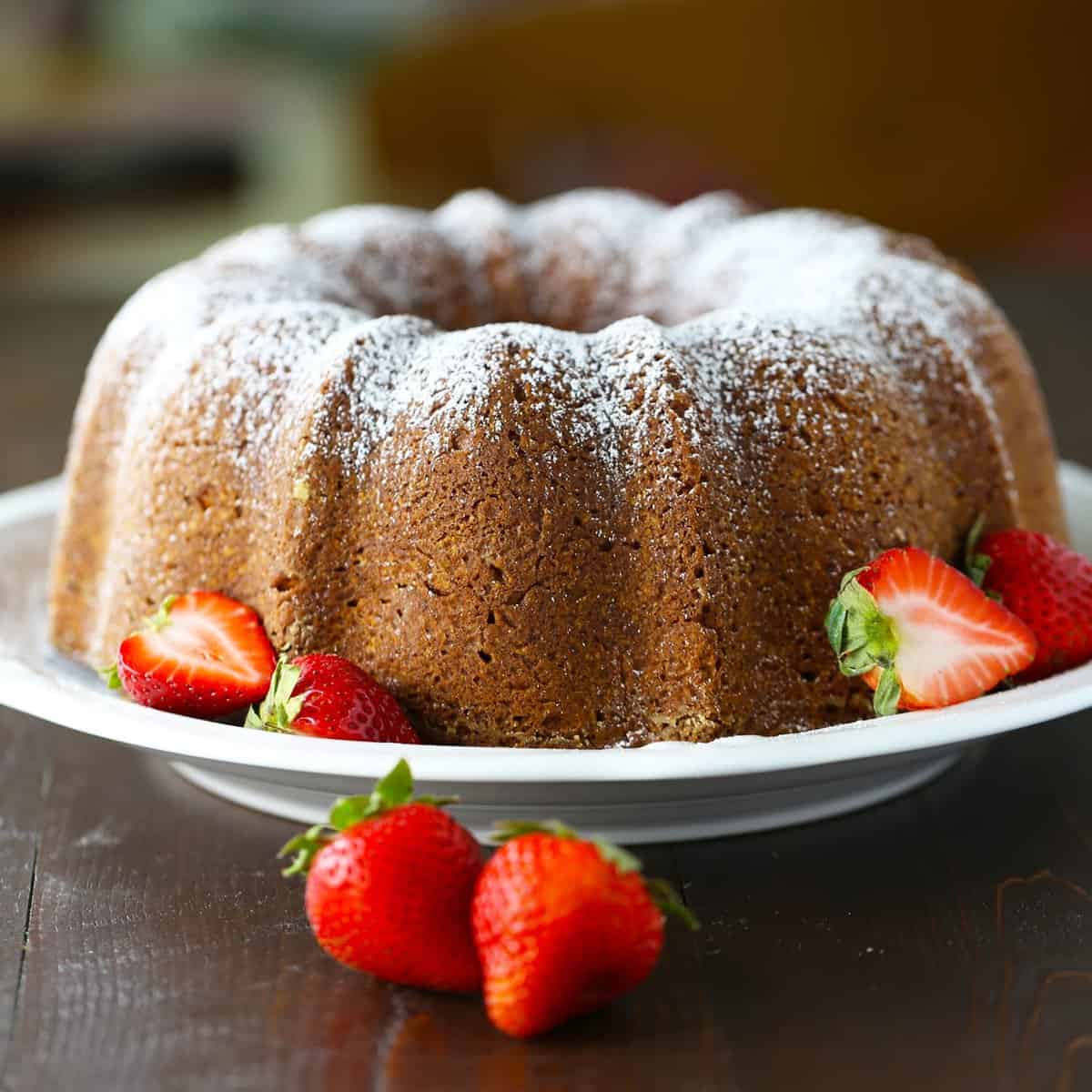 #13 Watergate Cake
Watergate Cake is a vintage cake recipe for a pistachio flavored Bundt Cake with pistachio frosting. It comes from my grandmother's recipe box and I'm pretty sure she made it in the 1970s when the famous Watergate scandal was happening. The green and red colors of this cake make it perfect for the holidays!
Recipe from Mom Loves Baking
#14 Pumpkin Spice Bundt Cake with Brown Sugar Glaze
Pumpkin Spice Bundt Cake with Brown Sugar Glaze – A vintage recipe for pumpkin cake, baked in a Bundt pan and drizzled with a delicious brown sugar glaze then topped with chopped pecans.
Recipe on Mom Loves Baking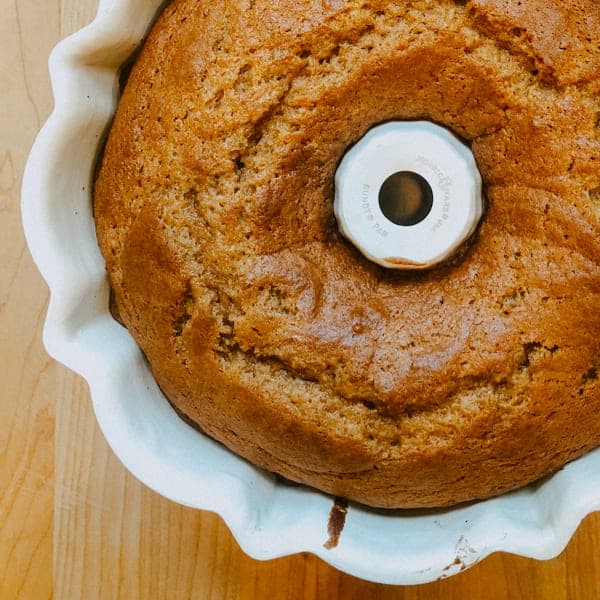 #15 White Chocolate Raspberry Bundt Cake
Smooth and delicious, this bundt cake recipe will make you a fan of white chocolate and berries! The flavors are subtle and deep at the same time, the crumb is dense and tender and the cake lasts for several days. The white chocolate ganache on top makes it scrumptious!
Recipe from Vintage Kitchen Notes
I hope you've enjoyed these Amazing Christmas Bundt Cake Recipes! Which one is your favorite? Let me know in the comments below.
xoxo,
Lise
Bonus Bundts
Here are a few more Bundt cake recipes you might enjoy...
Pumpkin Chocolate Swirl Bundt Cake (Gluten Free)
Gluten Free Easter Bunny Bundt Cakes (Mini Bundt Cakes)
Tools for success
Nordic Ware Bundt Pan with Handles, 12-Cup
Pyrex Glass Measuring Cups (Set of 3)
Note: The above items are affiliate links. As an Amazon Associate I earn from qualifying purchases.
p.s. You might also like these holiday recipes...
Super Easy Chocolate Dipped Peppermint Cookies
Peppermint Bark Rice Krispie Treats