Cream Cheese Pound Cake is a classic, Southern recipe for a delicious pound cake made in a Bundt pan.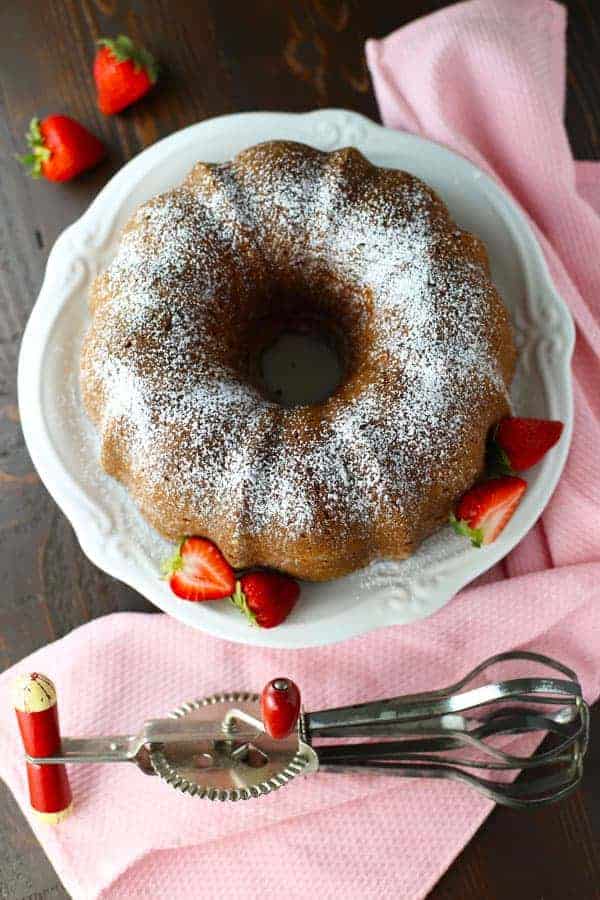 Hey there and Happy Saturday!
We moved! And I survived. Barely. The last few weeks are a complete blur to me. I've moved many times in my life but it just never gets easier. Practice does not make perfect. We only moved 2 miles down the road, but still we had to shuttle all of our belongings from point a to point b! I tried to weed out but I have a hard time letting go of stuff. It's sort of a problem. I promise I'm not a hoarder. I just get sentimental about little things like my daughter's ballerina tutu she wore when she was 3 or my son's fire truck my dad gave him when he was really little. And don't even get me started on my kitchen stuff. Boxes for days!
And if you follow my Instagram stories, you have seen some of the renovation that's going on in the new place. Well, new to us. The home is 18 years old and we will definitely party like it's 1999 when the project is complete. The main changes we are making are in the kitchen. We are making it double the size, adding new cabinets and a GINORMOUS island which I am beyond excited about! I can't wait to show you!
In the mean time, I won't have a working kitchen for about 6-8 weeks! Yikes! So I had to bake a cake on our last day at the old house. And I wanted to bake the cake for our friend's birthday. Jeff is also a contractor and has been doing a lot of work on our house. He's from Alabama, so I knew he would appreciate this good ole Southern recipe that comes from my great Aunt Sara who is from Ozark, Alabama.
I found the recipe in my old fashioned recipe box which I still use quite often. I just love flipping through this little box that's full of memories. Some of the cards were hand written by me when I was just a kid. Other recipes are in my mother's or my grandmother's handwriting. My aunt gave me this recipe back in 2003. She said she has made it many, many times and it is always well received! Everyone always wanted the recipe, she said.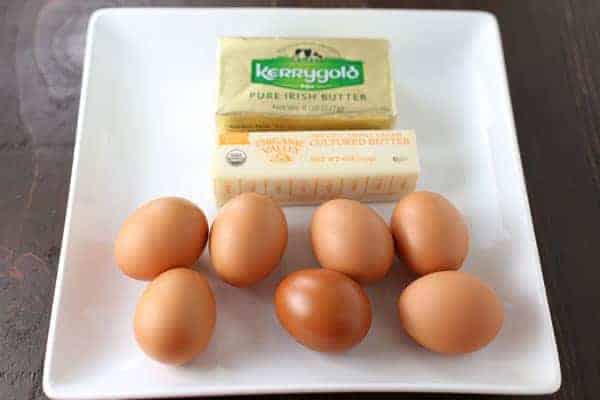 Now for the step-by-step instructions for this very special Cream Cheese Pound Cake. One of the best baking tips I can give you is to set your eggs, butter and cream cheese on the counter the night before you bake. That way, you get up the next morning and your ingredients are ready! Everything that goes into your cake batter should be room temperature. I actually forgot the cream cheese, so I had to buy it the morning of my baking project. I simply removed the wrapper and microwaved it in a bowl for about 45 seconds to get it softened.
So the first step in the recipe is to separate your eggs and set aside.
Cream the butter and sugar together until light and fluffy. Beat in the cream cheese, then add the egg yolks and vanilla.
Next, beat the egg whites in a separate bowl until stiff (but not too stiff because they will get dry). Set aside.
In a medium bowl, stir together the flour and baking powder. Stir the flour mixture into the batter, then fold in the egg whites.
Liberally grease a Bundt pan with lots of butter. Add some flour and roll it around so it covers all of the buttered areas.
Here's the Bundt Pan I used which I found on Amazon (affiliate):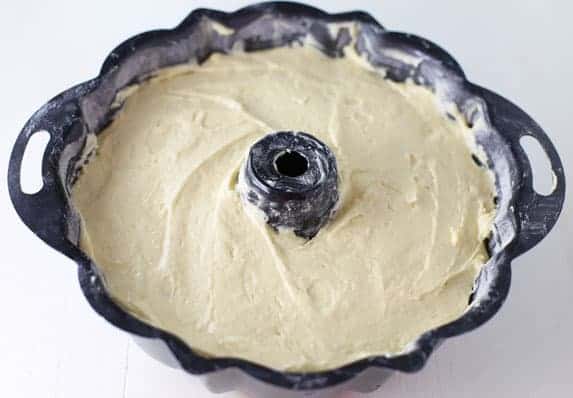 Pour batter into prepared pan.
Bake at 325°F for one hour or until a toothpick inserted in the middle comes out clean. Let cool and turn out onto a serving plate.
Dust with powdered sugar and serve with fresh strawberries.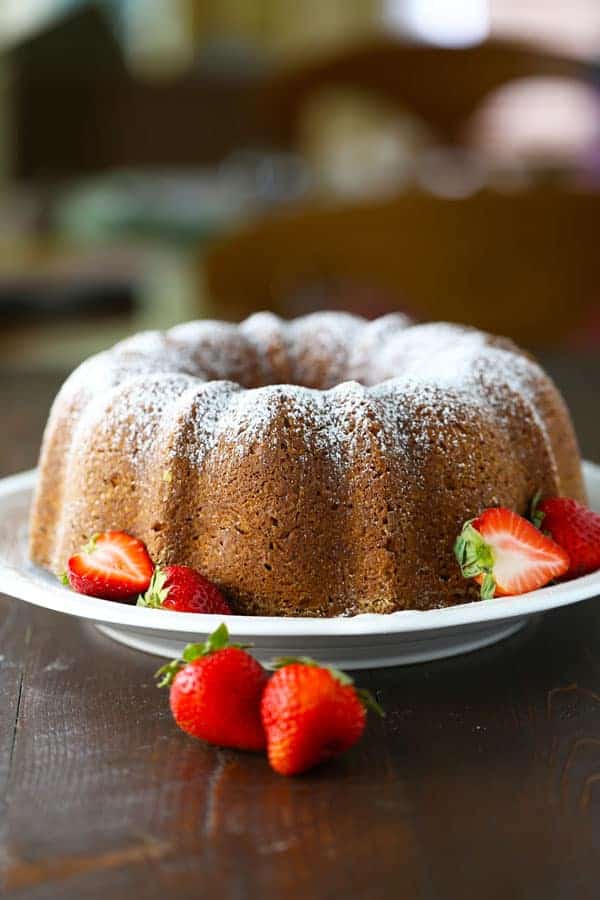 After taking a few photos of the Cream Cheese Pound Cake, I put it in a clear plastic cake saver I got from the grocery store and delivered the cake to Jeff. He was really surprised and couldn't believe that I made a cake the day before we were moving! I'm just crazy like that. He loved it! And I did hear back a few days later that it was just as delicious as the pound cake that his mother used to make for him. Baking for friends is so fun!
We have this little tradition in the South where we take slices of day or two day old pound cake, spread butter on top and toast in the oven. It is just heavenly and I highly recommend it!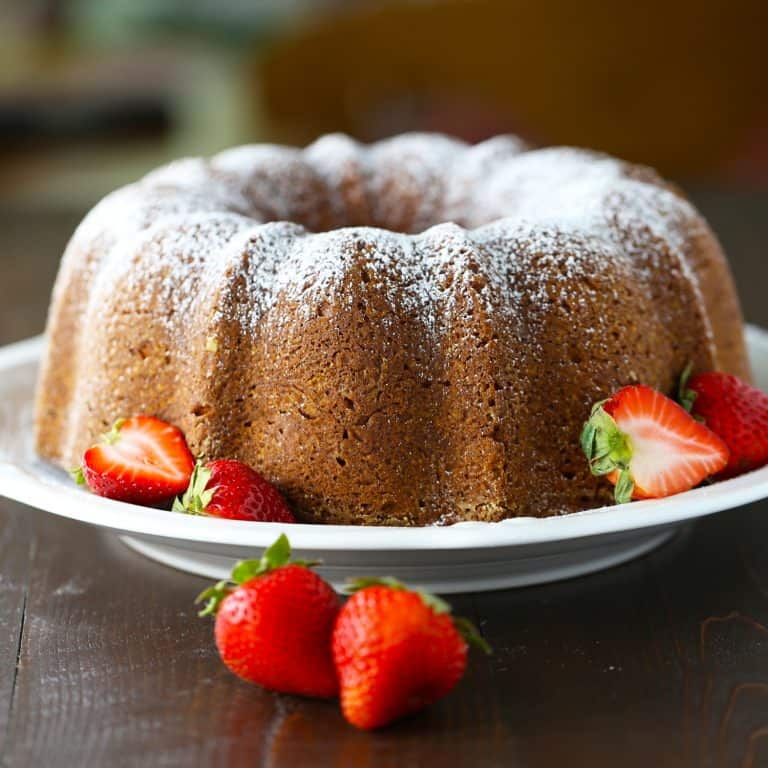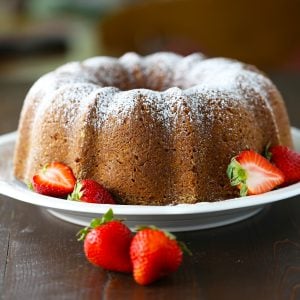 Cream Cheese Pound Cake
Cream Cheese Pound Cake is a classic, Southern recipe for a delicious pound cake made in a Bundt pan.
Print
Pin
Rate
Instructions
Preheat oven to 325°F. Grease a 12-cup Bundt pan with butter or shortening. Add about 2 tablespoons of flour and jiggle pan around so flour covers all of the buttered areas.

Cream butter and sugar. Beat in cream cheese, then add egg yolks and vanilla. Stir in flour by hand. Fold in stiffly beaten egg whites. Bake for one hour or until a toothpick inserted in middle comes out clean. Let cool and serve with powdered sugar sprinkled on top and fresh strawberries on the side, if desired.
Nutrition
Calories:
463
kcal
|
Carbohydrates:
56
g
|
Protein:
6
g
|
Fat:
24
g
|
Saturated Fat:
14
g
|
Polyunsaturated Fat:
1
g
|
Monounsaturated Fat:
6
g
|
Trans Fat:
1
g
|
Cholesterol:
143
mg
|
Sodium:
80
mg
|
Potassium:
106
mg
|
Fiber:
1
g
|
Sugar:
38
g
|
Vitamin A:
838
IU
|
Calcium:
46
mg
|
Iron:
2
mg
Featured on the Southern Plate Meal Plan Monday.
If you like vintage recipes, you might like these from my grandmother's recipe box...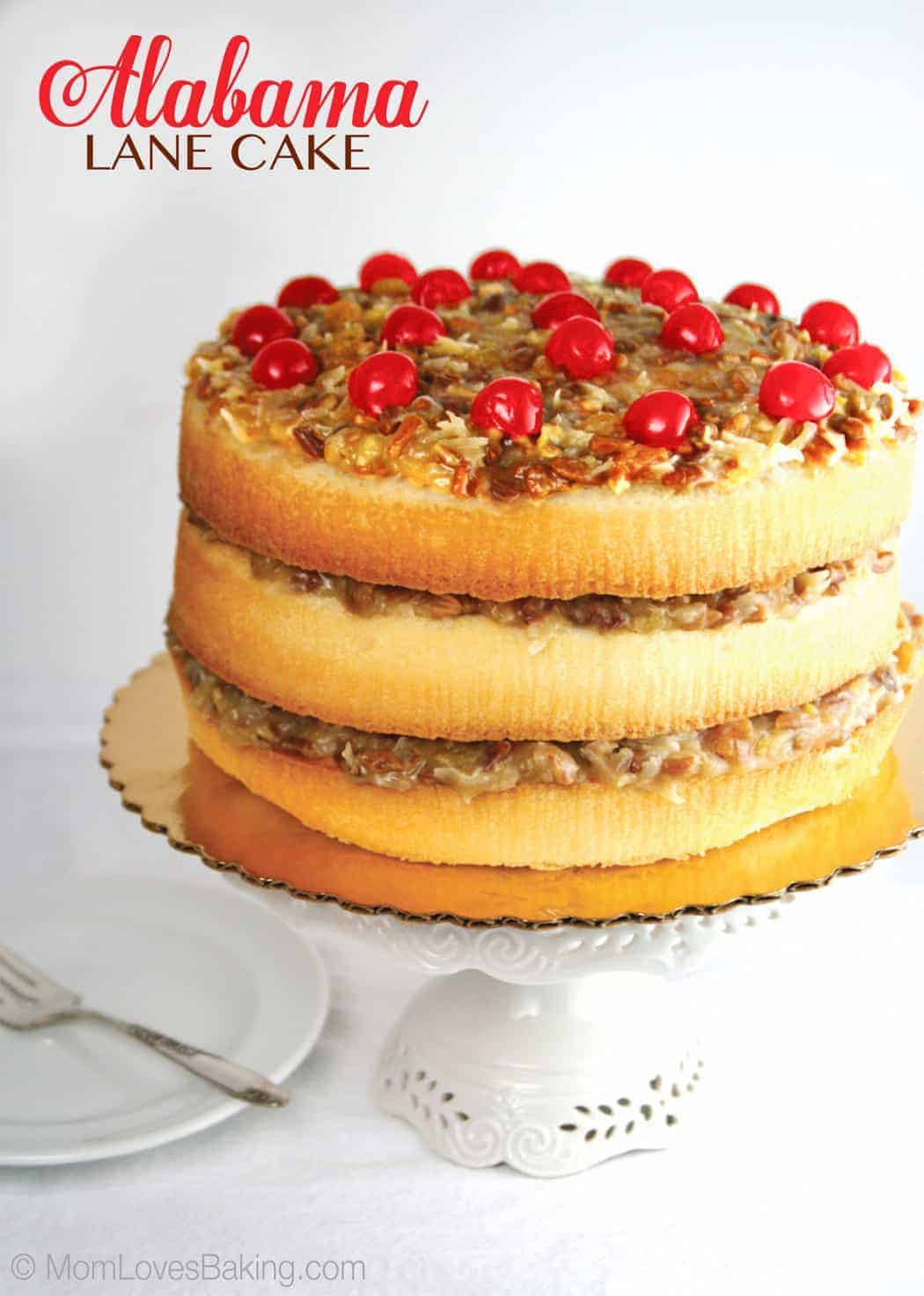 or this one...