Pumpkin Chocolate Swirl Bundt Cake is pumpkin and chocolate cake swirled together in a Bundt pan with orange icing and mini chocolate chips. It's made with a gluten free cake mix or you can use a regular cake mix, if you wish. Either way it's incredibly delicious! Pumpkin Chocolate Swirl Bundt Cake is simply scrumptious! A fabulous dessert for anyone, whether or not you can have gluten!
Looking for more pumpkin desserts? Here are a few Fall recipes you won't want to miss... Pumpkin Cupcakes,Pumpkin Spice Chocolate Donuts, or 25 Perfect Pumpkin Desserts Also, you might want to try this classic Fall favorite: Pumpkin Bars with Cream Cheese Frosting.
Why I love this flavorful pumpkin bundt cake
• It's a great Fall recipe and so easy to make. One of my all time favorite cakes for pumpkin season.
• This is another gluten-free recipe, but honestly, you would NEVER know it! In fact, my husband had TWO pieces last night and he still has no clue that he ate something gluten-free. If I had told him it was a gluten-free cake, he would have not touched it with a ten-foot pole! And I'm not even kidding!
• I love the combination of these flavors. It's got a little bit of chocolate cake and a little bit of pumpkin cake swirled together, then topped with a fresh buttercream frosting infused with the zest of an orange. Chocolate, pumpkin and orange all go so well together!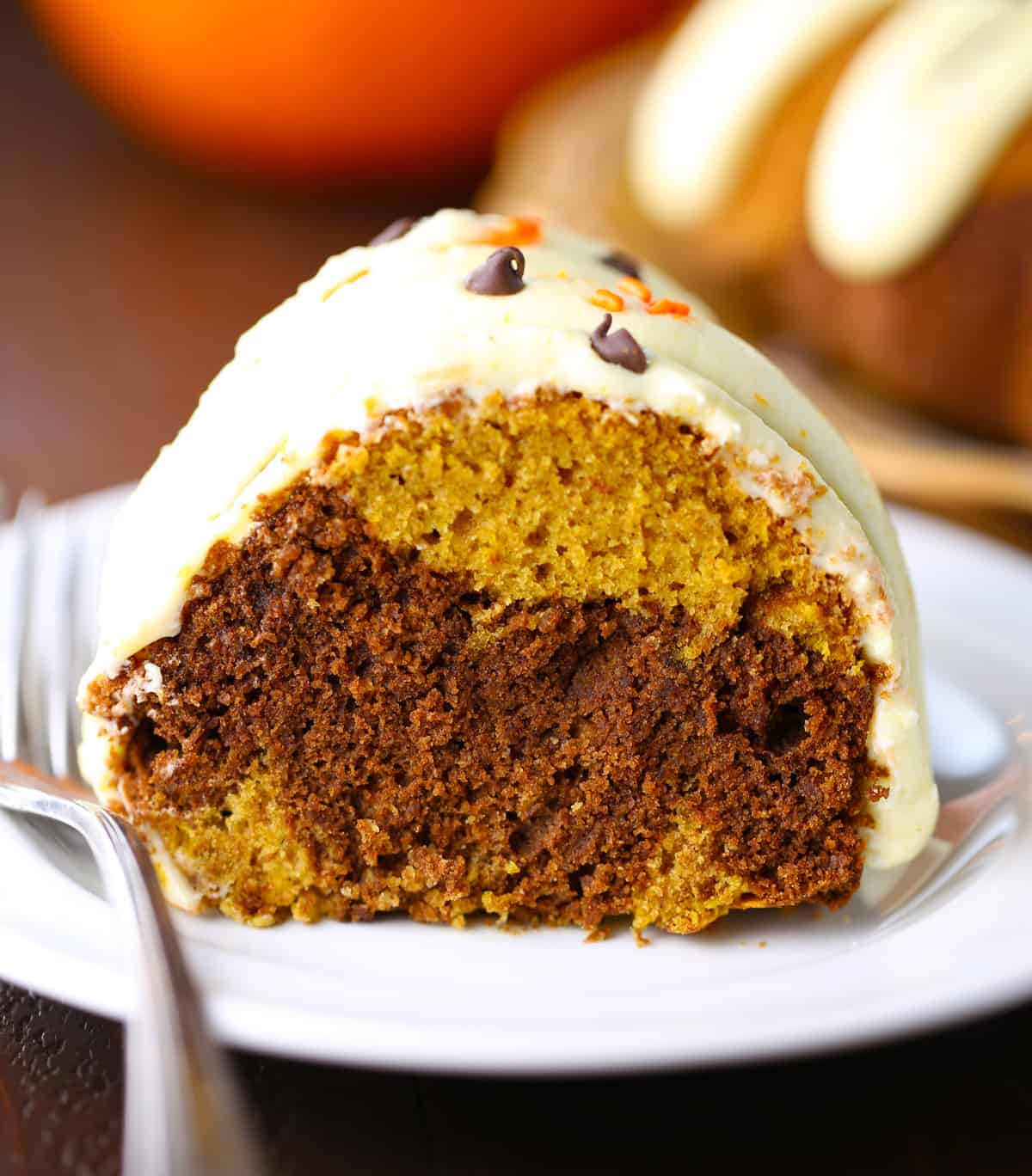 What you need for this pumpkin cake recipe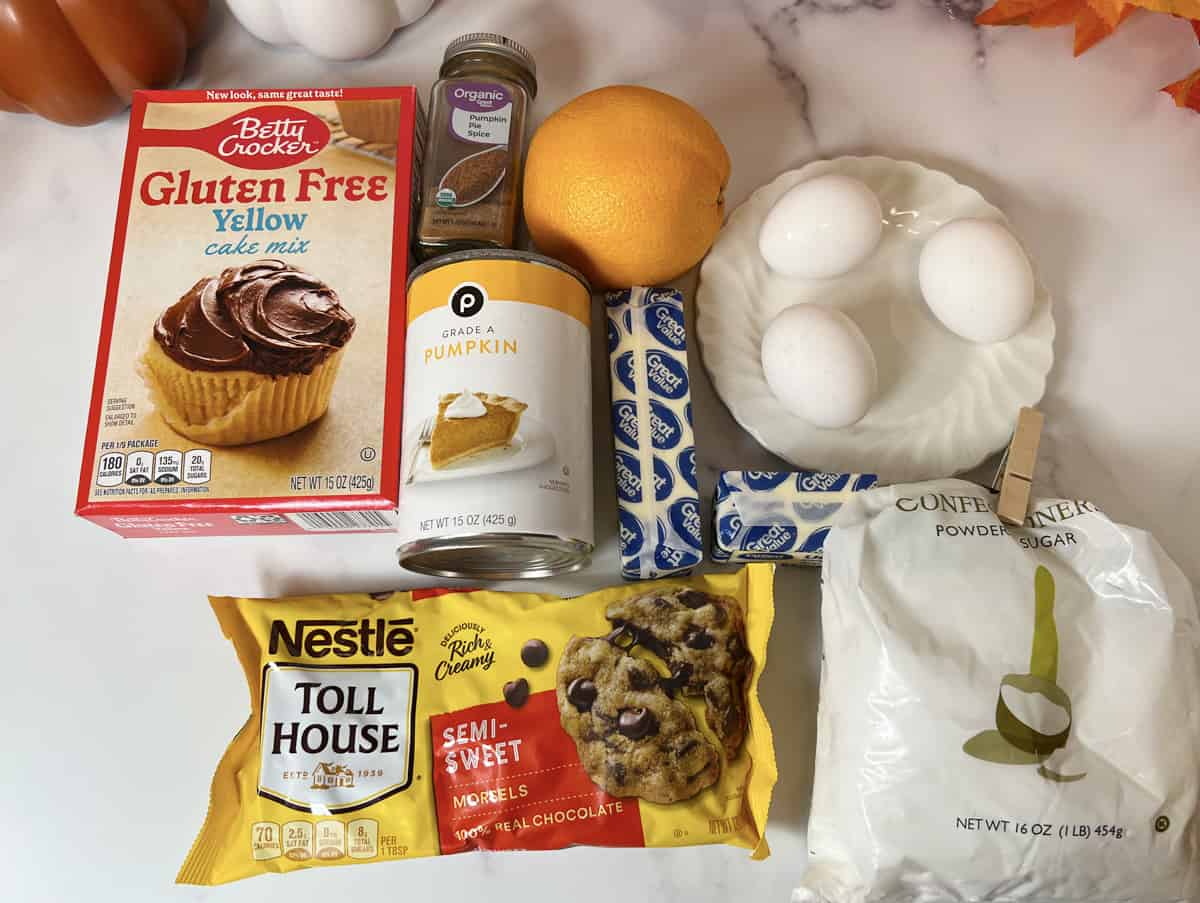 Ingredient notes
• Pumpkin Puree - If you don't feel like making homemade pumpkin puree, canned pumpkin works great in this recipe and is so convenient to buy at most grocery stores during the Fall season. If you're reading this recipe in off season, you could try ordering it online (but it might be a little pricey). Here's some Libby's pumpkin puree that I found on Amazon. Or you could make your own homemade pumpkin purée from fresh pumpkin. Google it!
• Semi-Sweet Chocolate Chips - Use dairy free chocolate chips if you have an allergy. Otherwise, you can use regular chocolate chips (any brand of chocolate chips that you like). I like the Nestle chocolate chips because they are available at most grocery stores.
• The Betty Crocker Gluten-Free Cake Mix is the perfect mix to doctor up and create a new recipe. (And this is not a sponsored post. I just happen to love this product.) If you can't find the Betty Crocker mix, try your favorite gluten free mix. If you CAN have gluten, feel free to use a regular cake mix.
How to make this pumpkin chocolate cake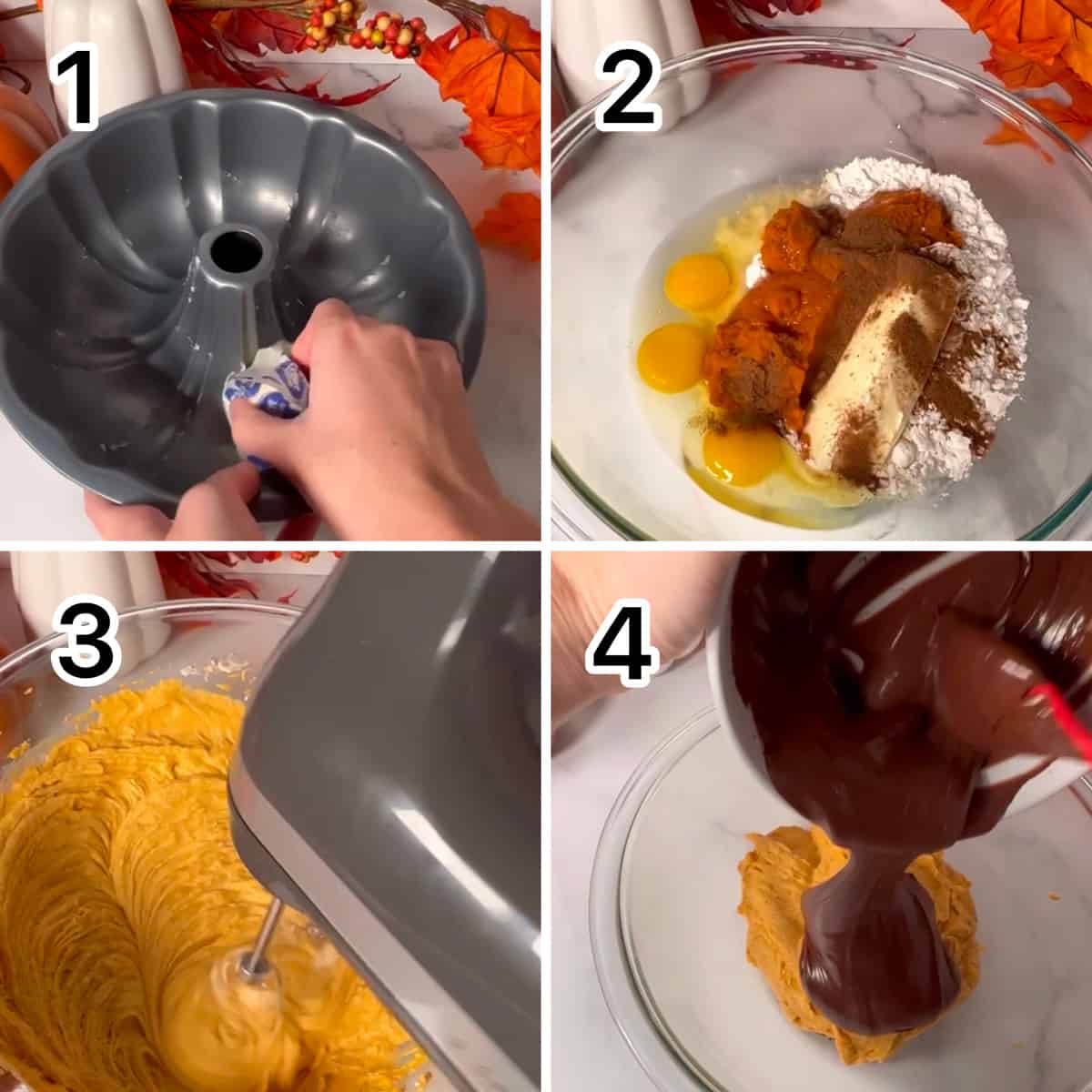 Generously grease a 12-cup Bundt pan with butter, set aside.
Place yellow cake mix in a large mixing bowl. Add 1 cup pumpkin puree, ½ cup butter, 3 eggs and 2 teaspoons pumpkin pie spice. (Don't add the melted chocolate yet.)
Beat with electric mixer until completely combined. Or you can beat by hand with a wooden spoon until smooth and creamy.
Remove half the batter into separate bowl. Reserve one half of the pumpkin mixture, then mix in the ¾ cup melted semisweet chocolate chips in the remaining batter. Scoop alternating dollops of chocolate cake batter and pumpkin cake batter into pan.
Swirl the two batters together with a butter knife. Bake at 350°F. for 40-45 minutes or until a toothpick placed in center of the cake comes out clean. Let cool on wire rack.
Mix up your buttercream and frost after the cake cools. Place the frosting in a ziploc bag, then cut off a corner and pipe the frosting on top. You can frost the cake right on the cooling rack or transfer to a cake stand. Garnish with mini-chocolate chips and sprinkles.

Frequently Asked Questions
Can I use a regular cake mix instead of gluten free? Yes, use a regular cake mix if you don't want gluten free. Choose your favorite brand.
Can I use dark chocolate instead of semi-sweet? Yes, you can absolutely substitute dark chocolate chips or dark chocolate if you wish. Follow package instructions for melting chocolate.
How do I store my pumpkin Bundt? You can keep it at room temperature for 24 hours if you have a cake saver or large airtight container. Then store covered in the refrigerator for up to 5 days. Serve at room temperature or heat in the microwave for about 10 seconds if it's been in the fridge.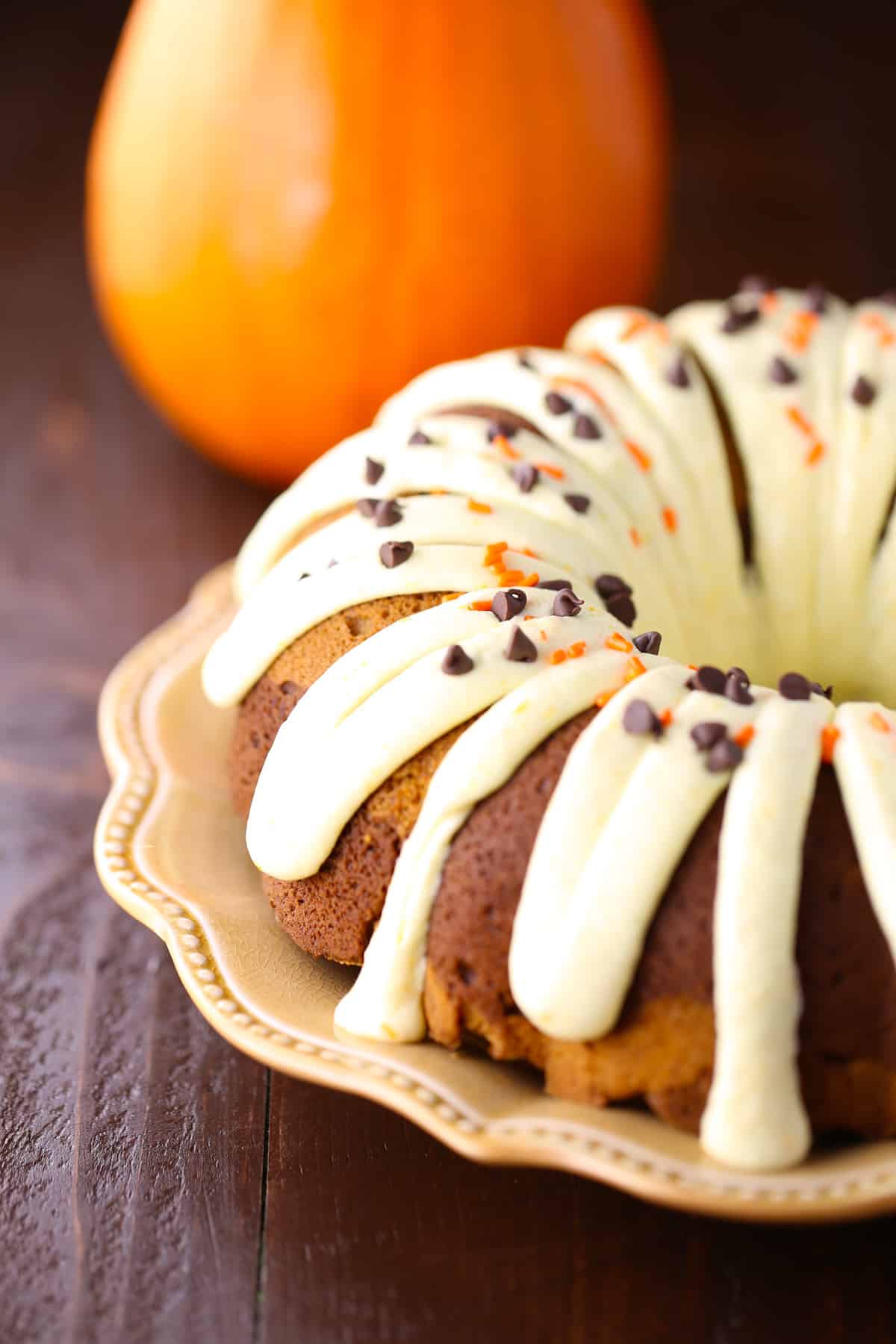 Expert tips
• Room Temperature Ingredients - for best results, always use room temperature ingredients for most baking projects. Chilled ingredients mix differently and affect the consistency of the recipe.
• Prepared Pan - It's very important to grease your pan very well to make sure your Bundt cake doesn't stick. Use butter or shortening and rub it all over the inside of the pan, covering all the crevices. I don't recommend cooking spray for this particular recipe.
• Dairy Free Version - if you want to make this cake completely dairy free, substitute vegetable oil or shortening for the butter.
• Vanilla Extract - For a little extra layer of flavor, add 1-2 teaspoons of pure vanilla extract to the cake batter before baking.
Related recipes
Love this recipe? If you try it, be sure to tag me on @Instagram! You can also find me on Pinterest, YouTube and Facebook.
Pumpkin Chocolate Swirl Bundt Cake
Pumpkin Chocolate Swirl Bundt Cake is gluten-free pumpkin and chocolate cake swirled together in a Bundt pan with orange icing and mini chocolate chips.
Print
Pin
Rate
Ingredients
For the frosting:
½

stick

unsalted butter

softened

3

cups

powdered sugar

2

tablespoons

water

or more if frosting is too thick

Zest of one orange

Mini chocolate chips and sprinkles for garnish
Instructions
Preheat oven to 350°F. Grease a Bundt pan generously with butter. Set aside.

Place cake mix in a large bowl. Add pumpkins, eggs, butter and pumpkin pie spice. Mix on low for 30 seconds. Turn up to medium and beat for 2 minutes. Divide batter in half. Reserve one half. Add melted chocolate to the other half. Add alternating spoonfuls of each batter in prepared pan. Use a butter knife to swirl the batter together.

Bake for 40-45 minutes or until a toothpick inserted in the middle comes out clean. Let cool.

Meanwhile, prepare frosting. Place butter in large bowl. With electric mixer, beat on medium until creamy. Gradually add the sugar and water. Add zest and beat on medium high until smooth, about 2-3 minutes. If it's too thick, add a little more water. Pour frosting in a ziploc bag. Seal and cut corner, then pipe frosting on top of cake. Add garnish, if desired. Store covered in refrigerator for up to 5 days.
Nutrition
Calories:
227
kcal
|
Carbohydrates:
28
g
|
Protein:
2
g
|
Fat:
13
g
|
Saturated Fat:
8
g
|
Polyunsaturated Fat:
1
g
|
Monounsaturated Fat:
4
g
|
Trans Fat:
1
g
|
Cholesterol:
54
mg
|
Sodium:
14
mg
|
Potassium:
89
mg
|
Fiber:
1
g
|
Sugar:
25
g
|
Vitamin A:
931
IU
|
Vitamin C:
1
mg
|
Calcium:
16
mg
|
Iron:
1
mg
Check out more great pumpkin recipes here...
The Lemon Bowl: Healthy Pumpkin Bread
Foodtastic Mom: Pumpkin Shepherd's Pie
Creative Culinary: Pumpkin Spice Muffins with Molasses Walnut Crumble
Dishin & Dishes: Overnight Pumpkin French Toast
The Mom 100: Pasta Shells with Pumpkin in a Creamy, Cheesy Sauce
Devour: Give 'Em Pumpkin to Talk About with 4 Instagram-Ready Desserts
The Fed Up Foodie: Pumpkin Gnocchi Soup
A Mind "Full" Mom: Pumpkin Cream Cheese Bread
Elephants and the Coconut Trees: Eggless Pumpkin Pie
Taste with the Eyes: Fabulous Fall Dessert: Pumpkin Ricotta Wonton Ravioli
Mom Loves Baking: Pumpkin Chocolate Swirl Bundt Cake
Pinch My Salt: Buttermilk Pumpkin Spice Bread
Swing Eats: Pumpkin Whoopie Pies with Molasses Marshmallows (GF)
Hey Grill Hey: How to Grill Pumpkin
In Jennie's Kitchen: No Bake Pumpkin Cream Pie