Pumpkin Chocolate Swirl Bundt Cake is gluten-free pumpkin and chocolate cake swirled together in a Bundt pan with orange icing and mini chocolate chips.
Pumpkin season is in full swing and I've got another great pumpkin recipe to share! This is another gluten-free recipe, but honestly, you would NEVER know it! In fact, my husband had TWO pieces last night and he still has no clue that he ate something gluten-free. If I had told him it was a gluten-free cake, he would have not touched it with a ten-foot pole! And I'm not even kidding!
This Pumpkin Chocolate Swirl Bundt Cake is so, so good. It's got a little bit of chocolate cake and a little bit of pumpkin cake swirled together, then topped with a fresh buttercream frosting infused with the zest of an orange. I love the combination of these flavors. Chocolate, pumpkin and orange all go so well together!
This is my new favorite trick for making gluten free cakes, breads and muffins! Betty Crocker Gluten-Free Cake Mix is the perfect mix to doctor up and create a new recipe. (And this is not a sponsored post. I just happen to love this product.)
I added these ingredients to the cake mix in a large bowl, then beat with an electric mixer until completely combined.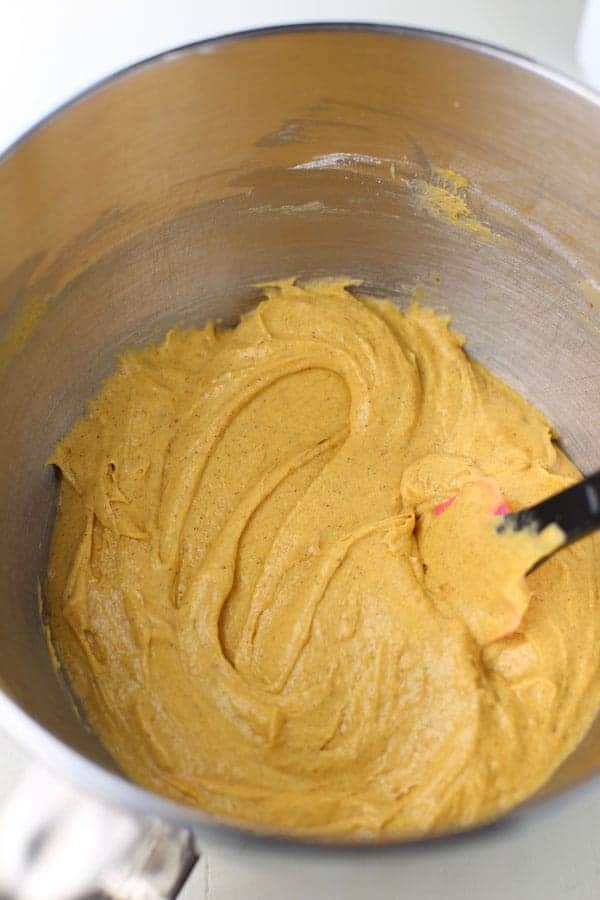 Divide the batter in half. Reserve one half, then mix in melted chocolate in the other half.
Generously grease a Bundt pan with butter, then swirl the two batters together.
Bake at 350°F. for 40-45 minutes.
Mix up your buttercream and frost the cake. I put the frosting in a ziploc bag, then cut off a corner and piped the frosting on top.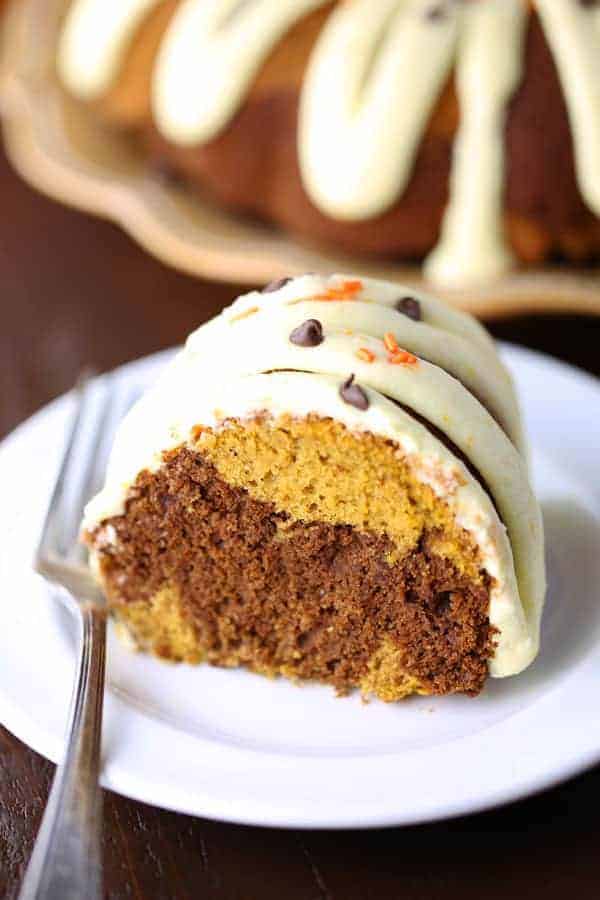 Garnish with mini-chocolate chips and sprinkles.
Pumpkin Chocolate Swirl Bundt Cake is simply scrumptious! A fabulous dessert for anyone, whether or not you can have gluten!
Print Recipe
Pumpkin Chocolate Swirl Bundt Cake
Ingredients
For the cake:

1

gluten free yellow cake mix

I used Betty Crocker

1

cup

pumpkin

3

eggs

room temperature

1

stick unsalted butter

softened

2

teaspoons

pumpkin pie spice

3/4

cup

semi-sweet chocolate chips

melted

For the frosting:

1/2

stick unsalted butter

softened

3

cups

powdered sugar

2

tablespoons

water

Zest of one orange

Mini chocolate chips and sprinkles for garnish
Instructions
Preheat oven to 350°F. Grease a Bundt pan generously with butter. Set aside.

Place cake mix in a large bowl. Add pumpkins, eggs, butter and pumpkin pie spice. Mix on low for 30 seconds. Turn up to medium and beat for 2 minutes. Divide batter in half. Reserve one half. Add melted chocolate to the other half. Add alternating spoonfuls of each batter in prepared pan. Use a butter knife to swirl the batter together.

Bake for 40-45 minutes or until a toothpick inserted in the middle comes out clean. Let cool.

Meanwhile, prepare frosting. Place butter in large bowl. With electric mixer, beat on medium until creamy. Gradually add the sugar and water. Add zest and beat on medium high until smooth, about 2-3 minutes. Pour frosting in a ziploc bag. Seal and cut corner, then pipe frosting on top of cake. Add garnish, if desired. Store covered in refrigerator for up to 5 days.
Check out more great pumpkin recipes here…
The Lemon Bowl: Healthy Pumpkin Bread
Foodtastic Mom: Pumpkin Shepherd's Pie
Creative Culinary: Pumpkin Spice Muffins with Molasses Walnut Crumble
Dishin & Dishes: Overnight Pumpkin French Toast
The Mom 100: Pasta Shells with Pumpkin in a Creamy, Cheesy Sauce
Devour: Give 'Em Pumpkin to Talk About with 4 Instagram-Ready Desserts
The Fed Up Foodie: Pumpkin Gnocchi Soup
A Mind "Full" Mom: Pumpkin Cream Cheese Bread
Elephants and the Coconut Trees: Eggless Pumpkin Pie
Taste with the Eyes: Fabulous Fall Dessert: Pumpkin Ricotta Wonton Ravioli
Mom Loves Baking: Pumpkin Chocolate Swirl Bundt Cake
Pinch My Salt: Buttermilk Pumpkin Spice Bread
Swing Eats: Pumpkin Whoopie Pies with Molasses Marshmallows (GF)
Hey Grill Hey: How to Grill Pumpkin
In Jennie's Kitchen: No Bake Pumpkin Cream Pie
FN Dish: 6 Surprising Ways to Use Canned Pumpkin for More Than Pie