Pumpkin Bars with Cream Cheese Frosting - Moist, tender pumpkin spice cake topped with the most delicious frosting. Also known as pumpkin cake bars, this truly is the best pumpkin bar recipe with the most amazing pumpkin spice flavor!
Looking for more pumpkin desserts? Here are a few Fall recipes you won't want to miss... Pumpkin Cupcakes,Pumpkin Spice Chocolate Donuts, or 25 Perfect Pumpkin Desserts Also, you might want to try this classic Fall favorite: Pumpkin Bars with Cream Cheese Frosting.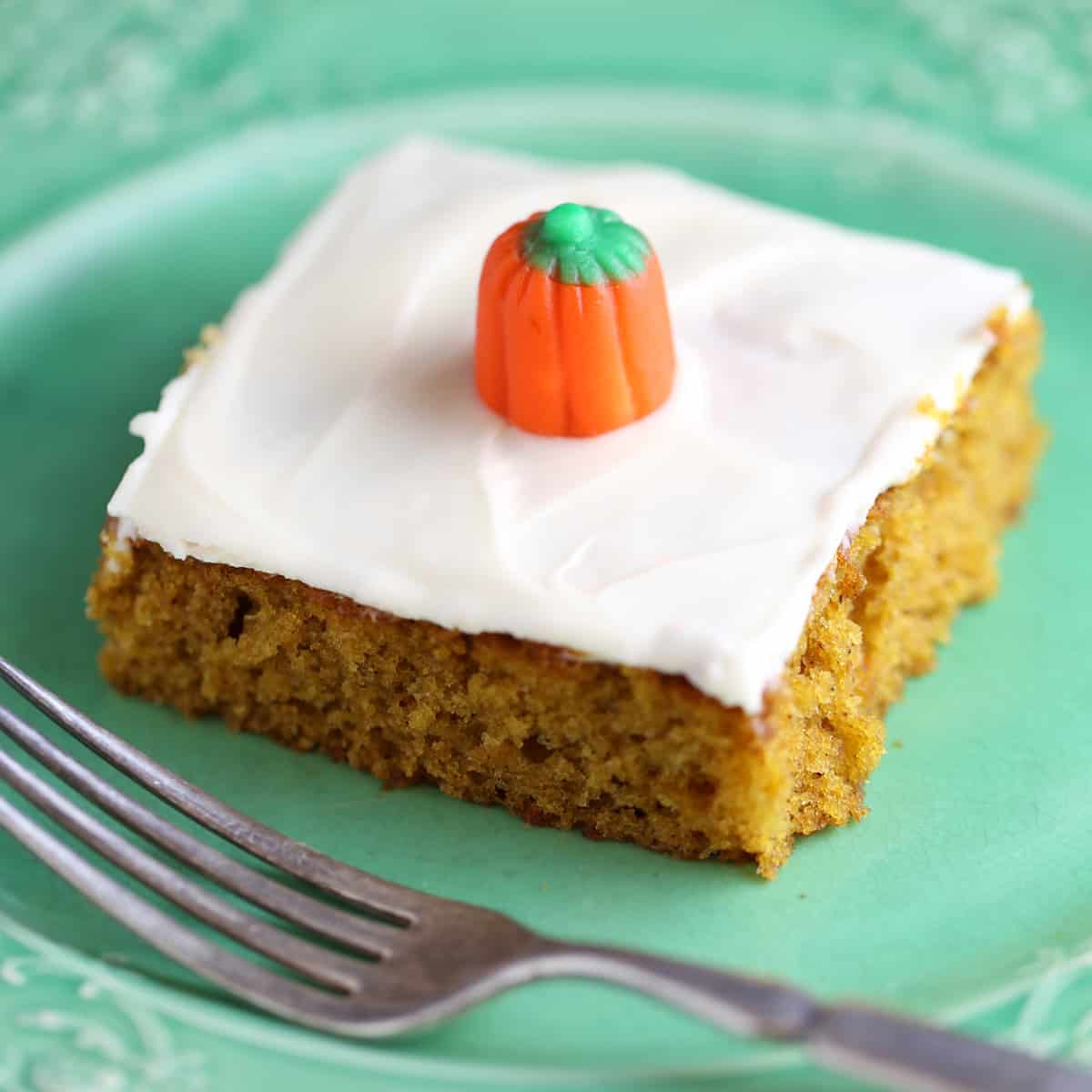 Why I love these easy pumpkin bars
• These Pumpkin Bars With a rich Cream Cheese Frosting are the perfect way to start tasting a little bit of the upcoming Fall season.
• I used organic canned pumpkin for this recipe as an added bonus.
• They are the best pumpkin bars and very simple to make. You can whip up the batter by hand, all in one bowl. I used organic eggs, organic pumpkin and organic extra virgin olive oil in this recipe which made it even better!
• Perfect fall dessert and must have for any upcoming holiday function!
• One of my all time favorite pumpkin recipes!! You'll probably want to make a second batch for the neighbors!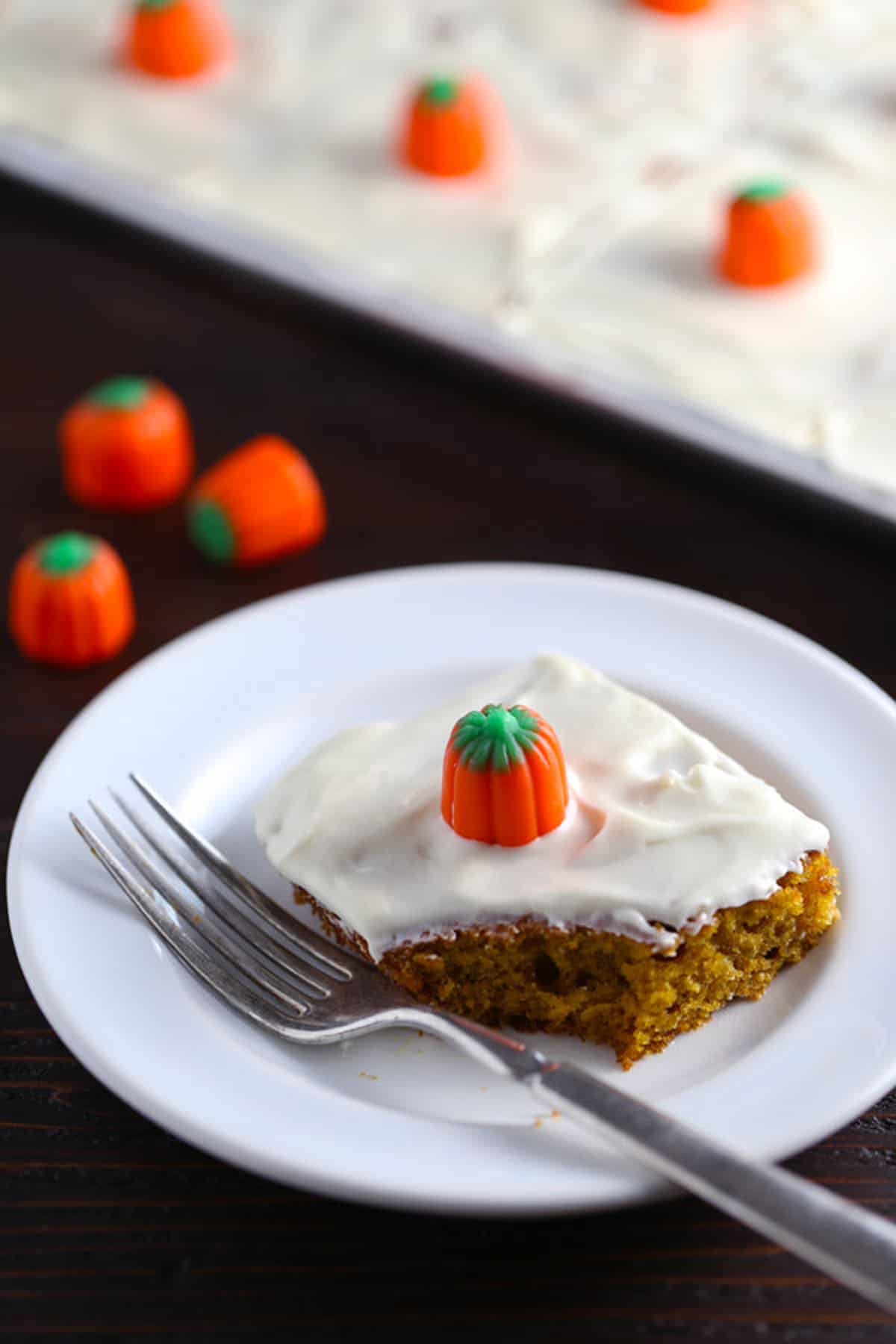 What you need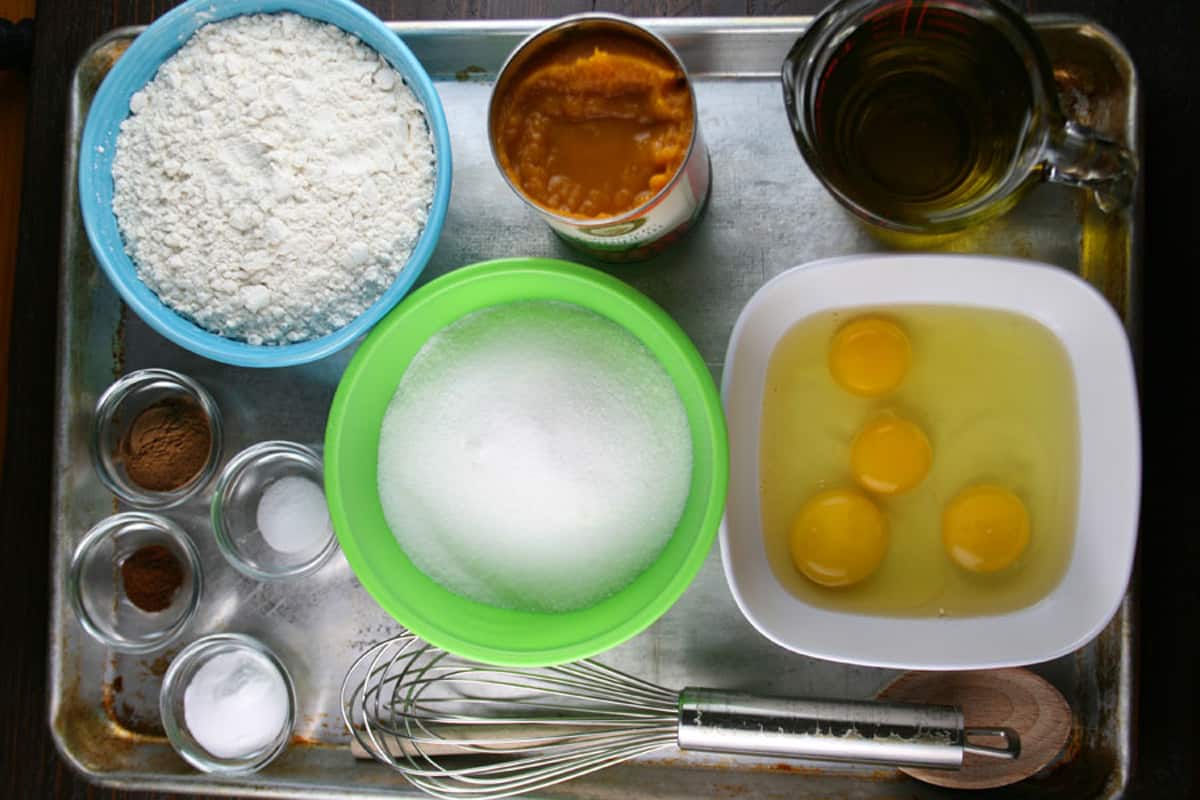 Ingredient Notes
Oil - Use your favorite vegetable oil. I like using a light olive oil in my baking recipes as it has a lighter taste. You could also use canola oil, regular vegetable oil or coconut oil (keep in mind that coconut oil does have a slight coconut flavor to it though).
Pumpkin Puree - Canned pumpkin works great in this recipe and is so convenient to buy at most grocery stores during the Fall season. If you're reading this recipe in off season, you could try ordering it online (but it might be a little pricey). Here's some Libby's pumpkin puree that I found on Amazon. Or you could make your own pumpkin puree from fresh pumpkin. Google it!
Eggs - Unless instructed otherwise, always use large eggs for baking recipes. It's just the best size and most commonly used.
What if I don't have pumpkin pie spice? To make 2 teaspoons pumpkin pie spice, use 1 ½ teaspoons cinnamon, ½ teaspoon allspice, ½ teaspoon ground ginger, ½ teaspoon allspice and ½ teaspoon ground cloves.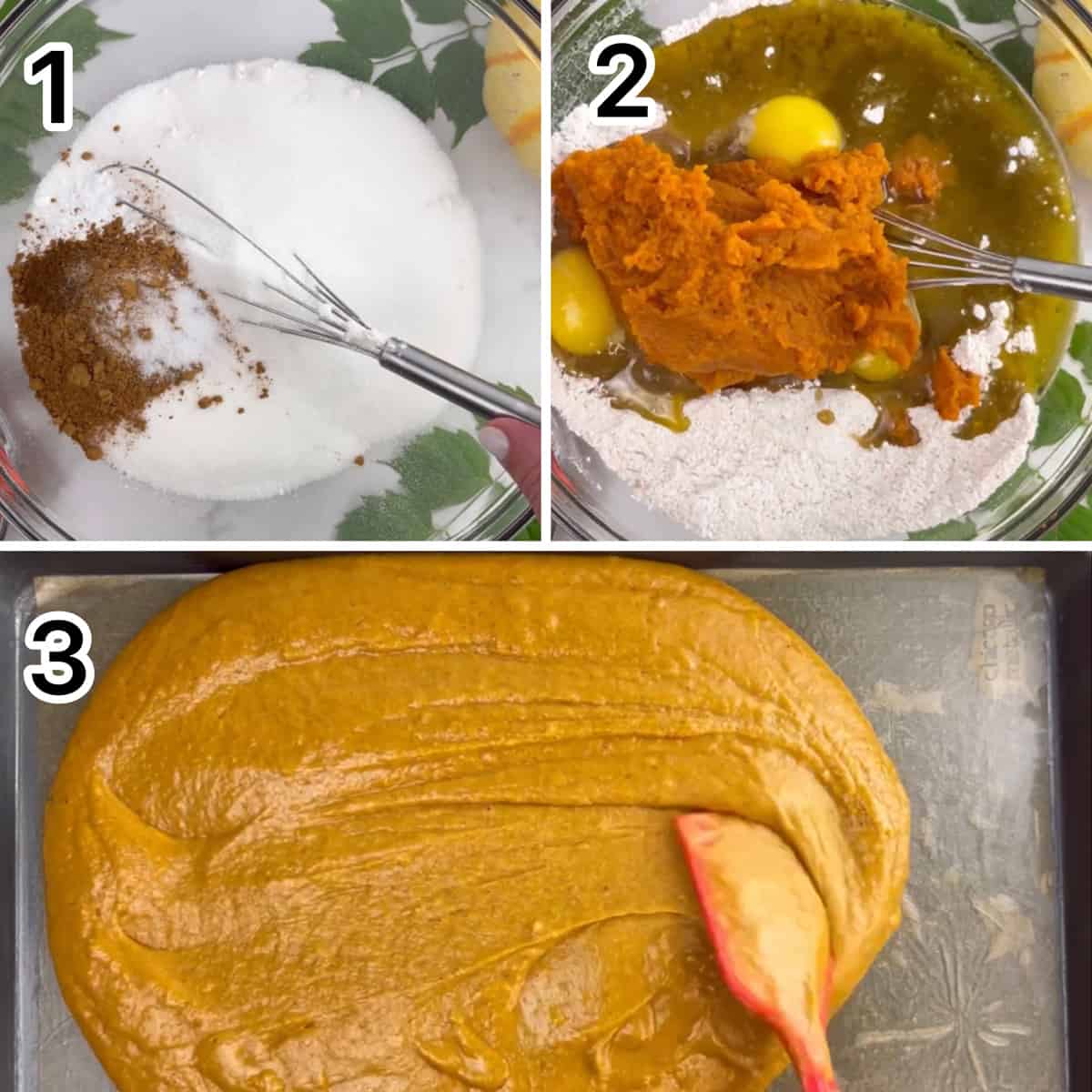 How to make pumpkin bars
Start by whisking together all of the dry ingredients in a large bowl.
Then stir in the wet ingredients - pumpkin, eggs and olive oil. I love that you can stir everything together by hand. The added spices along with the pumpkin makes the batter smell soooo good!
Pour the pumpkin mixture into a 13"x18" half sheet pan or jelly roll pan that's been greased and lined with parchment paper. Bake for 25-30 minutes.
While it's baking, whip up some decadent cream cheese frosting. Just beat cream cheese, butter and vanilla together until creamy. Then gradually add powdered sugar. Beat with an electric mixer or hand mixer on low until the sugar and cream cheese mixture are combined. Turn mixer up to medium and beat until smooth.
Spread onto cooled pumpkin cake.
Garnish with cute candy pumpkins. And yes, they're actually in stores already. I found them at Walmart. Slice the cake into 24 pumpkin bars. Serve them on plates with forks or you can eat them like a cookie bar. I handed them out on napkins to the baseball team.

Expert tips
• Room Temperature Ingredients - for best results, always use room temperature ingredients for most baking projects. Chilled ingredients mix differently and affect the consistency of the recipe.
• Prepared Pan - It's very important to grease your pan very well to make sure your Bundt cake doesn't stick. Use shortening or butter and rub it all over the inside of the pan, covering all the crevices. Then dust generously with flour. Pour off the excess flour. I don't recommend cooking spray for this particular recipe.
• A Note About Flour - if you can't have gluten, feel free to substitute the same amount of gluten free flour in this recipe instead of regular flour.
• Dairy Free Version - if you want to make this cake completely dairy free, substitute dairy free cream cheese for the cream cheese in the cream cheese frosting.
• Make Muffins - Try making this recipe into pumpkin muffins if you prefer. Use cupcake liners in a muffin pan so they won't stick. Bake at 350°F for 22-25 minutes or until a toothpick inserted in middle comes out clean.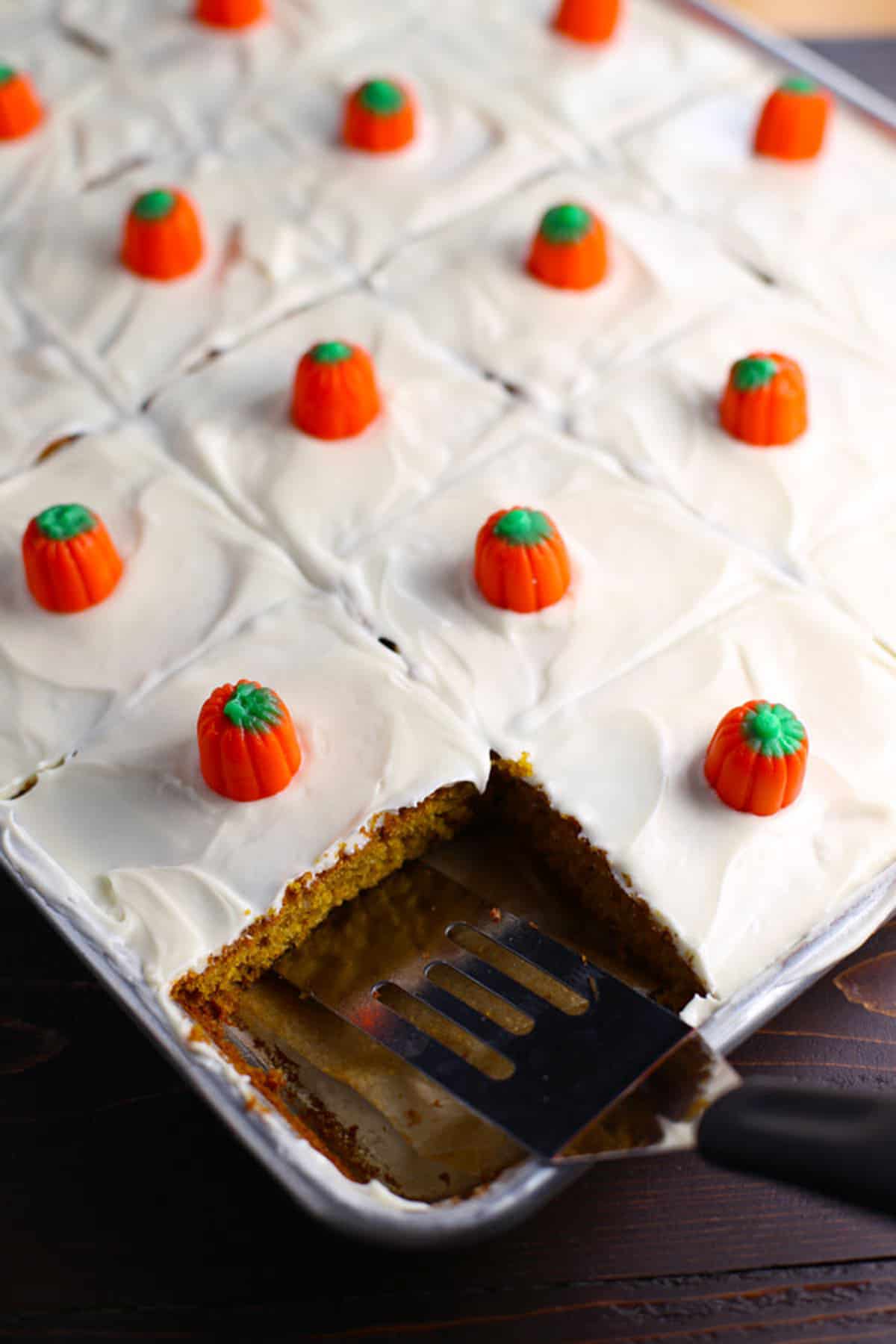 FREQUENTLY ASKED QUESTIONS
How do I store my pumpkin bars? They can be left out for 24 hours at room temperature in an airtight container OR in the refrigerator for up to 5 days.
Can I freeze the pumpkin bars? Yes you can, but it's best to freeze them BEFORE you frost them. Store in airtight container in freezer for up to 1-2 months.
What is pumpkin puree? Cooked pumpkin that has been mashed or pureed. Available in the can like Libby's pumpkin or you can make homemade pumpkin purée. I prefer using my can of pumpkin puree for pumpkin recipes.
Can you make this recipe gluten free? Yes! Just substitute all purpose gluten free flour (such as King Arthur).
Story behind this easy Fall dessert
My son's 11th birthday was on Wednesday and although we're actually having his party tonight, we wanted to celebrate with some cake on the actual day. To my surprise, he requested pumpkin cake, so I made these delicious pumpkin cream cheese bars to bring to him and his baseball team after practice. The boys loved them! Huge hit!!
My son loved them too. Now I'm off to make his real birthday cake! Stay tuned for that blogpost!
Related recipes
Love this recipe? If you try it, be sure to tag me on @Instagram! You can also find me on Pinterest, YouTube and Facebook.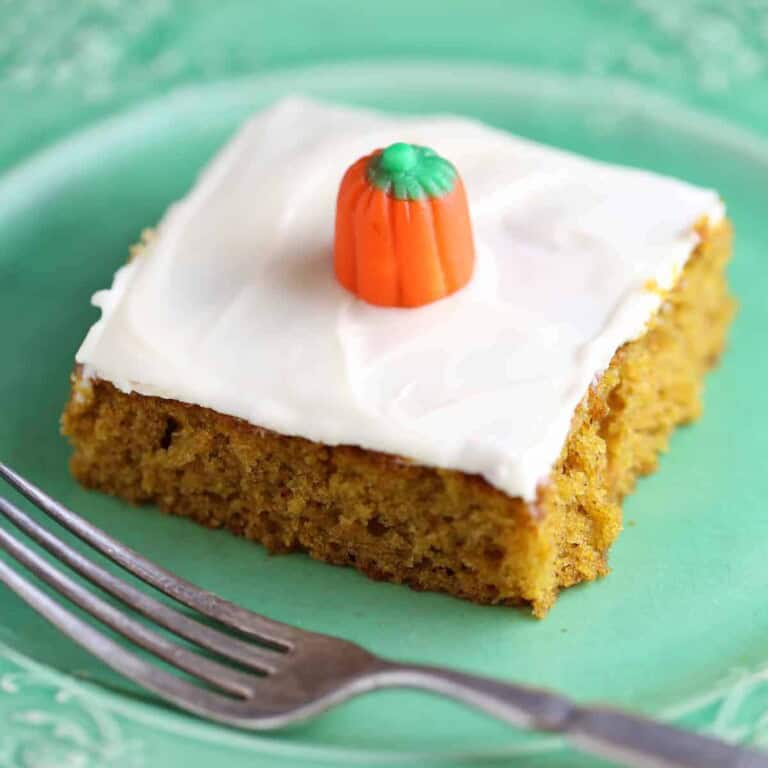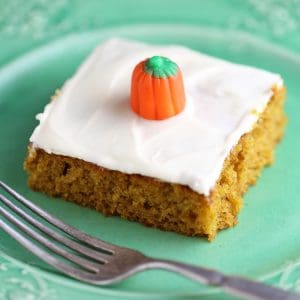 Pumpkin Bars with Cream Cheese Frosting
Moist, tender Pumpkin Bars with cozy spices and cream cheese frosting.
Print
Pin
Rate
Instructions
For the bars:
Preheat oven to 350°F. Grease and line a 13"x18" half sheet pan with parchment paper. Set aside.

Place all dry ingredients in a large bowl. Whisk together. Add wet ingredients and stir until completely combined. Pour batter into prepared pan. Bake for 25-30 minutes or until toothpick inserted in middle comes out clean. Let cool.
For the frosting:
Place cream cheese and butter in a large bowl. Beat with electric mixer until creamy. Add vanilla. Gradually add sugar. Beat on low until combined, then turn up to medium and beat for about a minute. Frost cooled pumpkin bars. Decorate with candy pumpkins. Slice into 24 bars.
Notes
What if I don't have pumpkin pie spice? To make 2 teaspoons pumpkin pie spice, use 1 ½ teaspoons cinnamon, ½ teaspoon allspice, ½ teaspoon ground ginger, ½ teaspoon allspice and ½ teaspoon ground cloves.
Nutrition
Serving:
1
bar
|
Calories:
284
kcal
|
Carbohydrates:
35
g
|
Protein:
3
g
|
Fat:
15
g
|
Saturated Fat:
5
g
|
Polyunsaturated Fat:
1
g
|
Monounsaturated Fat:
8
g
|
Trans Fat:
1
g
|
Cholesterol:
46
mg
|
Sodium:
139
mg
|
Potassium:
111
mg
|
Fiber:
1
g
|
Sugar:
26
g
|
Vitamin A:
3173
IU
|
Vitamin C:
1
mg
|
Calcium:
37
mg
|
Iron:
1
mg