Pumpkin Cupcakes that look like cute little pumpkins, complete with a candy stem.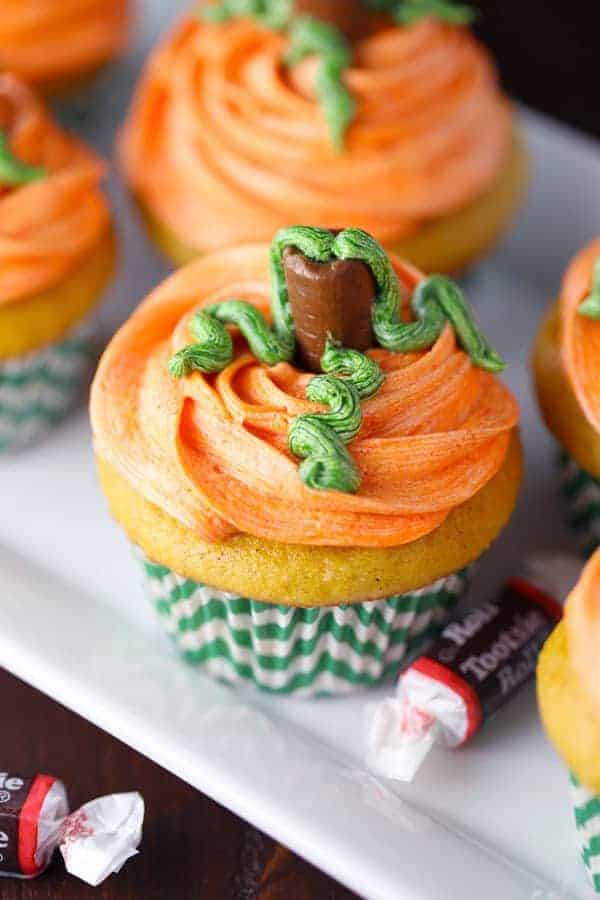 Halloween is just a few days away! It's such a fun holiday. One of my favorites, although I do prefer the cute themes as opposed to the creepy. How about you??? I don't like to get into scary stuff too much. My son went through a phase for a couple years where he wanted to get the really scary and creepy costumes. One year, he was dressed all in black with the white monster face mask from the movie Scream. He could push a button and "blood" would drip down his "face". Ewwww! Mommy didn't like that! He's 11 now and wants to be an 18th century soldier which is just fine with me. My 14 year old daughter is dressing up as a kiwi and each of her friends will be a different fruit. Isn't that cute! Mom definitely approves!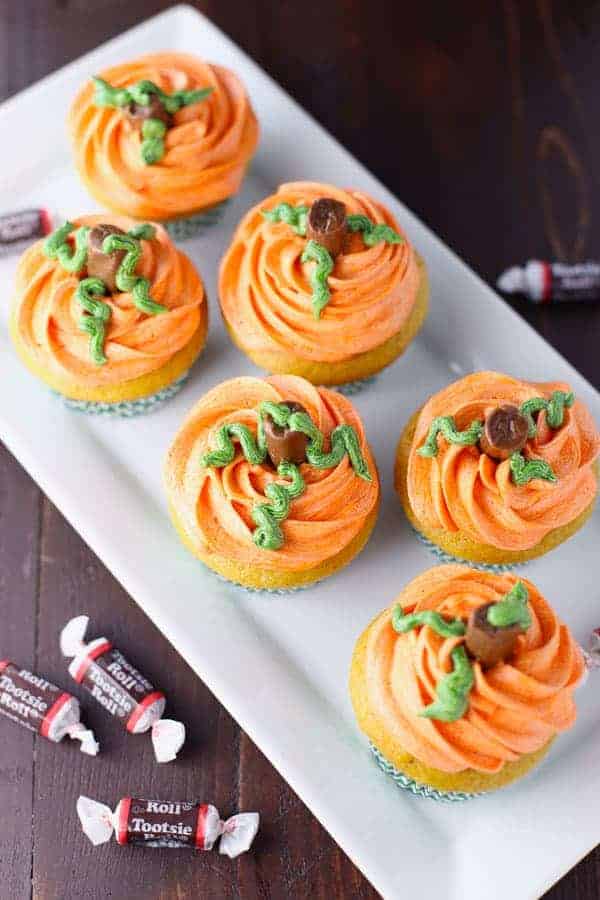 Pumpkin Cupcakes are a fun Halloween treat that are not so scary. Plus, they even have candy on top. You could also make them after Halloween and use your child's Tootsie Rolls as the stems. I think they would be nice at Thanksgiving too.
How to make pumpkin cupcakes
I used a cake mix with a few added ingredients to spice them up a bit.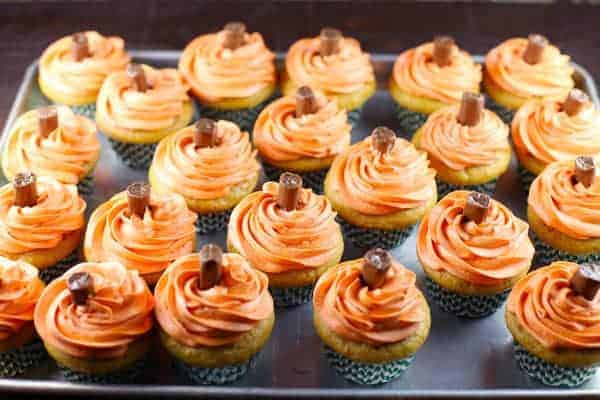 Then I whipped up a classic buttercream frosting and added some orange food coloring. I used a pastry bag with my favorite tip - a #1M. My son placed all of the Tootsie Rolls on top. A perfect job for a child to do, if you want your little one to help you with these.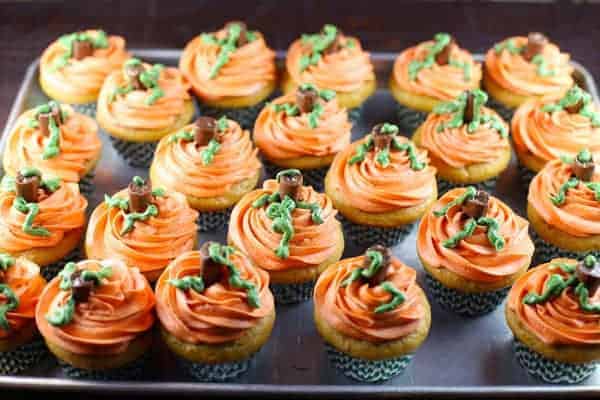 Then I piped some green vines on top of the chocolate stem using a pastry bag and a #5 pastry tip.
Click here to watch the VIDEO of me decorating these cute Pumpkin Cupcakes!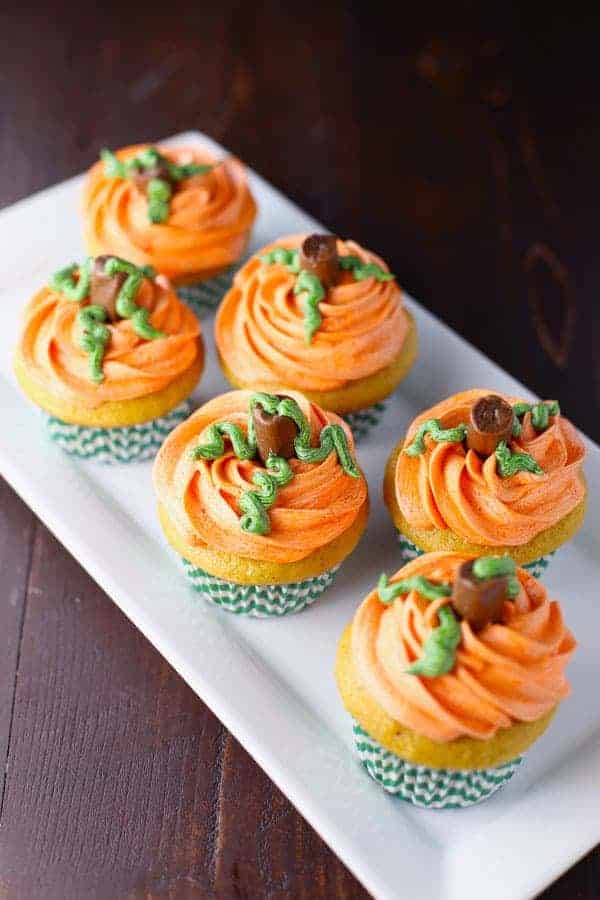 I brought these cupcakes to my son's last baseball game of the Fall season and they were a big hit! I wasn't sure if the kids would like the pumpkin flavor of the cupcake but all but one player happily ate them.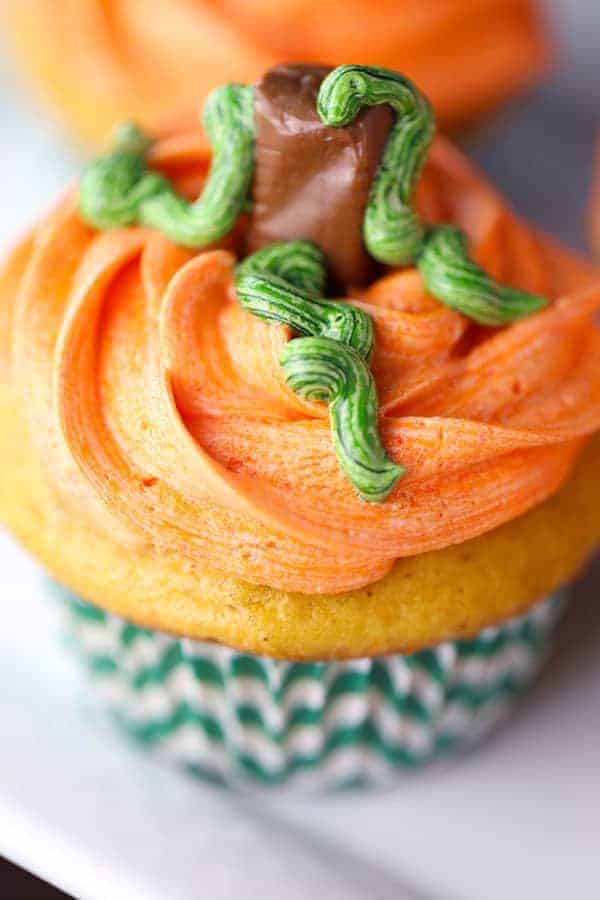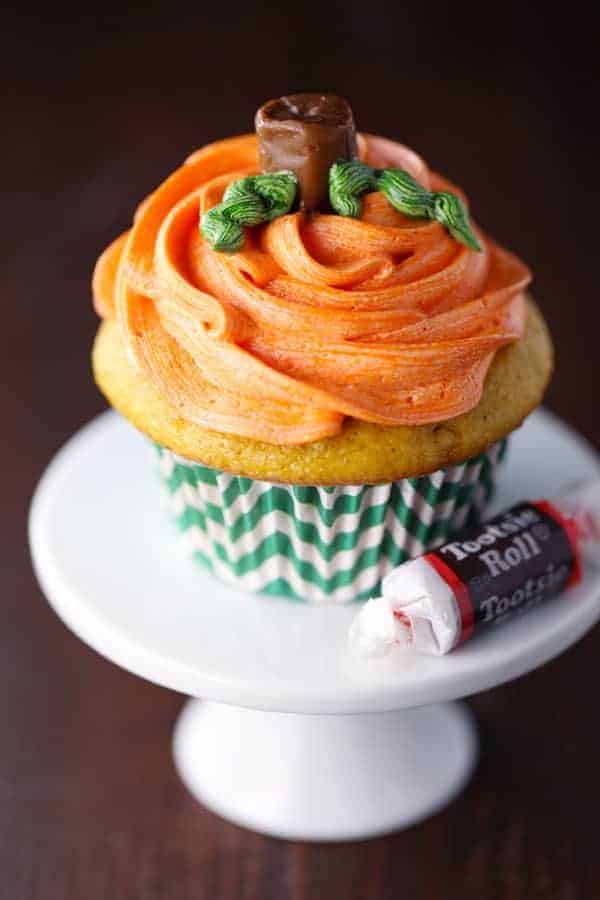 What special treat are you making this Halloween? Are you dressing up? What are you going to be? I'd love to hear from you in the comments. I'm not sure if I'm dressing up, but if I do, I'll probably be the same thing I was last year - Cleopatra!
Happy Halloween!
You might also like...
Slice and Bake Halloween Cookies
25 Fund and Easy Halloween Treat Recipes
Pumpkin Cupcakes
Make pumpkin cupcakes that are sweetly decorated so each one resembles a pumpkin.
Print
Pin
Rate
Ingredients
For the frosting
1

cup

unsalted butter, softened

2 sticks

4 ½

cups

powdered sugar

¼

cup

cream or milk

2

teaspoons

vanilla extract

Orange and green food coloring

24

Tootsie Rolls for decoration
Instructions
For the cupcakes
Preheat oven to 350°F. Place 24 cupcake liners in two (12 cup) muffin pans. Set aside. Place all of the cupcake ingredients in a large bowl. With an electric mixer, stir on low speed to combine (30 seconds). Turn up to medium and beat for 2 minutes.

Use a muffin scoop or ice cream scoop to place batter into each cupcake liner. Bake for 22-24 minutes or until a toothpick inserted in middle of cupcake comes out clean. Let cool.
For the frosting
Beat softened butter on medium speed with an electric or stand mixer. Beat for 3 minutes until smooth and creamy. Add powdered sugar, cream, and vanilla extract with the mixer running. Increase to high speed and beat for 3 minutes. Add more powdered sugar if frosting is too thin or more cream if mixture is too thick. Take out ½ cup of frosting and place in a separate bowl to color green. Color remaining frosting orange. Place green frosting in a pastry bag fitted with a #5 tip. Place orange frosting in a pastry bag fitted with a #1M tip. Pipe orange frosting on each cupcake in a circular motion. Add one Tootsie Roll to the top of each cupcake. Pipe green vines on top of each Tootsie Roll "stem". Store covered at room temperature for 1 day or in the refrigerator for up to 5 days.
Nutrition
Calories:
327
kcal
|
Carbohydrates:
49
g
|
Protein:
3
g
|
Fat:
14
g
|
Saturated Fat:
8
g
|
Polyunsaturated Fat:
1
g
|
Monounsaturated Fat:
4
g
|
Trans Fat:
1
g
|
Cholesterol:
53
mg
|
Sodium:
252
mg
|
Potassium:
86
mg
|
Fiber:
1
g
|
Sugar:
40
g
|
Vitamin A:
1960
IU
|
Vitamin C:
1
mg
|
Calcium:
47
mg
|
Iron:
1
mg
Check out these great Halloween recipes...
A Mind "Full" Mom: Mini Pumpkin Pie Cookies
Creative Culinary: Halloween Mummy Cupcakes with Espresso Chocolate Cake and Vanilla Buttercream
In Jennie's Kitchen: Twix Bar Brownies
Devour: 5 Horror and Sci-Fi TV Show-Themed Halloween Bites
The Mom 100: Mummy Cupcakes
Foodtastic Mom: Bourbon Bacon Pumpkin Seeds
Elephants and the Coconut Trees: Mini White Pumpkin Milk Fudge with Dry fruit Filling
Healthy Eats: 6 Lightened-Up Sweets for a Healthier Halloween
Taste with the Eyes: Three Truly Gruesome But Tasty Halloween Recipes
Mom Loves Baking: Pumpkin Cupcakes
Swing Eats: Spooky Halloween Buckeyes
Pinch My Salt: Double Chocolate Pumpkin Cupcakes
FN Dish: When Food Gets in Costume: Edible Takes on Creepy Halloween Things