Do you need some dessert ideas for your Halloween party? Here's a roundup of 25 fun and easy Halloween treats the kids will love and the adults too!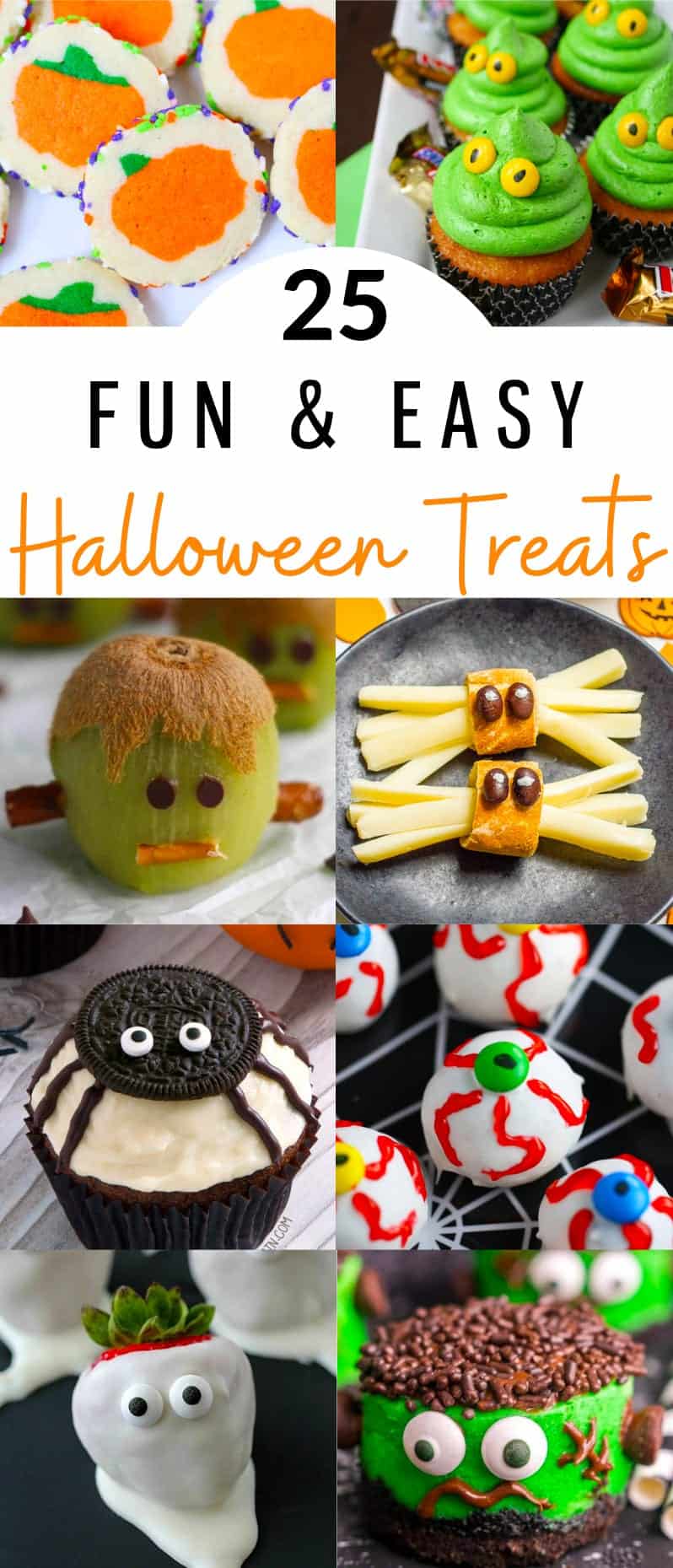 It's hard to believe it's almost that time of year again. Halloween is just around the corner. It's the perfect time to start planning your Halloween party. I have lots of super cute and festive ideas for your Halloween dessert table!
Note: Click on the title of the treat (under each photo) to go to the recipe.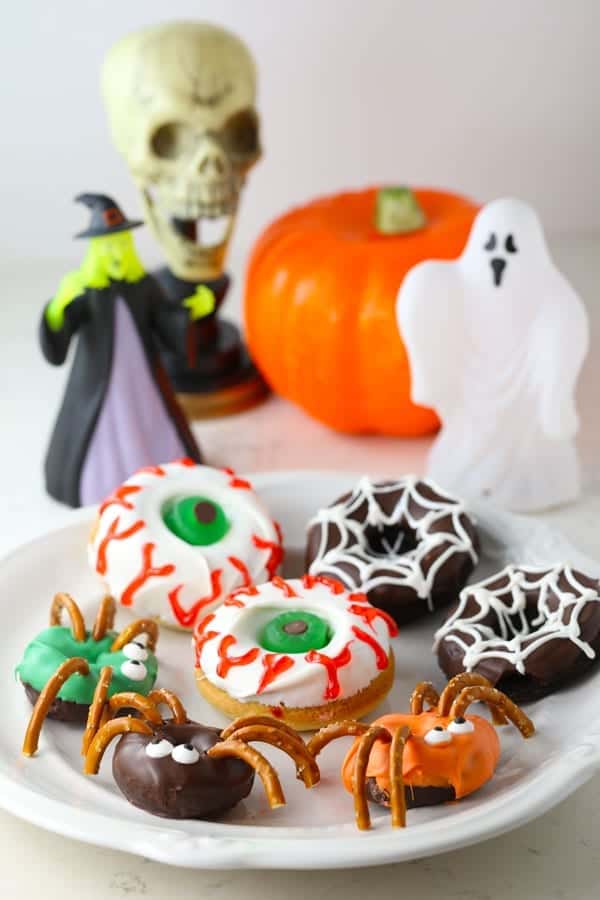 How to Make Scary Good Halloween Donuts
These Halloween donuts are a "scary good" way to start your Halloween day!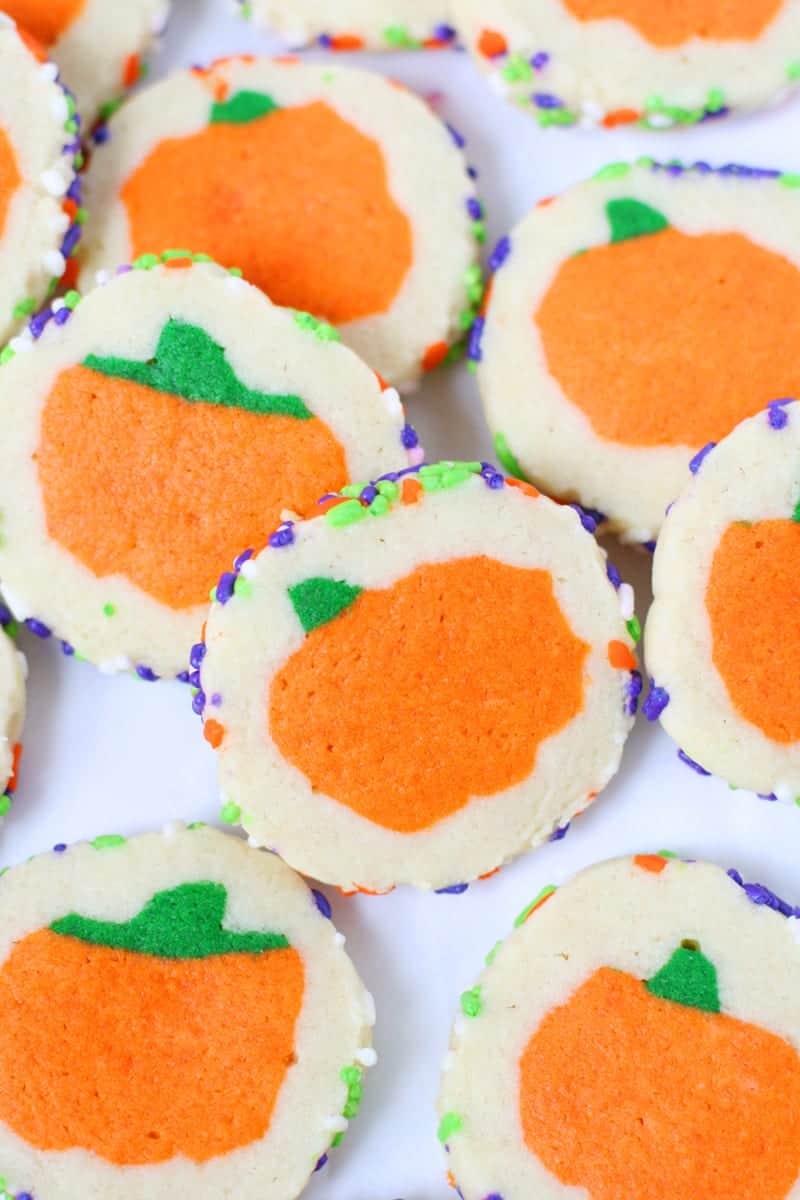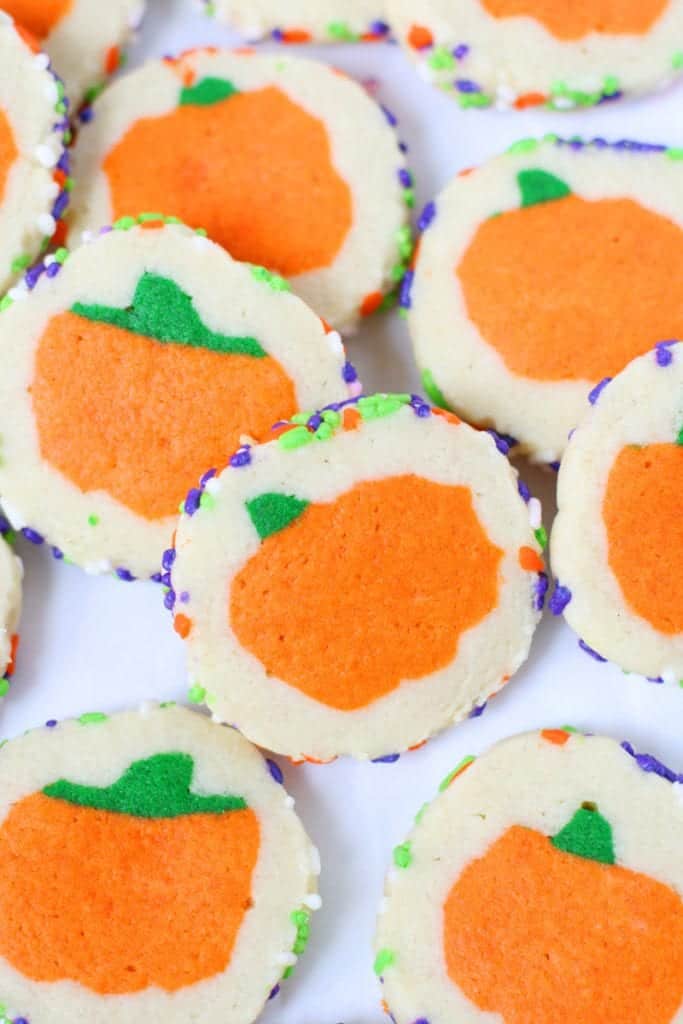 Slice and Bake Halloween Cookies
If you need a last-minute Halloween treat for a class party, slice and bake Halloween cookies are perfect. Quick and easy to make and they're cute too!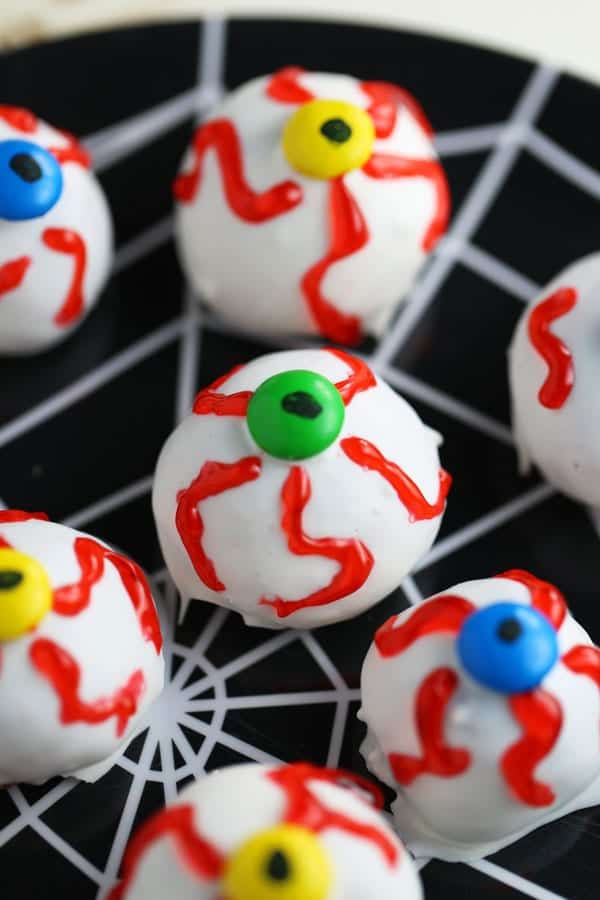 These eyeball Oreo truffles look like creepy fun for any Halloween party. A sweet treat is hidden inside for anyone who dares to take a bite!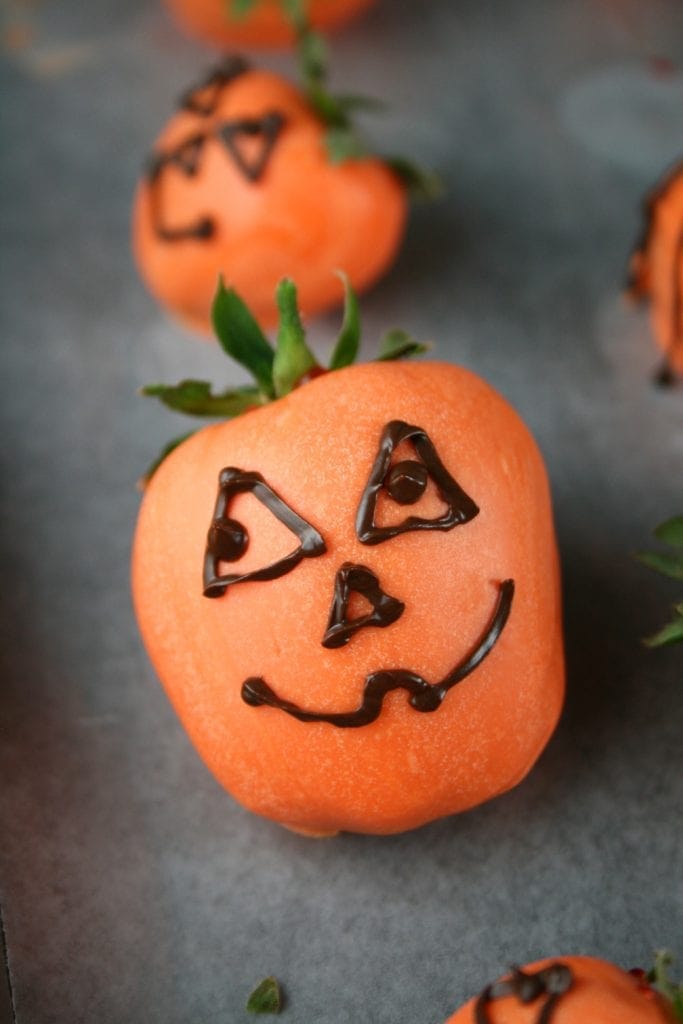 3-Ingredient Chocolate Covered Strawberry Pumpkins
Not all Halloween treats need to be loaded with sugar. These chocolate covered strawberry pumpkins are a fun and healthier Halloween snack.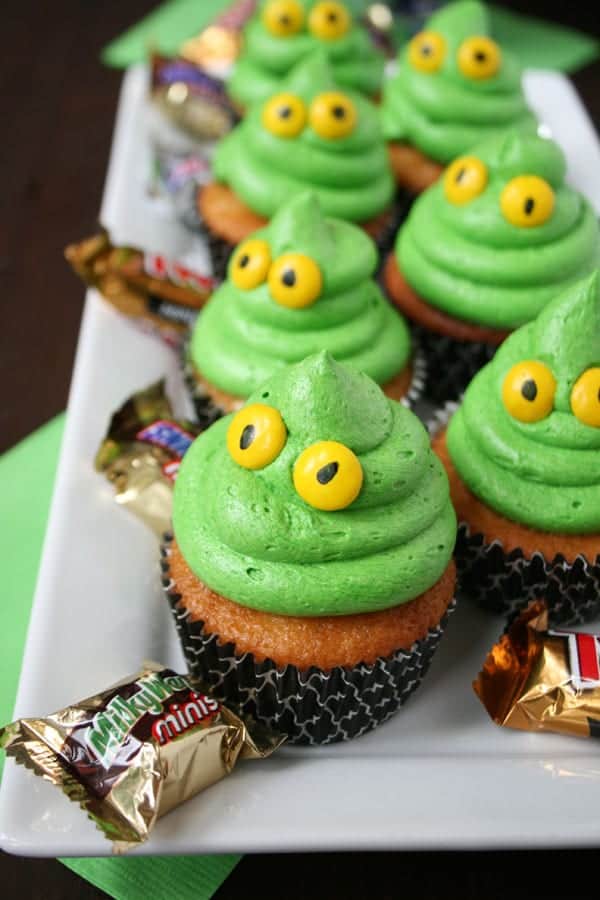 Green Ghost Cupcakes with Slime
Kids love slime and there isn't a better way to showcase it than on adorably delicious ghost cupcakes!
Healthy Halloween Spider Snacks
Another healthy Halloween treat, these spider snacks are as cute as they are delicious!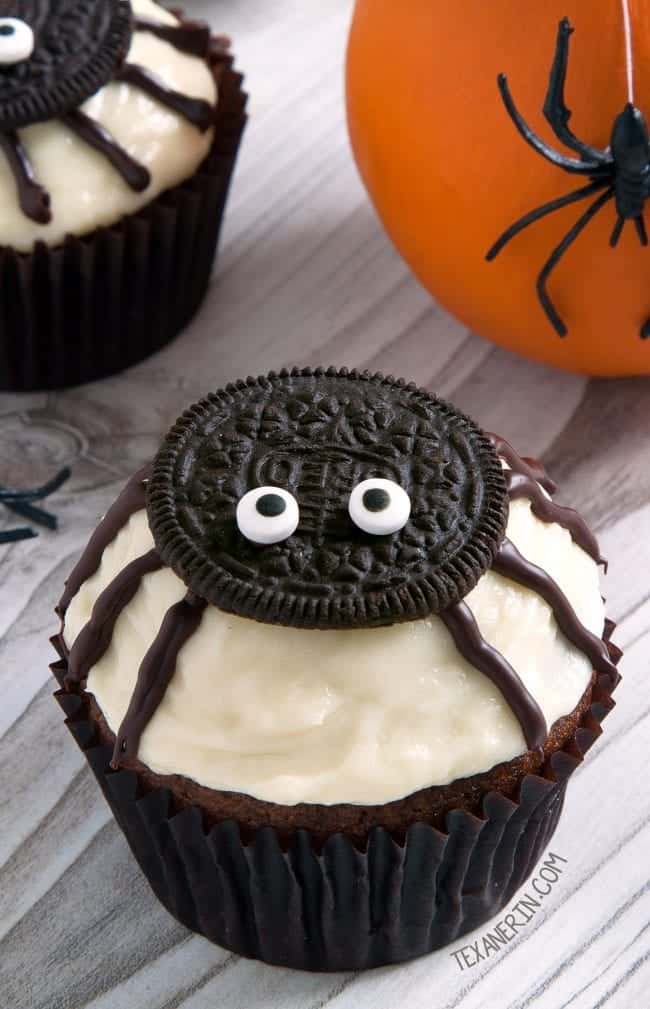 Spider Cupcakes (Gluten free, grain free)
These spider cupcakes may be the only spiders we aren't afraid of! They're ALMOST too cute to eat.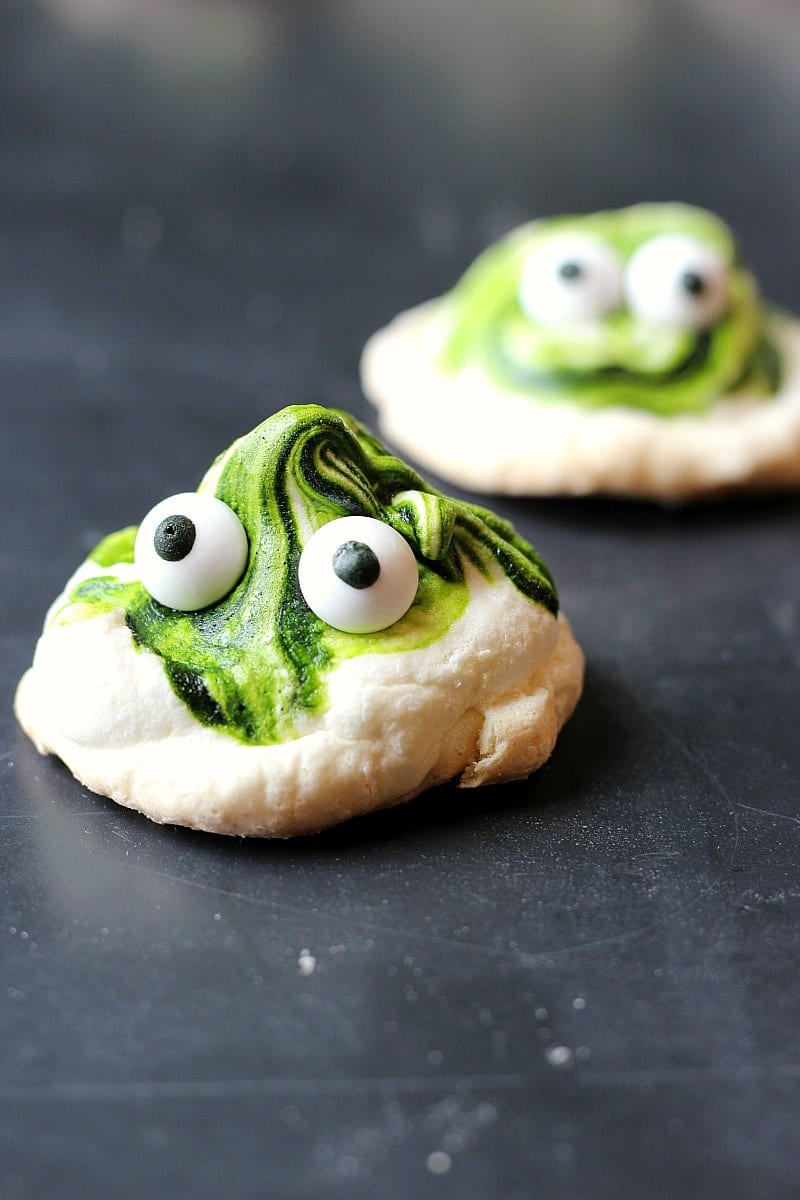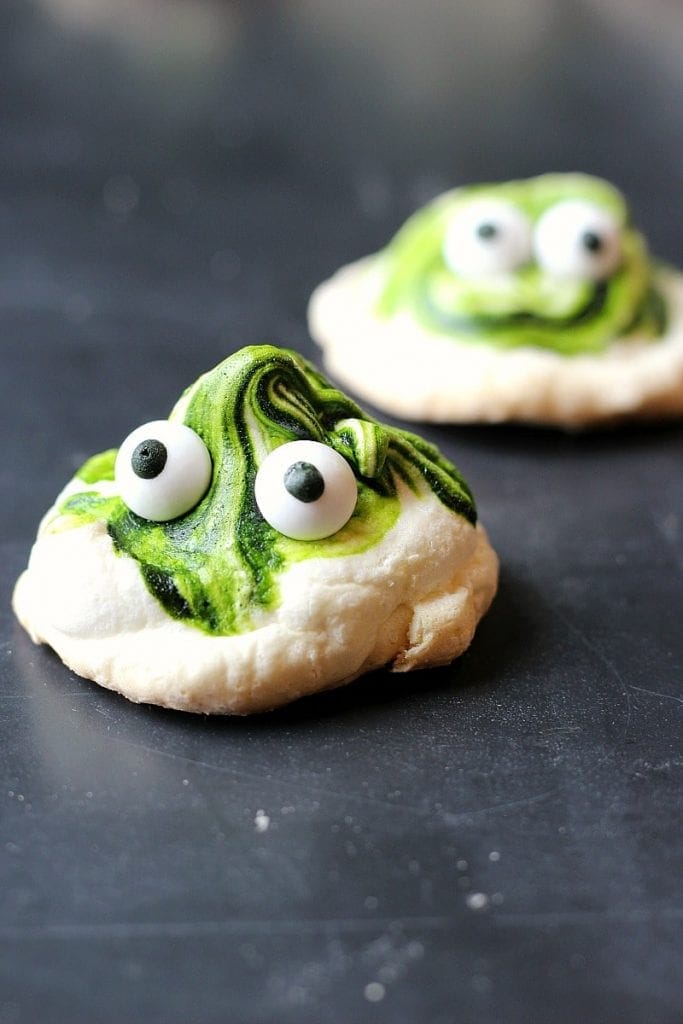 Meringue cookies are a great canvas for creating these fun Halloween green gobbler monsters!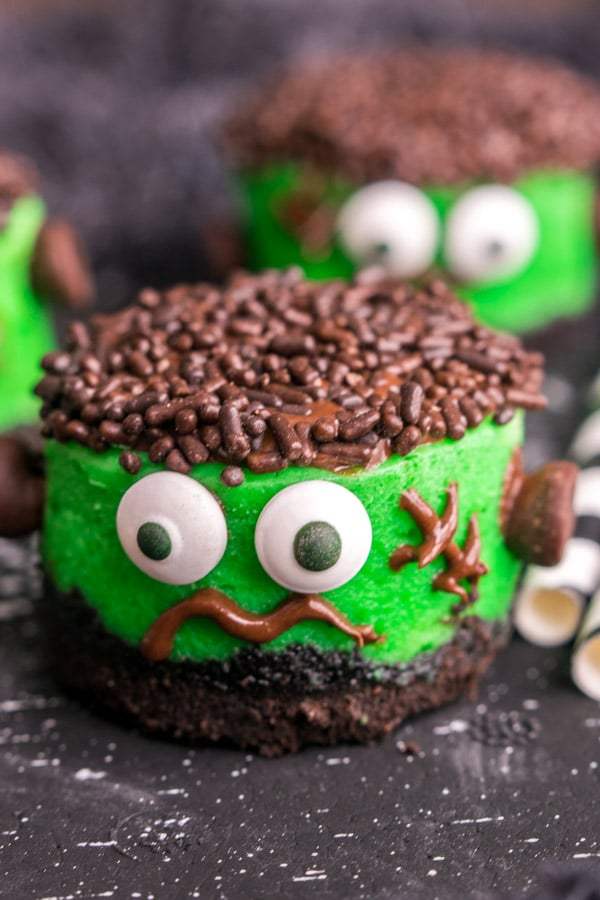 Mini cheesecakes decorated to look like the Frankenstein monster? Oh goodness, yes!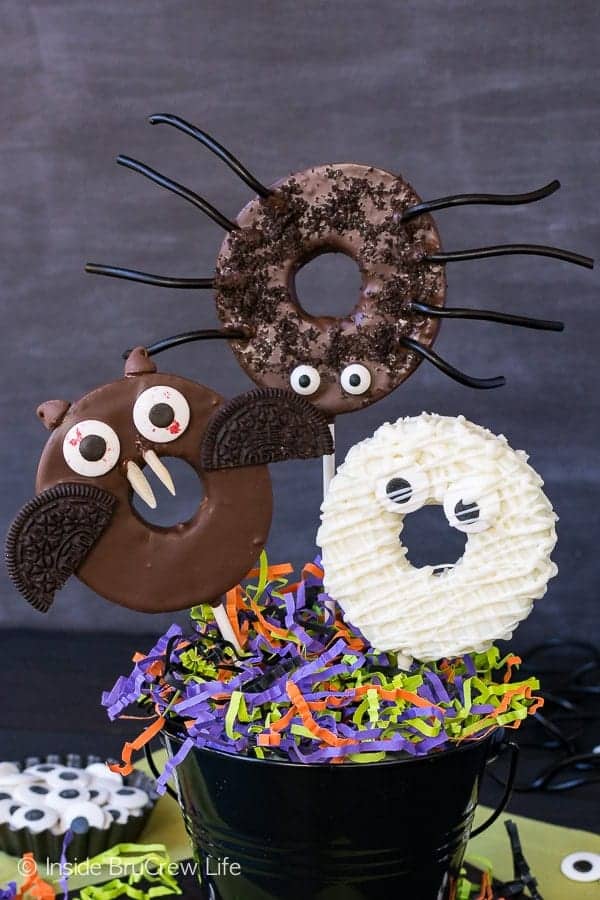 Chocolate Dipped Halloween Apple Rings
We're loving these chocolate dipped apple rings. The perfect healthy snack for Halloween, or ANY time of the year!
If you want a cute, simple and inexpensive school party treat, these Halloween ghost pops are definitely it!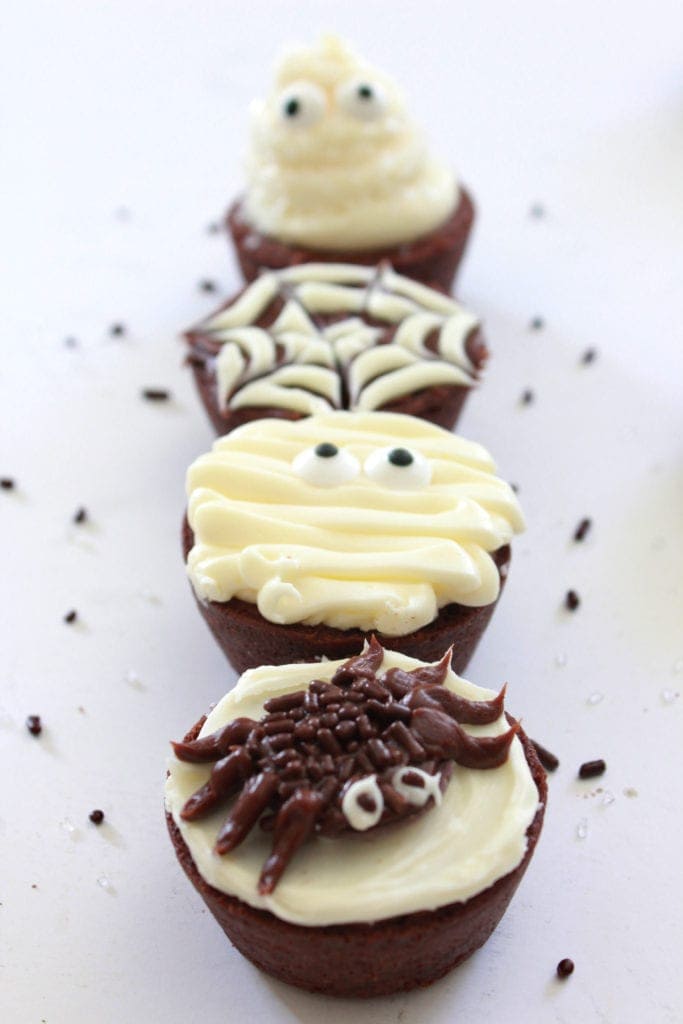 These brownie bites are an easy Halloween dessert when you're in a hurry, or even when you are not because they are so cute!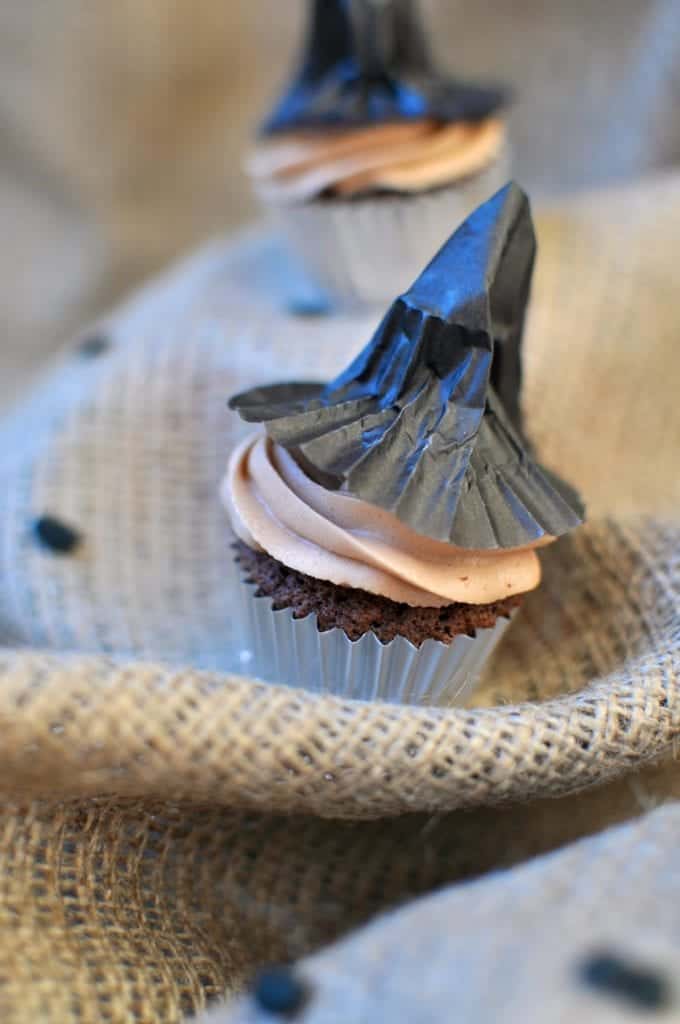 Chocolate Hazelnut Witches Cupcakes
Chocolate hazelnut cupcakes topped off with a simple witches hat. An easy Halloween dessert if ever there was one.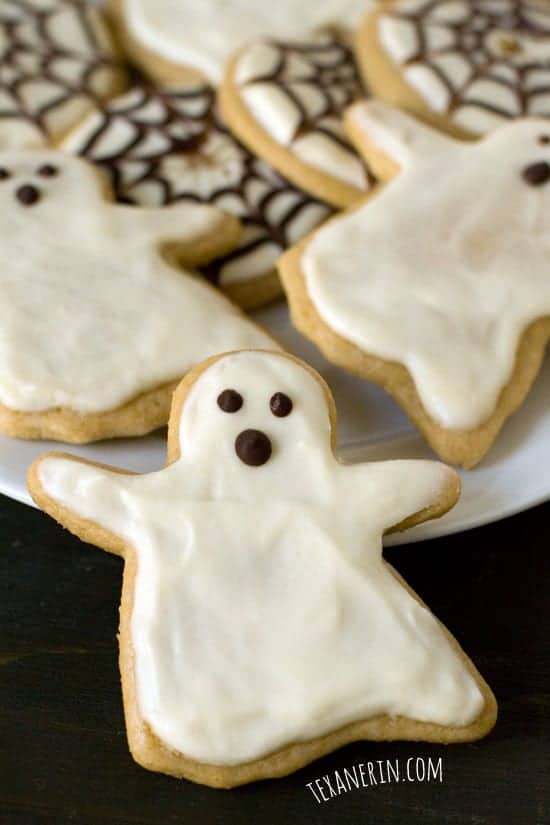 Healthier Halloween Ghost Cookies
These healthier Halloween sugar cookies with cream cheese frosting are 100% whole grain, soft, chewy and delicious!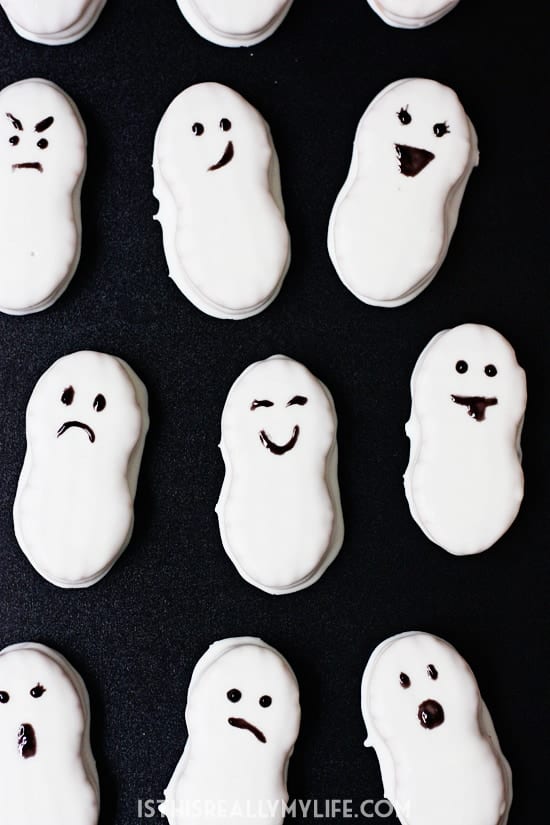 Nutter Butter Ghosts
Looking for an easy, last-minute Halloween treat? These Nutter Butter ghosts require only four ingredients and can be ready in about 15.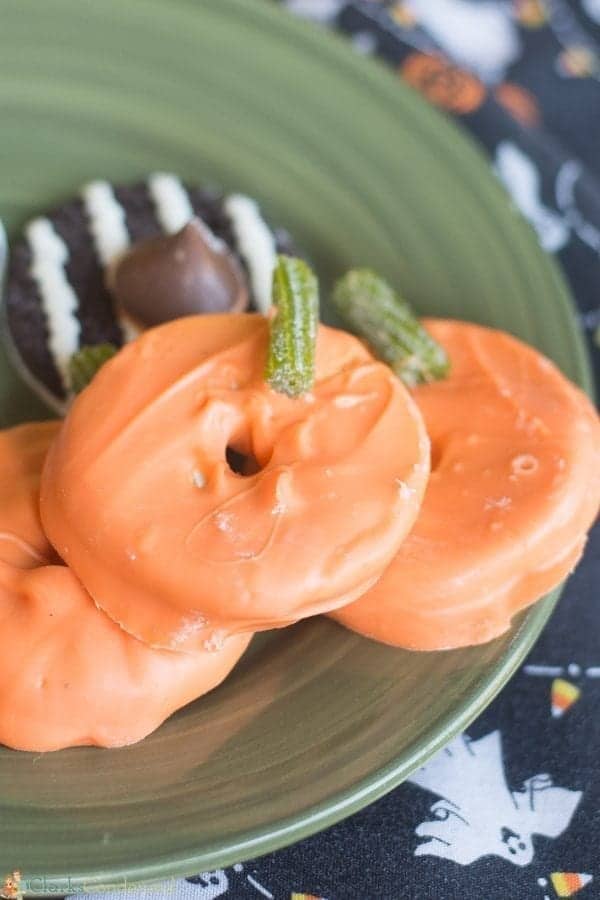 Easy Witch Hat and Pumpkin Cookies
Chocolate covered cookies made to look like witches hats and pumpkins. Easy to make and fun to eat.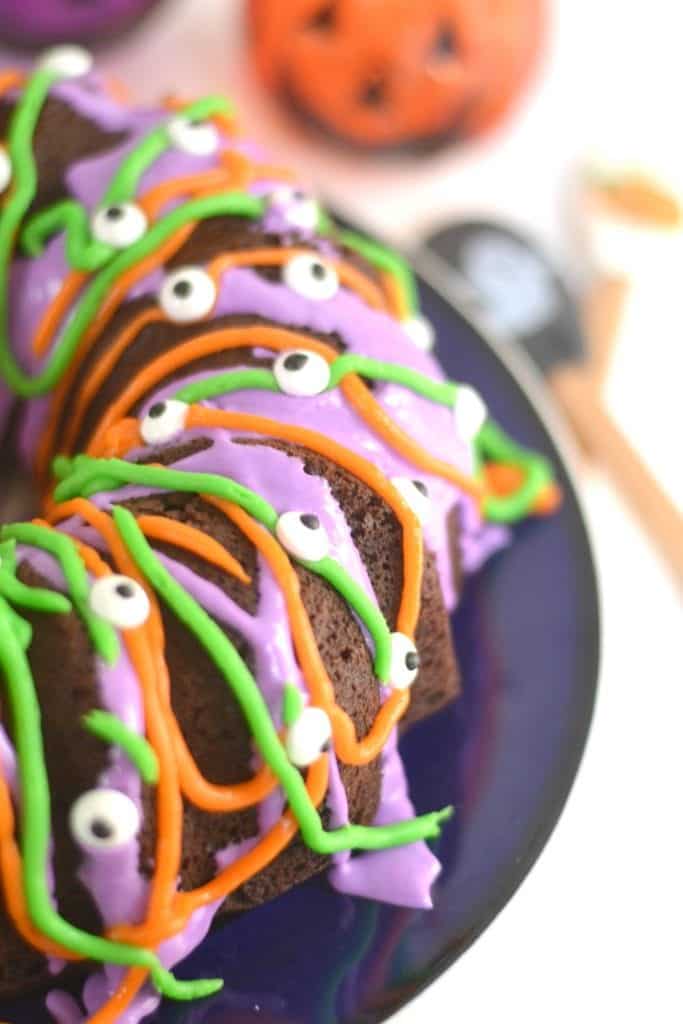 This adorable Halloween bundt cake is going to be the star of your dessert table.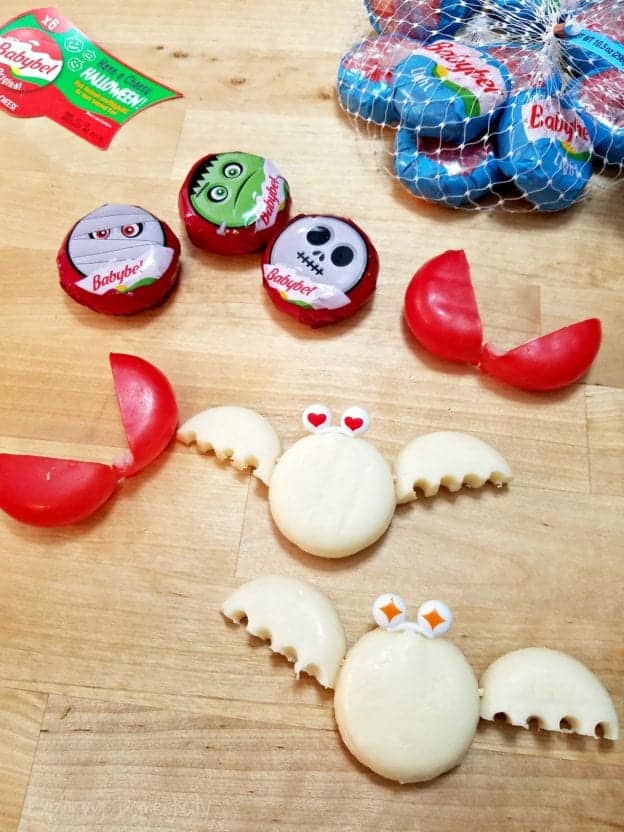 Kids love cheese so you know they'll love eating their cheesy Halloween snack bats.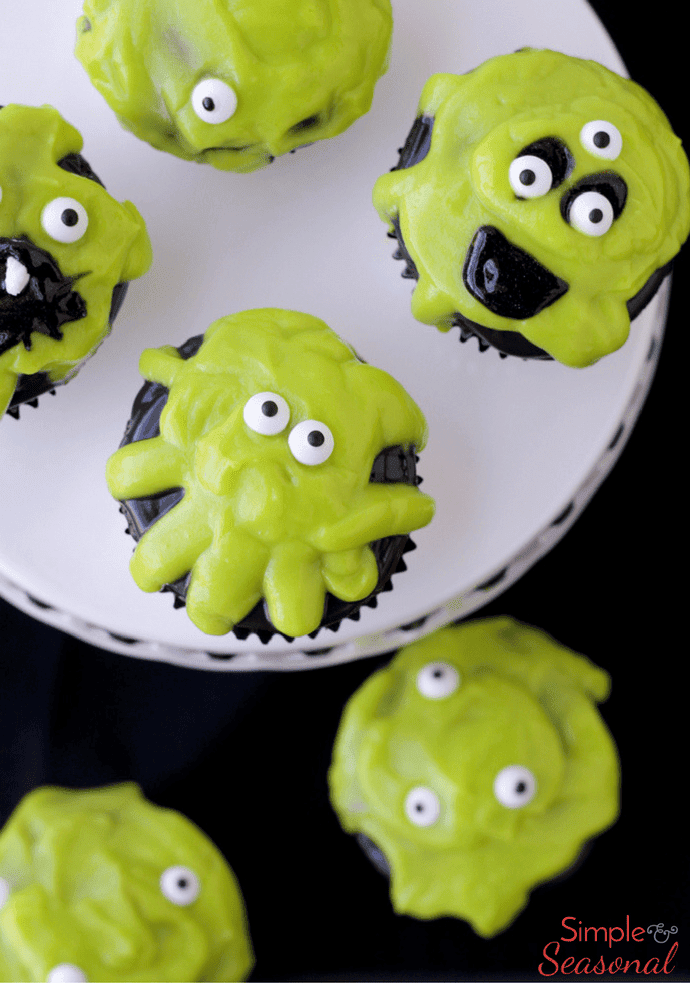 Add some ooze to your Halloween table this year with easy slime monster cupcakes. They are slime-filled for a delicious gooey bite!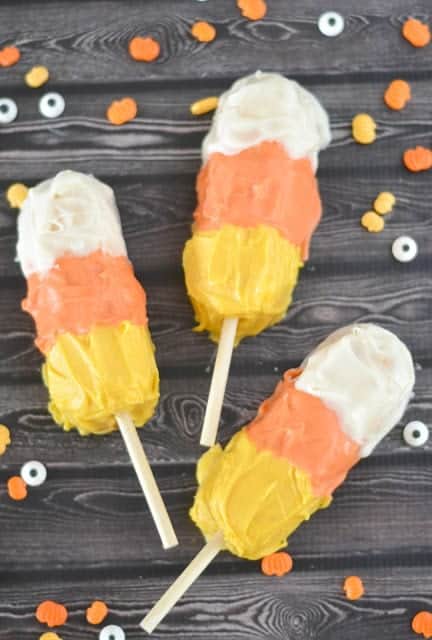 Chocolate covered Twinkies dressed up to look like candy corn. How fun!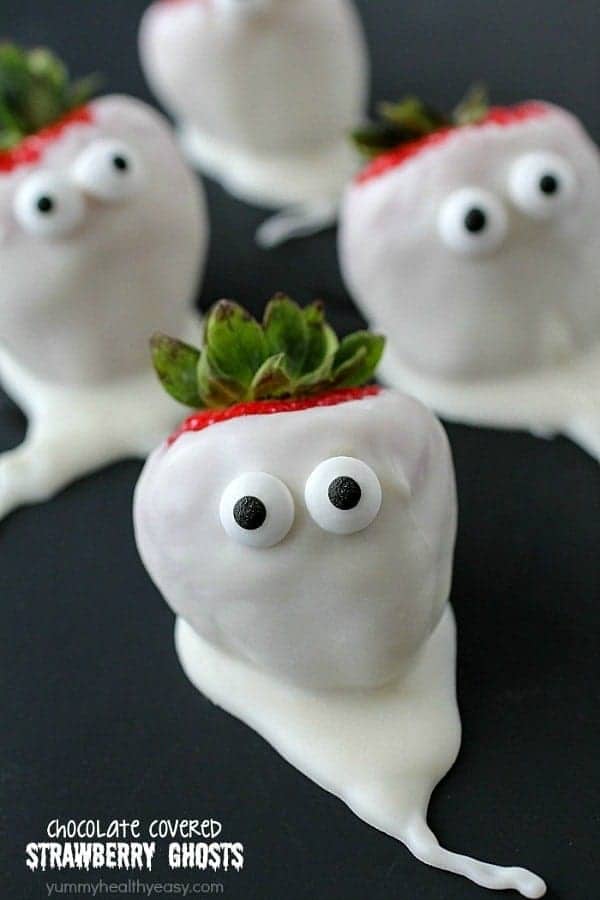 Chocolate Covered Strawberry Ghosts
Another delicious and healthy snack, these chocolate covered strawberry ghosts will be perfect alongside our chocolate covered strawberry pumpkins!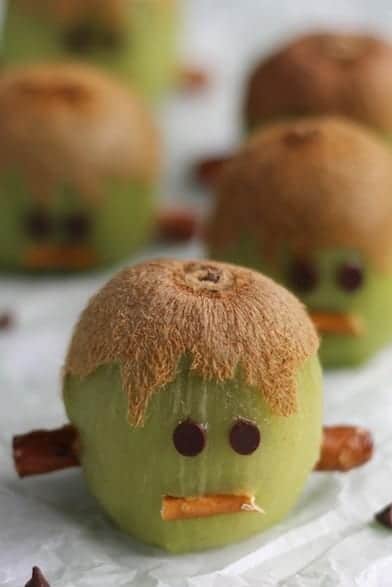 Kiwi fruit has never been more fun to eat than shaved up to look like Frankenstein monsters!
Spooky Turmeric White Chocolate Bark
This turmeric white chocolate bark will be fun to display on the dessert table! The creaminess of the white chocolate blends with the turmeric into a surprisingly delicious candy.
And there you have it! 25 Fun and Easy Halloween Treats that your party guests are sure to love. Happy Halloween!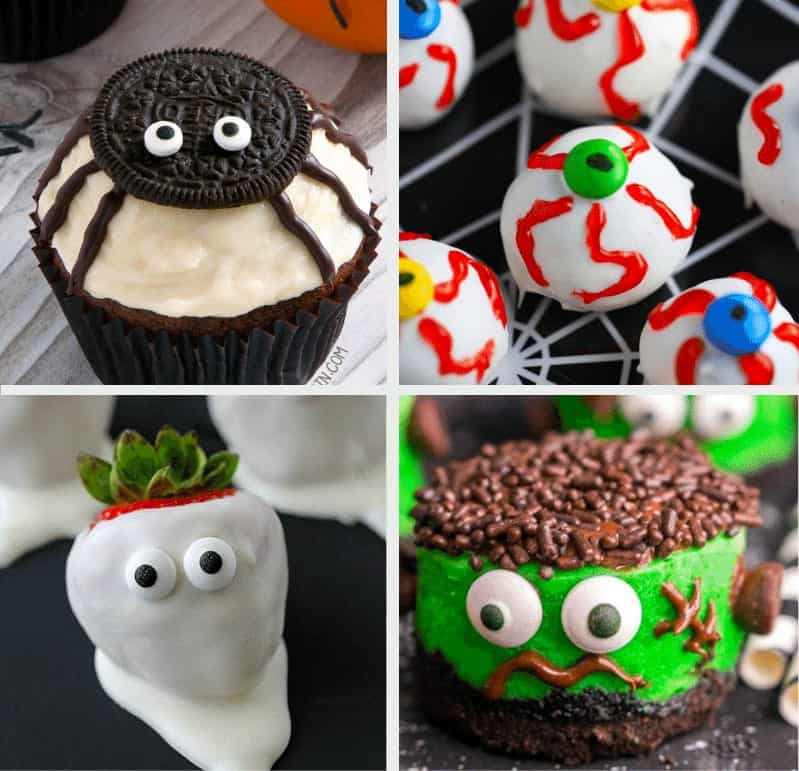 Want even more? Subscribe to Mom Loves Baking to get new recipes and a newsletter delivered to your inbox. And stay in touch on Facebook, Pinterest, Twitter, and Instagram for all my latest updates. If you make this recipe, share a photo on social media tagging @momlovesbaking and using the hashtag #momlovesbaking.