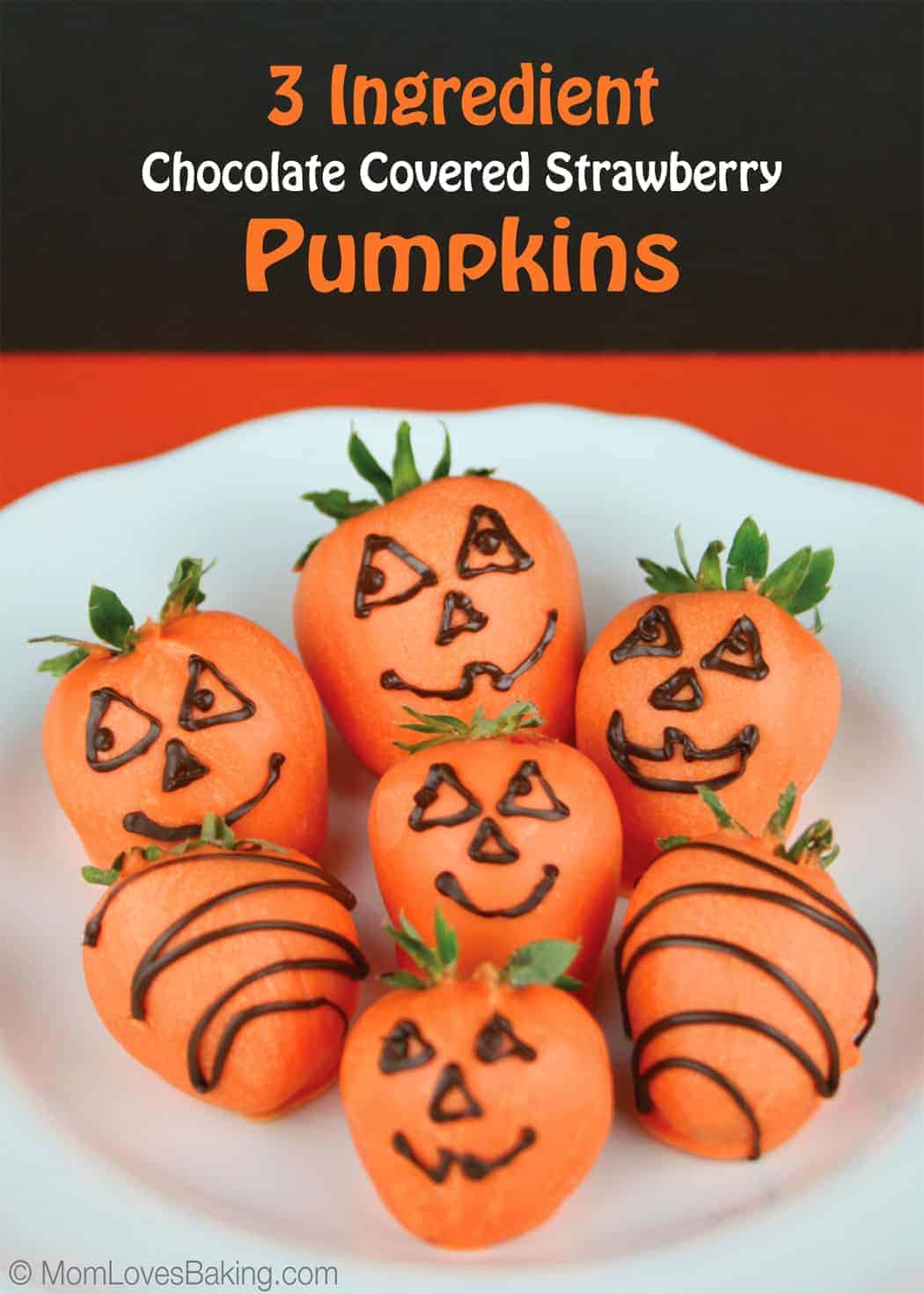 Looking for a fun Halloween treat that the kids will love but is healthy too? Well then you've come to the right place. These Chocolate Covered Strawberry "Pumpkins" are perfect for a party or a festive after school snack. They're so easy to make too. Just 3 ingredients! Strawberries, orange candy melts and semisweet chocolate chips. You could also use white candy melts and make ghost faces with the semisweet chocolate. I made ghost strawberries at our Halloween party last year and they were a hit.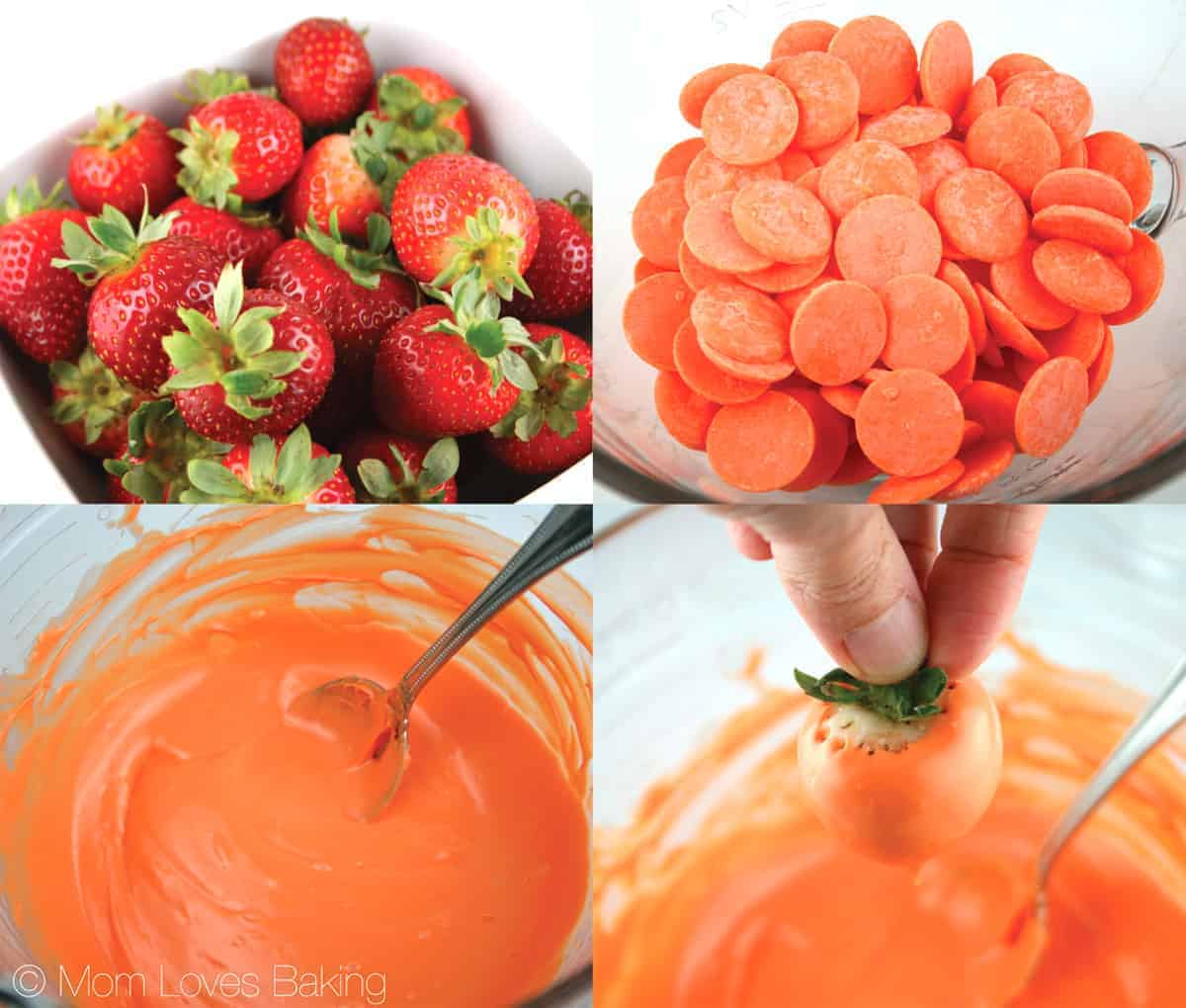 Simply melt the candy melts in the microwave on high for 1 minute (plus 30 seconds more if needed). Stir until smooth and dip your strawberries.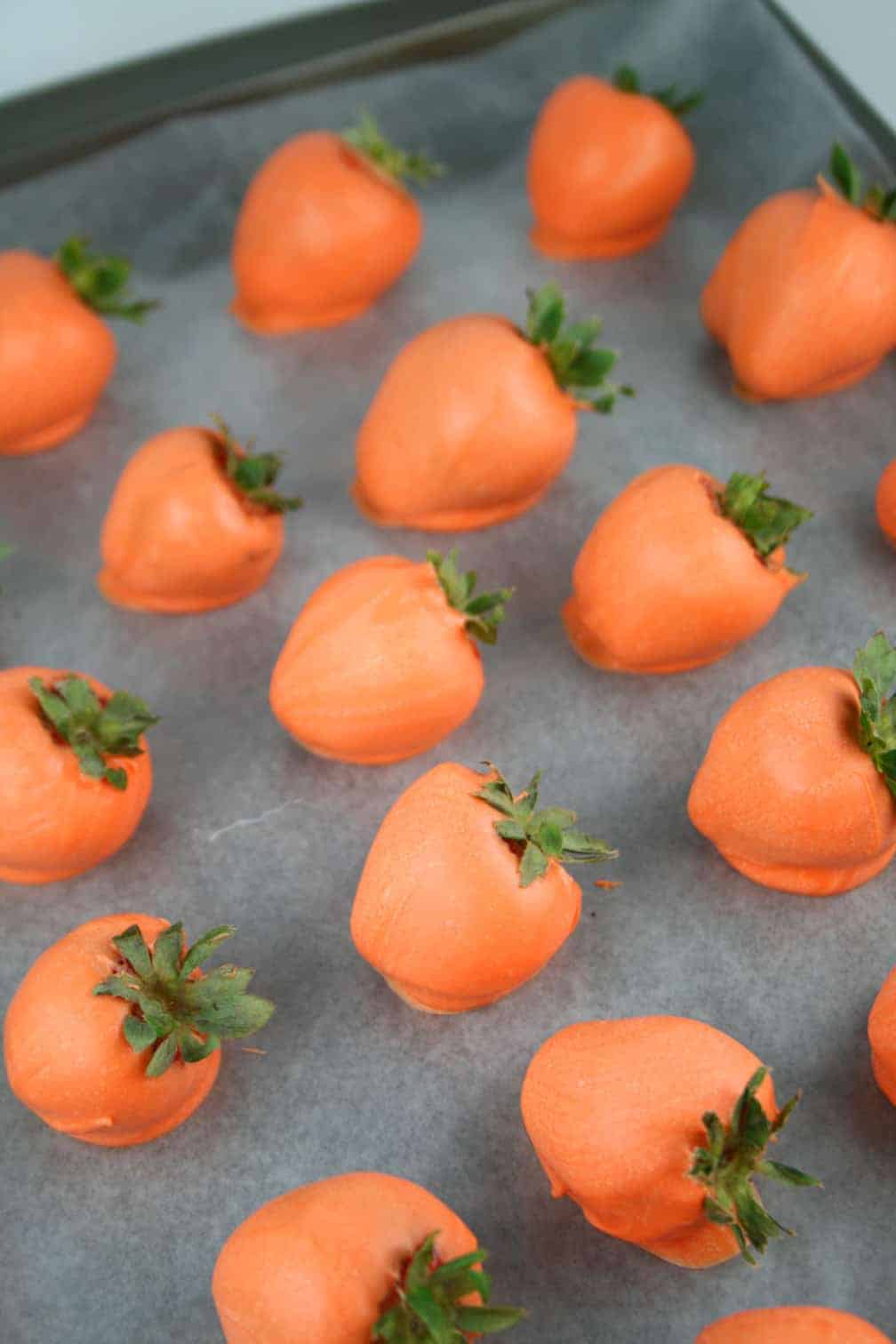 Then let them set on a cookie sheet lined with parchment paper. You can put them in the refrigerator for 15-20 minutes for quicker setting time.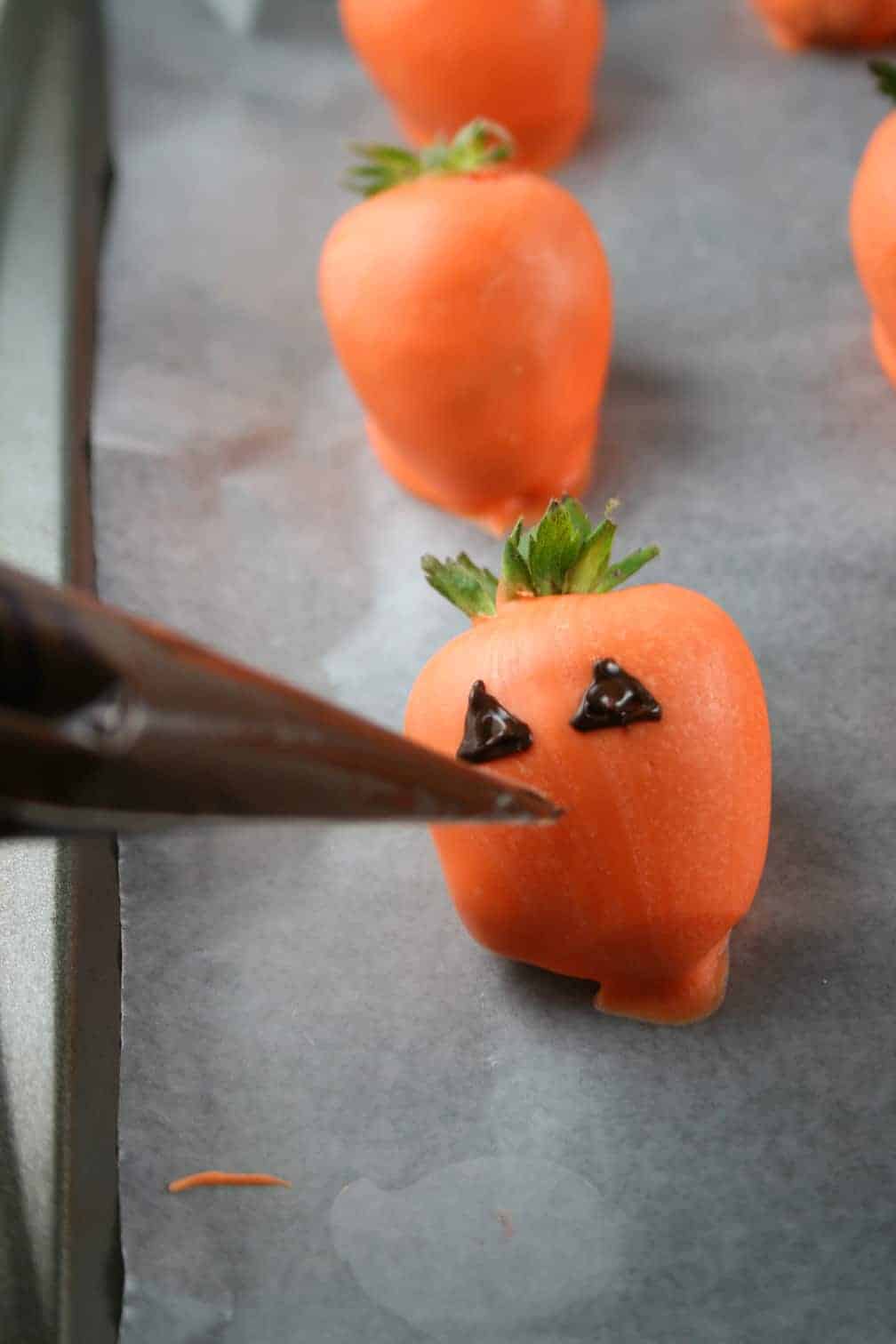 Then place chocolate chips in a disposable pastry bag. Microwave on high for 1 minute. Massage bag gently until chocolate is completely melted and smooth. Cut a tiny corner from the tip of the bag and pipe your faces or stripes on the dipped strawberries.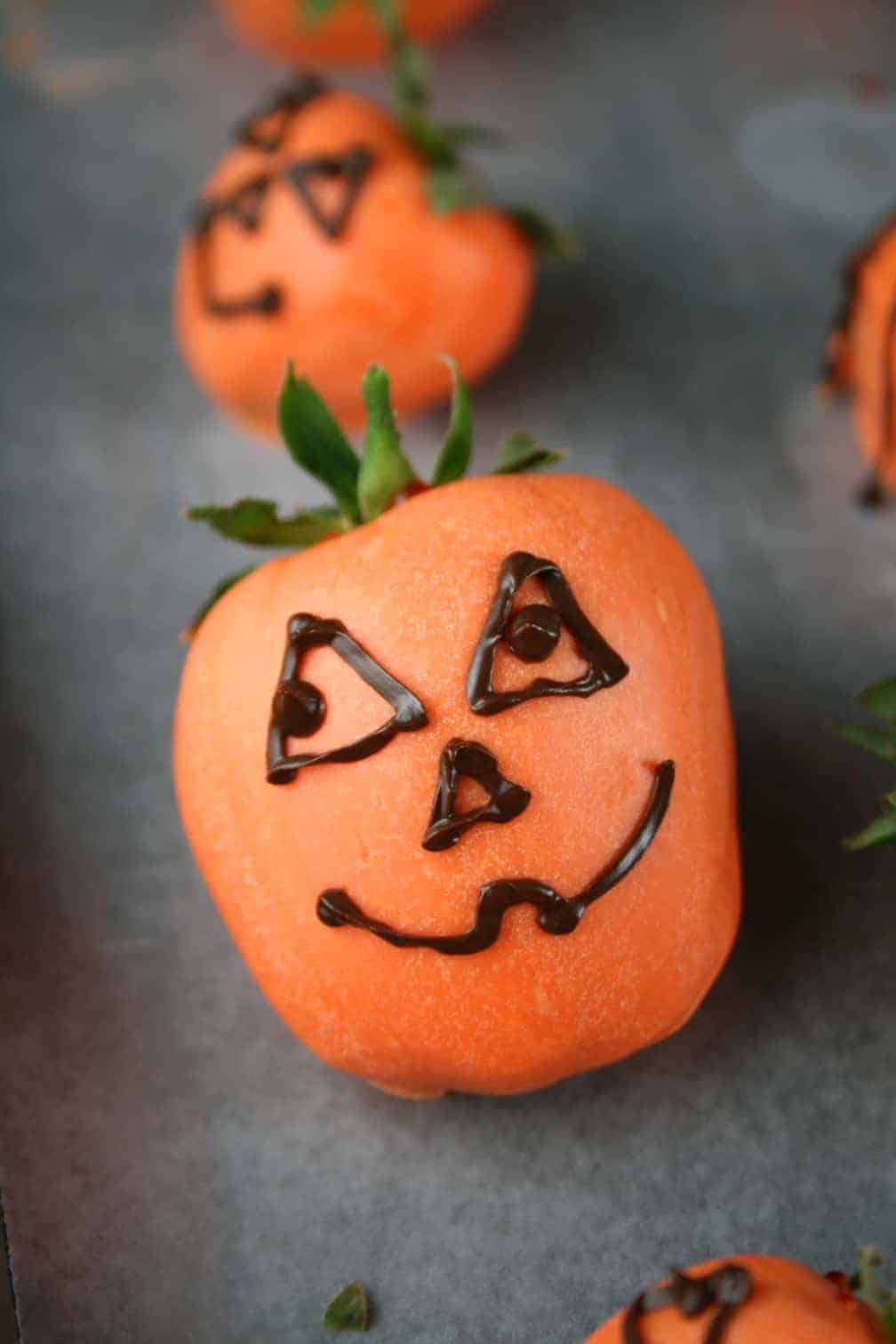 Voila! You're done. Aren't they cute!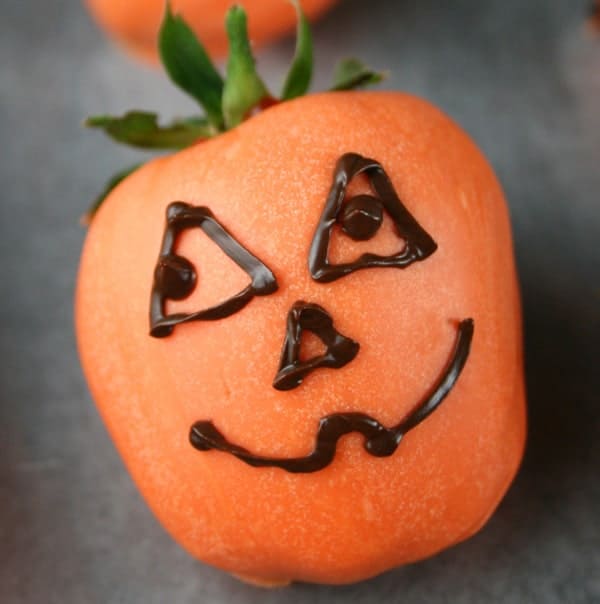 3 Ingredient Chocolate Covered Strawberry Pumpkins
Ingredients
1

lb.

454 g fresh strawberries, rinsed and dried well

12

oz.

340 g orange candy melts (such as Wilton)

1/4

cup

35 g semisweet chocolate chips

1

12-inch disposable pastry bag
Instructions
Line a large cookie sheet with wax paper or parchment paper. Set aside. Place candy melts in a microwave safe bowl and microwave on high for 1 minute. Stir well. Microwave for 30 seconds more. Stir until smooth.

Dip strawberries into melted candy by using the leaves as a handle. Completely cover all of the berry except the leaves. Place on the prepared cookie sheet. Once you have dipped all of the strawberries, place them in the refrigerator for 15-20 minutes.

Meanwhile, pour chocolate chips in the pastry bag. Microwave on high for 1 minute. Massage bag until chips are completely melted. Cut a tiny corner at the tip of the pastry bag. Remove "pumpkins" from the refrigerator and decorate by piping chocolate faces on strawberries or you can also do stripes. Refrigerate for another 15-20 minutes or until completely set. Serve immediately or store in refrigerator for up to 2 days.