Eyeball OREO Truffles are crushed OREO cookies and cream cheese dipped in white chocolate candy melts.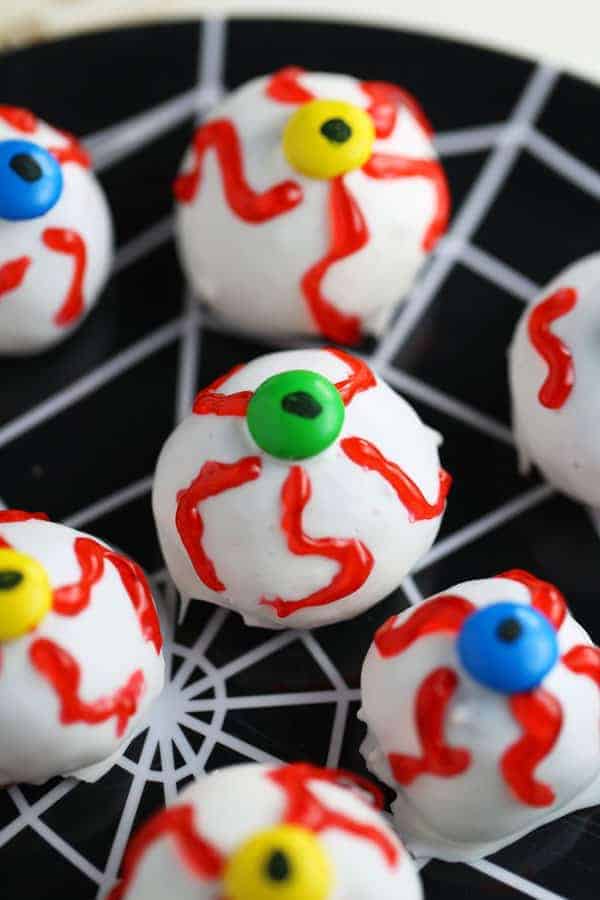 It's October 1st and you know what that means. Halloween is just 30 days away. We have been hosting a Halloween party every year since our kids were really little. It's so much fun. And now is the perfect time to start planning. Eyeball OREO Truffles are spooky and delicious. Just right for a Halloween celebration!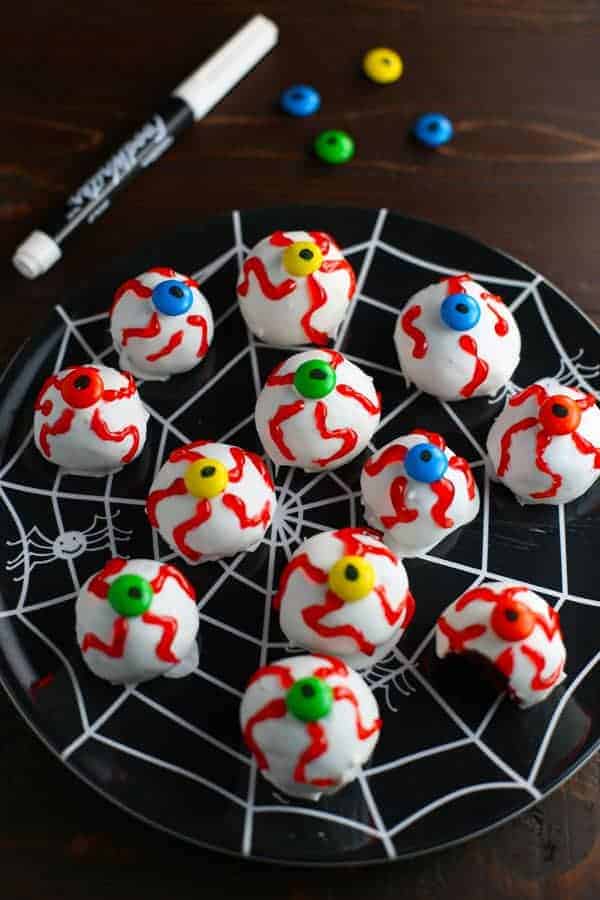 I love that Eyeball OREO Truffles are basically just 3 ingredients (if you don't count the decorations). So if it wasn't Halloween, you could make these without the creepy eye candy and blood shot icing squiggles. But for today, we're going scary all the way!
Click here to see the instructional video: HOW TO MAKE EYEBALL OREO TRUFFLES.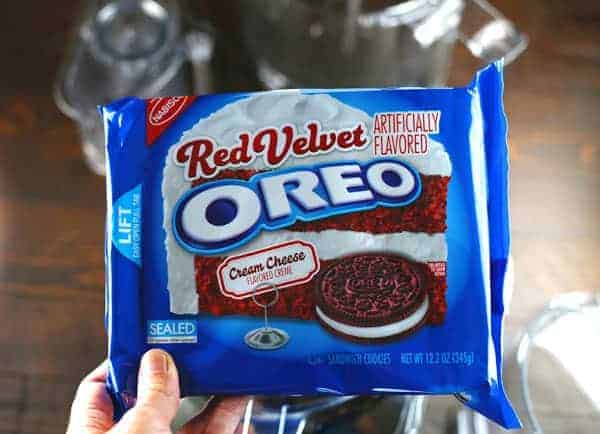 I thought it would be fun to use the Red Velvet OREO cookies for this recipe. They are eyeballs after all and well, you know what I mean. I don't want to be too gross in my details here. But if you can't find the red velvet, by all means, just make them with regular OREO cookies. They are just as yummy!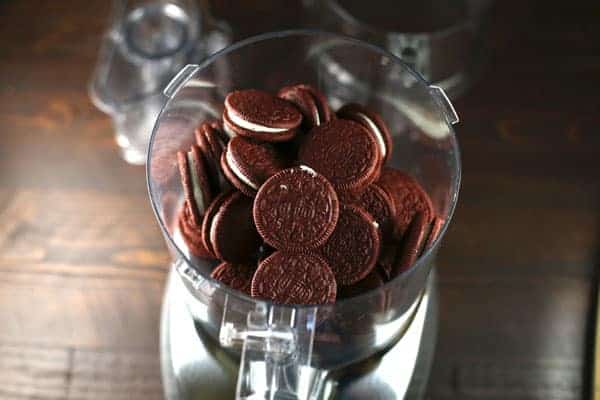 I used the whole package of cookies for this recipe and placed them in my food processor to crush. I used a food processor like this: Cuisinart DLC-2011CHBY Prep 11 Plus 11-Cup Food Processor, Brushed Stainless
.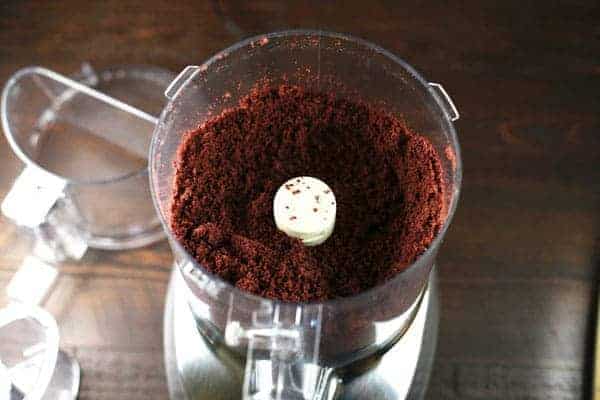 Pulse until all of the cookies are crushed. About 1 minute.
Pour cookie crumbs into a bowl and add the softened cream cheese. Stir to combine.
Shape into 1″ balls and freeze for 10 minutes.
Meanwhile, draw a black dot with a food writing pen onto about 30-40 M&M candies (depending on how many balls you make). I used a food writing pen like this: AmeriColor 2 Pack Gourmet Food Writer Set, Black Marker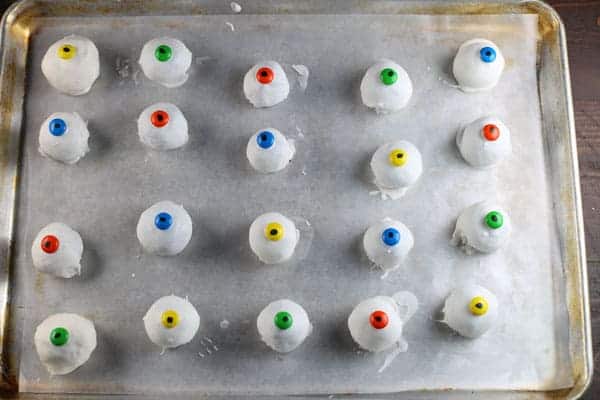 Dip frozen cookie balls in melted candy melts mixed with coconut oil. (The coconut oil is very important here. It makes the candy melts much smoother and easier to dip.) Place an M&M eye onto each ball. Let them set on a parchment lined cookie sheet.
Decorate with red frosting. Refrigerate for about an hour.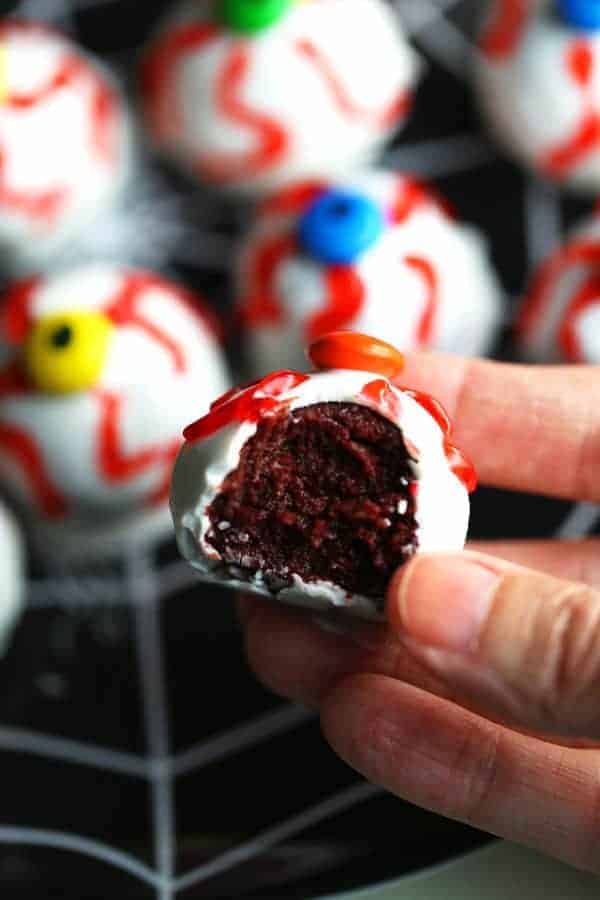 They are ready to eat! And they are so tasty. My husband and son both really loved these Eyeball OREO Truffles. They said it's the best thing I've made in a long time! (Their words exactly.) So there you go!
Are you having a Halloween party this year? What else are you planning to serve at your party? I'd love to hear from you in the comments below.
Print Recipe
Eyeball OREO Truffles
Ingredients
1

package OREO Red Velvet cookies*

8

ounces

cream cheese

softened

16

ounces

white candy melts

3-4

tablespoons

coconut oil

30-40

M&M's

Black food writing pen

Red decorator frosting

in the tube

*Note: if you can't find red velvet

you can use the original OREO cookies
Instructions
Crush cookies in food processor. Pour into a bowl. Add cream cheese and stir until combined. Shape into 1" balls and place on parchment lined cookie sheet (with edges, so they don't slide off). Freeze for 10 minutes.

Place candy melts in a microwave safe bowl. Heat according to package instructions until melted. Stir in coconut oil. Start with 3 tablespoons. If you think it needs to be a little bit thinner, add more. The coconut oil is the key to this recipe. It makes the white candy melts so much smoother and easier to dip the cookie balls in.

Draw a black dot on the middle of each M&M.

Dip balls and place on parchment lined cookie sheet. Place M&M eyes on top. Let the candy melts set for about 10 minutes, then add the red lines with the red frosting. Refrigerate for about an hour. Store in the refrigerator for up to 3 days.

Note: This post contains affiliate links.
Featured on The Southern Plate Meal Plan Monday.