An easy Halloween treat the kids will love and they can even make them!
Here's a Halloween treat the kids can make. My 9 year old son and 12 year old daughter made these Halloween Spider Donuts. So easy and fun to eat!
The hardest part is breaking the pretzels properly. It's not that hard, but you want to use the top two rounded sections of a large pretzel as shown above.
You'll also need some M&Ms, store-bought mini chocolate donuts and frosting. You could use store bought or make a small batch from scratch.
For some extra detail, you can use a Foodwriter pen found at the craft store.
Putting these together is a snap. My son put the pretzels in the donuts. We decided to make 4 legs on most of them, just because we were in a hurry. Then I piped some icing and placed the candies for the eyes. You could do more legs if you wanted to.
We did some with 6 legs. My daughter did the legs and eyes all by herself without a problem. Her 9 year old friend helped her too.
Halloween is just a few days away. You can throw together Halloween Spider Donuts in a hurry and the kids will be so glad you did!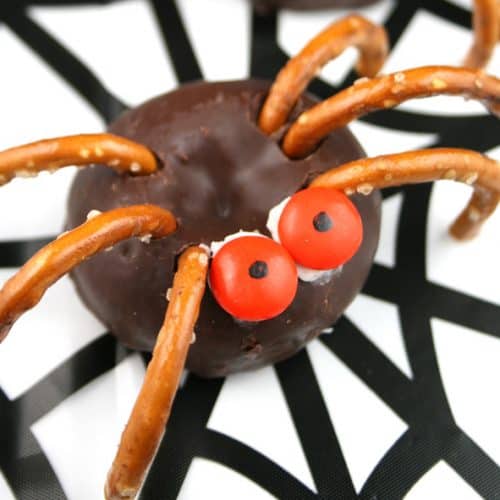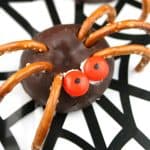 Halloween Spider Donuts
Ingredients
30

Store bought mini chocolate donuts

1

bag large pretzels

1

large bag M&Ms

you only need 60 candies, but it's always nice to have extra

1

container

1 lb vanilla creamy ready-to-spread frosting

1

black food writing pen

optional
Instructions
For the spider legs - break off the top 2 curves of the pretzels. Each curve will be a leg. You will need at least 120 "legs". That would give you 4 legs per spider. Break off more if you want more legs. Set aside.

Place 1 cup frosting in a small resealable food storage plastic bag; seal bag. Set aside.

For the eyes - if desired, draw a black dot in the middle of 60 M&Ms (make sure there are 2 of each color).

To assemble - gently press the pretzel legs into the donuts. Cut a small corner off the tip of the plastic bag. Pipe 2 dots of frosting for the eyes. Place the 2 candies on each donut.

Serve immediately or cover to store at room temperature up to 2 days.

Recipe adapted from www.itsalwaysautumn.com.