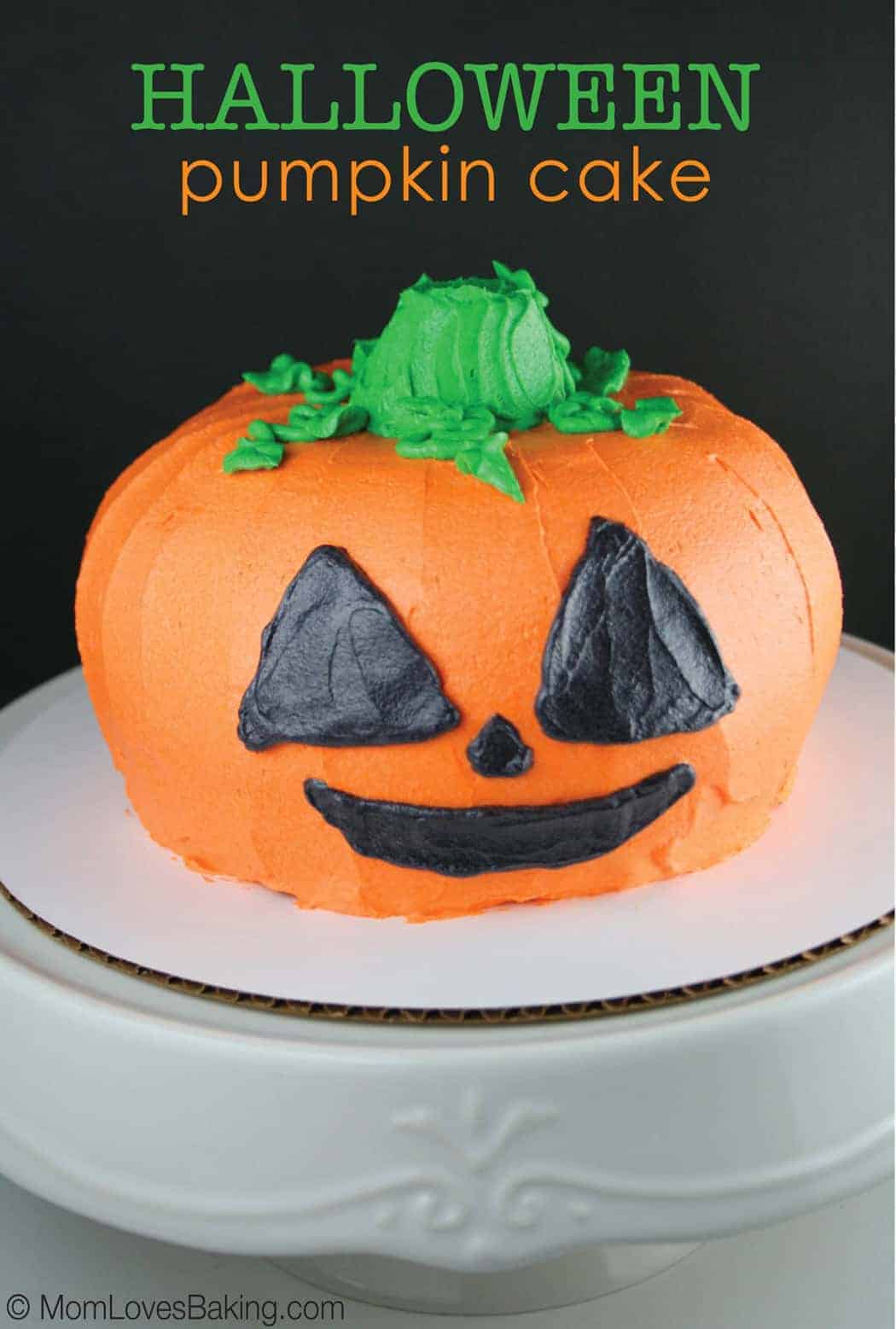 What's cuter than a Halloween Pumpkin Cake? This one is easy to make with 2 bundt pans to create the pumpkin shape. It's not only shaped like a pumpkin but it's a pumpkin flavored cake too.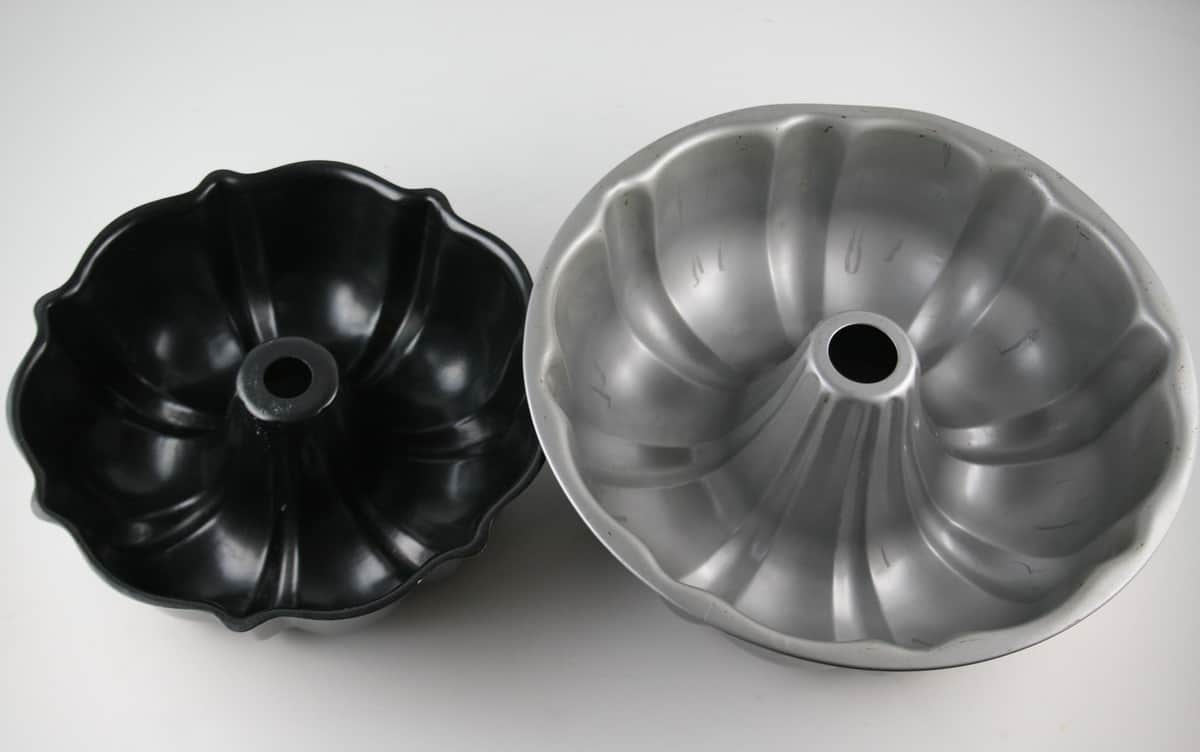 I used 2 half-size bundt pans. If you don't have those, then you could use 2 regular sized bundt pans and double the recipe.
The cake recipe is easy. Just a few ingredients – a yellow cake mix, canned pumpkin, 1 egg, oil and spices.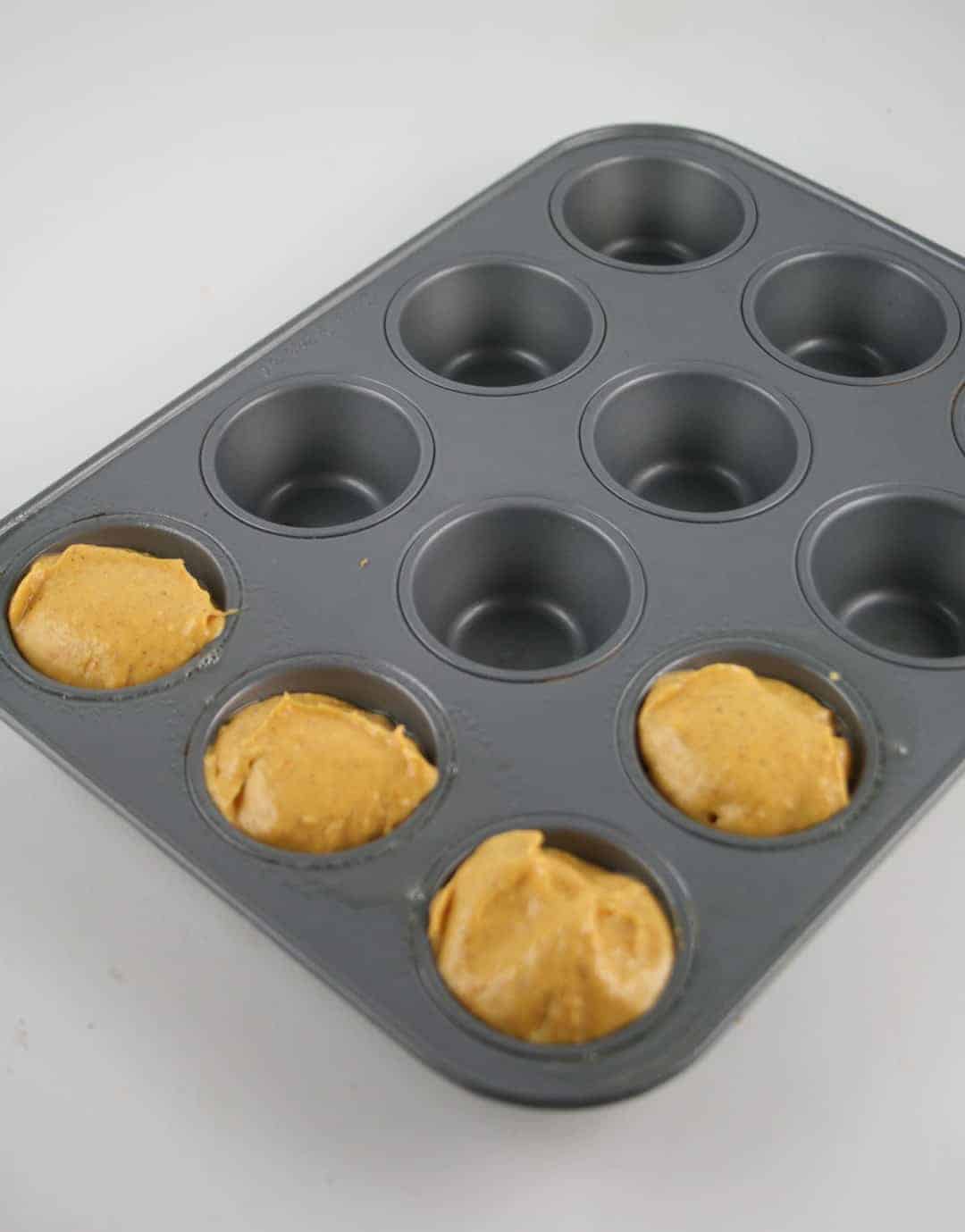 You'll need to make 4 mini muffins too. You really just need 3 for the cake, but it's always good to have an extra in case you mess up or maybe you would like to taste the fruits of your labor.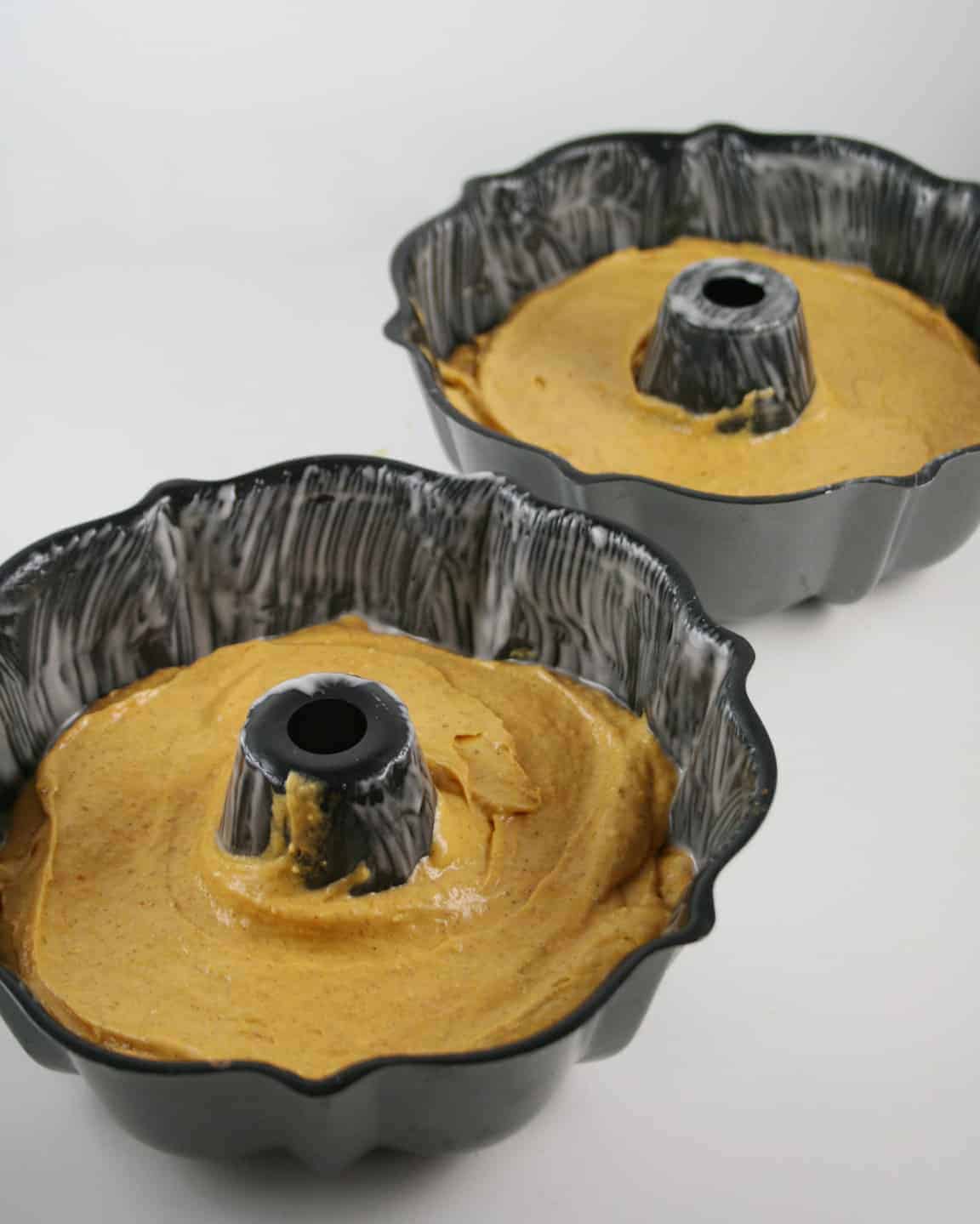 Then fill the greased pans with equal amounts of batter.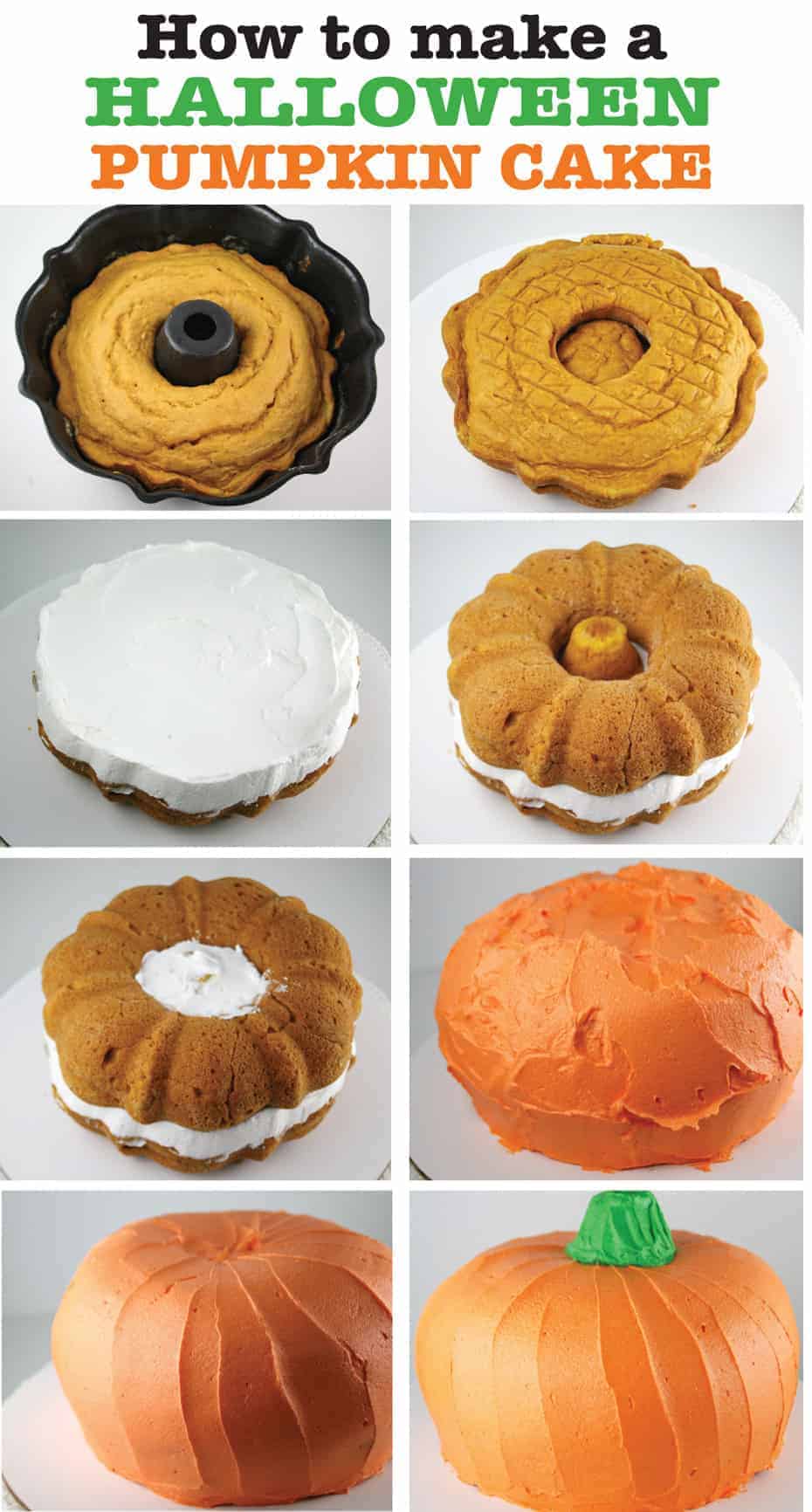 While the cake is baking, you can make your buttercream. Let cakes cool and frost as shown. You will put a mini muffin in the middle of each bundt cake. A third muffin will be the stem on top and one muffin is extra. You can initially put the orange icing on kind of messy. Then, once the cake is covered with a good amount of icing, use an offset spatula to spread the icing in an upward motion to create the pumpkin pattern. Use black buttercream to create the face.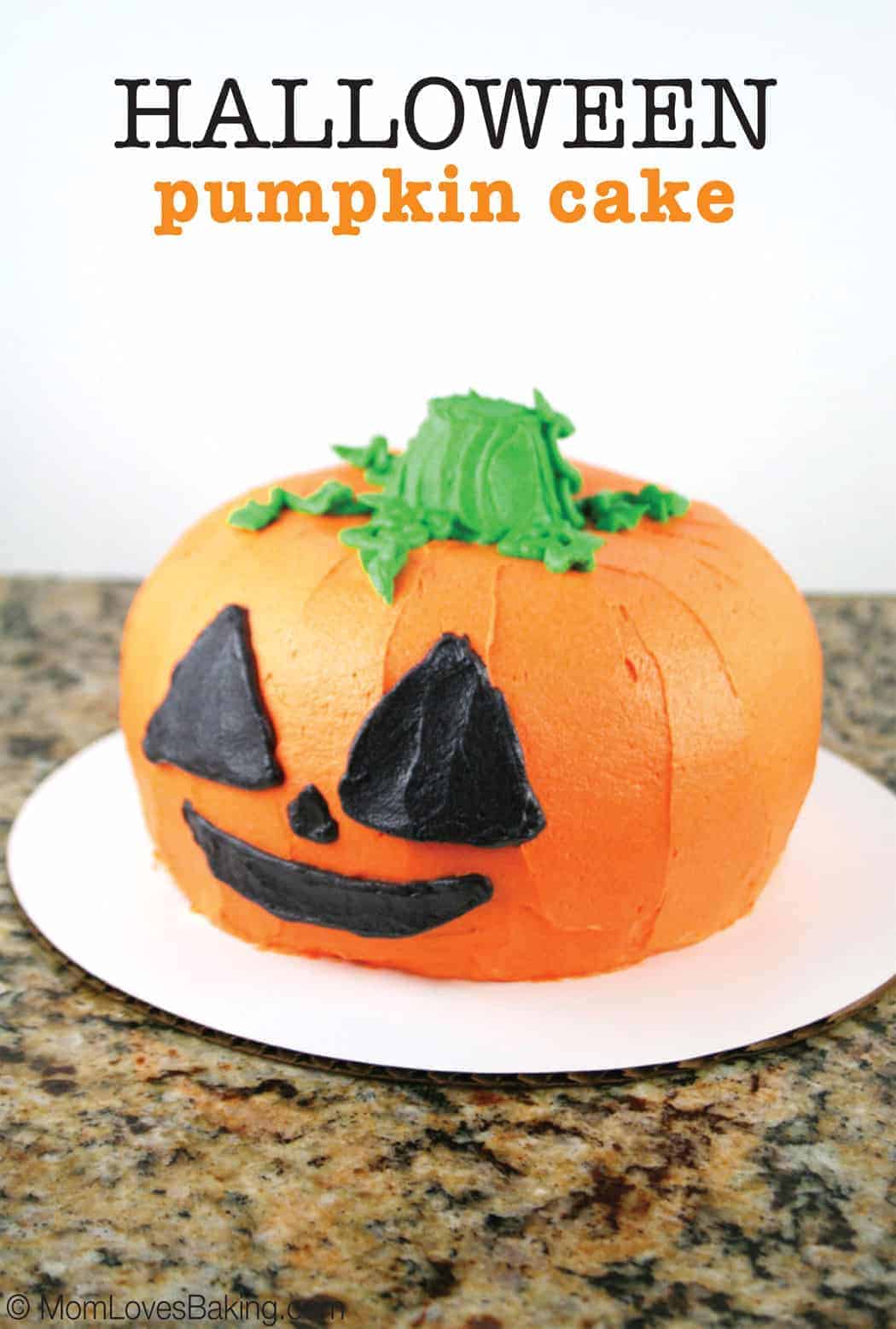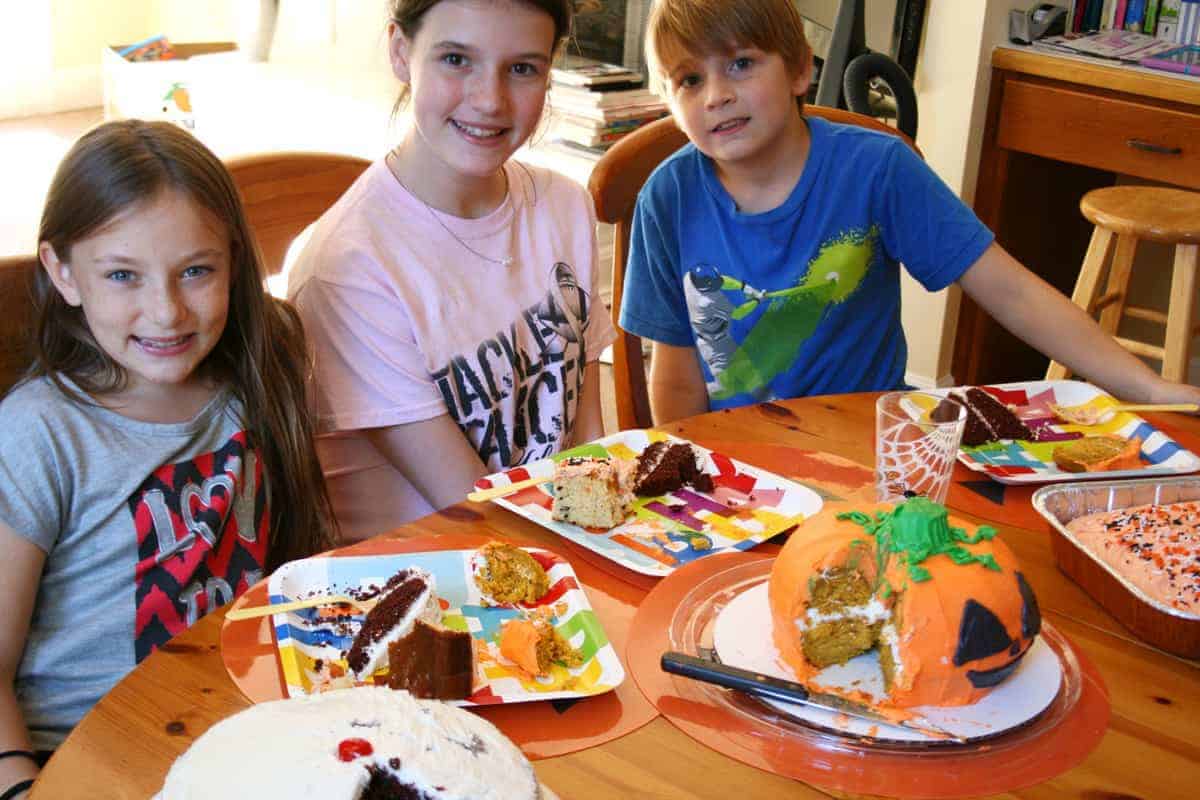 I made the cake for Fall Fest at my church – Alpharetta First United Methodist. They needed cakes for the cake walk. Well, guess who won the pumpkin cake. My daughter, Savannah. True story! Ansley (a friend) and my son, Luke, each won a cake as well. So they decided to do a taste test. Any idea which cake won? That's right, the Halloween Pumpkin Cake. It's kid approved, folks.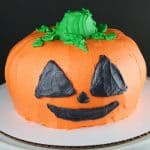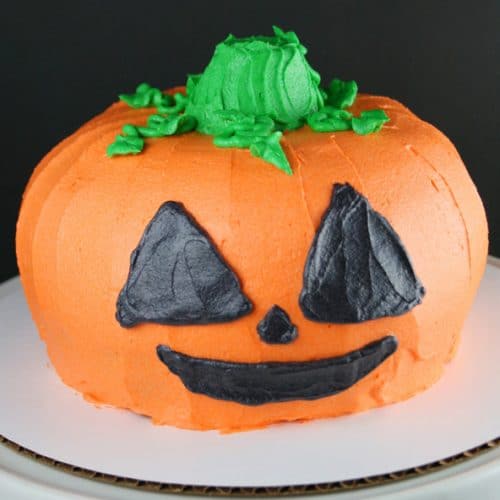 Halloween Pumpkin Cake
Ingredients
For the cake

1

yellow cake mix

I used Pillsbury

1

15 oz/425 g can pumpkin

1

egg

1/4

cup

60 ML vegetable oil

2

teaspoons

pumpkin pie spice

1

teaspoon

cinnamon

1

mini muffin pan

2

half-size bundt pans

For the frosting

1/2

cup

113 g vegetable shortening (such as Crisco)

1/2

cup

113 g unsalted butter, softened

1

teaspoon

vanilla

use clear vanilla for pure white frosting

4

cups

512 g powdered sugar

2

tablespoons

milk

or more for thinner consistency

Orange

green and black food coloring (I used Wilton brand)

2

plastic disposable pastry bags

I used Wilton brand

2

couplers

2

#5 tips and a #352 tip
Instructions
For the cake -

Preheat oven to 350°F. Grease two half size bundt pans and one mini muffin pan. Set aside.

In large bowl, place all cake ingredients. With an electric mixer on low, beat until ingredients are combined. Turn speed up to medium and beat for 1 1/2 minutes. Spoon about 2 tablespoons batter into each of 4 mini muffin cups. Pour the rest of the batter in equal amounts into prepared bundt pans. Bake mini muffins for 20 minutes. Continue baking cakes for 15-25 minutes (or total of 35-45 minutes) or until a toothpick inserted into middle of cake comes out clean. Let cakes cool completely.

Meanwhile, prepare the frosting.

Place shortening in large bowl and beat with an electric mixer on medium high for two minutes. Add the butter and beat until combined. With the mixer on low speed, gradually add half the sugar. Add the milk and vanilla. Beat on low for a few seconds. Keep mixer on low and add the remaining sugar. Turn the mixer up to medium high and beat for 2 minutes. Add more milk if it's too thick.

Frosting and Decorating the Cake -

Put 1/4 cup of frosting in a separate bowl for the green and 1/4 cup in another bowl for the black. Keep the remaining frosting white for the time being. Place the first cake (rounded side down) on a cake board. Place a mini muffin in the middle. Frost the top of the cake. Place the second cake on top (rounded side facing up). Place another muffin in the middle. Frost the center only with white. Color the remaining frosting orange. Frost the whole cake with the orange frosting. A small offset spatula works great for spreading (I used Wilton Brand). Frost a mini cupcake with green frosting. Place on top of cake. (The fourth mini muffin is extra.) Create vines in green with the #5 tip and leaves with the #352 tip. Draw the face in black with a #5 tip.

Store cake in the refrigerator.