Easy Gluten Free Pumpkin Pie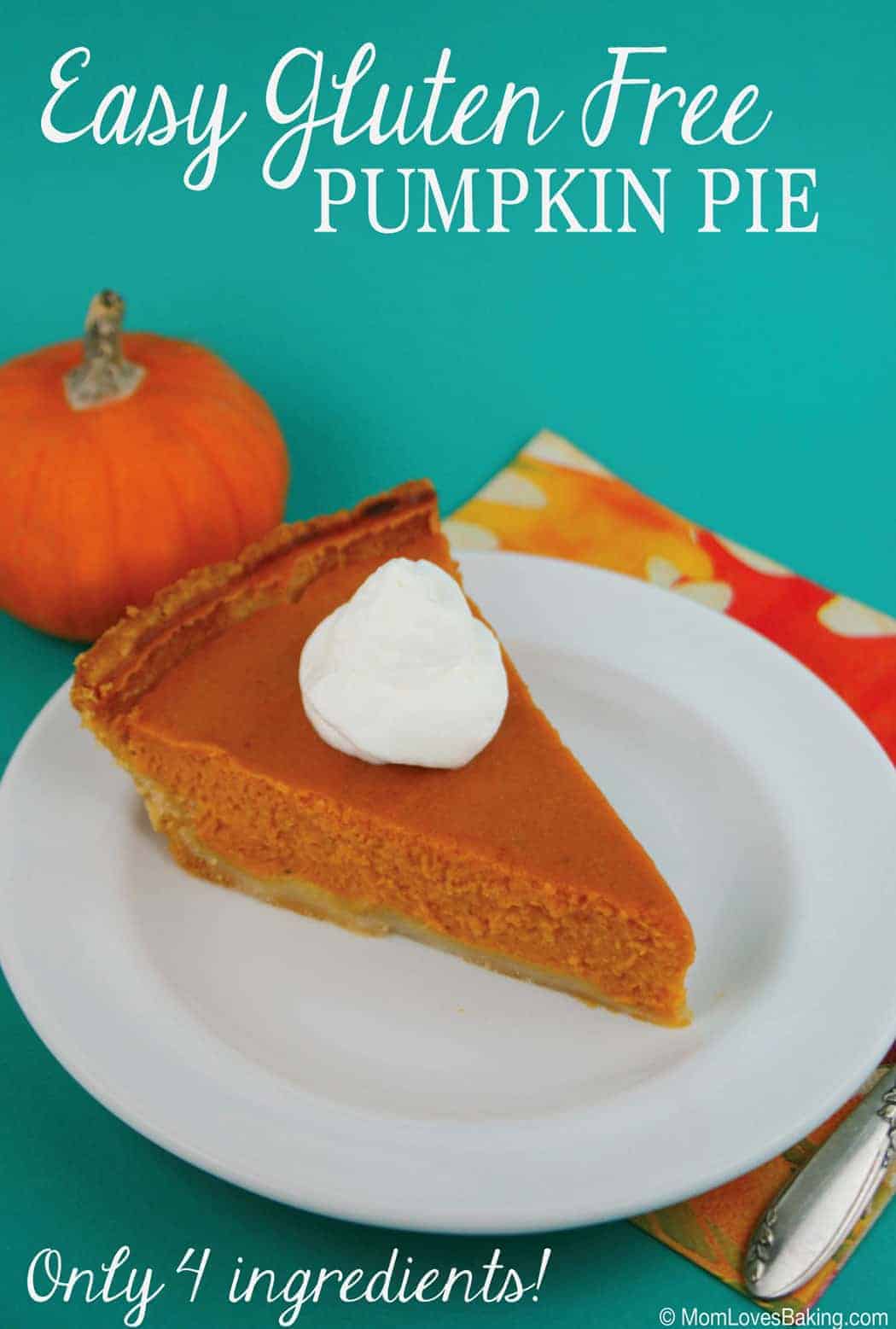 It's almost Thanksgiving and I've been thinking a lot about what we're going to eat. We will be going to my mom's house this year and she can't have gluten. It makes it a little tricky when most of the traditional recipes for the holiday have gluten. I wanted to come up with an easy pumpkin pie that my mom could eat too.
There are only 4 ingredients. What could be easier! My mom can't have milk either, so that's why I decided to use the coconut milk.
Start with the Pillsbury Gluten Free Pie and Pastry Dough. You can find it in the refrigerator section of the grocery store, next to the regular pie crusts and biscuits. Let it thaw for about 10 minutes. Then take out half the dough and knead it for a few minutes. Place on parchment paper.
Place another piece of parchment paper on top and roll the dough. You want it to be about the same size as your pie plate.
If you want, you can place the pie plate upside down on the parchment and draw a line along the edge, so you will have the exact size you need.
Take the top piece of parchment off then replace the paper on top again and turn it over. (You are doing this so the paper won't stick when you try to take it off.) Remove the parchment and place on pie plate. Remove the parchment and press the crust into the pie plate.
If a piece of dough comes off, don't worry. Just stick it back in the spot where it goes and press together with fingers. You want the crust to go up the sides to just under the top edge. Note: If you don't want to fool with the parchment and rolling part, you can just plop the dough in the pie plate and press it down and up the sides with your fingers. That works too!
This is the first time that I used the pumpkin pie mix. It's so easy! All you do is add the milk and eggs. Mix well and pour into crust.
Bake as directed. Total baking time is about an hour and 15 minutes. It smells so good! It's hard to wait for it to cool, but you have to let it cool completely. About 2 hours.
I've seen so many recipes that say to not use the pumpkin pie mix. I wanted to try it and also, it makes it so much easier to whip up. The pie is just delicious. I like it with whipped cream. My mom will have to have it with non-dairy whipped topping. I think she's going to love it!
Easy Gluten Free Pumpkin Pie
Ingredients
1 tub (15.8 oz/447g) Pillsbury Gluten Free Pie & Pastry Dough
1 can (30 oz/850g) Libby's Easy Pumpkin Pie Mix
1/2 cup (120mL) coconut milk creamer, room temperature
3 eggs, room temperature
Whipped cream for garnish, if desired
Instructions
Preheat oven to 425°. Let dough thaw for 10 minutes. Take out half of the dough and knead until softened. Note: There are 2 options here. Option 1: Flatten into a round, place between 2 pieces of parchment paper. Roll out to the size of a 9-inch pie plate. You can use a marker to trace the outline of your upside down pie plate onto paper, if desired. Remove top piece of parchment then put back on dough, loosely. Turn the whole thing over and remove the paper. Then gently turn into your pie plate. Option 2: If you don't want to fool with the parchment and rolling pin, just plop the dough into the pie plate. Press dough down and up the sides to just under the top edge of pie plate. Set aside.
Meanwhile, prepare your filling. Mix pumpkin pie mix, milk and eggs in a large bowl.
Pour into prepared pie shell.
Bake in preheated 425°F. oven for 15 minutes. Reduce temperature to 350°F. Bake 50-60 minutes more or until a knife inserted near center comes out clean. I wouldn't do this because it won't look pretty. Just make sure it's not giggling anymore. Let it cool completely before serving, about 2 hours. Serve immediately or refrigerate.
https://www.momlovesbaking.com/easy-gluten-free-pumpkin-pie-only-3-ingredients/