50 Fabulous Christmas Cookie Recipes - I searched high and low to find the absolute BEST Christmas cookies on the internet. These are all so festive and delicious. You will absolutely have the coolest cookie tray in town this year if you make even a handful of these ideas! Includes 10 GLUTEN FREE cookie recipes too!
Note: Click the title above each photo to go to the recipe.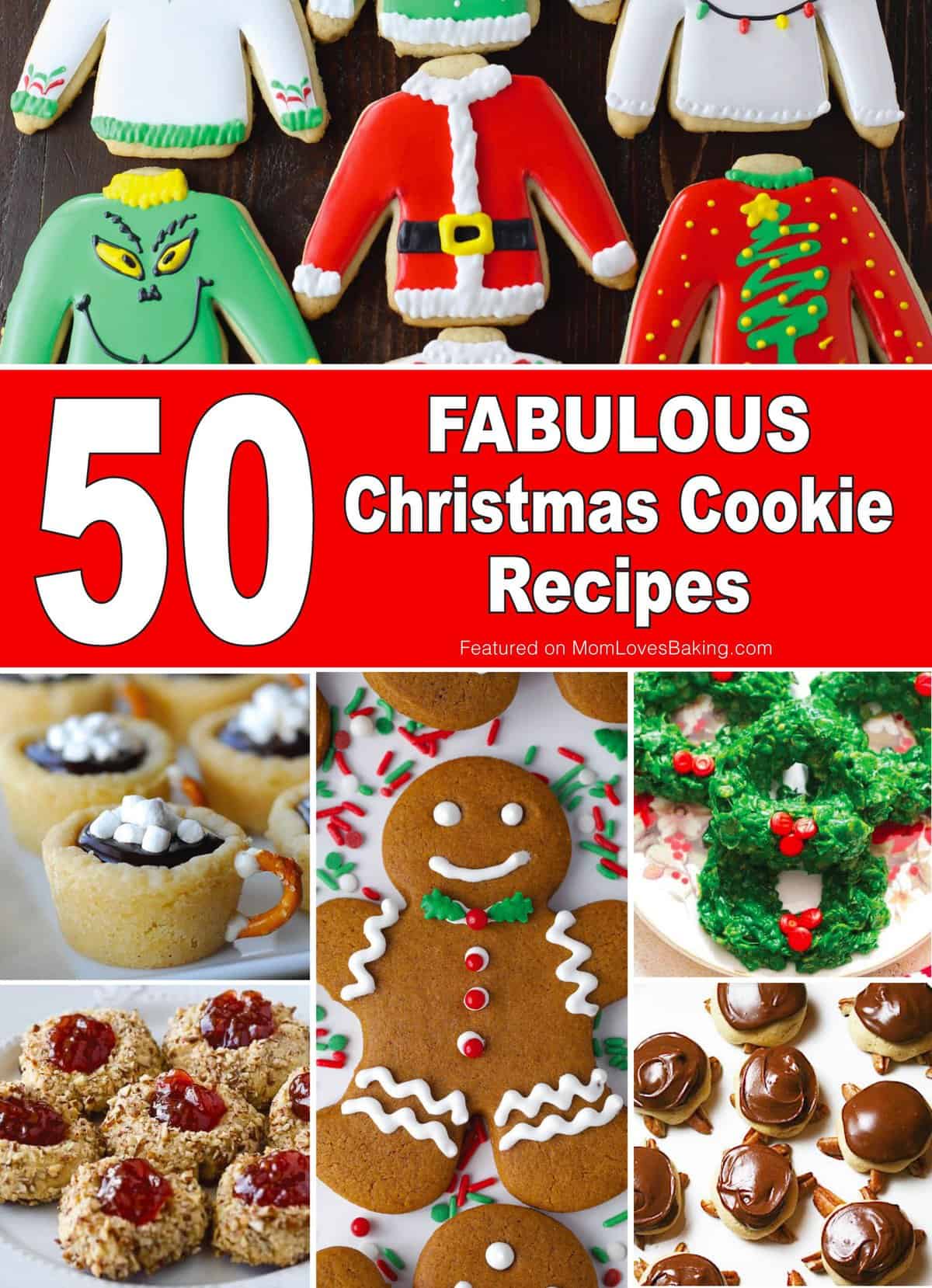 Fabulous Christmas Cookie Recipes
This list has everything!
Classic Christmas Cookie Recipes
Christmas Cookie Recipes for KIDS
Thumbprint Cookies
Christmas Cookie Bar Recipes
Cut-Out Sugar Cookies
No-Bake Cookies
BONUS: 10 Gluten Free Christmas Cookie Recipes
and so much more!
This is my favorite recipe for Soft & Chewy Gingerbread Men Cookies, frosted with an easy royal icing. Made with a perfect blend of spices and molasses for that classic gingerbread flavor. I highly recommend printing out the recipe, so you can make these delicious cookies every year for the holidays.
Christmas Cookie Press Cookies are classic spritz, meaning the sugar cookie dough is spritzed or squirted through a cookie press in different designs. Nothing says Christmas like these cute and classic sugar cookies.
Thumbprint Cookies are a holiday classic that you can expect to see in any cookie exchange. The cookie is sweet and buttery with a bit of a crunch thanks to the chopped pecans. The filling can be whatever jam you like. I used strawberry jam because it's our favourite.
Made of cornflakes and marshmallows these no bake cookies are festive, fun to for kids to help and very tasty Christmas treats.
A gluten free version of the classic snickerdoodle cookie or round sugar cookies dipped in cinnamon sugar. They're melt in your mouth good. Most definitely a treat that Santa would approve of!
Learn how to make the cutest little Rudolph Reindeer Chocolate Macarons with chocolate ganache filling, red M&M nose and pretzel antlers in this easy recipe. Santa is sure to love festive French macarons for the night before Christmas!
These sweet, buttery Holiday Pinwheel Cookies are a fun Christmas cookie to add to your baking list! So festive decked in red and green! They may take a little more work, but your effort will be repaid in rave reviews!!
Your holiday cookie tray will not be complete without these Raspberry Almond Linzer Cookies – powdered sugar dusted, jam filled almond flavored butter cookies inspired by the famous Austrian Linzer torte. Bonus – this version is gluten free.
Italian Ricotta Cheese Cookies are light, flavorful soft cookies with a cake-like texture. These cookies are a wonderful addition to any Christmas dessert platter. This recipe is an ideal ricotta cookie for sharing with others this holiday season.
Peppermint bark cookies are made with soft chocolate sugar cookies and a sweet chocolate glaze that dries firm. Top with crushed candy canes!
There is a legend behind these Neiman Marcus Cookies! It is rumored that the Neiman Cookie recipe sold for $250! After one bite, you will believe these cookies were well worth the price! Made with 3 types of chocolate, blended oatmeal, and blended walnuts, Neiman Marcus cookies are soft, chewy, and oozing with chocolate.
Christmas tree sugar cookies are made from a soft sugar cookie recipe with almonds and ginger. Almond ginger cookies are even better with a fluffy, ginger cream cheese frosting. Tara made these for the Pioneer Woman on the Food Network Christmas Cookie Challenge!

Meringue Cookies With Jam literally have it all. They are sweet, buttery, and tart and make for the perfect addition to any holiday cookie tray. These cookies stand out on any tray and are an explosion of different textures and flavors. While they look quite complicated, they are actually quite simple to make.
Almond Joy Thumbprint Cookies are rich, brownie-like cookies topped with a sweet coconut filling, whole almonds and melted chocolate. Made with refrigerated cookie dough so they're super easy to put together!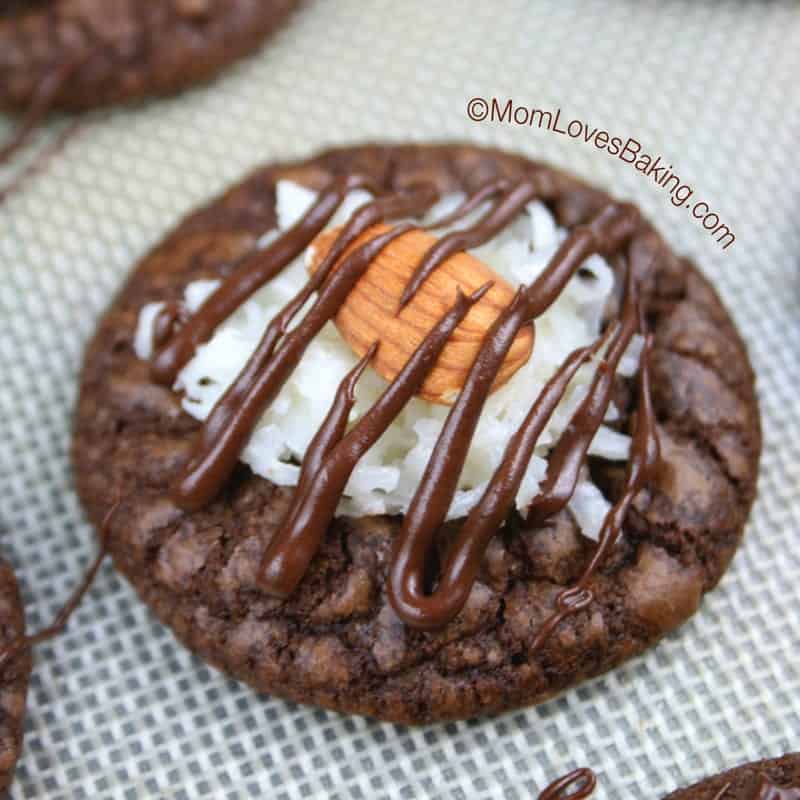 These adorable and delicious Candy Cane Cookies are so fun to make and are a Christmas staple for holiday baking! Made with sugar cookie dough and dusted with crushed peppermint candy, they're cute and tasty!
Ritz Cracker Cookies are a timeless, effortless, crazy delicious sweet and salty treat that are a must for tailgating, birthday parties, cookie exchanges, and holidays. They're kid-friendly and don't require any difficult kitchen skills. So have your kids or grandkids help you make them!
These Ugly Sweater Christmas Cut-Out Sugar Cookies are actually super cute butter cookies shaped like tacky Christmas sweaters and decorated with royal icing in various holiday themes.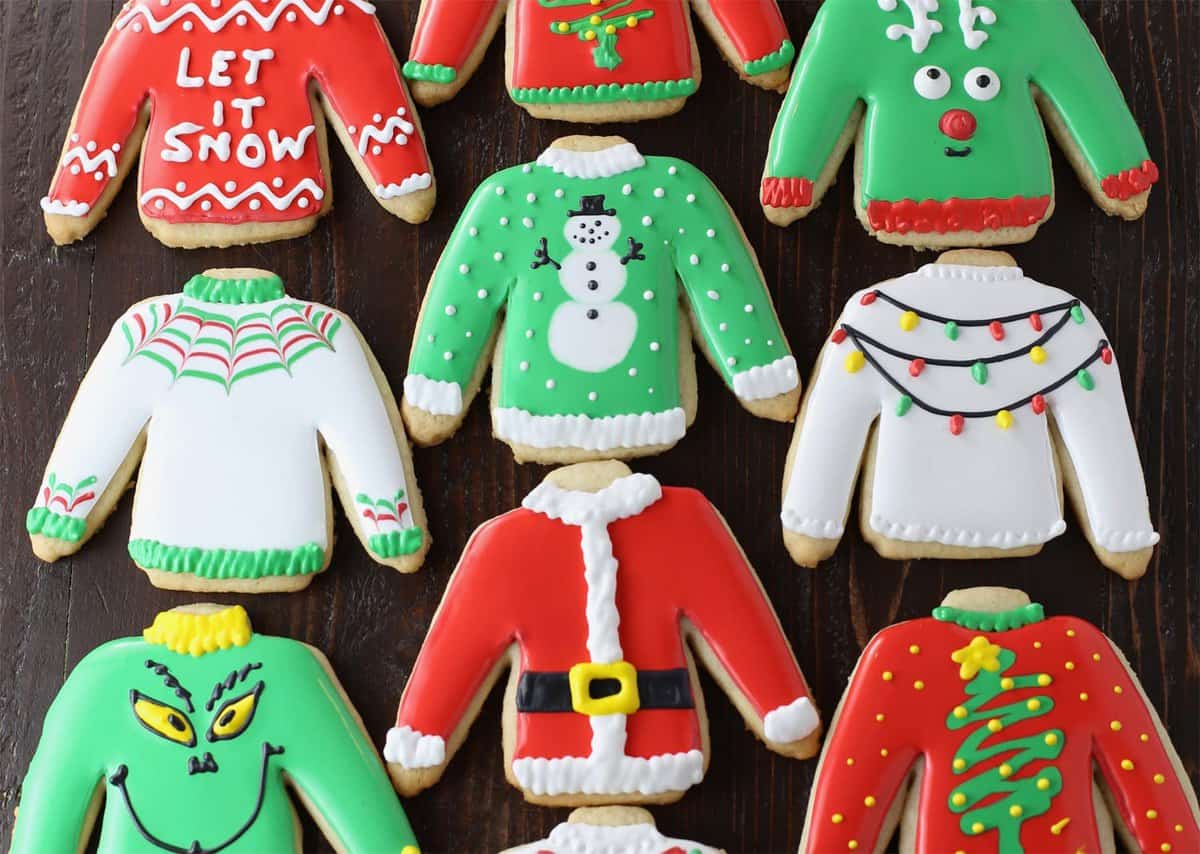 If you have never tried cream cheese cookies, you're in for a TREAT! Something magical happens when you add cream cheese to a cookie! You get this soft, moist, chewy cookie that feels like you're eating a cloud. They puff right up, and they're addicting!
These Chocolate Christmas Sprinkle Cookies make the perfect Christmas cookie! Soft and gooey and full of Christmas cheer.
Learn to make buttery, crunchy gluten free snowball cookies in a few simple steps. These gluten free snowballs, also known as gluten free Mexican wedding cookies, are easy to make and they are perfectly sweet.
Eggnog Cookies are soft, tender, and delicately flavored with eggnog and spices before being topped with a sweet eggnog glaze and festive Christmas sprinkles!
Whether you call these authentic Italian cookies, Neapolitan Cookies, Tricolor Cookies or Rainbow Cookies, they are so delicious and are a gorgeous addition to any cookie platter! These are perfect for Christmas or any other holidays and special occasions.
A simple and delicious shortbread cookie that tastes like the holiday season. If you love ginger, cranberries, and orange, then you must try this seasonal Cranberry Orange Shortbread Cookie recipe!
These Easy Snowman OREO Cookie Balls are made from crushed mint cookies and cream cheese, rolled into balls and dipped in white chocolate then decorated to look like the cutest little snowmen for an adorable holiday treat!
Yes, you can taste the rum in Grandma's Rum Balls! They're an easy, no-bake cookie that everyone will love. They're packed with chocolate, walnuts, and of course, rum! One taste sends me right back to Christmas at grandma's.
These soft and chewy cookies are filled with red and green M&M's, chocolate chips and topped with festive sprinkles.
Melt in Your Mouth Orange Shortbread Cookies by Glenda Embree
My Orange Shortbread Cookies are melt-in-your-mouth delicious. They're simple and they're not overly sweet. The hint of citrus is what sets them apart and makes them so special. The crisp/soft cookie just sort of melts away as you chew. And you're left with a lingering citrus‑y sweetness.
My aunt Emily used to make Mary's Sugar Cookies every Christmas and I've been making them as long as I can remember. Mary's Sugar Cookies are soft and tender sugar cookies with a hint of almond flavoring and colored buttercream icing, plus Christmas sprinkles (of course).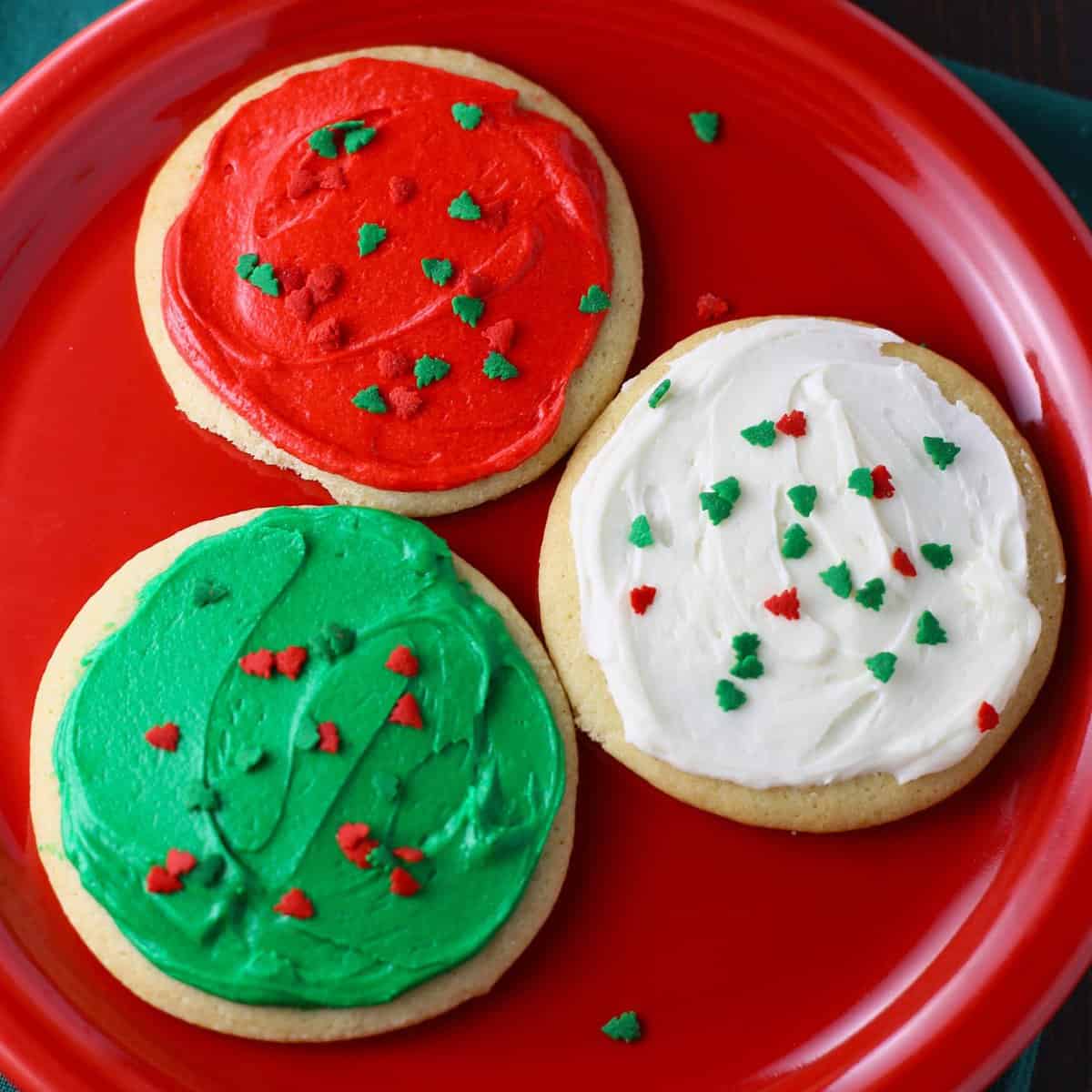 Gluten Free Sugar Cookie Bars are so easy to make and fun to decorate. It's the perfect holiday recipe to make with the kids. You make them simply gluten free using a basic 1:1 flour blend. Just mix the dough, press into a pan, bake, and cover with frosting and sprinkles! No chilling, rolling, cutting required.
Christmas M&M's Monster Cookies are peanut butter oatmeal cookies packed with chocolate chips and mini M&M candies. So easy to make, just dump all the ingredients in a bowl and stir it up. A perfect baking project to make with the kids for the holidays!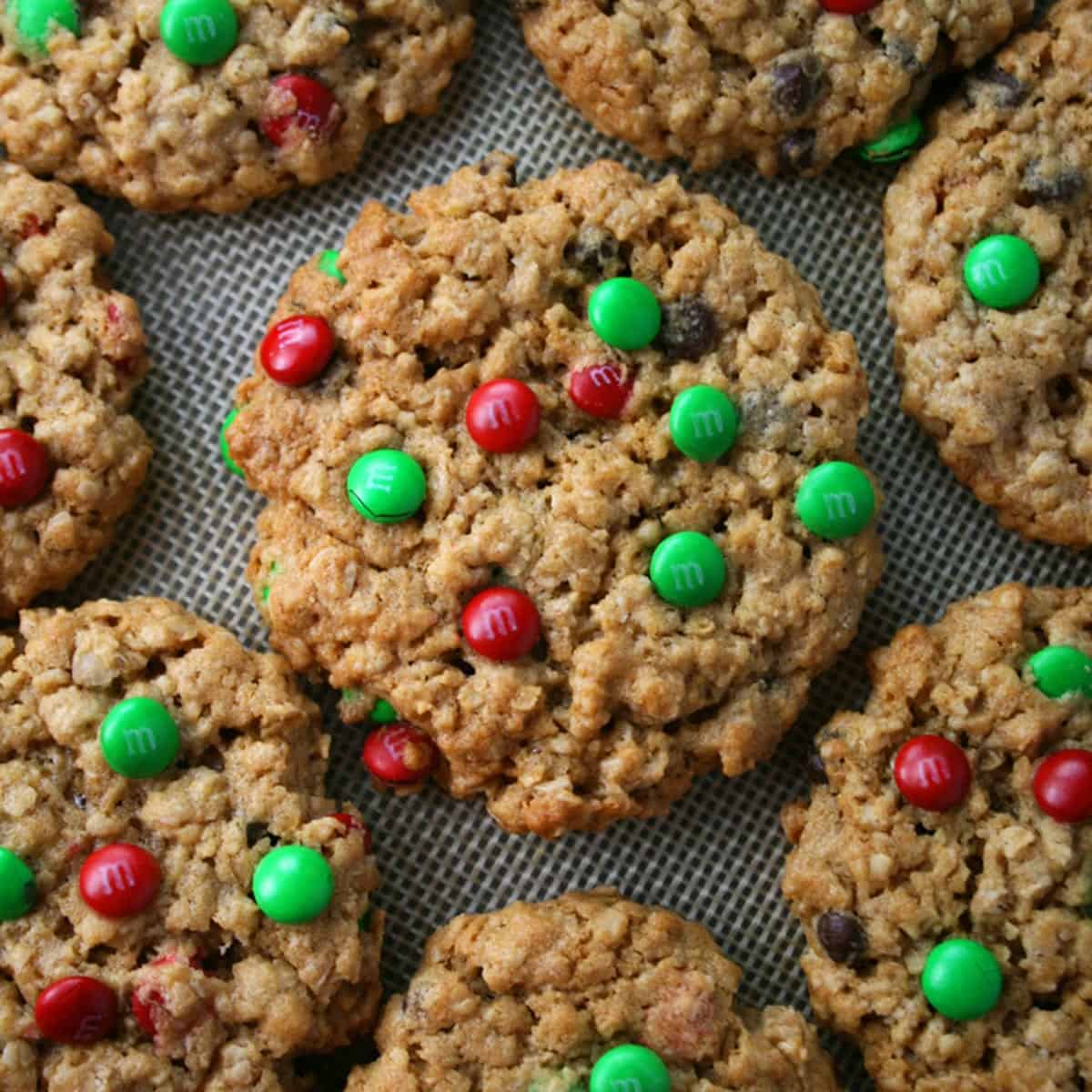 Mantecaditos
translates to "little ice creams," which, I'll admit, makes zero sense. They resemble sprinkle-topped ice creams, but they're not ice cream, so there's that. But what they really are are shortbread thumbprint cookies that often come with guava or cherry filling or sprinkles.
If you're looking for a super easy, festive treat, this is the one! Brownie Christmas Trees, Snowmen and Reindeer are made with a brownie mix, then cut into triangles and decorated with colored frosting and candies.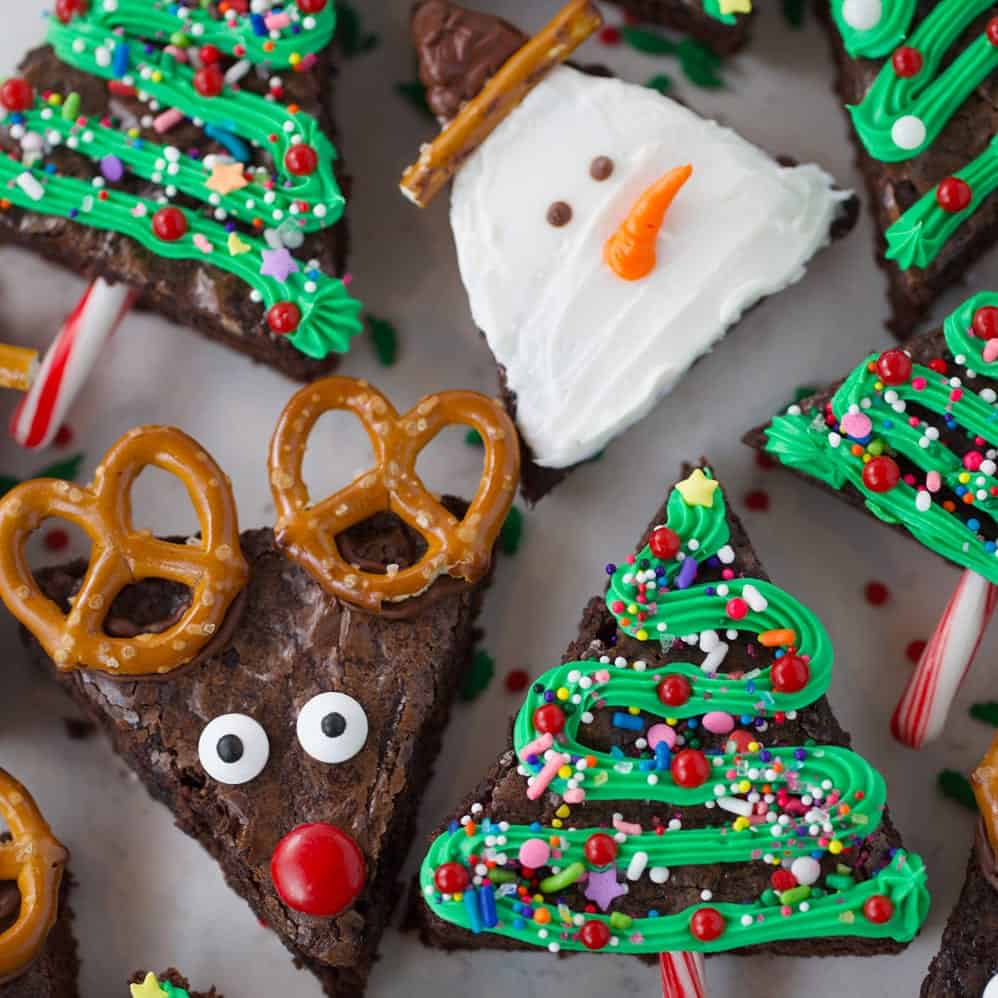 Butter cookies meet a slice of cheesecake in these tender Cherry Cheesecake Cookies that are perfect Christmas cookies or any other time cookies! The cookies are rich and soft and taste like a butter cookie crossed with a piece of cheesecake. The cheesecake cookies are filled with cherry pie filling. It's the perfect way to top these delicious cheesecake cookies.
Adorable Mickey & Minnie Mouse Christmas Cookies! Fun Disney themed holiday cookies for a party, gifts or cookie exchange. Thanks to OREO cookies, these holiday treats are not only no-bake, but simple for both adults and kids to make.
MInt Chocolate Kiss Blossom Cookies are not only the cutest Christmas cookies around, they're out of this world delicious! Anyone that loves mint and chocolate is going to fall in love with these melt in your mouth cookies topped with a big kiss!
These easy Christmas butter cookies are perfect for the holiday season! Ready in only 20 minutes and made with 6 ingredients! Dipped in chocolate and decorated with Christmas sprinkles!
These white chocolate cranberry cookies are so good! They're slightly crispy around the edges with a soft and chewy center. They're like the perfect holiday version of your favorite white chocolate macadamia nut cookie
Gluten-Free Molasses Cookies! Chewy, soft and sure to become your new go-to Christmas cookie! These cookies are soft with the perfect amount of chew. They are spiced with ginger and coated in a festive sparkly sugar that gives them a delicious crunch.
Who remembers this vintage cookie? Originally from the Pillsbury Bake-Off Contest in 1952, Snappy Turtle Cookies are turtle shaped sugar cookies with pecans and a creamy chocolate frosting on top. Cute and delish! Just like mom used to make.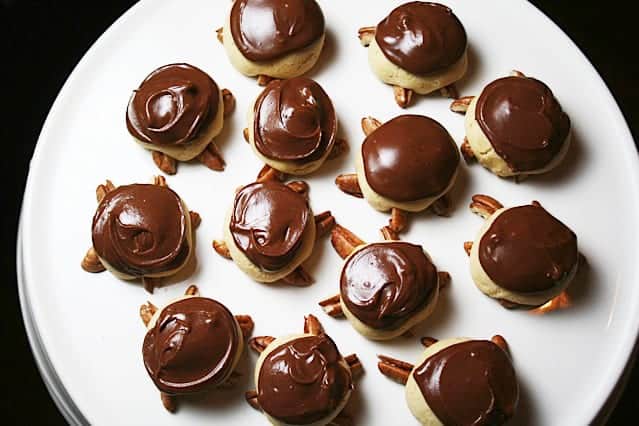 This Soft Cut Out Sugar Cookie Recipe is going to be your new go to Christmas cookie. They are easy to make, soft, delicious, and hold their shape every single time. This is a family favorite recipe that you are going to love and keep for years to come! Make some of
the best vanilla buttercream frosting
to decorate them!
These hot cocoa cookies are made with a rich and chocolatey cookie stuffed with toasted marshmallow and topped with chocolate and sprinkles. They're a festive Christmas cookie that can be made gluten free.
Christmas Lights Cookies with a small batch of royal icing and mini M&Ms as Christmas Lights. They're festive, cute, delicious and easy. Make some with your kids!
These Hot Chocolate Cookie Cups made with sugar cookie dough are filled with hot chocolate ganache, have a pretzel handle and mini marshmallows on top!
These amaretti cookies are an Italian cookie perfect for the holidays. The outside of this almond cookie is slightly crisp and the inside is soft and chewy. Amaretti cookies have an undoubtedly unique texture. This chewy almond cookie not only tastes amazing but is gluten-free as well.
Learn how to make a Christmas Cookie Tree using star shaped sugar cookies of varying sizes and green tinted buttercream frosting for a stunning holiday centerpiece. Impress your family and friends with this festive show stopper!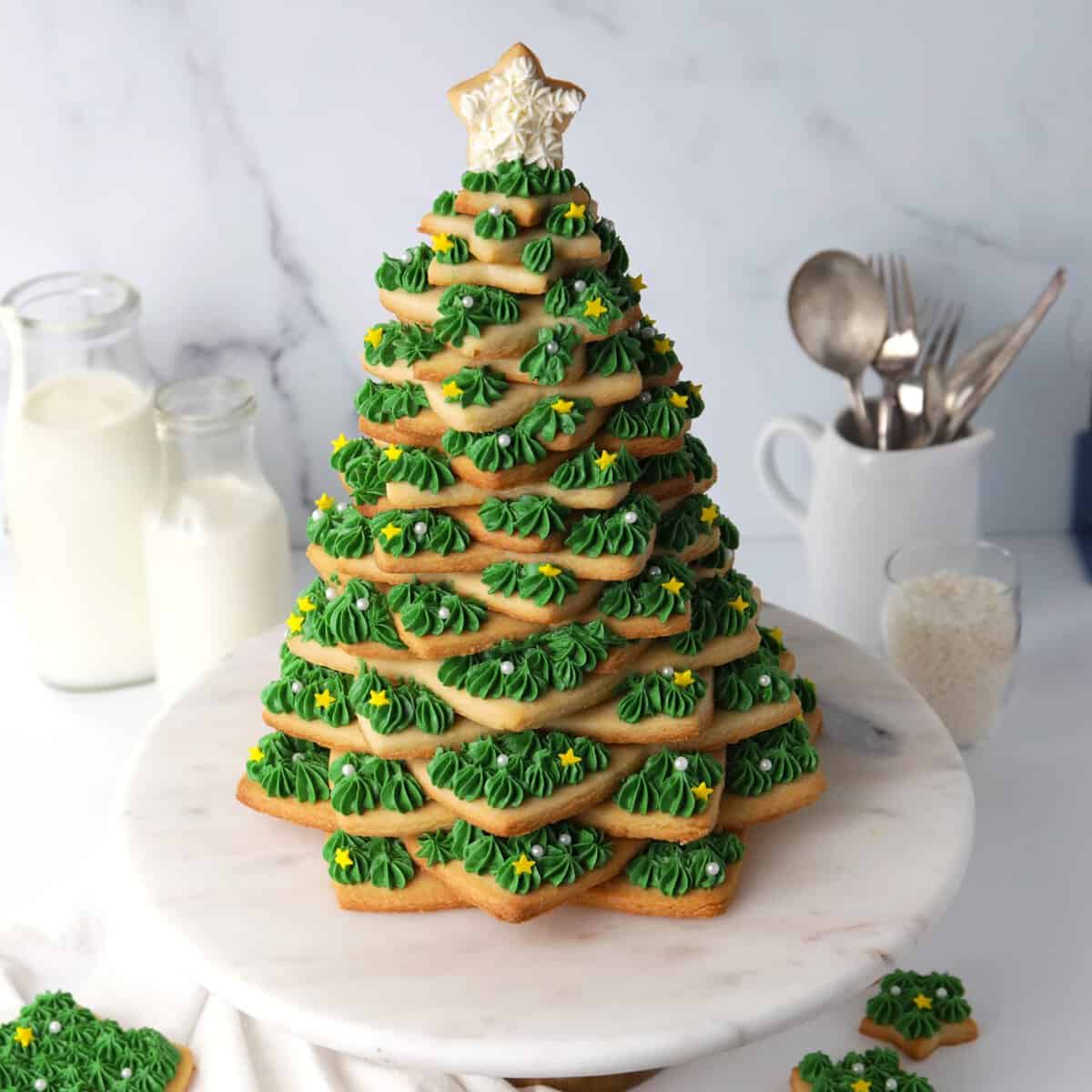 Joe Froggers Molasses Cookies – an old fashioned recipe for oversized molasses cookies that dates back to the late 18th century. They're soft, chewy and flavored with spices – ginger, cloves nutmeg and allspice. Perfect for the holidays!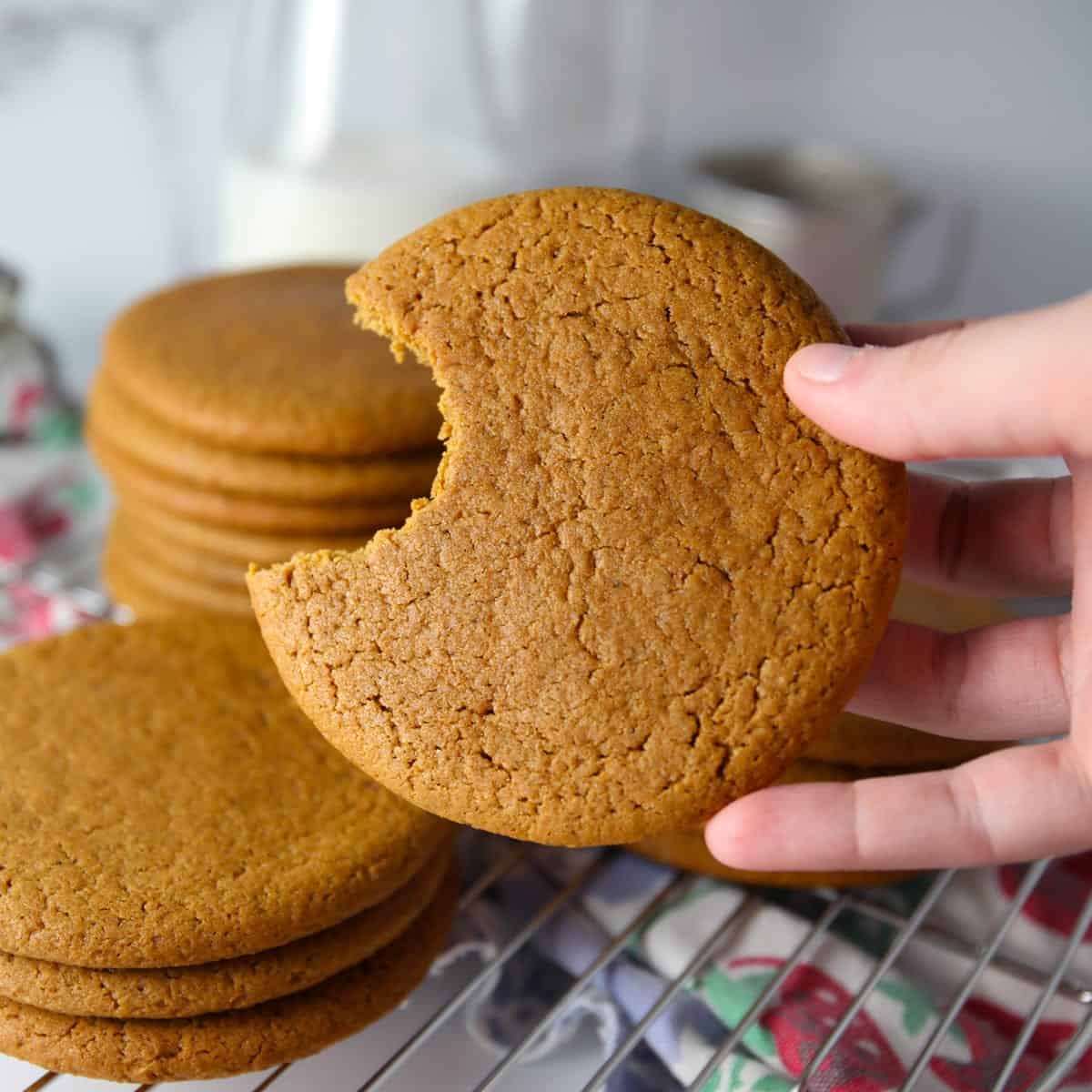 Whether or not you can have gluten, these are delish! Gluten Free Red Velvet Blossoms – soft, red velvet thumbprint cookies with red sprinkles and dark chocolate kisses in the middle. These are my new favorite cookies, so tasty and their red color is perfect for the holidays!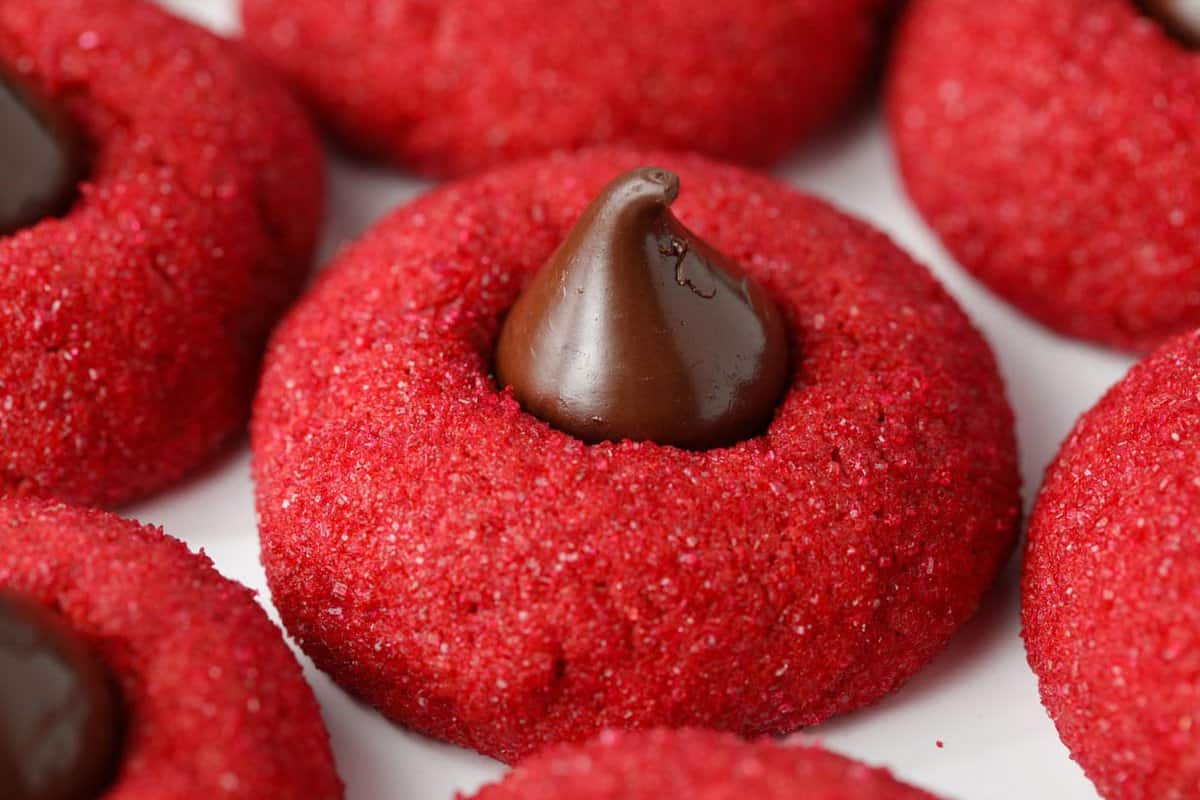 These Black Forest Crinkle Cookies are a soft, rich delicious chocolate cookie loaded with chocolate chips and tart dried cherries. It's rolled in powdered sugar so there is a beautiful contrast between the crackled white outside and dark chocolatey inside.
Even better than the store bought kind, these Slice 'n' Bake Christmas Tree Cookies are soft, sweet and buttery sugar cookies with a bright green Christmas tree in the middle. So cute and festive!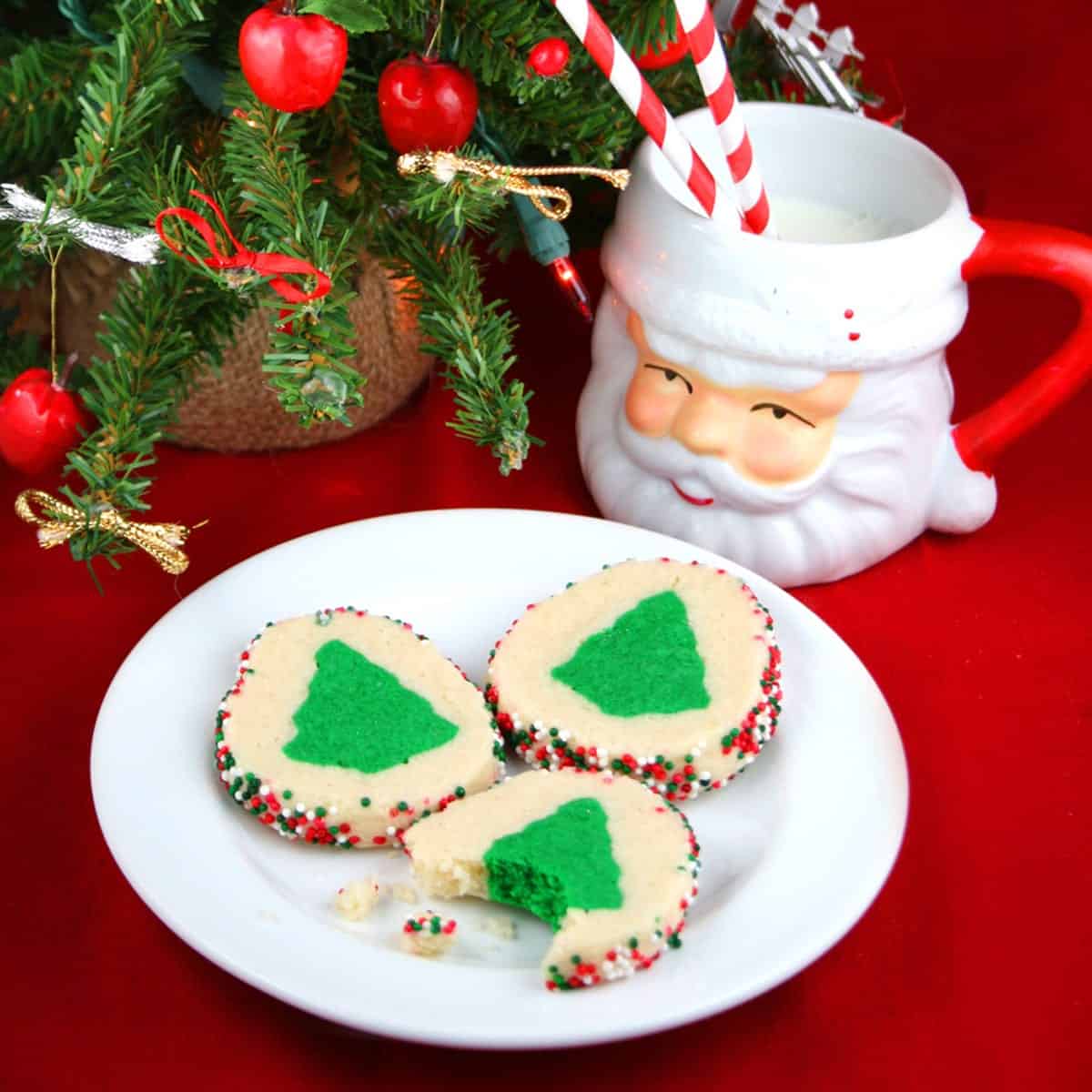 A truly chewy keto cookie recipe! The low carb, sugar-free ginger cookie of your dreams. They have the perfect texture and truly have that chewiness you're looking for in a ginger molasses cookie. But they don't contain any molasses at all!
I hope you enjoyed these DELICIOUS AND FABULOUS Christmas Cookie Recipes!
Bonus Recipe: Best Ever Christmas Sugar Cookies – hands down my favorite cookie of all time – are soft, tender and great tasting with a hint of almond flavor, decorated with colored buttercream frosting.
Best Ever Christmas Sugar Cookies
Soft, tender and great tasting sugar cookies with a hint of almond flavor, decorated with colored buttercream frosting.
Print
Pin
Rate
Ingredients
For the frosting
16

ounces

powdered sugar, sifted

about 4 cups

½

cup

unsalted butter, softened

½

teaspoon

vanilla extract

Food coloring of choice

Sprinkles
Instructions
For the cookies
Line large cookies sheets with parchment paper or silicone mats. Set aside.

Place flour, soda and cream of tartar in a medium bowl and stir to combine. Set aside.

Place butter in a large bowl and mix with an electric mixer until creamy. With the mixer on low, gradually add the sugar. Add egg and flavorings. Beat on medium until completely smooth. Turn mixer to low and add the dry ingredients, gradually. Once combined, turn up to medium speed and beat until dough forms. It will be soft. Divide dough in half and wrap in plastic wrap. Refrigerate for about 2 hours.

Preheat oven to 350°F. Roll out dough on a heavily floured surface. Roll it out a little bit, then turn the dough and add more flour if necessary, so it won't stick to the counter. Keep rolling, turning and flouring until it's about ⅛" thick. Cut into shapes and place on prepared cookie sheets. (Gather up any scraps of dough and knead together. Then roll out again as directed above.)Bake for 10-12 minutes or until light golden brown on the edges. Let cool. Makes 30 (3") cookies.
For the frosting
Beat butter with an electric mixer until creamy. Gradually add the sugar and beat until smooth. Add vanilla and milk. Divide icing and color, if desired. Frost cooled cookies and decorate with sprinkles.
Notes
Recipe inspired by the Betty Crocker Cooky Book, Mary's Sugar Cookies
Nutrition
Calories:
205
kcal
|
Carbohydrates:
29
g
|
Protein:
1
g
|
Fat:
9
g
|
Saturated Fat:
6
g
|
Polyunsaturated Fat:
1
g
|
Monounsaturated Fat:
2
g
|
Trans Fat:
1
g
|
Cholesterol:
31
mg
|
Sodium:
121
mg
|
Potassium:
33
mg
|
Fiber:
1
g
|
Sugar:
21
g
|
Vitamin A:
293
IU
|
Calcium:
5
mg
|
Iron:
1
mg