Easy Snowman OREO Cookie Balls is a recipe post by Mom Loves Baking – Lise Ode.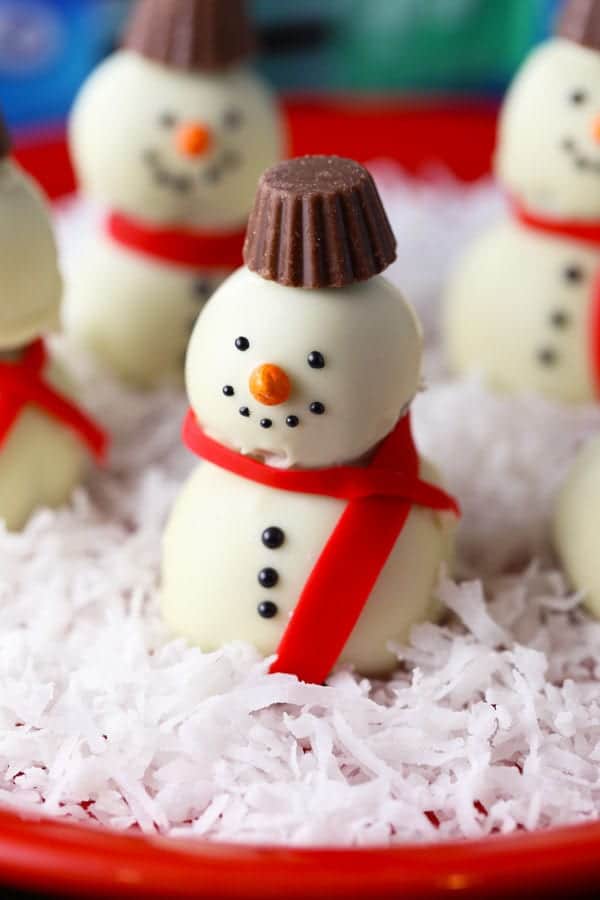 I made these Easy Snowman OREO Cookie Balls for a sponsored post I did for OREO cookies and Walmart over on my Instagram page for a special #cookieballcountdown where 28 bloggers will each contribute a holiday OREO cookie ball recipe. One per day for 28 days. Mine is number 18!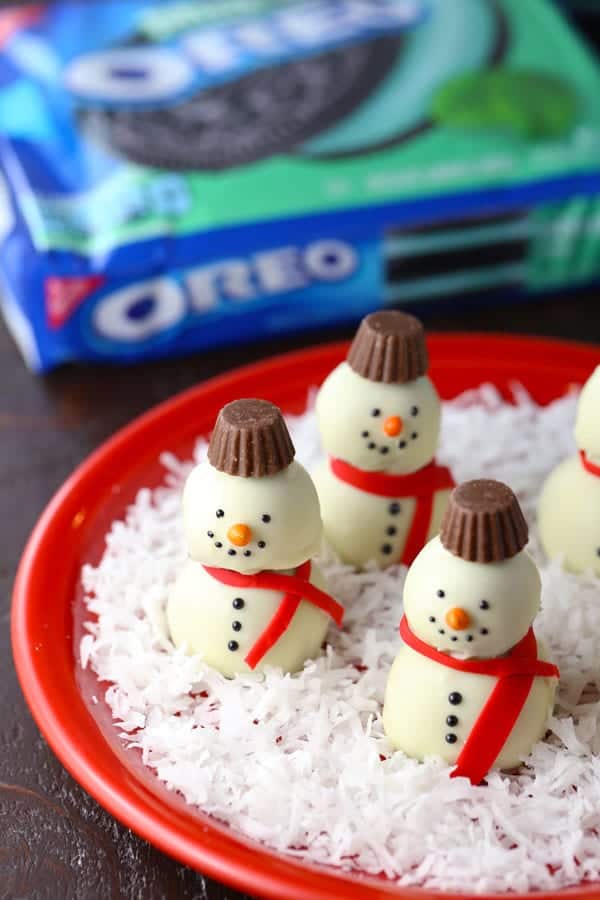 OREO cookie balls are so simple to make. All you do is crush the OREO cookies and add cream cheese, roll into balls, refrigerate and dip into melted chocolate. You can use any flavor you like. I chose the mint OREO cookies for my Easy Snowman OREO Cookie Balls. Then dipped them in white chocolate.
I made two different sizes for the cookie balls. I made larger ones for the bottom of the snowman, then a smaller one for the head. After you shape them into balls, stick them in the refrigerator for 30 minutes or in the freezer for 10 minutes (if you're in a hurry). Once chilled, dip them in melted chocolate and place on a parchment lined sheet pan. Place them back in the refrigerator to set for about 20 minutes.
Use more melted chocolate to "glue" on the decorations and also to stick the top cookie ball to the bottom cookie ball. I used a mini chocolate peanut butter cup for the hat, an orange candy for the nose and red fondant for the scarf. Black icing for the eyes, mouth and buttons.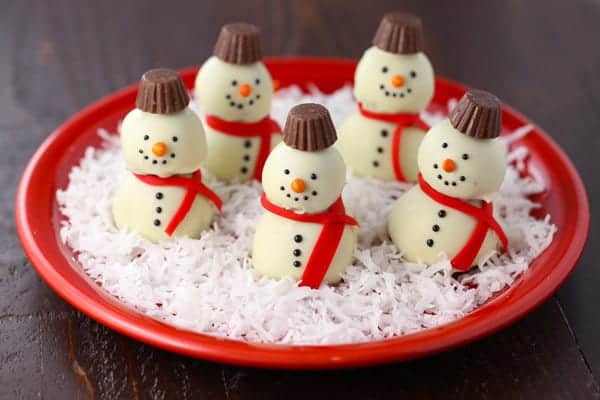 Aren't they so cute?! This is a great project for the kids or teens! My daughter enjoyed creating different expressions on the snowman's face, so one looked happy, while another looked mad or scared or a little sad that he would be eaten soon! Ha ha! You could also do different colored scarves for your snowman!
Find the recipe for Easy Snowman OREO Cookie Balls over on my Instagram page. Click here for the recipe.
If you liked this post, please share on social media. Pin it (use the image below) or Tweet it or share on Facebook. Tag your photos #momlovesbaking and enjoy!