Today I'm sharing How to Make a Christmas Cookie Tree using star shaped sugar cookies of varying sizes and green tinted buttercream frosting for a stunning holiday centerpiece. Impress your family and friends with this festive show stopper!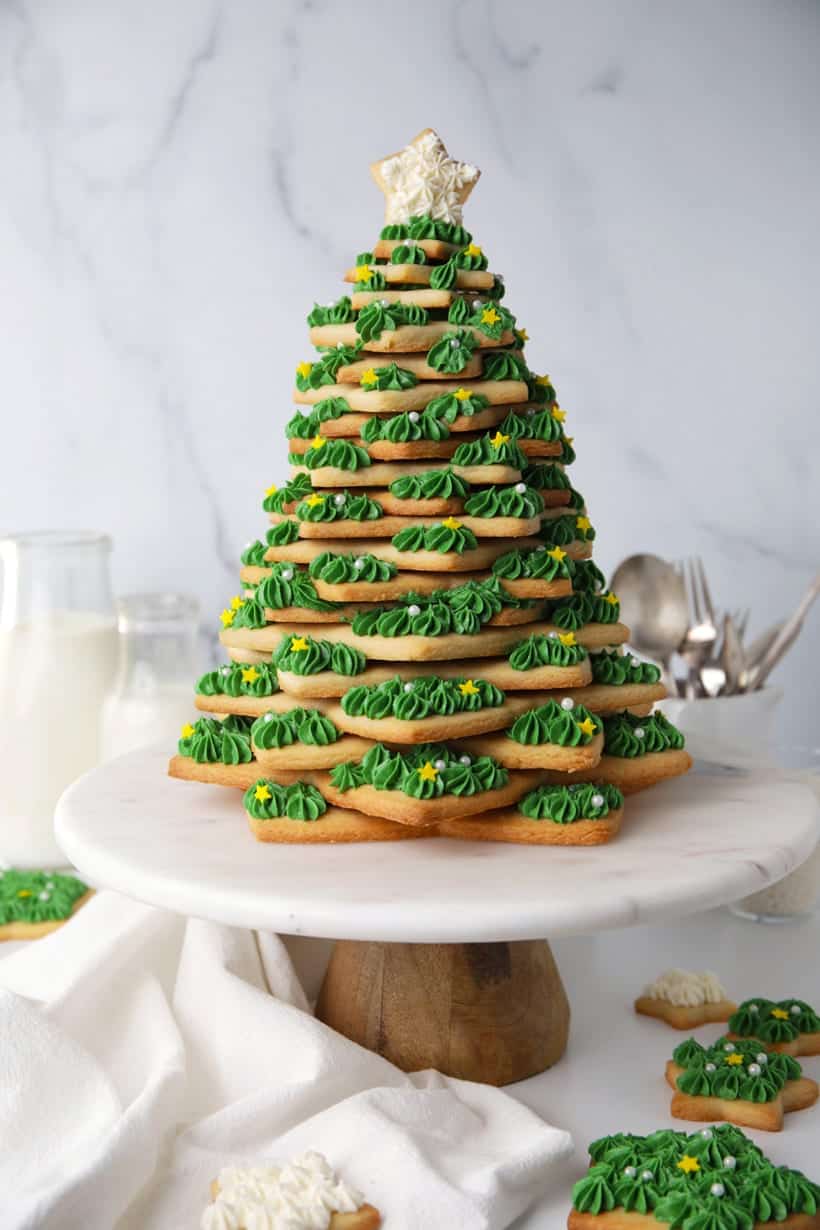 Why I'm So Excited About This Recipe
I've wanted to make a Christmas Cookie Tree for as long as I can remember. I bought the kit over 10 years ago and for some reason, never made one until now. Yes, even me. As much as I bake, there are still so many baking projects I want to try out but haven't had the time yet. I was so excited to finally make this festive cookie tree and had so much fun creating it. Let me show you how simple it is.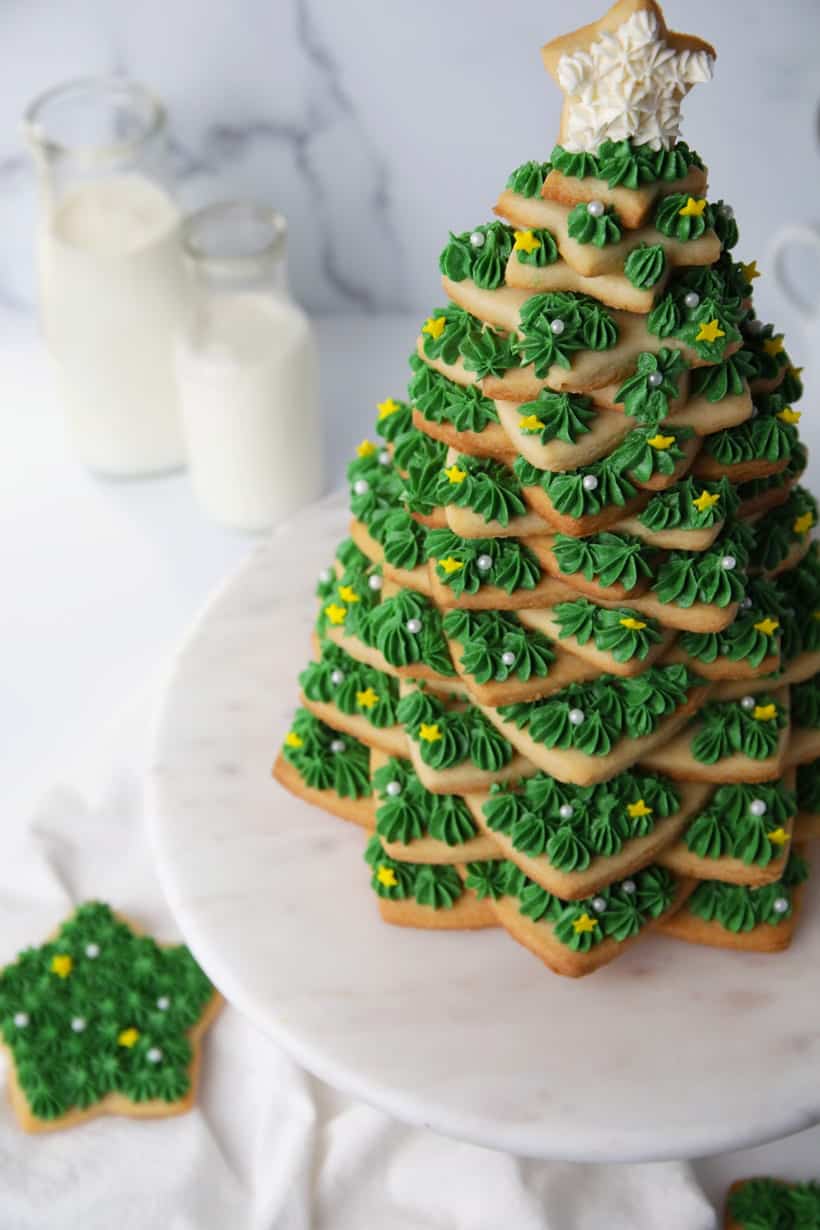 Where to Find the Christmas Cookie Tree Kit
The one I used is made by Wilton brand, so there are many places you can look including these options ...
Department Stores - In the cake decorating section.
Craft Stores - Also in the cake decorating section.
Cake Decorating Supply Store
Online Cake Decoration Stores
Amazon.com - here's a link (note this is an affiliate link): Wilton Cookie Tree Kit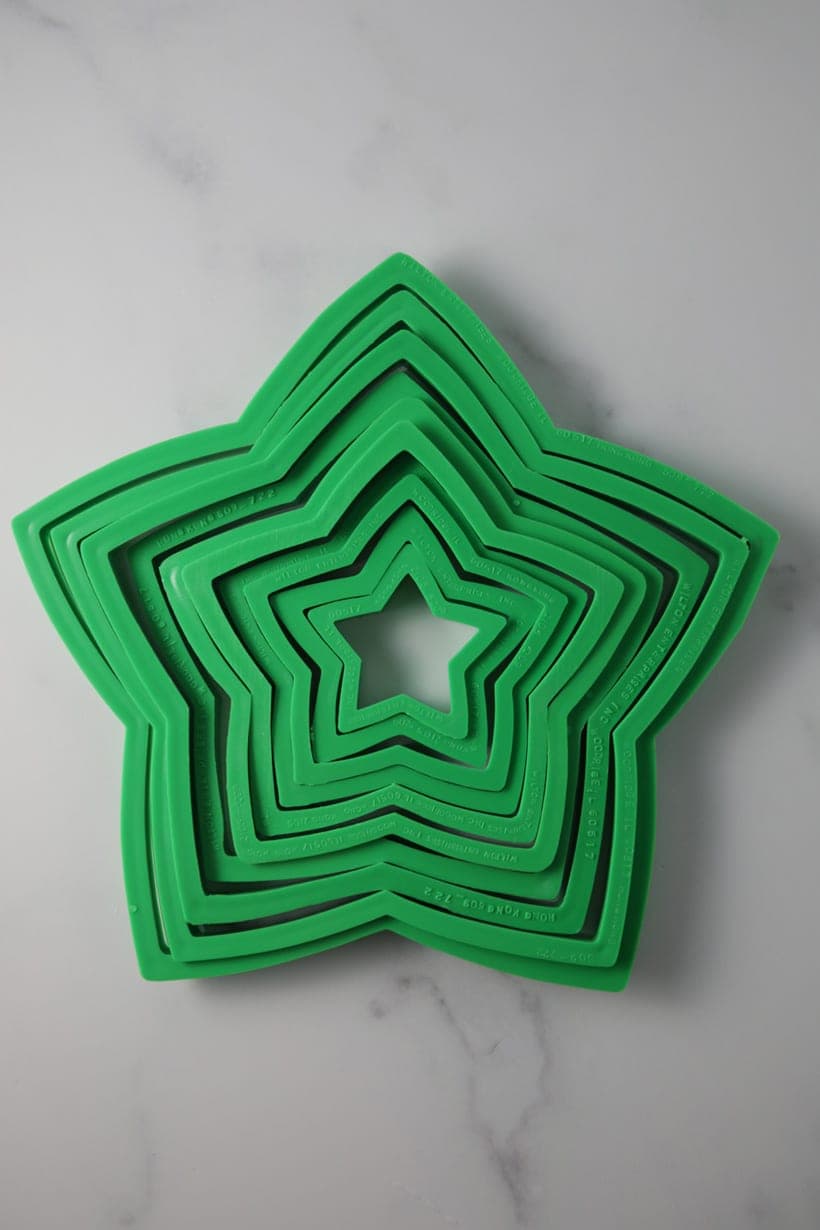 How to Make a Christmas Cookie Tree
Start by making your sugar cookie dough. Let it chill about 30 minutes.
Take it out of the fridge and knead the dough for a few minutes. Roll out the dough between two sheets of parchment paper to a thickness of ¼".
Using the 10 star cutters from your cookie kit, cut two of each size star cutter. For the bigger stars, cut them on the parchment paper and transfer paper to a sheet pan. What I'm saying is, do not touch the cookie or it might break. Carefully pick up the parchment paper with the cut cookie dough on it and transfer to the cookie sheet (I use a sheet pan, see next step).
For the small to medium stars, you can cut them and transfer them (carefully) by hand to a parchment lined sheet pan. I prefer using half sheet pans because they have a raised edge.
Bake the stars until they are light golden brown around the edges. You want them to be firm enough to withstand the weight of the cookies you will be stacking on top. Let them cool completely. (I baked them at 375°F for about 11 minutes.) Note: The larger stars take longer to bake than the smaller stars. Make sure to watch the little stars closely as you don't want them to burn.
Note: You can also make a cookie tree using gingerbread cookies. I decided to make sugar cookies instead.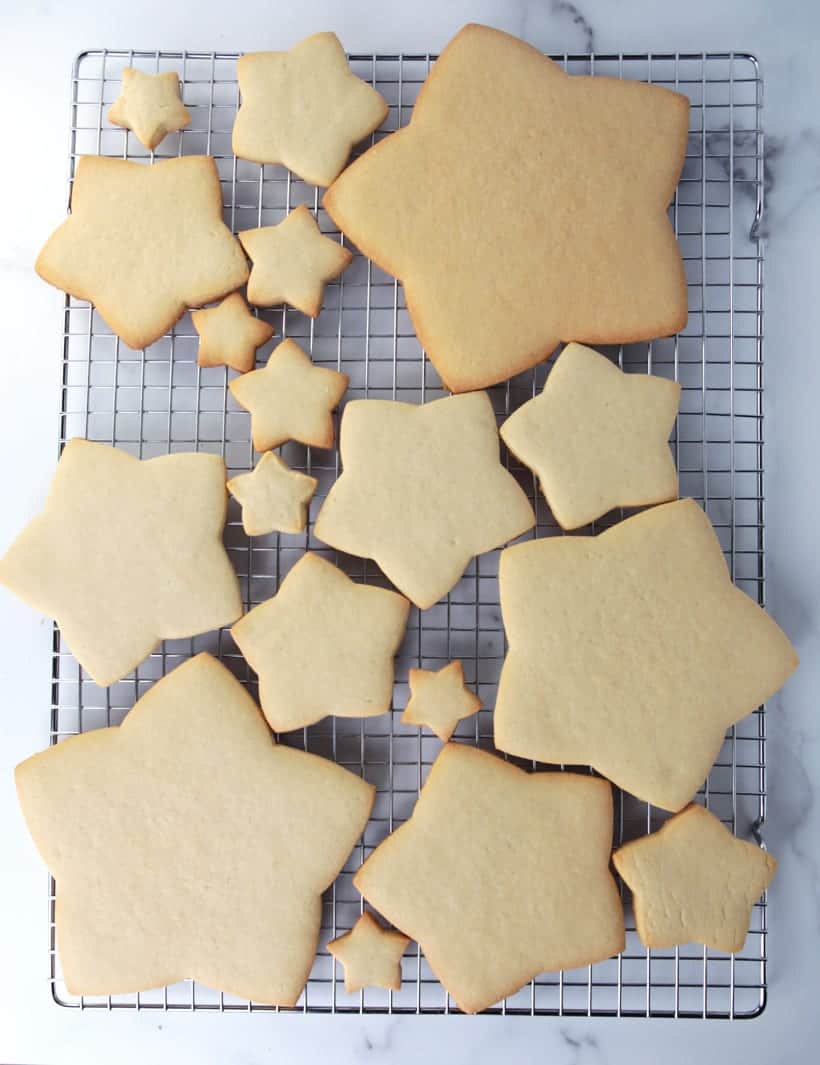 Decorating Your Christmas Cookie Tree
While your cookies are cooling, make your buttercream and tint all but 1 cup of it with green food coloring gel. Reserve 1 cup to keep white.
Fill a large pastry bag fitted with a #21 star tip with green frosting. Then fill a small pastry bag fitted with a #21 star tip with white frosting.
Start stacking your cookies. Place the largest star cookie on a platter or cakestand, making sure to "glue" it with a little frosting on the bottom.
Pipe a dollop of frosting in the middle of that cookie and top with another star of the same size, making sure the points don't line up.
Then pipe green stars on the points of the bottom star cookie. Repeat this process with all of the remaining cookies.
Place the smallest star on top, sideways, with white buttercream stars piped on it.
Garnish with pearl sprinkles and star sprinkles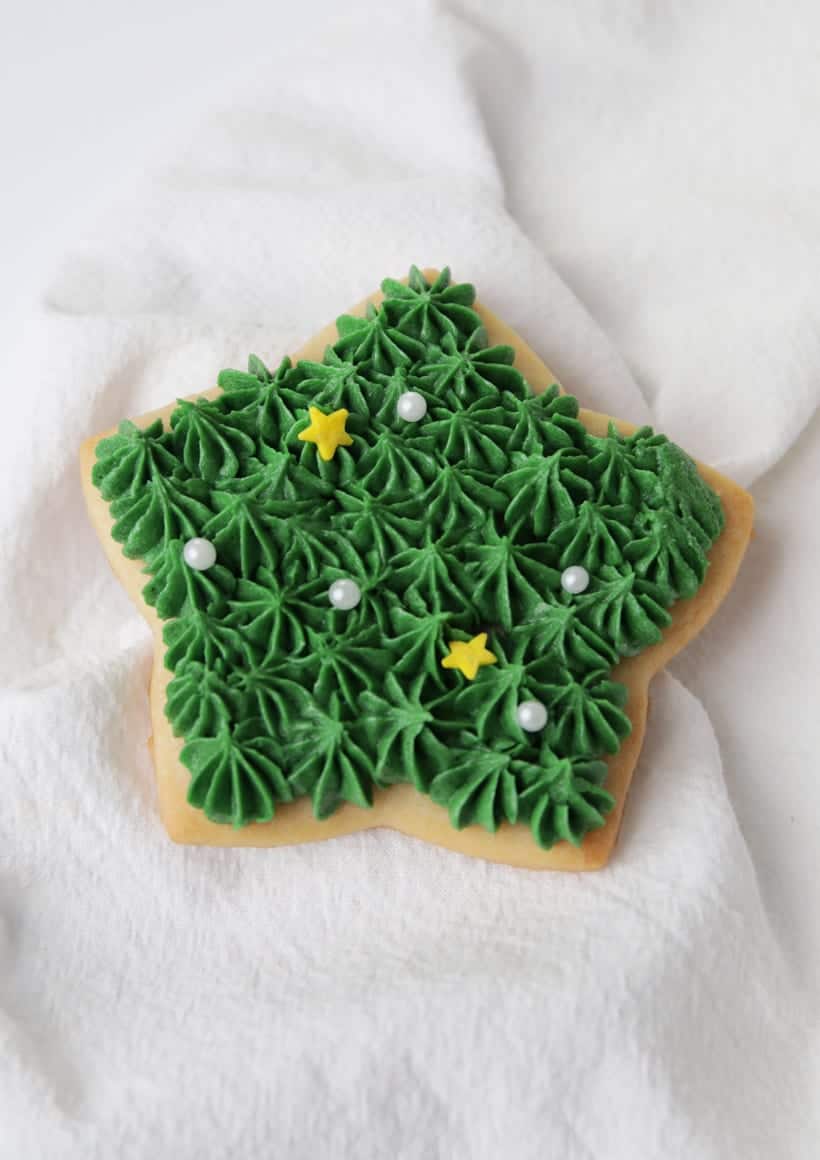 More Ways to Decorate your Cookie Tree
Make the same exact tree using Gingerbread Cookie Dough instead.
Create a Rice Krispy Treat cookie tree, using the same cutters.
Color the sugar cookie dough green, then decorate the tree with white royal icing on the edges to look like snow. Add sprinkles.
Use the two cookies of each size to make sandwich cookies (filling them with your favorite flavor), then stack them as directed.
For an example of the sandwich cookies, you could fill them with cranberry sauce. Then garnish the tree with sugared cranberries and mint leaves.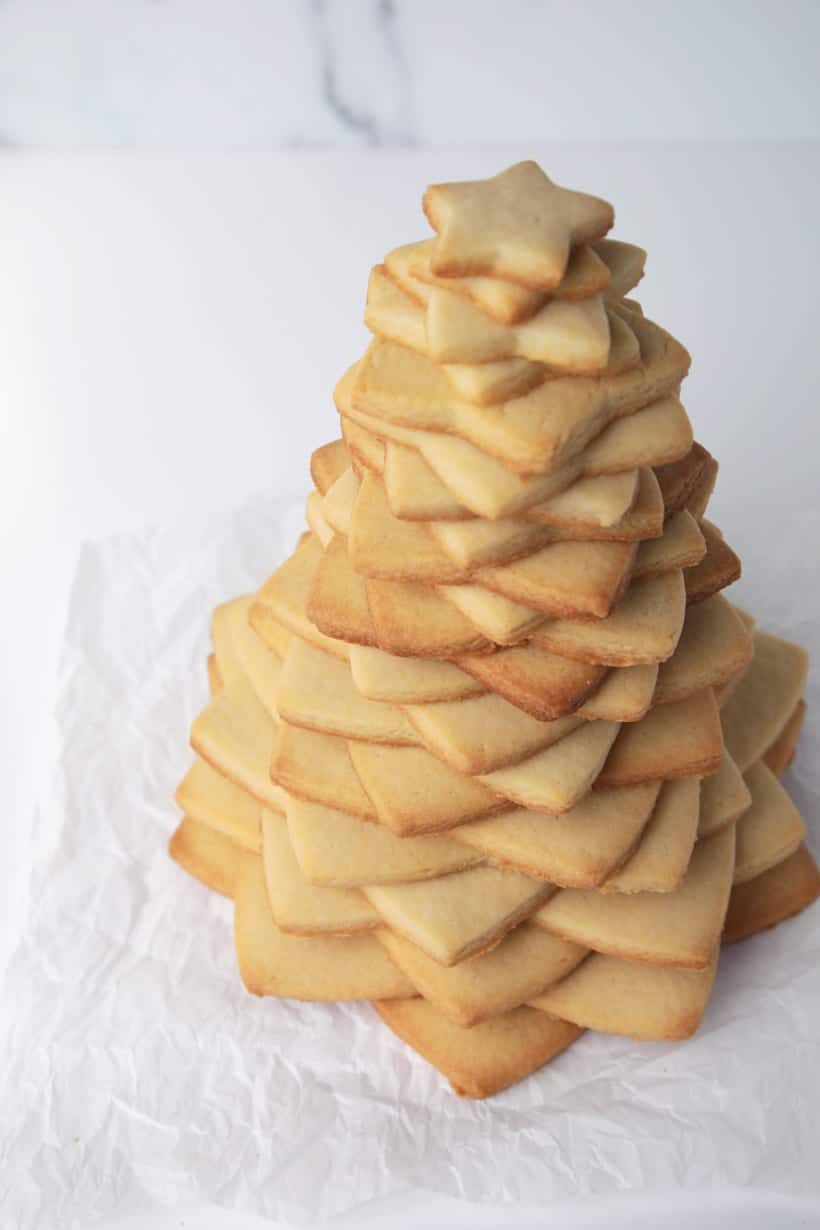 More christmas Cookies You'll Love
Classic Chocolate Chip Cookies
Christmas M&M's Monster Cookies
Gluten Free Snickerdoodle Cookies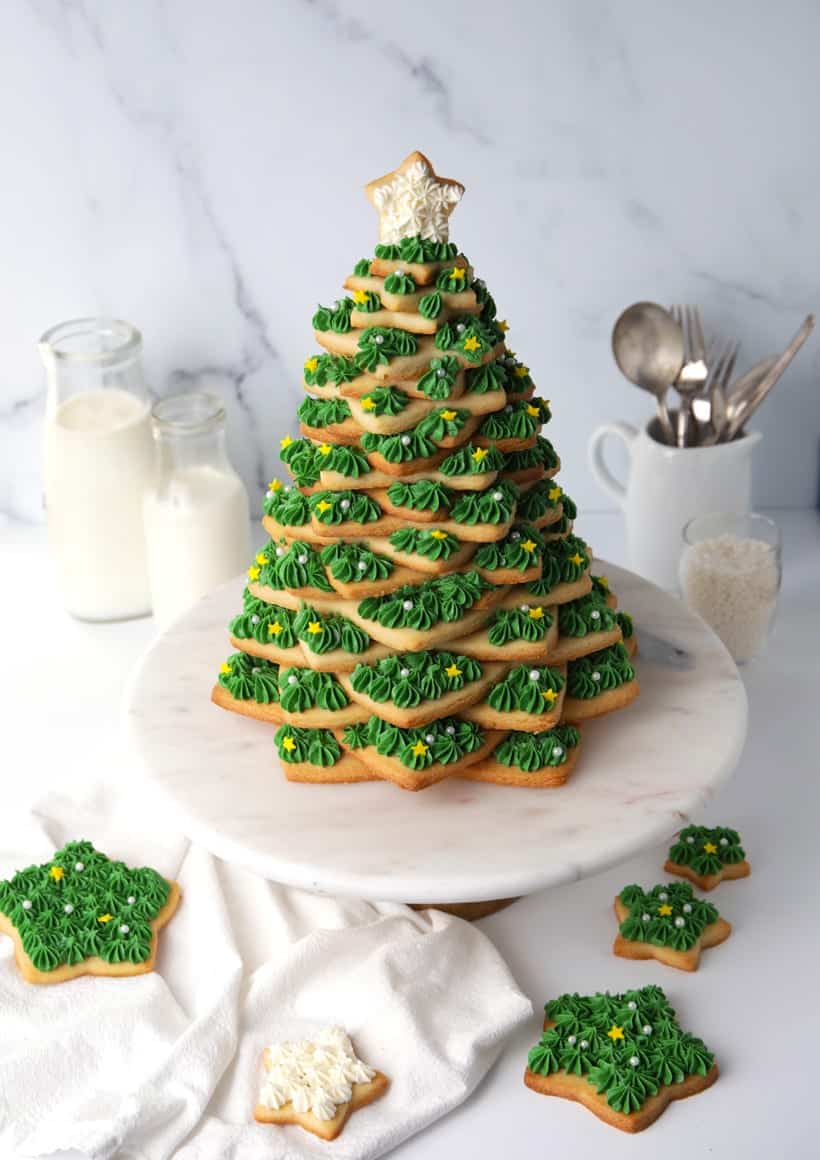 TOOLS FOR SUCCESS
Parchment Paper Rectangles for Sheet Pan (200)
Wilton Gingerbread Cookie Tree Cutter Set
Wilton Decorating and Piping 8-Piece Tip Starter Set
Measuring Cups and Measuring Spoons
Note: The above items are affiliate links. As an Amazon Associate I earn from qualifying purchases.
Want even more? Subscribe to Mom Loves Baking to get new recipes and a newsletter delivered to your inbox. And stay in touch on Facebook, Pinterest, Twitter, and Instagram for all my latest updates. If you make this recipe, share a photo on social media tagging @momlovesbaking and using the hashtag #momlovesbaking.
Christmas Cookie Tree Recipe
How to Make a Christmas Cookie Tree using star shaped sugar cookies of varying sizes and green tinted buttercream frosting for a stunning holiday centerpiece.
Print
Pin
Rate
Ingredients
For the buttercream frosting
Instructions
For the cookies
Preheat oven to 375°F. In a large bowl, cream butter and sugar with an electric mixer. Beat in eggs and vanilla. Add baking powder and flour, one cup at a time, mixing after each addition. The dough will be very stiff; blend last flour in by hand (if dough becomes too stiff and does not hold together in a ball, add water, a teaspoon at a time). Divide dough into 4 balls, wrap in plastic wrap and chill for 20 minutes.

Working with one cookie dough ball at a time, place the dough onto a sheet of parchment paper and knead it for a few minutes to get it into a smooth ball. Then place another piece of parchment paper on top and roll out to a ¼" thickness. Cut the stars and transfer to a parchment lined sheet pan or you can use a silicone mat. You will need 2 cookies for each size star. For the large stars, cut them directly on the parchment and transfer the parchment to a sheet pan. You don't want to handle the large stars too much or they will break. (I use sheet pans because they have a raised edge and the cookies won't slide off.) Bake the large cookies for 11-12 minutes, bake the smaller cookies for 9-10 minutes. You want the cookies to be a light golden brown on the edges. Don't underbake them or they will be too soft to stack in your cookie tree. Let cool completely
For the buttercream
Measure out the powdered sugar into a medium bowl. Sift it only if it has a lot of lumps. I buy the grocery store brand powdered sugar that comes in a 32 ounce plastic bag so I don't have to sift it. I also weigh out the 16 ounces needed for this recipe using a food scale. Set aside.

Beat softened butter on medium speed with an electric or stand mixer. Beat for 3 minutes until smooth and creamy.

Add powdered sugar, cream, and vanilla extract with the mixer running on low. Increase to high speed and beat for 3 minutes. Note: If the frosting is too thick, you can add a little more cream. Just add one tablespoon at a time, then mix thoroughly until you get the consistency you like.

Reserve 1 cup of buttercream in a separate bowl, then color the remaining buttercream green. Scoop it into a large pastry bag fitted with a #21 pastry tip. Put the white buttercream into a small pastry bag, also fitted with a #21 pastry tip. Use twist ties to close the bags on the end (making sure to let the air out first), so the frosting doesn't fall out. Set aside
Making the cookie tree
Place the largest cookie onto a serving platter or cakestand (pipe a dollop of frosting under the cookie, so it will stick to the plate). Then place the next large cookie of the same size on top, moving it so the points of the stars are alternating (not lined up). Pipe green buttercream stars on the 5 corners of the cookie star. Pipe a dollop of frosting in the middle, so the next cookie will stick. Repeat these steps with 2 of each size cookie until you get to the top. Pipe white stars onto the smalled star cookie and place on top of your cookie tree. Garnish with white pearl sprinkles and yellow star sprinkles. Serve within 24 hours for best taste and freshness.
Nutrition
Calories:
260
kcal
|
Carbohydrates:
33
g
|
Protein:
2
g
|
Fat:
13
g
|
Saturated Fat:
8
g
|
Cholesterol:
44
mg
|
Sodium:
115
mg
|
Potassium:
63
mg
|
Fiber:
1
g
|
Sugar:
20
g
|
Vitamin A:
419
IU
|
Calcium:
24
mg
|
Iron:
1
mg
You might also like Christmas Lights Royal Icing Sugar Cookies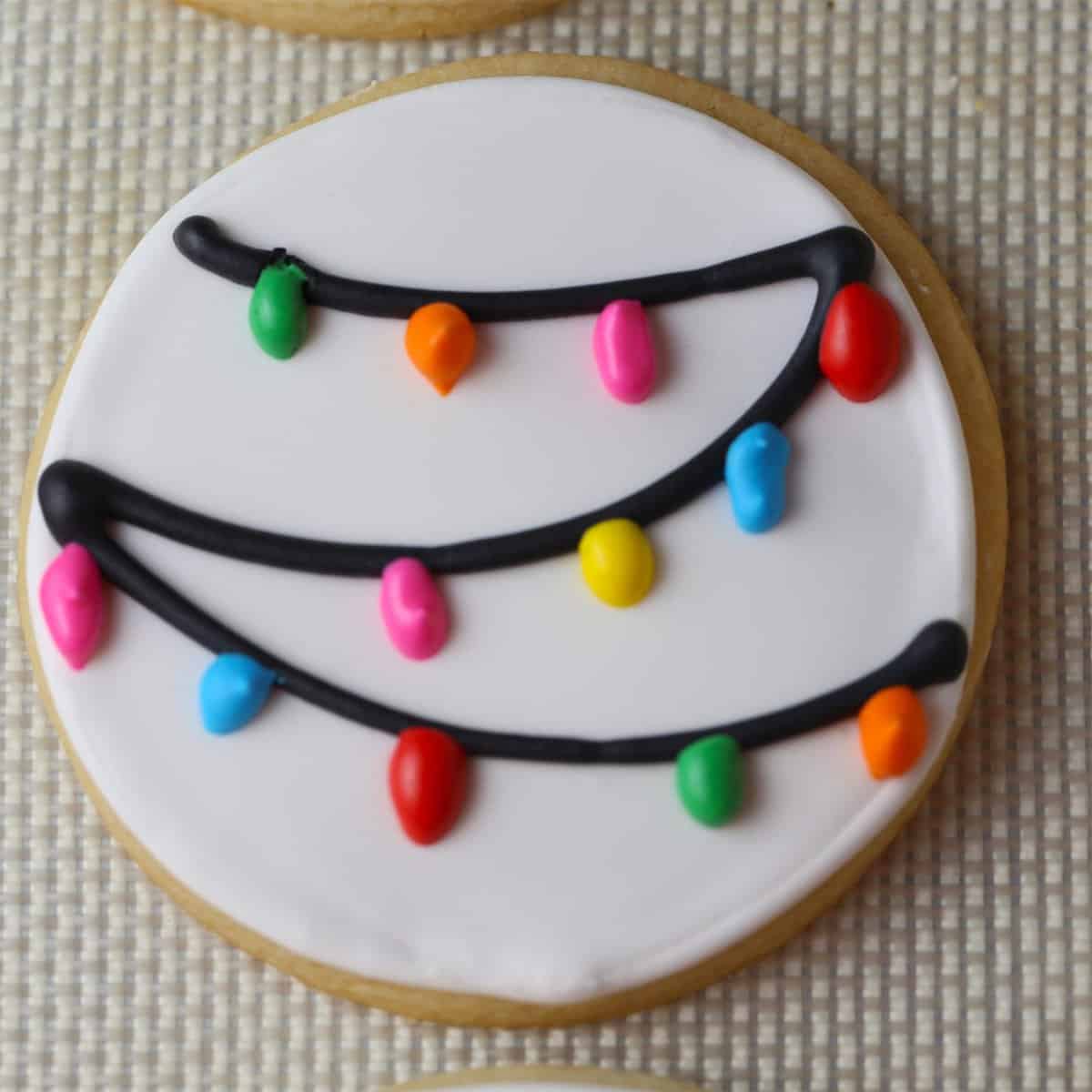 Or Ugly Sweater Christmas Cut-Out Sugar Cookies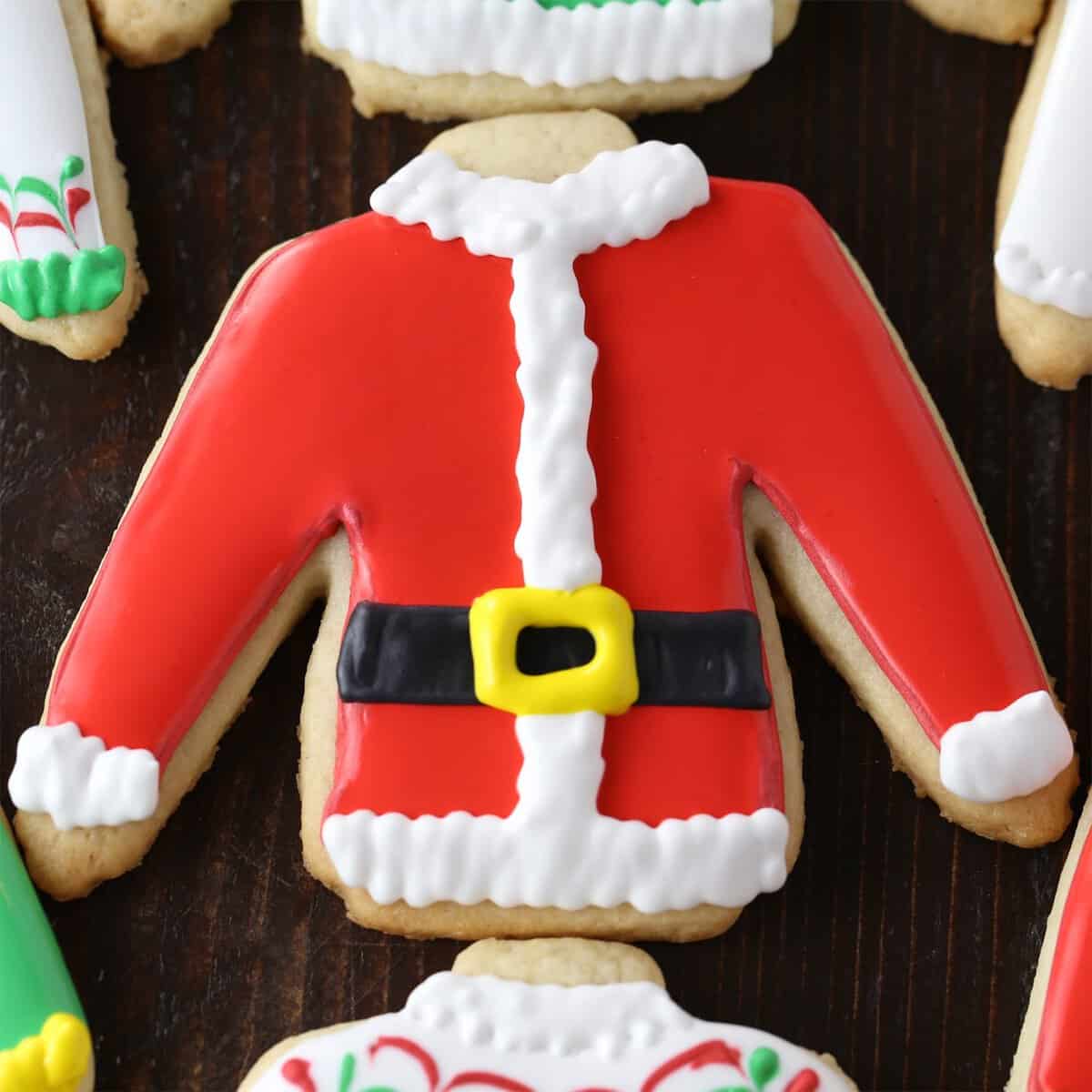 Or Slice 'n' Bake Christmas Tree Cookies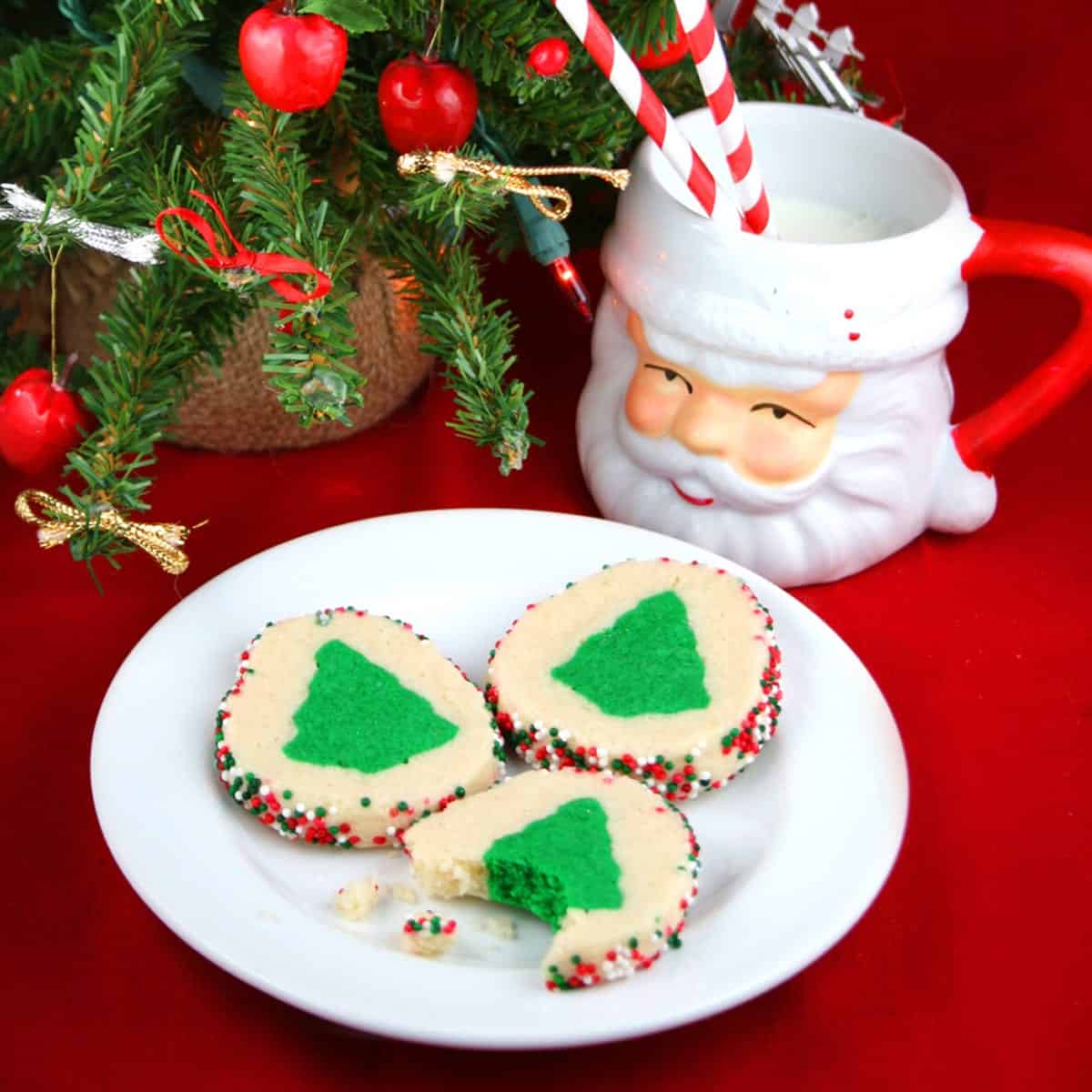 All text and images © Lise Ode for Mom Loves Baking. Please do not use my images without prior permission. If you want to republish this recipe, please re-write the recipe in your own words, or link back to this post for the recipe. Disclaimer: Nutrition information shown is not guaranteed to be accurate. This post may contain affiliate links.