Classic Chocolate Chip Cookies and Milk is a vintage cookie recipe from way back in 1939, plus a new way to serve your milk!
This is a sponsored post written by me on behalf of TruMoo Chocolate Milk for IZEA. All opinions are 100% mine.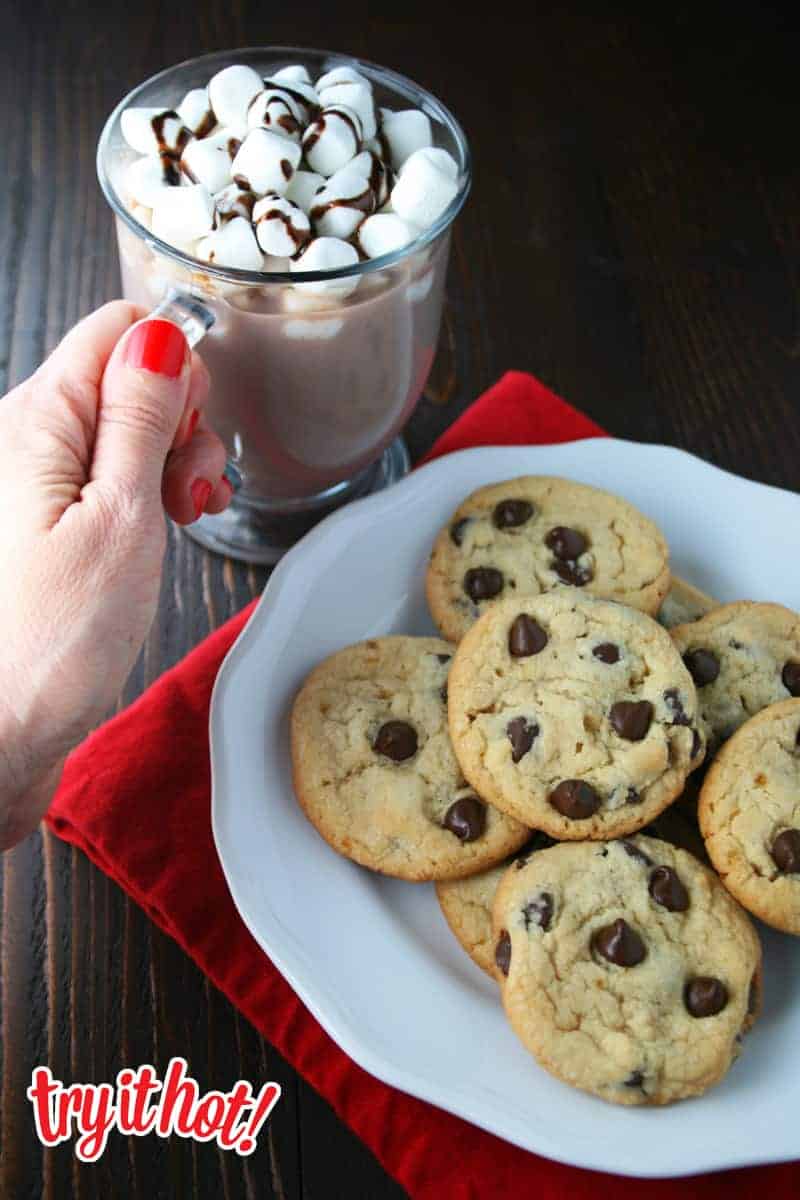 It's getting chilly outside. Finally! Hasn't the weather been a little weird lately? Our November was unusually warm. People around here have been wanting it to get cold because a change of season is so nice. And it's why we moved to Georgia from South Florida a few years ago. We were just so tired of it being 90 degrees 8 months out of the year. We love the weather here! Last night it got down to the 30's for the first time this Fall. Brrrrr!
With a chill in the air, it's the perfect time to decorate the house for Christmas and cozy up with a cup of hot chocolate. And some chocolate chip cookies too! Classic Chocolate Chip Cookies and Milk are the ultimate comfort foods.
Hot chocolate is my favorite hot beverage when it's cold out. I don't really drink coffee and sometimes I get tired of hot tea which is what I drink ALL THE TIME!
This Hot Chocolate Milk is actually made with chocolate milk. It's just a different way of serving chocolate milk. Try it hot! And then add the fun toppings you like best. Yum!!
I used TruMoo Chocolate Milk for my Hot Chocolate Milk. It has great flavor, plus it's lowfat. I'm usually counting calories, so that's important to me. (Even bakers have to count calories!) But it's also available in whole milk which is great for the kids.
Making this Hot Chocolate Milk is as simple as can be. It's as easy as 1-2 (not even a 3 – just 2 steps). Step 1 – pour TruMoo Chocolate Milk into a mug. Step 2 – heat in the microwave for 1-2 minutes or until it has reached the desired temperature. That's it! That's all you do to enjoy this delicious hot beverage. You're welcome.
No saucepans needed. No mixing of cocoa powder, sugar and milk. No whisking and trying to get the lumps out. It's so easy and so tasty!
Who else loves to curl up with a good book and enjoy some yummy hot chocolate?
Then it's always nice to have some cookies with your milk, right? I've got you covered!
Today I'm also sharing a tried and true recipe for Classic Chocolate Chip Cookies that comes from a very old cookbook of mine. This recipe was introduced to homemakers way back in 1939 on a radio show called Famous Foods from Famous Places. This cookie came from the New England Toll House in Whitman, Mass. And that's your baking trivia for the day. (Scroll to the bottom of this page for the complete recipe.)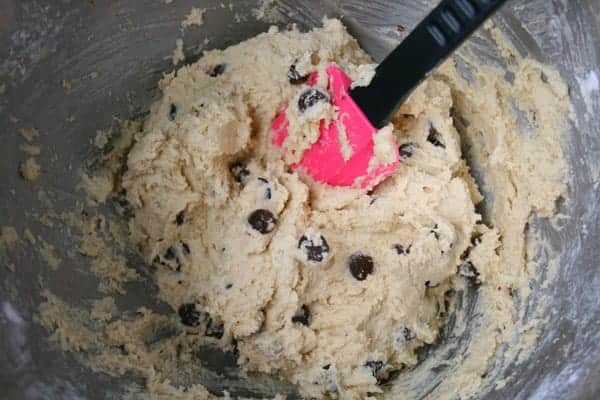 How to make Classic Chocolate Chip Cookies
• Cream butter and sugar
• Blend in dry ingredients
• Stir in chocolate chips
• Drop teaspoonfuls of dough onto cookie sheet
• Bake 8-10 minutes. Let cool and enjoy!
Scroll to see complete recipe.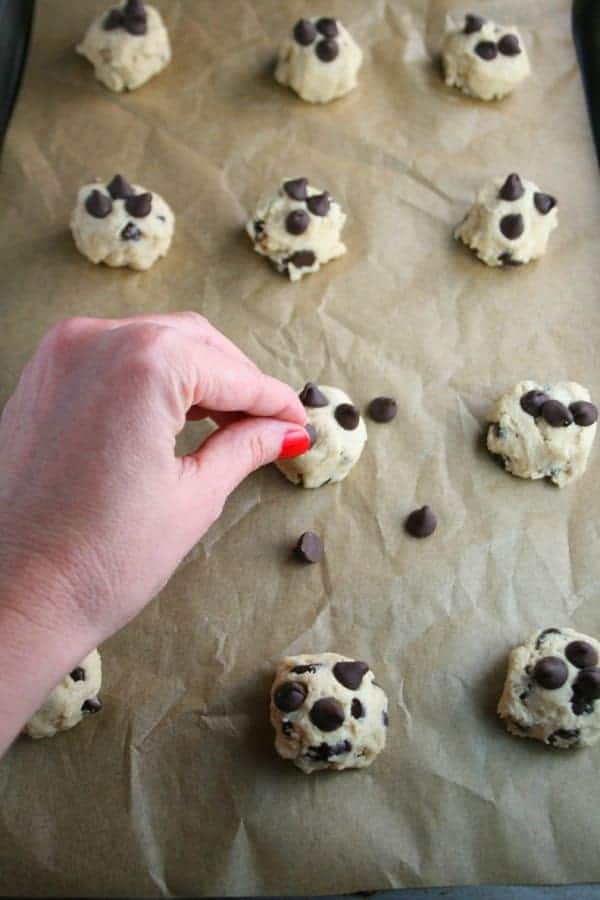 Pro Tip for Making Classic Chocolate Chip Cookies
• One of the tricks to this recipe is to reserve 1/3 cup of the chocolate chips to add by hand on the top of each cookie.
• After mixing up the cookie dough, you drop tablespoonfuls of dough onto parchment lined cookie sheets. Then you add several chocolate chips on the top of each cookie.
• It makes them look really pretty after they're baked.
(Note: If you're in a hurry, you can skip this step. It's not essential to the flavor. Purely aesthetic.)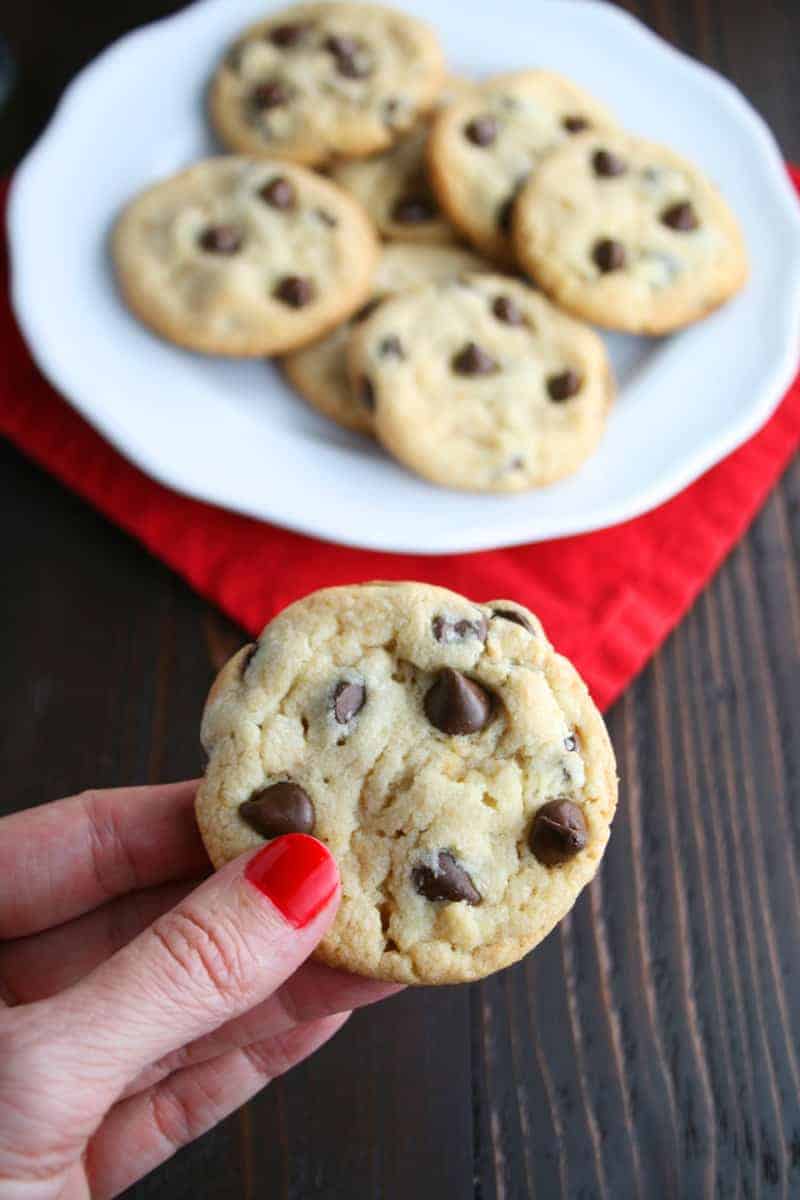 Bake the cookies in a 375°F. oven for 8-10 minutes or until slightly golden brown on the edges. Let them cool for 10-15 minutes before serving. They will be too soft to eat right out of the oven, but as they cool, they become just right – not too soft and not too crispy.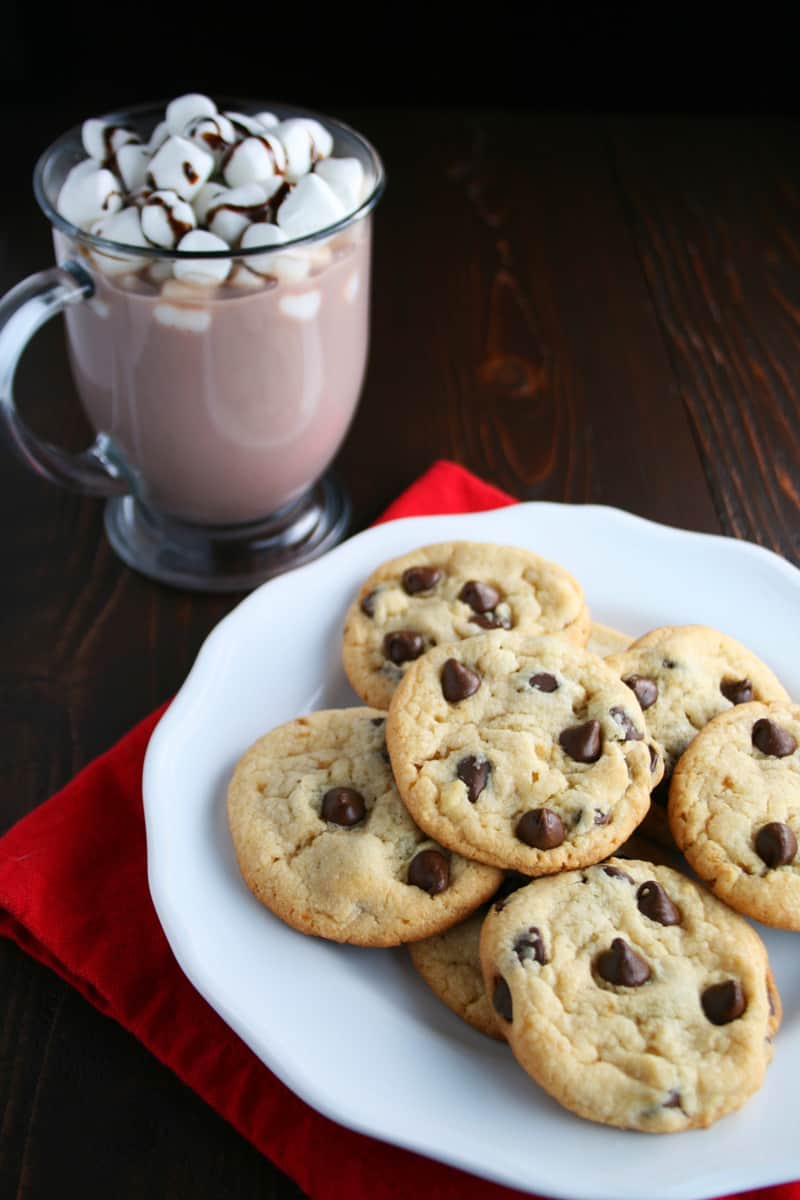 Serve these fantastic chocolate chip cookies with your Hot Chocolate Milk. What a perfect combo. And I'll bet there's a certain jolly old man with a white beard that would absolutely love these Classic Chocolate Chip Cookies and Milk! You should make him some on Christmas Eve!
Print Recipe
Classic Chocolate Chip Cookies
Classic Chocolate Chip Cookies is a tried and true chocolate chip cookie recipe that was introduced to homemakers back in 1939. A timeless classic, these chocolate chip cookies are simply the best!

Ingredients
2/3

cup

butter

softened

1/2

cup

granulated sugar

1/2

cup

brown sugar

packed

1

large

egg

room temperature

1

teaspoon

vanilla extract

1 1/2

cups

all purpose flour

1/2

teaspoon

baking soda

1/2

teaaspoon

salt

6

ounces

semi-sweet chocolate chips
Instructions
Heat oven to 375°F. Line large cookie sheets with parchment paper or silicone mats. I used 3 half sheet pans because I like the raised edges.


Measure flour into a medium bowl. Add baking soda and salt. Stir. Set aside.


Mix butter, sugar, egg, and vanilla thoroughly. Stir dry ingredients in and blend well. Reserve 1/3 cup of chocolate chips. Mix in remaining chocolate chips.


Drop rounded teaspoonfuls of dough about 2" apart on prepared pans. Place several chocolate chips on top of each cookie before baking (this makes them look pretty when they come out of the oven). Bake 8-10 minutes or until light golden brown on edges. (Cookies will still be soft.) Cool for 10 minutes, then place on cooling rack to completely cool.

Nutrition
Calories:
101
kcal
|
Carbohydrates:
12
g
|
Protein:
1
g
|
Fat:
5
g
|
Saturated Fat:
3
g
|
Polyunsaturated Fat:
1
g
|
Monounsaturated Fat:
1
g
|
Trans Fat:
1
g
|
Cholesterol:
14
mg
|
Sodium:
54
mg
|
Potassium:
40
mg
|
Fiber:
1
g
|
Sugar:
8
g
|
Vitamin A:
115
IU
|
Calcium:
8
mg
|
Iron:
1
mg

Find more awesome recipes here:
Try it Hot with TruMoo on Pinterest