This shop has been compensated by Collective Bias, Inc. and its advertiser. All opinions are mine alone. #BeenBooed #HalloWINE #CollectiveBias The following content is intended for readers who are 21 or older.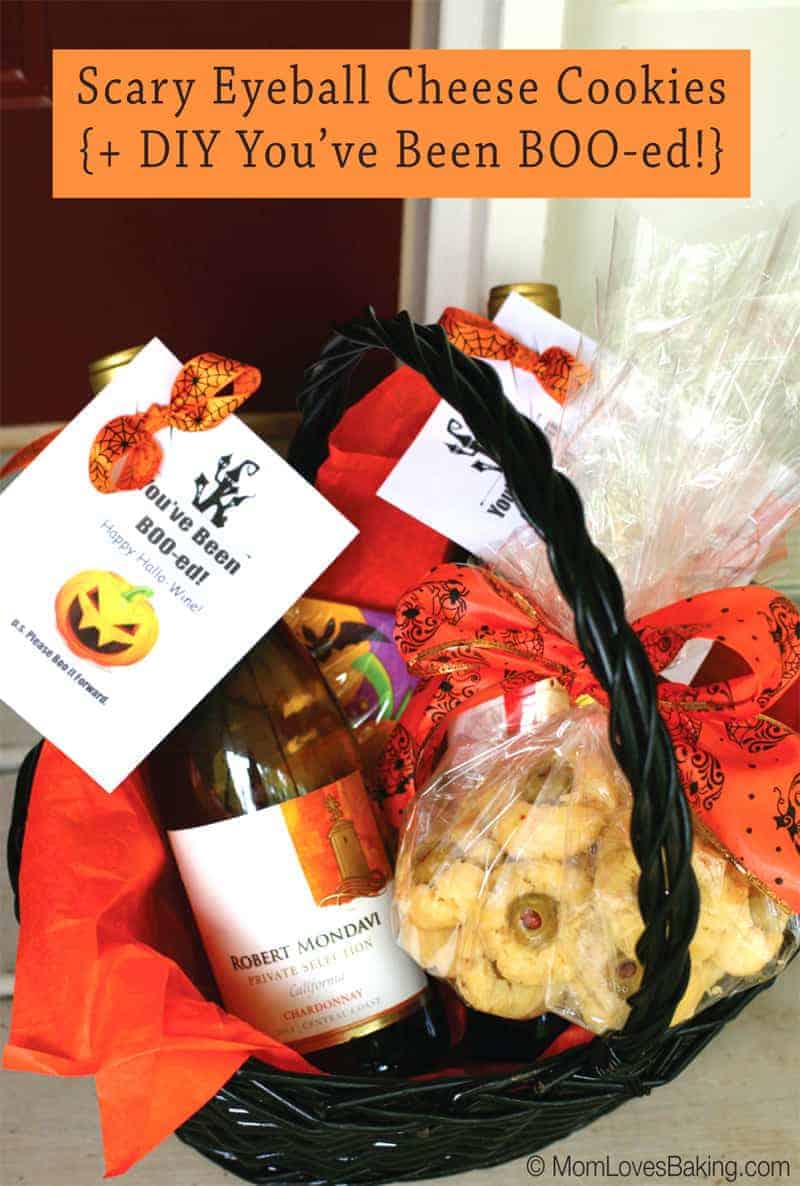 Have you ever been BOO-ed? A few years ago (in October), someone rang our doorbell. When we went to the door, there was no one there, but there was a small bag of candy with a piece of paper that said, "You've Been BOO-ed." The kids loved it and now it's one of their favorite things to do every October.
This, however, is NOT for the kids. It's for the grown-ups. An adult version of the game. In this new game, a knock at the door is followed by this adorable care package containing snacks and Robert Mondavi Private Selection wine. The card attached says, "You've been BOO-ed! Happy Hallo-WINE!" Is that fun or what?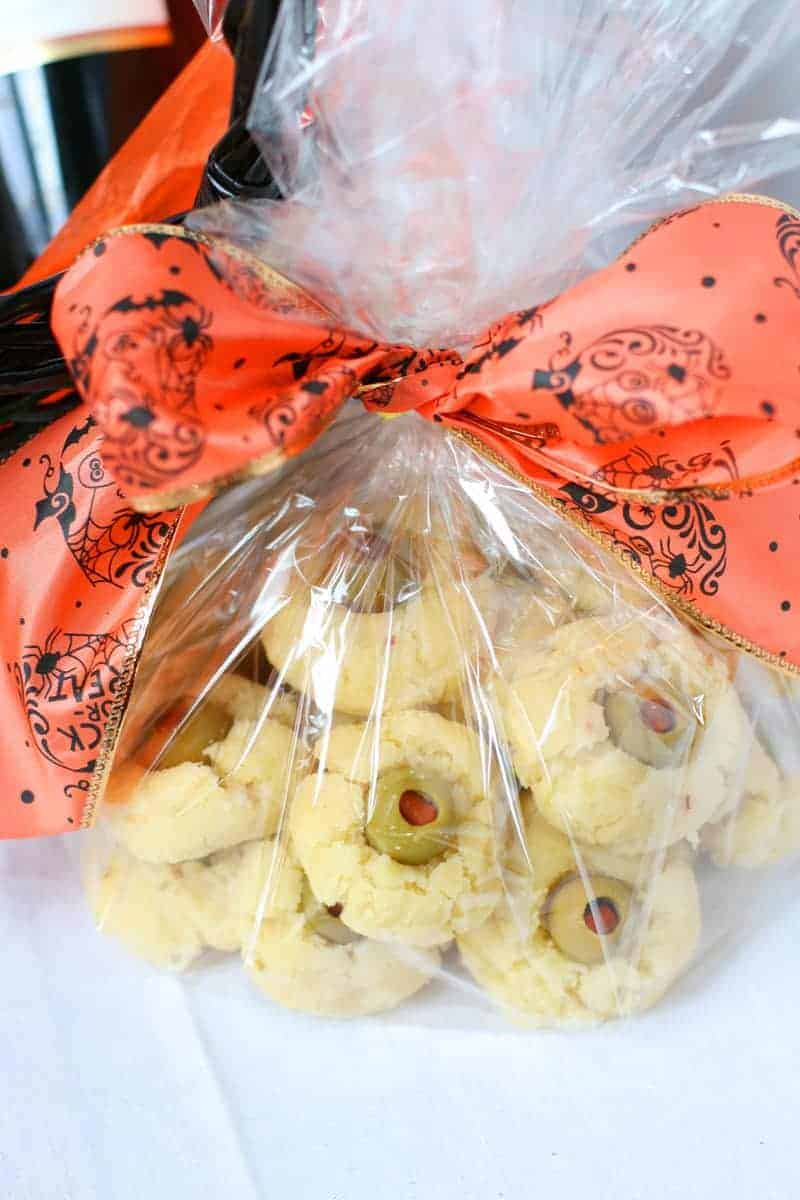 I thought these Scary Eyeball Cheese Cookies would go great with the Robert Mondavi Private Selection wine. Not only are they a delicious, savory thumbprint made with sharp cheddar and green olives, but they also look a lot like a spooky monster's eyeballs. So much fun for Halloween. And they're also gluten free!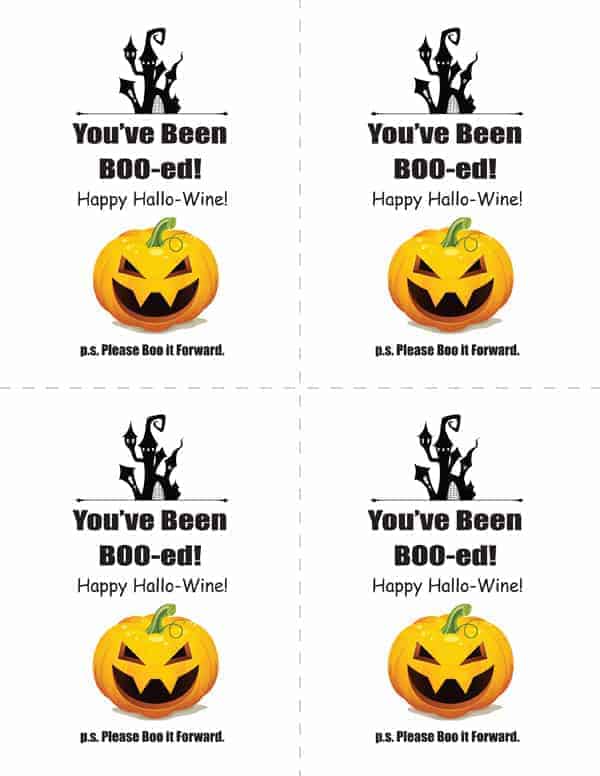 Putting together the BOO-ed care package is simple. I've included a FREE PRINTABLE to make it extra easy for you.
CLICK HERE to download your FREE BOO-ed PRINTABLE. You can use regular printing paper or a heavier cardstock, if desired.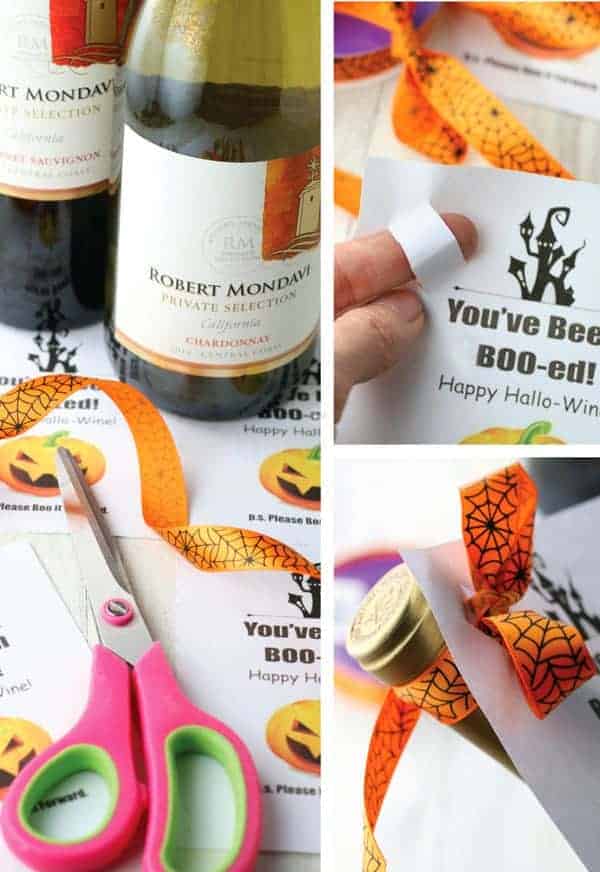 After you've printed out the printable, cut along the dotted lines to create two cards to attach to your wine bottles. Take one of the card and cut two slits in the top left corner. You can do this by folding the corner down and cutting two 1/4-inch slits in the fold. Unfold and you will have two 1/2-inch slits. Cut a piece of 1/2-inch wide ribbon to a length of 20 inches. Tie a bow in the center of the ribbon, then thread the two ends of the ribbon through the two slits and tie it around the top of the bottle.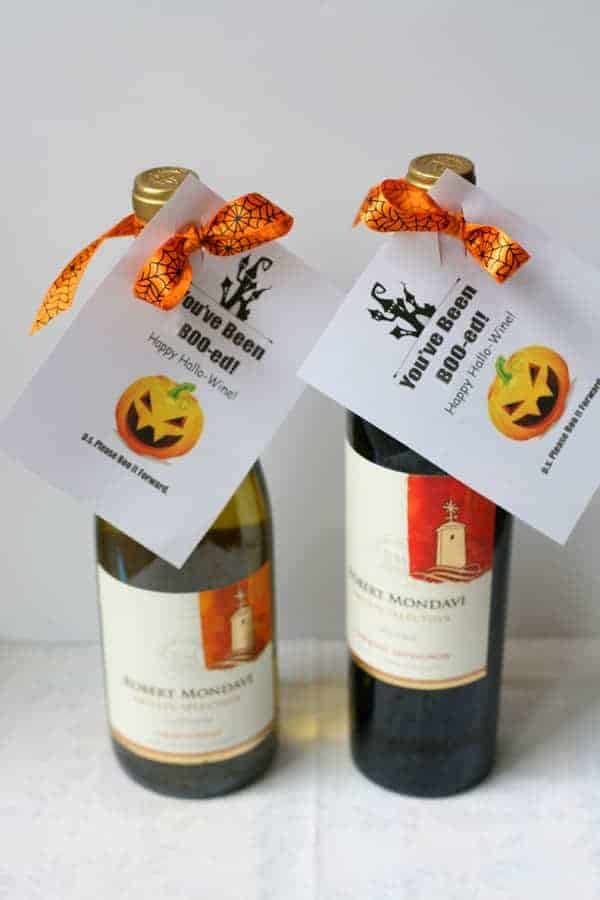 This is how they should look when you're done. If this method is too complicated, just tie a bow around the neck of the bottle. Then tape the card at the top of the bottle, just under the bow. Either way will be very cute.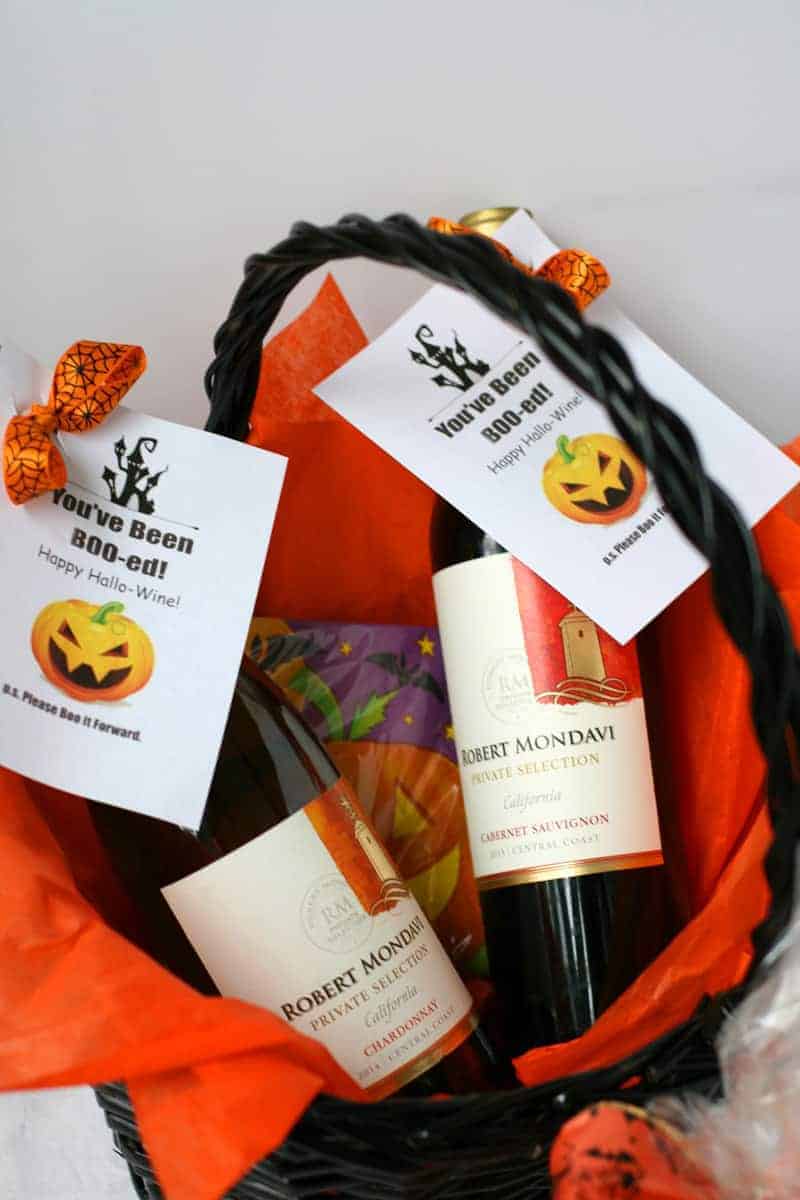 Place bottles in a basket lined with tissue paper. I also added some festive, Halloween napkins. Next step: Make the Scary Eyeball Cheese Cookies.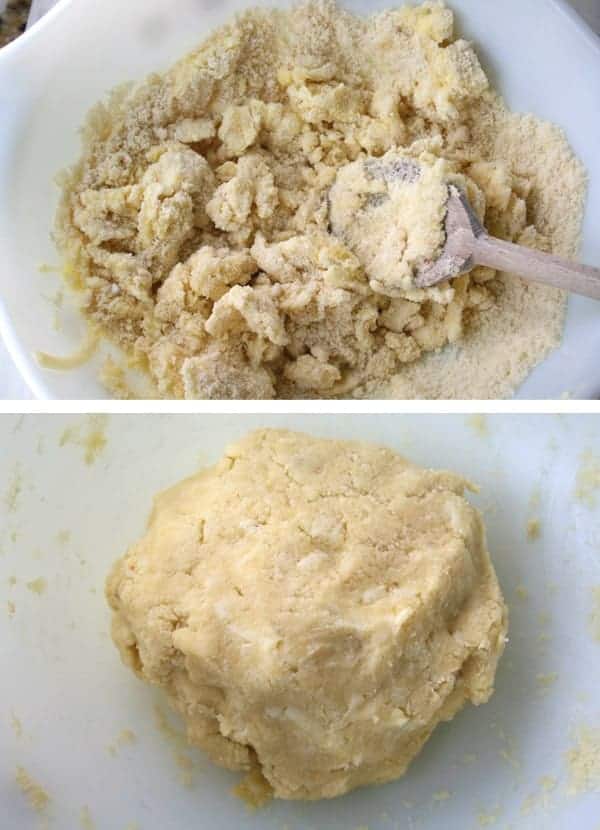 Make the batter by combining butter, egg, sharp white cheddar cheese, almond flour, baking powder and salt in a large bowl. Stir with a spoon as much as you can and then use your hands to knead the dough into a ball.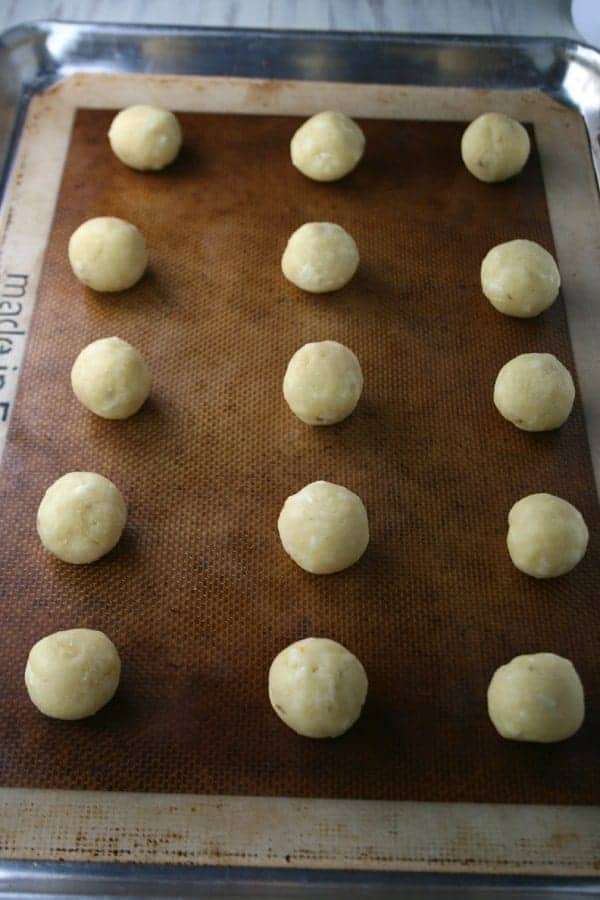 Break off pieces of dough to make 1-inch balls. You should have about 25-30 balls. Bake in a 350°F. oven for 5-7 minutes.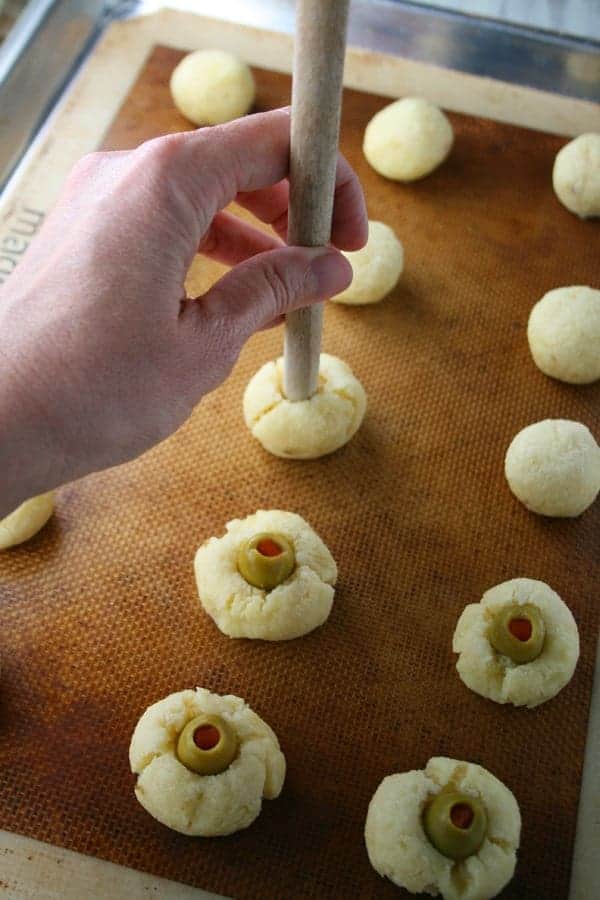 Take them out of the oven and use the end of a wooden spoon to press holes in the middle of the cookies. Don't go all the way to the bottom though. Just enough to fit an olive in the middle of the cookies. Bake them for an additional 5-7 minutes or until set.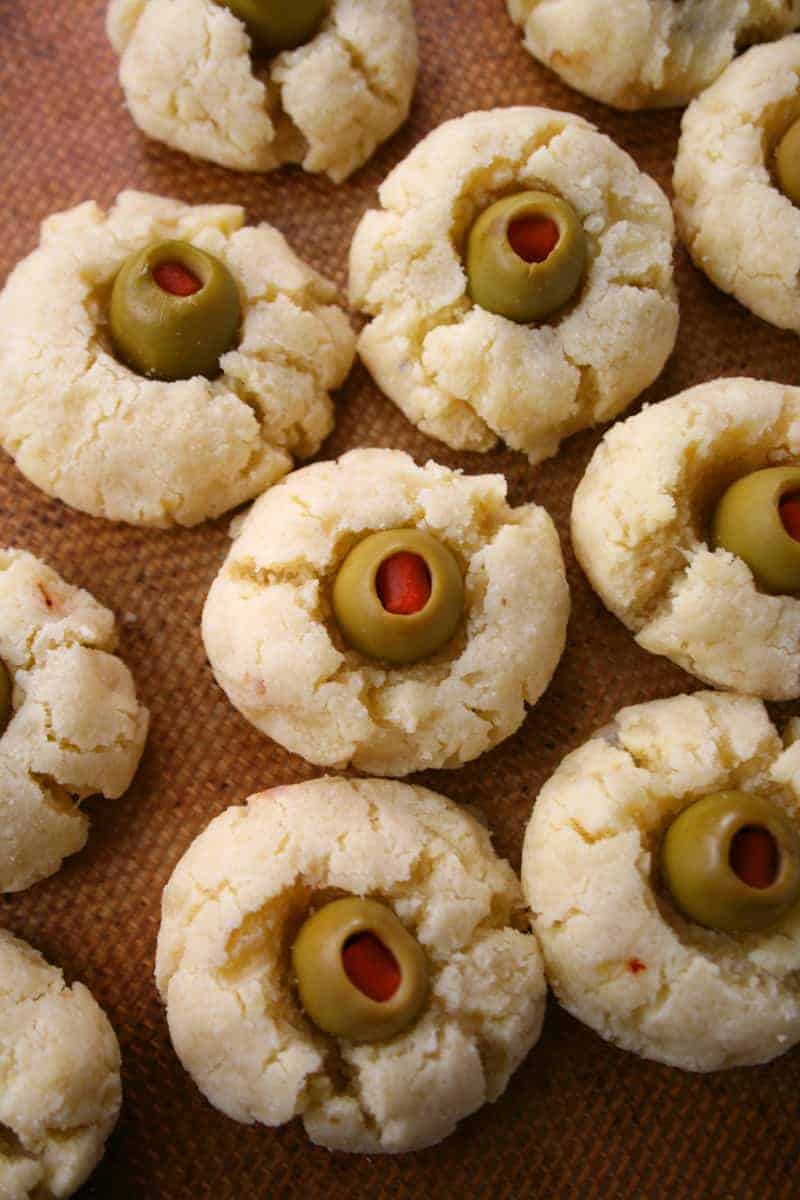 Let them cool completely, then wrap them up in clear cellophane and tie with a decorative ribbon to place in your care package.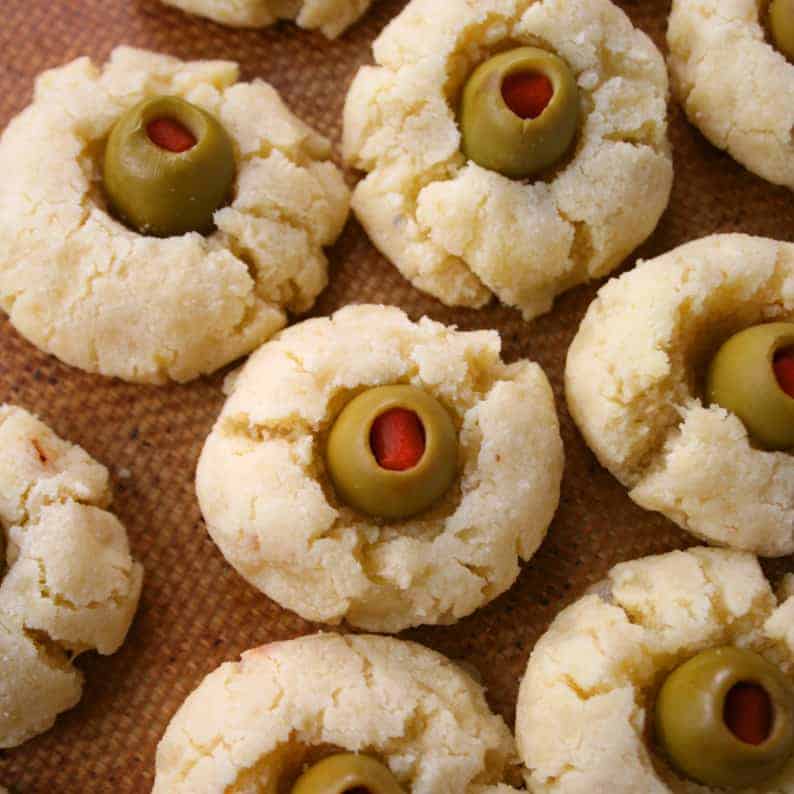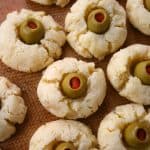 Print Recipe
Scary Eyeball Cheese Cookies
Ingredients
2 1/4

cups

almond flour

1

teaspoon

baking powder

1/2

teaspoon

salt

1/2

cup

unsalted butter

softened

1

large egg

room temperature

4

ounces

sharp white cheddar cheese

grated

Few drops of hot sauce

if desired

1

jar of green olives with pimento centers

drained (about 30 olives)
Instructions
Preheat oven to 350°F.

Place the first 3 ingredients in a medium bowl. Stir to combine. Set aside.

In a large bowl, stir together the butter, egg, cheese and hot sauce (if using).

Add the dry ingredients. Stir with a wooden spoon as much as you can, then use your hands to completely incorporate the dough.

Shape dough into 1-inch balls and place on large, parchment lined cookie sheets.

Bake for 5-7 minutes. (Leave oven on.) Remove cookies from the oven and press centers in slightly with the handle of a wooden spoon or your thumb. Place an olive into the center of each cookie. Continue baking for another 5-7 minutes or until set. Let cool and serve. Store covered in refrigerator for up to 5 days.
Now what are you waiting for? Go Boo someone and have a Happy Hallo-Wine!
Click here for more awesome Halloween ideas from Robert Mondavi Private Selection.
Featured on The Southern Plate Meal Plan Monday.