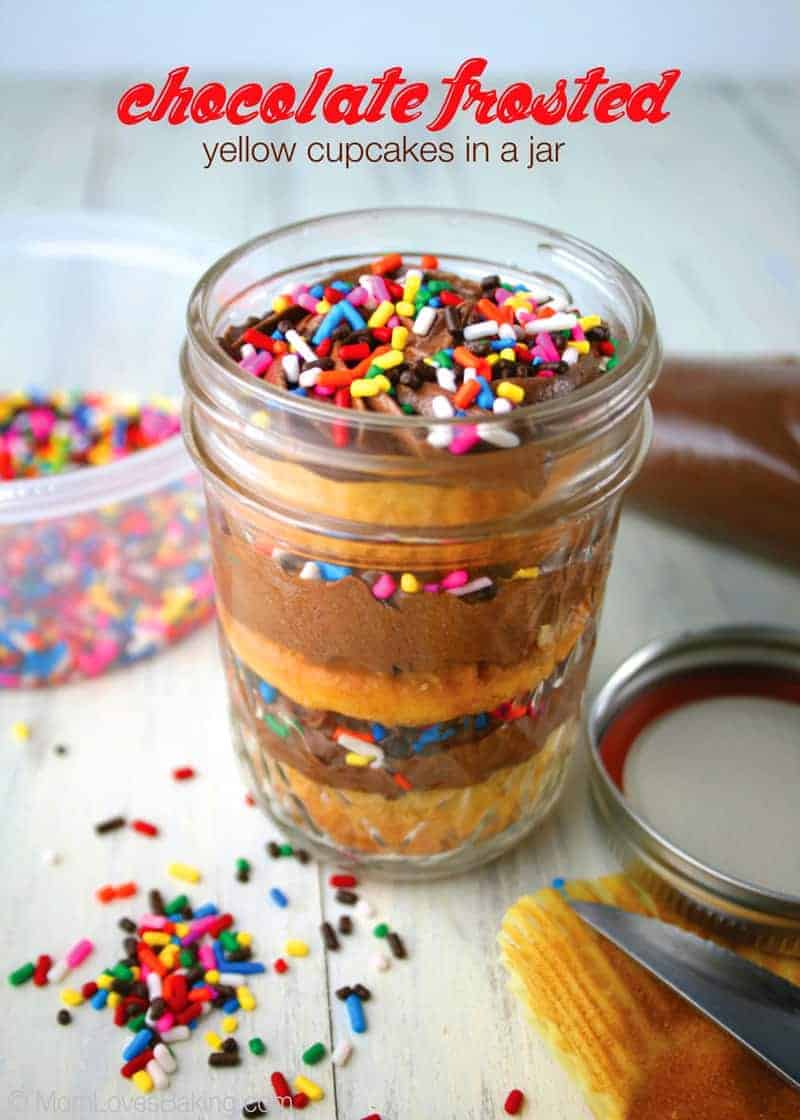 Our beloved preacher at AFUMC had a birthday a few weeks ago and I wanted to give him a special treat to thank him for all of his sweet sermons. (If you're curious, you can listen to one right here.) It had to be something festive and delicious as well as portable. Enter Chocolate Frosted Yellow Cupcakes in a Jar. I know it's not a new idea, but I had never actually made them myself. I thought you might be interested in getting a little step-by-step tutorial on how to make Chocolate Frosted Yellow Cupcakes in a Jar. How does that sound? They really aren't hard to put together, especially if you use a cake mix for the cupcake part. The only thing that takes a little time is the homemade frosting, but that's the best part, so you can't skip that step!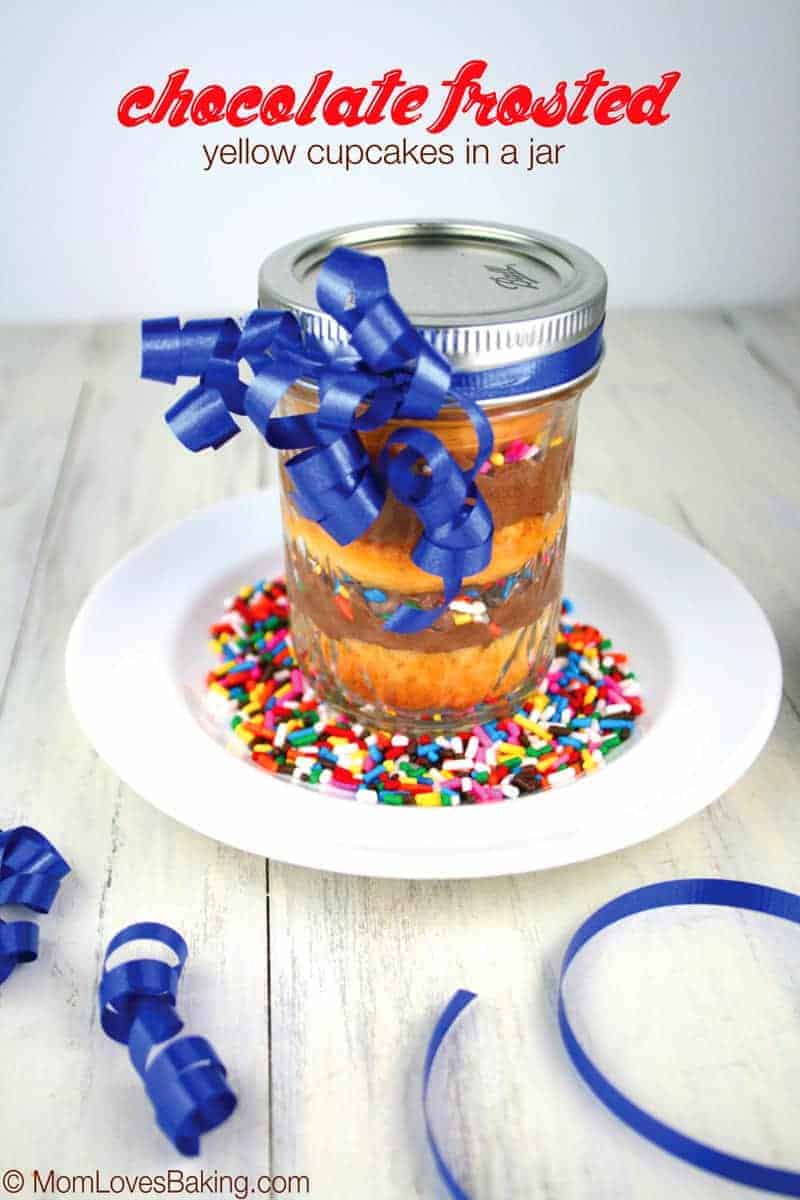 I kept the decorations simple, but you could get creative and use fancy ribbon with a spoon attached.
The first step is to grab your favorite yellow cake mix and prepare it according to the package instructions, making cupcakes of course.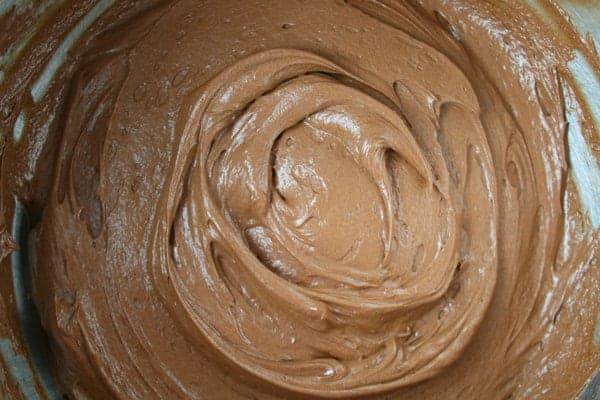 Next step is to make the chocolate frosting which I've previously posted about. It's called The Best Chocolate Frosting Ever! And yes I do stand behind that statement. It's that good people! Ask the preacher.
In case you missed that post, I'll give you a recap.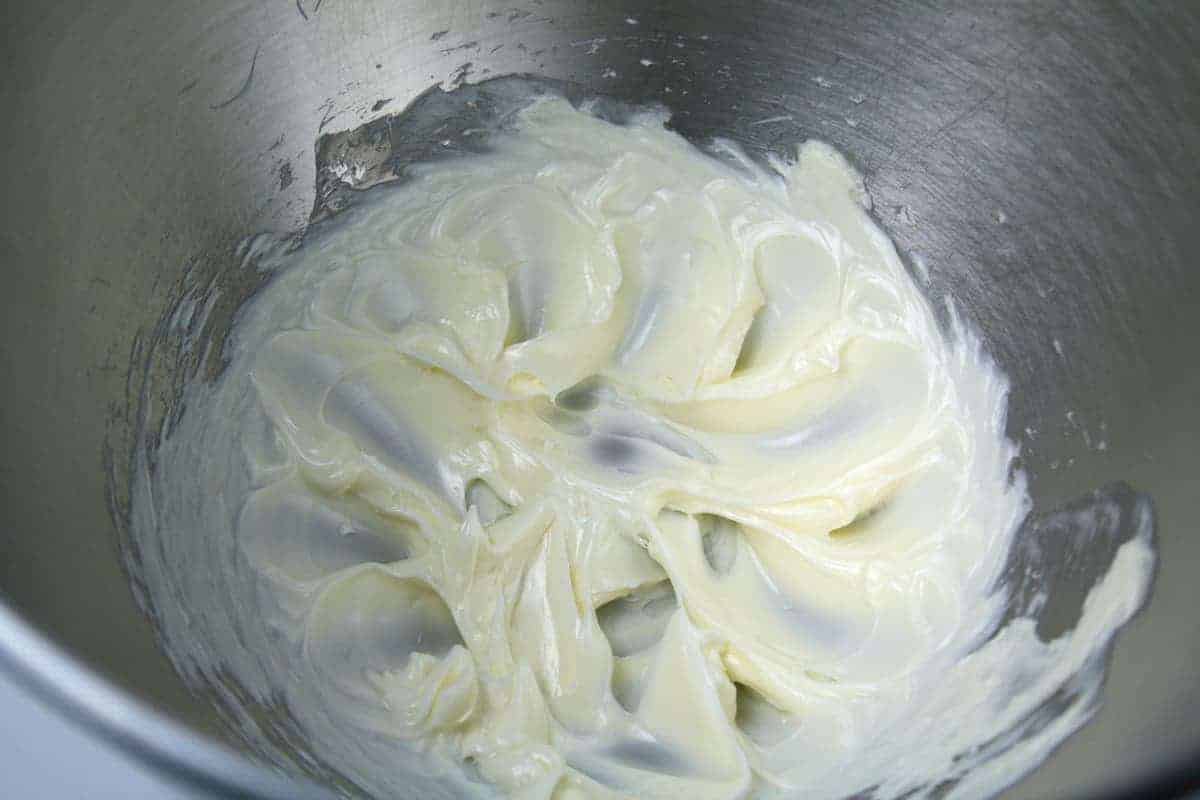 Start by creaming the softened butter on medium speed for 2 minutes.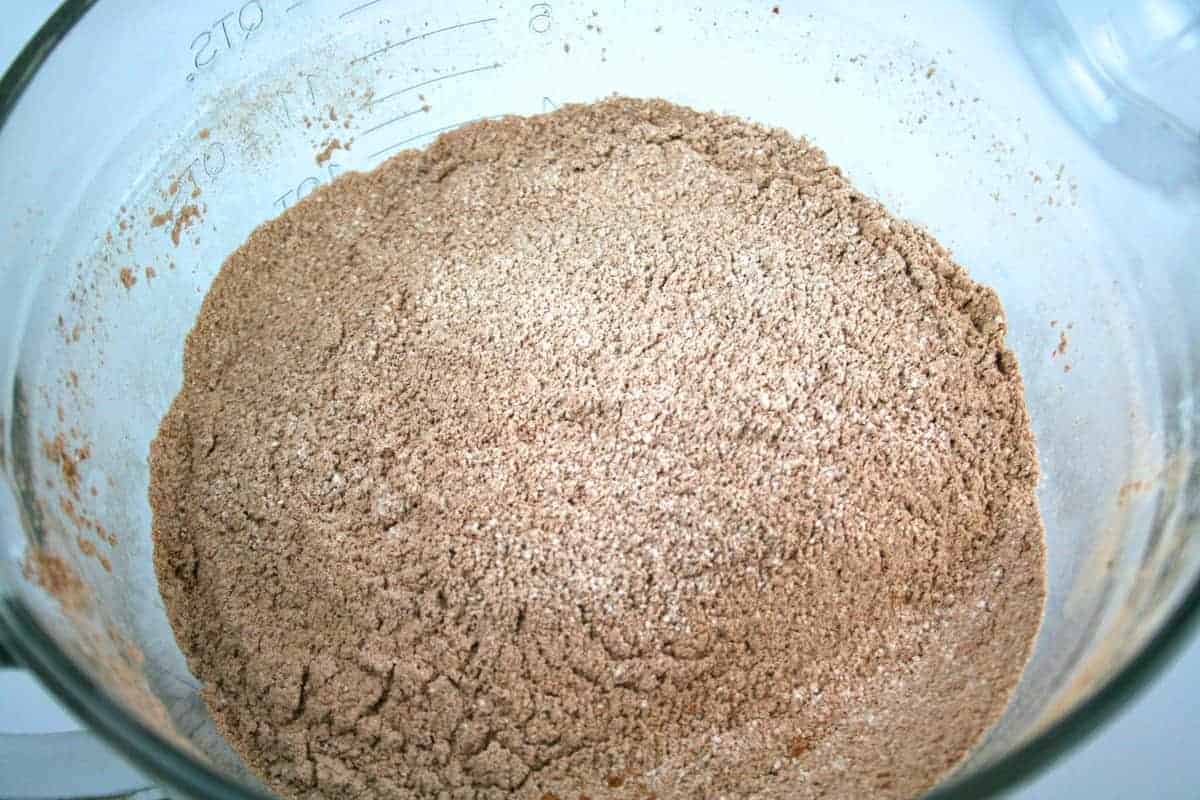 Gradually add sifted sugar, cocoa powder, cream and vanilla. Then beat again for 2-3 minutes.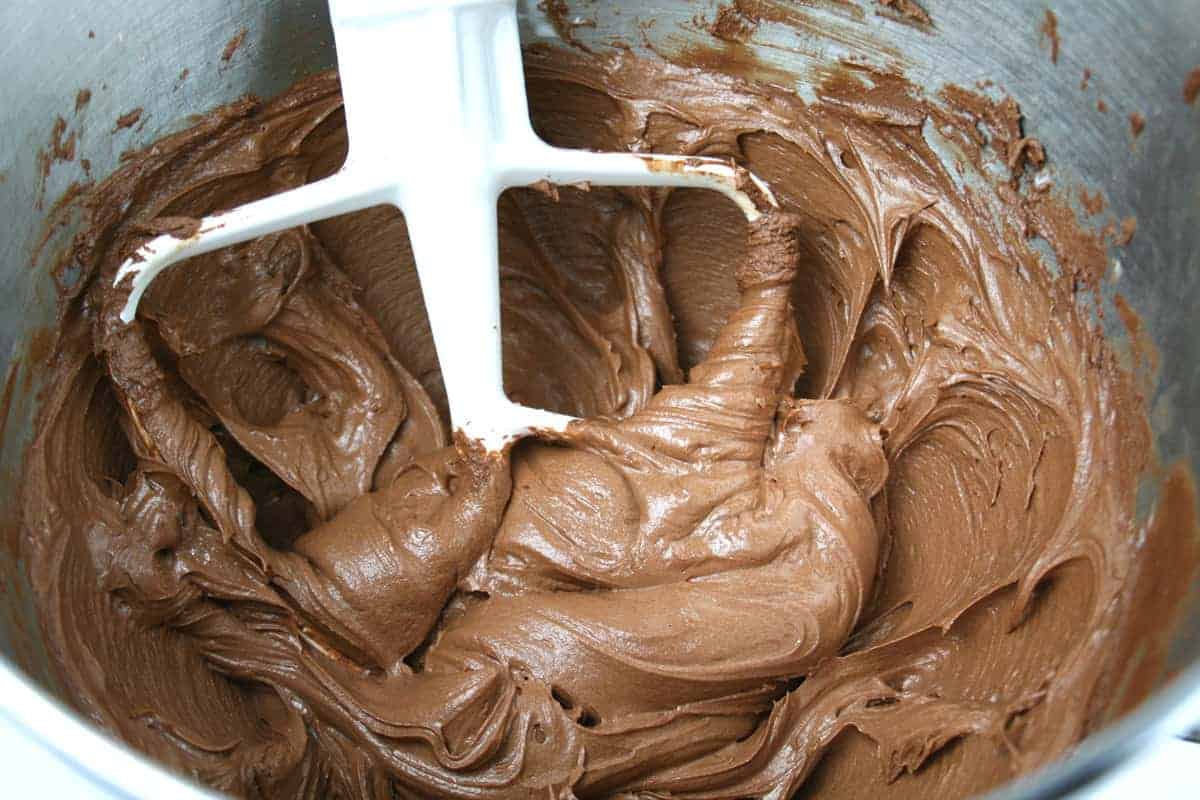 It comes out so smooth and creamy and shiny. If it's not shiny, then add a little more cream.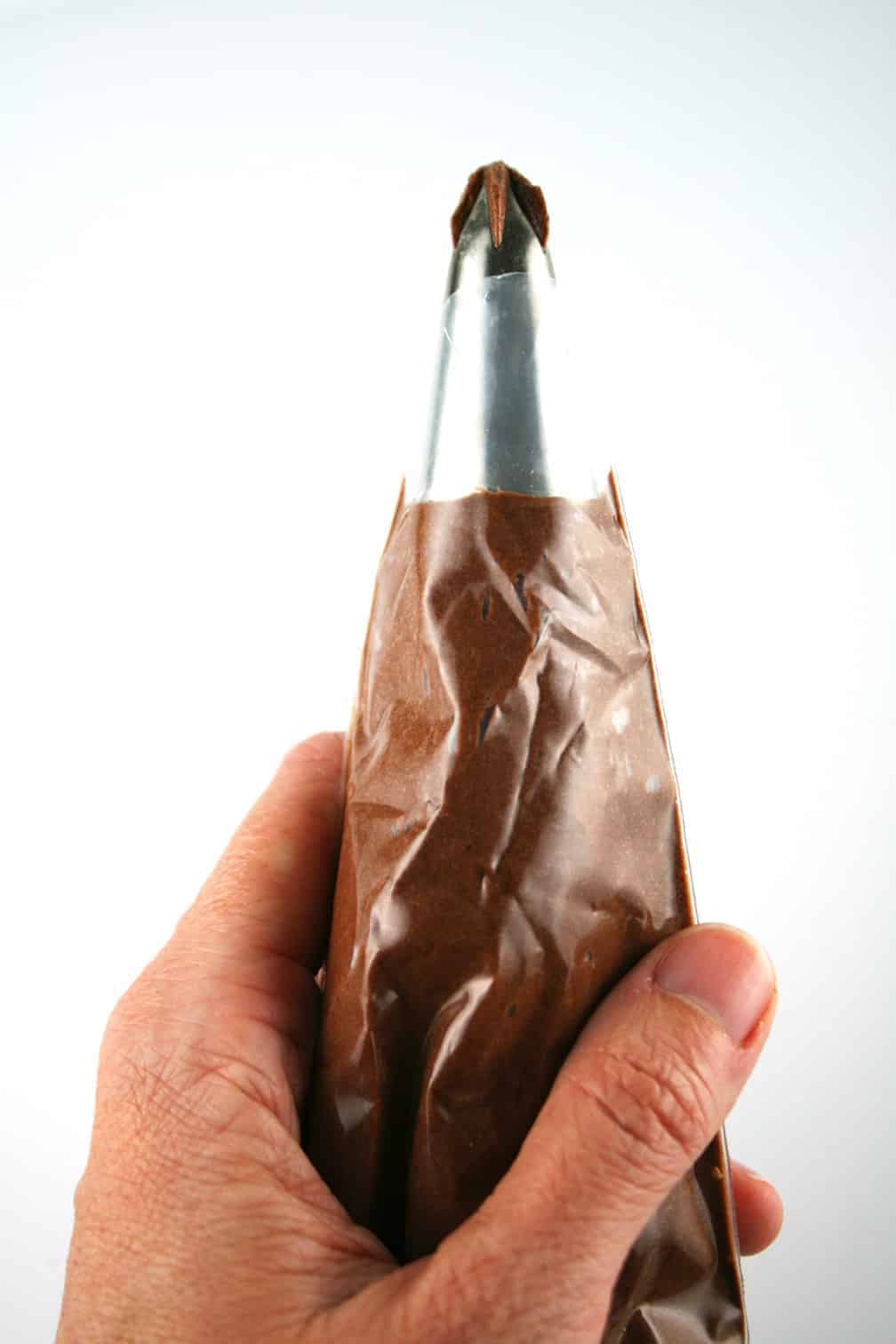 Pour your frosting into a large pastry bag fitted with a 1M pastry tip (both available at your local craft store). The 1M pastry tip is my favorite for decorating cupcakes. It gives them that professional look.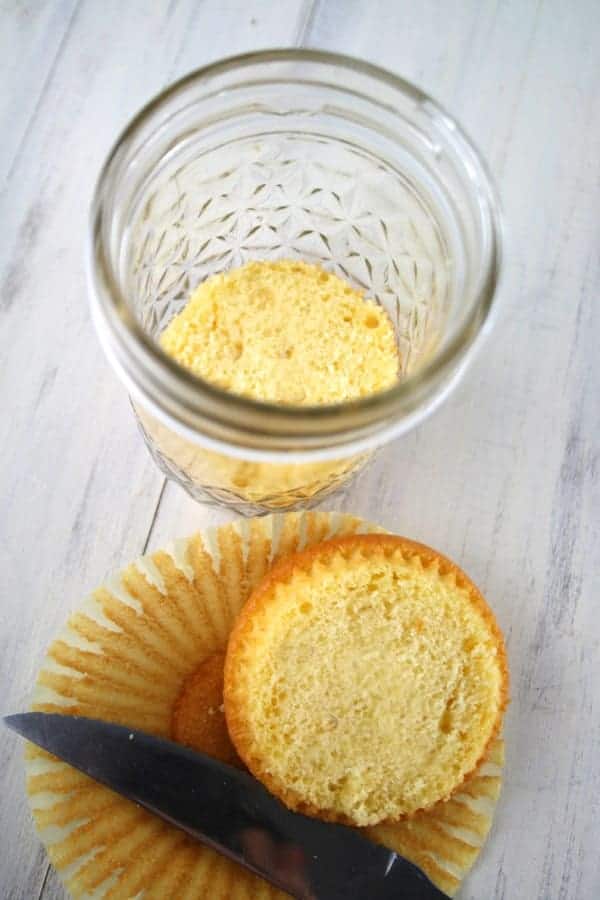 Now it's time to assemble your cupcakes in a jar and it couldn't be easier. Take your cooled cupcakes and cut them in half horizontally. Using a half pint sized canning jar, place one cupcake half in the bottom.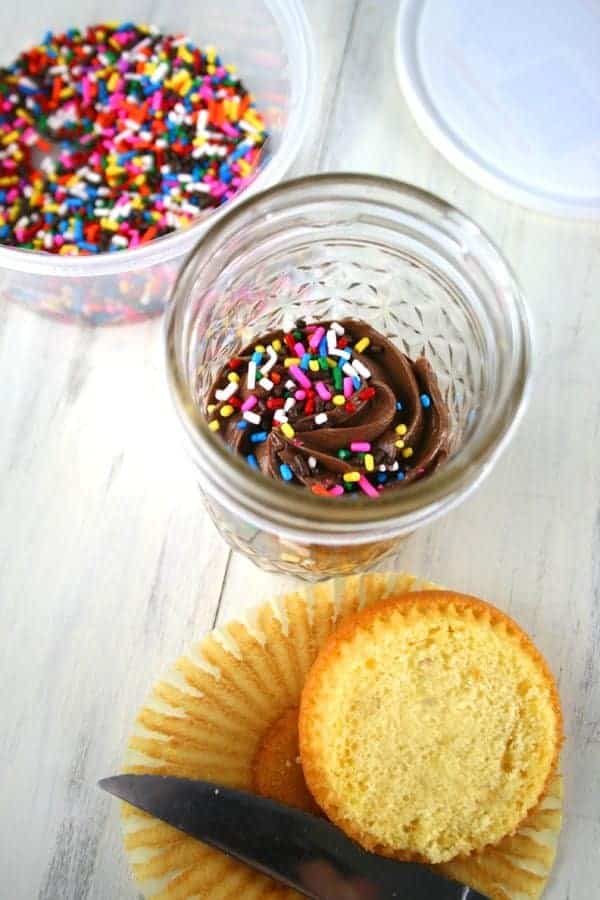 Pipe a layer of frosting on top of the cupcake. Add sprinkles. Then repeat that process two more times. When you're done, you'll have three layers of cupcake and three layers of frosting. Add the jar lids when you're done with all of the cupcakes. Decorate with ribbon and a spoon, if desired.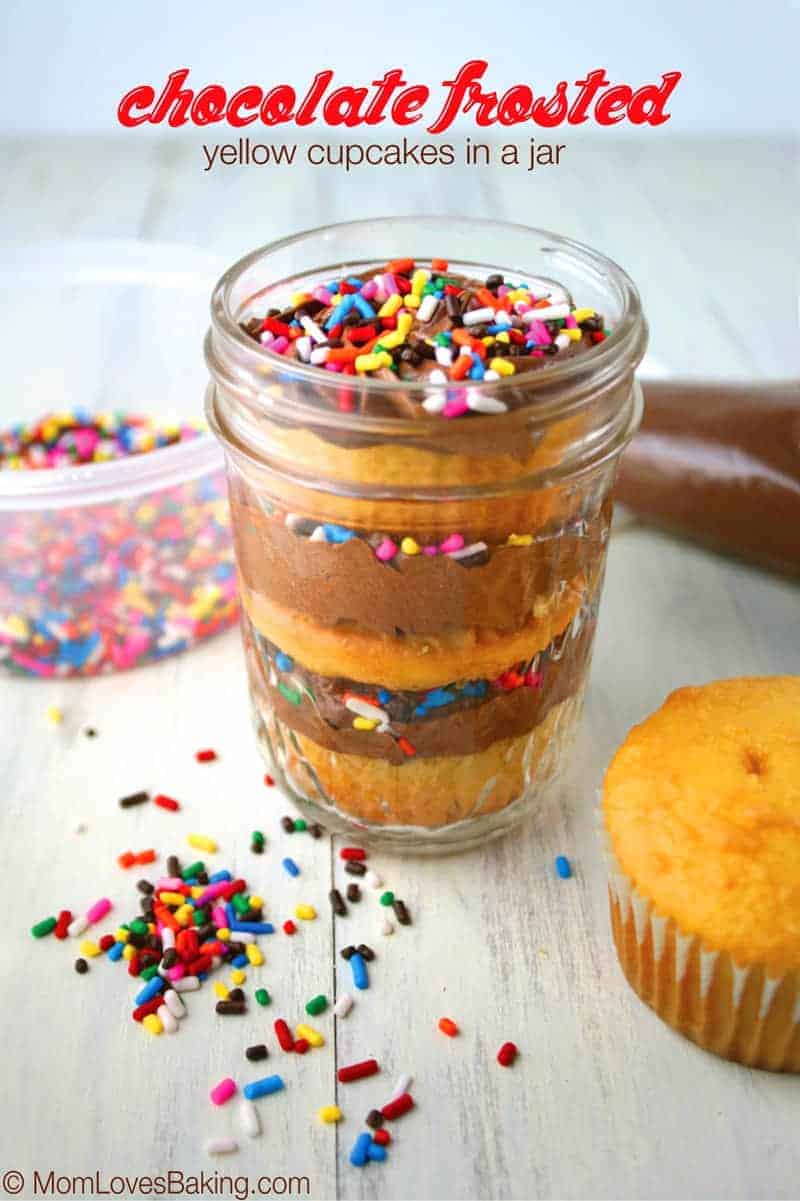 You can make as many jars as you need. In this case, I only needed one. So I frosted the rest of the cupcakes and brought to my daughter's youth group that night. If you wanted to make all of them in jars, then you would have 16 jars total.
I think this is such a fun gift. It would even make a cute party favor for a birthday party!
Print Recipe
Chocolate Frosted Yellow Cupcakes in a Jar
Servings:
16
cupcakes in jars
Ingredients
1

15.25 oz.432 g yellow cake mix, prepared according to package instructions

1 1/2

sticks unsalted butter

at room temperature

5 1/2

cups

powdered sugar

sifted

1 1/3

cups

unsweetened cocoa powder

sifted

1

cup

heavy cream

at room temperature (plus more if needed)

2

tablespoons

pure vanilla extract

16

8 oz. glass canning jars

Sprinkles

Ribbon
Instructions
Preheat oven to 350°F. Using standard sized muffin pans, place cupcake liners into 24 muffin cups. Set aside.

Prepare the cake mix according to package instructions. Pour batter into prepared muffin cups. You are making 24 cupcakes. Bake cupcakes according to package instructions. Let cool.

For the frosting:

Place butter in a medium bowl and beat with an electric mixer on medium speed for 2 minutes. With mixer on low speed, gradually add half of the sugar and cocoa powder, then half of the cream. Beat on low until combined. Add the remaining sugar, cocoa and cream. Add vanilla. Beat on low until combined. Then turn speed up to medium high and beat for 2-3 minutes. Frosting should be creamy and slightly shiny. If it's dull looking and too thick, add a little more cream. Try 1-2 more tablespoons, then beat again on medium for about 30 seconds. Repeat, if needed.

Pour frosting into a large pastry bag, fitted with a 1M pastry tip. You won't be able to fit it all in the bag at first, so fill the bag and then add more frosting when it starts running low.

To assemble cupcakes in the jars:

Cut the cupcakes in half horizontally. Place one cupcake half in the bottom of each jar. Pipe one layer of frosting on top. Add sprinkles. Repeat this process two more times. Place lid on top of jars and decorate with ribbon, if desired. Cupcakes will keep at room temperature for several days and up to a week in the refrigerator.

Frosting recipe adapted from SallysBakingAddiction.com