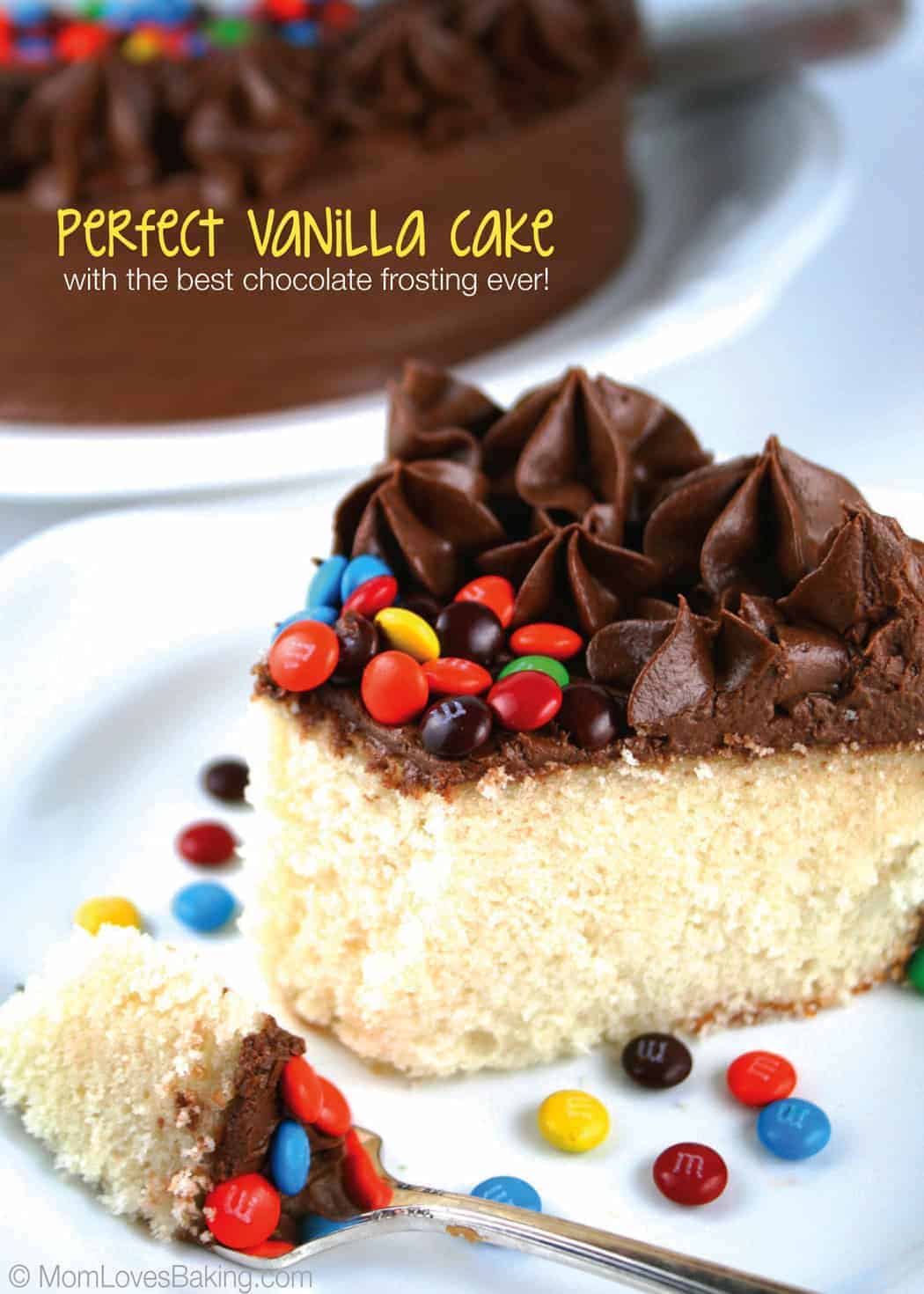 I'm not kidding when I say this might be the best cake I've ever made! Jay's birthday was yesterday and there is not one crumb left of this Perfect Vanilla Cake with The Best Chocolate Frosting Ever. And we only had 4 people at the "party". 2 of the people were our kids. I made a cake for my mother-in-law's birthday a couple of weeks ago and to be honest, I wasn't thrilled with how it came out. That's because I decided to make a cake from scratch. Something I only attempt once in awhile because it seems so difficult to get it right. I usually end up using a boxed mix that has been doctored up. But I had high hopes for this one. Her cake was made using an old recipe called a 1-2-3-4 cake that uses self-rising flour. I've always heard what a wonderful recipe it is. I should have known though. Cake flour is the only flour to use to get a nice, light texture on your cake. So, the 1-2-3-4 cake (made with self-rising flour) came out dry and dense. Not happy. So I was determined to find an awesome cake recipe. I found this one online and tweaked it a bit. The results were fabulous!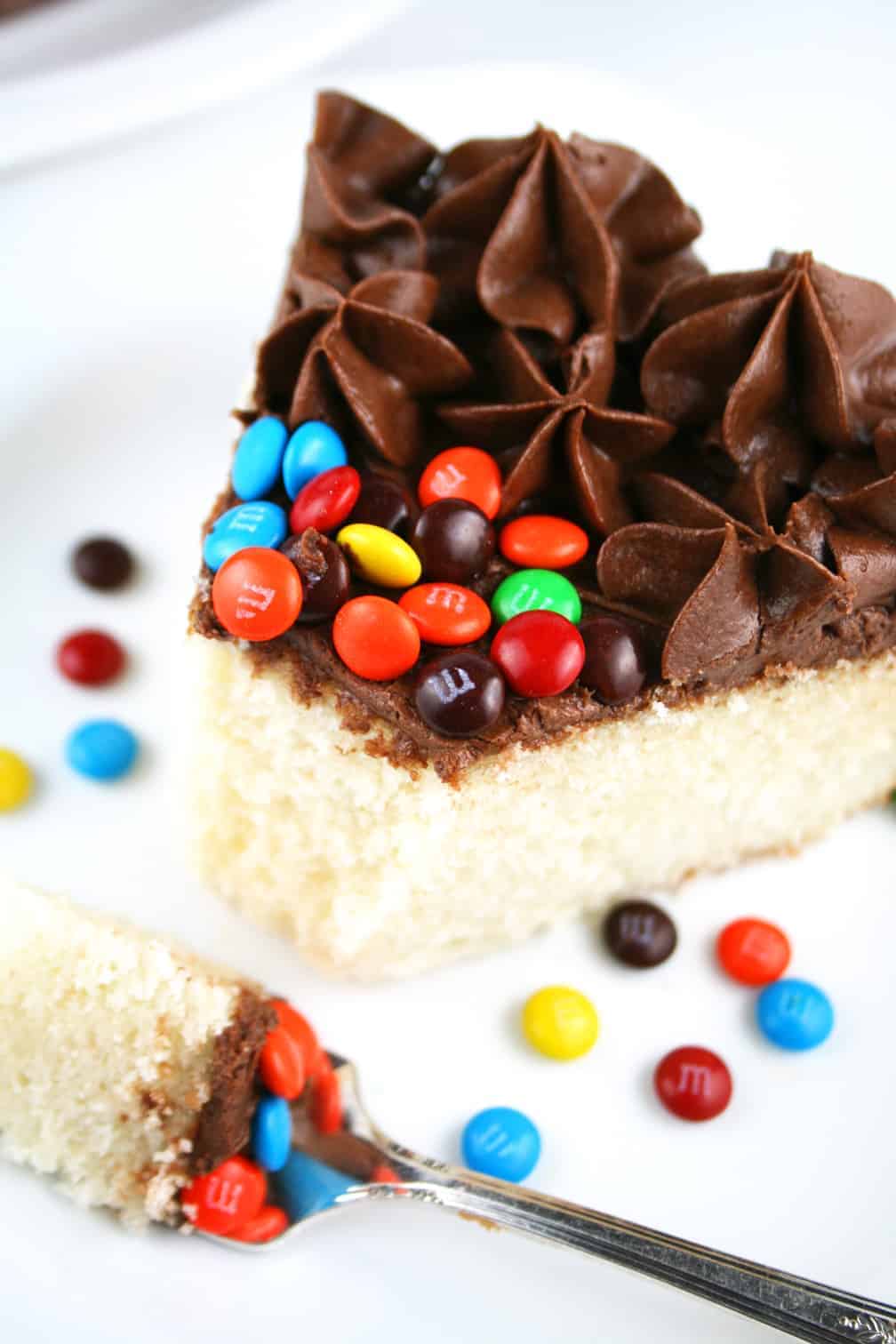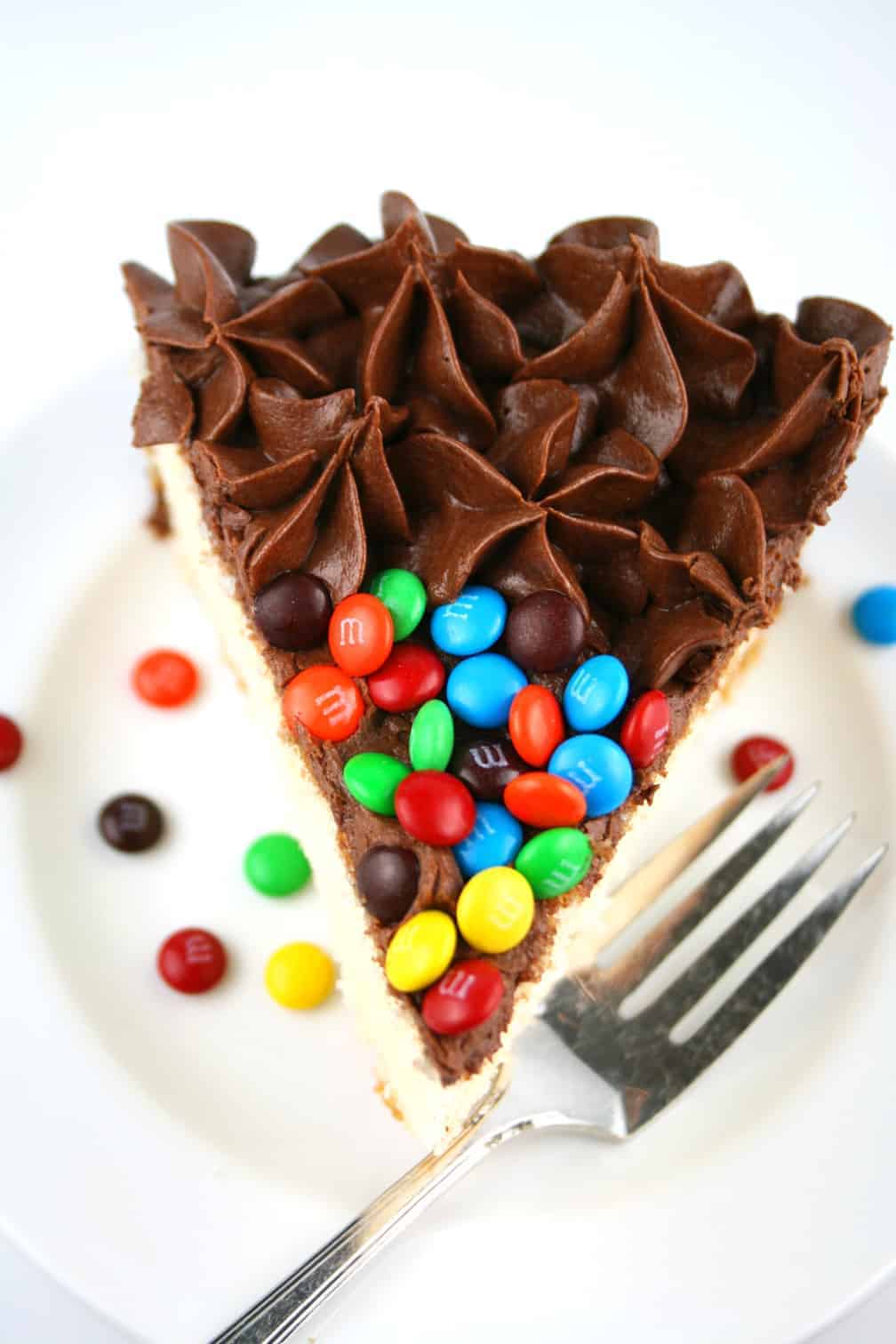 I actually made the cake itself last week and froze it. My daughter had a cake decorating class and I had to make one layer for her for that. The recipe makes 2 layers so I froze the 2nd layer. It's amazing how fresh a cake can stay if you wrap it in clear plastic wrap as soon as it has cooled. Then wrap it in aluminum foil. I do a couple of layers of aluminum foil if I'm going to store it for a couple of months. Anyway, I don't have step by step photos of the cake making but I promise to make it again and post those photos in the near future. In the meantime, I have included both recipes at the end of this post (cake and frosting).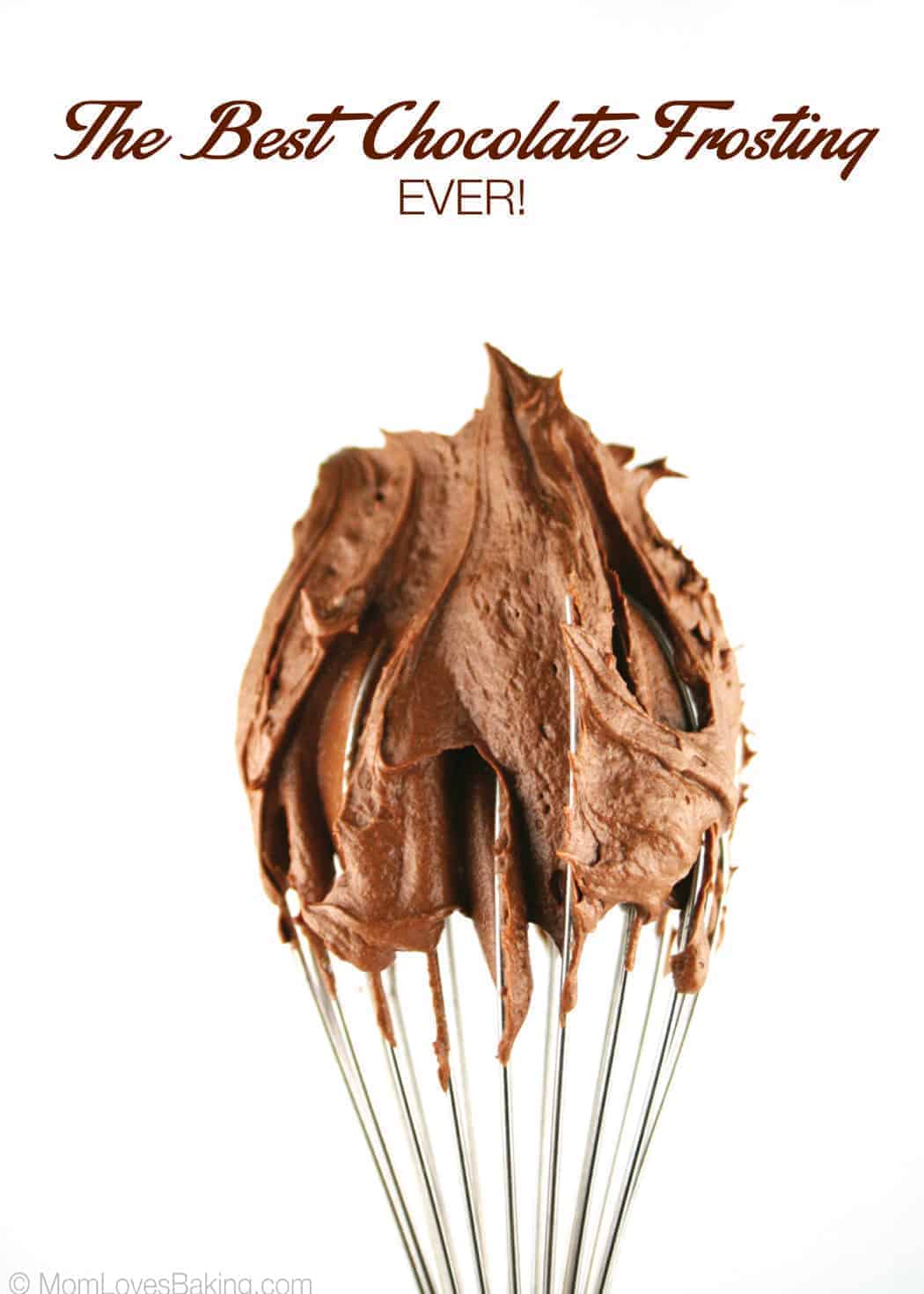 That brings me to the frosting. I love this frosting. It's just the perfect consistency and just the right amount of chocolate flavor. I've tried a lot of buttercream recipes with melted chocolate. They always end up too thick. This recipe uses cocoa powder and it comes out light and fluffy. It's good enough to eat right out of the bowl which I was extremely tempted to do.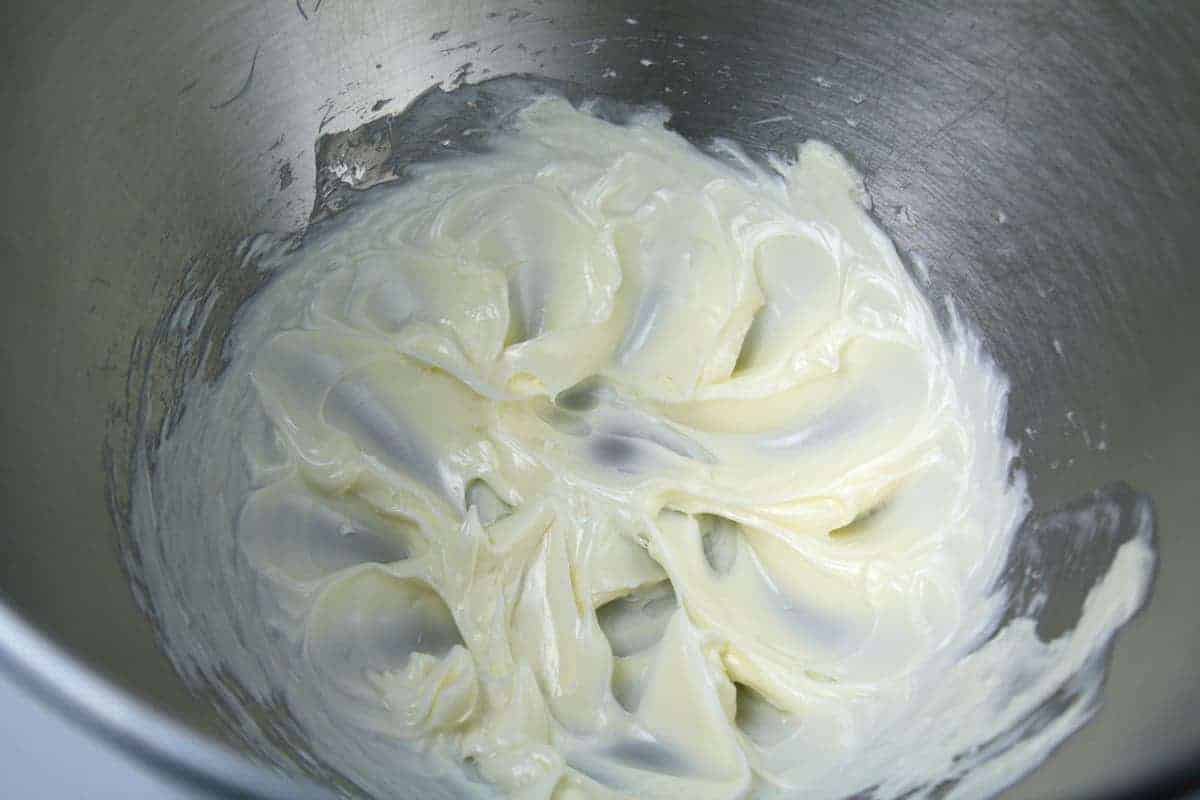 Start by creaming the softened butter on medium speed for 2 minutes.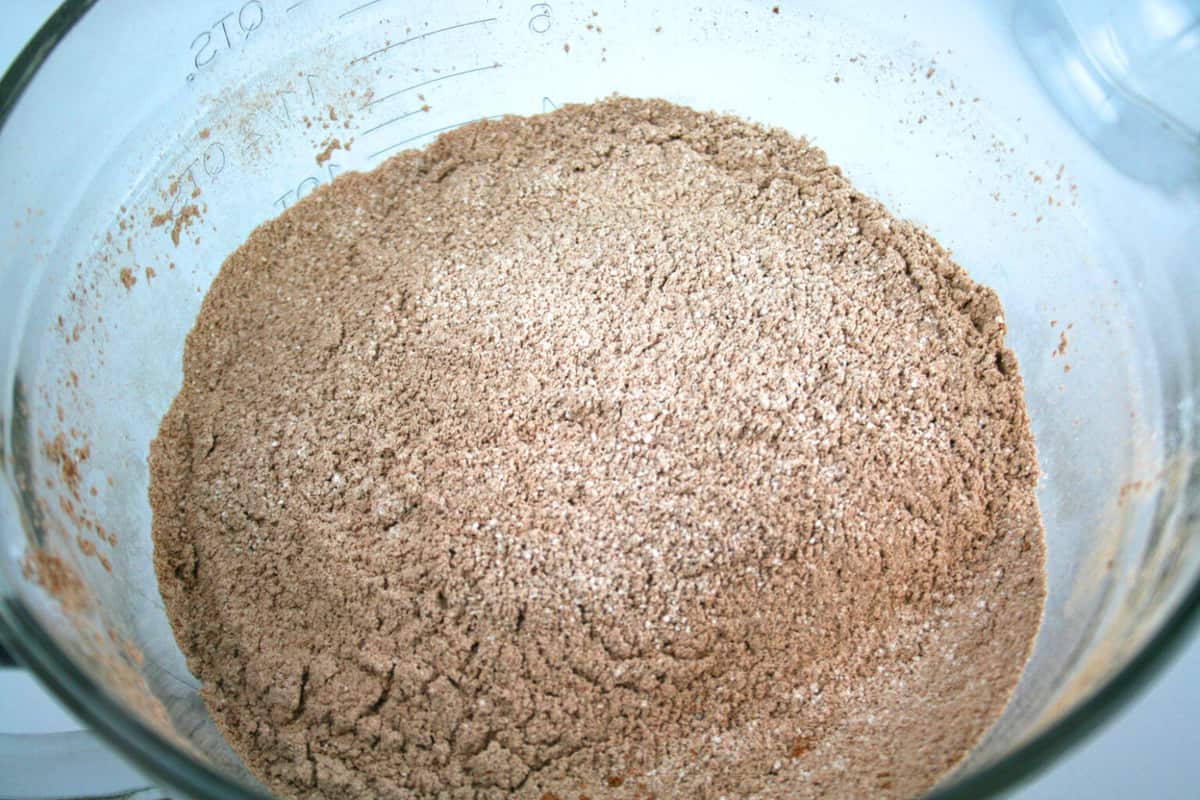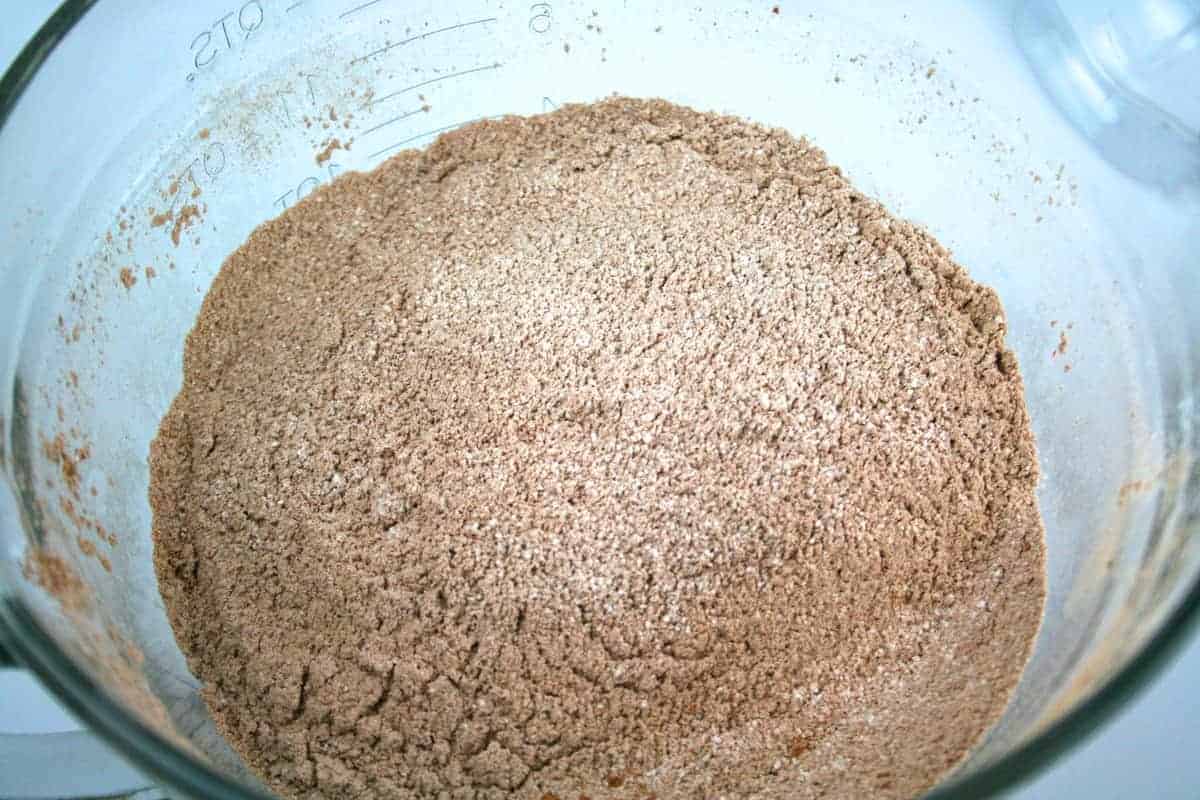 Gradually add sifted sugar, cocoa powder, cream and vanilla. Then beat again for 2-3 minutes.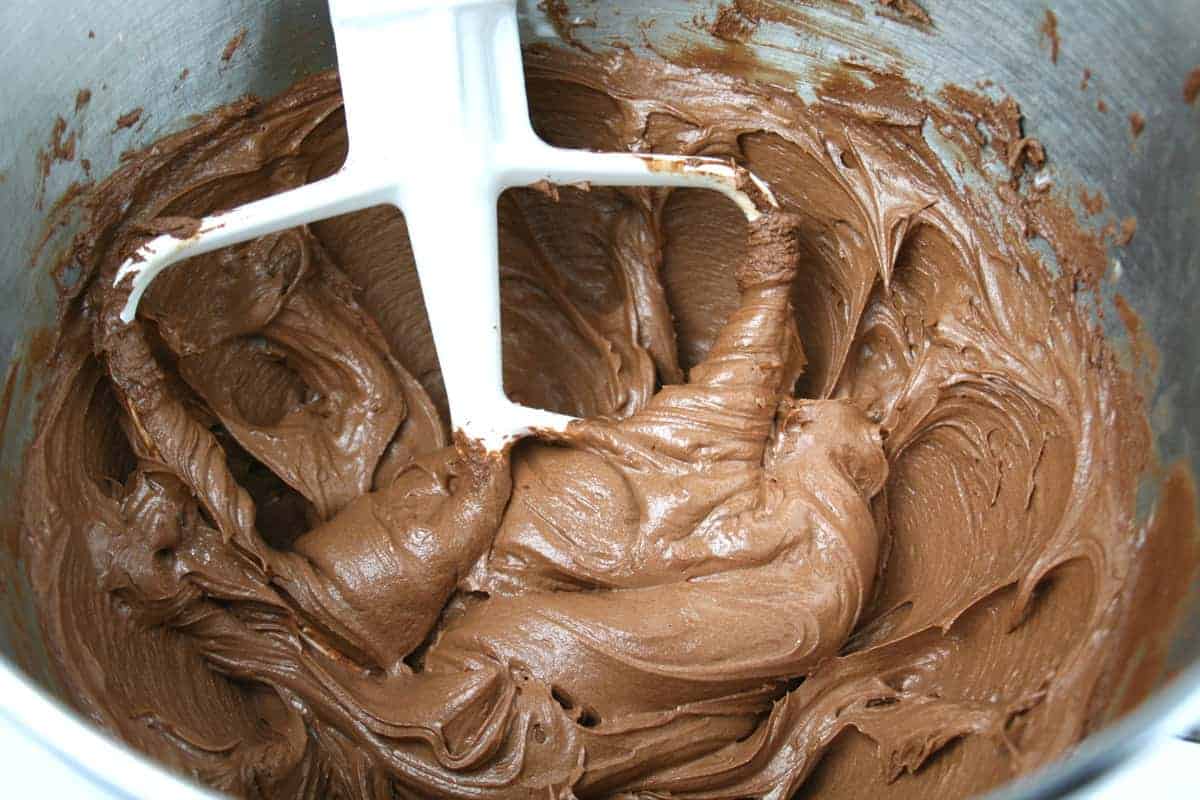 It comes out so smooth and creamy and shiny. If it's not shiny, then add a little more cream.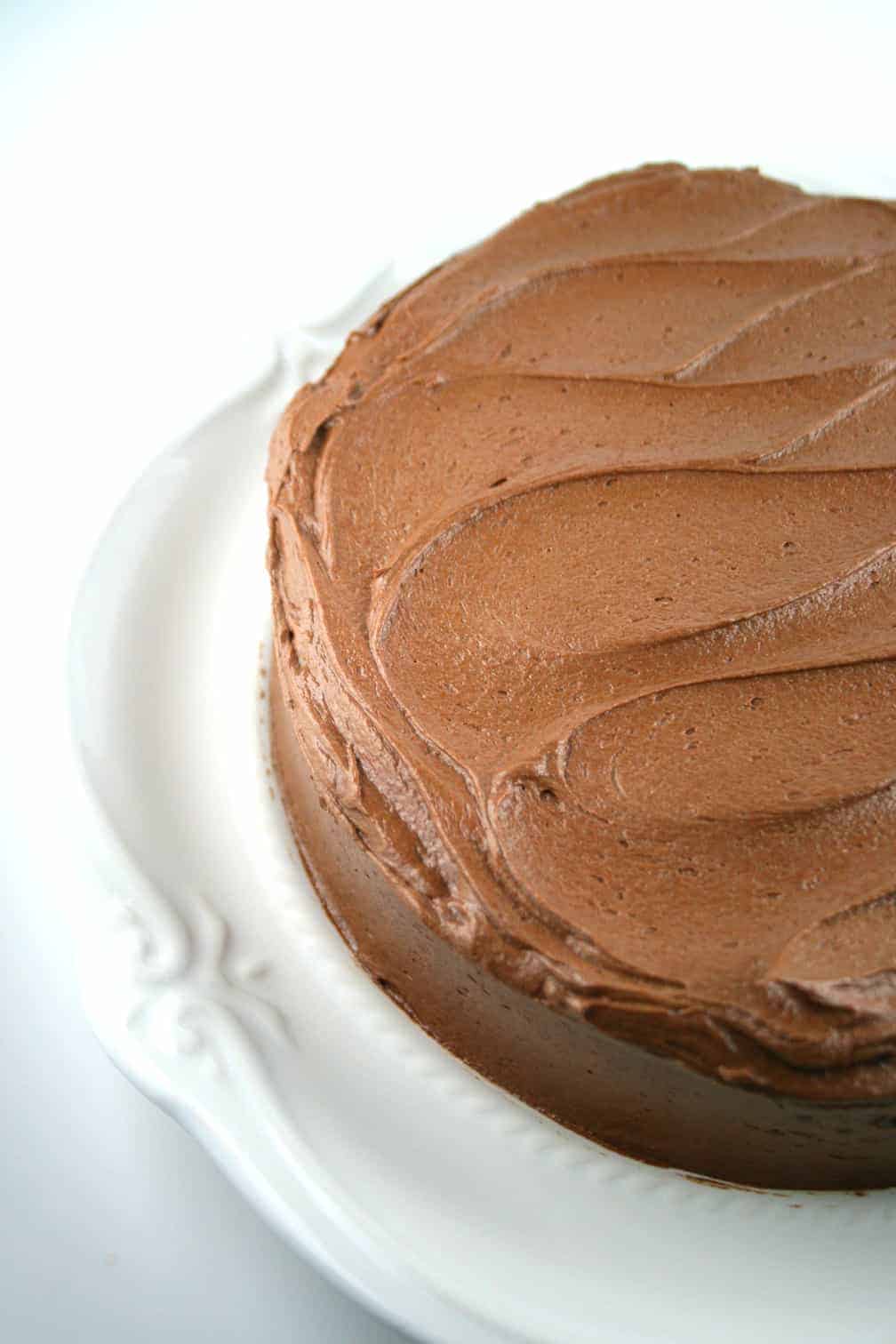 It's such a wonderful spreading consistency too.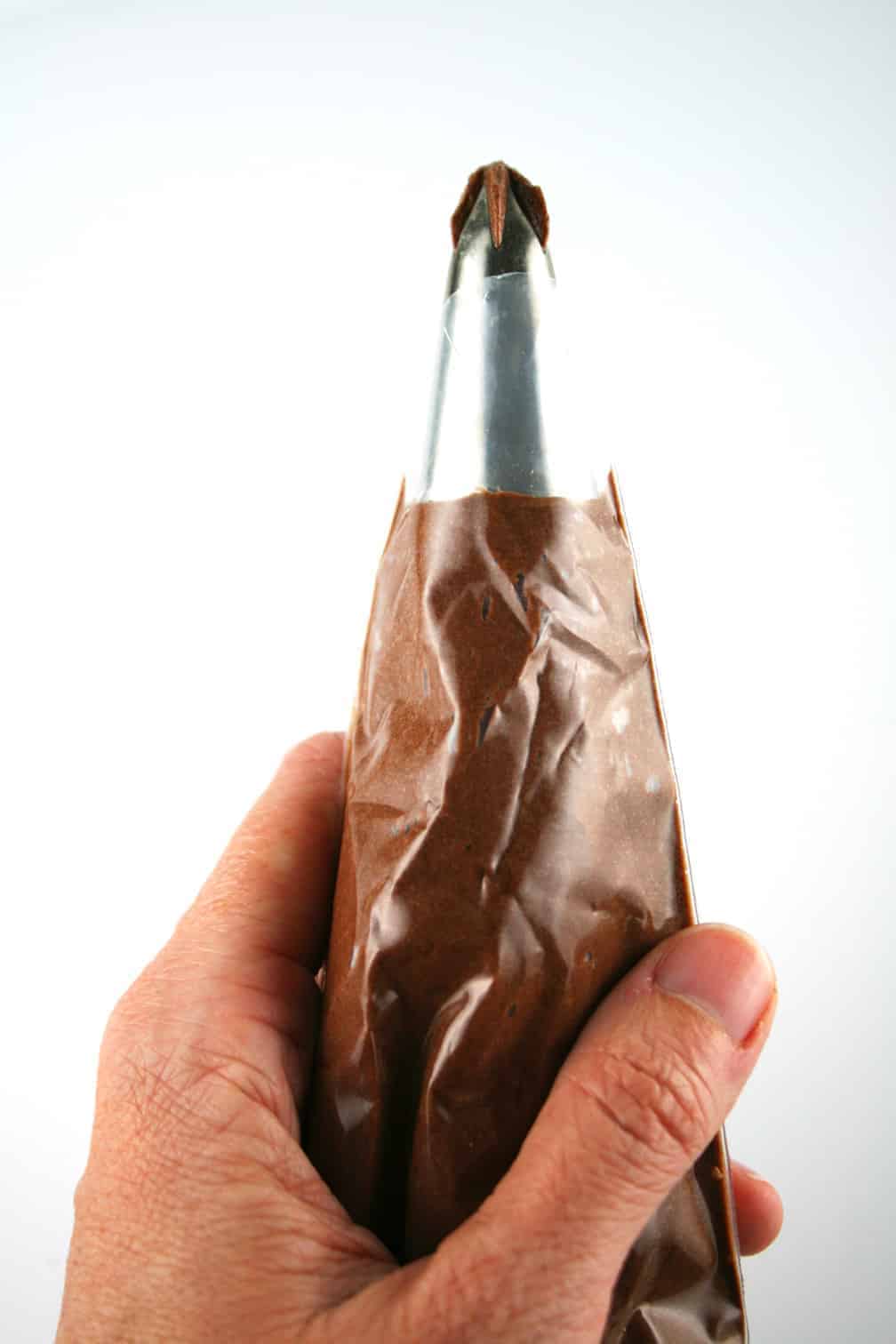 I used a 16-inch pastry bag with a 1M tip.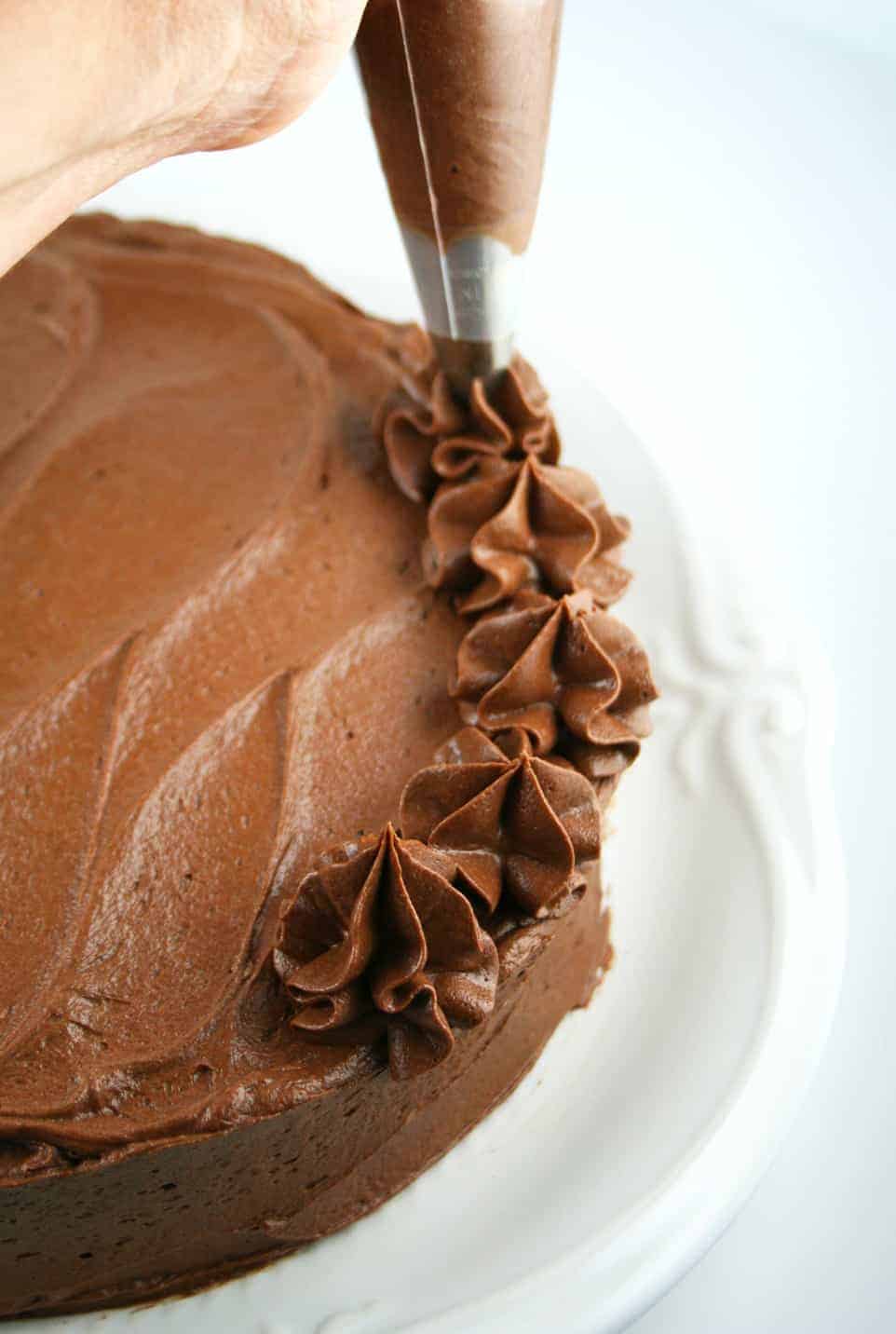 The 1M tip is my favorite! I added M&Ms for color.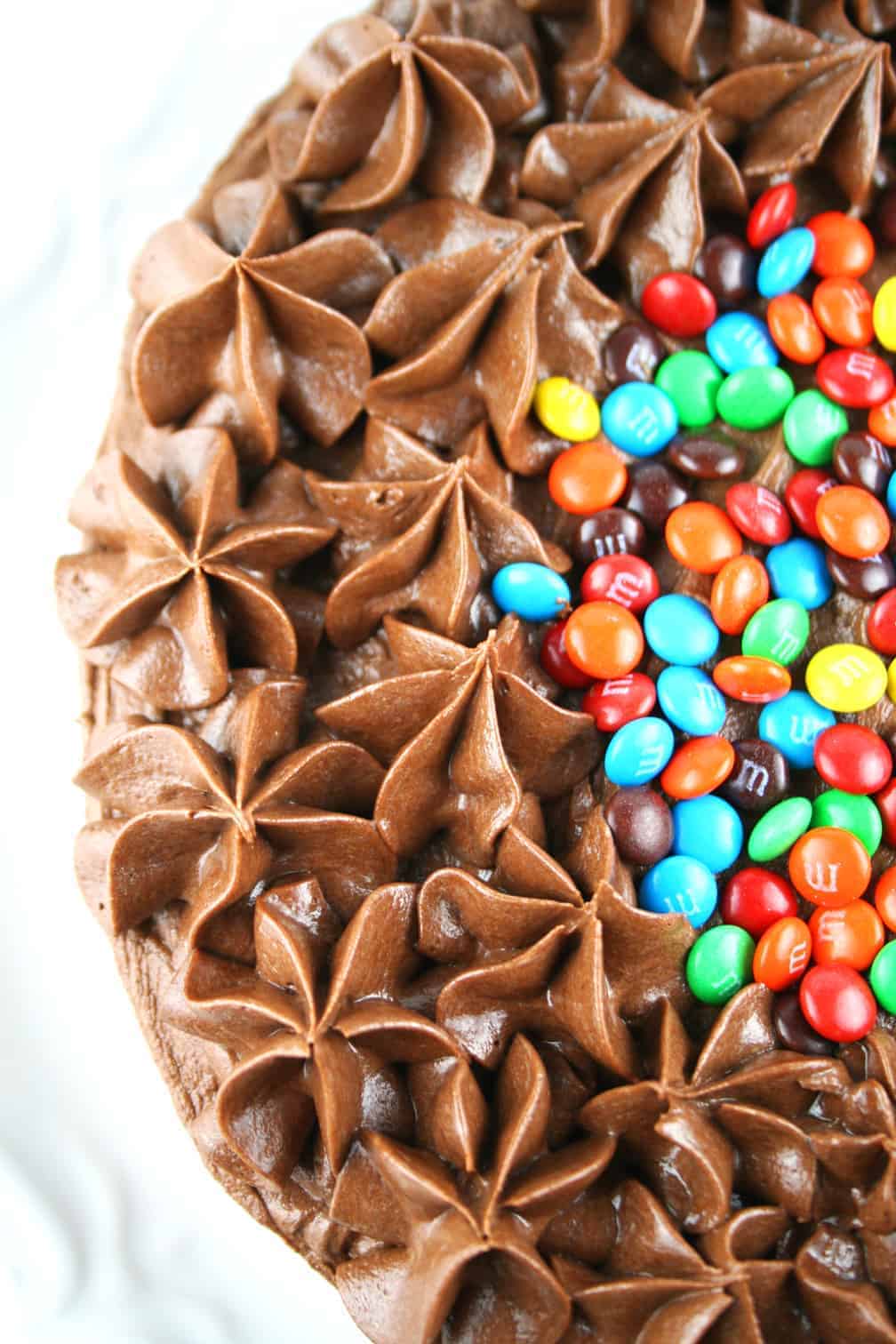 Did I mention that this is the Perfect Vanilla Cake with the Best Chocolate Frosting Ever? You just have to try it.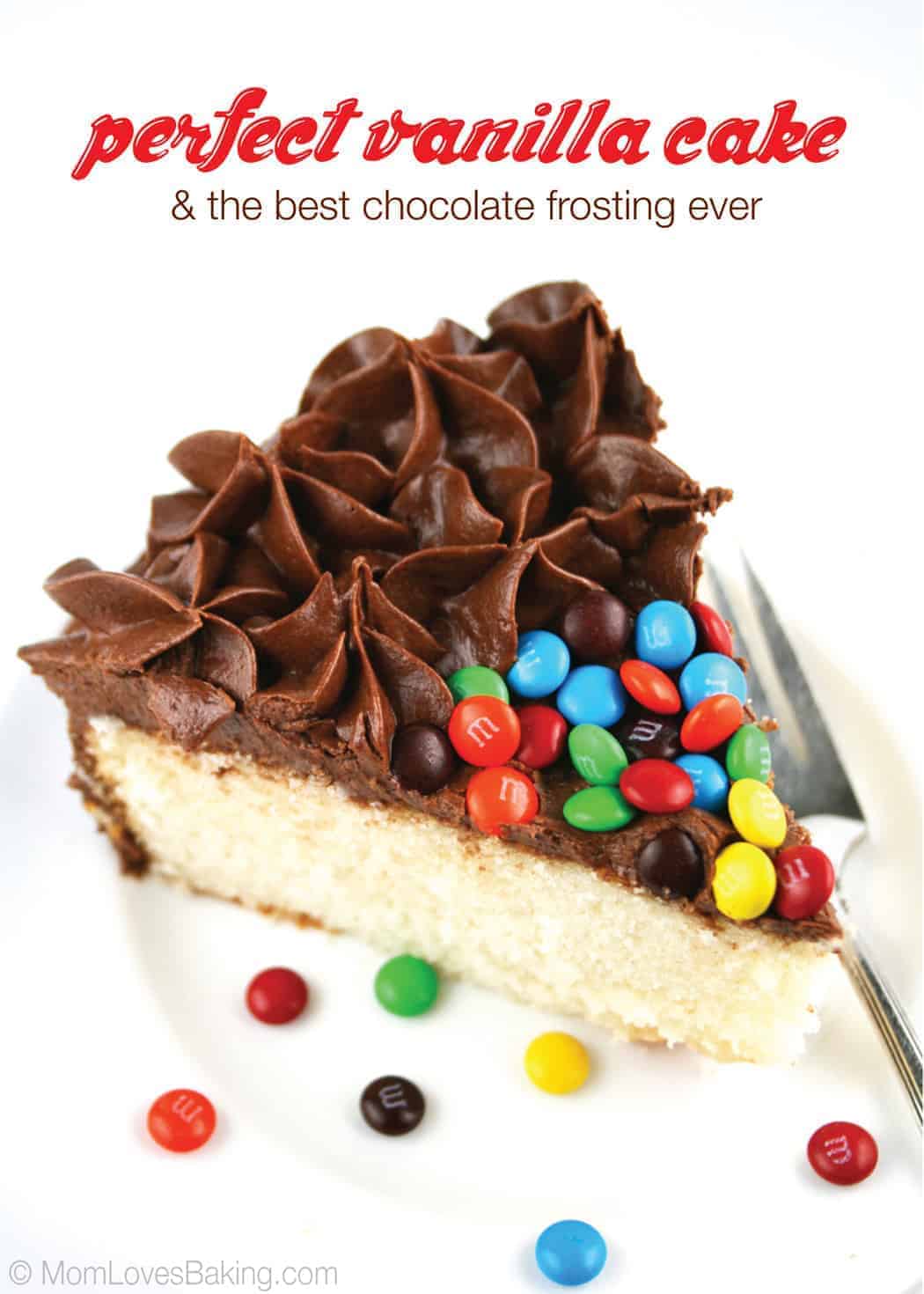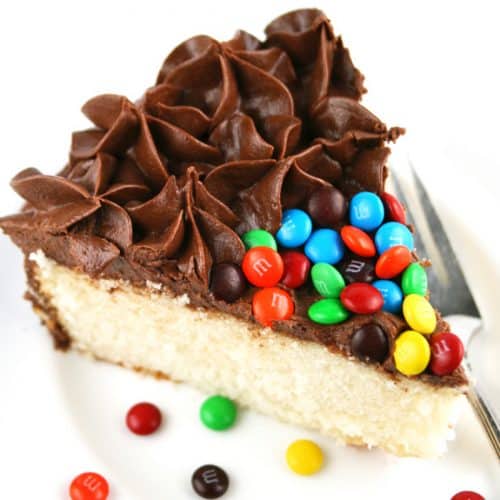 Perfect Vanilla Cake with the Best Chocolate Frosting Ever
I'm not kidding when I say this might be the best cake I've ever made! Vanilla cake with the "opposite" chocolate frosting makes the best cake for birthdays.
Print
Pin
Rate
Instructions
For the cake:
Preheat oven to 350°F. Prepare 2 round 8-inch cake pans by brushing with homemade pan release* (goop), lining with parchment rounds and brushing on more goop.

Combine the milk, cream and vanilla in a small bowl. Set aside. In a large measuring cup, add the egg and egg whites. Stir to combine. Set aside.

Place dry ingredients in medium bowl. With an electric mixer on low, combine the dry ingredients (about 20 seconds).

Take the butter out of the refrigerator. With the mixer on low, add the butter, one cube at a time. Mix on low until you have achieved fine crumbs.

With mixer on low, add the milk, cream and vanilla mixture. Continue to mix on low for 5 minutes Then gradually add the eggs in several batches. Mix on low for 3 more minutes.

Pour batter into prepared pans with equal amounts in each pan. Bake for 30 minutes or until a toothpick inserted in center comes out clean (a few crumbs on toothpick is ok). DO NOT OVERBAKE! Let cakes cool in the pans for 15 minutes. Then remove from pans and cool completely on cooling racks. Frost when cooled. Store in an airtight container at room temperature for 1-2 days. To keep it fresh longer, store in airtight container in the refrigerator.

*Goop is homemade pan release. You can easily make it by combining ½ cup vegetable shortening (such as Crisco), ½ cup vegetable oil and ½ cup flour in the bowl of an electric mixer. Beat on medium speed until smooth and creamy. Brush on pans to prevent sticking. Store in the refrigerator in an airtight container for months. Or you can use non-stick cooking spray. To cut the parchment circles, place a clean pan on top of parchment paper. Use a sharpee marker to trace the outer edge of pan onto paper. Cut with scissors.
For the frosting:
Place butter in a medium bowl and beat with an electric mixer on medium speed for 2 minutes. With mixer on low speed, gradually add half of the sugar and cocoa powder, then half of the cream. Beat on low until combined. Add the remaining sugar, cocoa and cream. Add vanilla. Beat on low until combined. Then turn speed up to medium high and beat for 2-3 minutes. Frosting should be creamy and slightly shiny. If it's dull looking and too thick, add a little more cream. Try 1-2 more tablespoons, then beat again on medium for about 30 seconds. Repeat, if needed.
Notes
Cake recipe adapted from Sweetapolita.com
Goop recipe adapted from Iambaker.net
Frosting recipe adapted from SallysBakingAddiction.com
Note: This recipe makes 2 layers of cake and enough frosting to fill and frost the 2 layers.
Nutrition
Calories:
804
kcal
|
Carbohydrates:
119
g
|
Protein:
8
g
|
Fat:
36
g
|
Saturated Fat:
22
g
|
Polyunsaturated Fat:
2
g
|
Monounsaturated Fat:
10
g
|
Trans Fat:
1
g
|
Cholesterol:
102
mg
|
Sodium:
192
mg
|
Potassium:
386
mg
|
Fiber:
4
g
|
Sugar:
88
g
|
Vitamin A:
1165
IU
|
Vitamin C:
1
mg
|
Calcium:
116
mg
|
Iron:
2
mg