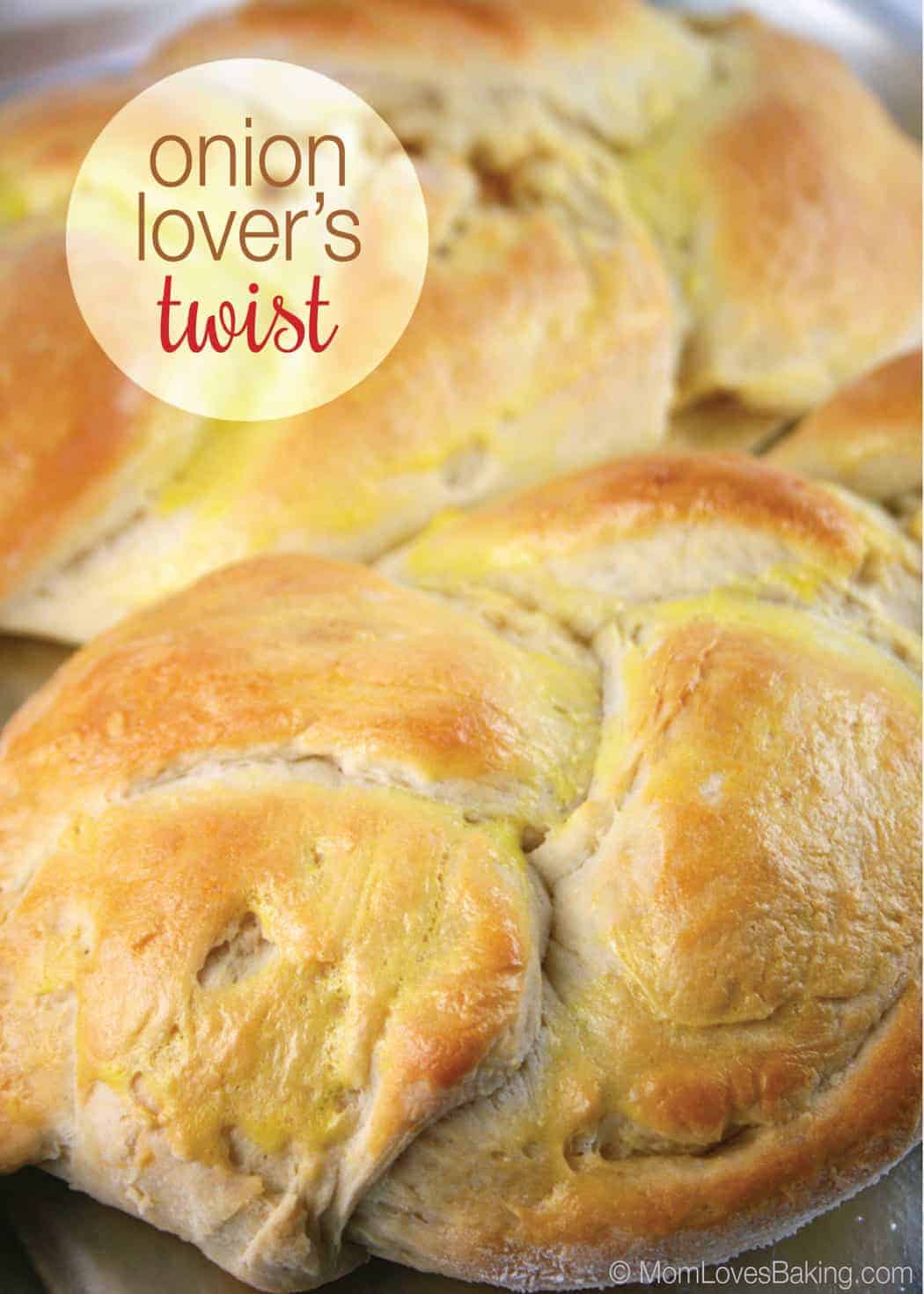 Onion Lover's Twist won the 21st Pillsbury Bake-Off in 1970. Recipe on Pillsbury.com by Nan Robb of Huachucha City, Arizona.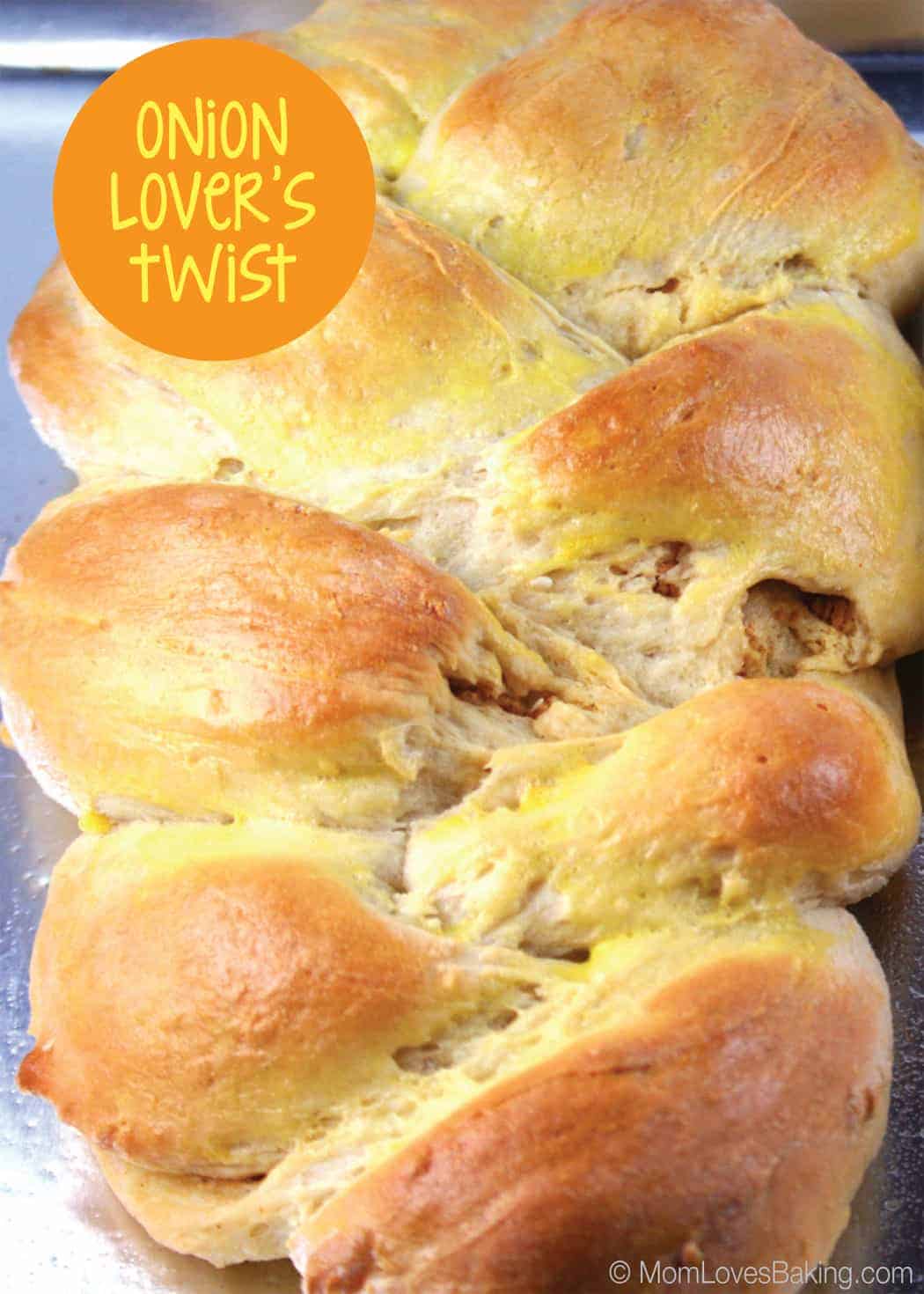 Ok, I confess, I wasn't very excited to make this recipe. Just because a savory bread recipe isn't at the top of my list. But I was pleasantly surprised by this bread. It's really tasty. I think it's actually one of my favorite recipes so far in this baking project. I served it for a dinner party and it was a huge hit!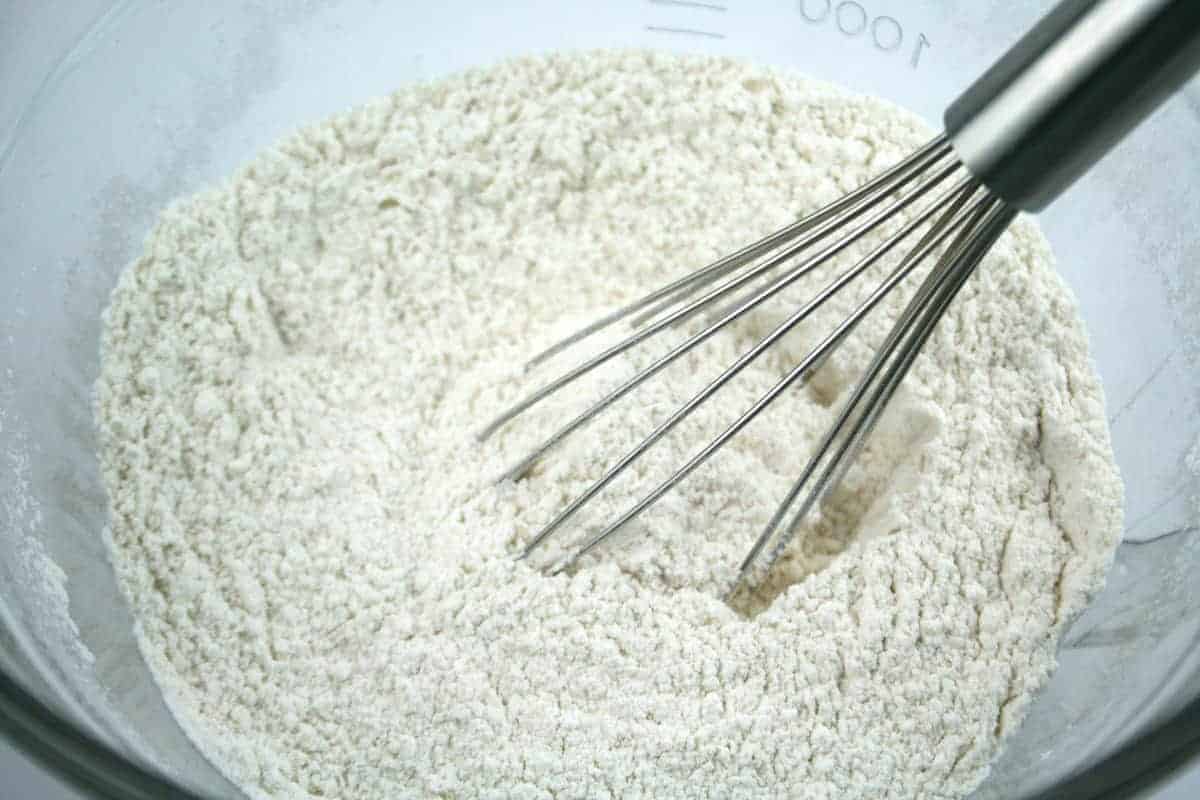 Start by combining the flour, sugar, salt and yeast in a large bowl. Mix well.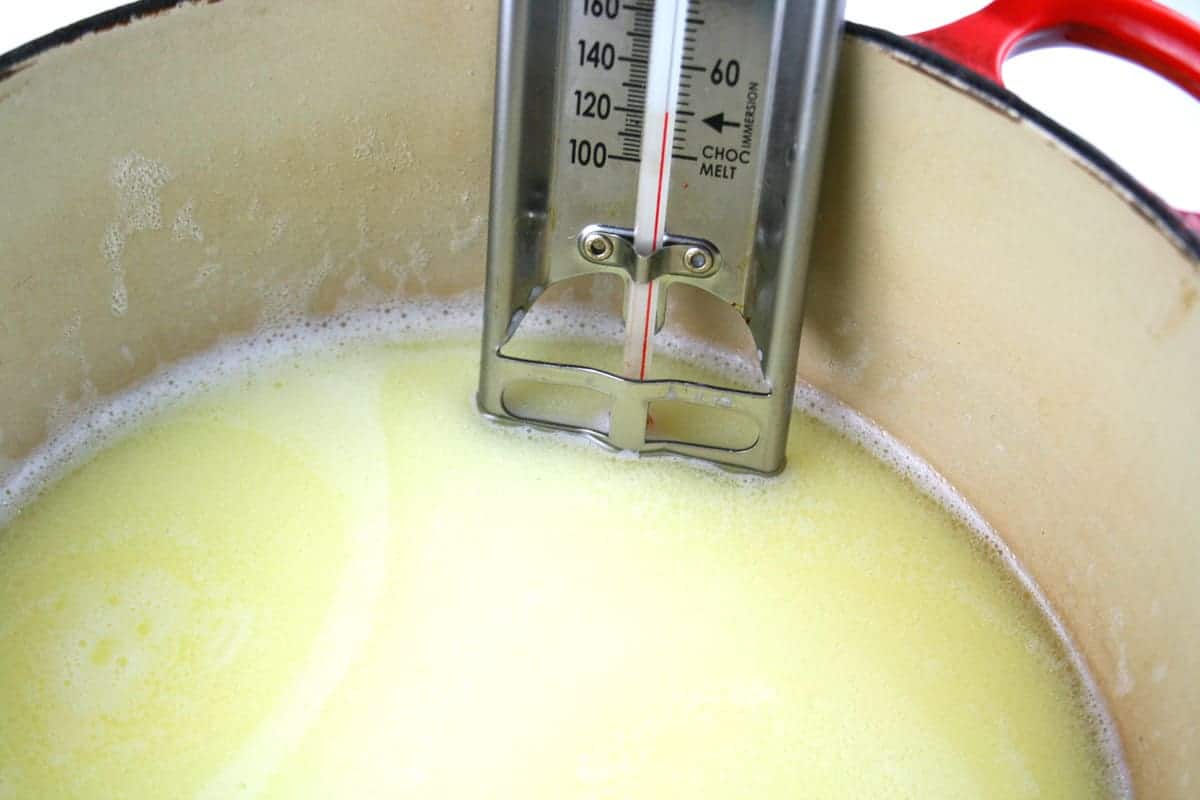 Then you heat the milk, water and margarine until very warm (about 130°F.). It's important to use a thermometer for this. The yeast will not work if it gets too hot.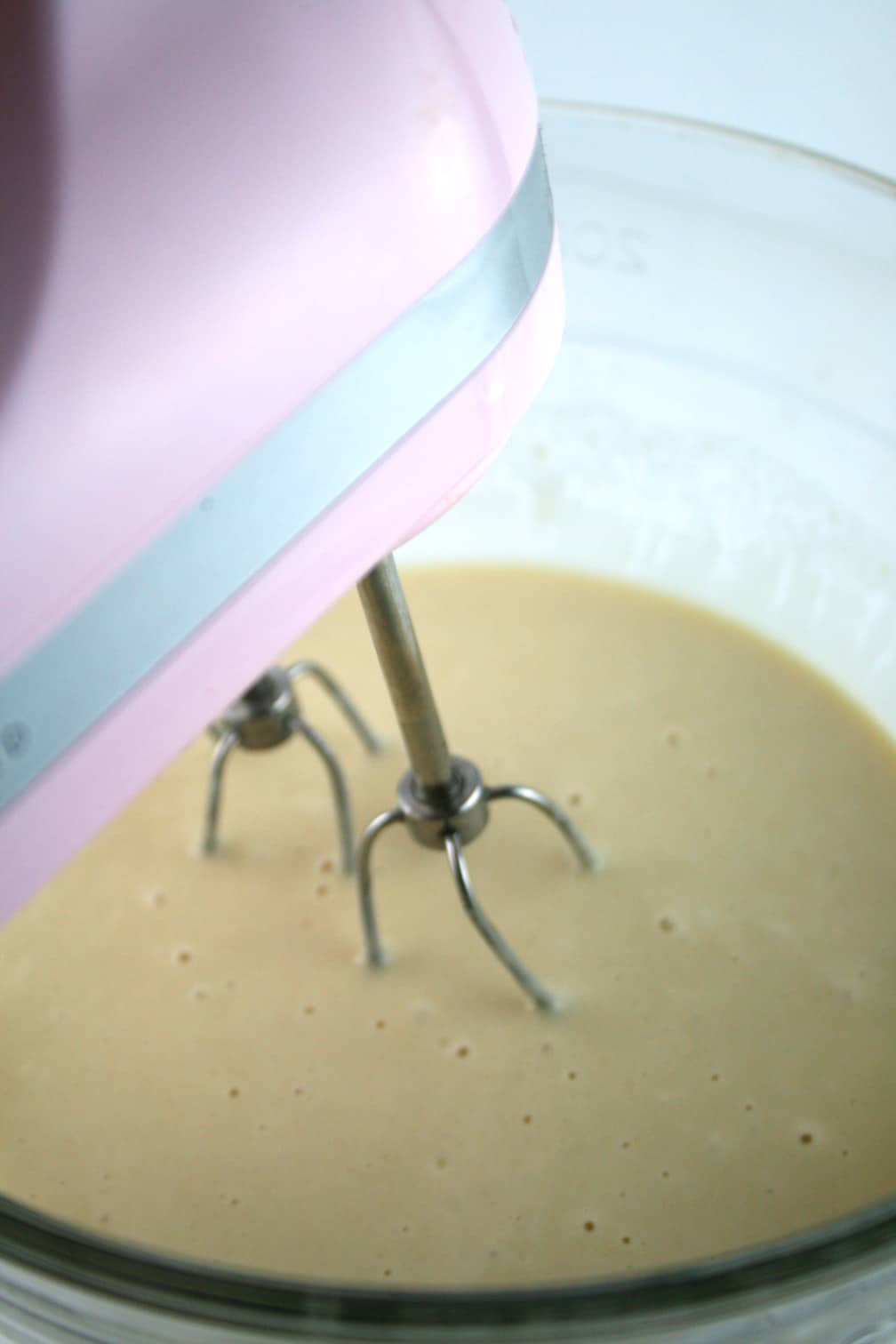 Add the warm liquid and an egg to the flour mixture. Mix at low speed until moistened, then mix on medium for 3 minutes.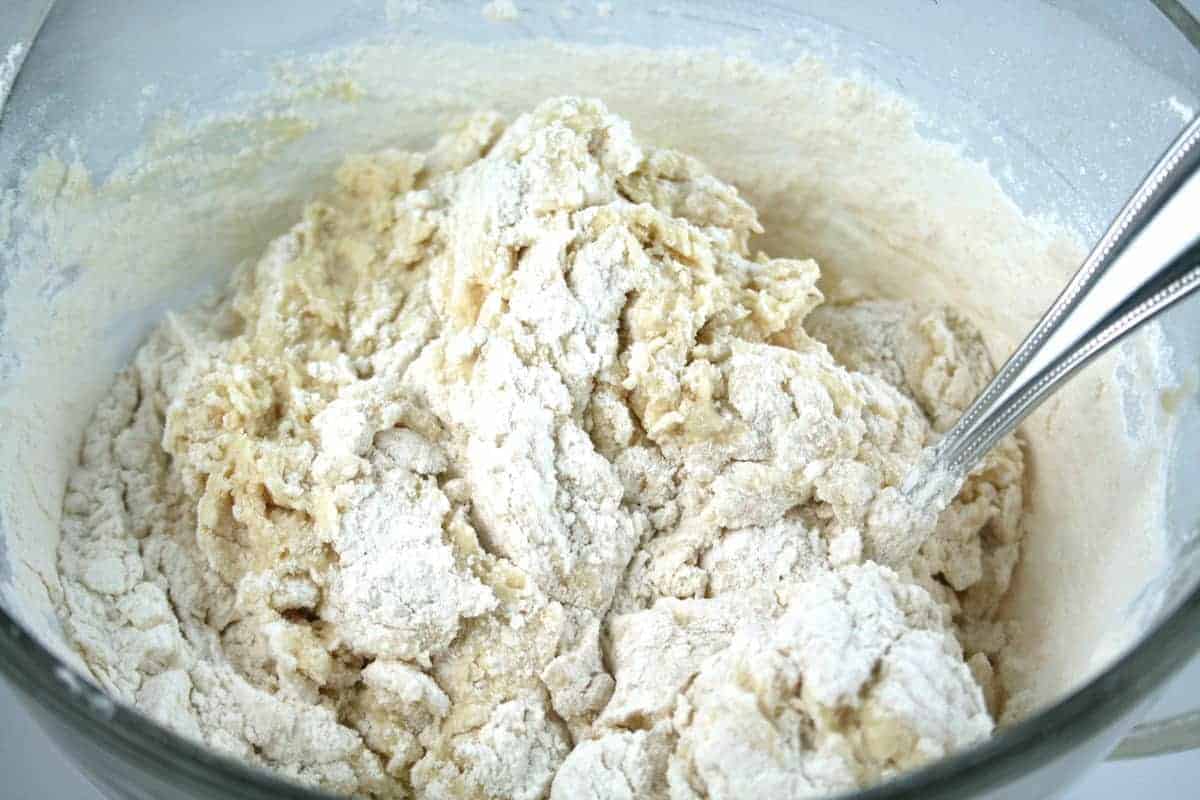 Stir in the remaining flour to form a soft dough. Cover loosely with greased plastic wrap and a cloth towel. Let rise in a warm place until doubled (about 1 hour).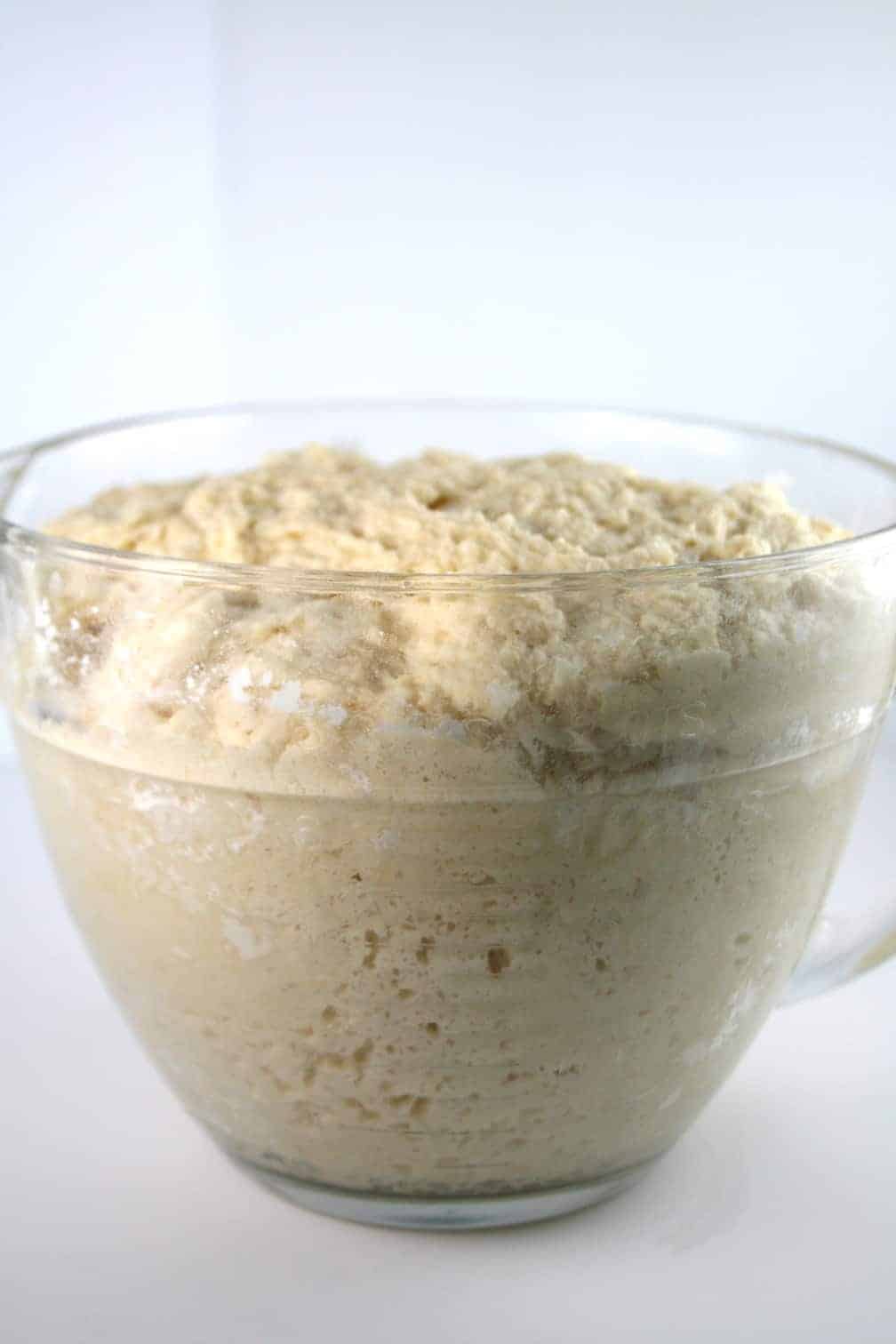 This dough rises very nicely!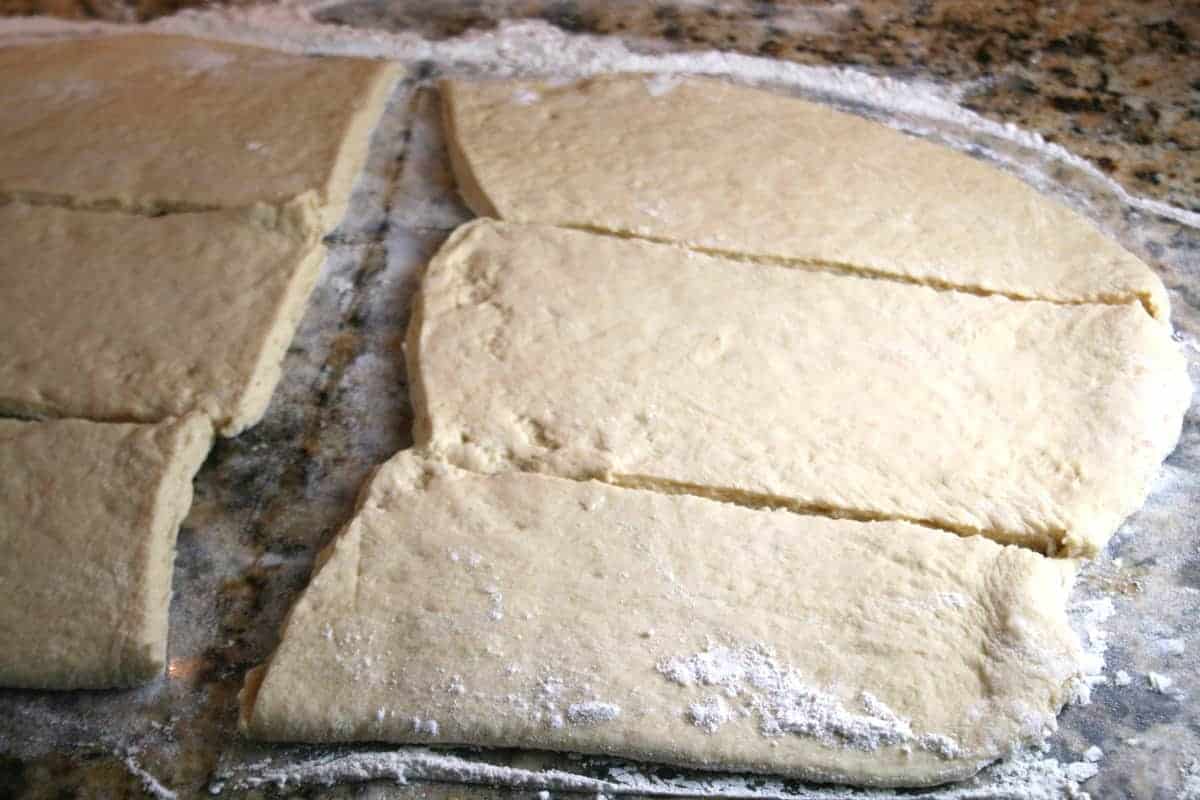 Punch down the dough, then roll out on a floured surface to create a 18×12-inch rectangle. Cut in half, crosswise. Cut each rectangle into three 9×4-inch strips.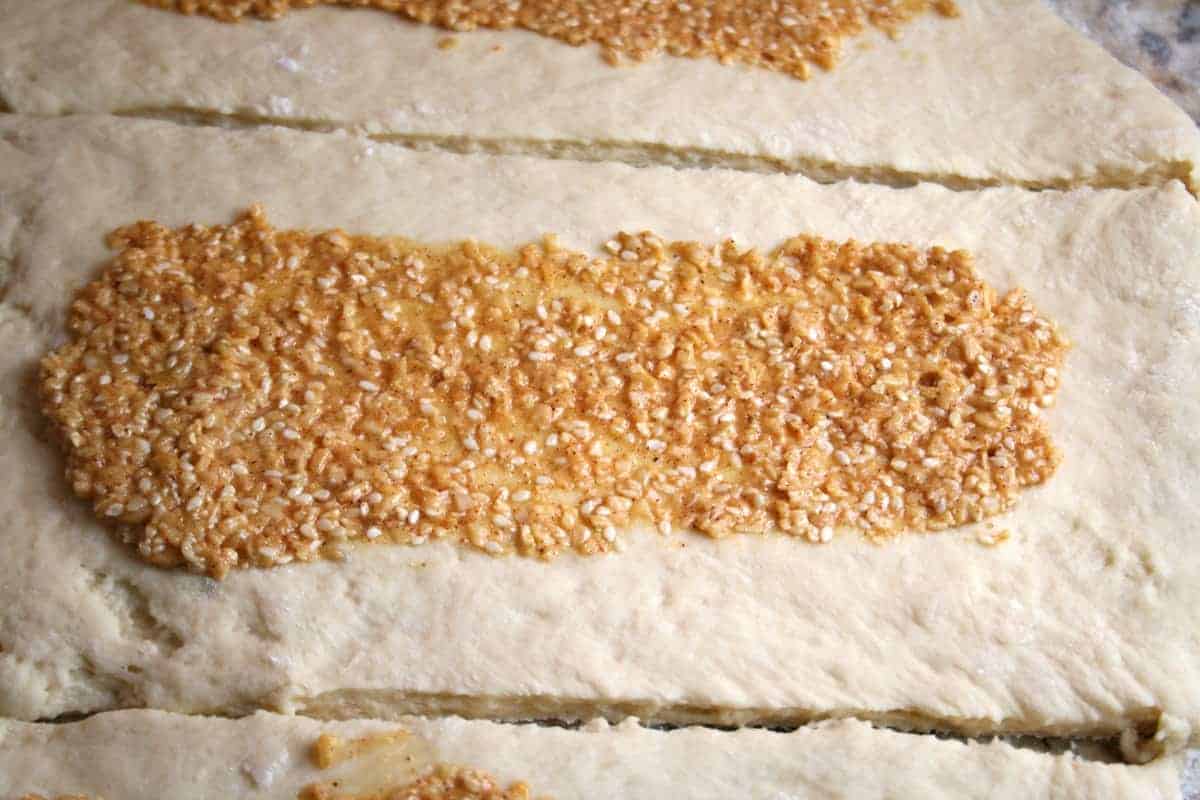 Mix together the filling ingredients, then spread 2 tablespoons on each rectangle. Fold the dough in half lengthwise and pinch edges together.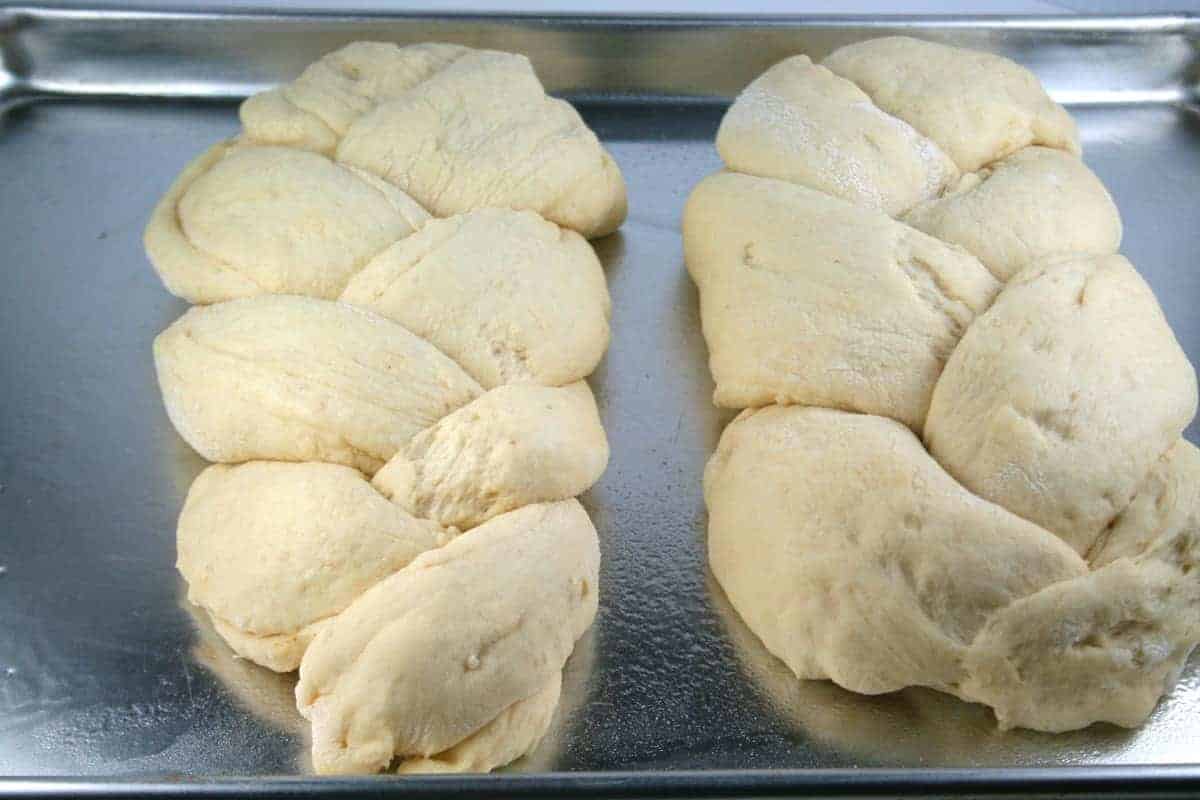 Braid three rolls together on a greased cookie sheet, then braid the remaining three.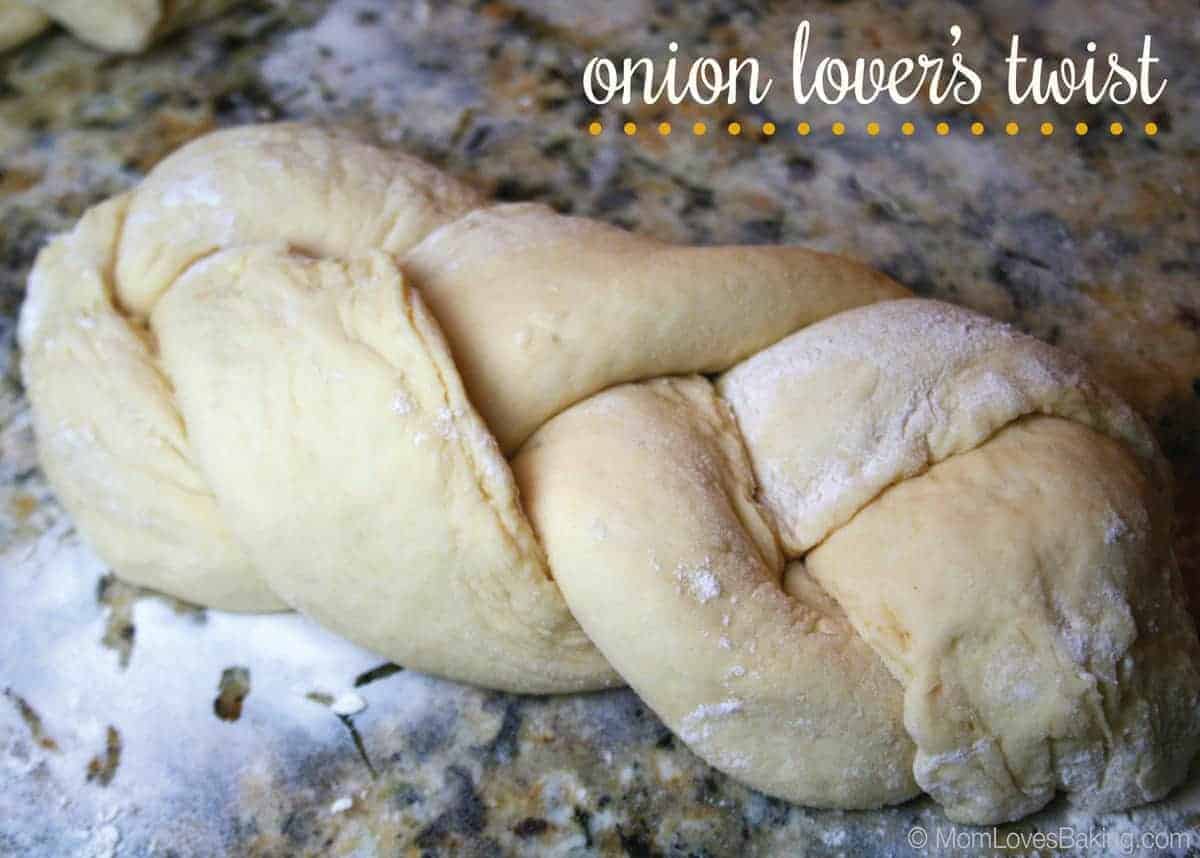 PInch the ends together. Then cover and let rise for about 30 minutes.
I brushed the dough with egg to give it a little shine and color.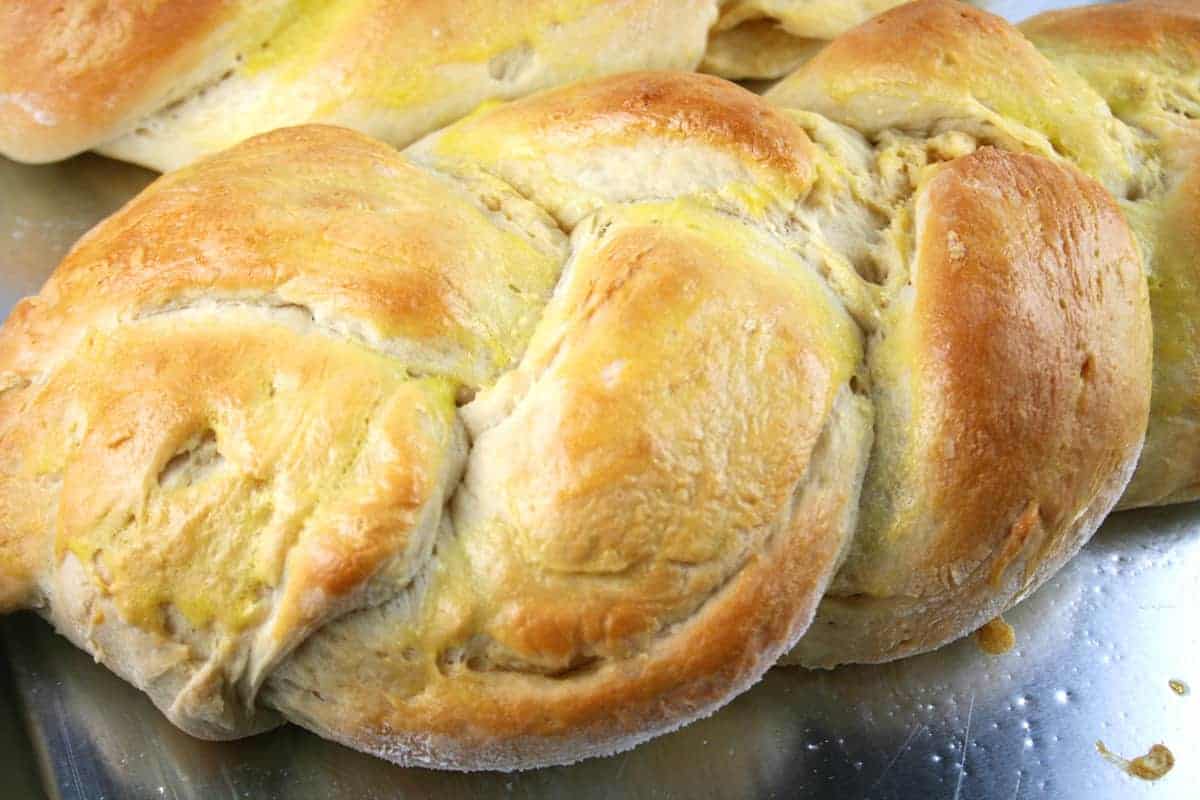 The bread is crispy on the outside and soft on the inside. The onion filling gives it an extra kick. Great for a dinner party!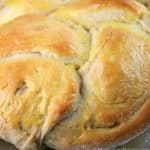 Print Recipe
Onion Lover
Ingredients
Recipe courtesy of Pillsbury®

Bread

3 1/2 to 4 1/2

cups

Pillsbury BEST® All Purpose or Unbleached Flour

1/4

cup

sugar

1 1/2

teaspoons

salt

1

pkg. active dry yeast

3/4

cup

water

1/2

cup

milk

1/4

cup

margarine or butter

1

egg

Filling

1/4

cup

margarine or butter

1

cup

finely chopped onions or 1/4 cup instant minced onion

1

tablespoon

grated Parmesan cheese

1

tablespoon

sesame or poppy seed

1/2 to 1

teaspoon

garlic salt

1

teaspoon

paprika
Instructions
Lightly spoon flour into measuring cup; level off. In large bowl, combine 2 cups flour, sugar, salt and yeast; mix well. In small saucepan, heat water, milk and 1/4 cup margarine until very warm (120° to 130°F.). Add warm liquid and egg to flour mixture; blend at low speed until moistened. Beat 3 minutes at medium speed.

By hand, stir in remaining 1 1/2 to 2 1/2 cups flour to form a soft dough. Cover loosely with greased plastic wrap and cloth towel. Let rise in warm place (80 to 85°F.) until light and doubled in size, 45 to 60 minutes.

Grease large cookie sheet. Melt 1/4 cup margarine in small saucepan; stir in all remaining filling ingredients.

Stir down dough to remove all air bubbles. On floured surface, toss dough until no longer sticky. Roll dough into 18x12-inch rectangle. Cut rectangle in half crosswise to make two 12x9-inch rectangles; cut each rectangle into three 9x4-inch strips.

Spread about 2 tablespoons onion mixture over each strip to within 1/2-inch of edges. Bring lengthwise edges of each strip together to enclose filling' pinch edges and ends to seal.

On greased cookie sheet, braid 3 rolls together; pinch ends to seal. Repeat with remaining 3 rolls for second loaf. Cover; let rise in warm place until light and doubled in size, 25 to 30 minutes.

Heat oven to 350°F. Uncover dough.* Bake 27 to 35 minutes or until golden brown and loaves sound hollow when lightly tapped. Immediately remove from cookie sheet; cool on wire racks for 1 hour or until completely cooled.

*Note: I brushed the dough with a little bit of egg wash before baking. This is not in the original recipe from Pillsbury. To make an egg wash, crack an egg into a small bowl and beat it a bit. Brush a light coating onto braided loaves of dough right before you put them into the oven. (You will not use all of the egg, so don't put too much. You just want the bread to have a nice shiny color when it's baked.)