My mom and stepdad came to visit over the weekend. And since her birthday was on the 3rd, I wanted to make her a birthday dessert. She can't have gluten or dairy so it's a little bit of a challenge trying to figure out what to make for her. I searched the files and found my favorite dairy free chocolate pie recipe. It came from Alton Brown a few years ago. He actually demonstrated how to make it on the Dr. Oz show, so you know it's healthy. I thought it would be easily converted to a gluten free recipe by making my own crust. And I added some raspberries for color.
I found gluten free chocolate sandwich creme cookies at Whole Foods which I mixed with melted Earth Balance for the crust. The filling is made with silken tofu and melted dairy free chocolate chips, so you get a heatlhy amount of protein in each serving. Bonus! This Chocolate Raspberry Gluten Free Tart was a hit and perfect for a little birthday celebration.
These are the cookies I used. I found them at Whole Foods. They had several different brands of gluten free cookies, but I chose these because they were dairy free as well.
To make the crust, crush 28 cookies in a food processor or place in a large resealable plastic bag and crush with a rolling pin. Mix with melted Earth Balance, then press into an 11″ tart pan with removable bottom. Place in the refrigerator to chill.
To make the filling, place the chocolate chips in a glass or metal bowl. Place the bowl over a pot of simmering water. Stir until melted. Add Kahlua and vanilla. Stir to combine. Pour the melted chocolate into a blender or food processor along with the tofu and honey. Puree until completely smooth. Pour into chilled crust. (Note: the tofu is called Silken Tofu and I found it at Whole Foods in the produce section. Don't use regular tofu. The Silken Tofu is soft, almost like sour cream but slightly more solid. Regular tofu won't work with this recipe.)
Rinse the raspberries with water and gently dry them. Place on top of the chocolate tart. Let the tart chill for 2 hours.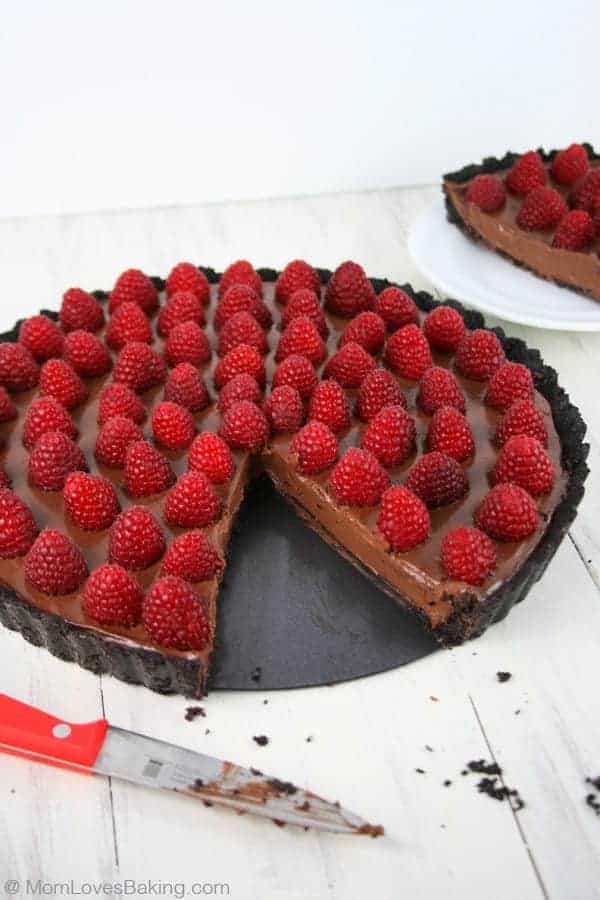 Then it's ready to eat.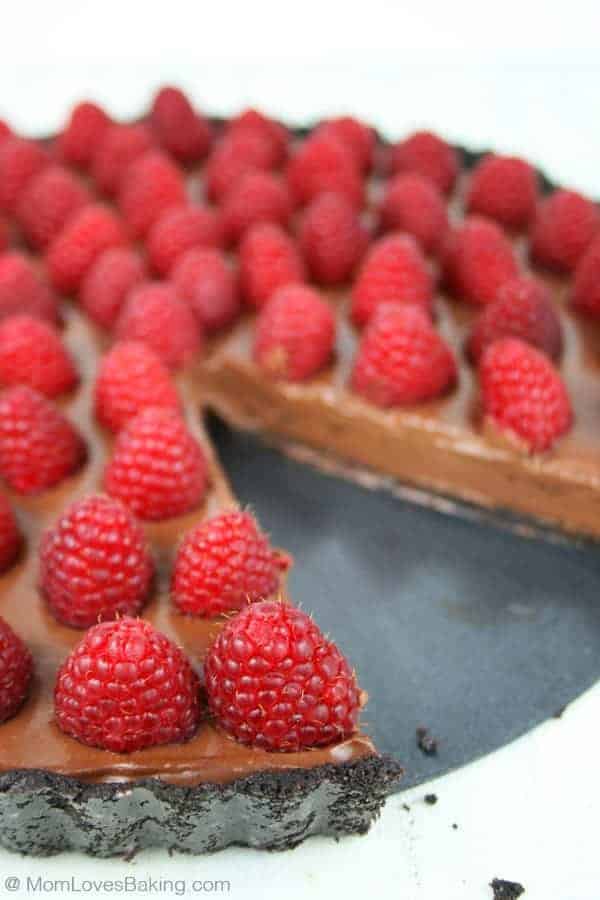 Isn't it pretty!
My stepdad suggested that I sprinkle a bit of powdered sugar on top which was a fabulous idea. This tart is so rich, creamy and chocolatey with a hint of Kahlua and succulent berries for a contrasting flavor/texture. Chocolate Raspberry Gluten Free Tart is an extra special dessert that would be perfect for a dinner party. Your guests would never know it was gluten free and dairy free. It just tastes delicious!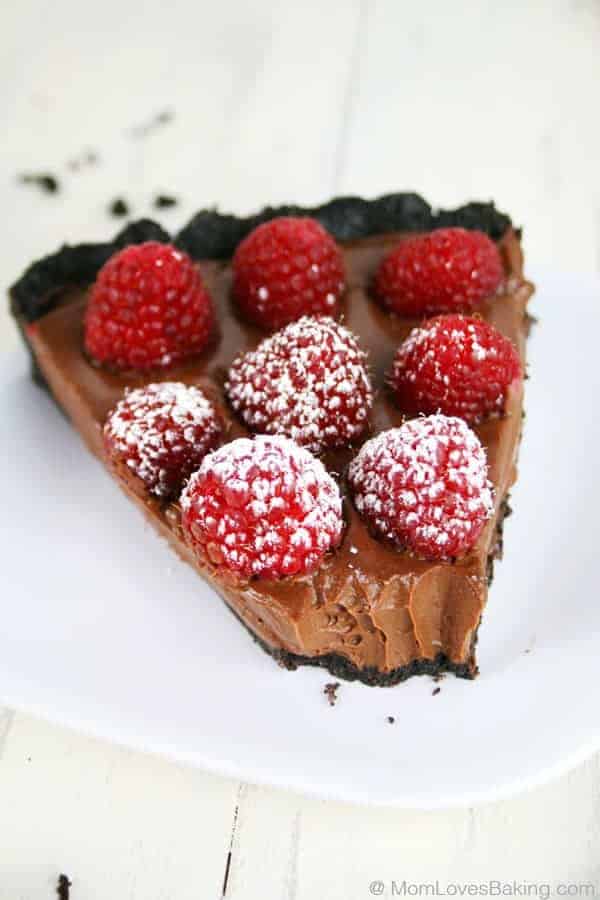 Chocolate Raspberry Gluten Free Tart
Ingredients
For the crust

28

330g gluten free, dairy free chocolate sandwich creme cookies, crushed

5

tablespoons

dairy free buttery spread

such as Earth Balance

For the filling

13

ounces

370g dairy free chocolate chips

1/3

cup

80mL coffee liquer (such as Kahlua)

1

teaspoon

vanilla extract

1

lb.

454g silken tofu

1

tablespoon

honey

For garnish

12

oz.

340g fresh raspberries, rinsed and dried

Powdered sugar

if desired
Instructions
Place enough water in the bottom of a 4-quart saucepan to come 1 inch up sides. Bring to a simmer over medium heat.

Place chocolate chips in a medium metal or glass bowl, set over the simmering water, and stir with a rubber or silicone spatula until melted. Remove from the heat and stir in the Kahlua and vanilla extract.

Combine the tofu, chocolate mixture, and honey in a blender or food processor and spin until smooth (about 1 minute).

Pour the filling into the prepared crust. Place raspberries on top. Refrigerate for 2 hours, or until filling sets firm. Sprinkle with powdered sugar, if desired. Slice and serve. Store in refrigerator for up to 1 week.