Only 4 ingredients, it's no-bake and tastes like Black Forest Cake!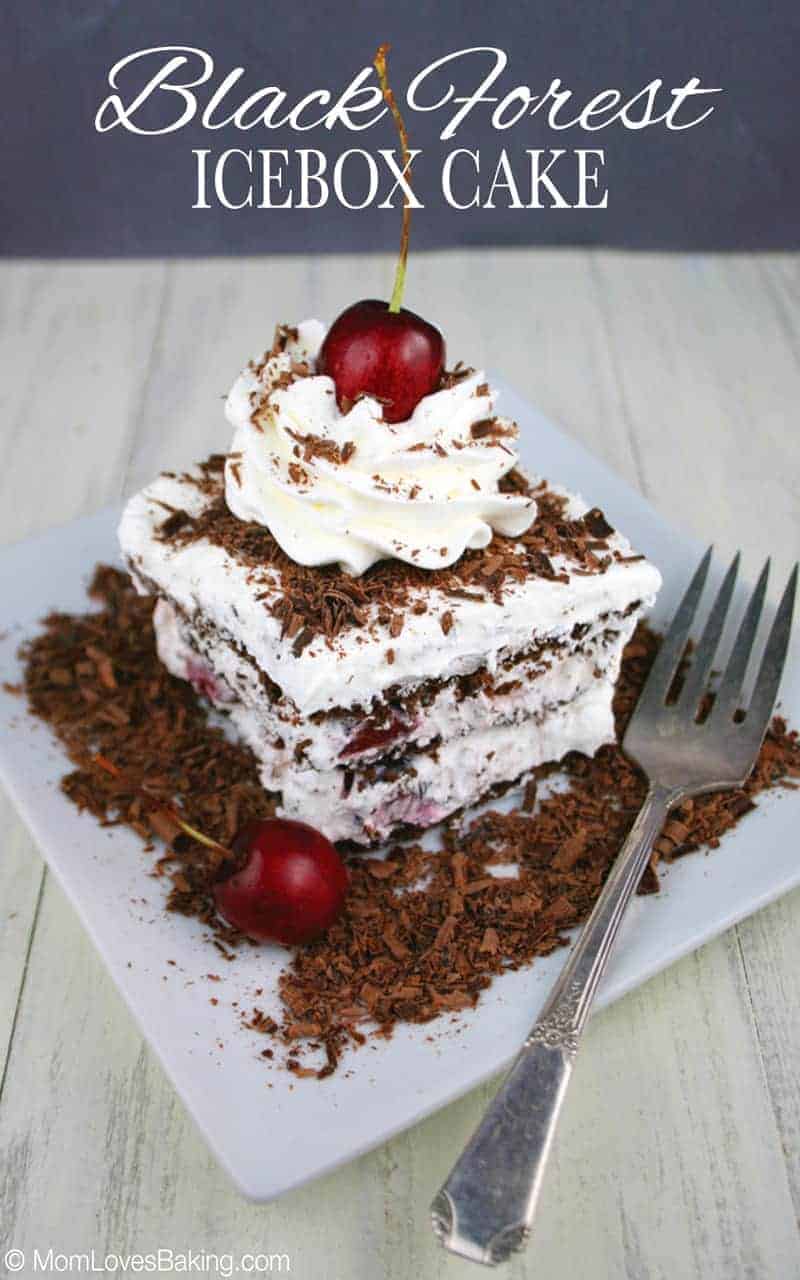 If you need something super quick and easy to take to a party, but you also want it to be fabulous, then you should make this Black Forest Icebox Cake!
I made it to take to a ladies Bunco night last Thursday. Have you ever played Bunco? It's a dice game and very simple to play. It's more about having a girls night out which is the best part! If you're lucky, you can even win a little bit of money.
I've played many times over the years but have never won. Well, my luck is changing! Guess who won. That's right, it was me. Yay! I think the last time I won something was in 1977 when I won a t-shirt for being the 10th caller on the radio.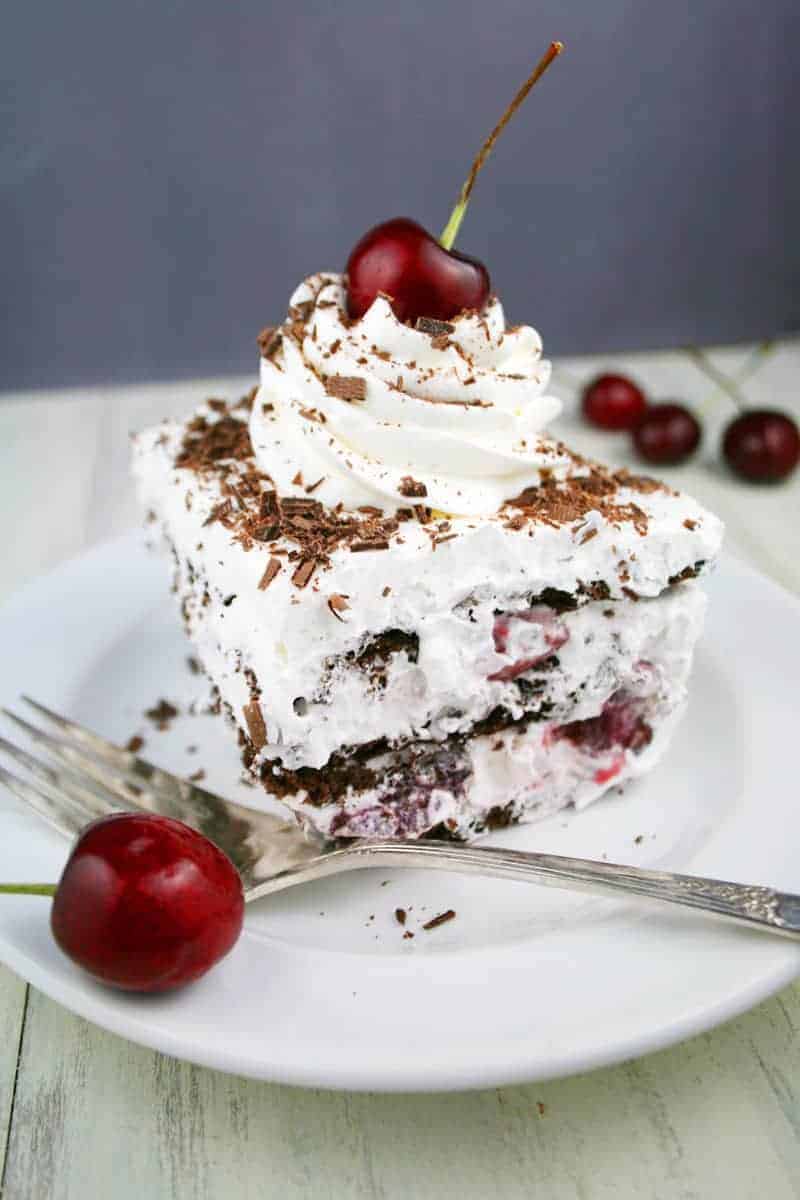 Winning Bunco was fun, but even better was hanging out with a great group of ladies. I got to meet a lot of neighbors for the first time. We had a variety of ages too, from young moms to grandmothers and some in between.
Each month we will meet at a different house. I'm already looking forward to next month!
The dessert was a hit. And I love that it's only a few ingredients. Chocolate graham crackers, Cool Whip, fresh cherries and chocolate shavings. That's it! You can whip it together lickety-split, but it's best if you refrigerate it overnight. That way the graham crackers can soften up a bit.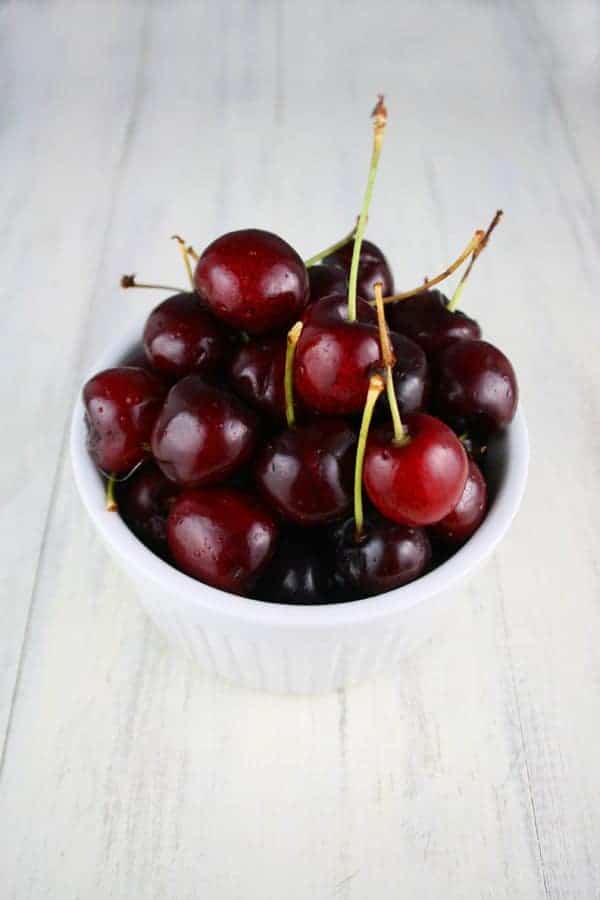 Start with fresh cherries. Aren't they beautiful! I just love the deep burgundy color of these beauties.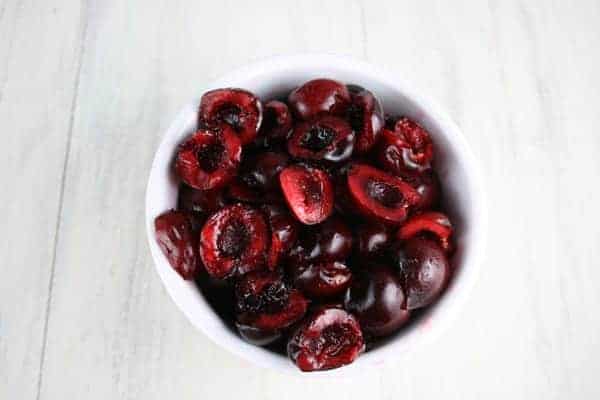 Remove the pit and chop cherries in half. This recipe calls for a cup of cherries.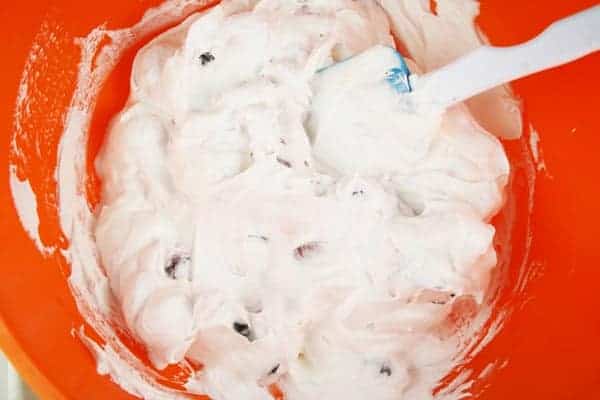 Scoop one (8 ounce) tub of Cool Whip into a large bowl. Fold in cherries.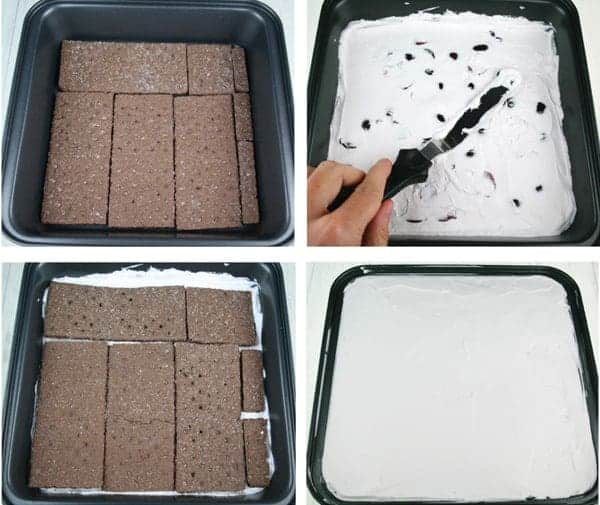 Line the bottom of an 8-inch square baking pan with about 10 graham crackers. I trimmed them to fit. Spread half of the Cool Whip mixture evenly on top. Repeat with another layer of crackers and remaining half of Cool Whip mixture. Then one more layer of crackers. Using a second tub of Cool Whip, spread about half onto the top layer of crackers. (Note: If you have a cherry liqueur such as Kirsch, it would be delicious to drizzle some onto the chocolate crackers before adding the Cool Whip.)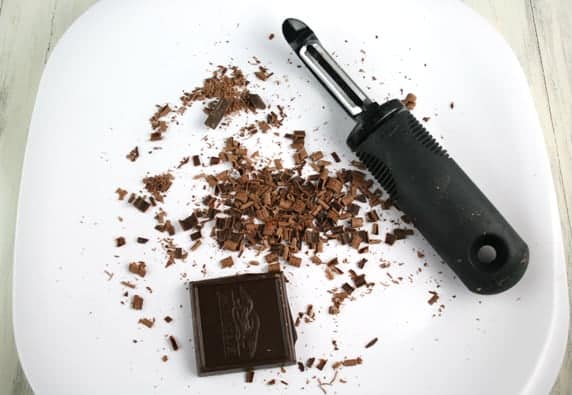 Create chocolate shavings by using a potato peeler on a good quality chocolate bar. I used one Ghiradelli Dark Chocolate Square.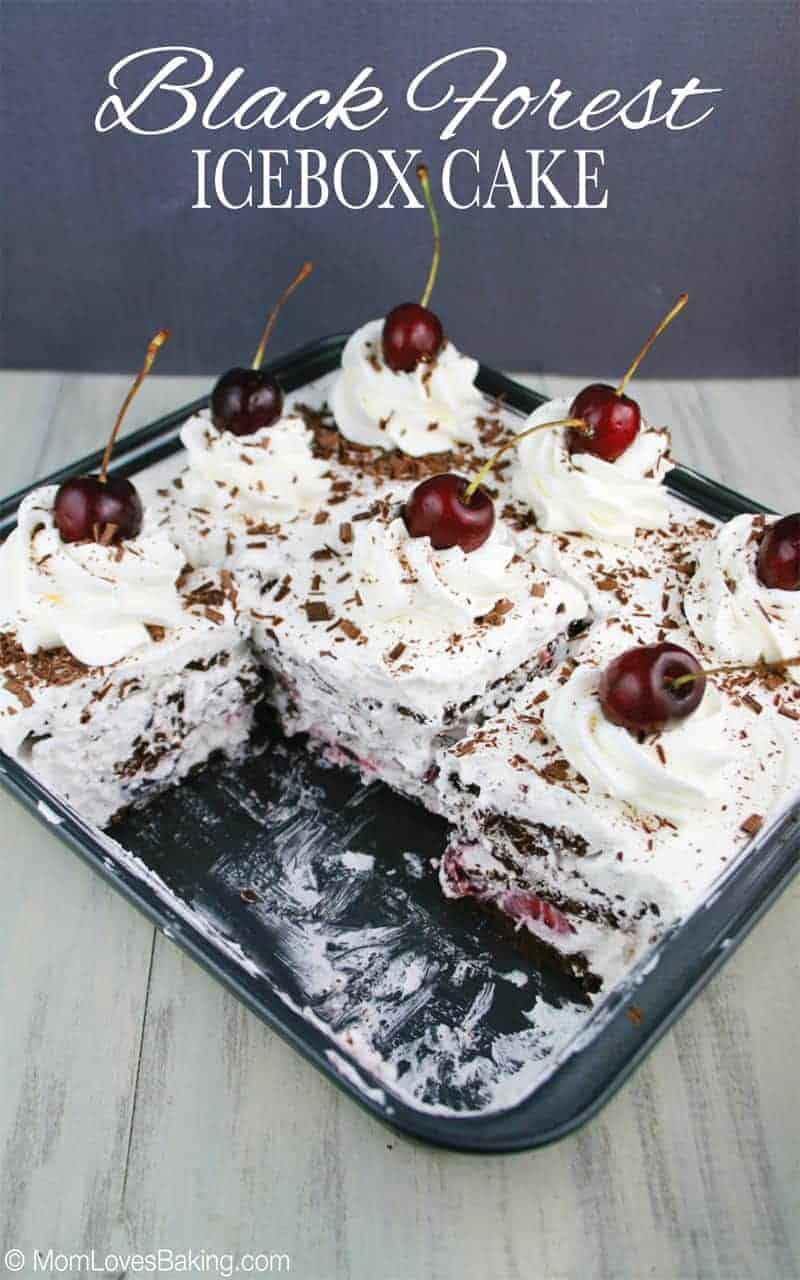 Sprinkle chocolate shavings on top, then pop it in the refrigerator for at least 6 hours, preferably overnight.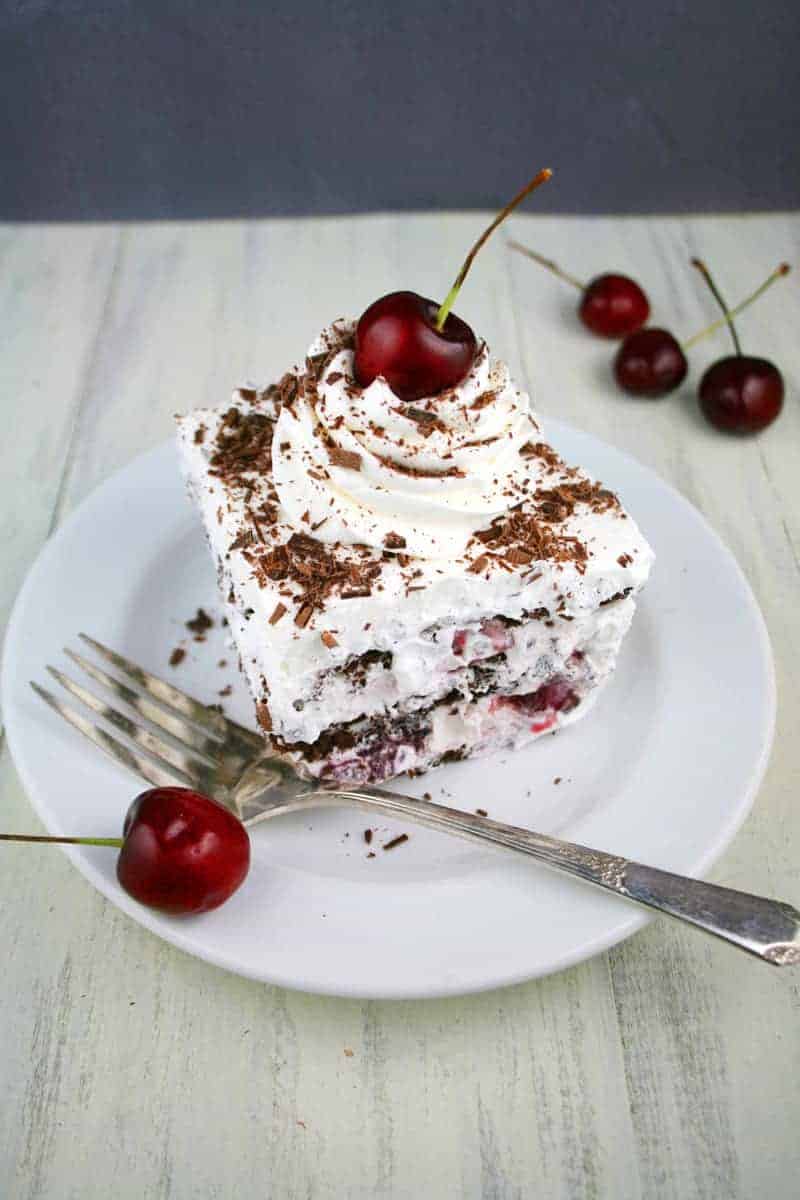 When you're ready to serve, slice into 9 servings. Garnish with swirls of Cool Whip and whole cherries. I used a pastry bag with a 1M tip and the remaining half tub of Cool Whip to pipe onto each serving. Sprinkle with more chocolate shavings. And don't forget the cherry on top!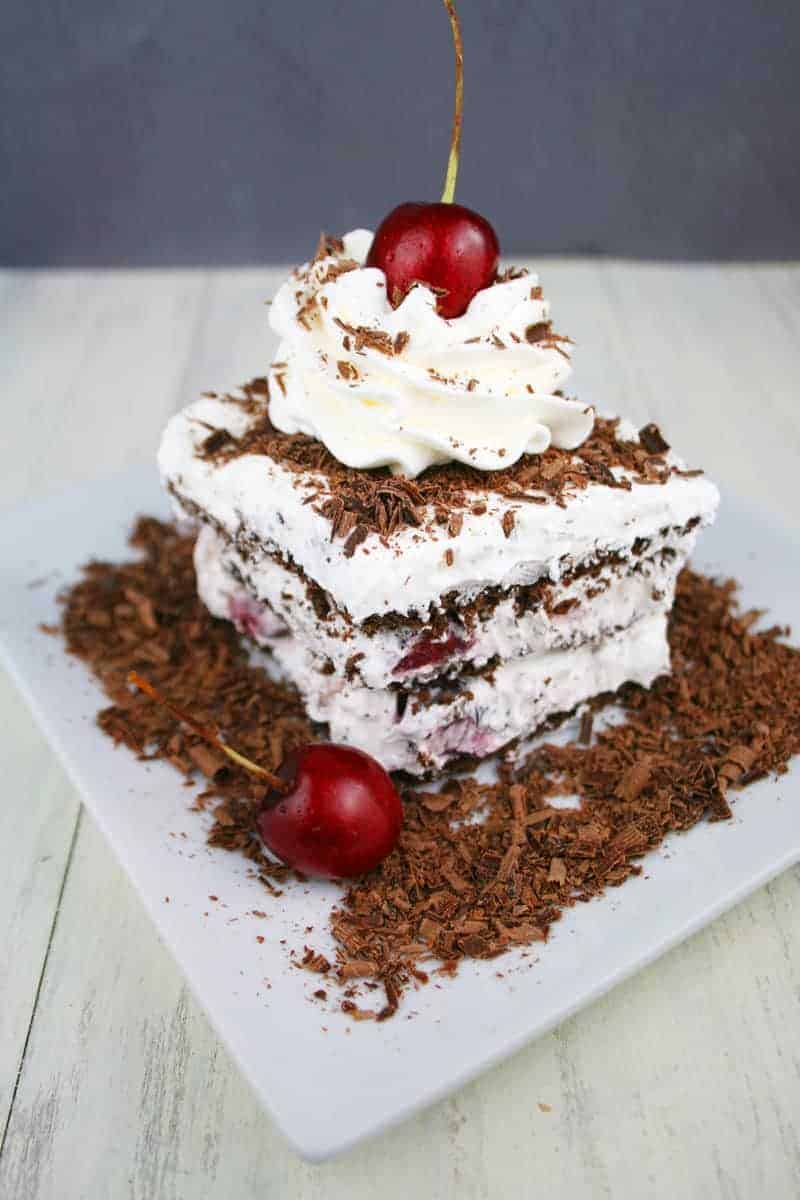 You can decide how much of the chocolate shavings you want to use. It looks nice with a lot or just a little bit. I thought it looked pretty with lots of chocolate shavings on the serving plate.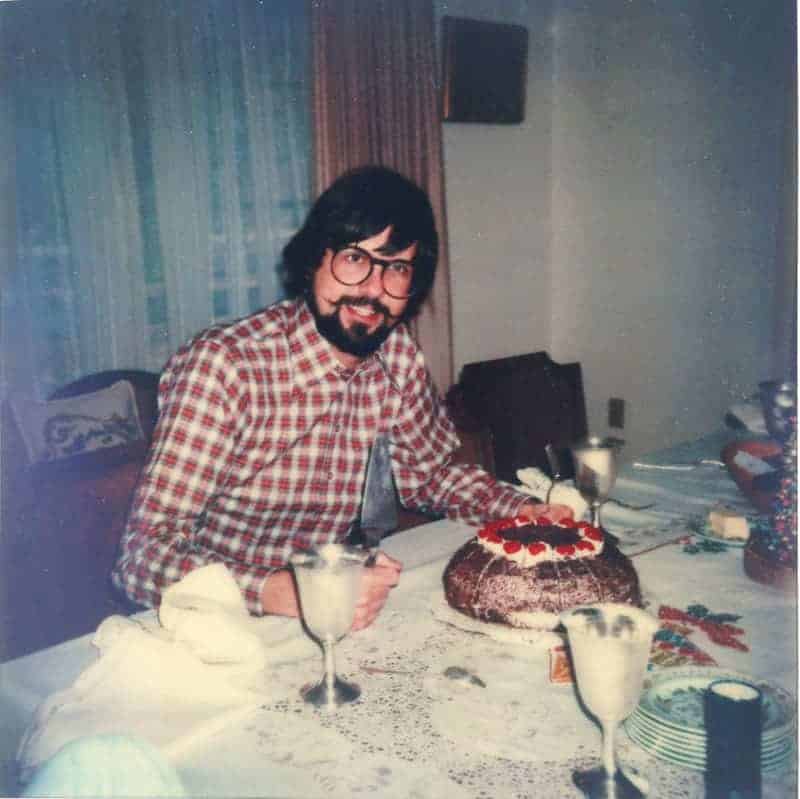 My dad used to order a Black Forest Cake every Christmas from a place in Tampa, Florida called Mr. Dunderbak's. He would transport it all the way to Dothan, Alabama (his hometown) for many a Christmas. He would get so excited about that cake. Exhibit A above. That's one happy man right there!
Of course, you know I was just as excited about it. If not more. Black Forest Cake will forever hold a special place in my heart.
I'm pretty sure this old Polaroid photo was taken the same year I won the t-shirt. 1977. It was a very good year!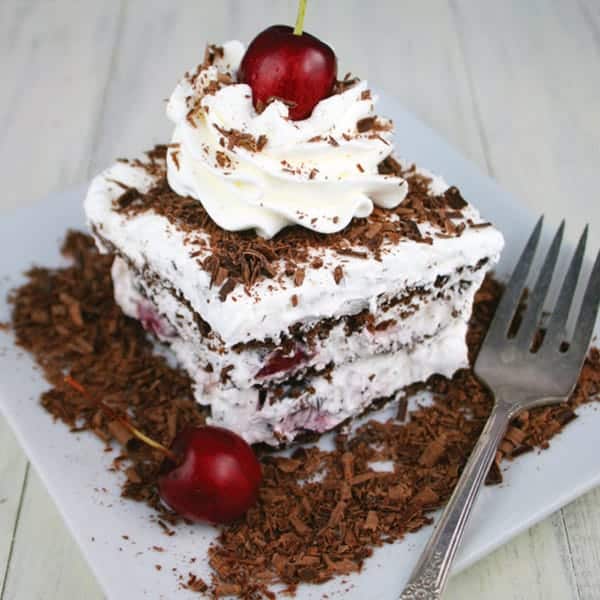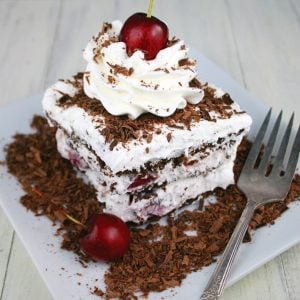 Black Forest Ice Box Cake
Only 4 ingredients, it's no-bake and tastes like Black Forest Cake!
Print
Pin
Rate
Ingredients
30

squares

chocolate graham crackers

1

cup

fresh cherries

pitted and choppped

9

whole fresh cherries

16

ounces

frozen whipped topping, thawed

I used Cool Whip

1

good quality dark chocolate square

I used Ghiradelli

Optional: Cherry flavored liqueur such as Kirsch
Instructions
Scoop one tub of whipped topping into a large bowl. Fold in 1 cup of chopped cherries. Set aside.

Place 10 crackers on the bottom of an 8-inch square baking pan. (Note: you can drizzle some cherry flavored liqueur on each layer of crackers, if you wish.) Spread half of a tub of whipped topping mixture over crackers. Repeat with another layer of 10 crackers and remaining whipped topping mixture. Add a final layer of 10 crackers. Spread half of the remaining tub of whipped topping over crackers. Place pan in refrigerator overnight or at least 6 hours.

When ready to serve, use a potato peeler to make chocolate shavings from the dark chocolate square. Sprinkle some of it on top of chilled dessert. Place remaining whipped topping in a pastry bag fitted with a 1M tip. Pipe 9 swirls onto dessert. Sprinkle with more chocolate shavings. Add a fresh cherry to each swirl. Serve immediately and store remaining dessert in refrigerator for up to 5 days.
Nutrition
Calories:
160
kcal
|
Carbohydrates:
20
g
|
Protein:
2
g
|
Fat:
8
g
|
Saturated Fat:
7
g
|
Polyunsaturated Fat:
1
g
|
Monounsaturated Fat:
1
g
|
Trans Fat:
1
g
|
Cholesterol:
1
mg
|
Sodium:
59
mg
|
Potassium:
131
mg
|
Fiber:
1
g
|
Sugar:
16
g
|
Vitamin A:
54
IU
|
Vitamin C:
2
mg
|
Calcium:
44
mg
|
Iron:
1
mg