Browned Butter Chocolate Chip Cookies with M&M's are soft and chewy with a wonderful browned butter flavor.
Have you ever tried Browned Butter Chocolate Chip Cookies? I had never heard of them until a couple of weeks ago when my friend, Ashton, over at Something Swanky posted America's Test Kitchen's recipe for this out of this world cookie. Who knew that browning the butter could change the taste so much! It gives the cookies a wonderful nutty flavor that tastes like toffee. Plus, they're slightly crunchy on the outside, soft and chewy on the inside. There are so many chocolate chip cookie recipes out there and they all are advertised as the best ever. This is definitely one of the best I've ever had and the recipe is great as it is, but of course I had to tweak it because that's what I do. I can't help it. I just like to tinker.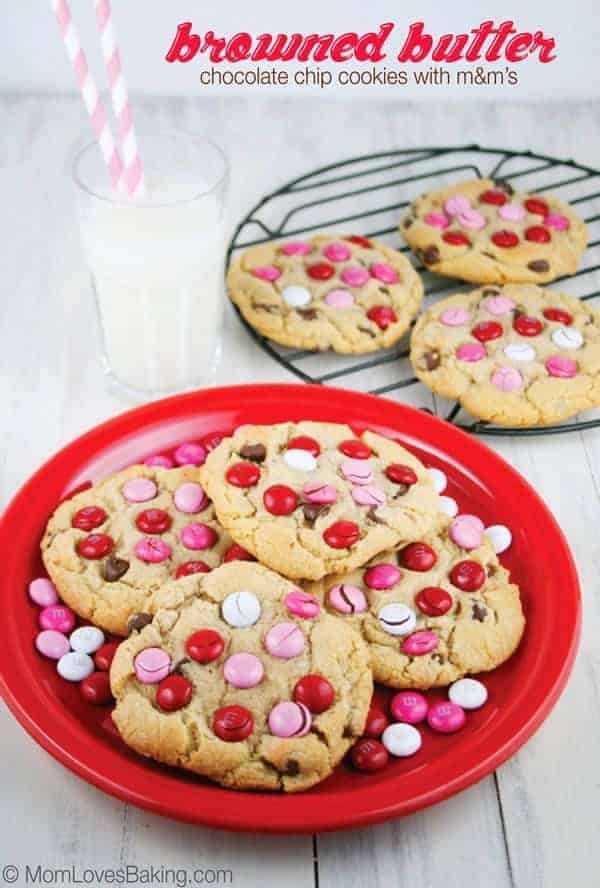 Since it's almost Valentine's Day, I thought it would be cool to add some color to the cookies. I'm always a sucker for the M&M's limited edition holiday colors. And the Valentine's colors are my favorite. Pinks, red and white. So cute. And so much fun! Plus, it never hurts to have more chocolate on top of your chocolate chip cookies. Am I right?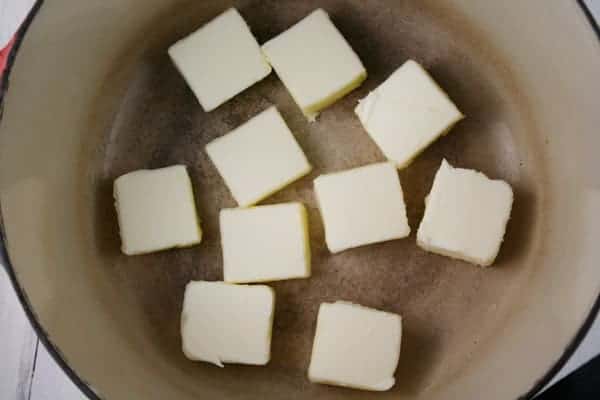 So let's get started with the step-by-step instructions for these Browned Butter Chocolate Chip Cookies with M&M's. And what a big surprise, you start with butter. Place 10 tablespoons (you will add 4 more tablespoons later) in a heavy saucepan over medium high heat. Let it melt and come to a boil.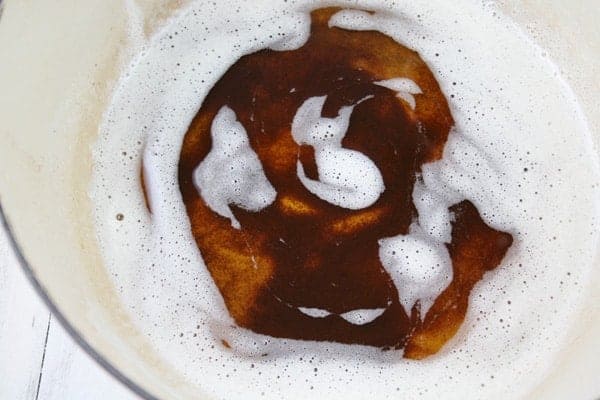 Once it's boiling, stir constantly until it's nicely browned. About 2-3 minutes. Remove from heat. Be careful not to let it burn. As soon as it's brown, remove from the heat because it will burn quickly.
Melt the remaining 4 tablespoons of butter in the microwave and add to the browned butter.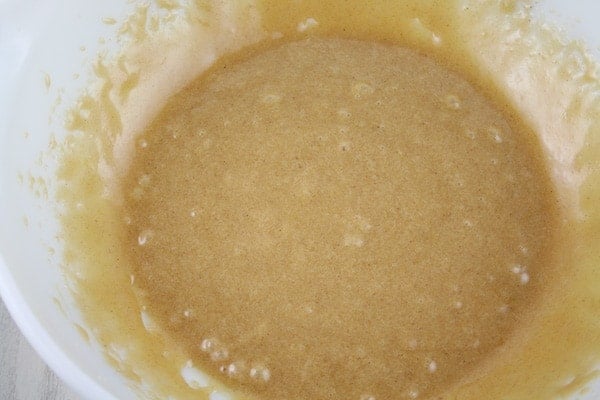 Add brown sugar, granulated sugar, eggs and vanilla to the butter. With an electric mixer, beat on medium high speed for 2 minutes.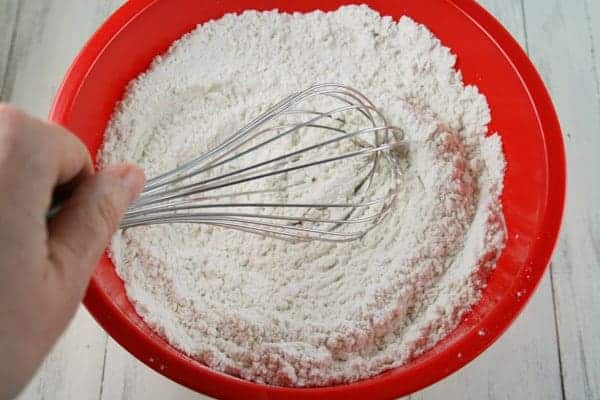 Stir in a mixture of flour, baking soda, corn starch and salt.
Mix until just combined. Fold in chocolate chips. I recommend a good quality chocolate such as Ghiradelli.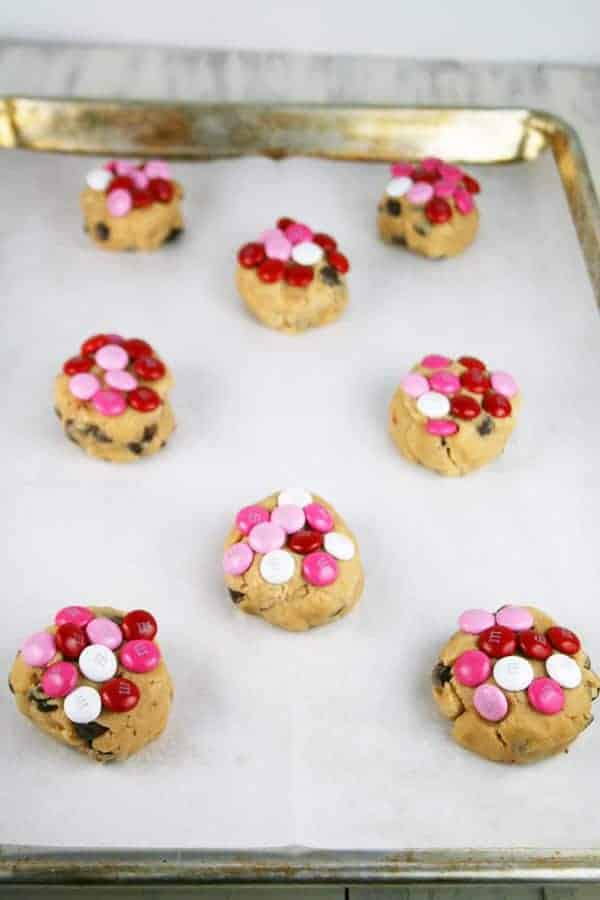 I made 12 large cookies with this dough. You could make the cookies half the size and get 24 if you wanted to. But to make 12, roll balls that are about 3 tablespoons of dough each. Place on a parchment lined cookie sheet. Flatten slightly with the palm of your hand. Then place 10 M&M's on top of each flattened ball. Press them in slightly.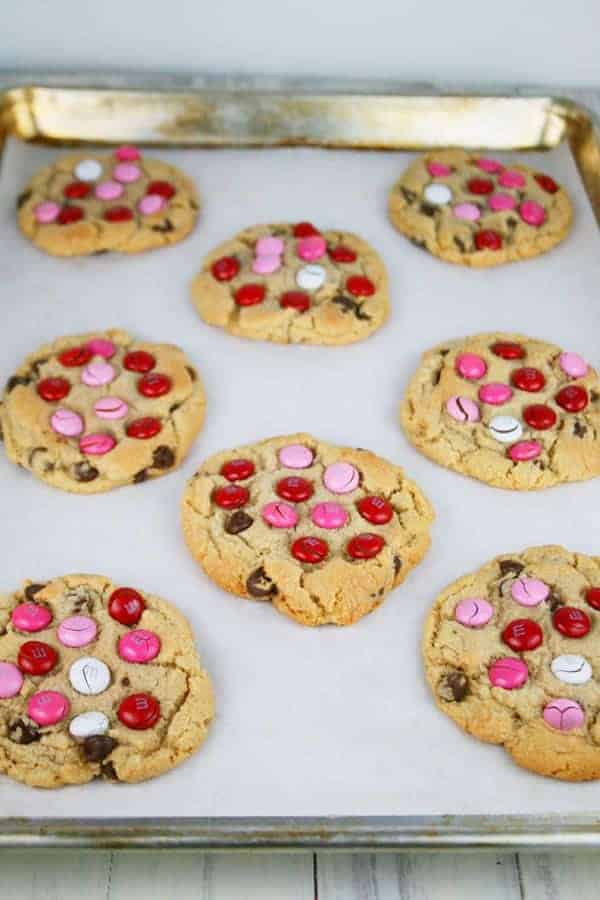 Bake at 375°F. for 9 to 11 minutes or until light golden brown on the edges. Let them cool completely.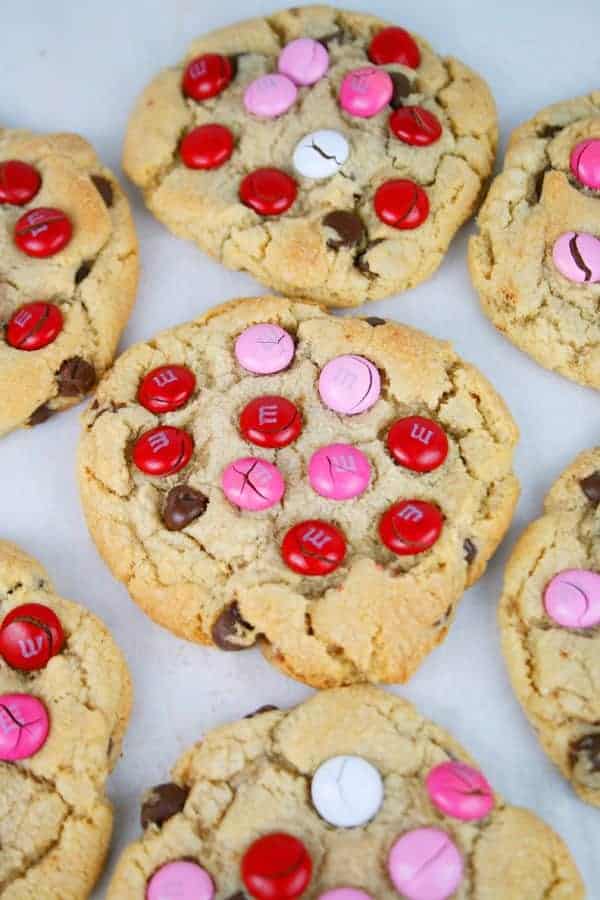 These cookies disappeared very quickly in my house. My son said, these are really big. Then had no problem eating two. My husband keeps asking me, are there any cookies left? Are you sure you're not hiding any? I do that sometimes, but sadly no. And I made these on Monday. This recipe is definitely a favorite for my family.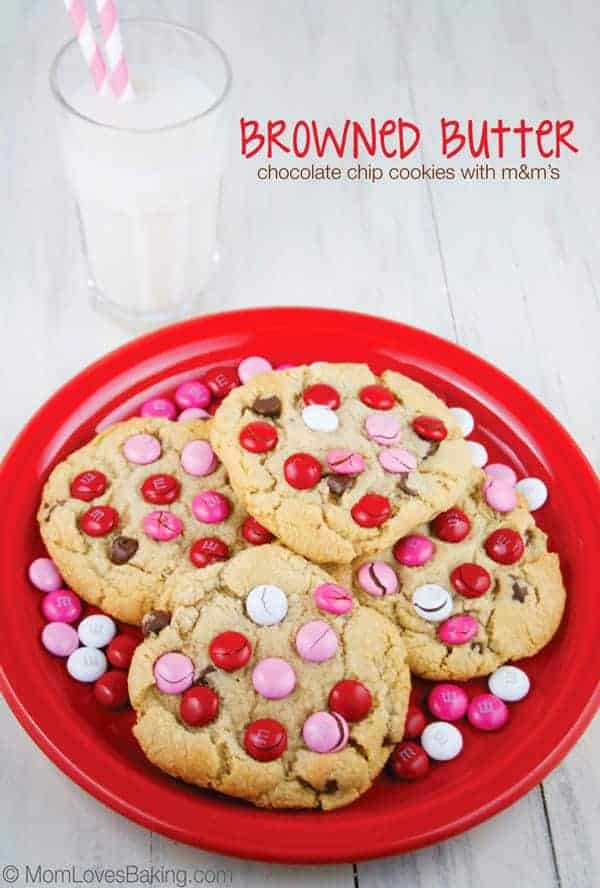 Browned Butter Chocolate Chip Cookies with M&M's
Ingredients
1 3/4

cups

248g all purpose flour

2

teaspoons

cornstarch

1/2

teaspoon

baking soda

1

teaspoon

salt

14

tablespoons

210g unsalted butter (divided)

1/2

cup

100g granulated sugar

3/4

cup

150g light brown sugar

1

large egg and 1 large egg yolk

at room temperature

2

teaspoons

vanilla extract

3/4

145g cup good quality bittersweet chocolate chips (I used Ghiradelli)

1/2

cup

105g M&M's
Instructions
Preheat oven to 375°F. Line two large cookie sheets with parchment paper. Set aside.

Whisk flour, cornstarch, baking soda and salt together in a medium bowl. Set aside.

Heat 10 tablespoons of the butter in a medium heavy saucepan over medium high heat until melted. Let it come to a boil, stirring constantly for 2-3 minutes or until butter turns a dark golden brown and has a nutty aroma. Remove from heat. Place the remaining 4 tablespoons of butter in a glass measuring cup and microwave on high for one minute. Pour into the browned butter and stir to combine. Pour into a large heatproof bowl.

Add both sugars, eggs and vanilla. With an electric mixer, beat on low just until ingredients are combined. Turn it up to medium high and beat for 2 minutes. Stir in the flour mixture until just combined. Fold in the chocolate chips. Cover and refrigerate for at least 1 hour or overnight. (Do not skip this step.)

Divide chilled dough into 12 portions, each about 3 tablespoons. Roll into balls and place on prepared cookie sheets, about 2 inches apart. Press balls down slightly with the palm of your hand. Press about 10 M&M's into the top of each cookie ball. Bake cookies for 9-11 minutes or until they are light golden brown just around the edges. They will still be soft in the middle. Take the cookie sheets out of the oven and place on a cooling rack. Let cookies cool completely before eating. Store in a airtight container for up to 1 week (if they last that long) or store in the freezer for 1 month.