Cap'n Crunch Pancake Muffins
This shop has been compensated by Collective Bias, Inc. and its advertiser. All opinions are mine alone. #QuakerTime #CollectiveBias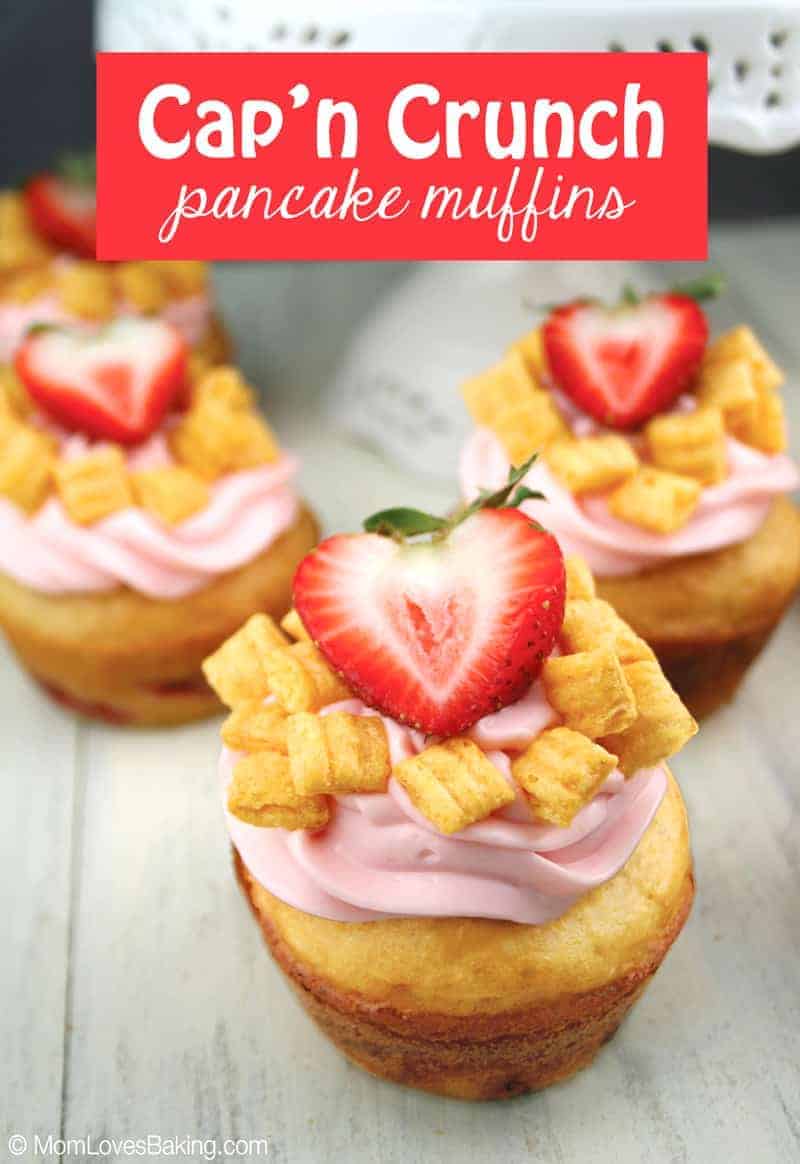 It's getting close to the "S" word. (School). I'm not allowed to say it in front of my kids. They are enjoying the freedom of summer time so much. Don't tell them but I'm already thinking about Back To School recipes. I created this fun muffin recipe that would be perfect in the morning before the kids head off to school.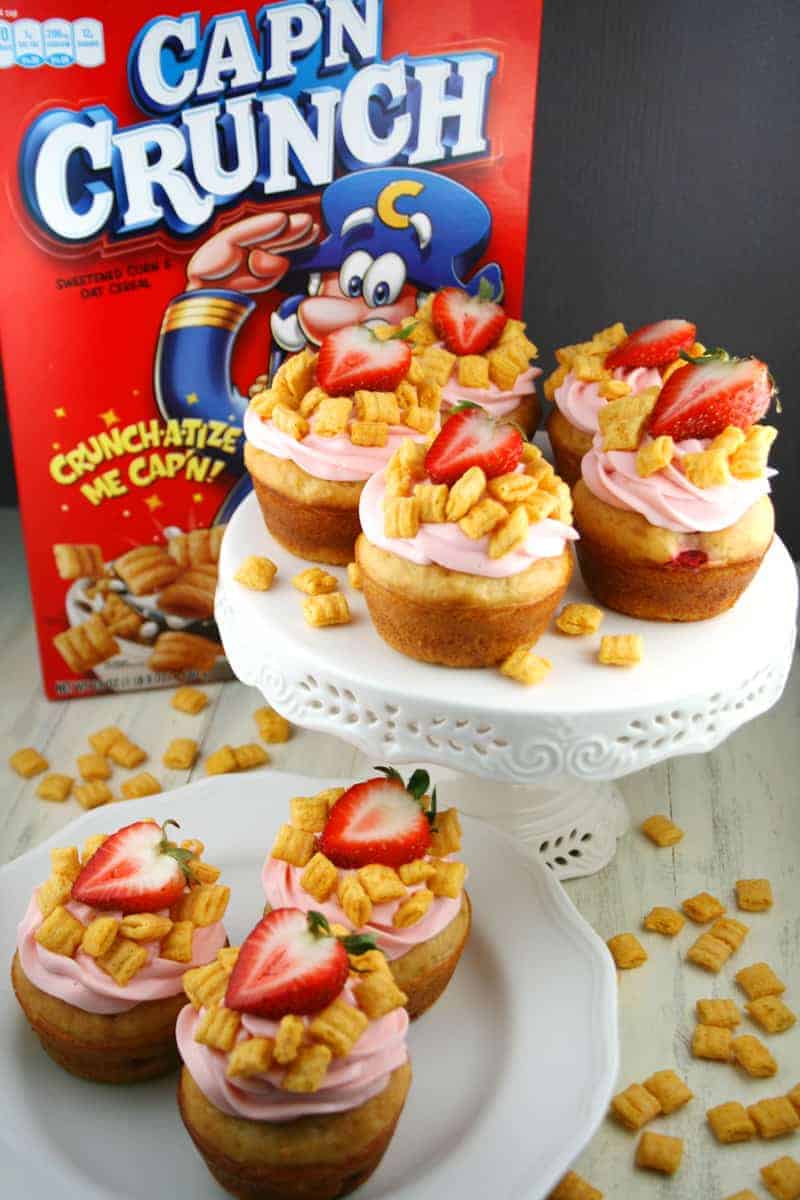 What is a pancake muffin you say? It's basically pancake batter baked in a muffin pan. These Cap'n Crunch Pancake Muffins are made with crushed Cap'n Crunch cereal and fresh strawberries baked right in. Then topped with strawberry cream cheese, plus more cereal and a strawberry on top. Yum, yum! These muffins are so moist and just the right amount of sweetness. Perfect for a breakfast on the go!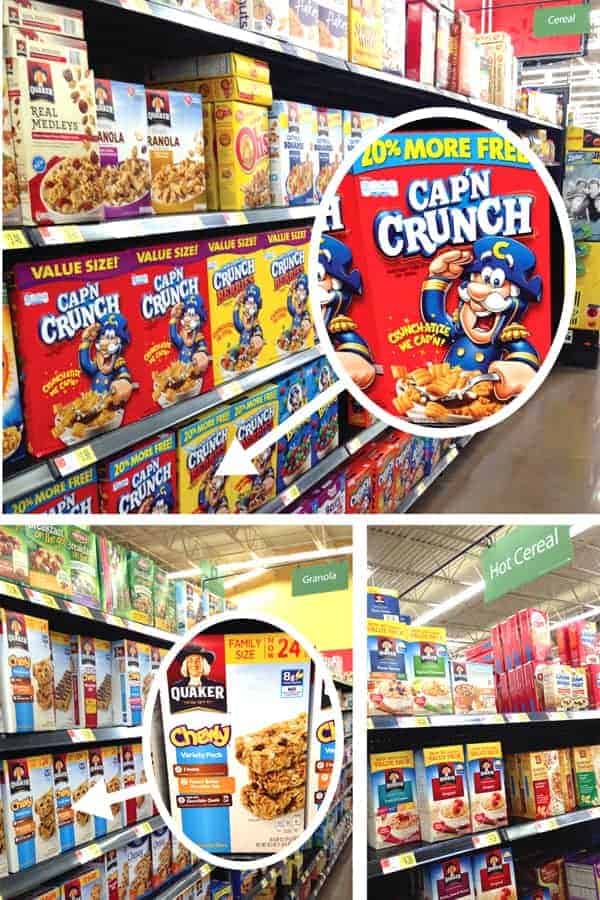 I found the Cap'n Crunch, Original (Value Box – 20% more) at Walmart on the cereal aisle. I also picked up a Quaker Chewy Bars, Variety Pack and a Quaker Instant Oatmeal, Variety Pack – Maple & Brown Sugar, Cinnamon & Spice, Apples & Cinnamon because it's never too early to stock up on back to school breakfast foods. My children especially love the Quaker Chewy Bars. They always disappear quickly. They're great to toss in their lunch boxes.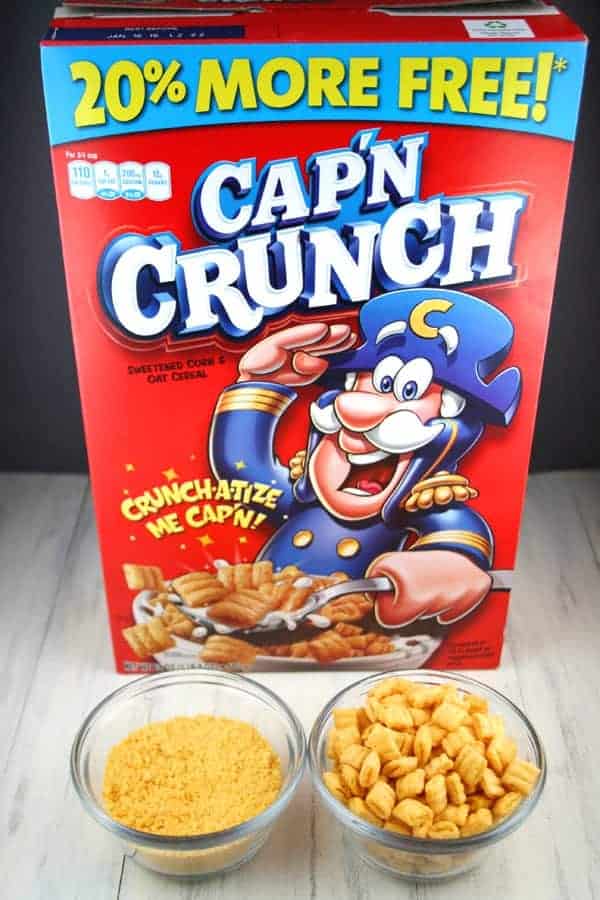 For this recipe, you will need 2 cups of Cap'n Crunch Original cereal. One cup will need to be crushed. The other cup is for garnish.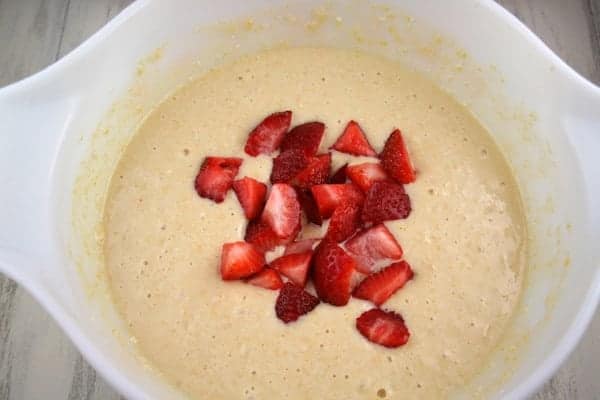 Whisk together the pancake ingredients. Stir in the crushed cereal, then fold in chopped strawberries.
Scoop batter into greased muffin cups.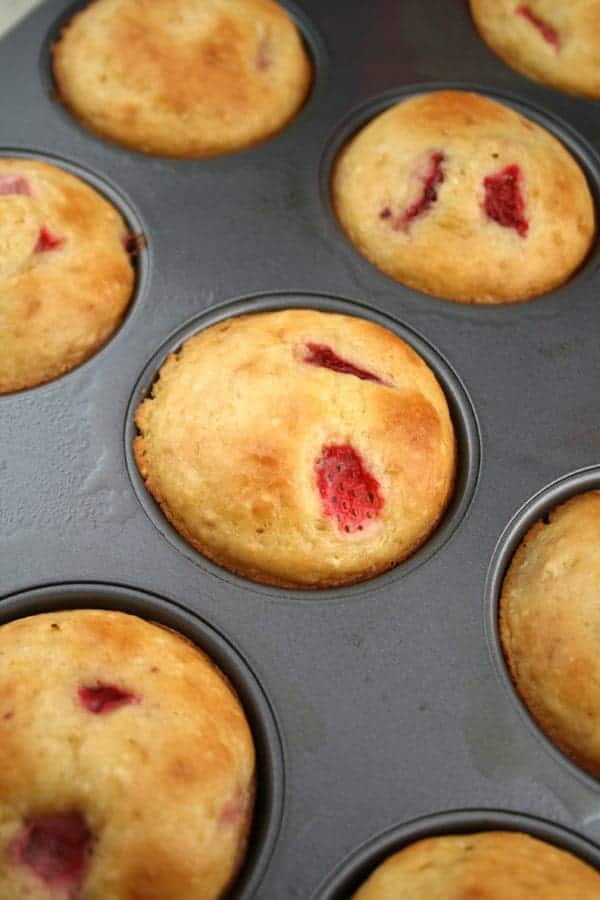 Bake at 350°F. for 16-18 minutes or until golden brown. Let cool.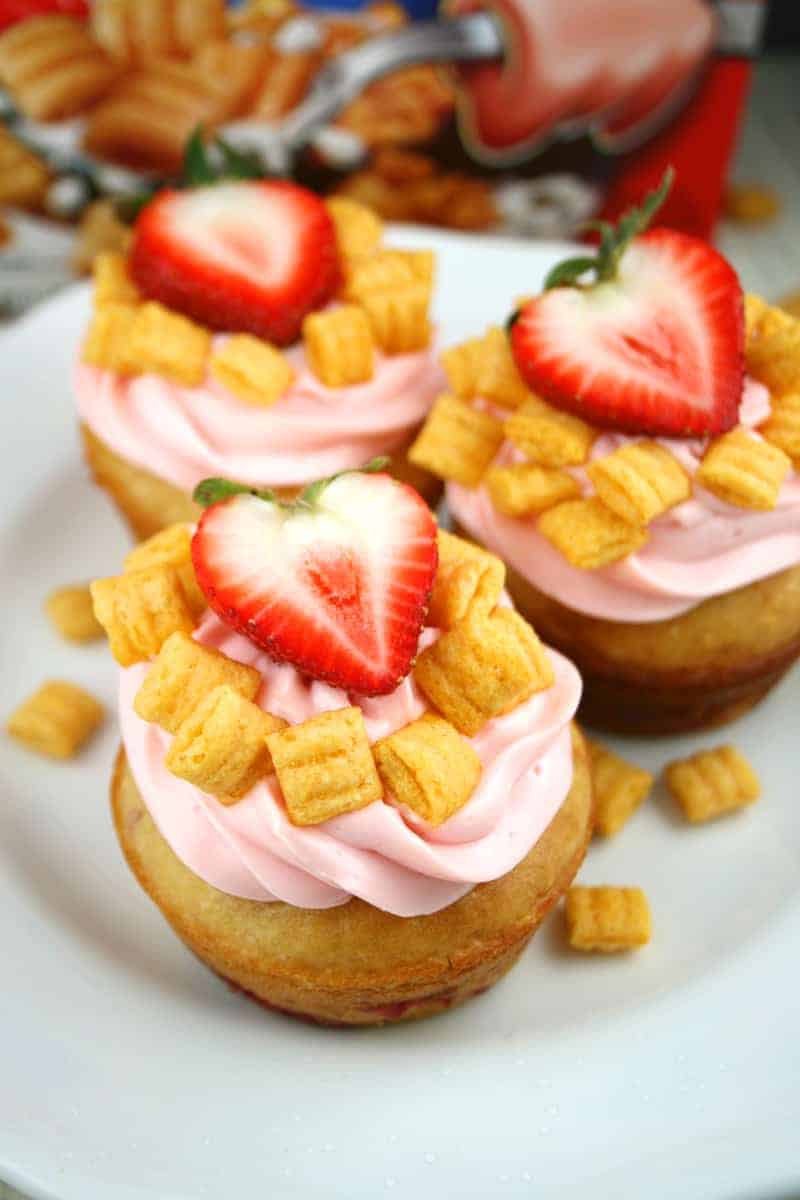 For the topping, pipe strawberry cream cheese on each cooled muffin. Sprinkle with cereal, then add a strawberry slice on top.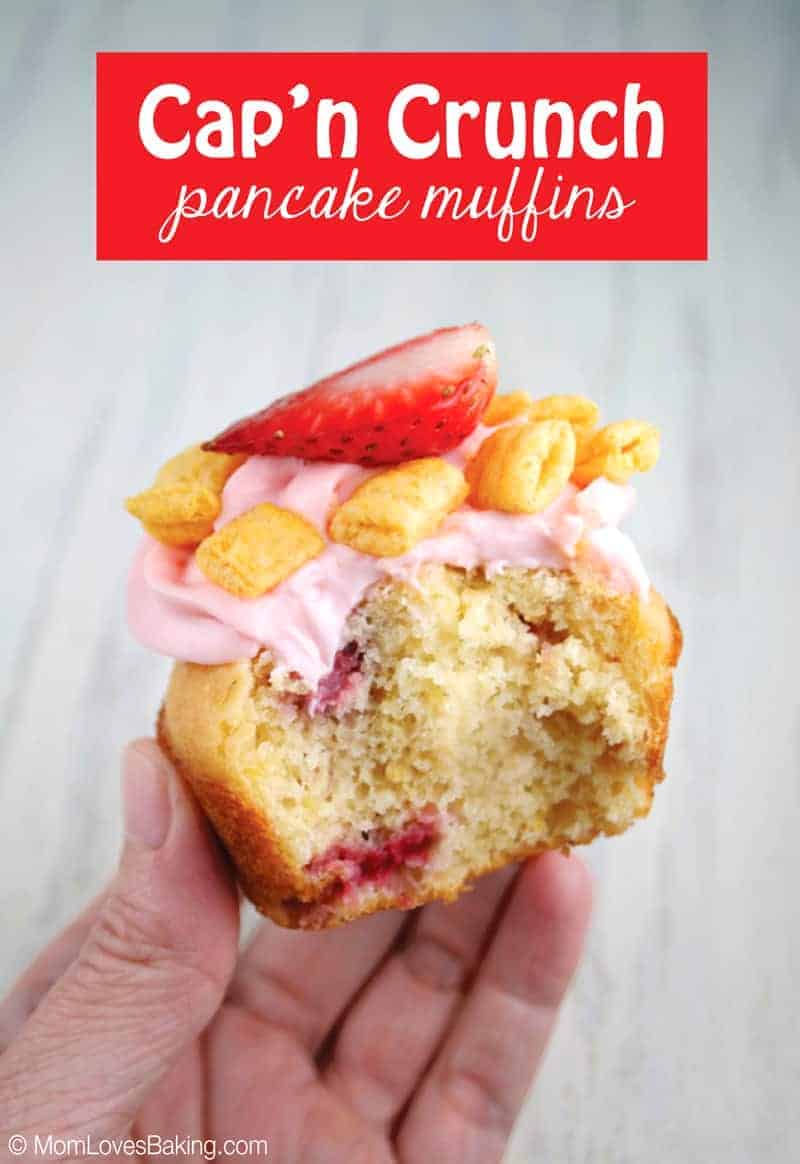 Cap'n Crunch Pancake Muffins are the perfect portable breakfast. I will be giving them to my kids to eat while they wait for the bus on those busy mornings when we don't have time for a sit down breakfast.
Tell me how Quaker helps you set your kids up for success as they go back to school.
Cap'n Crunch Pancake Muffins
Ingredients
For the muffins
2 cups of your favorite pancake mix
1/4 cup sugar
1 cup milk (room temperature, if possible)
1 egg (room temperature, if possible)
3/4 cup chopped fresh strawberries
1 cup crushed Cap'n Crunch Original
For the frosting
2 (8 oz.) containers of strawberry cream cheese
Garnish
1 cup Cap'n Crunch Original
6 whole strawberries, sliced in half
Instructions
Preheat oven to 350°F. Spray a 12-cup muffin pan with non-stick cooking spray. Set aside.
Whisk together the pancake mix, sugar, crushed cereal, milk and egg just until smooth. Do not over mix. Fold in chopped strawberries.
Scoop batter into prepared muffin cups. Bake for 16-18 minutes or until golden brown. Let cool.
For the frosting
Scoop strawberry cream cheese into a large bowl. With an electric mixer, beat on medium high until smooth. About 1-2 minutes. Pour into a pastry bag fitted with a 1M pastry tip. (If you don't have this, you can pour it into a large zip top bag. Seal and cut off a corner.) Pipe cream cheese onto cooled muffins.
For garnish
Do not garnish until you are ready to serve the muffins. You want the cereal to be crunchy. Garnish muffins with cereal and one strawberry half. Serve immediately.
https://www.momlovesbaking.com/capn-crunch-pancake-muffins/