This Cranberry Orange Cupcakes shop has been compensated by Collective Bias, Inc. and its advertiser, Dr Pepper/Seven Up, Inc. All opinions are my own. #BrighTENtheSeason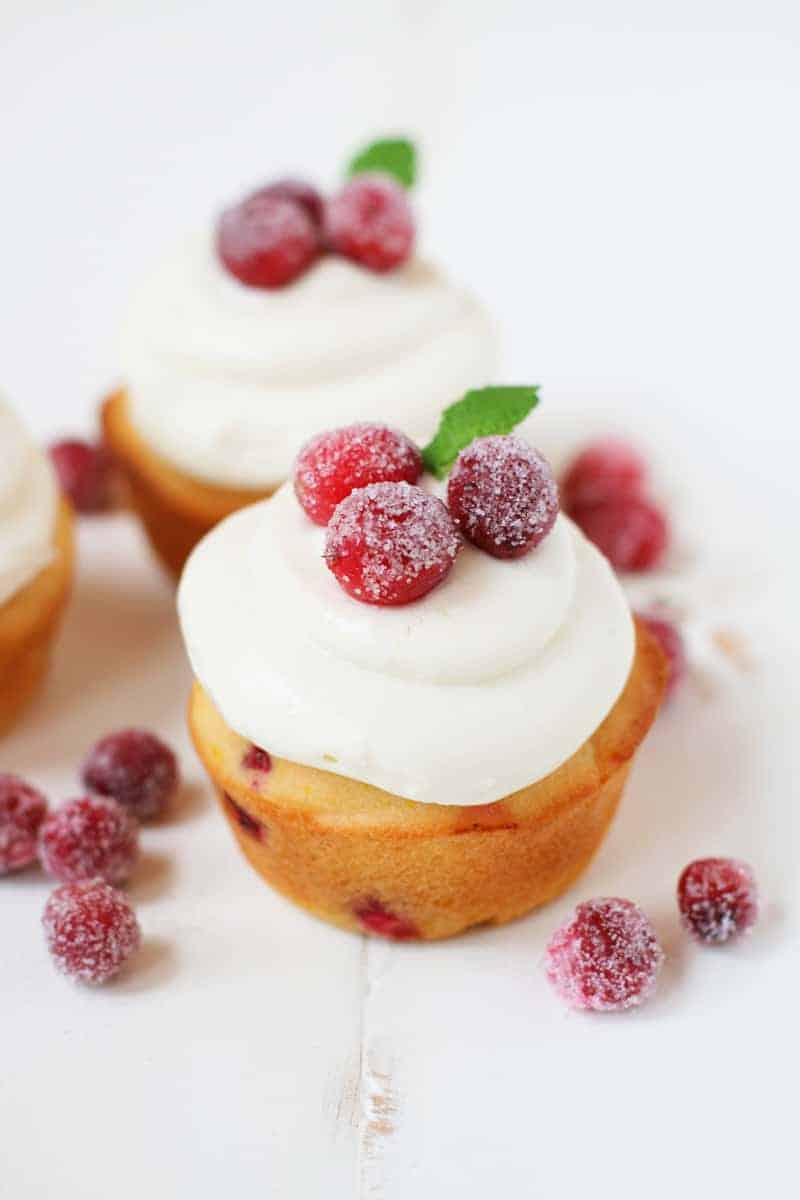 It's almost Thanksgiving, can you believe it? I love getting together with my family and sharing all the traditional dishes each year. Turkey, stuffing, gravy, mashed potatoes, sweet potato casserole, green bean casserole, yeast rolls and of course, cranberry sauce. Would you believe it if I told you that the cranberry sauce is my favorite part! I'm serious. I love, love, love it! The sweet and savory combo is the best.
Then there's dessert! Cranberry and orange go together so perfectly and remind me of the holidays. Today I'm sharing this delicious Cranberry Orange Cupcakes recipe with you. They're made with fresh cranberries and get their lovely citrus flavor from orange zest and Sunkist® TEN™ Soda. Then topped with a lowfat cream cheese frosting and sugared cranberries. Plus, they're gluten free!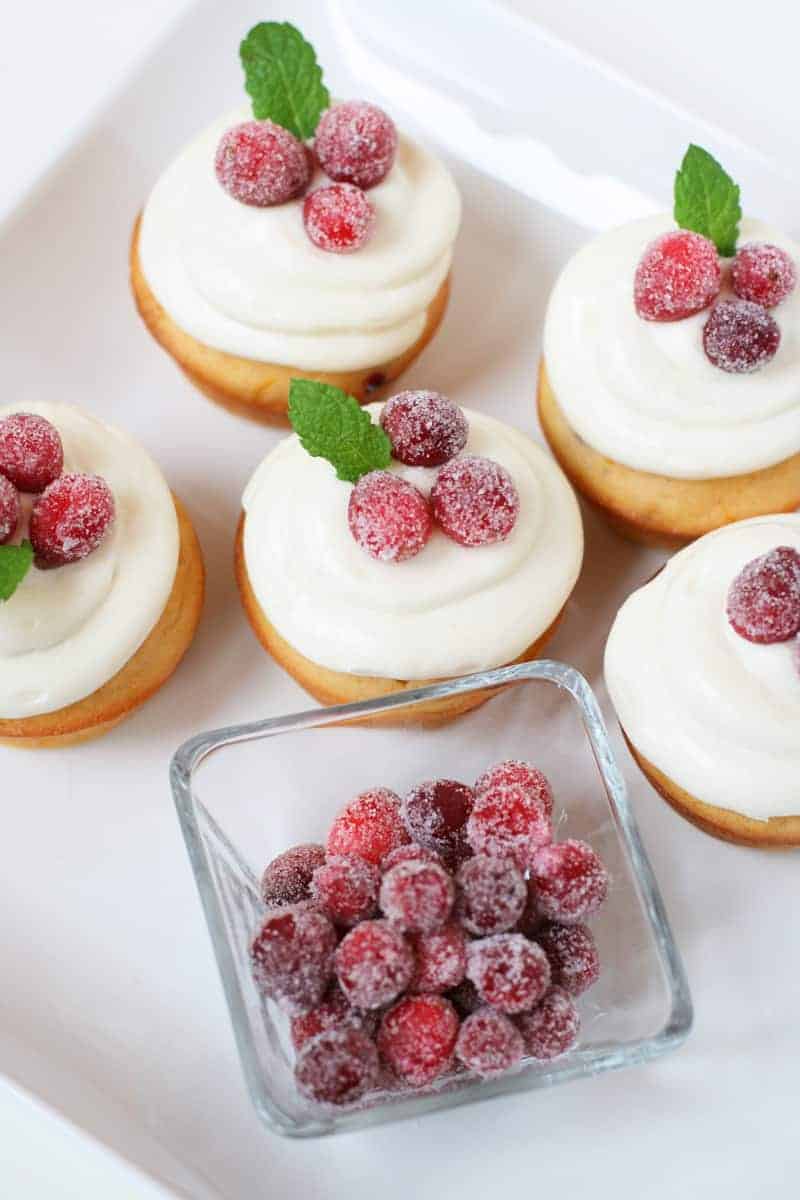 These healthier Cranberry Orange Cupcakes are scrumptious and a beautiful addition to any holiday table.
The great thing about 7UP TEN® & Sunkist® TEN™ Soda is that there's just 10 calories per serving, but with full flavor. Sunkist® TEN™ Soda is a wonderful addition to this recipe but also my son's favorite beverage. He loves it! My daughter prefers 7UP TEN®. They're both available at Target and will definitely be on hand at our festive celebration this week!
And there's more! There are also Target Cartwheel offers: 30% off 12pack of Canada Dry TEN®, 7UP TEN®, A&W TEN®, Sunkist® TEN™ Soda and 10% off 8pack 12oz bottles of Canada Dry®, 7UP®, A&W®, Sunkist® Soda and more
From Nov 16 – Dec 12, (5) $100 Target GiftCards™ will be given away each week to those who upload an Instagram, Facebook or Twitter photo showing how they #BrighTENtheSeason. All winners must be at least 18 years old.
#BrighTENtheSeason Sweepstakes

One of the things I love about this recipe is that you can mix it up by hand. You don't need a mixer.
First you cream the butter and sugars together. I used equal amounts of stevia and organic cane sugar. Stir in four eggs and the zest from one large orange. Then you add the dry ingredients and stir until combined. Stir in ½ cup of Sunkist® TEN™ Soda until the batter is smooth. Fold in 1 cup of fresh cranberries.
Pour into a greased muffin pan. Bake at 375°F. for 18-20 minutes or until a toothpick inserted into the middle comes out clean.
Meanwhile, sugar the cranberries. See below for complete instructions.
Whip up the cream cheese frosting which is just lowfat cream cheese and a little bit of sugar. I did use an electric mixer for the frosting but you could also stir it together by hand if you wanted to.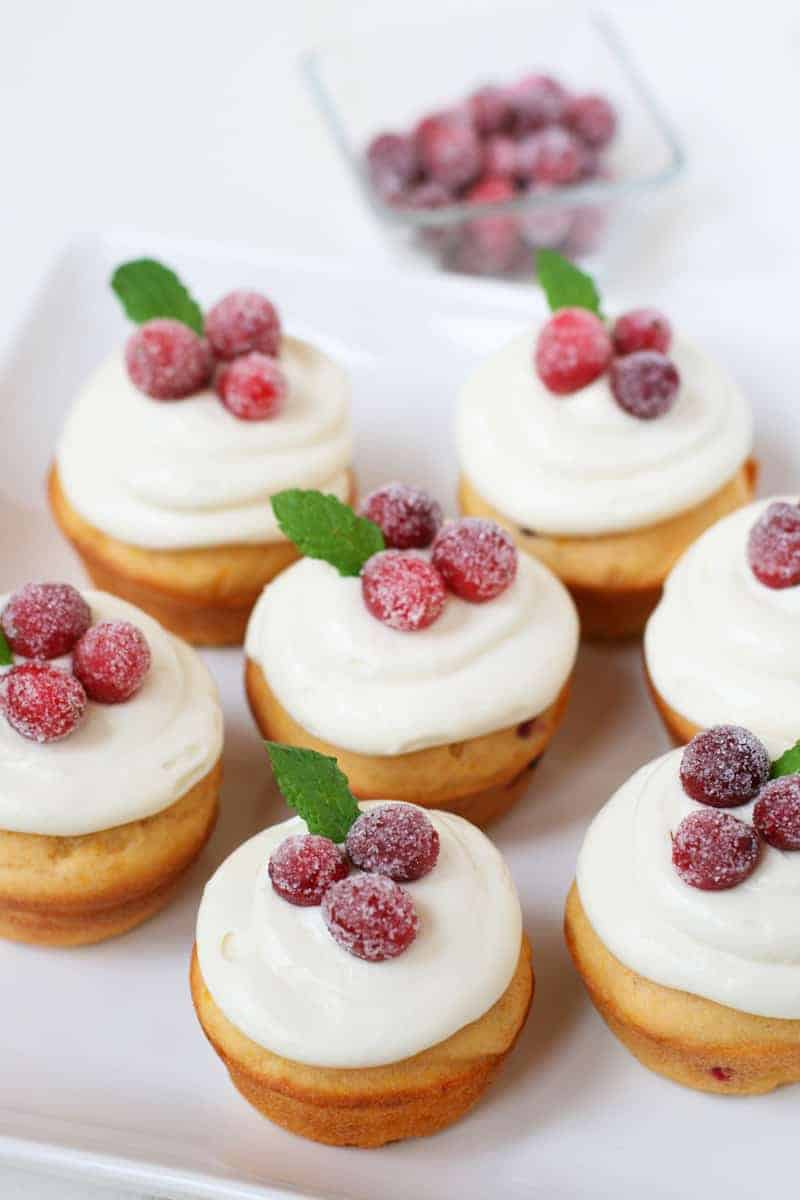 Pour the frosting into a pastry bag fitted with a ½" round tip. Pipe frosting onto cupcakes. You could also spread with a butter knife.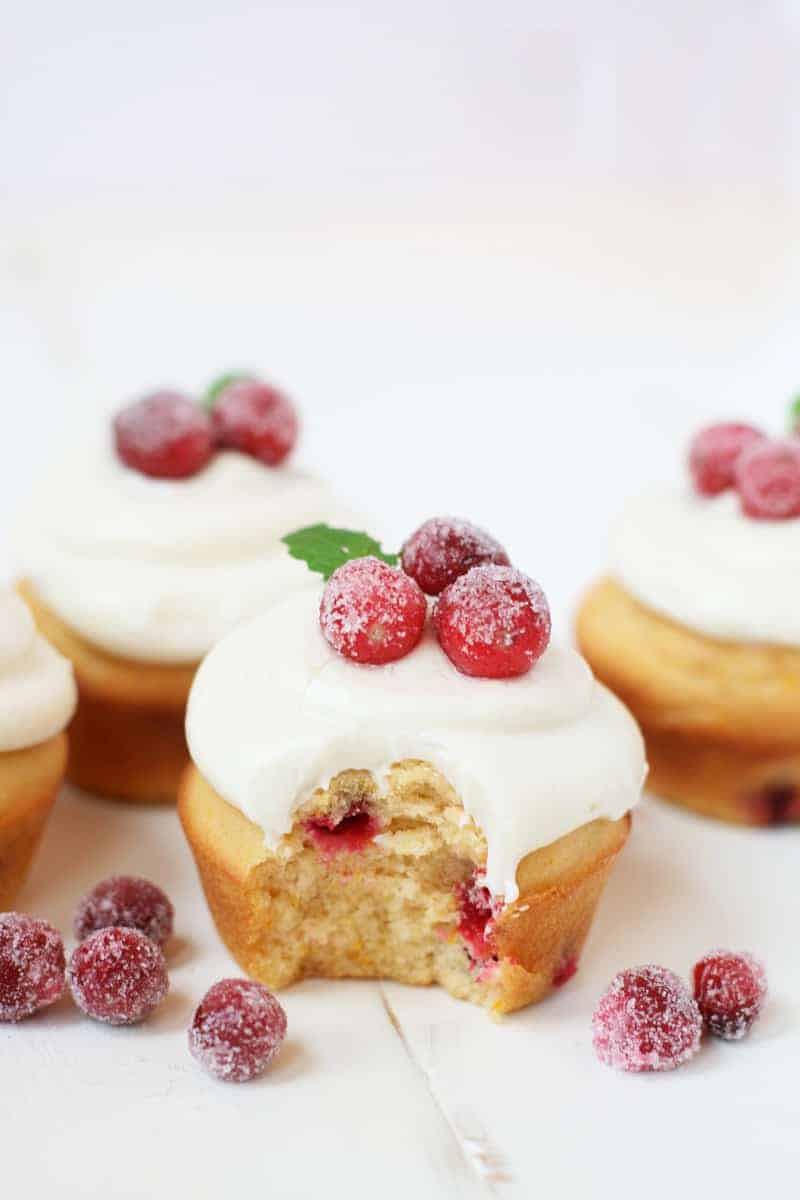 Garnish with sugared cranberries and mint leaves, if desired.
Cranberry Orange muffins are tasty and so festive! They will look beautiful on your holiday dessert table and your guests will be so happy. They would even be great for breakfast!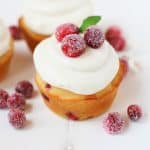 Print Recipe
Cranberry Orange Cupcakes
Ingredients
6

tablespoons

butter

softened

1/4

cup

plus 2 tablespoons granulated stevia

1/4

cup

plus 2 tablespoons organic cane juice

4

eggs

2 1/4

cups

gluten free flour blend

recipe follows

1 1/2

teaspoons

baking powder

3/4

teaspoon

salt

1/2

cup

Sunkist® TEN™ Soda

1

cup

cranberries

1

orange

zested

FOR THE GLUTEN FREE FLOUR BLEND

mix and use 2 ¼ cup of the mixture for this recipe

2

cups

244g brown rice flour

1/2

cup

60g arrowroot

1/3

cup

38g tapioca starch

1

teaspoon

xanthan gum

Whisk together all of the flour blend ingredients and store in an airtight container.

FOR THE FROSTING

12

ounces

lowfat cream cheese

1/4

cup

plus 2 tablespoons organic cane sugar

FOR THE SUGARED CRANBERRIES

1/2

cup

granulated sugar

plus more to coat the cranberries.

1/2

cup

water

1

teaspoon

vanilla

1

cup

fresh cranberries

Garnish with mint leaves

if desired.
Instructions
For the muffins

Preheat oven to 375°F. Spray a muffin pan with non-stick cooking spray. Set aside.

In a medium bowl, add all of the dry ingredients. Stir to combine. Set aside.

In a large bowl, cream the butter, sugar, and stevia by hand with a wooden spoon. Add the eggs and orange zest. Stir until combined. It will be a bit lumpy. Add the dry ingredients & Sunkist® TEN™ Soda. Stir just until smooth. Fold in 1 cup cranberries.

Bake in preheated oven for 18-20 minutes or until golden brown around the edges. Let cool.

Meanwhile make the sugared cranberries.

In a large saucepan, bring the water and sugar to a simmer stirring until dissolved. Turn off the heat and add the cranberries tossing with a wooden spoon to coat. Allow the cranberries to sit in the simple syrup for 5 minutes and then transfer to a wire rack.

Allow the cranberries to dry for 20-30 minutes. Pour some sugar in a shallow dish and roll the cranberries in the sugar to coat completely. Transfer to a baking sheet lined with parchment and allow to dry completely, approximately 1 hour.

For the frosting

With an electric mixer, beat the cream cheese and sugar until completely smooth. Place in a pastry bag with a ½" round tip and pipe onto cooled cupcakes.

Garnish with sugared cranberries and mint leaves, if desired.
Find more ideas from select bloggers sharing their perfect holiday moments.