Flourless Chocolate Mint Layer Cake is a three layer, gluten free chocolate cake with mint buttercream frosting, chocolate ganache and Andes mint candies on top.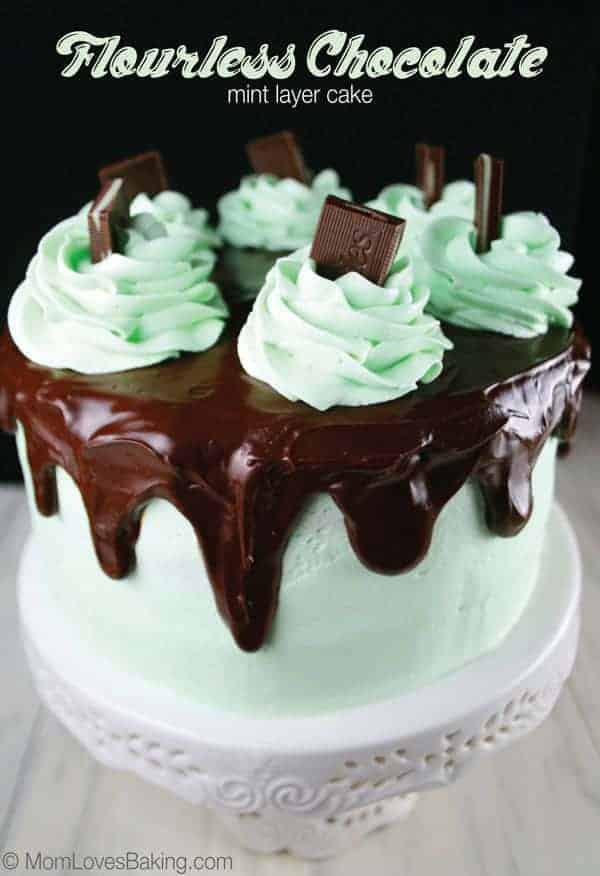 I love chocolate mint! Do you love chocolate mint? I think I've mentioned before how much I love all things mint flavored. And when you pair it with chocolate, oh my. It's the best!
Even better, this cake is gluten free. I didn't even have to tell you that because you would never even know when you cut into this luscious show stopper. The fact that it's gluten free is surprising. It's just a completely delicious dessert!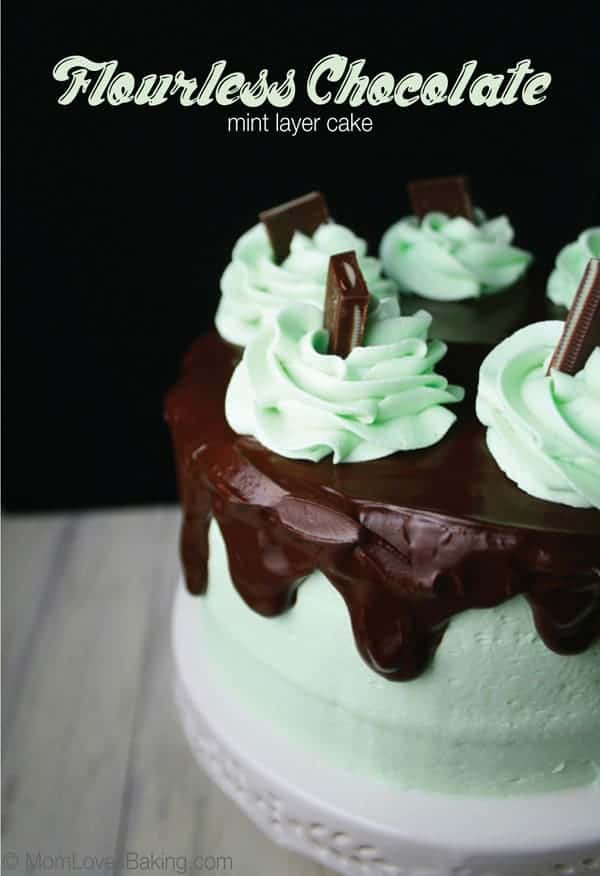 It's almost St. Patrick's Day and this would be a perfect cake for the all things green holiday!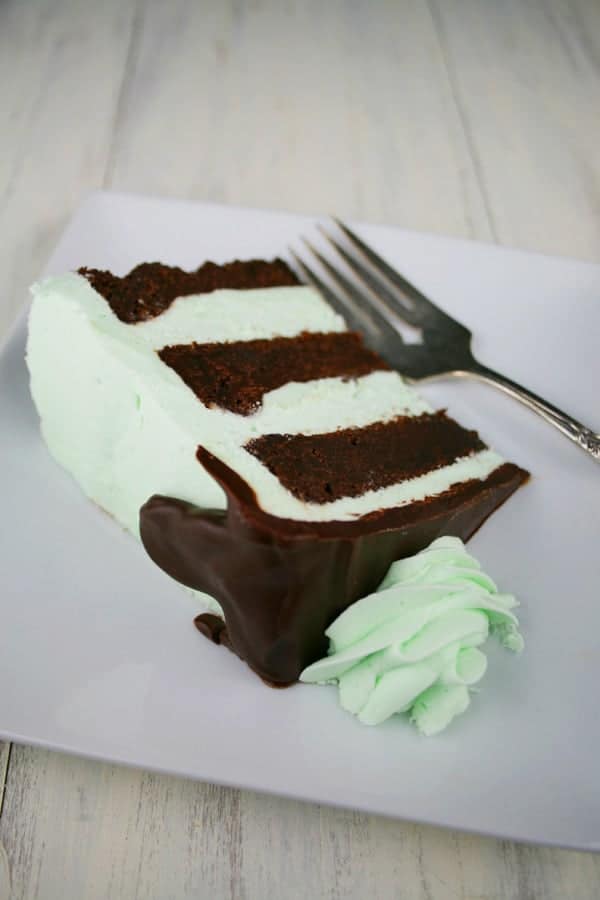 Three layers of moist, flourless chocolate cake with a creamy mint buttercream frosting, topped with chocolate ganache, more frosting and Andes mints. This Flourless Chocolate Mint Layer Cake is sure to please!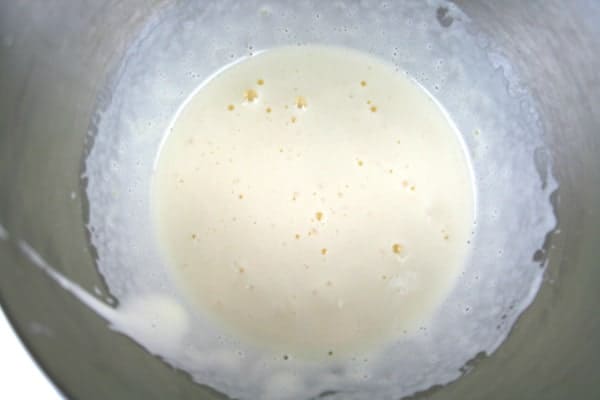 Start by beating 6 eggs and 1 cup of sugar with an electric mixer at high speed for about 5 minutes. It should be pale in color like this when you're done. Then you add vanilla, cocoa powder and a mixture of melted chocolate and butter. Mix until combined.
Here's the Kitchenaid mixer I use (affiliate):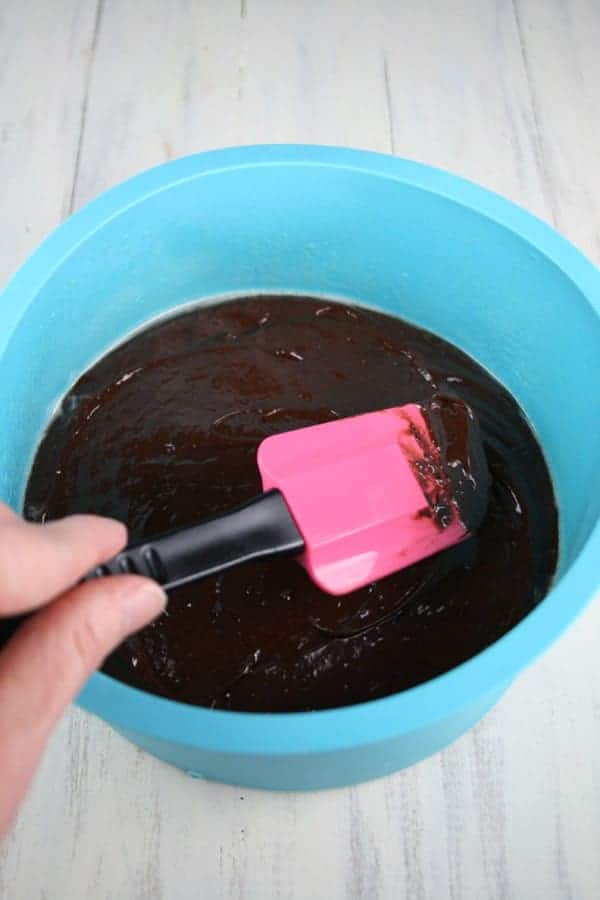 This was the first time I used silicone cake pans and I love them! The cakes baked evenly and came out of the pan so easily. You will need 3 (8″) cake pans for this recipe. Spray the pans with non-stick cooking spray, then divide the batter evenly into the 3 prepared pans. Bake the cakes at 350°F for 20-25 minutes. Let cool.
You can find the silicone cake pans here (affiliate):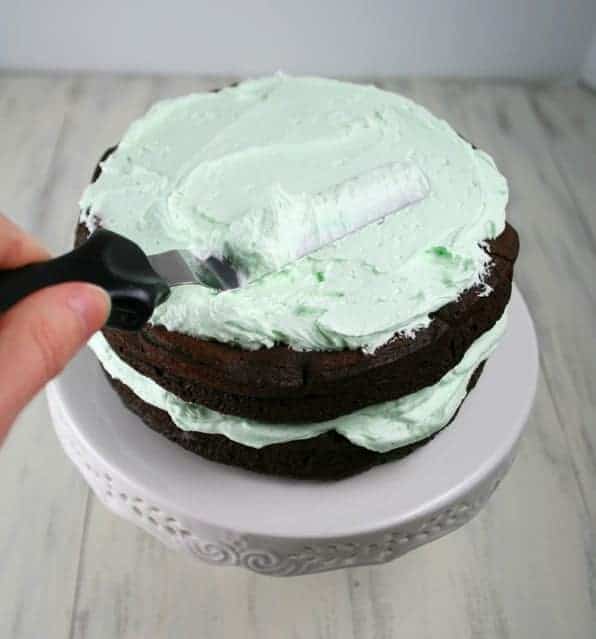 Make your mint buttercream (recipe follows) and spread a healthy amount between each layer. (I just said the word healthy and buttercream in the same sentence. Ha! Everything in moderation, people.)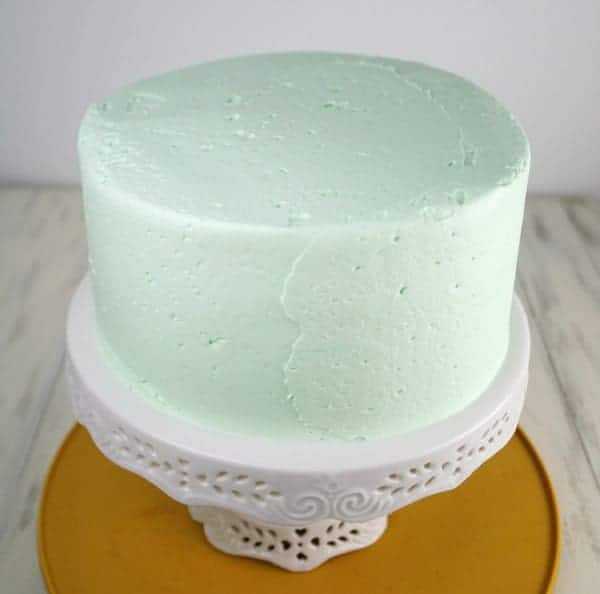 Reserve about 1 1/2 cups of frosting for decoration, then continue frosting cake on top and sides. It's helpful to use a rotating cake turntable. I couldn't find mine, so I cleared off one of my spice turntables and put the cake on that. It's not very pretty but it did the job!
Once it's frosted, stick it in the fridge to chill while you make the ganache.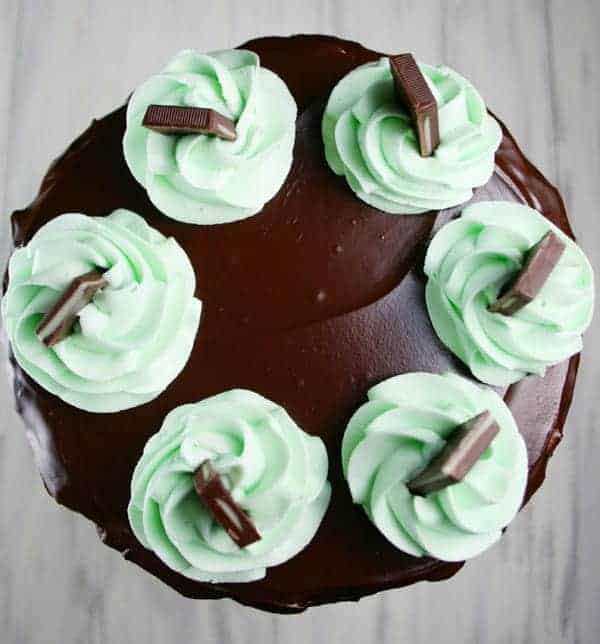 To make the ganache, melt your chocolate chips and butter in the microwave at 50% power, stirring every 30 seconds, until chips are completely melted. Stir until thoroughly combined.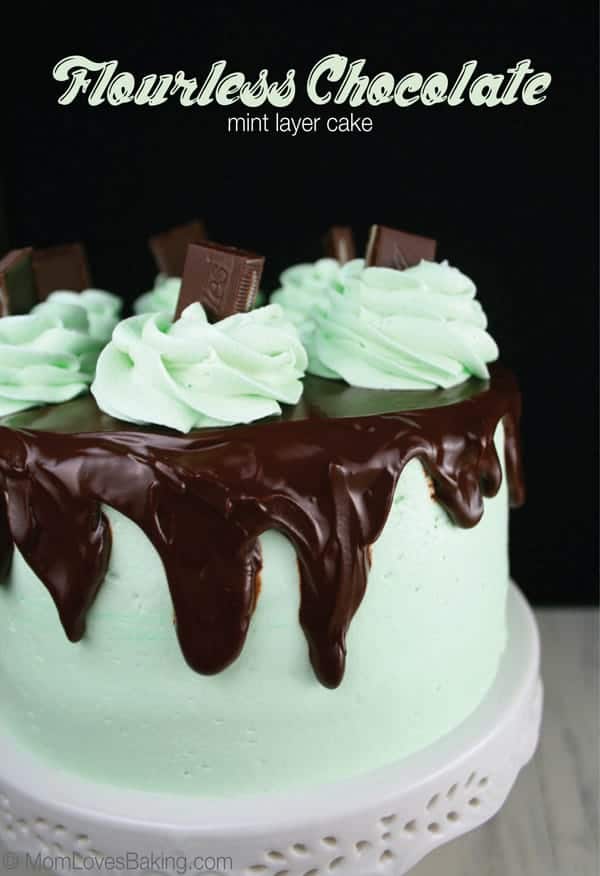 Take cake out of the refrigerator and pour ganache over the top. Push it to the edge until it starts to drip down the sides. Use a pastry bag fitted with a 1M pastry tip to pipe swirls of buttercream on the top of cake. Place an Andes mint on top of each swirl.
You can find the pastry bags here (affiliate):

You can find the 1M pastry tip here (affiliate):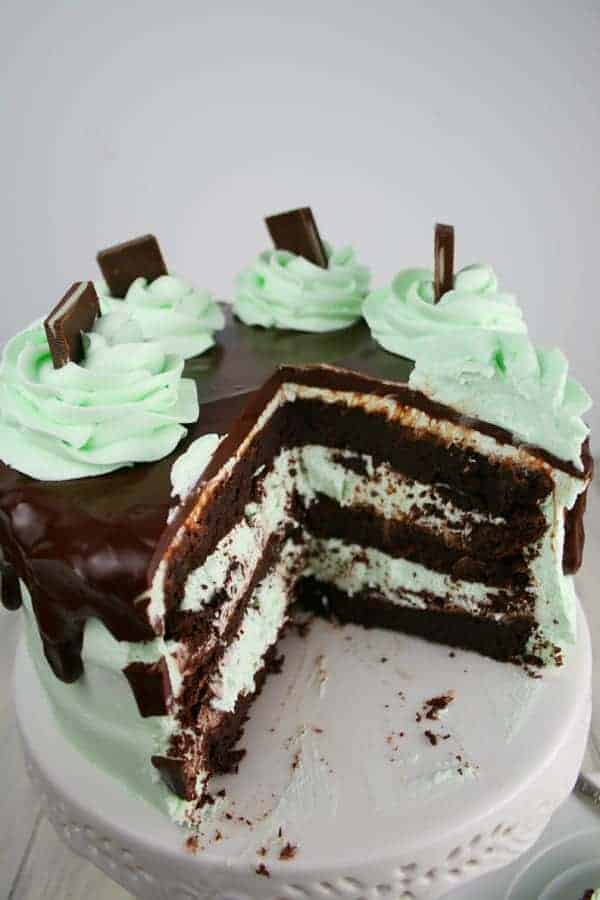 I think it's best to refrigerate the cake for a couple hours. But if you're like me and you can't wait, this is what the cake will look like if you cut into it without refrigerating it first. Not bad and it is so good! But if you want a perfect looking slice of cake, stick it in the fridge first.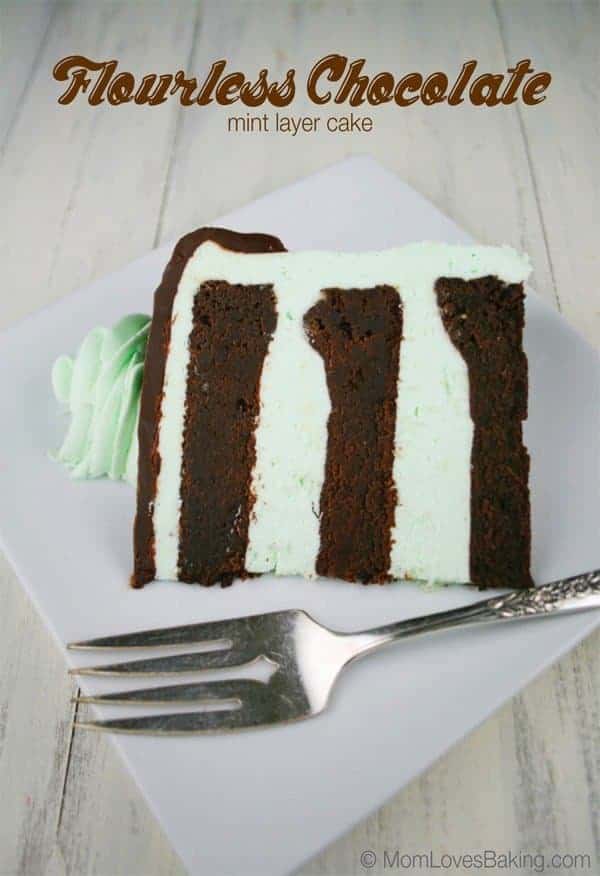 Here's your nice and perfect slice after refrigeration. Pretty! And so minty good!
Enjoy!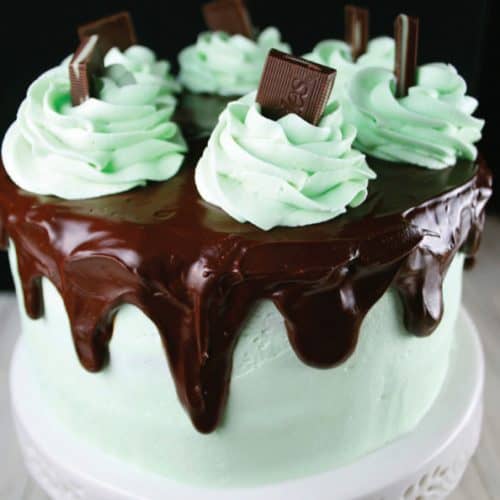 Print Recipe
Flourless Chocolate Mint Layer Cake
Ingredients
For the Cake

1

cup

226g unsalted butter

1 1/2

cups

255g semi-sweet chocolate chips (good quality)

6

eggs

room temperature

1

cup

210g sugar

1

tablespoon

vanilla

3/4

cup

75g cocoa powder

1

teaspoon

salt

For the Mint Buttercream

1 1/2

cups

339g unsalted butter, softened

6

cups

678g powdered sugar

6-8

tablespoons

heavy cream

1 1/2

teaspoons

mint extract

6-7

drops of green food coloring

For the Ganache

1 1/2

cups

255g semi-sweet chocolate chips

6

tablespoons

84g unsalted butter

Garnish

6-7

Andes mints
Instructions
Preheat oven to 350°F. Spray 3 (8") cake pans with non-stick cooking spray. Set aside.

In a medium, microwave safe bowl, melt the butter and chocolate chips on High for 2 minutes, stirring every 30 seconds. Set aside.

Place the eggs and sugar in a large bowl. With an electric mixer, beat at high speed for 5 minutes. Mixture should be pale yellow and doubled in volume. Add vanilla and salt. Sift in the cocoa. Beat on medium speed until just combined. Stir in the melted chocolate and butter. Pour into the prepared pans. Bake for 20-25 minutes or until a toothpick comes out with some crumbs but no longer wet.

For the Buttercream

Beat softened butter on medium speed with an electric or stand mixer for 3 minutes. Add powdered sugar, cream, and mint extract with the mixer running on low. Increase to medium high speed and beat for 3 minutes. Add more powdered sugar if frosting is too thin or more cream if mixture is too thick. Once it's the desired consistency, add the food coloring and mix until completely combined.

For the Ganache - (Note: make ganache after you take the cake out of the refrigerator)

Melt butter and chocolate chips in the microwave at 50% power, stirring ever thirty seconds until it's completely melted.

To assemble the Cake

Frost each layer of cake with mint buttercream. Reserve about 1 1/2 cups of buttercream for the top decoration. Then frost the cake with the rest of the buttercream. Place in the refrigerator for 1-2 hours. After the cake is chilled, pour ganache over the top, letting it fall over the edges and drip down the sides. To decorate the top, place remaining buttercream in a large pastry bag fitted with a 1M pastry tip. Pipe 6-7 swirls on top of cake. Add Andes mints.

Cake recipe adapted from YammiesNoshery.com
Nutrition


7661cbb90590f1d9197c428dfa66f67926821ec67dd1784fe7