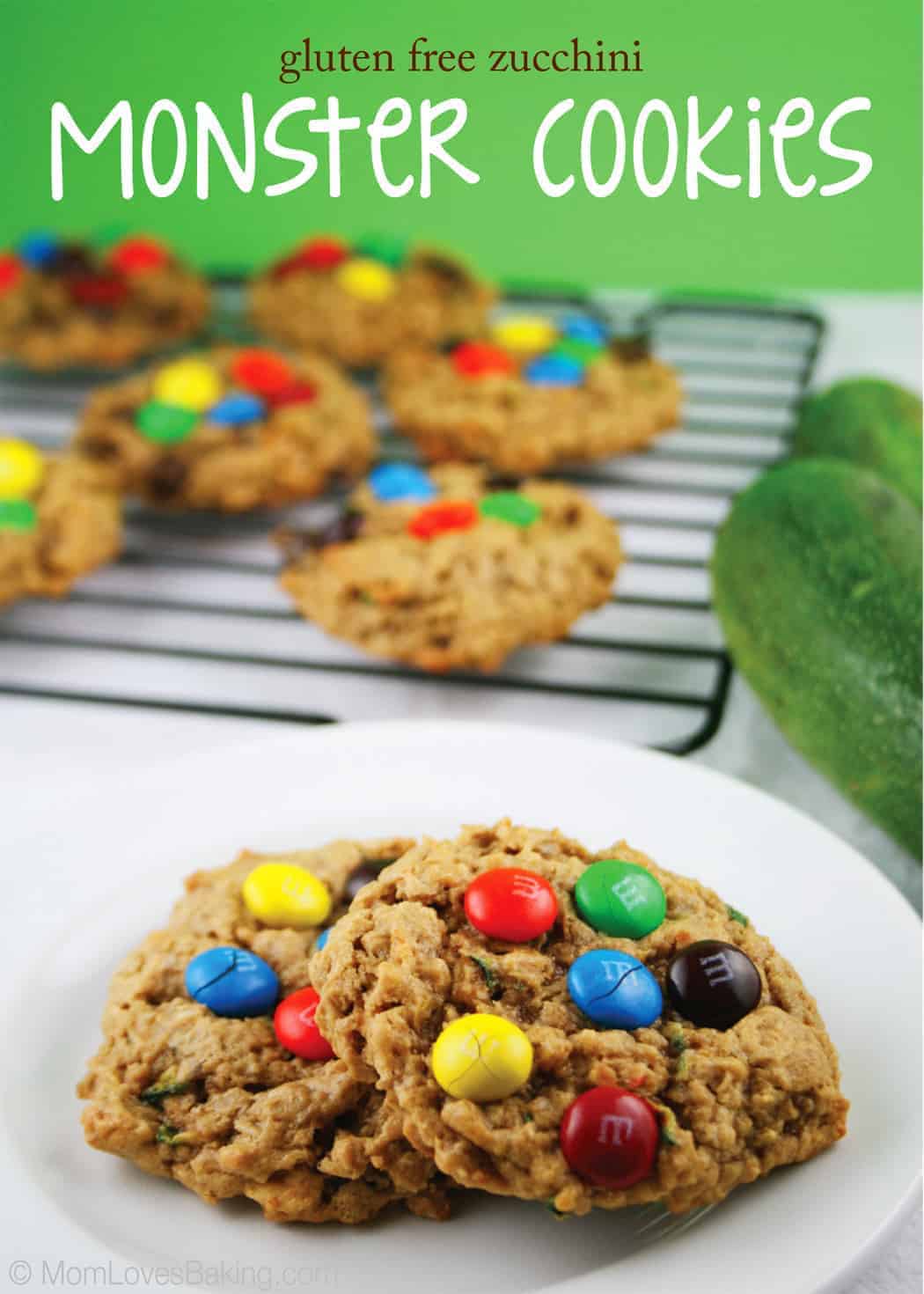 Are you looking for an after school snack that's kid friendly but healthy too? These cookies are gluten free and high in protein with lots of peanut butter. They're so good that your little ones won't even notice the zucchini. I just love to sneak some veges in my sweet treats!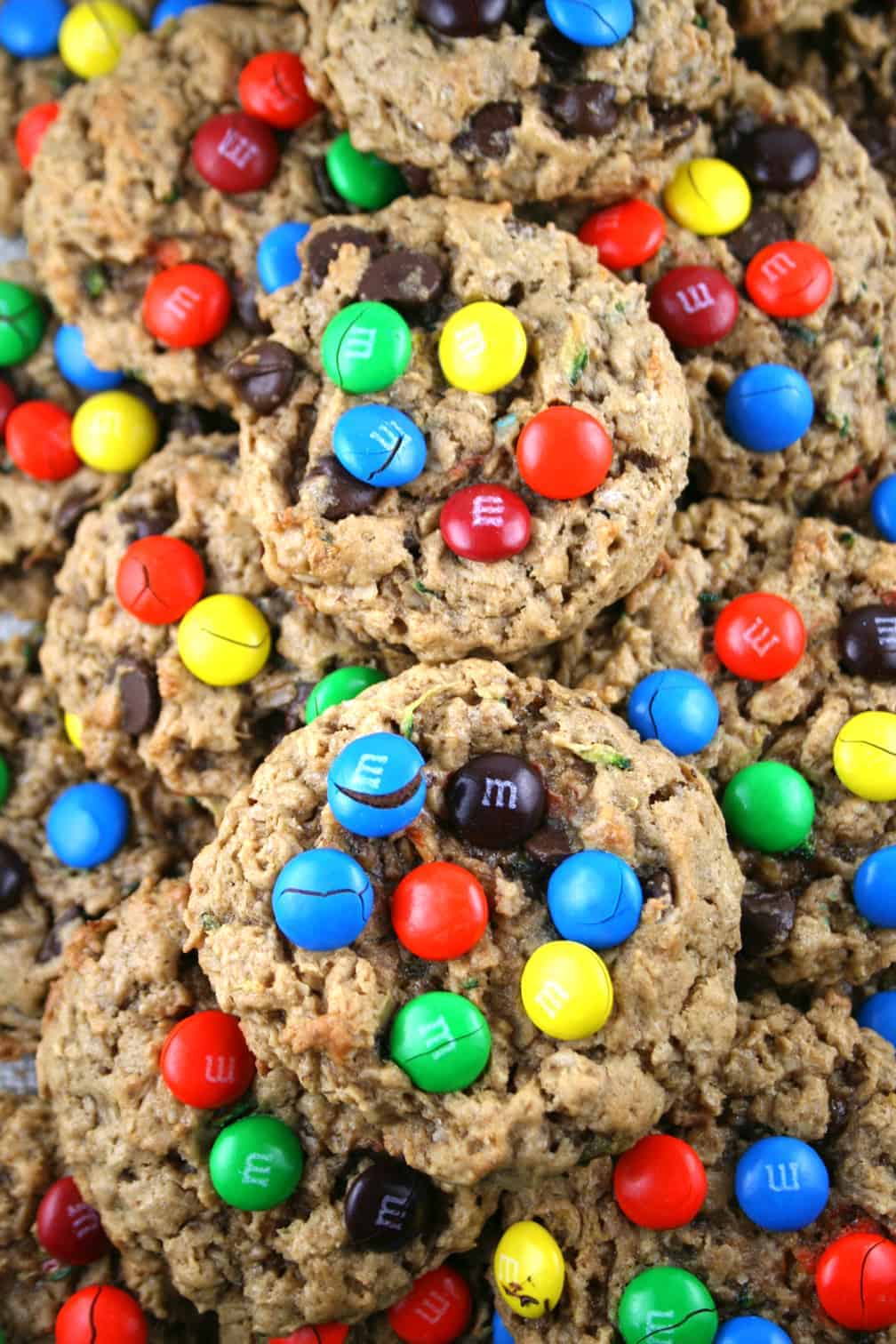 Of course the chocolate chips and M&Ms help make these semi-healthy cookies even better. My mini taste testers gave them a thumbs up.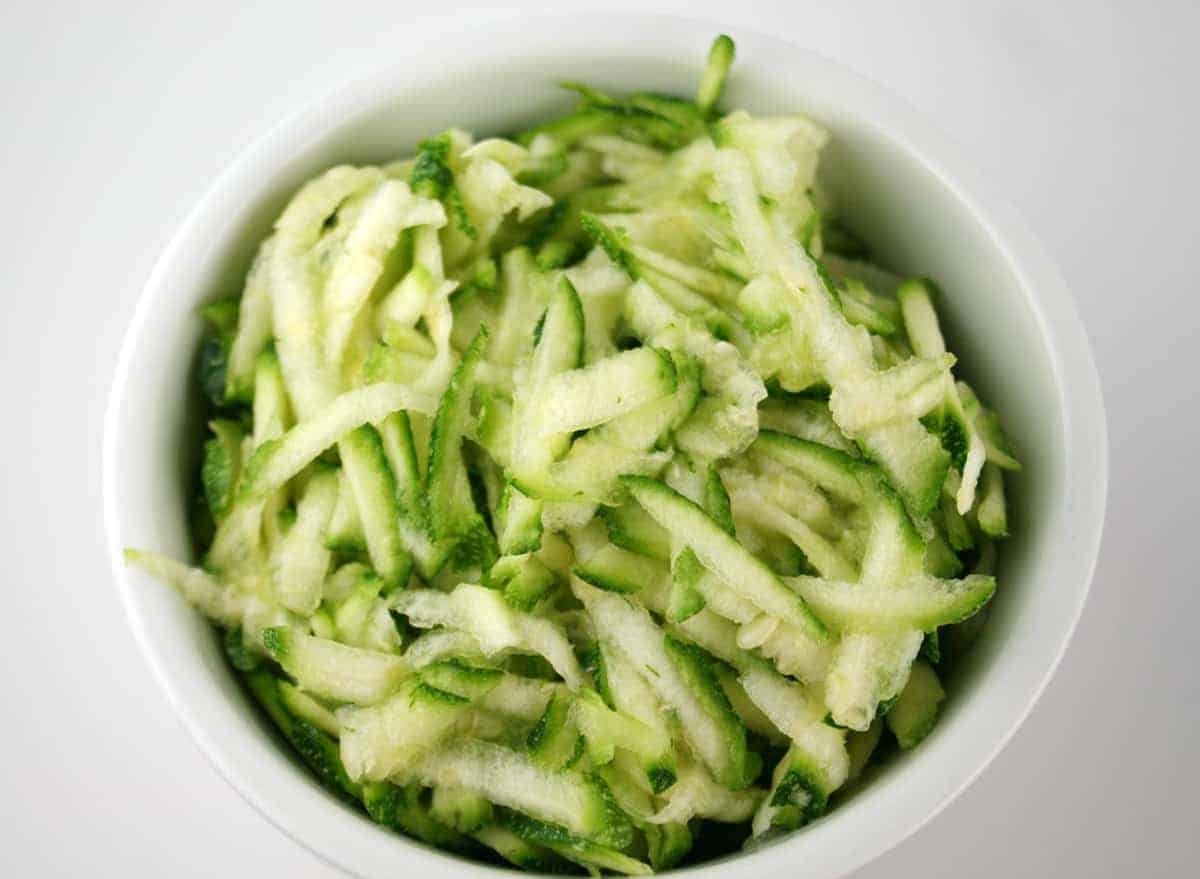 If you've been on Pinterest lately, you might have noticed that there have been tons of pins with sweet zucchini recipes. Tis the season. So I'm jumping on this green squash wagon. Start by grating your zucchini. Be careful! Grating stuff makes me nervous. Don't get those fingers too close to the blade.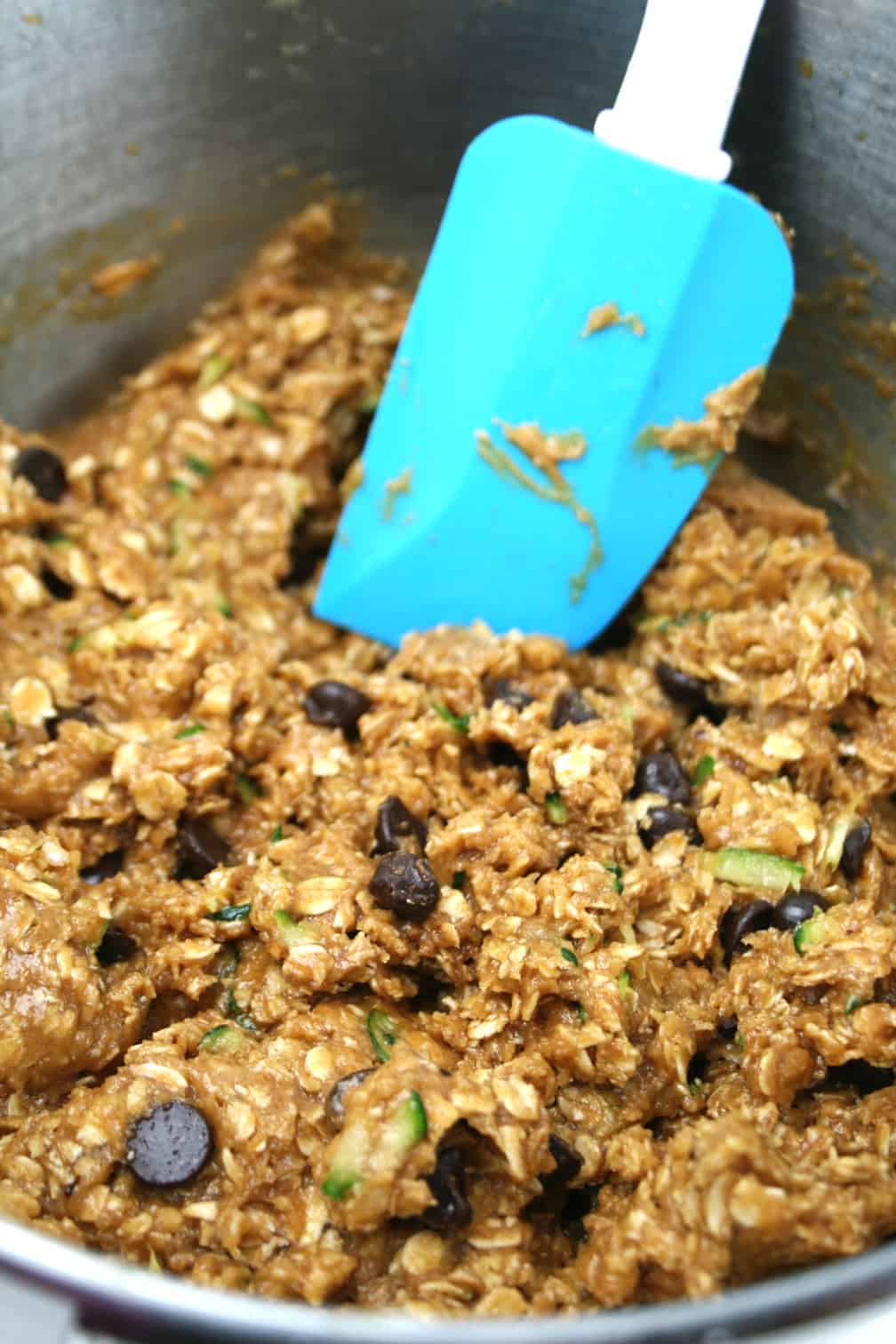 Do you have a Kitchenaid mixer? I absolutely love mine and I'm not being paid to say that. I've been using them for about 14 years. I'm on my second one and the only reason why I had to buy a new one is because I did something silly with my first one. I decided to pack it in my luggage, check that luggage on an airplane and fly to D.C. to make my friend's wedding cake. The mixer was never quite the same after that. I don't think the baggage handlers realized that they were dealing with such precious cargo. So I bought my second mixer about 5 years ago and this cookie dough broke it! Luckily my husband was able to fix it. But I had to change the recipe instructions accordingly. So make sure you only use your mixer for mixing the first 7 ingredients together on low speed (eggs, peanut butter, vanilla, zucchini, sugars, and salt). Then you'll mix the rest in by hand (oats, baking soda, and chocolate chips).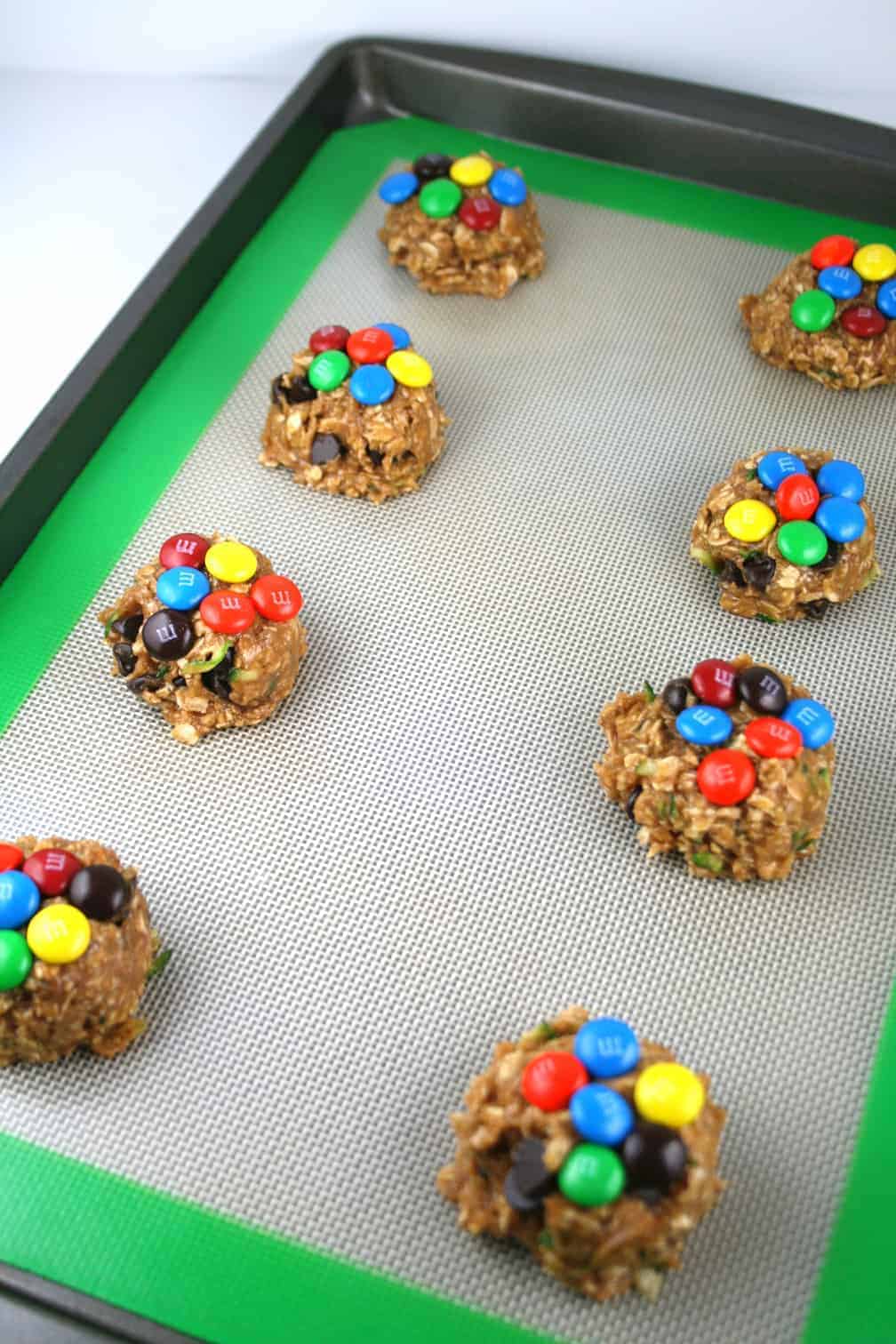 Scoop cookies onto cookie sheet using a jumbo cookie scoop or large spoon. The cookie scoop that I like best is from King Arthur Flour. Bake cookies for 11-13 minutes. Cookies will be soft when they first come out, so don't be surprised if you try to sample one before it's cooled. It will feel mushy. They harden up as they cool.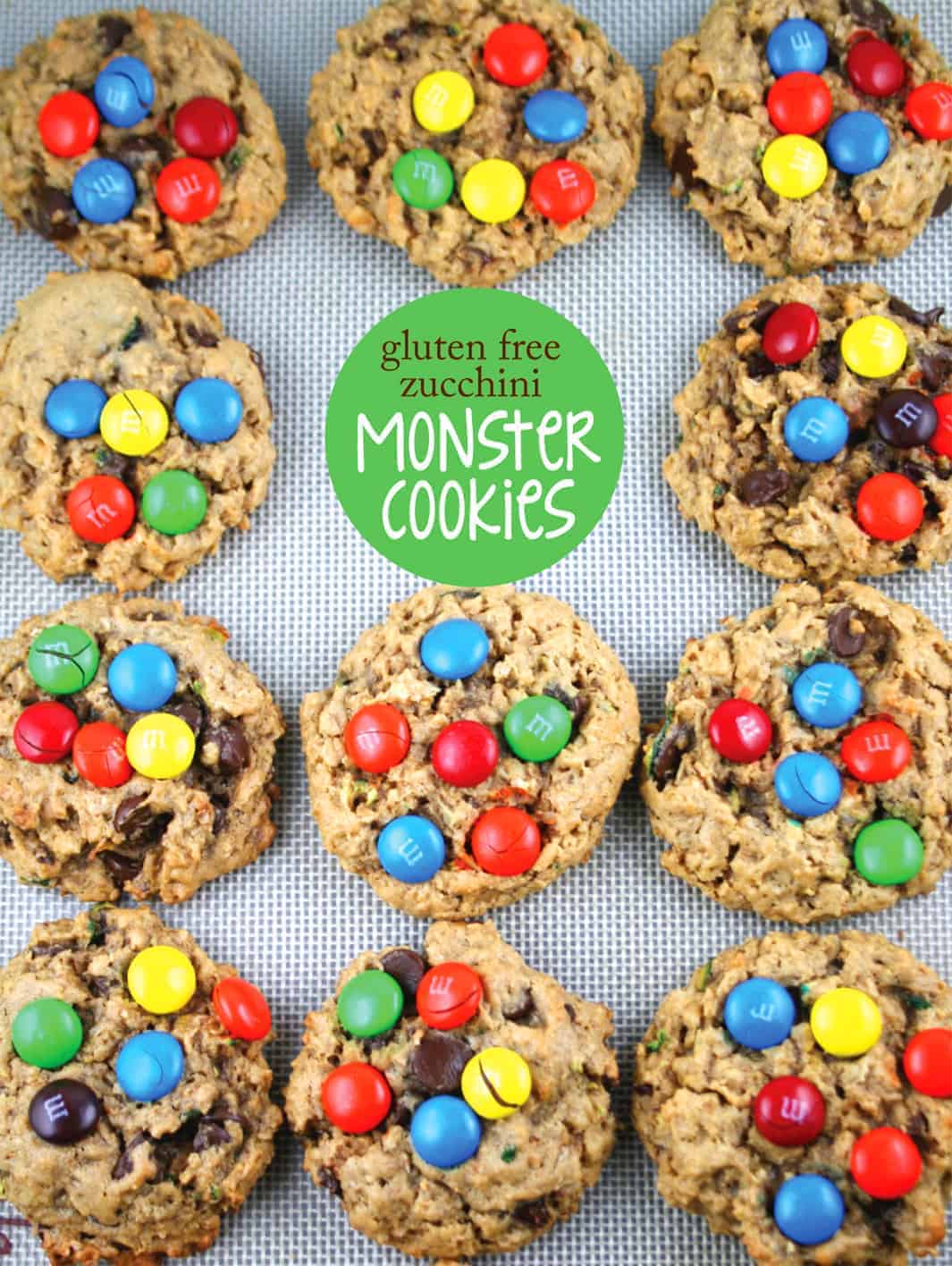 Once they're cooled, they are hard enough to hold their shape yet soft when you bite into them. They are so peanut buttery and chocolately. You'd never know they were made with zucchini except for some tiny green bits you will occasionally see. Serve 'em up and watch them disappear. I just love it when my children eat their greens.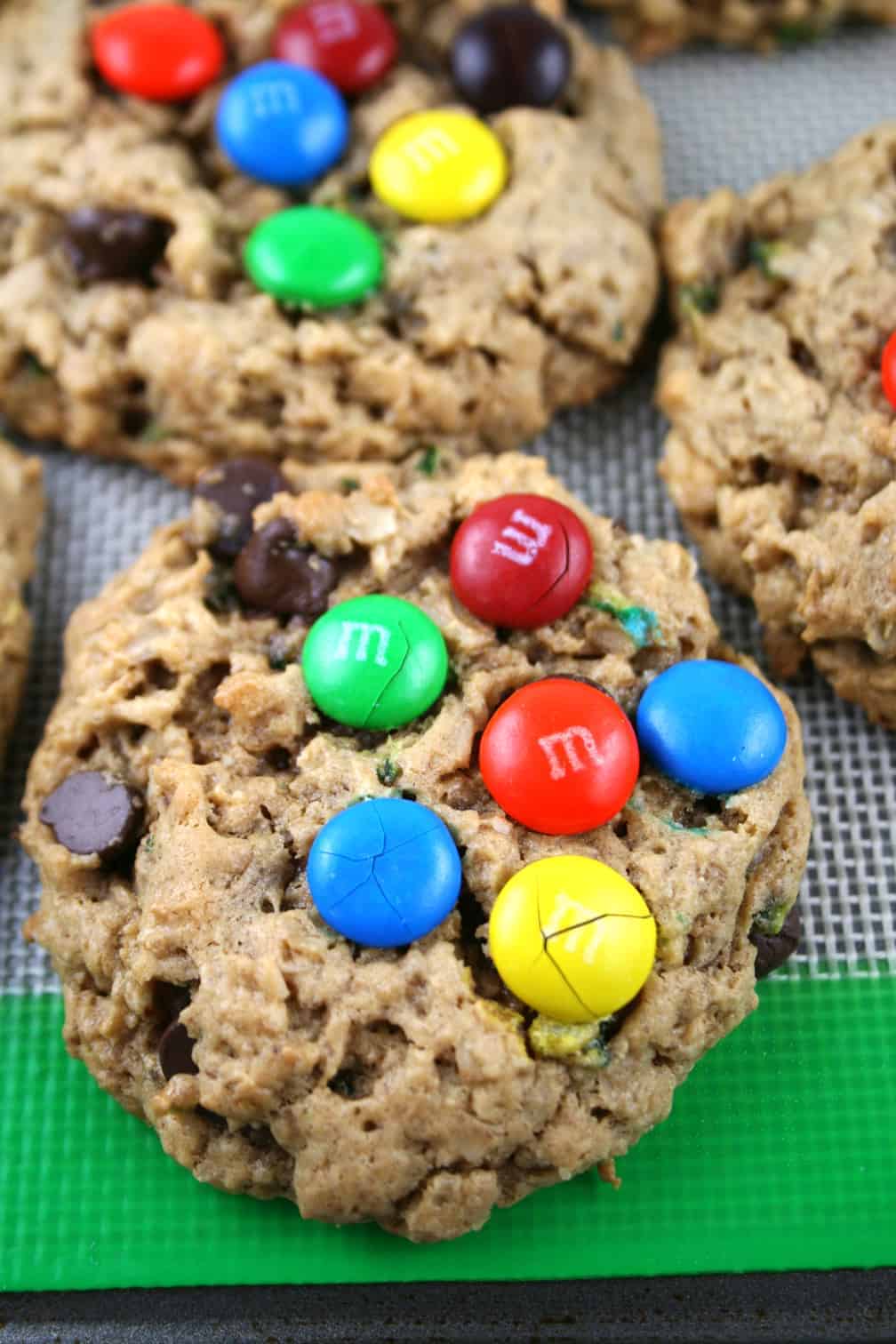 Print Recipe
Gluten Free Zucchini Monster Cookies
Ingredients
3

eggs

room temperature

2

cups

peanut butter

2

teaspoons

vanilla extract

1 1/4

cups

grated zucchini

or 1 medium zucchini

1

cup

brown sugar

1/2

cup

sugar

1/2

teaspoon

salt

2

teaspoons

baking soda

4 1/2

cups

certified gluten free rolled oats

such as Bob's Red Mill

1 1/4

cups

semisweet chocolate chips

1 1/4

cups

M&Ms
Instructions
Preheat oven to 350°F. Line large cookie sheets with parchment paper or silicone baking mats. In large bowl, place eggs, peanut butter, vanilla, zucchini (liquid squeezed out), sugars, and salt. With electric mixer, beat on low speed until mixture is thoroughly combined. Stir in by hand the oats and baking soda. A wooden spoon works well. Then add chocolate chips. Stir to combine.

Using a jumbo cookie scoop or large spoon (2 tablespoons), scoop cookies onto prepared cookie sheets 2-inches apart. Place 5 or 6 M&Ms on top of each cookie. Gently press down slightly. Bake for 11-13 minutes. Cookies will be soft to the touch when they first come out of the oven. Let cool on cookie sheet for 15 minutes. Using a spatula, remove to a cooling rack until completely cooled (about 30 minutes). Cookies will harden up when they are cooled.

Makes 3 1/2 dozen cookies.

Recipe inspired by BackForSecondsBlog.com