When you're baking for a movie star, may I suggest the Hollywood Walk of Fame Star Cake (yellow cake with fresh strawberries, buttercream and a personalized Hollywood star made of fondant).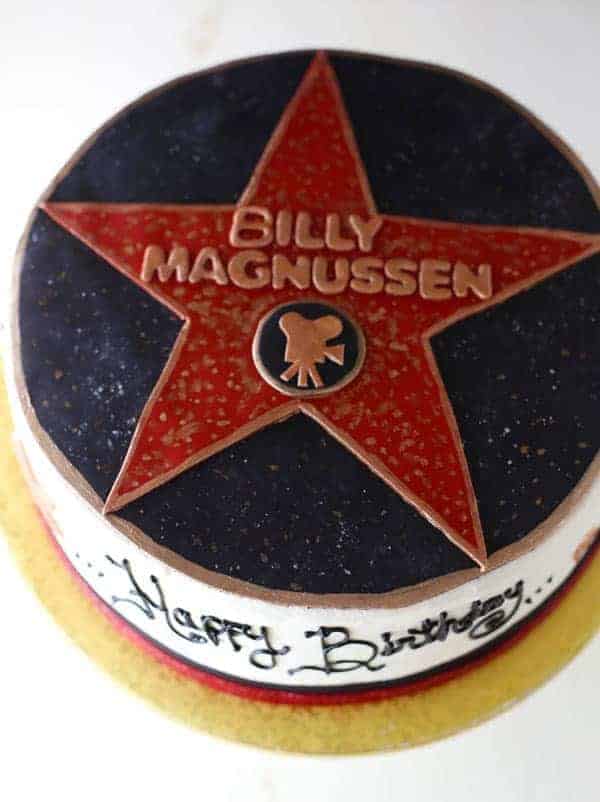 I'm so thrilled to share this cake with you! But this isn't your typical food post.
This is more of a story than a recipe, although I will share how to make my favorite buttercream frosting at the end of this post along with my secret. I made this Hollywood Walk of Fame Star Cake for a very talented, young actor named Billy Magnussen. He is from Cumming, GA where I live and just happens to be filming a movie here in the Atlanta area.
You might have seen Billy in the blockbuster films The Big Short or Bridge of Spies. Or maybe you saw him in Into the Woods as the handsome prince. He also played Kato Kaelin in the tv series called American Crime Story which aired last year. He got his start on As The World Turns where he played Casey Hughes from 2008-2010. Coming soon, you can see him in his latest film called Ingrid Goes West, due to hit theaters in August.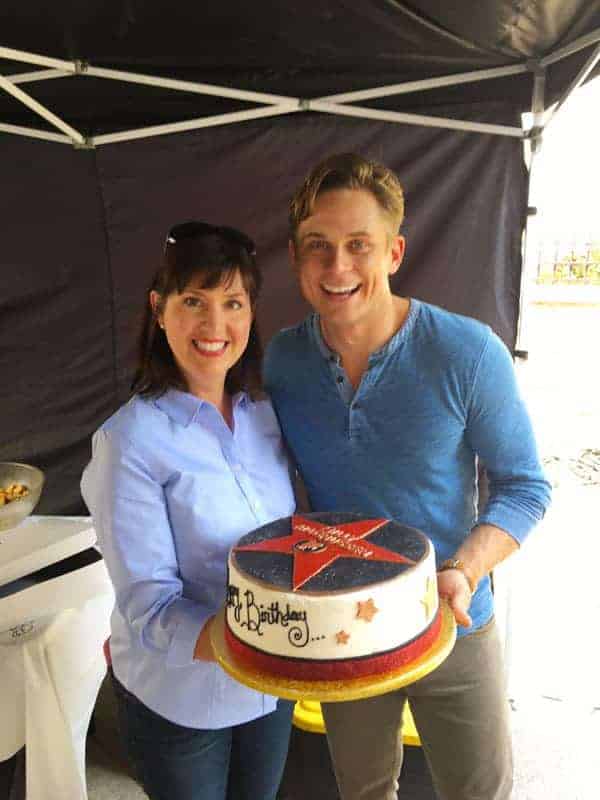 Billy is currently working on a movie called Game Night. And I was so excited to deliver his cake to the set! Did I mention that I'm a huge movie fan! And a fan of Billy's, of course! I'd never met him before. He was so sweet and very handsome (as you can see from this photo).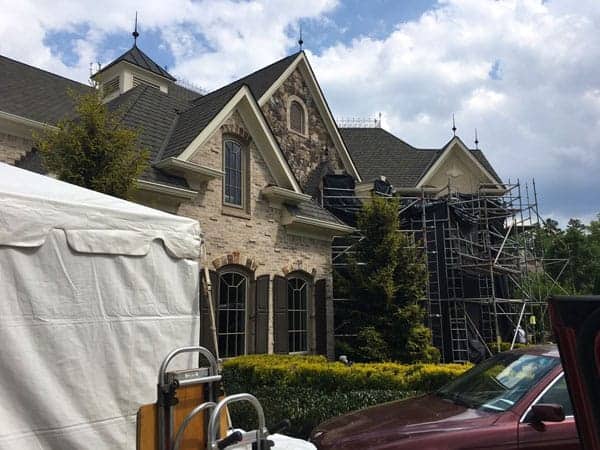 Here is the "house" they were filming in. It was HUGE! My husband and I were there with Billy's mom, Daina, so we got to hang out for a bit and watch the magic. We were walking on air!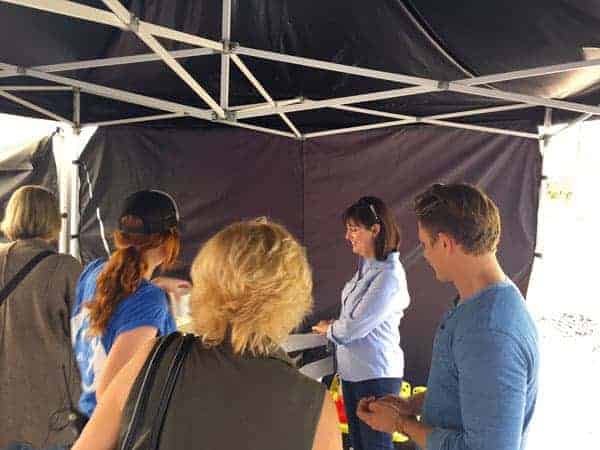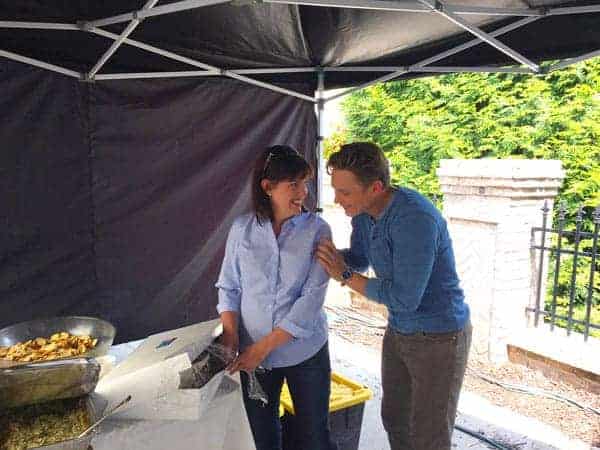 I asked what kind of cake Billy would like and he said anything (except chocolate). I decided on the Hollywood Star and was really happy with how it turned out. It took me 8 hours just to decorate it! It had been awhile since I'd made such a fancy cake. I forgot how much work it was! I used to make wedding cakes and party cakes as a business. I told Billy that I came out of "retirement" for him. He laughed and said, "thank you so much!" He was so gracious and appreciative which made it all worth it!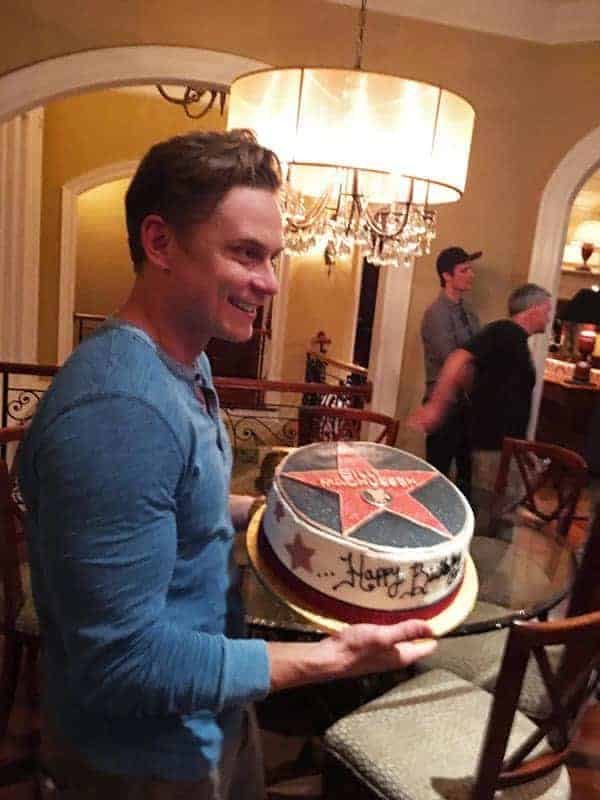 I wasn't supposed to take any photos on set but my husband snapped this pic. (Shhhhhhhhh……… don't tell.) As soon as Billy walked in with the cake, the whole crew started singing Happy Birthday. It was an impromptu party, Hollywood style! Or really just another day at the office for these folks. But I was completely fascinated!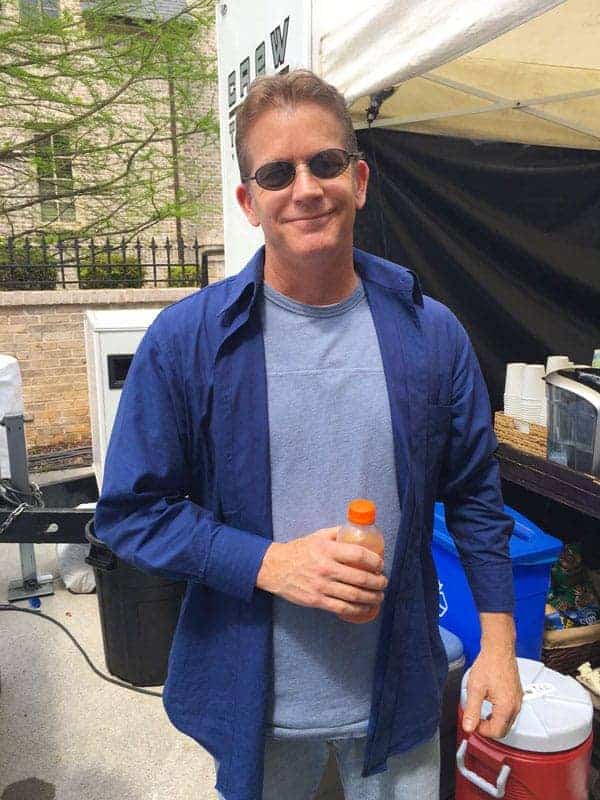 This is Frank. He's Billy's double. We got to see him in action too. He was in the scene we got to see several times.
We also saw Jason Bateman, Rachel McAdams and Lamorne Morris who are all in the movie as well. It was so much fun!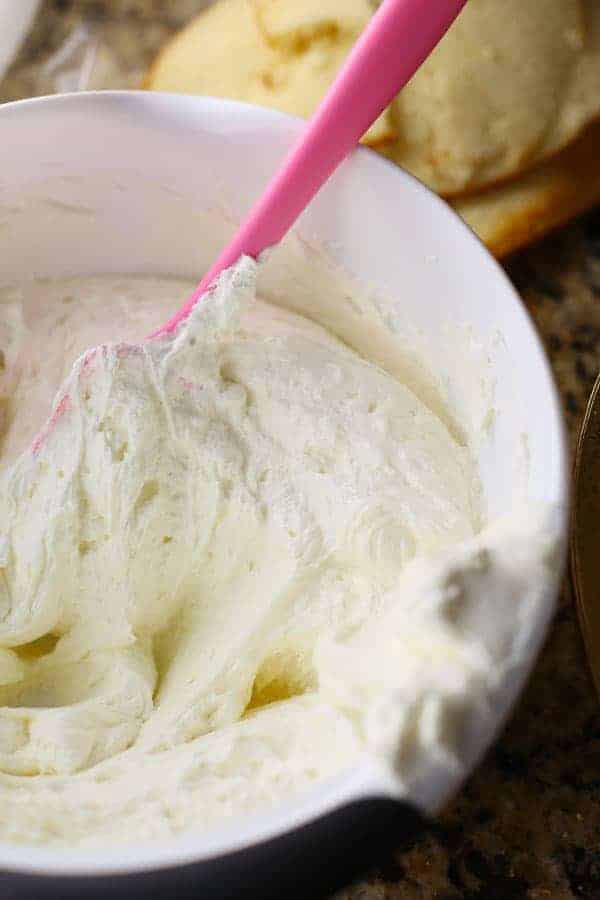 And speaking of fun, are you ready for the behind the scenes cake making part of the story? And here comes my big secret, I actually didn't bake the cake. (Gasp.) I know, I know. I'm the one that loves baking but I had very good reasons which I'll get to in a sec. I bought it from Publix, my local grocery store. They sell frozen yellow cakes that they use for making wedding cakes. I got three 12-inch round yellow cake layers because I didn't have time to bake them myself. It was a last minute deal and I only had one day to put the whole thing together. But I did make the homemade buttercream which I will share at the end of this post. It's my favorite! Just butter, powdered sugar, vanilla and a little cream. Easy!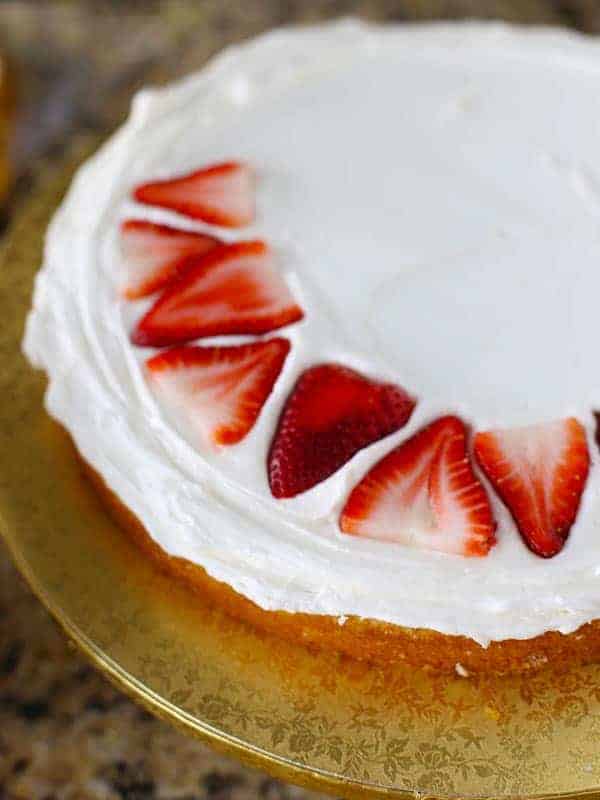 I filled the layers with buttercream and sliced fresh strawberries.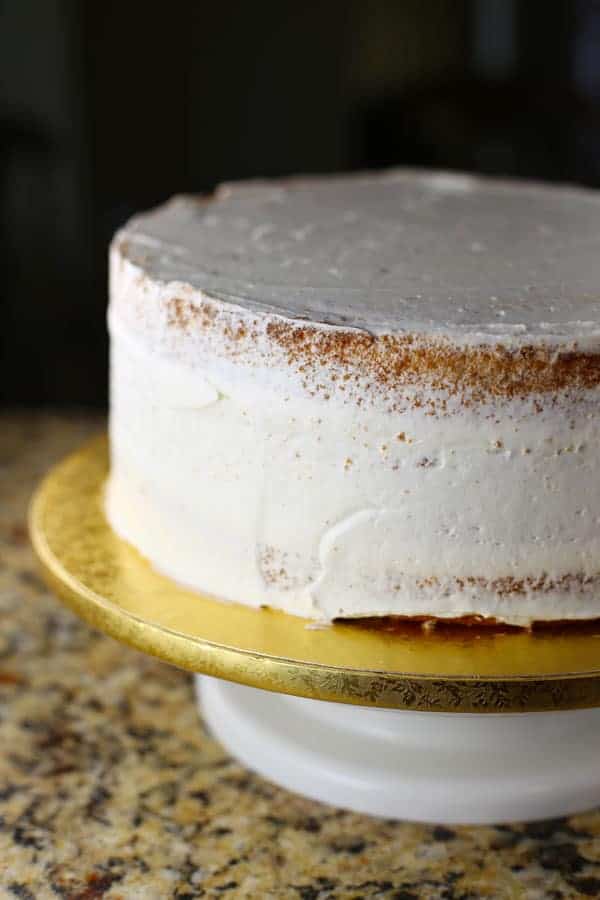 Then I did a crumb coat of buttercream over the whole thing. Once that was done, I added the final layer of frosting.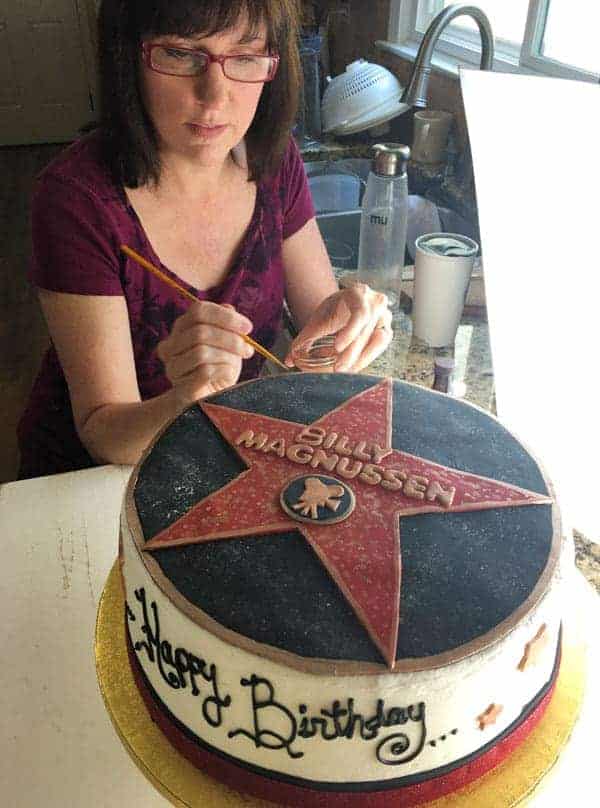 I cut a circle of black fondant to fit on the top of the cake. Then I cut a star out of red fondant and "glued" it on with a little bit of water.. The actual Hollywood stars look like they are made of granite. I created the speckled pattern in the black with cornstarch. I just carefully sprinkled it on. I cut the letters of his name out of red fondant, then "glued" them on with a little bit of water. I created the little camera by drawing it on cardboard, then cutting it out with fondant. The metallic gold "paint" was edible luster dust mixed with lemon extract which I painted on the letters, camera, and edges. I created a texture in the star by brushing dots of the gold "paint".
I added more gold painted stars on the side and attached with a little bit of water on the back of the star. Finally, I placed a black fondant ribbon around the base and a real ribbon over that. Happy Birthday was piped with black buttercream.
Make sure to check out Billy on IMDB and watch some of his movies. I think we will be seeing more and more of him on the big screen and I'll bet he'll have a real star on the Hollywood Walk of Fame in the very near future. Until then, the Hollywood Walk of Fame Star Cake will have to do.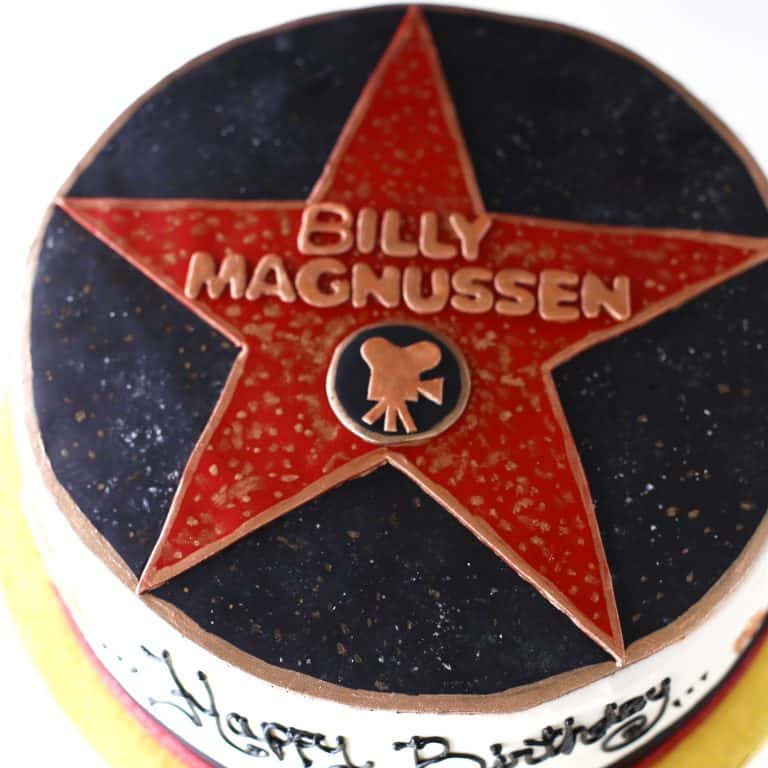 Print Recipe
Vanilla Buttercream Frosting
When you're baking for a movie star, may I suggest the Hollywood Walk of Fame Star Cake (yellow cake with fresh strawberries, buttercream and a personalized Hollywood star made of fondant).
Ingredients
1

cup

unsalted butter, softened

2 sticks

1

pound

powdered sugar

4 cups

1/4

cup

heavy cream or milk

1

teaspoon

vanilla
Instructions
Beat softened butter on medium speed with an electric or stand mixer. Beat for 3 minutes until smooth and creamy.

Add powdered sugar, cream, and vanilla extract with the mixer running on low. Increase to high speed and beat for 3 minutes. Add more powdered sugar if frosting is too thin or more cream if mixture is too thick.
Notes
I made 3 batches of this to fill and frost the Hollywood Star Cake.
Nutrition
Calories:
301
kcal
|
Carbohydrates:
38
g
|
Protein:
1
g
|
Fat:
17
g
|
Saturated Fat:
11
g
|
Polyunsaturated Fat:
1
g
|
Monounsaturated Fat:
5
g
|
Trans Fat:
1
g
|
Cholesterol:
47
mg
|
Sodium:
138
mg
|
Potassium:
10
mg
|
Sugar:
37
g
|
Vitamin A:
546
IU
|
Vitamin C:
1
mg
|
Calcium:
8
mg
|
Iron:
1
mg