In this post, I'll show you How to Make Strawberry French Macarons at home. They are fancy, delicious and maybe a tad mystifying but not impossible. You can do it! And it's oh so satisfying when you master these beauties!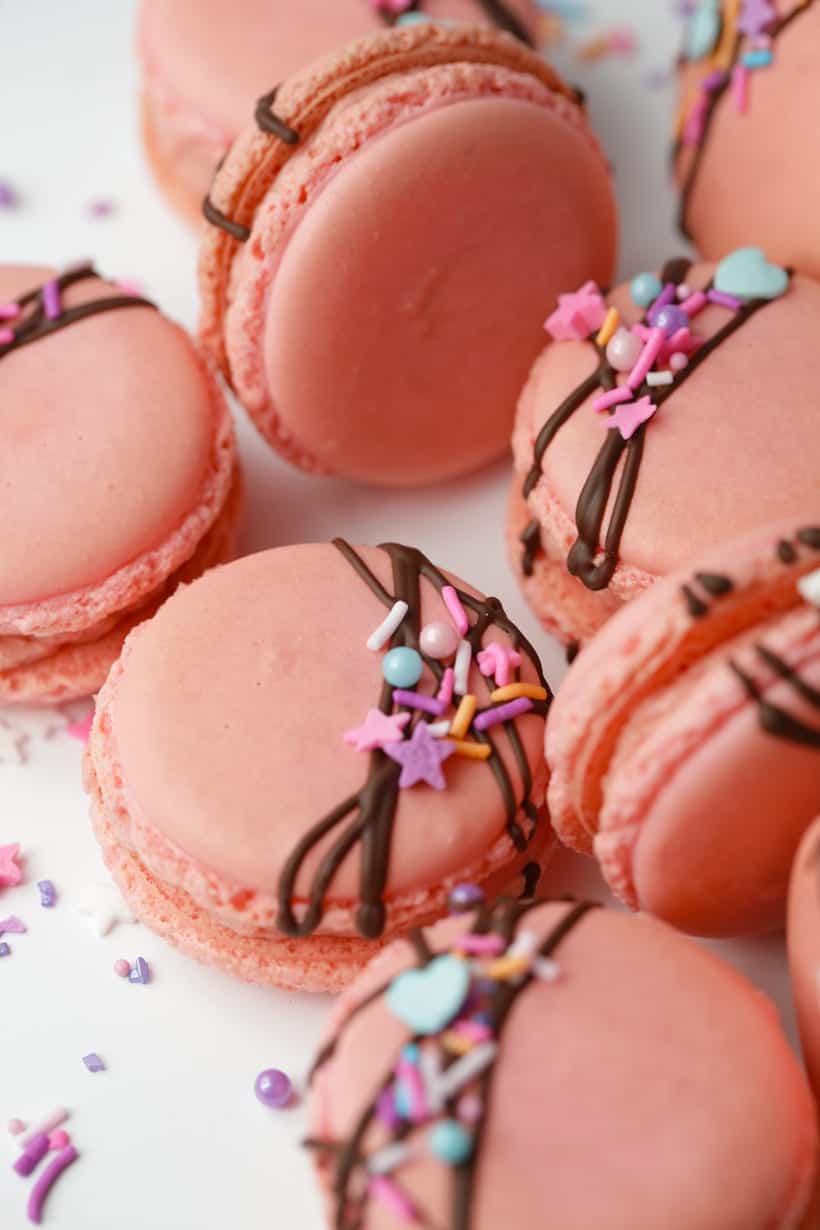 Have you ever had a French macaron? Most likely, if you're like me, you have bought them at a fancy bakery and paid about $3.00 per cookie. Right? But they're so amazingly good, you really want more but they're so expensive! They seem to be getting more and more popular these days. We discovered them about 5 years ago when my daughter became allergic to gluten. One of the first things she missed was cookies! Then we discovered macarons. I think we first tried them at Whole Foods. Not only were they gluten free, they were simply heavenly. Slightly crisp on the outside then soft and chewy on the inside. Plus, there were so many lovely flavors to choose from. Her favorite was and still is strawberry.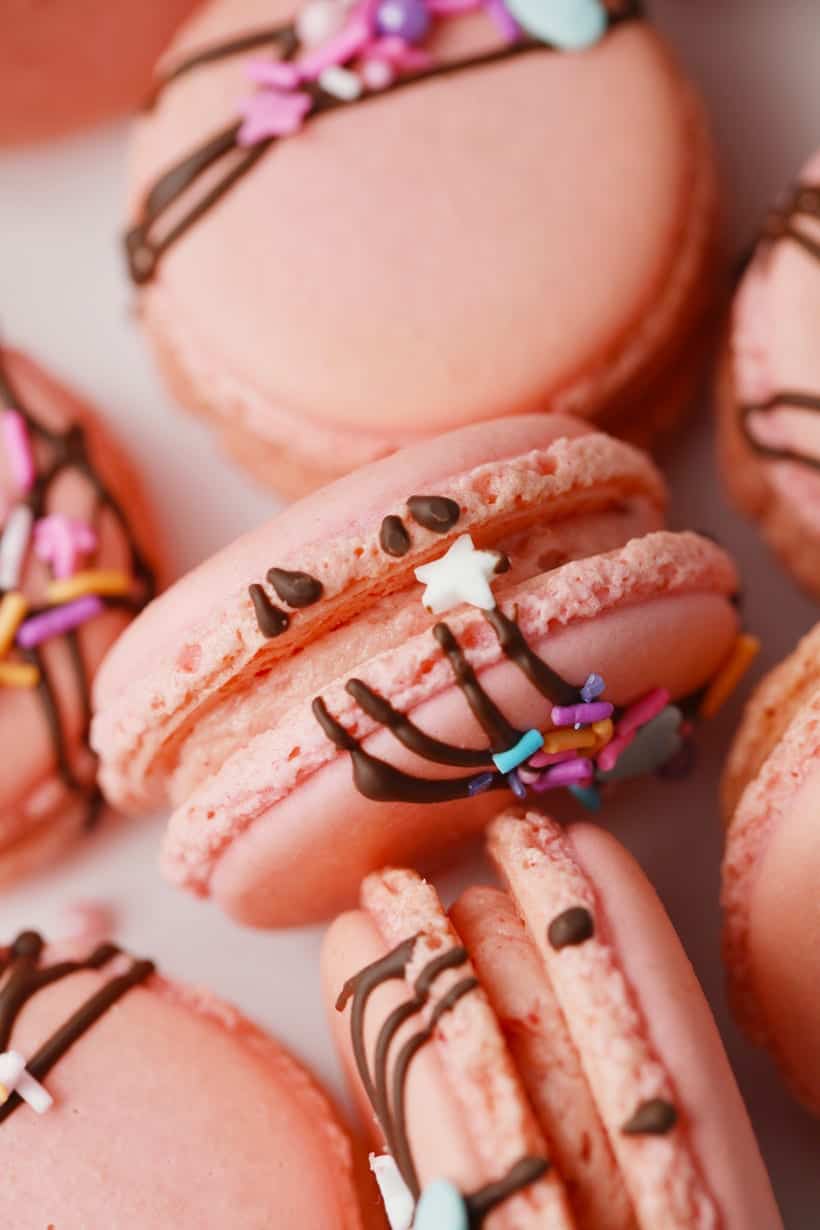 What are French Macarons?
French macarons are delicate cookies made of meringue and almond flour, plus food coloring and various flavorings. They date back to 15th century France. A macaron is not to be confused with the macaROON which is made with sweetened coconut flakes. French macarons are sandwich cookies with a variety of fillings ranging from buttercream to jam to chocolate ganache. The Strawberry French Macarons that I'm sharing today are filled with a strawberry infused American buttercream filling. They're SO good!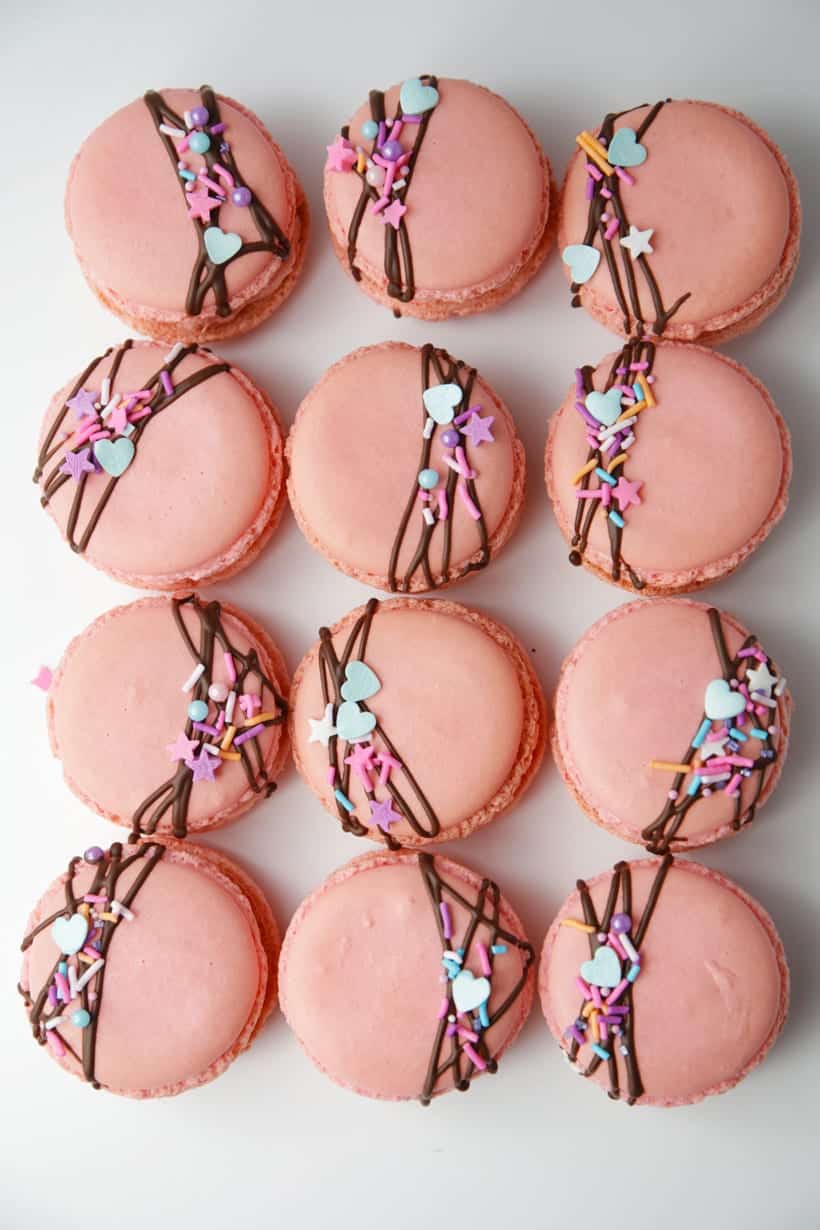 Ingredients You Need to make Macaron Shells
Almond Flour - Also called almond meal. I used the brand Blue Diamond because it's extra fine.
Powdered Sugar - Also called confectioner's sugar. I prefer to buy it in the 2 lb. bag at the grocery as it's pre-sifted.
Large Egg Whites - Make sure they are room temperature for this recipe.
Store Bought Egg Whites in the Carton - You need 100g of egg whites, so when you weigh your egg whites that you separated, you might not have exactly 100g. I use the store bought carton egg whites to supplement this recipe. And add a little to make it 100g (if needed).
Granulated Sugar
Food Coloring Gel - I prefer using food coloring gel because it's thicker and more concentrated than traditional food coloring. It only takes a drop or two. I used Chefmaster Rose Pink for this recipe.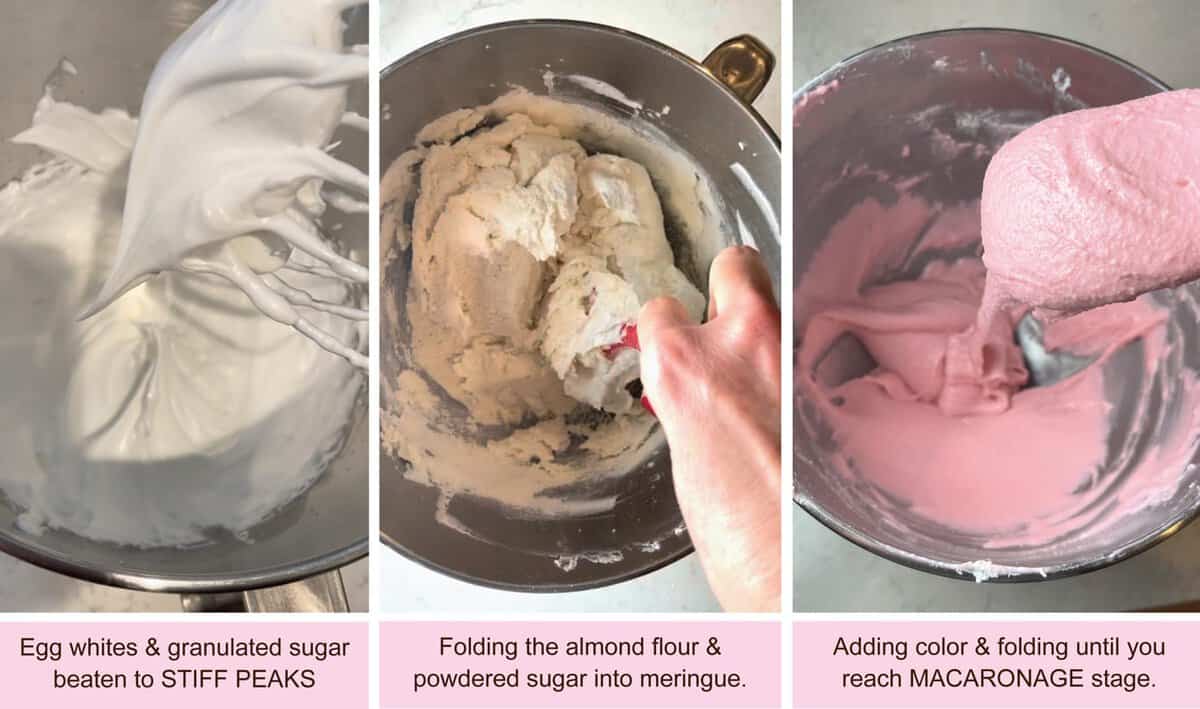 To Sift or not to Sift?
There are many different opinions on this question. Personally, I do NOT sift the almond flour OR the powdered sugar when making macarons. That is because I am LAZY. Also, I prefer doing things the easiest way possible. Since I don't sift, it's important for me to use extra fine almond flour. I prefer the brand called Blue Diamond (affiliate). I order from Amazon. I'm sure there are other good brands out there, you can experiment with if you wish. And if you feel like it's too lumpy, you can always sift. I also do NOT sift the powdered sugar. I buy it at the grocery store in the 2 lb. plastic bag. The grocery store brand works fine such as Publix, Walmart, Kroger, Ingles, etc. Make sure you whisk together your almond flour and powdered sugar very well to get any lumps out.
Note: If you want to sift your almond flour and powdered sugar, go right ahead. It will give you a slightly smoother macaron shell.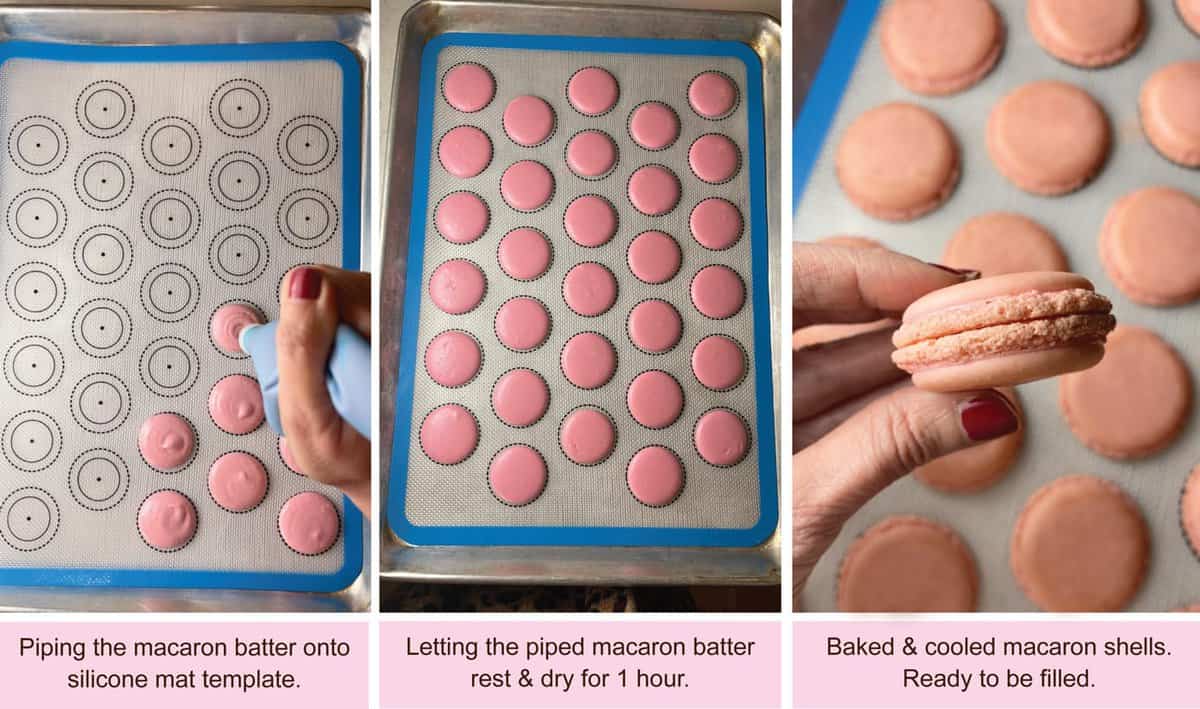 The Macaronage Stage of Mixing the Batter
What is macaronage? It is the phase of the macaron making process where you fold the dry ingredients into your meringue. The recipe calls for whisking together the powdered sugar and almond flour, then setting aside. Then you beat your egg whites and granulated sugar over a double boiler until the sugar dissolves. At that point, you remove from the heat and beat until stiff peaks form. The next step is the MACRAONAGE stage of mixing the batter. It's the act of carefully FOLDING the almond flour/powdered sugar mixture into the meringue. You will gently fold it in at first. Once it is combined, then you will continue to fold and mix until your batter is smooth, shiny and falls off the spoon or spatula in a flowing stream. This takes about 5 minutes. A classic way of testing whether it's ready is to scoop some of the batter and let it drizzle down into the bowl and make a figure eight pattern. Then you know it's ready to be piped on to the cookie sheet.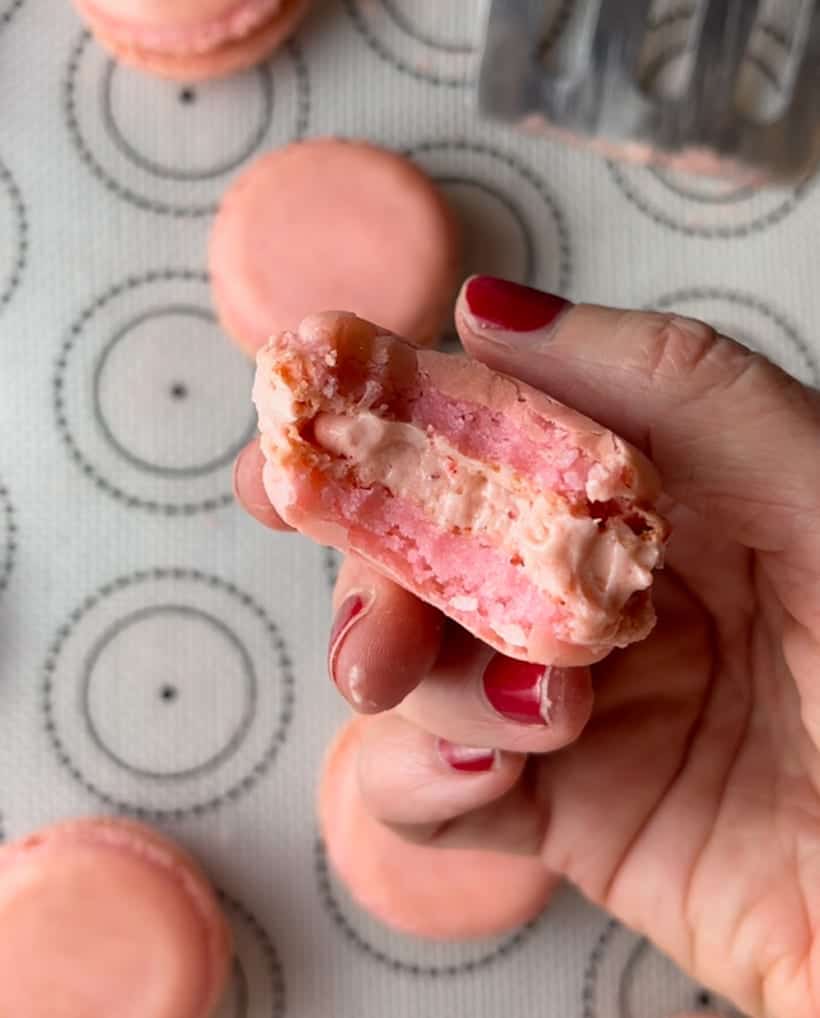 Pro Tips for Making the Perfect Macarons
Make sure you have all the ingredients and tools that you need BEFORE you start this project.
Ordering this Macaron Kit will be very helpful (it's the one that I use).
Time is your friend. Don't rush these. It's important to let the piped macaron shells dry out for an hour BEFORE baking.
Also, let them cool COMPLETELY before removing them from the cookie sheet. Use a metal spatula to slide underneath and lift from the mat or parchment paper. Don't use your hands to remove the macaron shells.
Be gentle when you are filling the macaron shells. They will break easily.
For the best taste results, let your filled macaron shells "age" overnight. This allows the flavors to become more vibrant and the texture is more soft and moist.
Decorating your Strawberry French Macarons
These strawberry French macarons are simply delicious on their own with just the shells filled with the strawberry buttercream. But if you want to make them a little extra special, you can drizzle them with melted chocolate chips, then top with sprinkles. I used FANCY SPRINKLES in Truth or Dare. Click here for their website. I'm an affiliate there. Use my code MOMLOVESBAKING15 to get 15% off.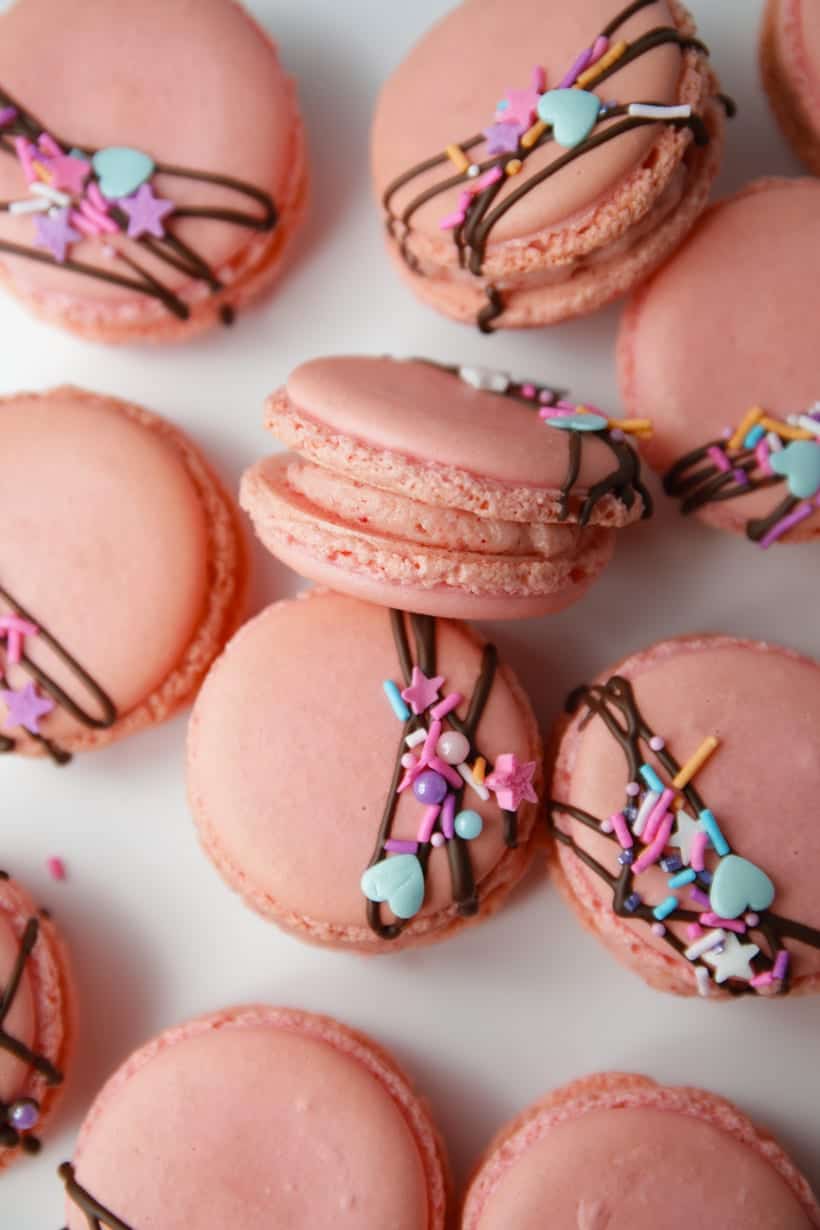 A little pep talk
So what are you waiting for, go make some macarons. You can do it! I'm not going to tell you that they are super easy to make. Yes, they are a little bit tricky, but why not go for it! I had to make many batches to get them just right but I never once threw away any cookies. Even when they're not perfect, they still taste amazing, so you really can't lose. Have fun with it!
Happy Baking!
Lise
xo
TOOLS FOR SUCCESS
Macaron Kit - 15 piece set includes TWO mats with macaron template, plus much more!
Blue Diamond Almond Flour - My favorite brand for this recipe!
Chefmaster Food Coloring Gel in Rose Pink


Note: The above items are affiliate links. As an Amazon Associate I earn from qualifying purchases.
Want even more? Subscribe to Mom Loves Baking to get new recipes and a newsletter delivered to your inbox. And stay in touch on Facebook, Pinterest, Twitter, and Instagram for all my latest updates. If you make this recipe, share a photo on social media tagging @momlovesbaking and using the hashtag #momlovesbaking.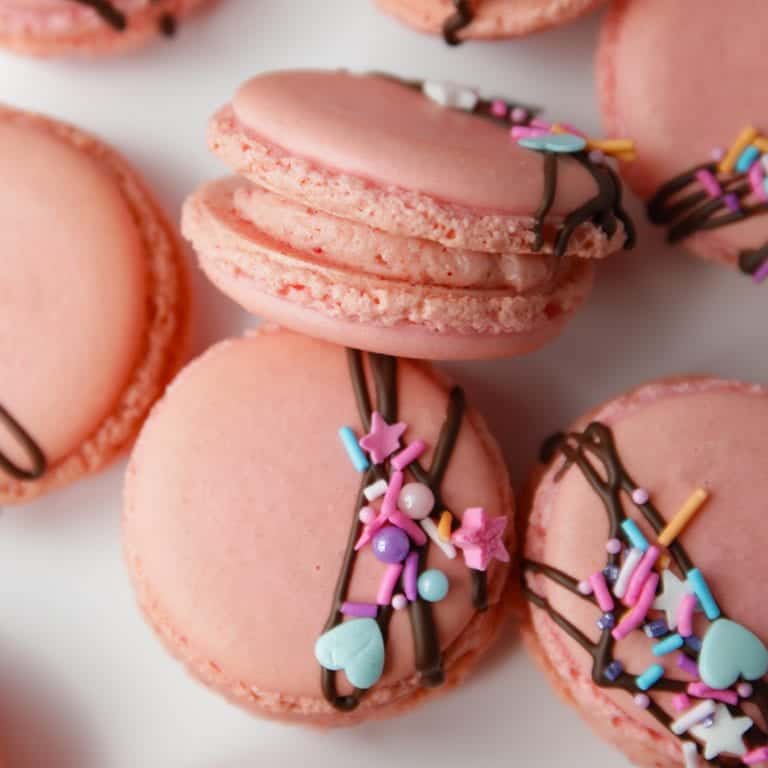 Strawberry French Macarons
Homemade French macarons in a lovely shade of rose pink with a luscious strawberry buttercream filling.
Print
Pin
Rate
Ingredients
Macaron shells
1

cup

almond flour

Scant cup or 105g - I used Blue Diamond Almond Flour

1

cup

powdered sugar

Scant cup or 105g

3

large

egg whites, room temperature

100g - weigh your egg whites and add a little extra from a carton of store bought egg whites, if needed

½

cup

granulated sugar

Scant ½ cup or 100g

2

drops

rose pink food coloring gel
Strawberry buttercream
½

cup

unsalted butter, softened

(113g

⅔

cup

powdered sugar

38g

¼

cup

freeze-dried strawberries

6g

2

tablespoons

heavy whipping cream

or 1 tablespoon coconut milk from the can

⅛

teaspoon

strawberry oil - food grade

or ½ teaspoon strawberry extract
Instructions
For the macaron shells
Line two half sheet pans with silicone mats (I like the ones that have the circle pre-marked on the mat - found on Amazon, see blog post for link). You could also use parchment paper.

In a medium bowl, whisk together the almond flour and powdered sugar (make sure you get out any lumps). Weigh out the ingredients for best results. Set aside.

Place egg whites in a heat proof bowl. I like to weigh the 3 egg whites. If they are less than 100g, then add enough liquid egg whites (from the carton) to reach the 100g mark. Add the granulated sugar. Place bowl over a pan of boiling water, whisking constantly for 90 seconds. This will dissolve the sugar. Remove the bowl from the heat and immediately start beating with an electric mixer with the whisk attachment on medium high for 1 minute, then turn up to high and beat 2 minutes or until stiff peaks form. (Do not overbeat or they will be too dry.)

Fold half of the almond flour mixture into the beaten egg whites until combined, then fold in the remaining half of the almond flour mixture. Keep folding until completely combined. Add the food coloring. Continue to fold and stir until you have a smooth batter that runs off the spatula easily and fairly quickly. You should be able to drizzle a figure eight pattern. This took me 6 minutes. Note: You will need to use some "elbow grease" towards the end, meaning to put some muscle into it. You will be delicate with it at first, when you're folding, then you don't have to be so delicate towards the end.

Pour batter into a large pastry bag fitted with a ½" round pastry tip. Start piping the batter, holding the bag at a 90° angle. Squeeze bag until you've piped a round of macaron batter that almost reaches the edges of the macaron template or about 1 ⅜-inch wide. You should have enough to pipe about 40 shells. Tap pan on counter to release the air bubbles. Use a toothpick to pop any bubbles that appear. Let the shells dry for 40-60 minutes. You can preheat the oven at this point to 325°F. Bake the shells for 16-18 minutes. Let them cool completely. Use a metal spatula to slide underneath the macaron shell and lift from the pan. Don't use your hands, the shells might break. Note: Ovens may vary. If you want to TEST bake one cookie first, you could do that. If they aren't baked long enough, they will be too soft, but baked too much and they will be too hard.
For the strawberry buttercream
Place powdered sugar and freeze dried strawberries in a food processor and pulse a few times or until strawberries are powdered. Set aside.

Beat softened butter on medium speed with an electric or stand mixer. Beat for 3 minutes until smooth and creamy. Add powdered sugar mixture, cream, and strawberry flavoring with the mixer running on low. Increase to high speed and beat for 3 minutes.

Transfer the buttercream to a pastry bag fitted with a ½ inch round pastry tip. Squeeze a half dollar-sized dollop of buttercream in the middle of a macaron shell. Gently place another shell on top. Repeat with remaing shells. Drizzle with melted chocolate and add sprinkles, if desired. I the melted chocolate into a disposable piping bag and cut a tiny corner to drizzle the chocolate onto the macarons. Then added sprinkles immediately. For best results, store in airtight container in the refrigerator and wait 24-hours to serve. They will be softer and more flavorful the next day but you can eat them immediately, if desired. Storing suggestions: If stored in an airtight container, they will be good for 24 hours at room temperature OR 2-3 days in the refrigerator OR up to 3 months in the freezer.
Nutrition
Calories:
150
kcal
|
Carbohydrates:
19
g
|
Protein:
2
g
|
Fat:
8
g
|
Saturated Fat:
3
g
|
Trans Fat:
1
g
|
Cholesterol:
14
mg
|
Sodium:
50
mg
|
Potassium:
50
mg
|
Fiber:
1
g
|
Sugar:
17
g
|
Vitamin A:
164
IU
|
Vitamin C:
36
mg
|
Calcium:
15
mg
|
Iron:
1
mg
More Cookies You'll Love
All text and images © Lise Ode for Mom Loves Baking. Please do not use my images without prior permission. If you want to republish this recipe, please re-write the recipe in your own words, or link back to this post for the recipe. Disclaimer: Nutrition information shown is not guaranteed to be accurate. This post may contain affiliate links.