Rainbow Sprinkles Polka Dot Surprise Cake is a white cake with colored cake balls inside, buttercream frosting on top and lots of sprinkles.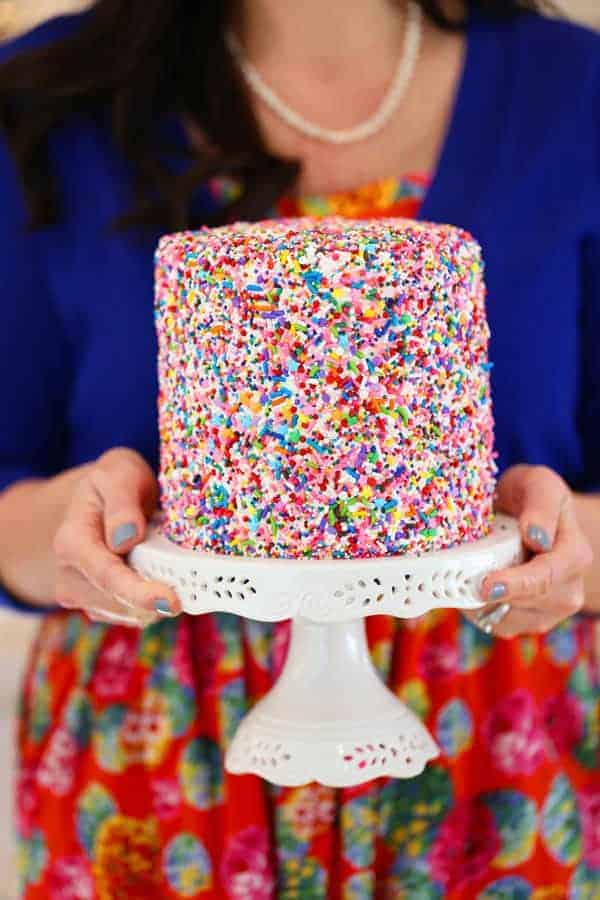 Hey there! How's 2018 treating you so far? I know a lot of people like to diet in the new year, but some folks have birthdays in January and you definitely can't diet on your birthday, right?! If you weren't born in January and you ARE on a diet, check out some of my skinny recipes. Just know that there's an awesome Rainbow Sprinkles Polka Dot Surprise Cake waiting for you right here when your big day rolls around.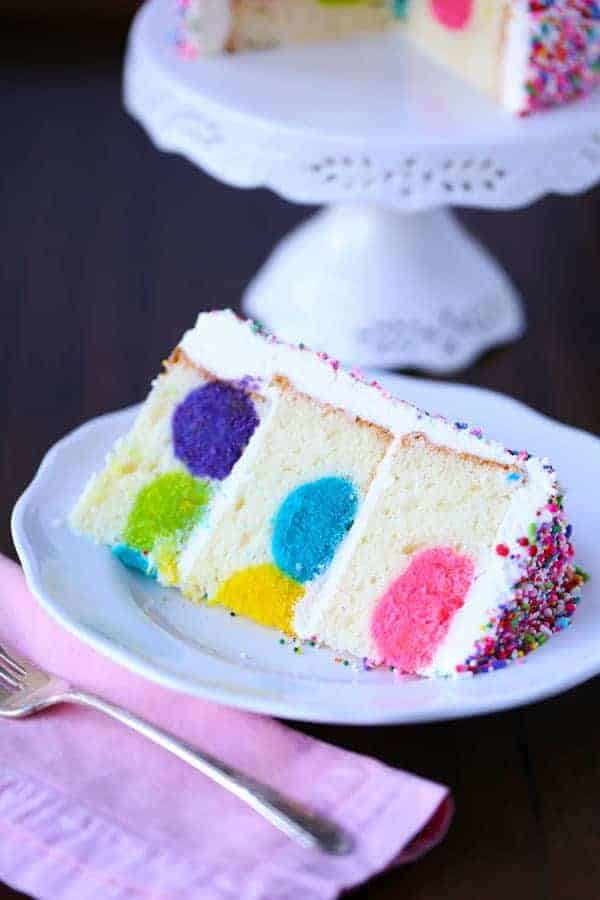 This is my first official recipe post of the New Year, so I thought I would do something extra special! This cake includes two things that I've been wanting to try for so long! I've always wanted to make a polka dot surprise cake and I've also long admired the incredibly fun sprinkles cake.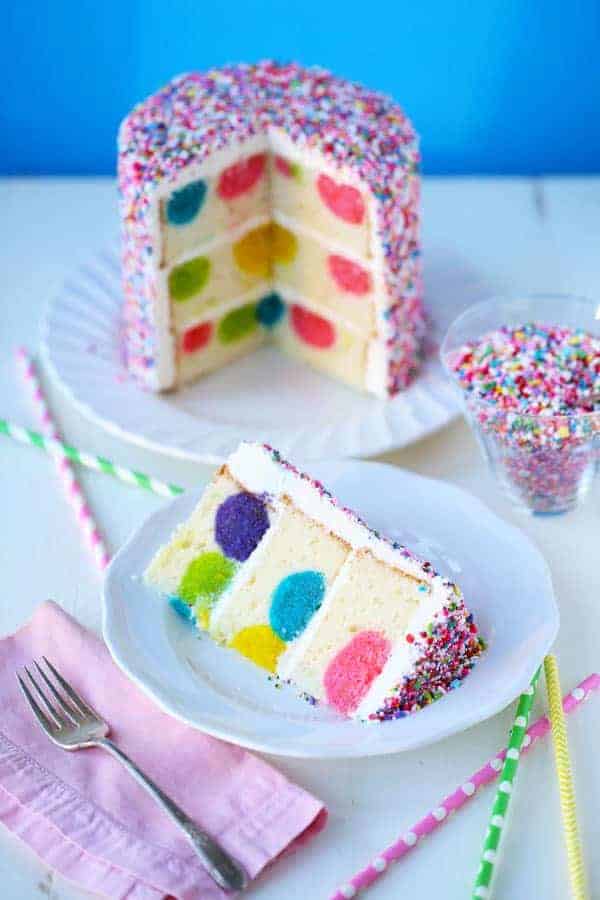 This Rainbow Sprinkles Polka Dot Surprise Cake is both!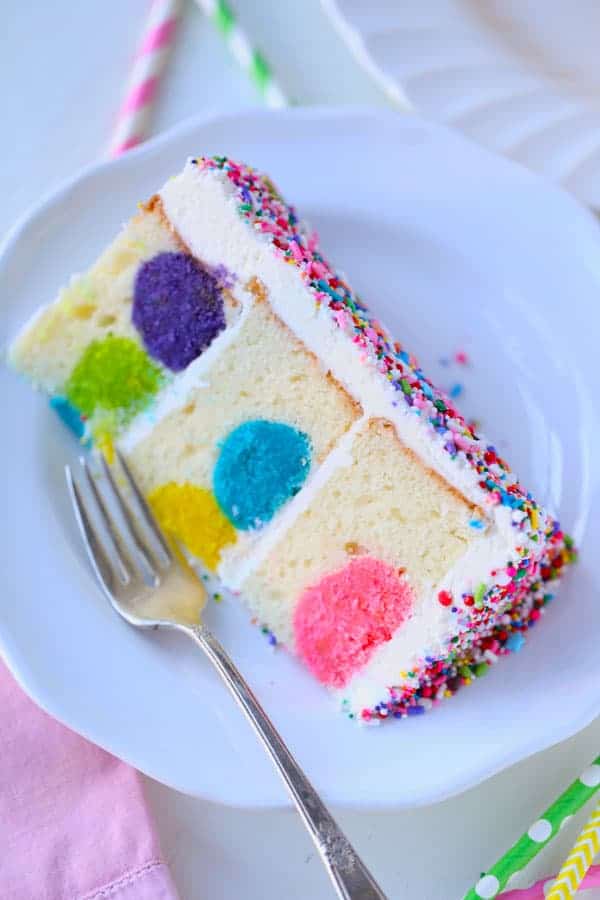 Impress your guests at your next party when you slice into this colorful confection to reveal the beautiful white cake with multi-colored polka dots on the inside! You'll be the talk of the town for at least a week! Maybe even years!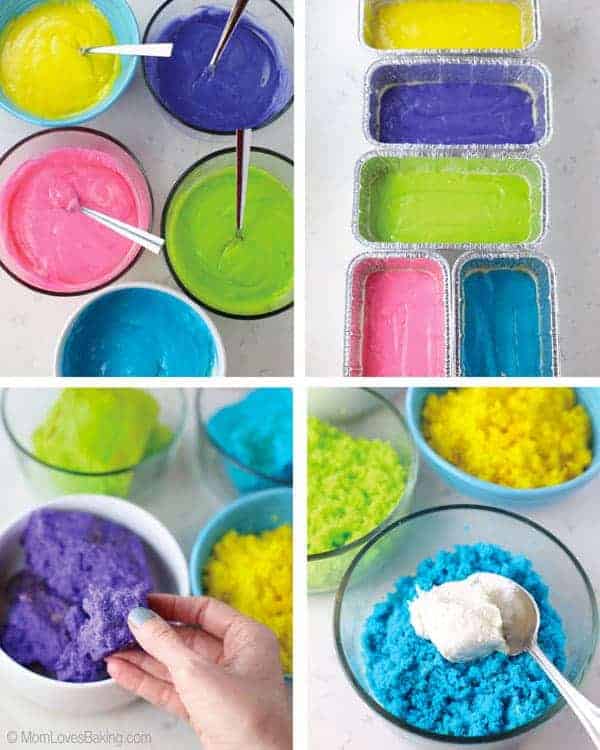 To make this very impressive cake, the first thing you do is make the multi-colored cake balls that are baked right inside the white cake. Start by preparing a white cake mix according to package instructions, then divide batter into five bowls, add food coloring and stir well. Bake in small pans, let cool and crumble the cake into five separate bowls. Add a scoop full of homemade vanilla buttercream (recipe below). Stir and shape into cake balls.
Place cake balls on a cookie sheet with a raised edge such as a half sheet pan that's been lined with parchment or waxed paper. Refrigerate for an hour or two. Meanwhile prepare my special recipe for Classic Vanilla Cake (recipe below). Grease and line three 6-inch round cake pans with parchment paper. Spray with non-stick cooking spray. Pour a little batter into each pan. Add about 12 cake balls. Pour more batter to cover the balls, but don't fill the cake pan to the top. You'll have some extra batter to make about 6 cupcakes. Bake and let cool.
Here's a half sheet pan like the one I used on Amazon (affiliate):
Nordic Ware Natural Aluminum Commercial Baker's Half Sheet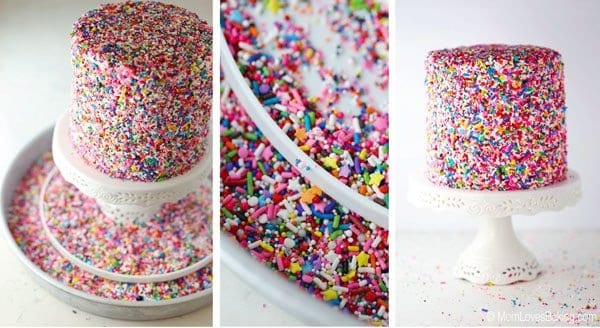 Cut the domed tops off of each cake layer. Place first cake layer onto a cake plate and spread frosting on top. Repeat with remaining layers, then frost cake smooth with buttercream. Place cake place on a turn table that sits in a very large pan or somewhere that can catch the sprinkles. You'll need a big bowl of multi-colored sprinkles (about 2 cups). I used all different kinds of sprinkles and mixed them all together. Pour sprinkles on cake top and sides, using your hands when needed to spread the sprinkles and help make them stick. It's not an exact science and be prepared for a big mess! Sprinkles went flying everywhere! But it all cleaned up fairly easily with a broom and a dust pan.
Here's a one pound bag of sprinkles I found on Amazon (affiliate):
Medley Hills Farm Rainbow Nonpareils Food Decorative 1 lb.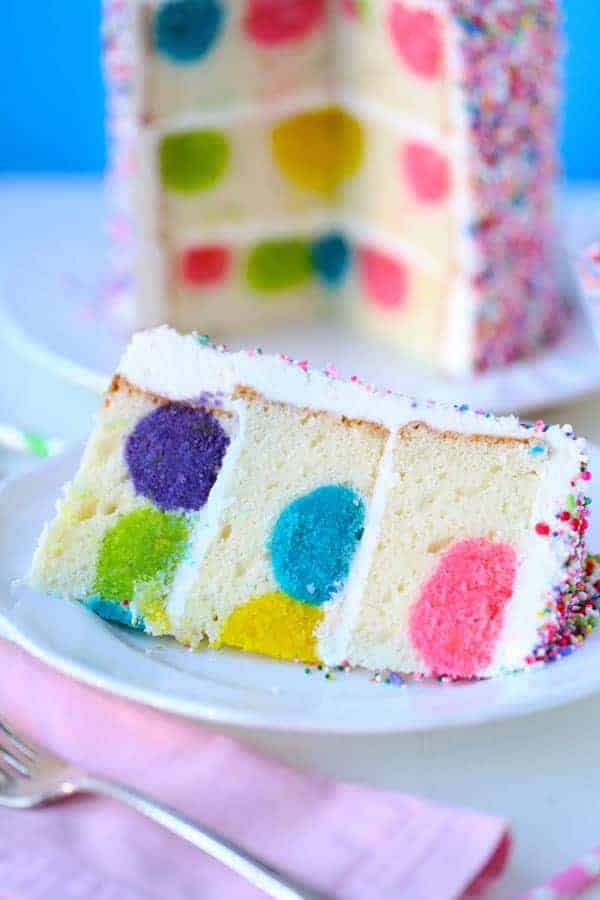 Let the cake chill in the fridge for about an hour before slicing.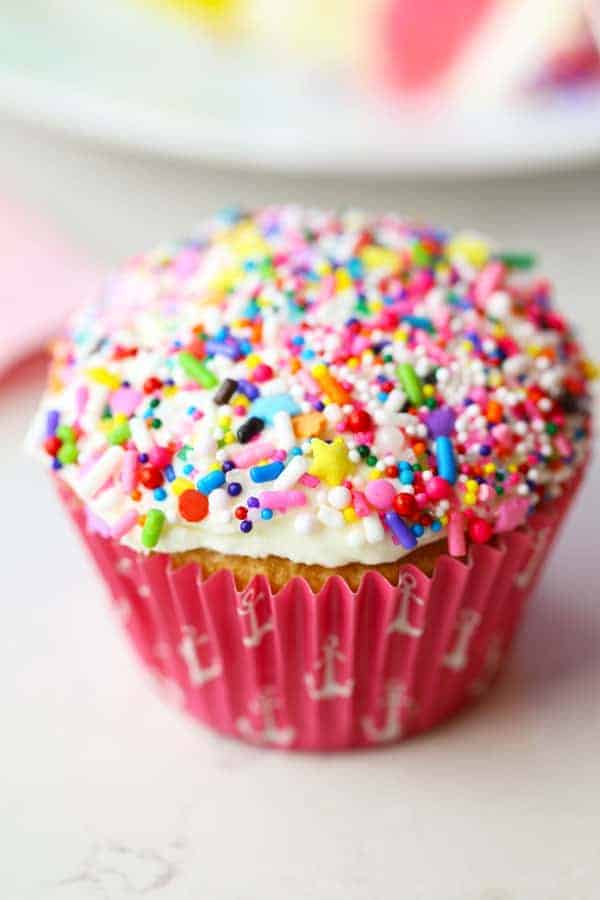 You'll have enough frosting to frost your six cupcakes too.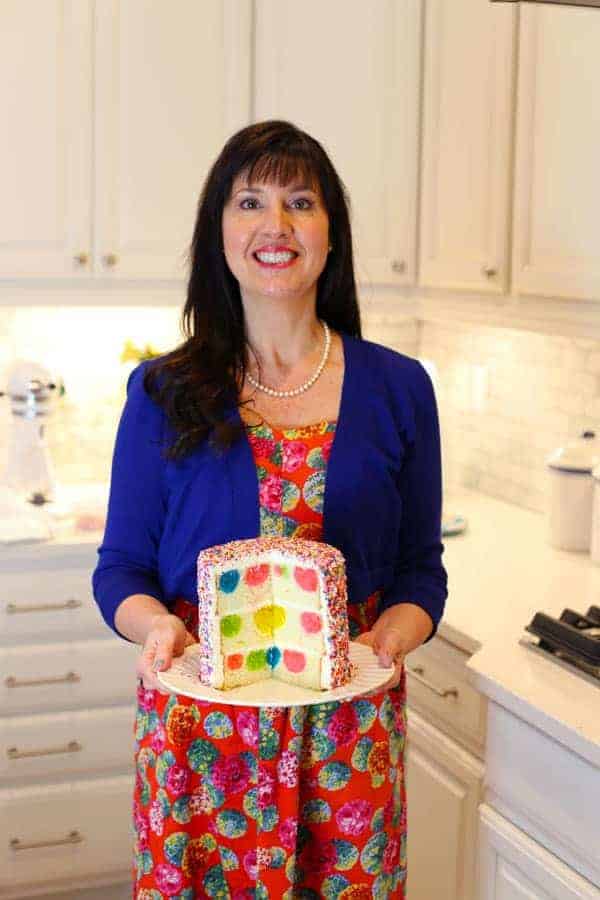 I had a blast making this super cute Rainbow Sprinkles Polka Dot Surprise Cake! I hope you will try it and if it's your birthday this month, Happy Birthday to you! Eat more cake with lots of sprinkles! 🙂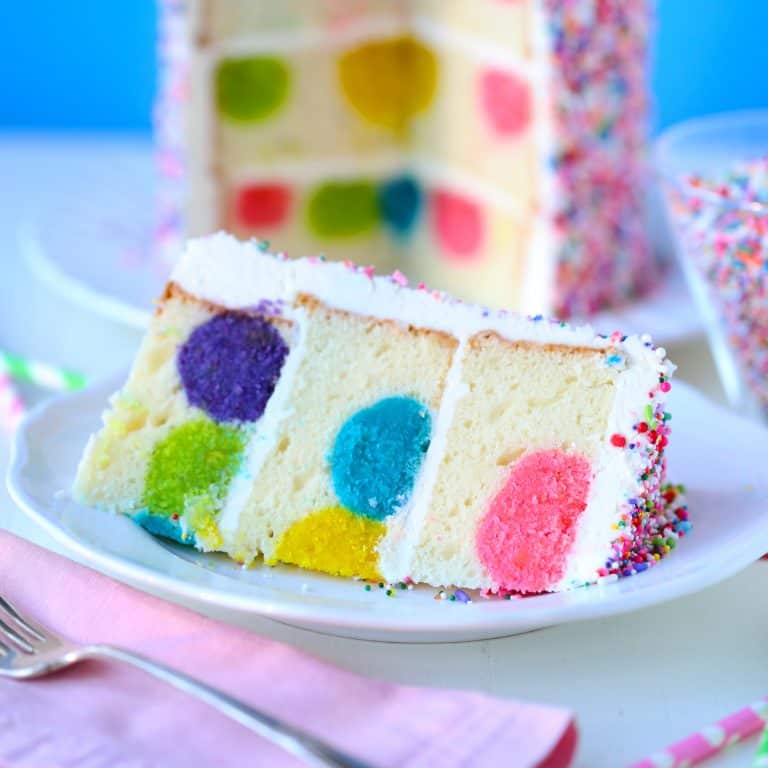 Print Recipe
Rainbow Sprinkles Polka Dot Surprise Cake
Ingredients
For the Cake Balls

1

15.25oz white cake mix, prepare batter according to package instructions (see below for baking instructions)

Food coloring of choice - I used yellow

green, pink, blue, purple

2

cups

buttercream frosting

recipe below

For the Classic Vanilla Cake:

1

15.25 oz box white cake mix (I used Pillsbury Moist Supreme Classic White)

1

cup

all-purpose flour

1

cup

granulated sugar

3/4

teaspoon

salt

3

eggs

room temperature

1 1/3

cups

water

2

tablespoons

vegetable oil

8

ounces

sour cream

room temperature

2

teaspoons

pure vanilla extract

1/2-1

teaspoon

almond extract

depending how much almond flavor you want

For the frosting

2

cups

unsalted butter, softened to room temperature

8

cups

powdered sugar

if you buy it in the plastic bag, you don't have to sift it

1/2

cup

heavy cream

2

teaspoons

vanilla

2

cups

of assorted sprinkles
Instructions
For the cake balls

Prepare the cake batter according to package instructions. Divide batter into 5 bowls. Put a few drops or more of food coloring in each bowl and stir. Pour into small, greased pans. I used aluminum foil loaf pans (8"x3.5"). Bake in a preheated 350°F oven for about 20 minutes or until a toothpick inserted in middle comes out clean. Let cool. Crumble cake into 5 separate bowls. Stir in a generous 1/3 cup of frosting into each bowl (recipe follows). Stir well. Form into balls and place on a cookie sheet. Refrigerate for 1-2 hours.

For the cake:

Preheat oven to 350°F. Grease 3 (6-inch) round cake pans and line with parchment paper. Grease again or spray with non-stick cooking spray. Set aside. Place all ingredients in a large bowl. With an electric mixer, stir on low speed to combine (30 seconds). Then turn mixer up to medium and beat for 2 minutes. Pour about 1 cup of batter into each of the prepared pans, then place about 12 chilled cake balls in each pan. Pour remaining batter into each pan, evenly distributing it, but don't fill to top. Fill pans about 3/4 full. Use leftover batter to make 6 cupcakes, if desired. Bake in preheated oven for 22-26 minutes or until a toothpick stuck in the middle of the cake comes out clean. Let cool.

For the frosting

Beat softened butter on medium speed with an electric or stand mixer. Beat for 3 minutes until smooth and creamy. Add powdered sugar, cream, and vanilla extract with the mixer running on low. Increase to high speed and beat for 3 minutes. Note: If the frosting is too thick, you can add a little more cream. Just add one tablespoon at a time, then mix thoroughly until you get the consistency you like.

To decorate cake, slice the dome top of cake off, then fill and frost the 3-layer cake. Place cake on a turn table in a very large pan or somewhere that you don't mind having lots of sprinkles everywhere. Pour sprinkles on top of cake and spread around. Use your hands to scoop handfuls of sprinkles onto sides of cake. Lots of sprinkles will fall away but lots will stick too. Repeat until cake is covered in sprinkles. Refrigerate for about an hour before slicing. Store covered at room temperature for 24 hours or in the refrigerator for up to 3 days. Use remaining icing to frost the cupcakes, then add sprinkles.

This recipe is featured on the Southern Plate Meal Plan Monday.