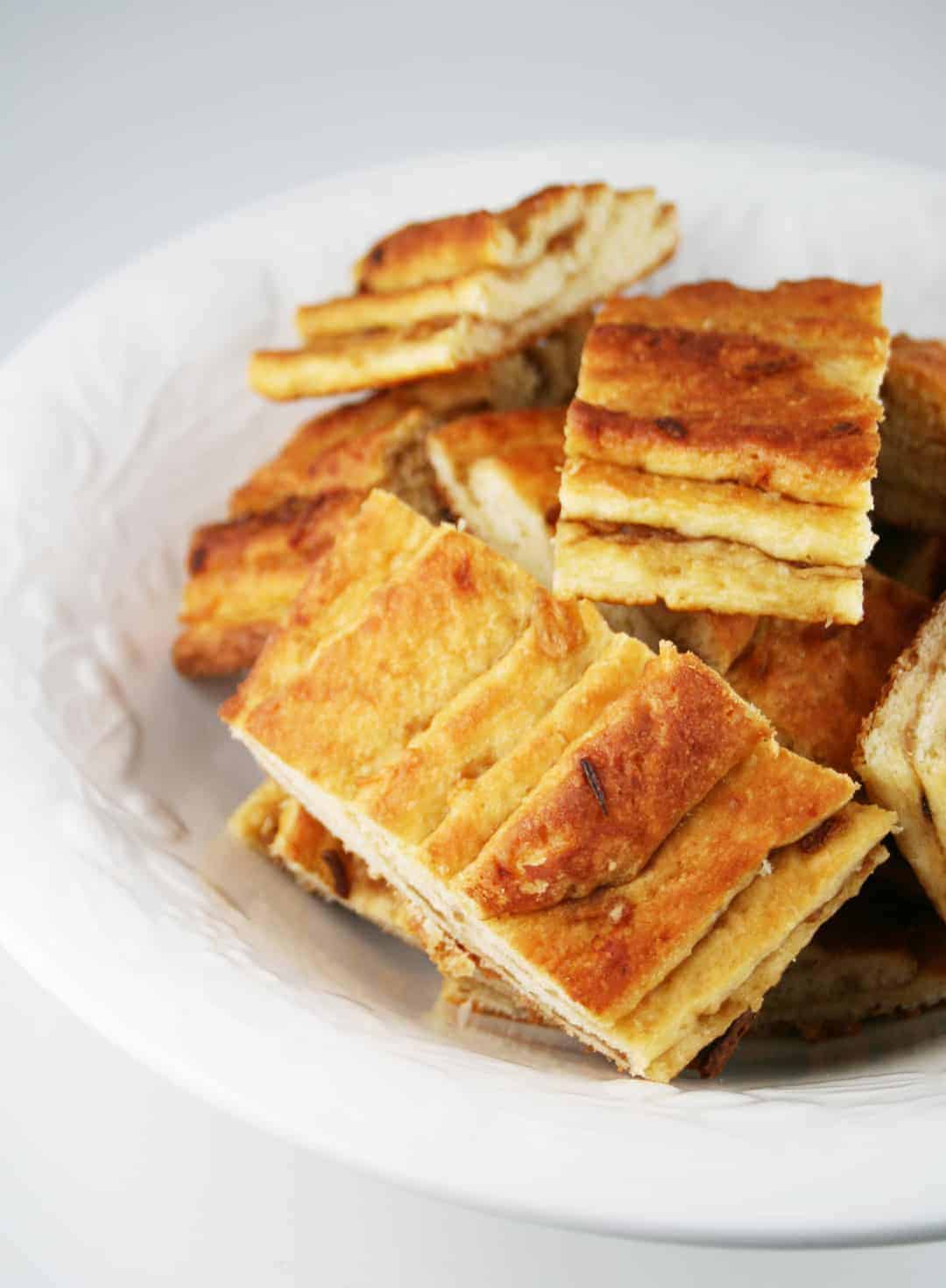 Golden Gate Snack Bread won the 17th Pillsbury Bake-Off in 1966. Recipe on Pillsbury.com by Mari Petrelli of Ely, Nevada. There was no contest in 1965 because the contest was moved from October to February. Mari Petrelli was actually at the 46th Bake-Off last year. Isn't that neat!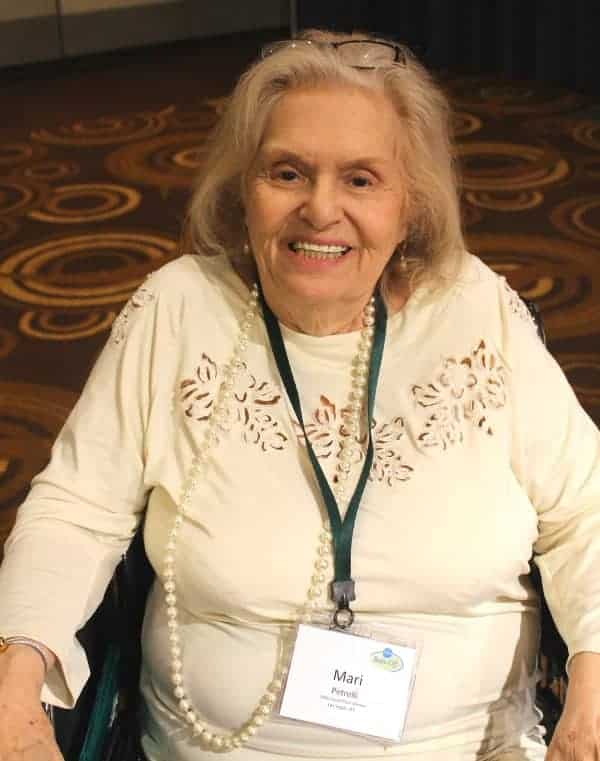 I didn't get to meet Mrs Petrelli but here's a photo from last year's contest. How wonderful that she was able to attend the 46th Pillsbury Bake-Off – 47 years after she won the grand prize for her Golden Gate Snack Bread. Thank you to Debbie Vanni for taking this great photo and letting me post it here. Click here to see her blog post about the 46th Bake-Off.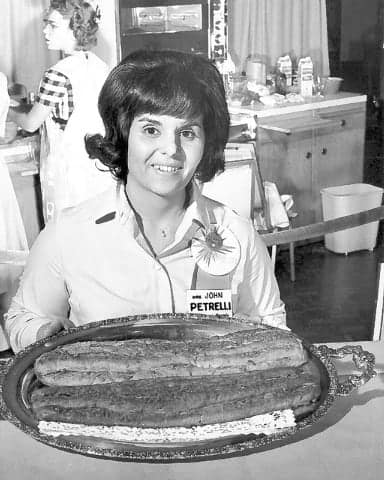 And here she is at the 17th Pillsbury Bake-Off. Look at that beautiful platter. Isn't that fancy! Also note her nametag which reads Mrs. John Petrelli. I believe that all of the contestants at that time went by their married name. I wish I had gotten a chance to meet her.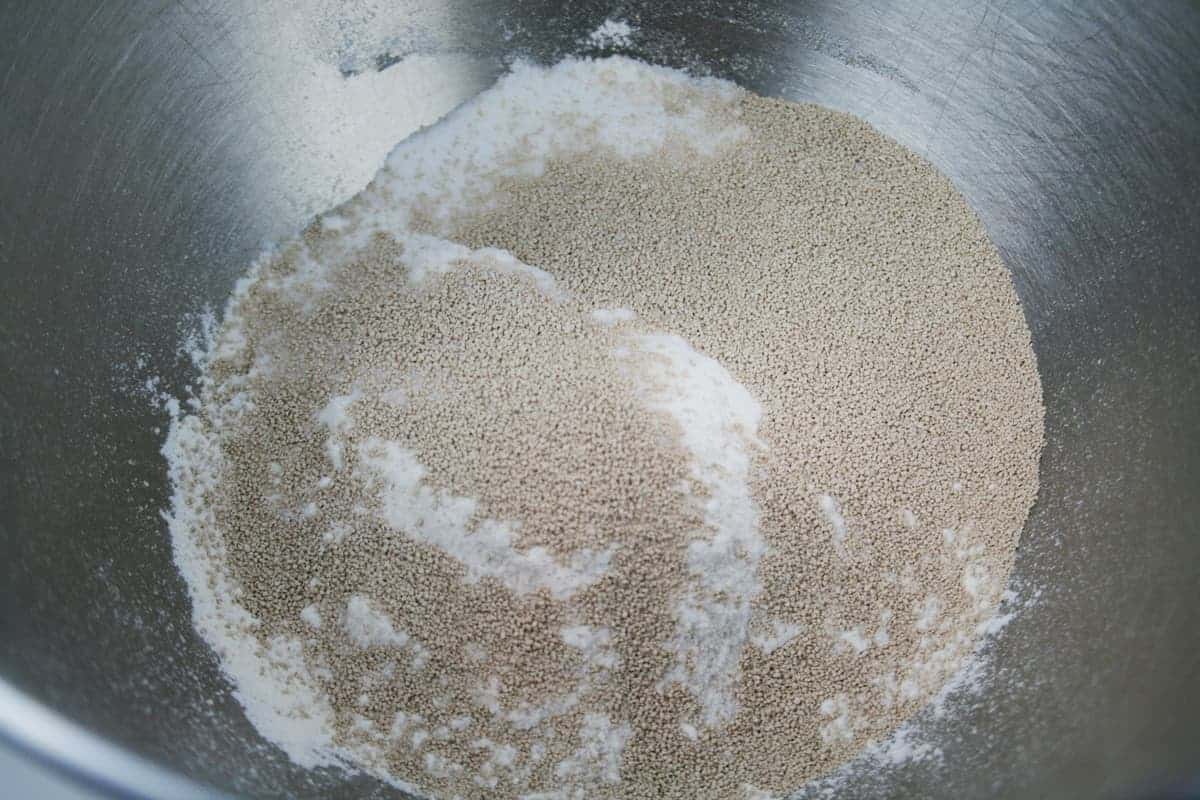 Start with flour, sugar and yeast.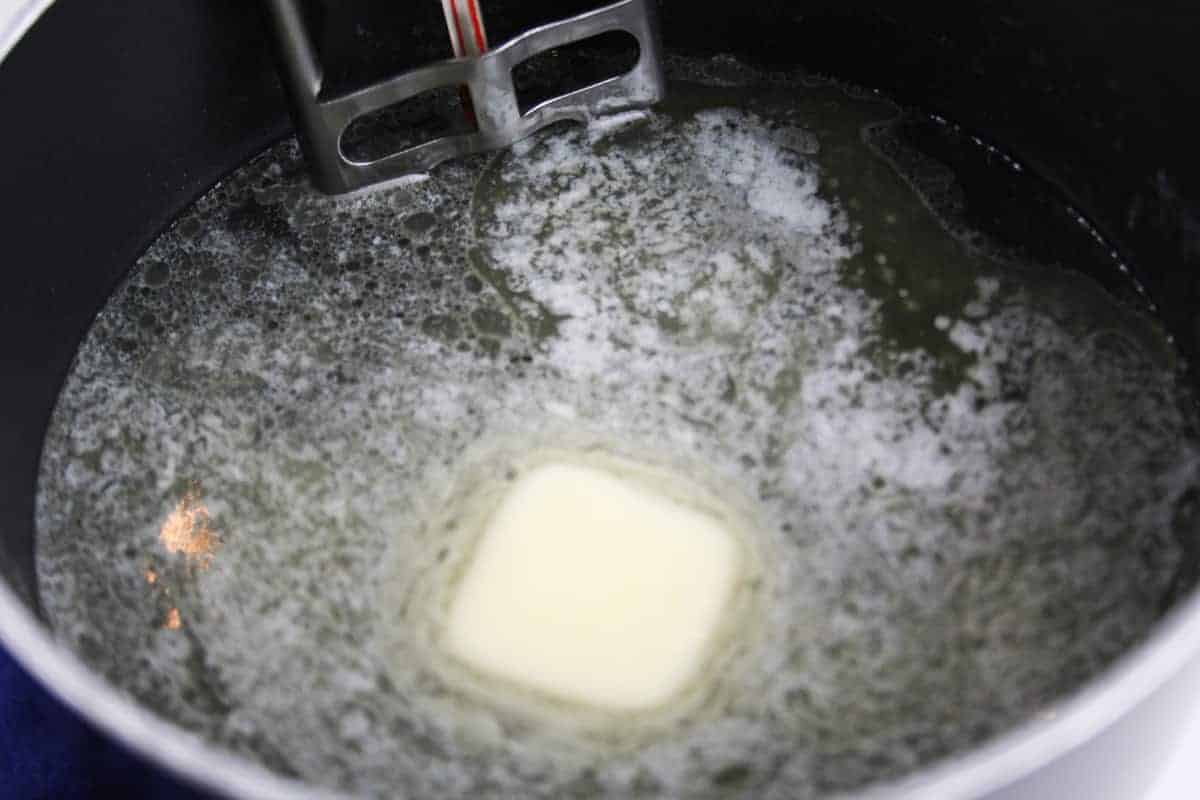 Heat some water and butter to about 130°F. Add the flour mixture and beat for 2 minutes on medium speed.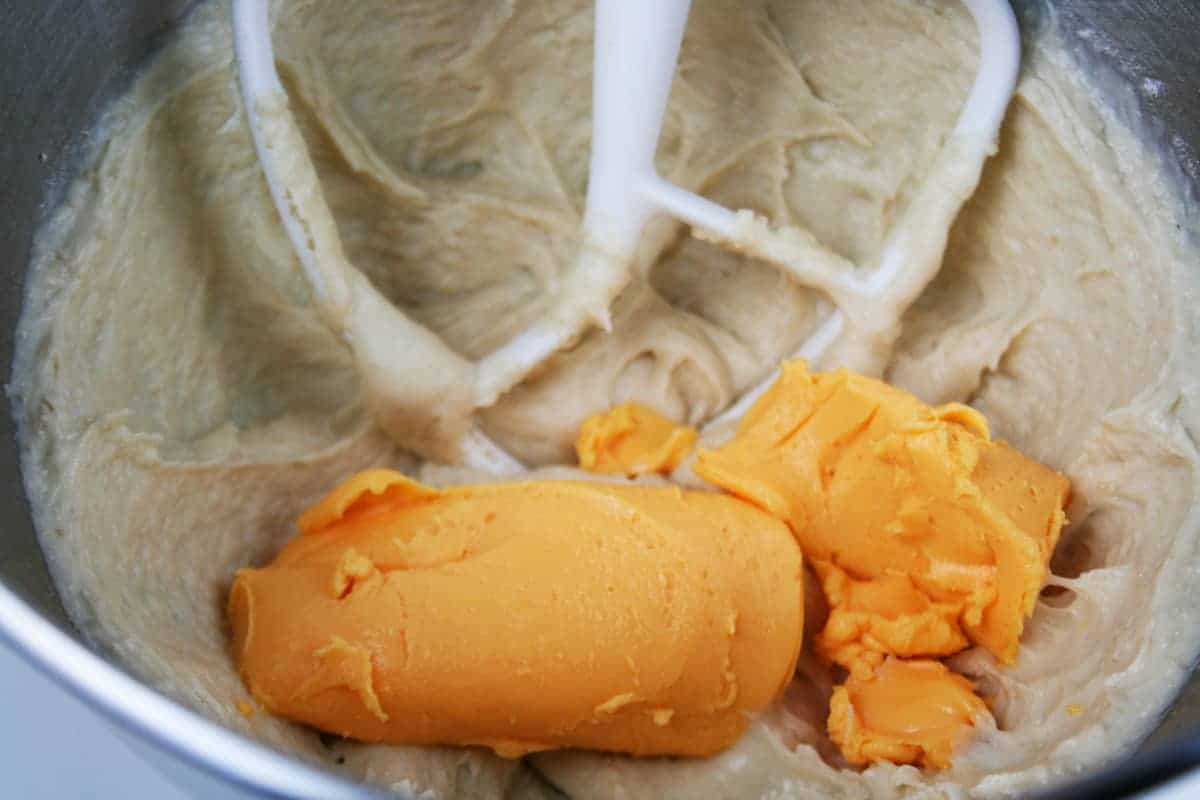 Add cheese and beat until blended.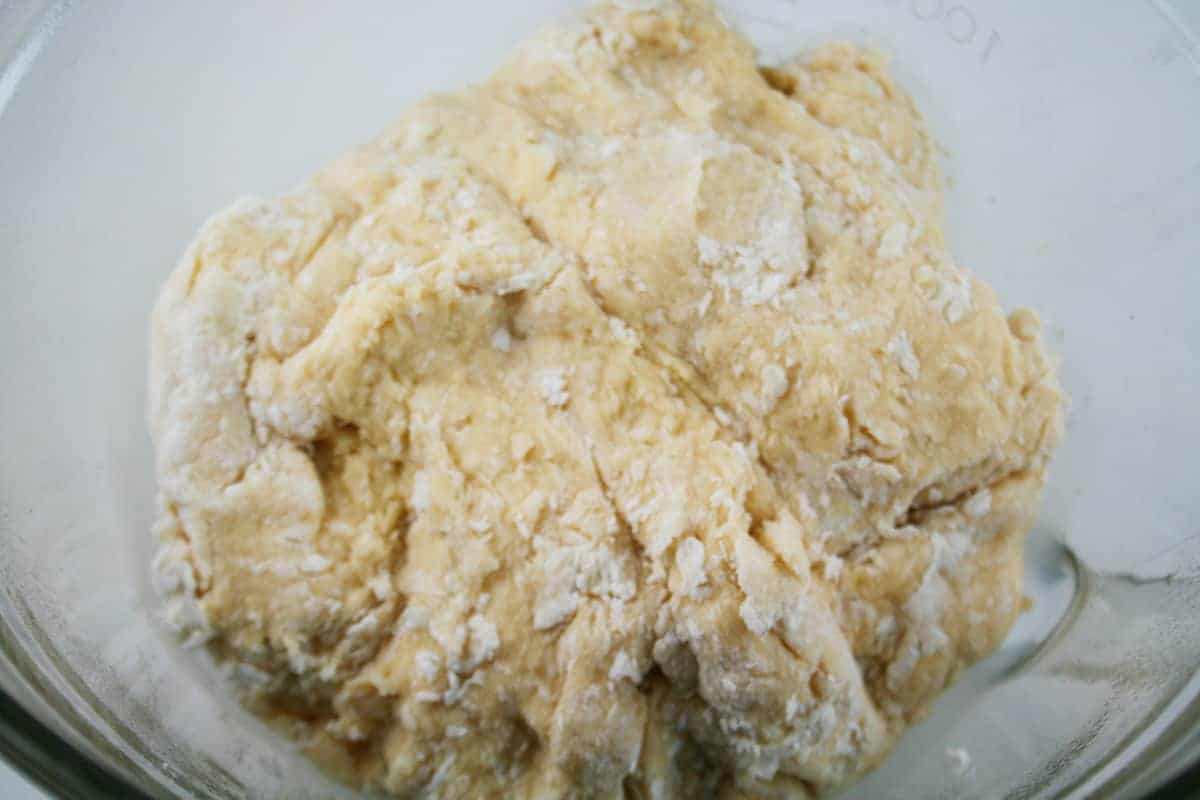 Add flour and stir by hand until it makes a stiff dough.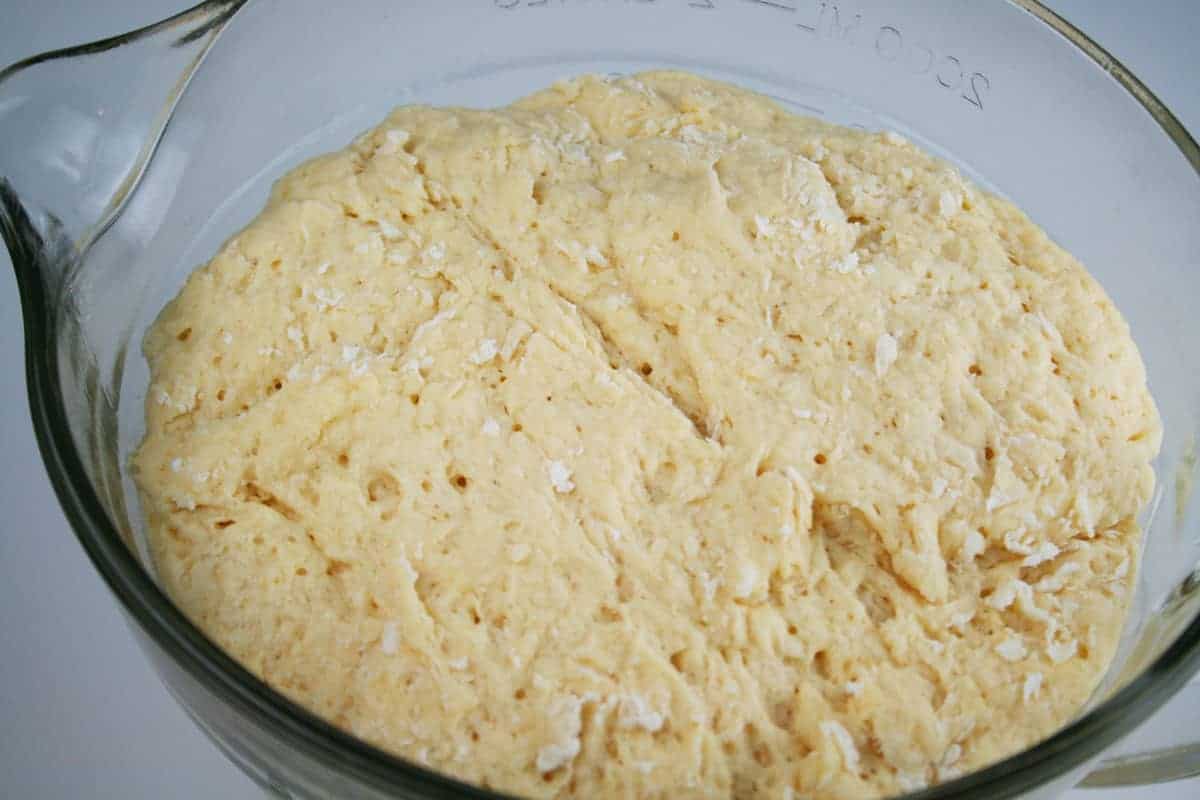 Cover and let rise in a warm place until doubled in size.
Roll out the dough and spread on the filling. Roll it up and cut in half lengthwise to form 2 loaves.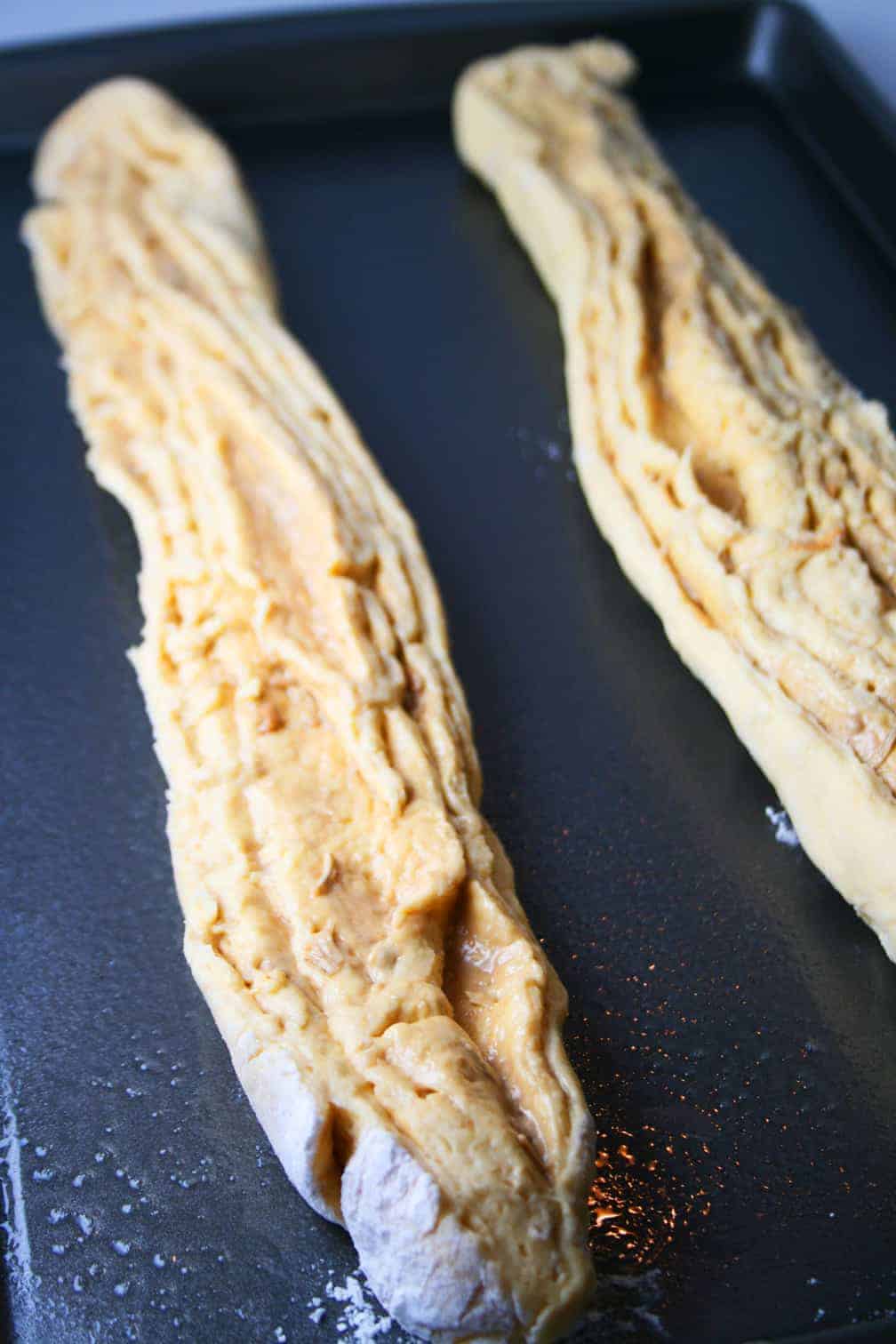 Place on a greased cookie sheet and let rise in a warm place until doubled in size.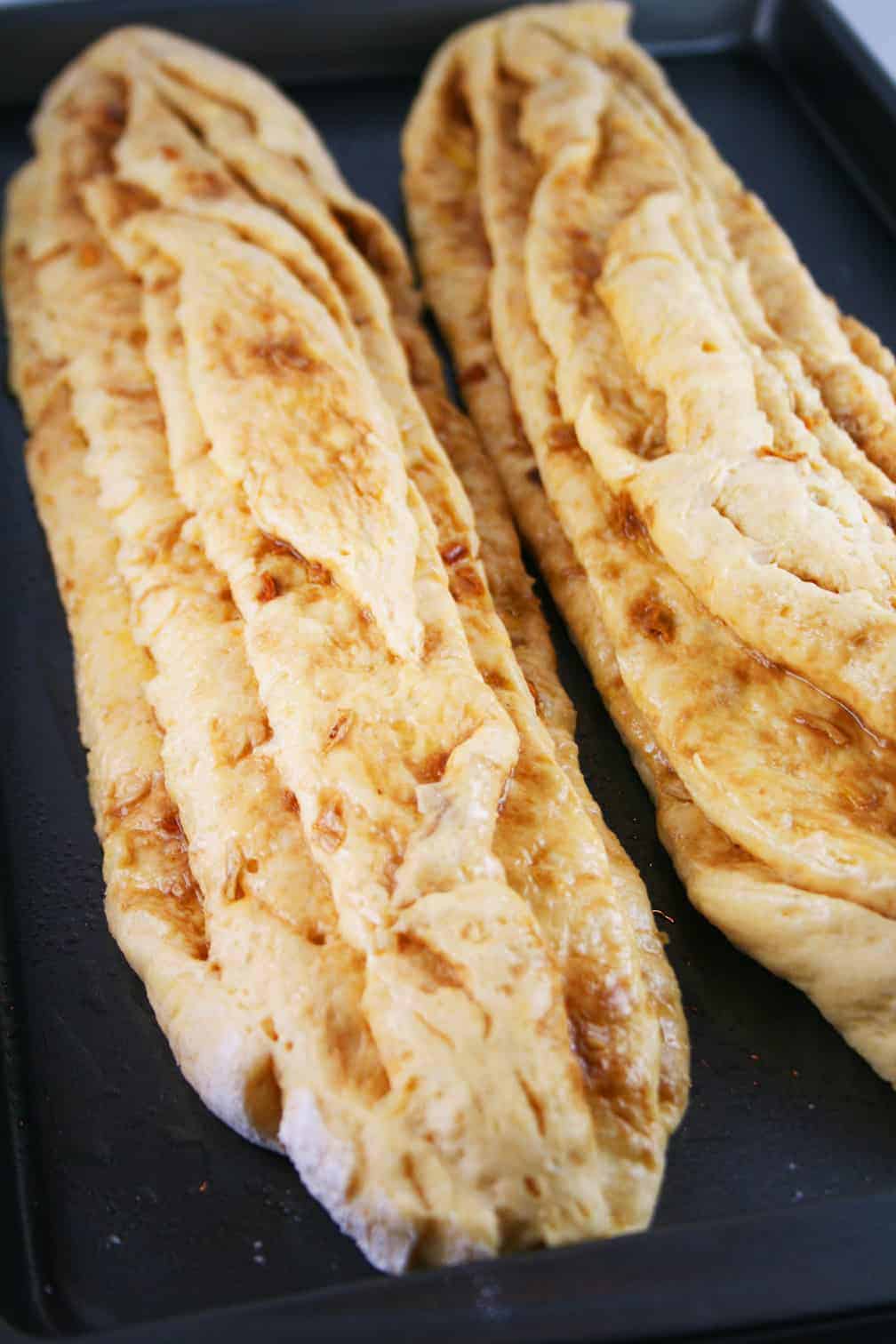 It takes about 20 minutes for them to rise.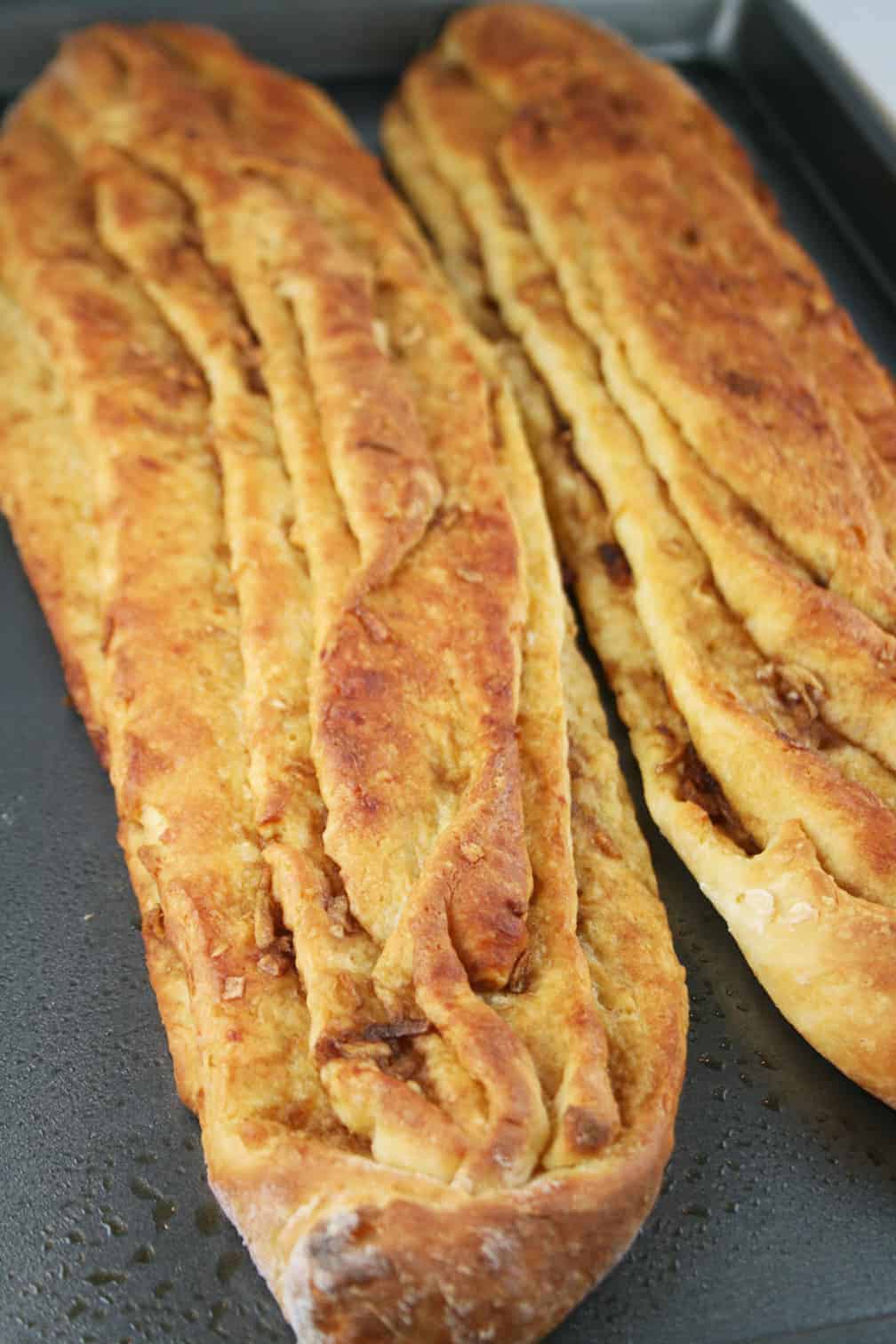 Bake in a 350°F. oven for about 20 minutes. Let cool. Slice and serve. If you're a fan of onion bread, you will love it.
Stay tuned for Recipe #18 – Muffin Mix Buffet Bread
Print Recipe
Golden Gate Snack Bread
Ingredients
Recipe courtesy of Pillsbury®

Bread

3 1/2

cups

Pillsbury [email protected] All Purpose or Unbleached Flour

2

tablespoons

sugar

2

pkg. active dry yeast

1

cup

water

2

tablespoons

margarine or butter

1

8 oz. jar pasteurized process cheese spread

Filling

1/4

cup

margarine or butter

softened

3

tablespoons

dry onion soup mix
Instructions
Lightly spoon flour into measuring cup; level off. In large bowl, combine 1 1/2 cups flour, sugar and yeast; blend well.

In small saucepan, heat water and 2 tablespoons margarine until very warm ( 120 to 130°F.). Add warm liquid to flour mixture; blend at low speed until moistened. Beat 2 minutes at medium speed. Beat in cheese until blended. By hand, stir in remaining 2 cups flour to make a stiff dough. Cover loosely with greased plastic wrap and cloth towel. Let rise in warm place (80 to 85°F.) until light and doubled in size, about 30 minutes.

In small bowl, combine 1/4 cup margarine and onion soup mix, blend well. Set aside.

Heat oven to 350°F. Grease cookie sheet. Punch down dough. On gloured surface, roll out dough to a 20x14-inch rectangle. (Be sure sides are straight before rolling.) Spread with filling. Starting with 14-inch side, roll up, pressing edges and ends to seal. With knife, carefully cut lengthwise down center to form 2 loaves. Place cut side up on greased cookie sheet. Cover, let rise in warm place until light and doubled in size, about 20 minutes.

Bake at 350°F. for 15 to 25 minutes or until golden brown.