You're just 3 ingredients away from making your favorite Girl Scout cookie in bite size cakes I call Tagalong Pound Cake Bites.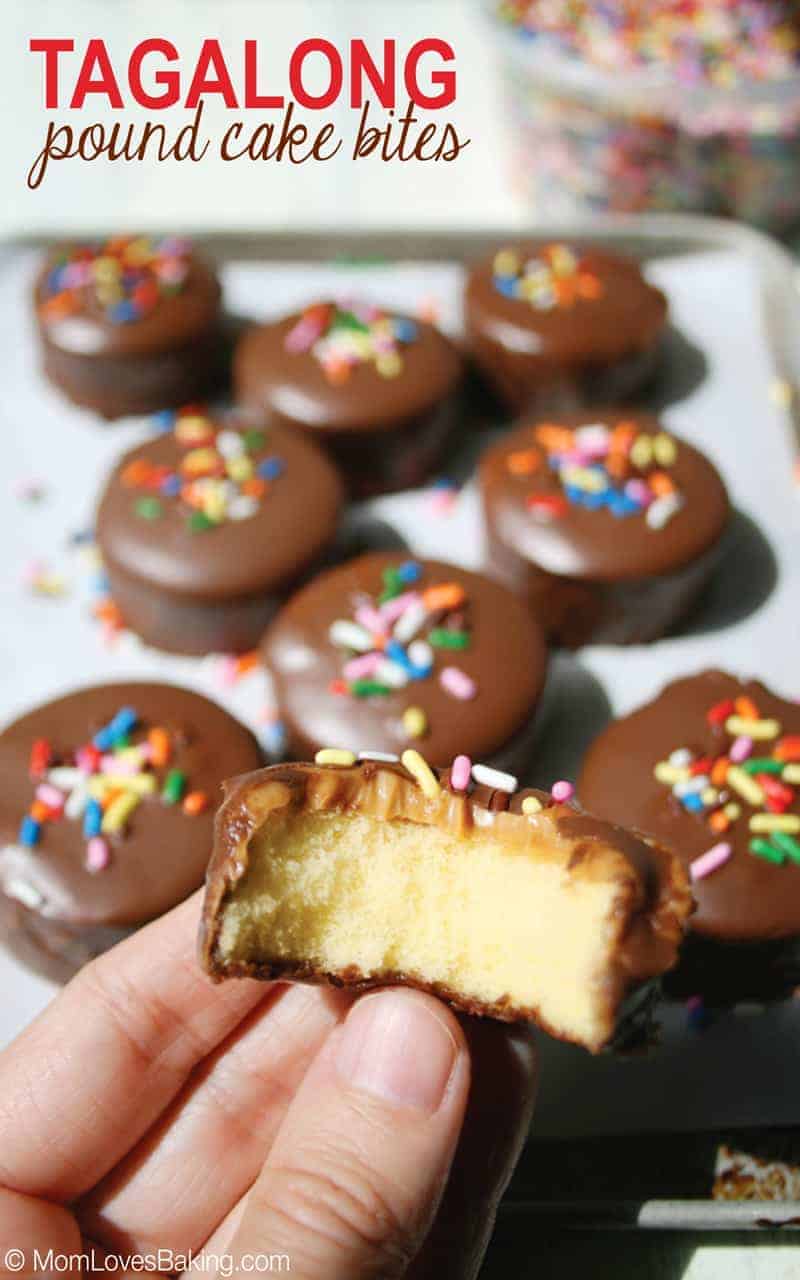 Can we talk about chocolate and peanut butter for a minute. It's such a great combination and we just can't seem to get enough of it around here. When you wrap it around a soft, buttery piece of pound cake, well it's just pure heaven.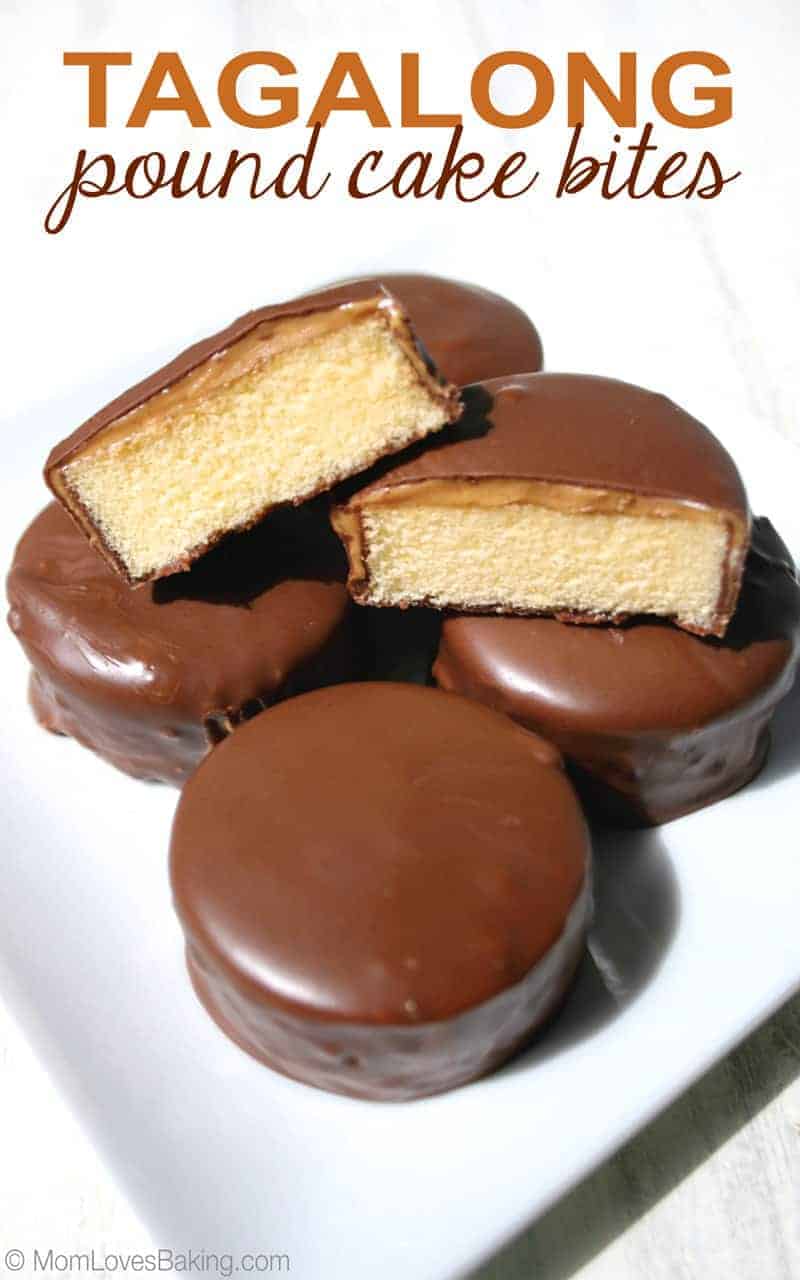 I recently made a Super Easy Tagalong Pound Cake that I found over at I Wash You Dry. It was an entire pound cake, covered in peanut butter frosting and melted chocolate which was delicious. I loved the idea! Then I thought, wouldn't it be great to have even more chocolate and peanut butter with each bite of cake.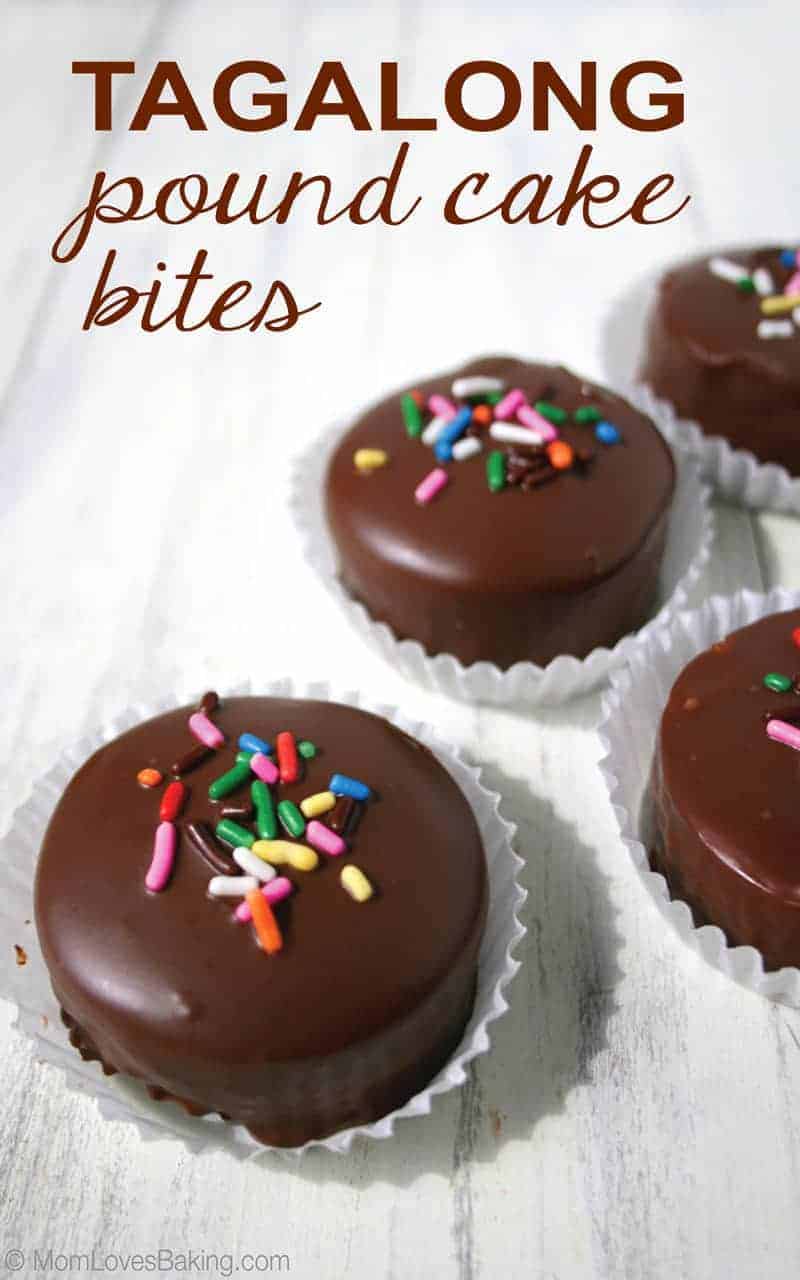 I also thought it would be so easy if the recipe was only 3 ingredients! Tagalong Pound Cake Bites taste just like the famous Girl Scout cookies without the crunch. Tender pound cake covered with creamy peanut butter, dipped in luscious, melted chocolate. Can I get a yum, people!
Click here to watch the video – How To Make Tagalong Pound Cake Bites.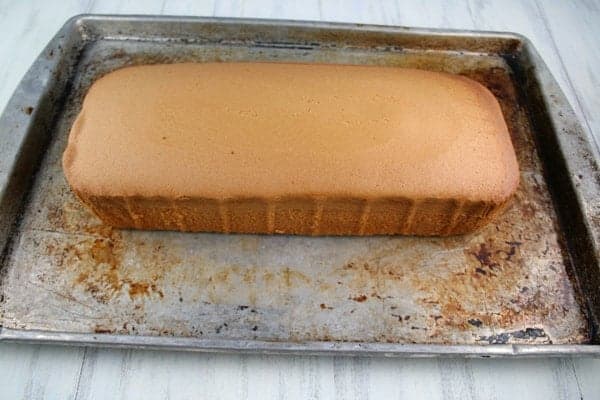 Start with a thawed store bought pound cake.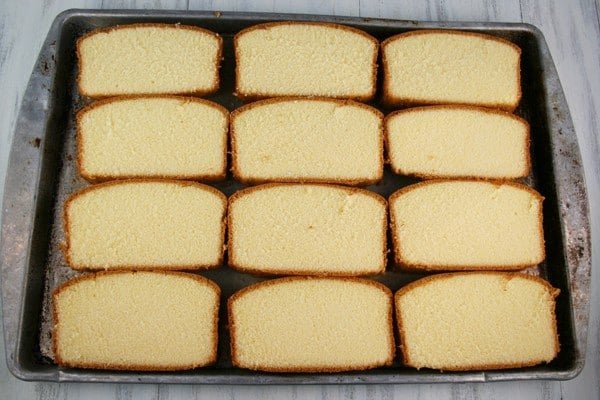 Slice into 12 pieces.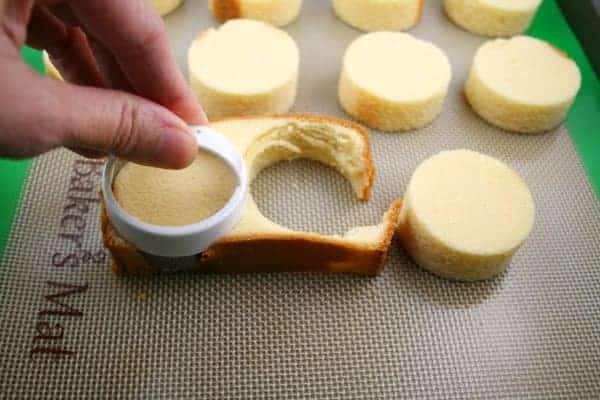 Use a 1 1/2-inch biscuit cutter to cut 2 circles from each slice.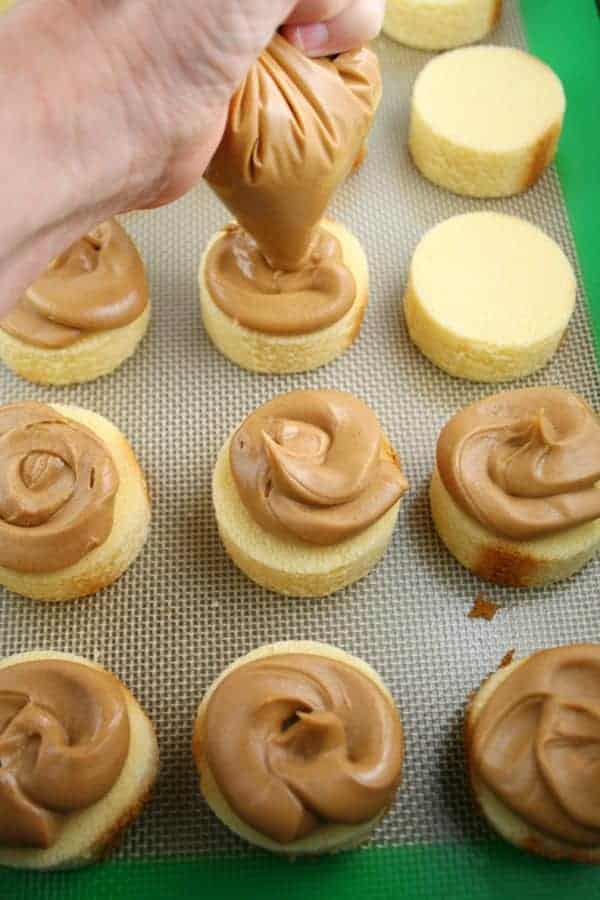 Scoop peanut butter into a large resealable plastic bag. Seal bag and cut a small corner off. Then pipe the peanut butter onto the top of each cake circle.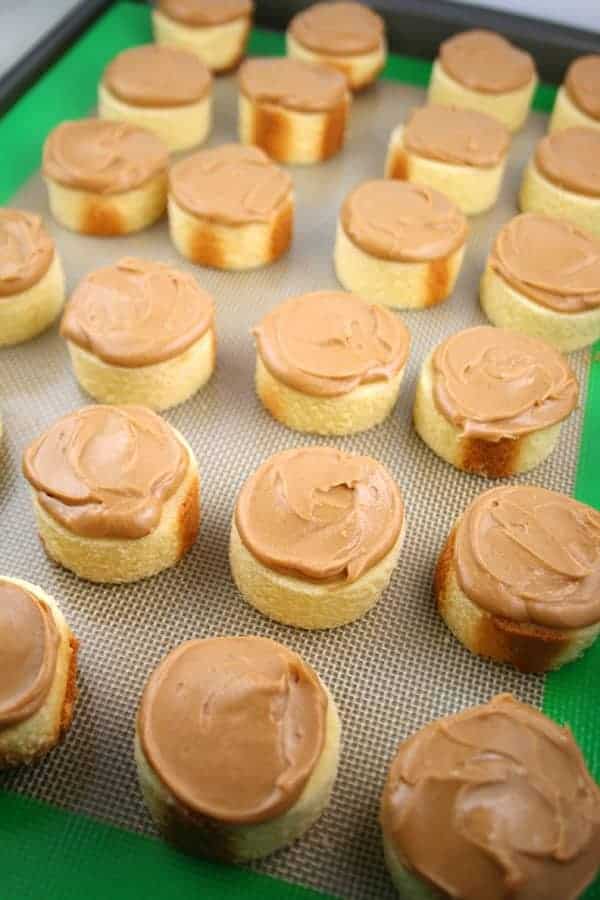 Smooth out the peanut butter with a small spatula or butter knife, then pop them in the freezer for about 30 minutes.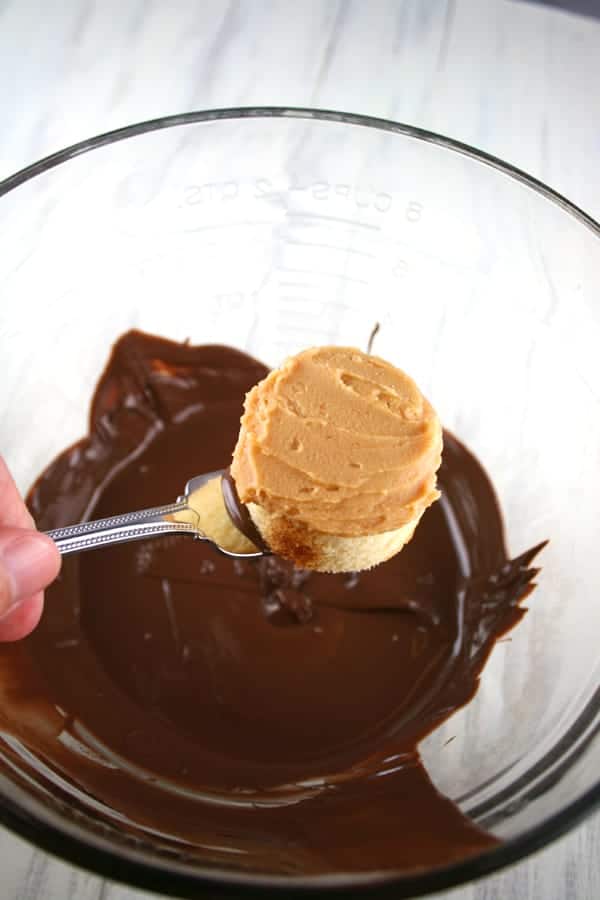 Dip the chilled cake circles into melted chocolate.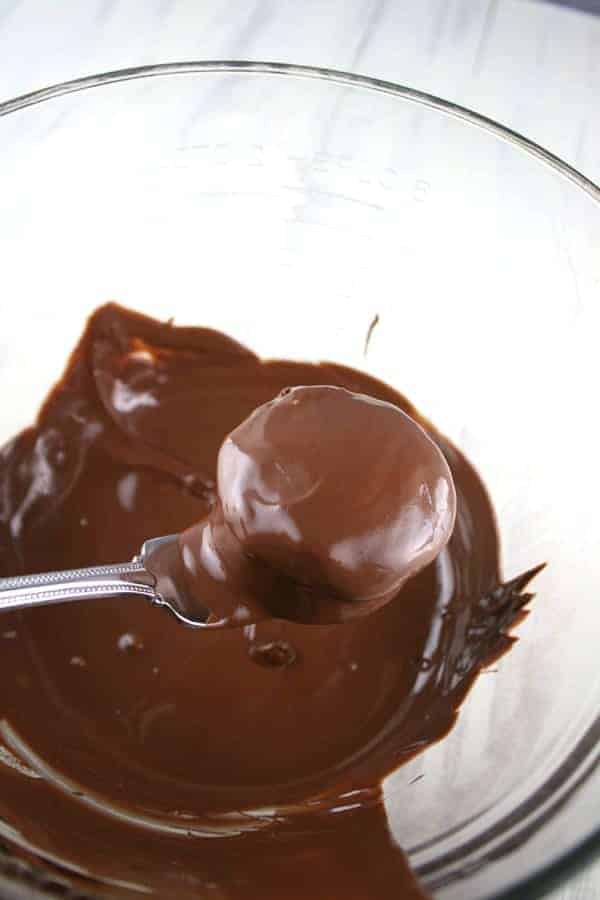 Lift out with a fork, then tap the edge of the bowl to get the extra chocolate off.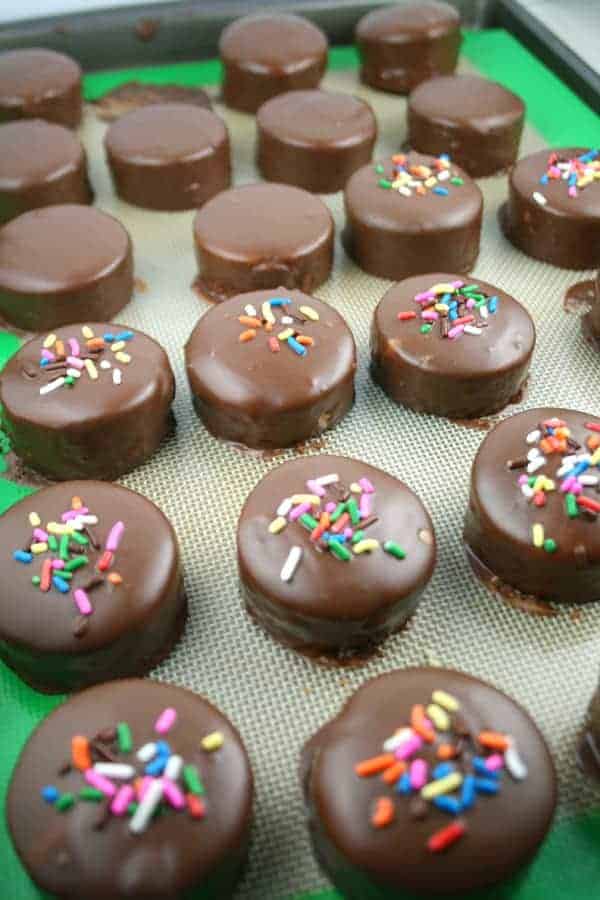 Place them in the refrigerator to set for another 30 minutes or so.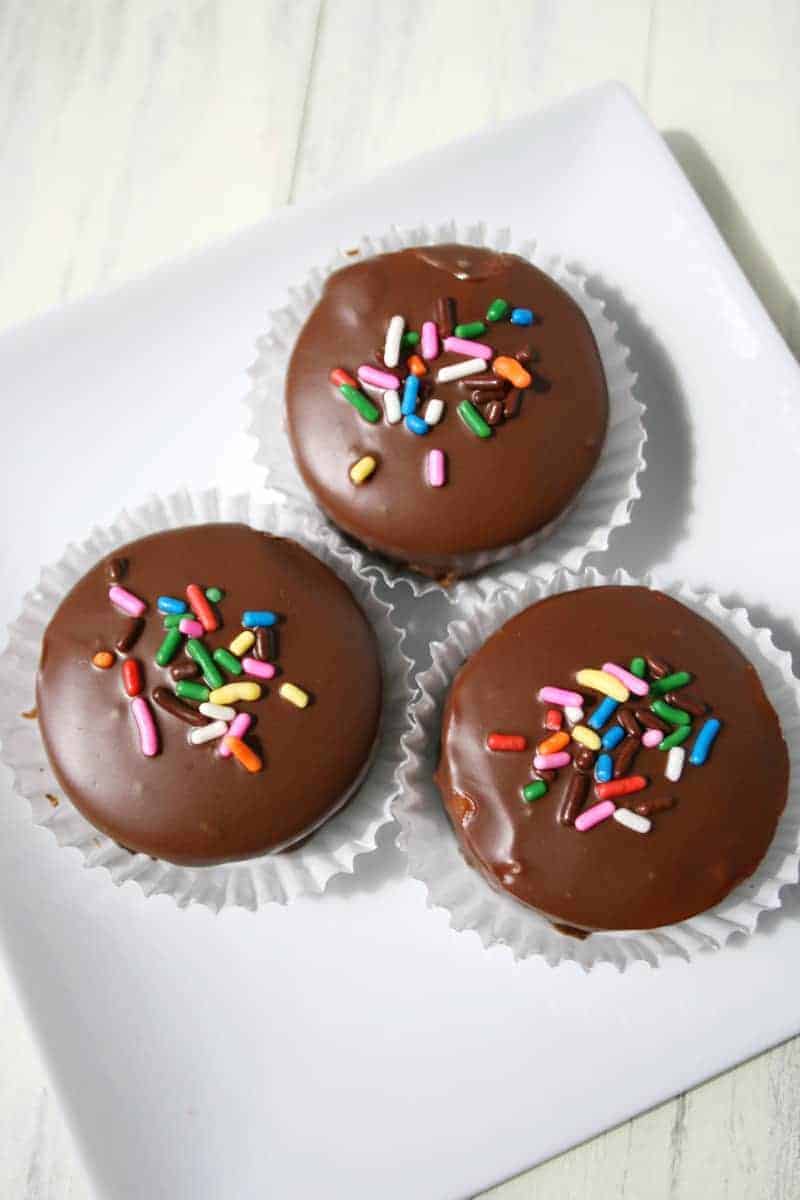 Add sprinkles if you want to. I thought it looked pretty.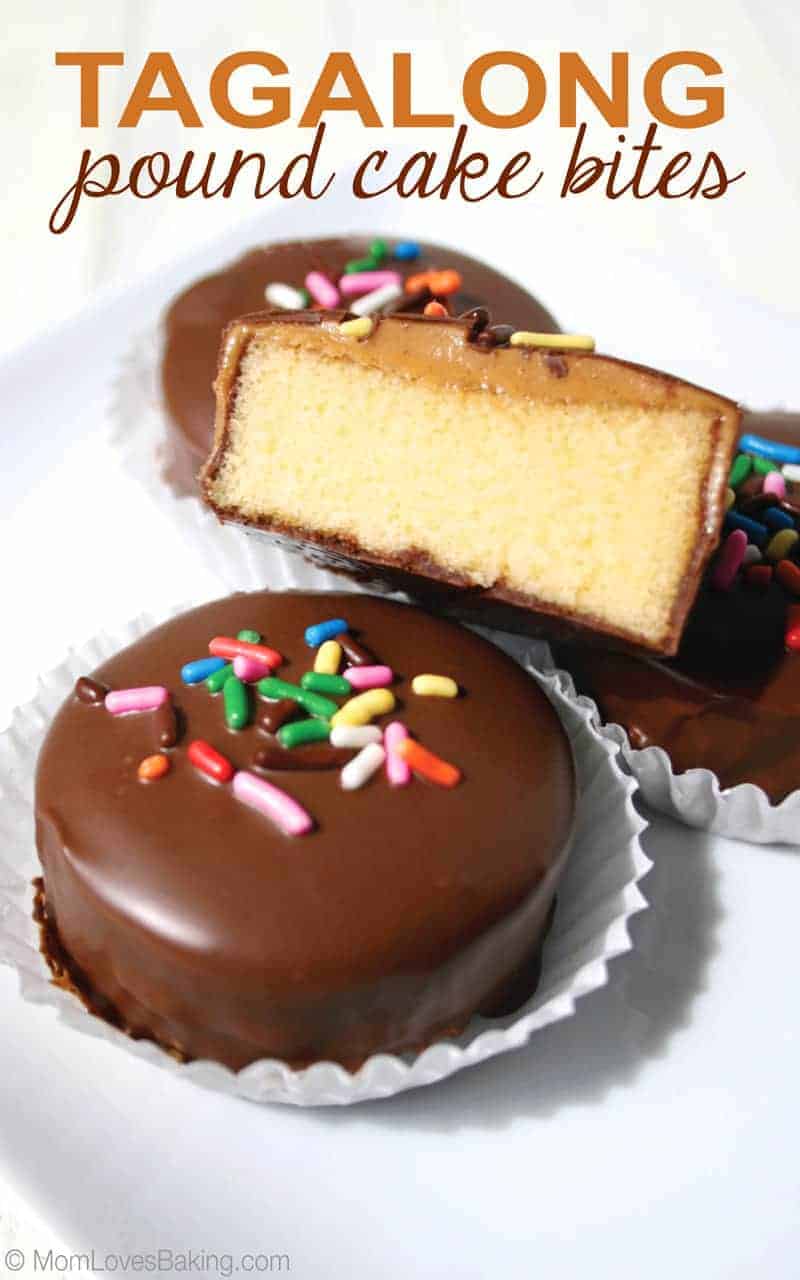 I love 3 ingredient recipes and this one's definitely a winner!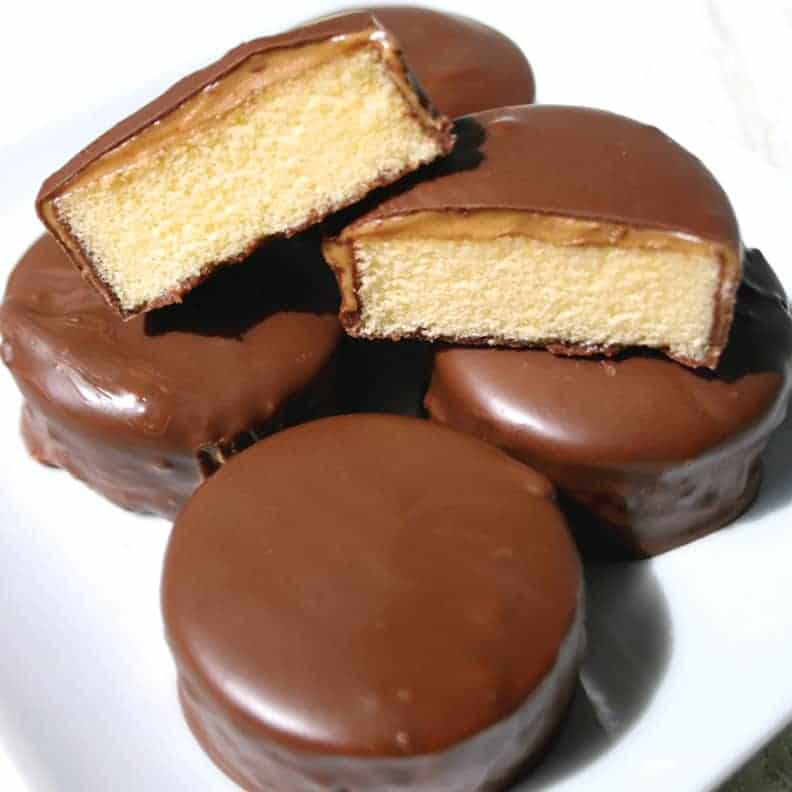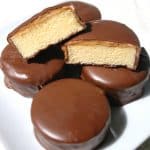 Print Recipe
Tagalong Pound Cake Bites
Ingredients
1

16 oz. frozen pound cake, thawed (I used Sara Lee family size)

1 1/2

cups

creamy peanut butter

1

16 oz. package chocolate candy melts (I used Candiquik)*

*Note - You can use 16 ounces of semi-sweet chocolate chips instead of the candy melts

if you wish. If you use the chocolate chips, add 1-2 tablespoons of coconut oil or vegetable oil after you heat it according to package instructions. Stir until smooth.

Garnish with sprinkles

if desired
Instructions
Line a large cookie sheet with parchment paper. Set aside.

Slice the cake into 12 pieces, Using a 1 1/2-inch biscuit cutter, cut 2 circles from each cake slice. Place circles on a large cookie sheet (not the one lined with paper). Set aside

Scoop peanut butter into a large plastic resealable bag. Squeeze the air out and seal the top. Cut a small corner of the bag. Pipe peanut butter on top of each cake circle. Smooth the peanut butter with a small spatula or butter knife. Place in freezer for 30 minutes. (If you're in a hurry, you can skip this step. It makes it easier to dip though.)

After you take the cakes out of the freezer, you're ready to melt the chocolate. Place the chocolate in a large microwave safe bowl. Microwave on high for 2 minutes. Stir until smooth. If you need to, you can microwave it for another 15-20 seconds.

To dip, drop a cake bite in the chocolate (peanut butter side up). Use a fork to push the chocolate up and over the cake (make sure you don't touch the cake though, you don't want crumbs in your chocolate). Once it's covered in chocolate, lift the cake with the fork and tap off excess chocolate. Place on cookie sheet lined with parchment paper. Decorate with sprinkles, if desired. Once you've dipped (and decorated) all of the cakes, place them in the refrigerator for 30 minutes to 1 hour or until set.

Store covered in refrigerator for up to 5 days.
Update: I made a Heart-Shaped version of these Tagalong Cake Bites for Valentine's Day and also demonstrated how to do it LIVE on my Mom Loves Baking Facebook page. Check it out!