Make this adorable Ugly Sweater Cake for the holidays this year! It's easy to make using a 13×9 pan to bake your favorite cake mix, then frost with homemade buttercream and add some crazy cute details to make it the ugliest sweater cake at the party!

This Ugly Sweater Cake shop has been compensated by Collective Bias, Inc. and its advertiser. All opinions are mine alone. #NestleHoliday #CollectiveBias
It's Christmas time and also Ugly Sweater season! Have you ever been to an Ugly Sweater party? A lot of you most likely know what I'm talking about, but just in case, let me explain. Its a party where everyone attending wears an ugly sweater (also known as a Christmas sweater with lots of different colors and goofy holiday decorations all over it). To tell you the truth, I secretly love "ugly" Christmas sweaters and I'm so glad that these parties are in style now, so that I can wear fun, festive sweaters and not feel embarassed. (Shhhh! Don't tell. Thanks!)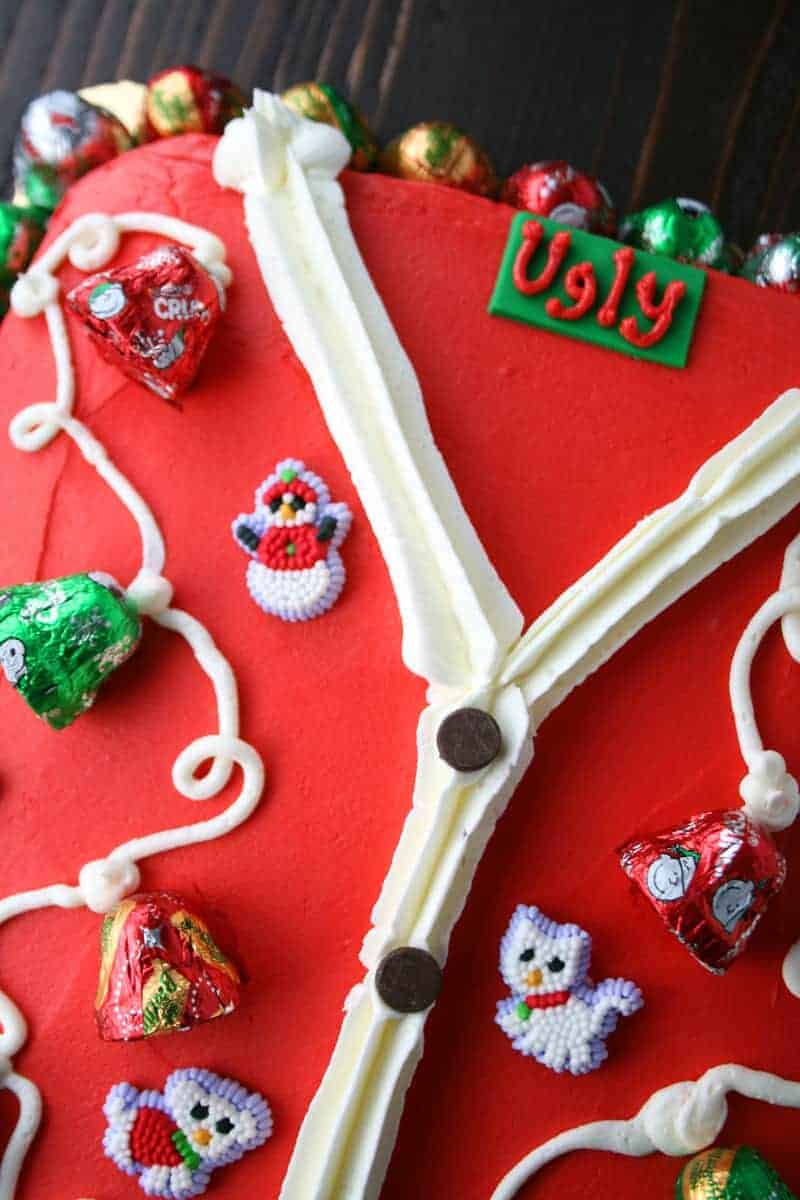 We are going to an ugly sweater party in just a couple of weeks, so I wanted to do a test run on a cute cake that looks like said garment. It's an Ugly Christmas Cake and isn't it adorable! I just love it! All the bright colors and cheerful designs that you'd find on the actual cloth version. So much fun. And scrumptious too! It's a yellow cake underneath with a homemade buttercream frosting on top.
Decorating the cake was easy with NESTLÉ® BUTTERFINGER® Jingle Bells and NESTLÉ® CRUNCH® Jingles. The brightly colored foil was just the right touch for my cake. I found them at Walmart in the seasonal section. But hurry, because they won't be there long. I also picked up a package of the NESTLÉ® CARNATION® Famous Fudge Kit. It makes making fudge so simple with everything you need in one box. Fudge is also a great gift for teachers or friends.
I used a yellow cake mix for this recipe. I prepared it according to the package instructions and baked in a greased 13″ x 9″ baking pan for about 30 minutes at 350°F. Then I let it cool completely. (It's actually ideal if you can cover and refrigerate the cake for a few hours before decorating but you don't have to if you're in a hurry.)
Meanwhile, whip up this super awesome buttercream frosting. I've posted this recipe before, but it's just so delicious. I think it's especially important to use homemade frosting if you're using a store bought mix for the cake. After mixing up the frosting, I reserved about 1 1/2 cups to keep white and then colored the rest red. I used red food coloring paste. Set aside 1/3 cup of red frosting, then use the rest to frost the cake.
After frosting the cake in red, put it in the refrigerater for about an hour, so it will set.
You'll need 3 pastry bags for decorating. One with a #3 tip (red frosting), one with a #5 tip (white) and one with a #1M tip (white).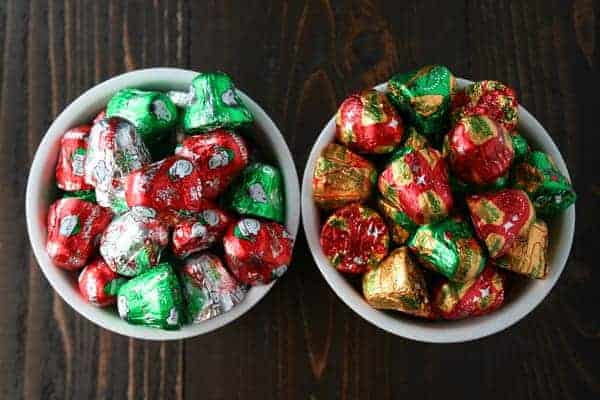 Pretty NESTLÉ® BUTTERFINGER® Jingle Bells and NESTLÉ® CRUNCH® Jingles!
For the label of the sweater, I used a little bit of green fondant, rolled it out and cut into a small rectangle. Then I piped the word "ugly" with the red frosting. Use the #1M tip to pipe the lines to create the neck of the sweater and the middle section for the buttons. Add chocolate chips for the buttons. Use the #5 tip to pipe the strings for the "Jingle lights". I also added some holiday candies for an added touch.
I'm so happy with how this cake came out. I will definitely bring it to the Ugly Sweater Party we're going to later this month.
I hope you enjoyed this recipe. You can find more creative recipes at the Flavorful Moments Pinterest Board.
Print Recipe
Ugly Sweater Cake
Ingredients
For the cake

1

yellow cake mix

prepared according to package instructions

For the frosting

1

cup

2 sticks unsalted butter, softened at room temperature

3-4

cups

powdered sugar

1/4

cup

heavy cream

2 1/2

teaspoons

vanilla extract

use clear vanilla flavoring for whiter frosting

Red food coloring paste

For the decoration

1

package NESTLÉ® BUTTERFINGER® Jingle Bells

1

package NESTLÉ® CRUNCH® Jingles

Chocolate chips

Holiday candies

Green fondant
Instructions
Prepare cake according to package instructions. Let cool completely. If possible, refrigerate covered for a few hours to make it easy to work with when frosting, but you can skip this step if you're in a hurry. Place cake on a large platter or cake board.

Make the frosting:

Beat softened butter on medium speed with an electric or stand mixer. Beat for 3 minutes until smooth and creamy. Add powdered sugar, cream, and vanilla extract with the mixer running on low. Increase to high speed and beat for 3 minutes. Add more powdered sugar if frosting is too thin or more cream if mixture is too thick. Reserve about 1 1/2 cups of frosting to keep white, then color the rest red. (Note: I used 2 heaping teaspoons of the "no taste" red food coloring paste. It looks like it isn't red enough at first, but gets darker after it sits for awhile.)

Reserve 1/3 cup of red frosting, then use the rest to frost the cake. Refrigerate for one hour.

Meanwhile place half of the white frosting in a pastry bag fitted with a #5 tip and the other half of the frosting fitted with a #1M tip. Fill a third pastry bag fitted with a #3 tip with the remaining red frosting.

Pipe a "V" shape at the top of cake with the #1M tip and then a line down the middle. Create string designs with the #5 tip. Roll out a 1/2" x 1" rectangle of green fondant for the label. Pipe the word "ugly" in red. Add the NESTLÉ® Jingles and holiday candies. Surround the base of the cake with the extra NESTLÉ® Jingles. Use chocolate chips for buttons.

Serve immediately or store covered in the refrigerator for up to 3 days.

This Ugly Sweater Cake Post is featured on Southern Plate Meal Plan Monday.