A healthier version of Bakery Style Chocolate Chip Muffins that are gluten-free, dairy-free and made with coconut oil.
My kids love chocolate chip muffins from the bakery. It's one of their favorite things for breakfast, but I'm not entirely sure of the ingredients that the bakery uses. I thought, why not make a homemade version that's also more nutritious!
Of course I didn't TELL them about my little plan. Why bother them with things they don't need to know. Hehe.
I used the Betty Crocker Yellow Gluten Free Cake Mix as the base of the batter. I like it because it has no preservatives or artificial flavors, plus, it tastes REALLY good! I'm pretty sure they carry it at most major grocery stores.
Do you like my pretty red polka dot bowl? It was a little Christmas present to myself and this is the first time I used it. I just love it! If you like it too, you can find it here on Amazon (affiliate):

I added all the ingredients as indicated on the cake mix box, except I substituted coconut oil instead of butter. I used a hand mixer to beat the mixture on low until everything was combined, then on medium high for about 2 minutes.
Note about Coconut Oil: I have been using coconut oil for about a year and I truly love it. It's good for you and works well in almost any recipe. You can find it at the grocery store next to all of the other oils. Make sure you get the REFINED coconut oil and I prefer ORGANIC. The unrefined coconut oil has a very strong "coconut" flavor which could be good if you want that, but not if you're making something that doesn't mix well with a coconut flavor.
You can find the pink Kitchen Aid mixer I used here (affiliate):

Stir in 1 cup of non-dairy mini chocolate chips.
Use a muffin scoop to add the batter to muffin cups. Sprinkle with more mini chocolate chips.
Then bake for 18-23 at 375°F or until light golden brown on edges. Let them cool and enjoy!
These Bakery Style Chocolate Chip Muffins are even better than the bakery! And my kids had no idea that they were gluten-free and dairy-free.
Here's my son who is a big fan of these muffins. He even volunteered for this photo, so I had to include it in this post!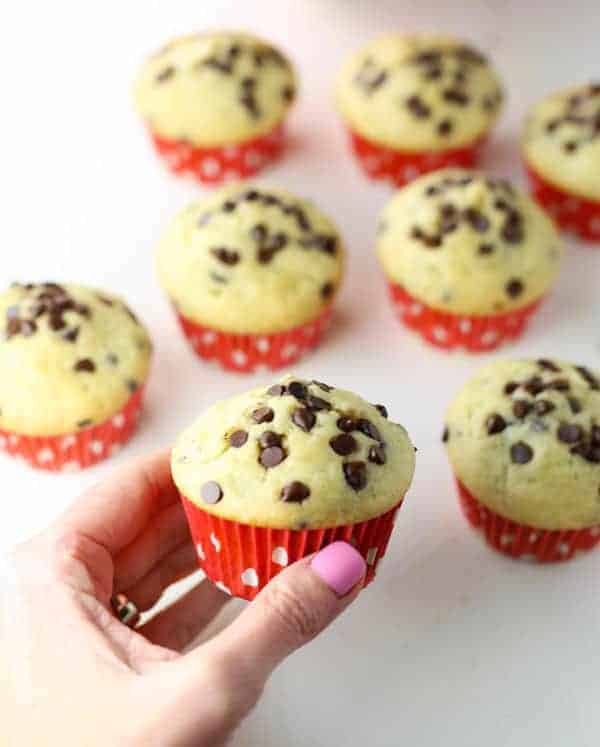 My Bakery Style Chocolate Chip Muffins did not last long. I actually made them at night and all but three were gone before I went to bed. I had to hide a few for the kids to have for breakfast!
Print Recipe
Bakery Style Chocolate Chip Muffins
Ingredients
1

15 oz gluten-free yellow cake mix (I used Betty Crocker)

2/3

cup

water

1/2

cup

coconut oil

softened (I used REFINED and organic)

2

teaspoons

vanilla extract

gluten-free

3

eggs

at room temperature

1 1/4

cups

dairy-free mini chocolate chips

divided (I used Enjoy Life)
Instructions
Preheat oven to 375°F. Line a muffin pan with 12 cupcake liners.

Place all ingredients in a medium bowl. (If the coconut oil is hard, place in microwave for about 10 seconds.) Mix with an electric mixer on low until ingredients are combined, then turn mixer up to medium and beat for 2 minutes. Stir in 1 cup chocolate chips. Scoop batter in muffin cups. Sprinkle remaining chocolate chips on top.

Bake for 18-23 minutes or until light golden brown on edges. Let cool. Store covered at room temperature for 24 hours or in refrigerator for up to 3 days. They would also freeze well.