These raspberry muffins with mini chocolate chips are low in sugar and gluten free, topped with a lightly sweetened cream cheese frosting.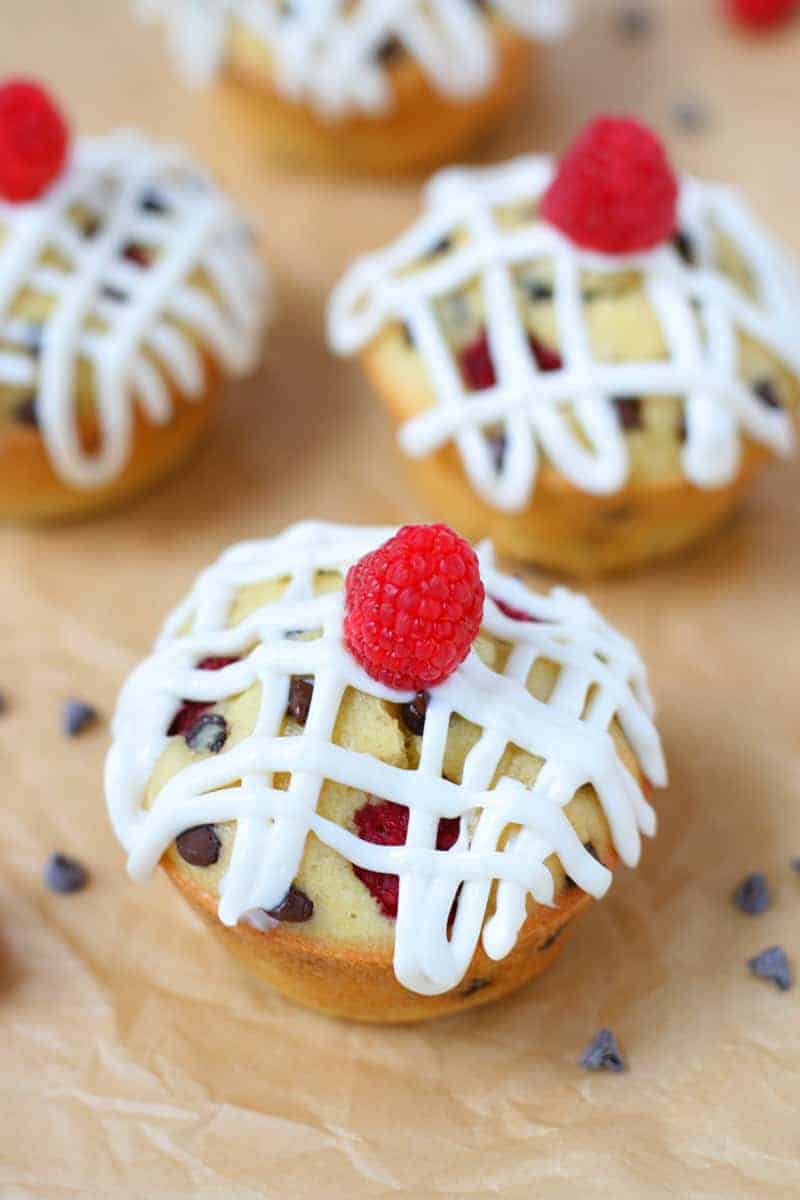 Dare I say the word diet on my dessert filled blog? I thought I would share with you a little bit about what's going on in my life. I'm about to turn 50 and really wanting to lose the 15 pounds which have slowly crept up on me over the last year. On my birthday last year, I had a nasty fall on the ice and couldn't exercise for over a month which coincided with the holidays and all the food that goes with it. On top of that, my local Jazzercise studio closed leaving me without a place to dance. Have I mentioned that I love to dance? Dancing and baking. Two of my favorite pastimes!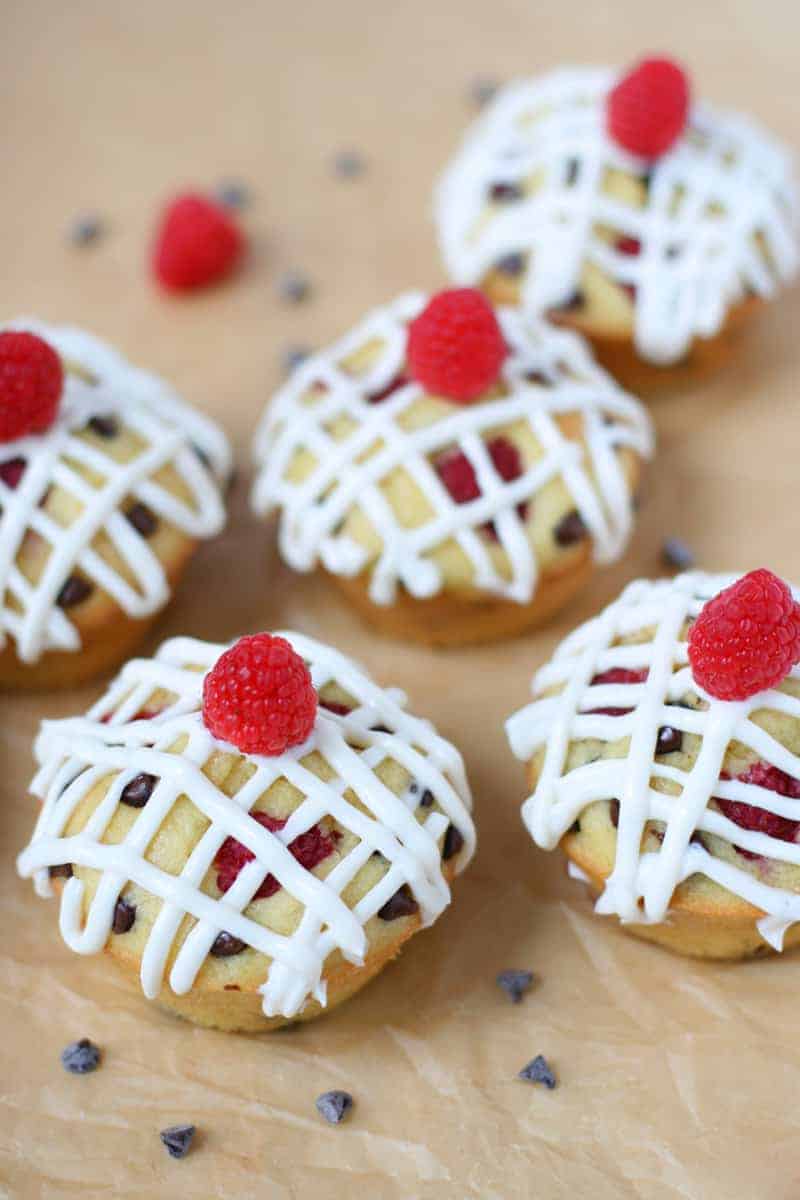 So I'm trying a diet called Trim Healthy Mama. I'm just starting out, so I'll let you know how it goes. They have a wonderful cookbook too and that's where I found the inspiration for these tasty Frosted Chocolate Raspberry Muffins. You would never know they were "diet" muffins. They're just plain good. My daughter gobbled one up and loved it.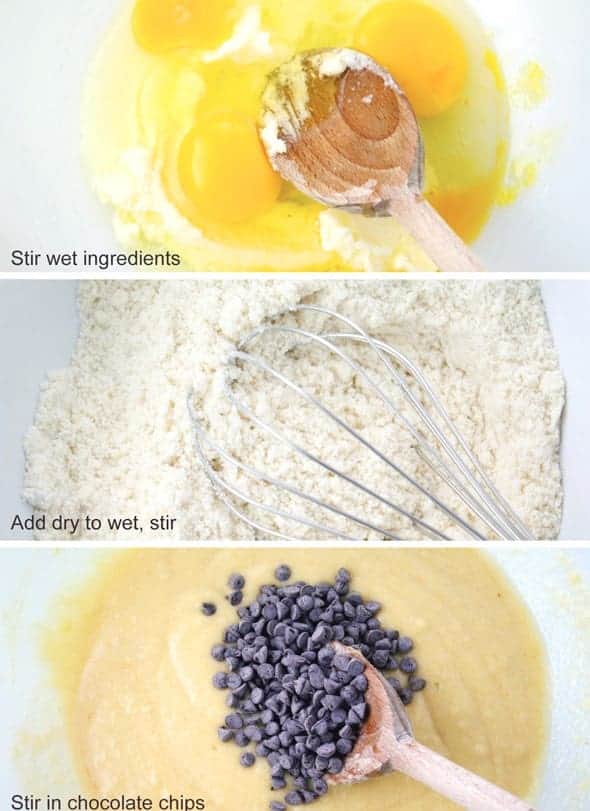 They're also very simple to make. In the above photo, you also would add water and vanilla when you add the dry ingredients to the wet. Full description is in the recipe below.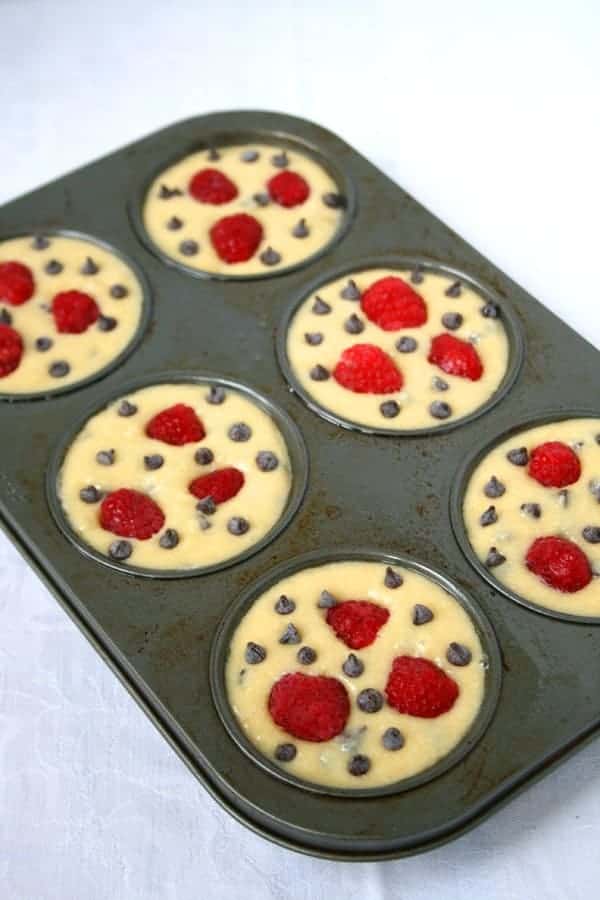 This recipe makes 6 muffins, but you could easily double it to make 12.
I used a combination of a gluten free flour blend that I made and almond flour. If you don't want to bother with creating the gluten free blend, you could use all almond flour in this recipe instead. Either way, they puff up beautifully. Aren't they gorgeous!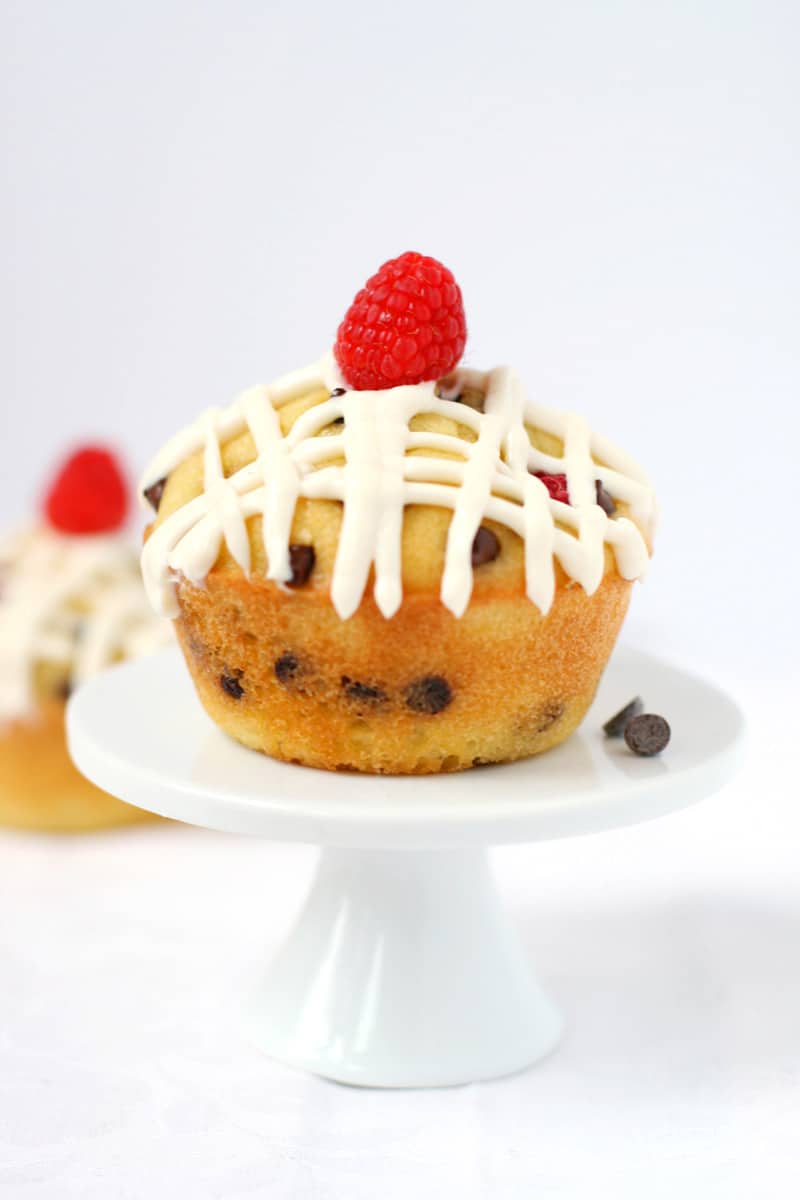 Ta da! 🙂
The sweetener I used is Truvia Baking Blend which does have some sugar in it. I also used regular mini chocolate chips, so it's not totally sugar free but much less sugar than a regular muffin recipe.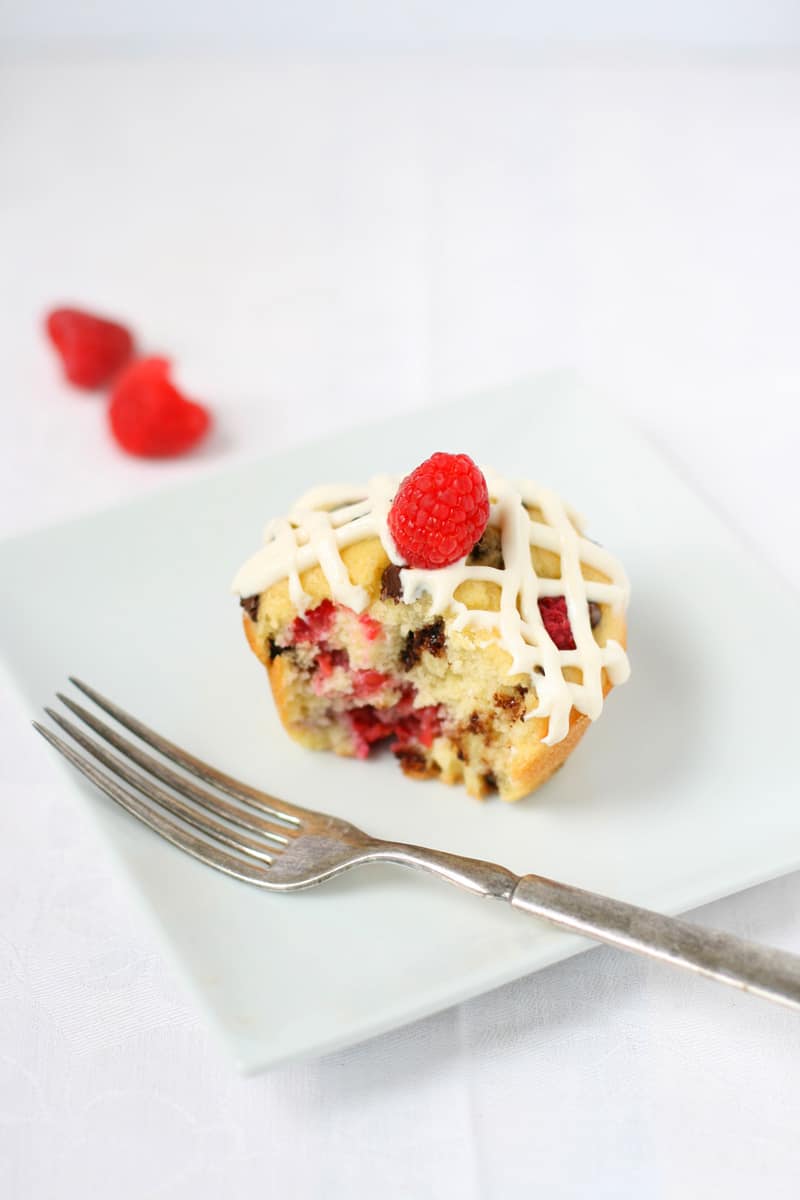 Frosted Chocolate Raspberry Muffins are just the right amount of sweetness. They are tender and delicious with yummy raspberries and chocolate in every bite.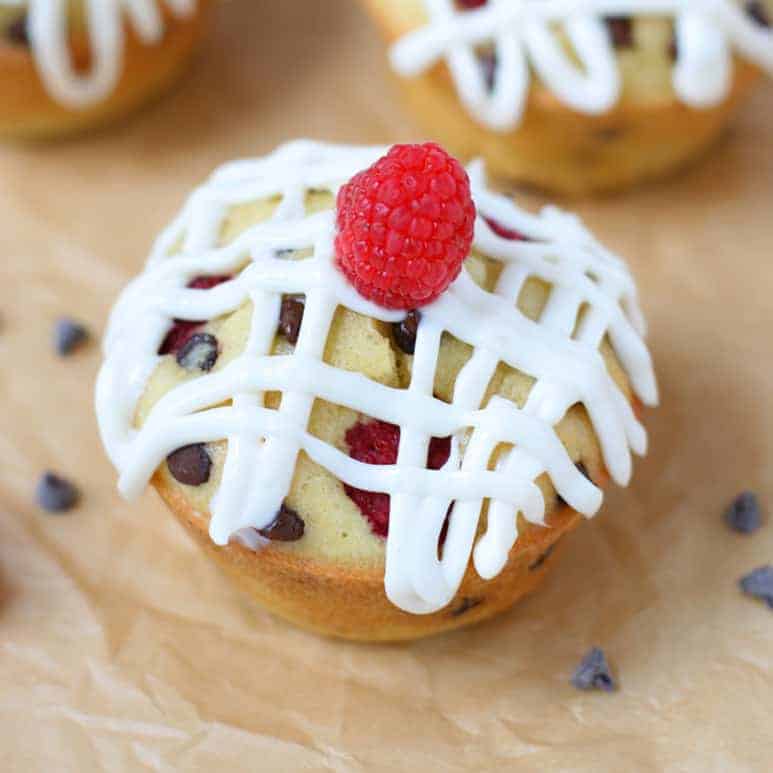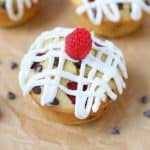 Print Recipe
Frosted Chocolate Raspberry Muffins
Ingredients
FOR THE MUFFINS

3

tablespoons

butter

softened

3

tablespoons

Truvia baking blend

3

eggs

room temperature

3/4

cup

almond flour

1/2

cup

gluten free flour blend

recipe below

3/4

teaspoon

baking powder

1/4

teaspoon

salt

1/3

cup

water

1

teaspoon

pure vanilla extract

3

tablespoons

mini semisweet chocolate chips

36

fresh raspberries

6 of them are for garnish

FOR THE GLUTEN FREE FLOUR BLEND

2

cups

244g brown rice flour

1/2

cup

60g arrowroot

1/3

cup

38g tapioca starch

1

teaspoon

xanthan gum

Note: I used Bob's Red Mill for all of the flour blend ingredients.

Whisk together all of the flour blend ingredients and store in an airtight container.

FOR THE FROSTING

3

tablespoons

lowfat cream cheese

3

tablespoons

lowfat Greek yogurt

plain

3/4

teaspoon

pure vanilla extract

2

tablespoons

Truvia baking blend
Instructions
FOR THE MUFFINS

Preheat oven to 350°F. Spray a muffin pan with non-stick cooking spray. Set aside.

In a medium bowl, add all of the dry ingredients. Stir to combine. Set aside.

In a large bowl, cream the butter and Truvia by hand with a wooden spoon. Add the eggs and stir until combined. It will be a bit lumpy. Add the dry ingredients, water and vanilla. Stir just until smooth. Fold in all but 2 teaspoons of the chocolate chips.

Place 2 raspberries in the bottom of each muffin cup. Distribute batter to the 6 muffin cups. Place 3 raspberries on top of each muffin. Add the remaining chocolate chips to the top of each muffin (they will look pretty after baking).

Bake in preheated oven for 20-25 minutes or until golden brown around the edges. Let cool.

Meanwhile, make your frosting. Combine all of the frosting ingredients in a small bowl. Stir until smooth or you could use an electric mixer to make it even smoother. Frost cooled muffins or place frosting in a plastic, zip-top sandwich bag. Seal and cut a tiny corner off and pipe frosting on muffins. Serve immediately or store covered for up to 3 days.
Nutrition