I did something different on Saturday, I took a Spring Pies baking class at Whole Foods. It was so much fun! We did 3 sweet recipes and this amazing Chicken Pot Pie with Cheddar Dill Biscuits. A creamy homemade chicken filling with fresh veggies, topped with made from scratch cheddar cheese and fresh dill biscuits. To die for!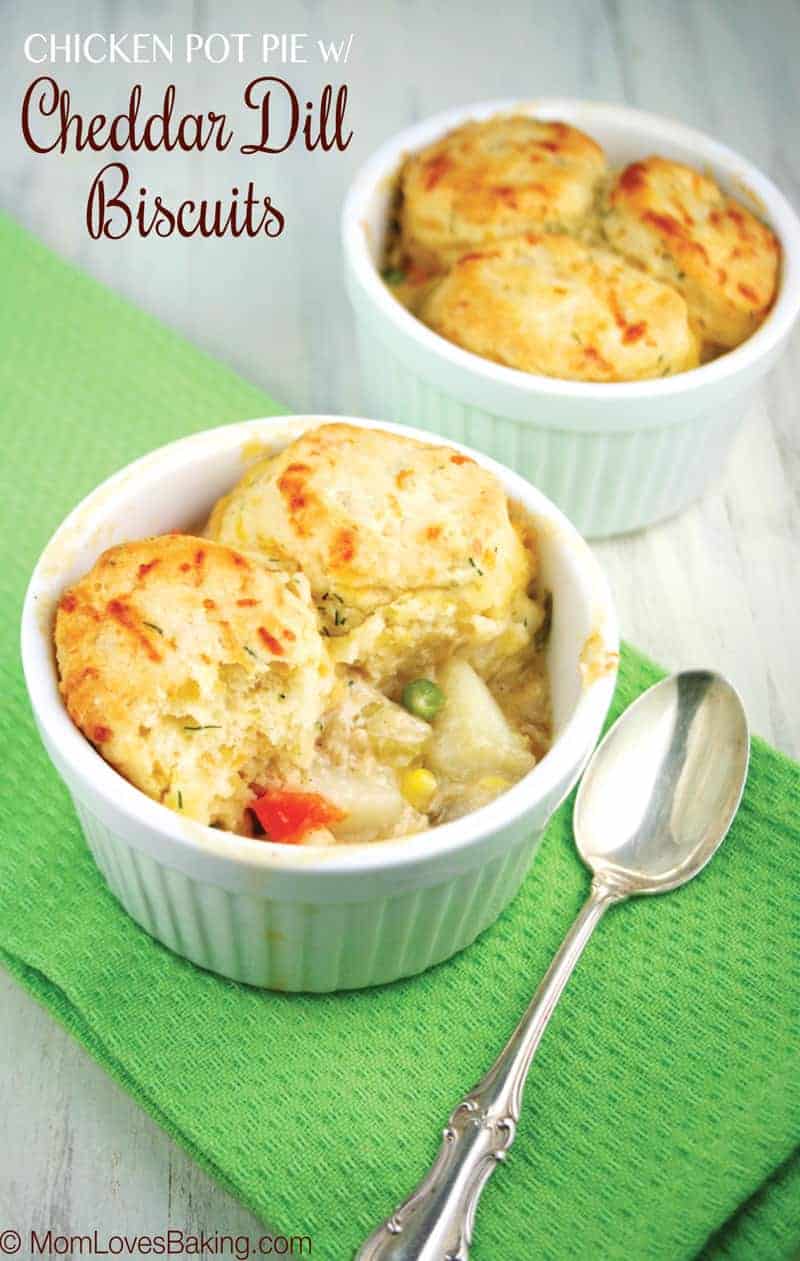 It was so good that I couldn't wait to make it for my family on Sunday! And guess what, they loved it!
This is not a quick and simple recipe though. It will take some extra time to put it together but it's so worth it. I've included the step-by-step tutorial to make it easier for you.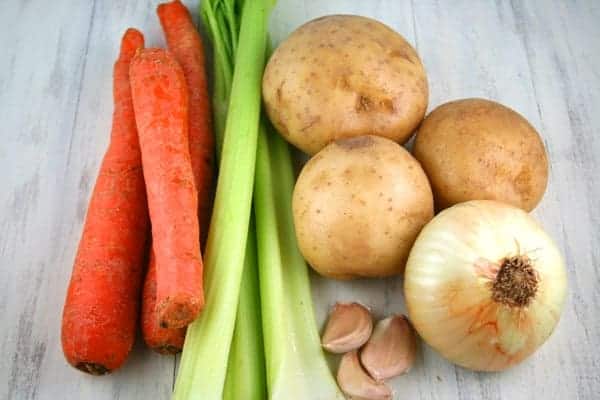 Start by boiling your potatoes. Then you chop up some onion, garlic, carrots and celery.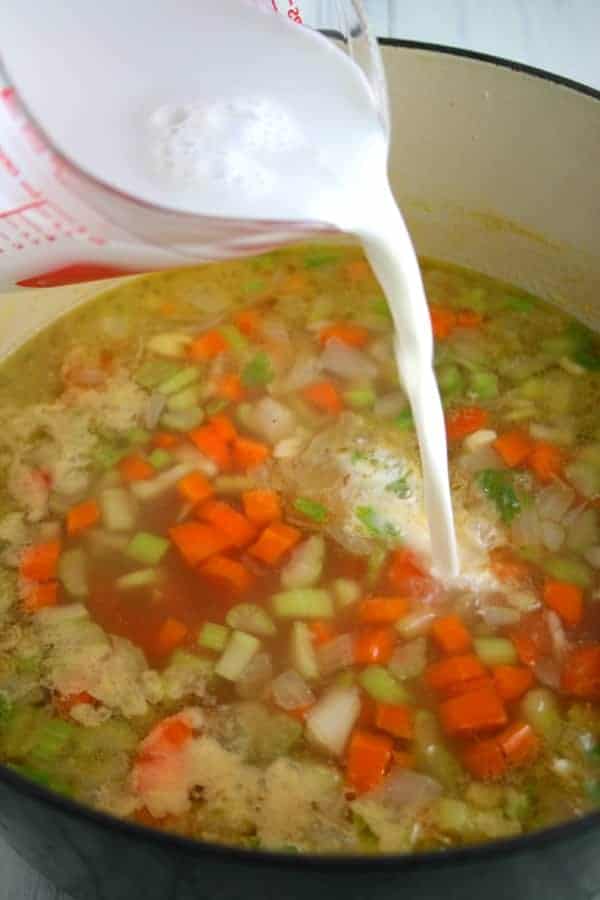 Saute the onions and garlic in butter. Add chicken broth, carrots, celery, salt and pepper. Let it simmer 15 minutes, then add heavy cream. Cook 10 minutes more.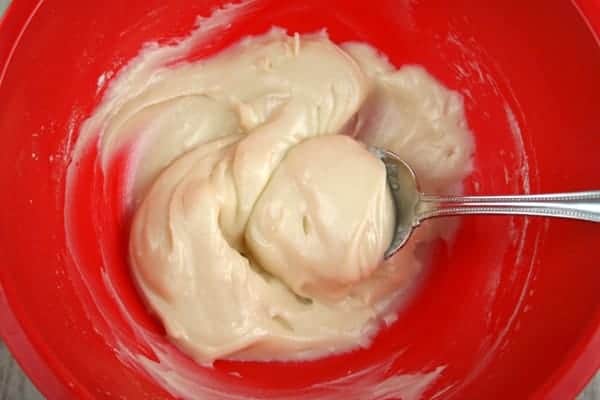 Meanwhile mix together some softened butter and flour (1/2 cup of each). Whisk it into the hot vegetable mixture.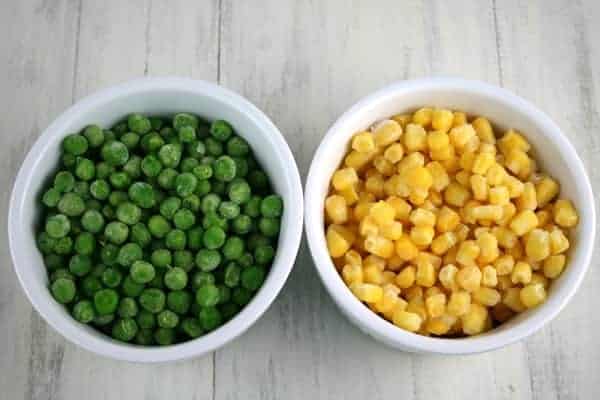 Then you stir in frozen peas, corn, shredded chicken, chopped potatoes, pearl onion, hot sauce and nutmeg. Simmer about 10 minutes.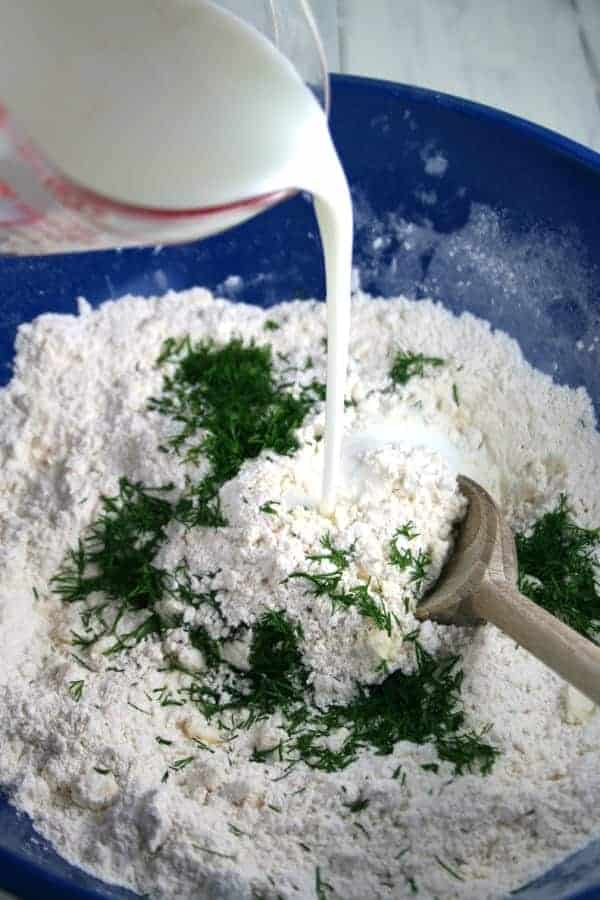 Meanwhile make your biscuits. Cut cold, cubed butter into a mixture of flour, baking powder, sugar, baking soda and salt. Add buttermilk and dill. Stir until almost combined. Add grated cheese and stir to combine.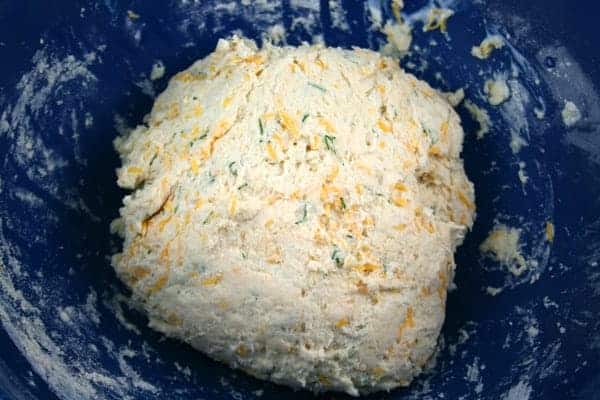 Knead the dough a few times, then roll out to 3/4-inch thick on a floured surface. Cut biscuits with a 1 1/2″ biscuit cutter. Re-roll the scraps and cut more.
I placed the creamy chicken and veggie mixture in ramekins because it looks prettier, but you can also pour everything into a 9″ x 13″ casserole dish and top with the biscuits. Brush biscuits with more buttermilk. Bake at 450°F. for about 15 minutes.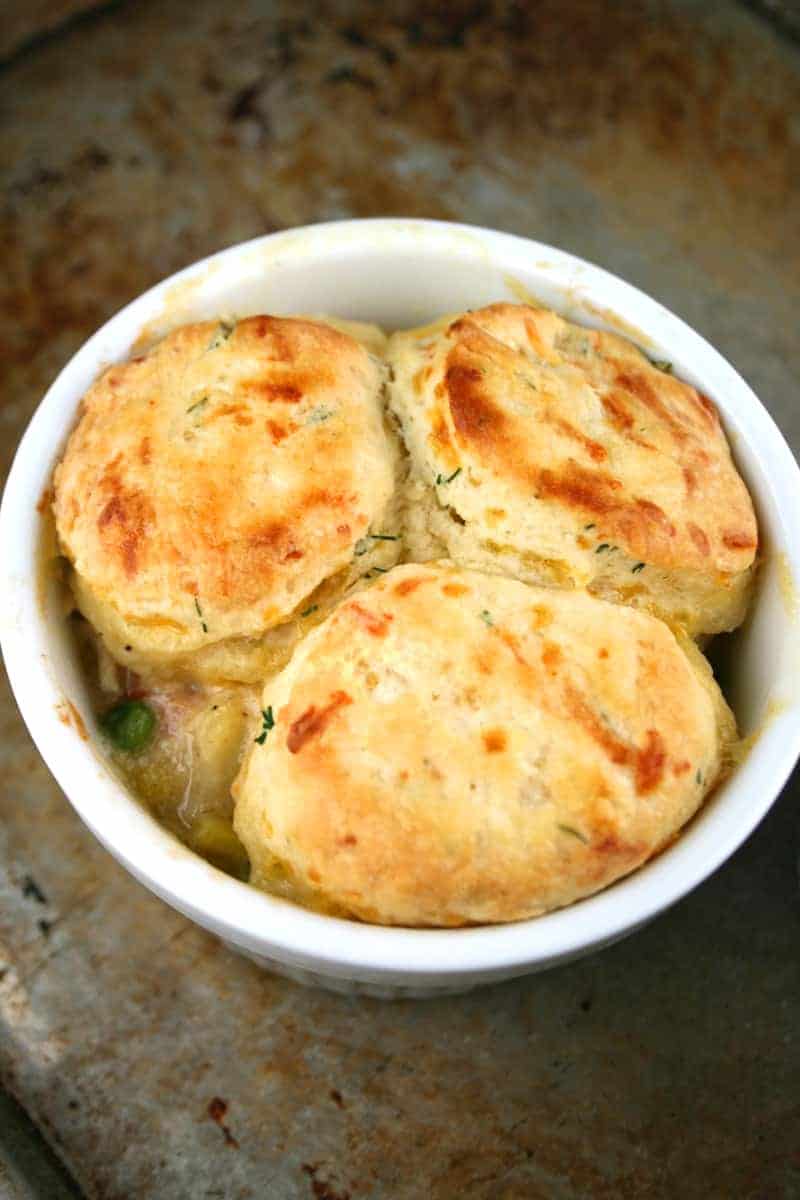 This recipe makes a lot of chicken pot pie, so you could half the recipe if you don't need 12-14 servings.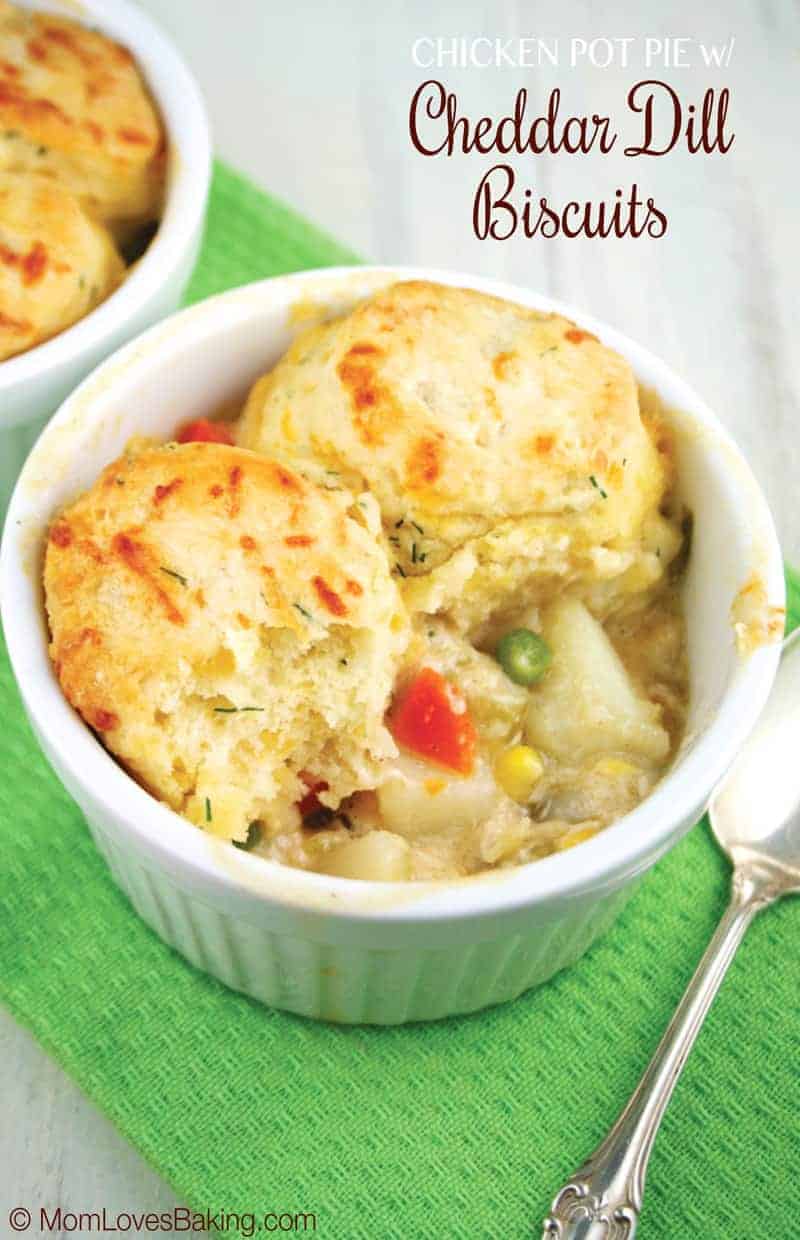 The biscuits are soft, flaky and cheesy with a hint of dill. The filling is so creamy and delicious. Total comfort food. My advice? Go make this now!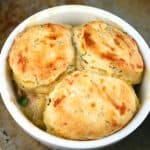 Chicken Pot Pie with Cheddar Dill Biscuits
Ingredients
For the filling

Kosher salt

3

medium red-skinned potatoes

washed

1 1/2

sticks

170g unsalted butter, softened, divided

1

medium yellow onion

chopped

3

garlic cloves

minced

5

cups

1250 mLchicken broth

3

carrots

washed well, chopped

3

celery ribs

washed, chopped

1

teaspoon

fresh ground pepper

1 1/2

cups

375 mL heavy cream

1/2

cup

63g all-purpose flour

5

cups

625g shredded rotisserie chicken

1/2

cup

75g frozen pearl onions, thawed

1

cup

150g frozen peas, thawed

1

cup

150g frozen corn, thawed

1

teaspoon

hot sauce

Pinch

of freshly grated nutmeg

For the biscuits

3

cups

375g all-purpose flour

1

tablespoon

plus 3/4 teaspoon baking powder

1 1/2

teaspoons

sugar

3/4

teaspoon

baking soda

3/4

teaspoon

sea salt

1

stick

113g unsalted butter, chilled, cut into 1/2-inch cubes

1 3/4

437 mL cups buttermilk, divided

2

tablespoons

fresh dill

chopped finely

1

cup

113g shredded sharp Cheddar cheese
Instructions
Preheat your oven to 450°F.

Place potatoes in a medium saucepan and cover with water. Salt the water. Bring to a simmer over medium heat and cook, uncovered, till tender (about 20-25 minutes). Drain and cool. Cut into 1/2-inch pieces and set aside.

In a large pot, melt 1/4 cup butter over medium heat. Add yellow onions and garlic and cook until tender, about 5 minutes.

Add chicken stock, carrots, celery, 2 teaspoons salt, and pepper. Bring to a simmer, lower heat and cook, partially covered, about 15 minutes. Stir in the heavy cream, raise the heat slightly, and cook for about 10 more minutes or until vegetables are tender.

Meanwhile, in a small bowl, mash together the remaining soft butter (1/2 cup) and flour until you have a smooth paste.

Lower the heat slightly and whisk in the floury paste with the vegetable mixture a little at a time. Stir in chicken, potatoes, pearl onions, peas, corn, hot sauce, and nutmeg. Simmer until thickened, about 10 minutes.

(You can prepare this filling a day ahead, remove from heat, cool, cover and refrigerate. Re-warm before using.)

Place the chicken filling into a buttered rectangular 9"x13" glass baking dish (3 quarts capacity). Make biscuits (directions below).

Place biscuits atop the filling, spacing them evenly apart. Brush top of biscuits with buttermilk. Place baking dish on top of a half-sheet pan and bake until the biscuits are golden brown and the filling is bubbly (about 15 minutes). Serve warm.

For the biscuits:

Place flour, baking powder, sugar, baking soda, and salt together in a large bowl. Whisk together well.

Toss in cold cubes of butter and rub butter pieces into flour with hands, quickly, until mixture resembles coarse meal.

Add 1 1/2 cups of the buttermilk and dill and stir gently until dough just begins to come together. Add the cheese and stir in to combine.

Lightly flour a work surface and turn dough out onto it. Knead the dough a few times lightly, until it is smooth. Roll the dough into a 3/4-inch disk. Use a 1 1/2-inch biscuit cutter to cut out as many biscuits as possible. Gather scraps together and re-roll once. Cut out remaining biscuits.

Recipe adapted from Salud Cooking School at Whole Foods