Chocolate Vanilla Swirl Cupcakes are gluten free chocolate cupcakes with dairy free vanilla and chocolate buttercream frosting swirled together.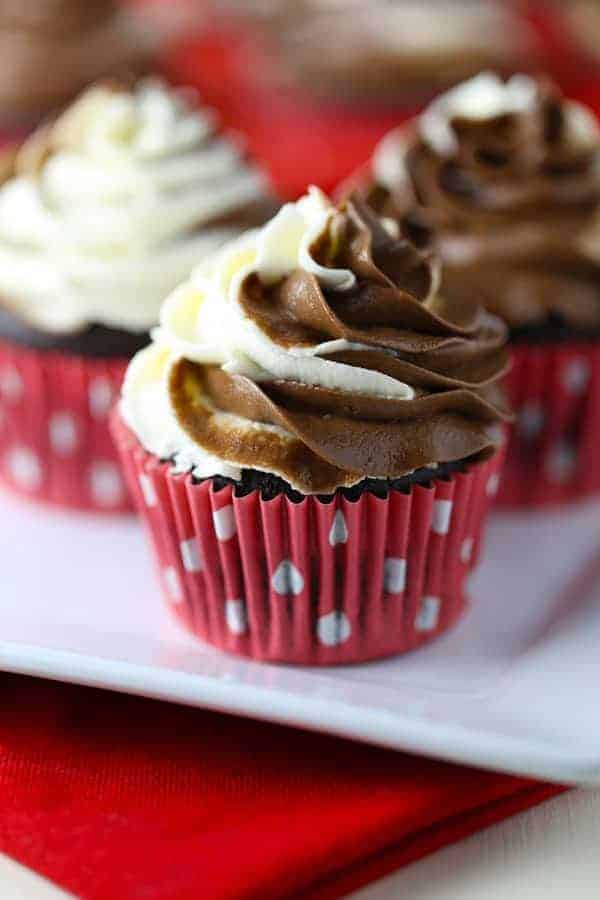 Hello and Happy Thursday! This is a last minute post that I just decided to do after making these cute cupcakes LIVE on my Facebook page this morning. Click here to watch the video tutorial for these Chocolate Vanilla Swirl Cupcakes. I had a special guest helping me with the cupcakes too. My 13 year old cousin, Gabby, was with me today. I showed her how to do the chocolate vanilla swirl and she tried it for the first time LIVE on Facebook. Wasn't she brave! She did a great job too!
I saw this flavor swirl technique on The Chew a few weeks ago and thought it was super cool and so easy!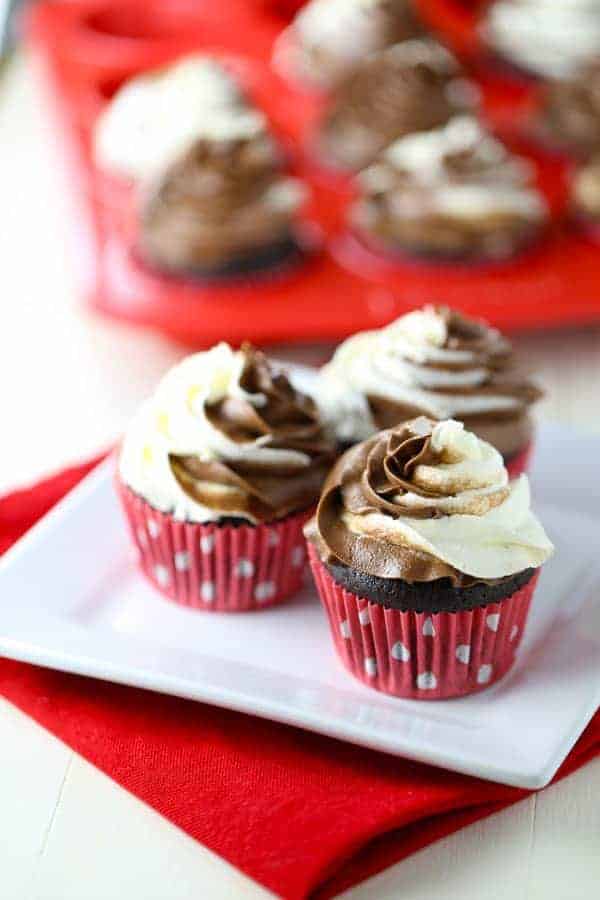 The cupcakes are actually gluten free and dairy free because my daughter can't have gluten or dairy now due to her Hashimotos diagnosis a few weeks ago. But honestly, you would NEVER know they were gluten and dairy free. They just taste amazing!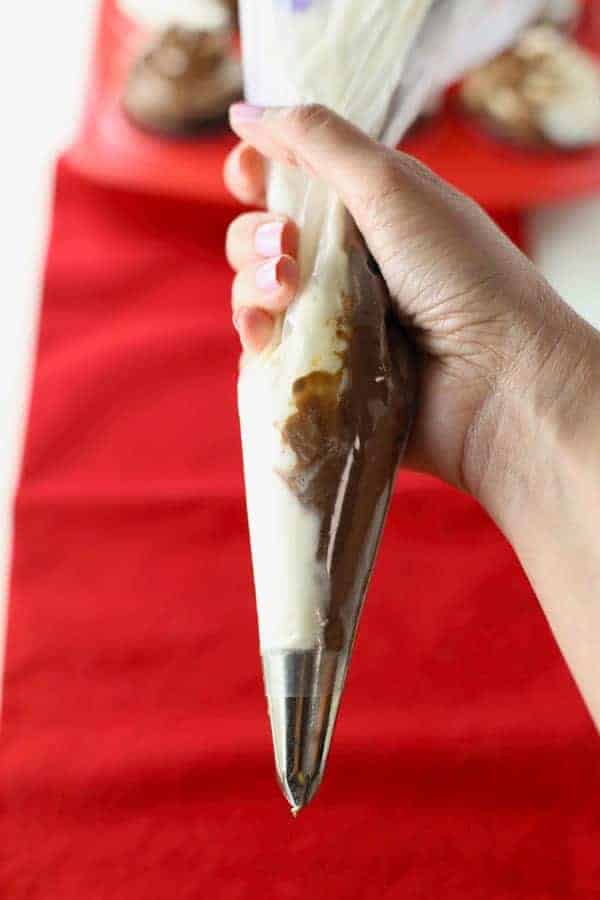 You will need 3 pastry bags for this technique. First you fill one pastry bag with vanilla frosting. Then you fill another pastry bag with chocolate frosting. Finally, you place both bags (with the tips cut off) into a third pastry bag that's fitted with a 1M pastry tip. Then you pipe the swirled chocolate and vanilla mixture onto your cupcakes.
Find the pastry bags here (affiliate).
Here's a decorating kit that includes the 1M tip (affiliate).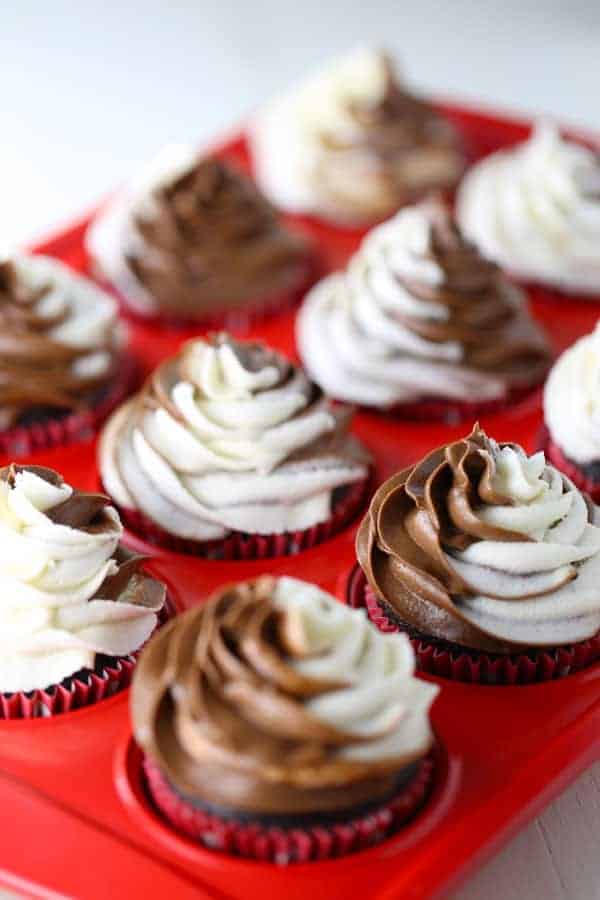 Aren't they pretty!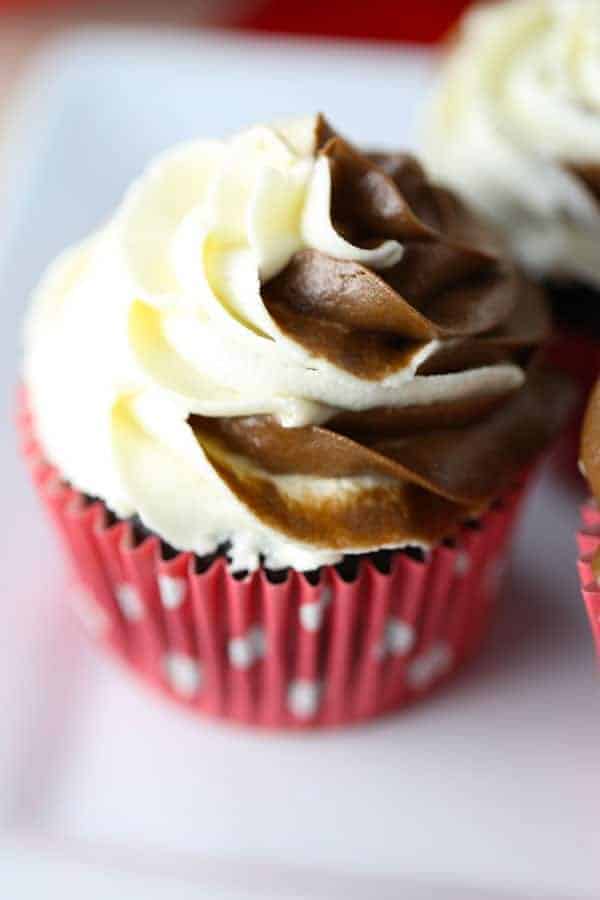 These Chocolate Vanilla Swirl Cupcakes are perfect for a birthday party or anytime. And such a nifty cake decorating method that you should definitely try!
You could also do them with two different colors of frosting. What colors would you do? Let me know in the comments or ask me a question if you like. I check my comments as often as I can and I love hearing from y'all!
Enjoy!
Chocolate Vanilla Swirl Cupcakes
Ingredients
For cupcakes:

1

chocolate cake mix

prepared according to package instructions (I used Betty Crocker Gluten Free Chocolate Cake Mix and added 3 eggs, 1 cup water, 1/2 cup vegetable oil)

For frosting:

1

cup

vegetable shortening

I used Crisco, half butter flavored/half regular

1

pound

or 4 cups powdered sugar

1/4

cup

plus 2 tablespoons almond milk

1-2

teaspoons

vanilla extract

1/4

cup

cocoa powder

For decorating:

3

pastry bags

1

M

pastry tip
Instructions
Preheat oven to 350°F. Line a 12-cup muffin pan with cupcake liners. Set aside.

Prepare cake mix according to package instructions. Pour into prepared muffin pan. Bake according to package instructions. (Note: I used the Betty Crocker Chocolate Cake Mix and added 1 cup water, 1/2 cup vegetable oil and 3 eggs at room temperature. Then baked them for 24 minutes.) Let cool.

For the frosting, place shortening in a large bowl. With an electric mixer, beat on medium for 3 minutes. Turn mixer to low and gradually add the sugar, 1/4 cup milk and vanilla. Once combined, turn mixer up to medium and beat for 3 minutes. Take half of the vanilla frosting out and into another bowl. Add cocoa powder and 2 tablespoon milk. Beat on medium for about a minute.

Pour vanilla frosting into a pastry bag. Pour chocolate frosting into another pastry bag. Cut the tips of the bags off and place both bags into a third bag that's fitted with a 1M pastry tip. Pipe the swirled frosting onto cooled cupcakes. Serve immediately or store covered at room temperature for 2 days. You can store them covered in the refrigerator for up to 5 days (if they last that long because they're so tasty).
This recipe is featured on Meal Plan Monday #66.