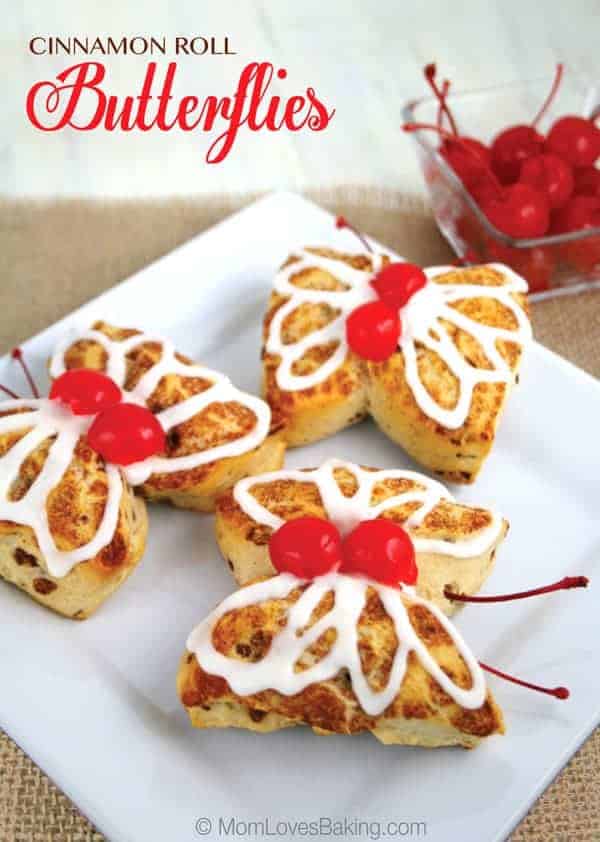 Here's an easy and festive breakfast treat that I found on Pillsbury.com. Aren't they cute! And just 2 ingredients. Perfect for a Mother's Day brunch or just any day you want to make your children smile.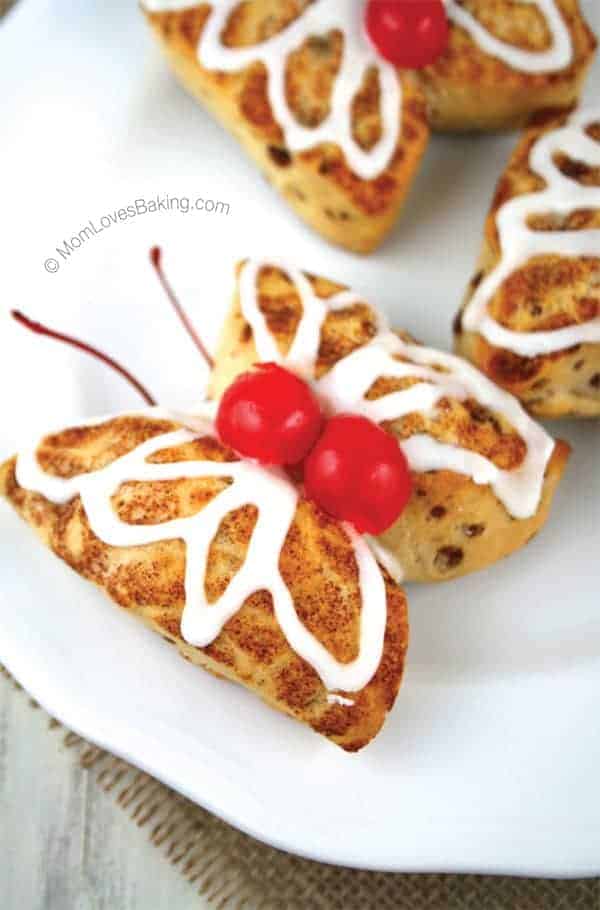 All you need to make these sweet little Cinnamon Roll Butterflies is a can of Pillsbury™ refrigerated cinnamon rolls with icing and Maraschino cherries. Kids can help make them too.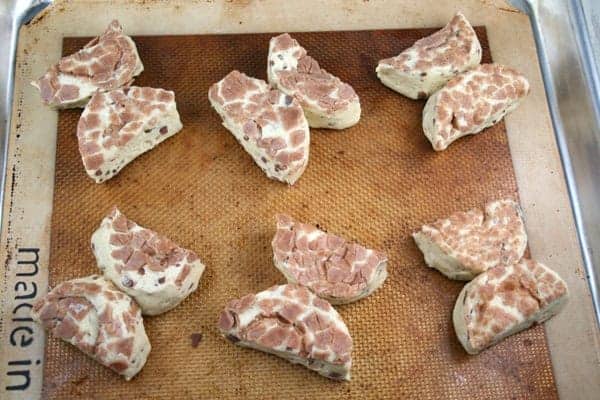 Separate the 8 cinnamon rolls. Cut each one in half. Stick the halves together so the 2 round ends are touching each other.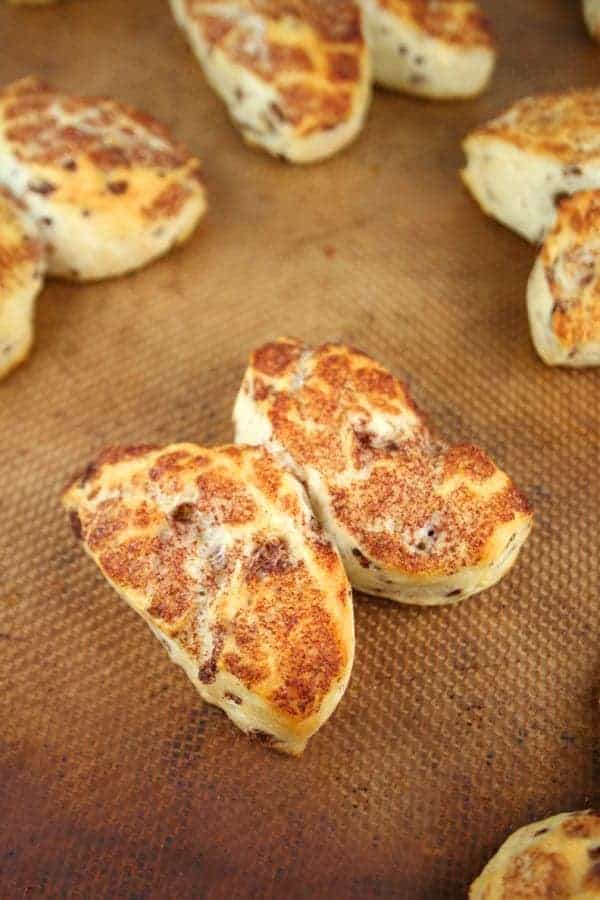 Bake at 400°F. for 11 minutes. The recipe says to bake for 11-17. The first batch I made baked for 13 minutes and they were too brown. I would take a look at them around 9 or 10 minutes. You can always bake them longer, but once they're too brown, there's no turning back. Let them cool before decorating.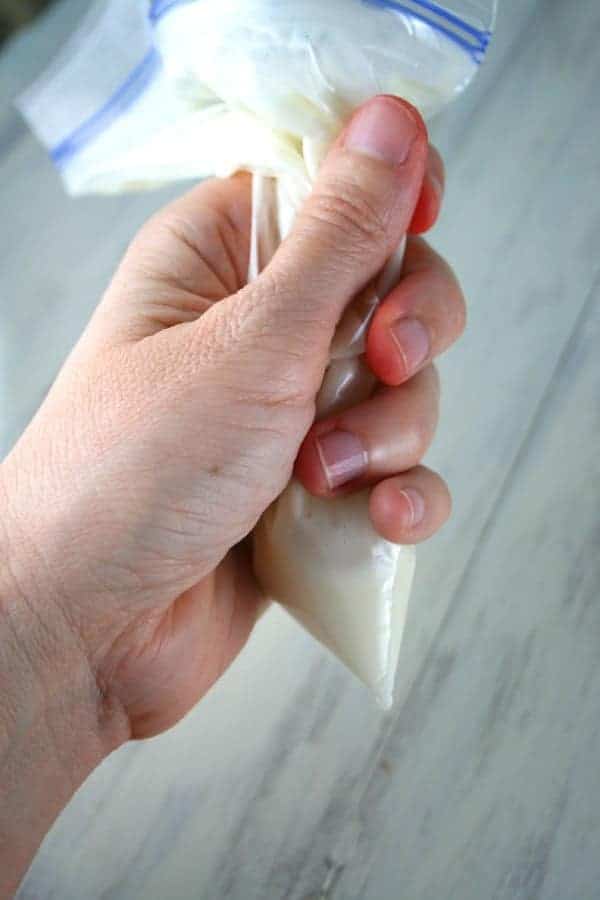 The recipe says to heat the icing in the microwave and drizzle over rolls with a spoon. That will definitely work, but you can also do what I did. I put the icing in a resealable plastic storage bag and cut a teenie tiny corner off. Then piped the design. It just depends how particular you are about the butterfly pattern. Either way is nice. (Note my red finger tips. You can tell I have been playing with some Maraschino cherries.)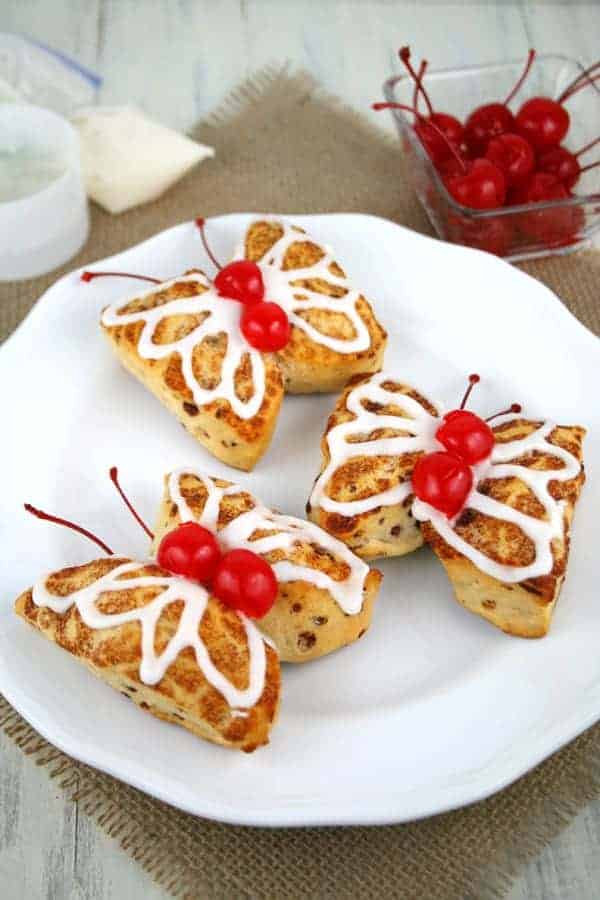 Drain the cherries and let them dry on paper towels. You'll need 8. Remove the stems and cut the cherries in half.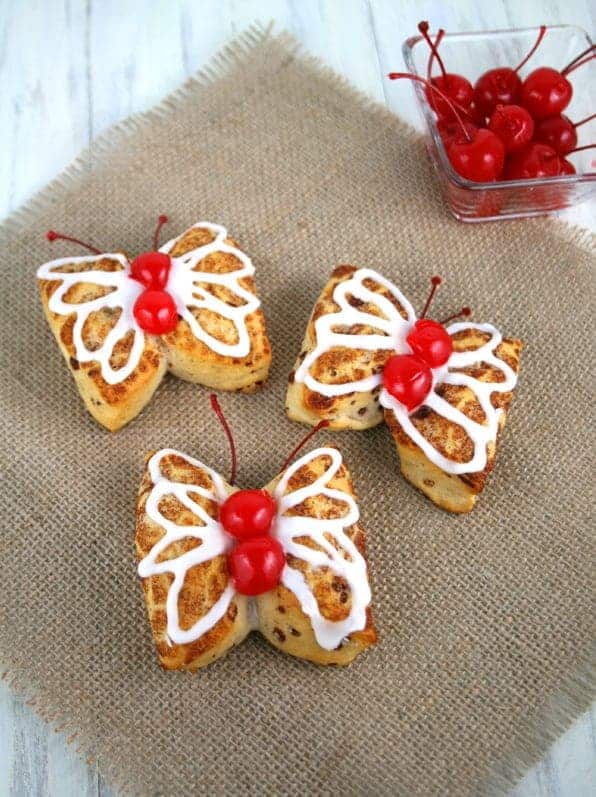 Gently stick the stems in the side for the butterfly antennas, then two cherry halves on top. Easy peasy!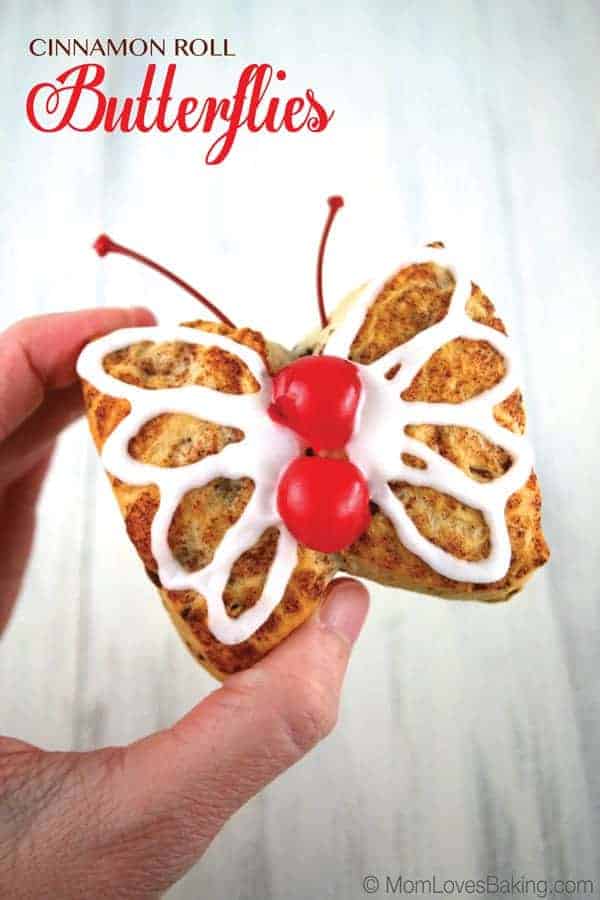 So, what do you think? Are you going to make some Cinnamon Roll Butterflies this Spring?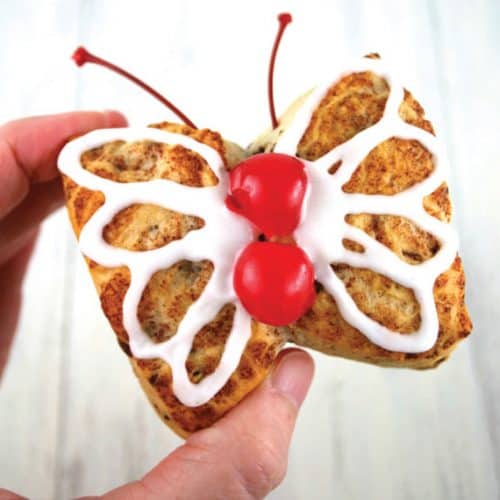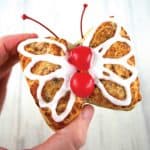 Print Recipe
Cinnamon Roll Butterflies
Ingredients
Recipe courtesy of Pillsbury®

1

can

12.4 oz Pillsbury™ refrigerated cinnamon rolls with icing

16

maraschino cherries with stems
Instructions
Heat oven to 400°F. Spray cookie sheet with cooking spray.

Separate dough into 8 rolls. Cut each in half crosswise. On cookie sheet, place 2 halves with rounded edges touching to form butterfly shape. Slightly flatten each "butterfly."

Bake 11 to 17 minutes or until golden brown.

Remove stems from cherries. At top of each "butterfly" where "antennae" would be, make 2 small holes with toothpick; insert 2 cherry stems into each roll.

Remove lid from icing. Microwave icing on High 10 to 15 seconds or until of drizzling consistency. Drizzle icing over rolls; decorate with cherries. Serve warm.
Nutrition

You might also like…