Fudgy Flourless Nutella® Brownies
Fudgy Flourless Nutella® Brownies are delicious, gluten free brownies made with a secret ingredient; topped with chocolate hazelnut spread and sprinkles.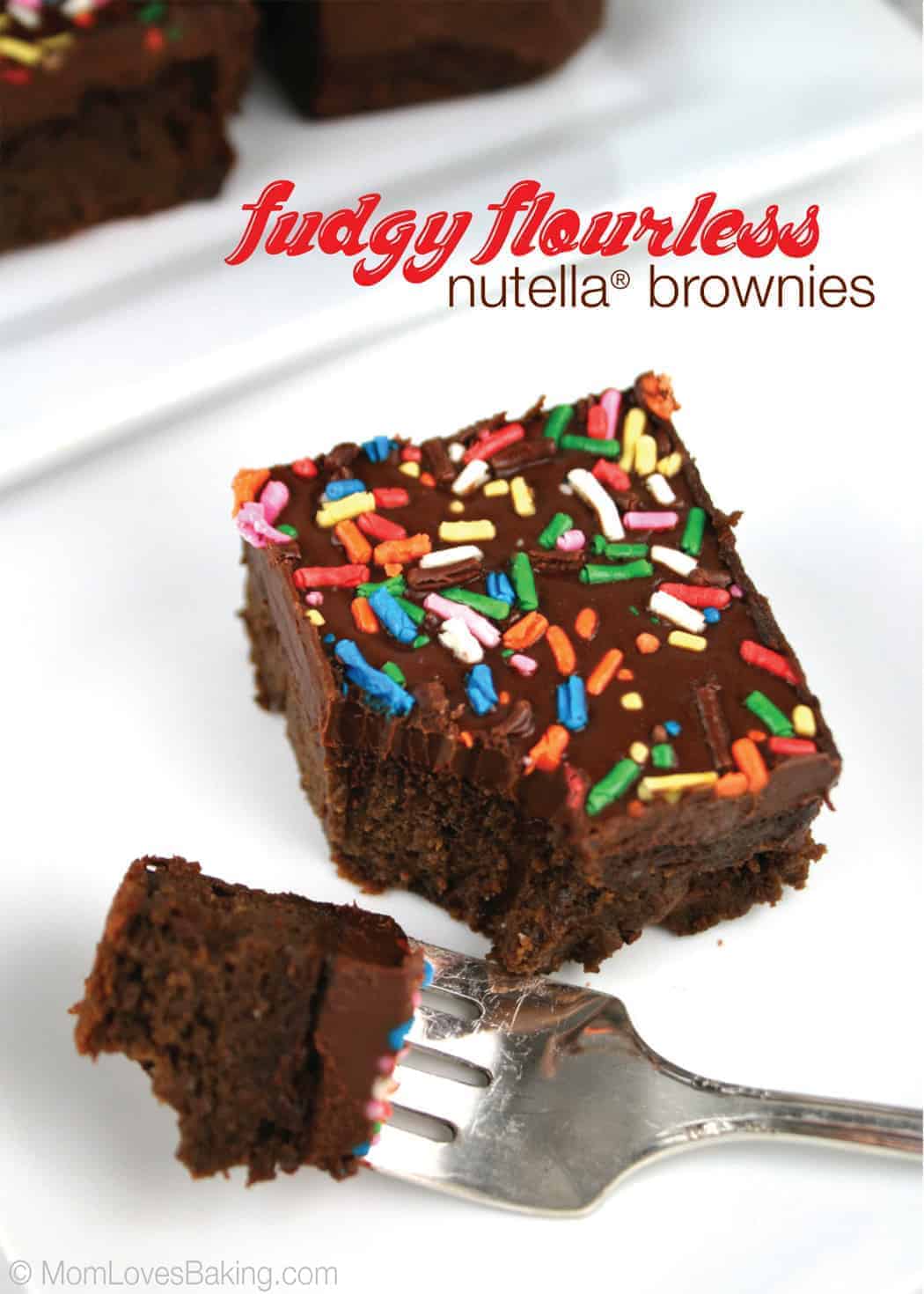 This is a recipe I've been playing around with and perfecting for quite some time. I finally got it right! They are so fudgy, moist and delicious! You have to try them! You would never know that they are made with black beans. (Shhh, don't tell my kids!) They're also gluten-free which is a plus. You're welcome, mom.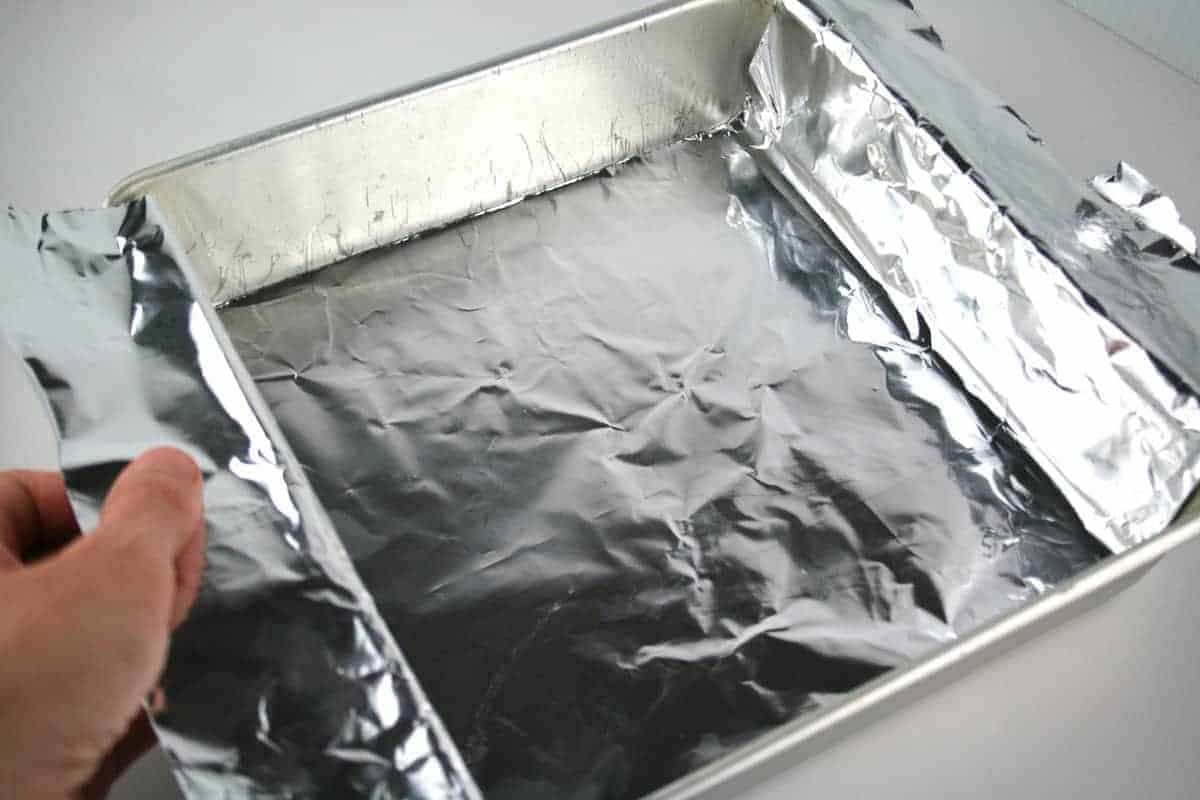 Start by lining your pan with aluminum foil. You'll have extra on either end. That's ok. This will give you something to grab after they're done, so you can lift the brownies out. It makes cutting much easier. I love this little trick. (Note: you will be spraying the pan with cooking spray before adding the foil and then spray again on top of the foil.)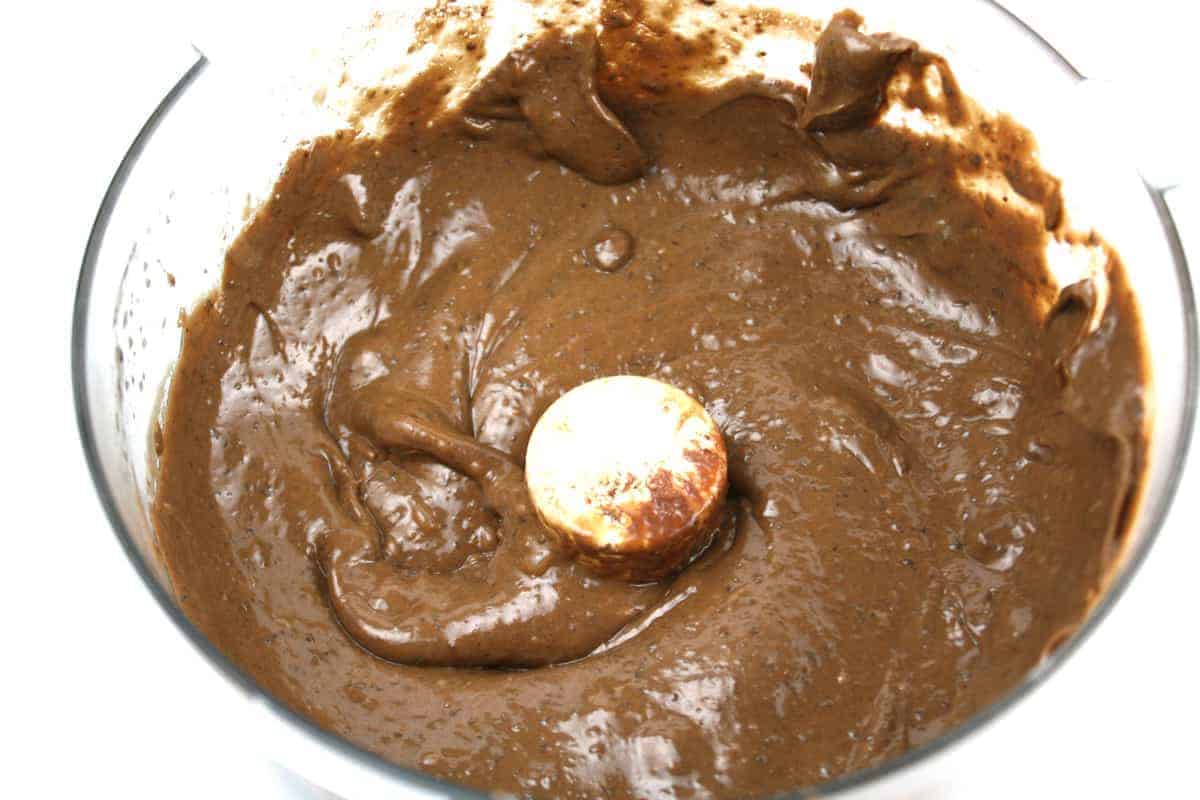 For best results, you'll need a food processor to mix up these brownies. Simply dump all of the ingredients in (except the chocolate chips) and process until smooth. This way there's no hint of black beans in the batter. Add the chocolate chips and process a few seconds to combine.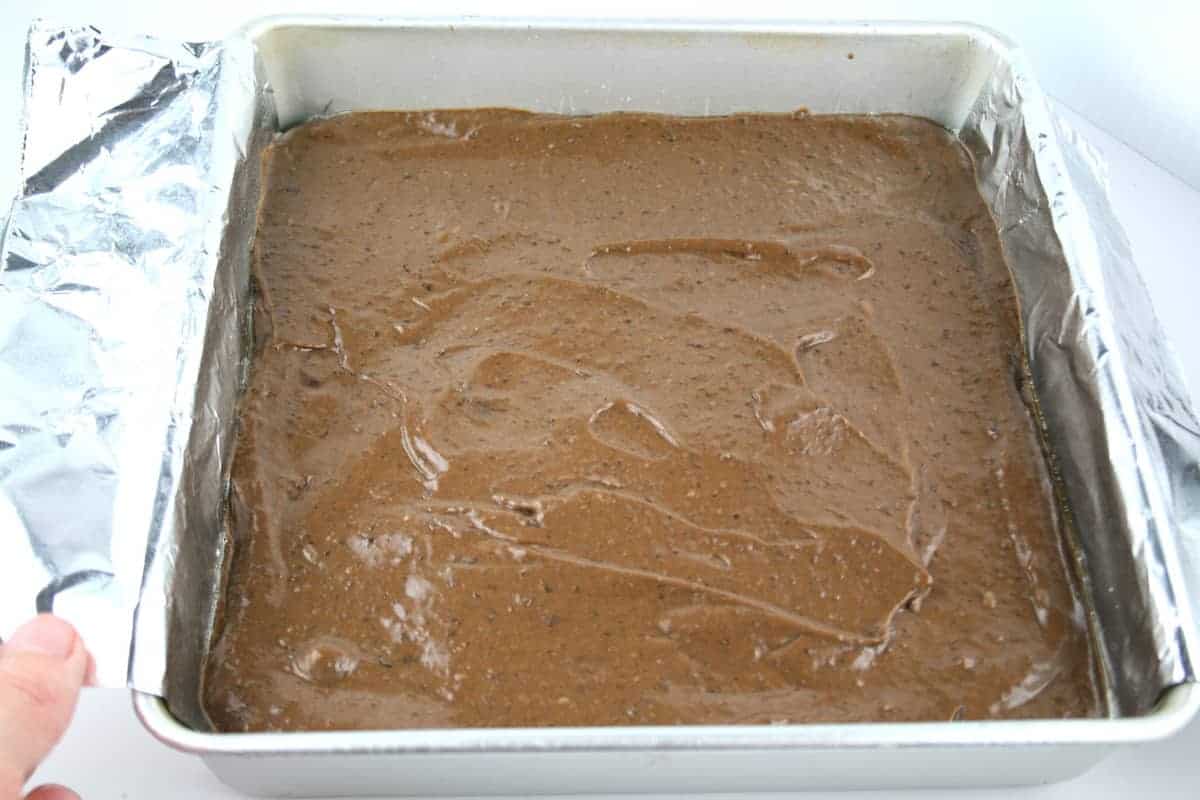 Then pour the batter into your prepared pan. Bake as directed (full recipe at bottom of this post) and let them cool completely.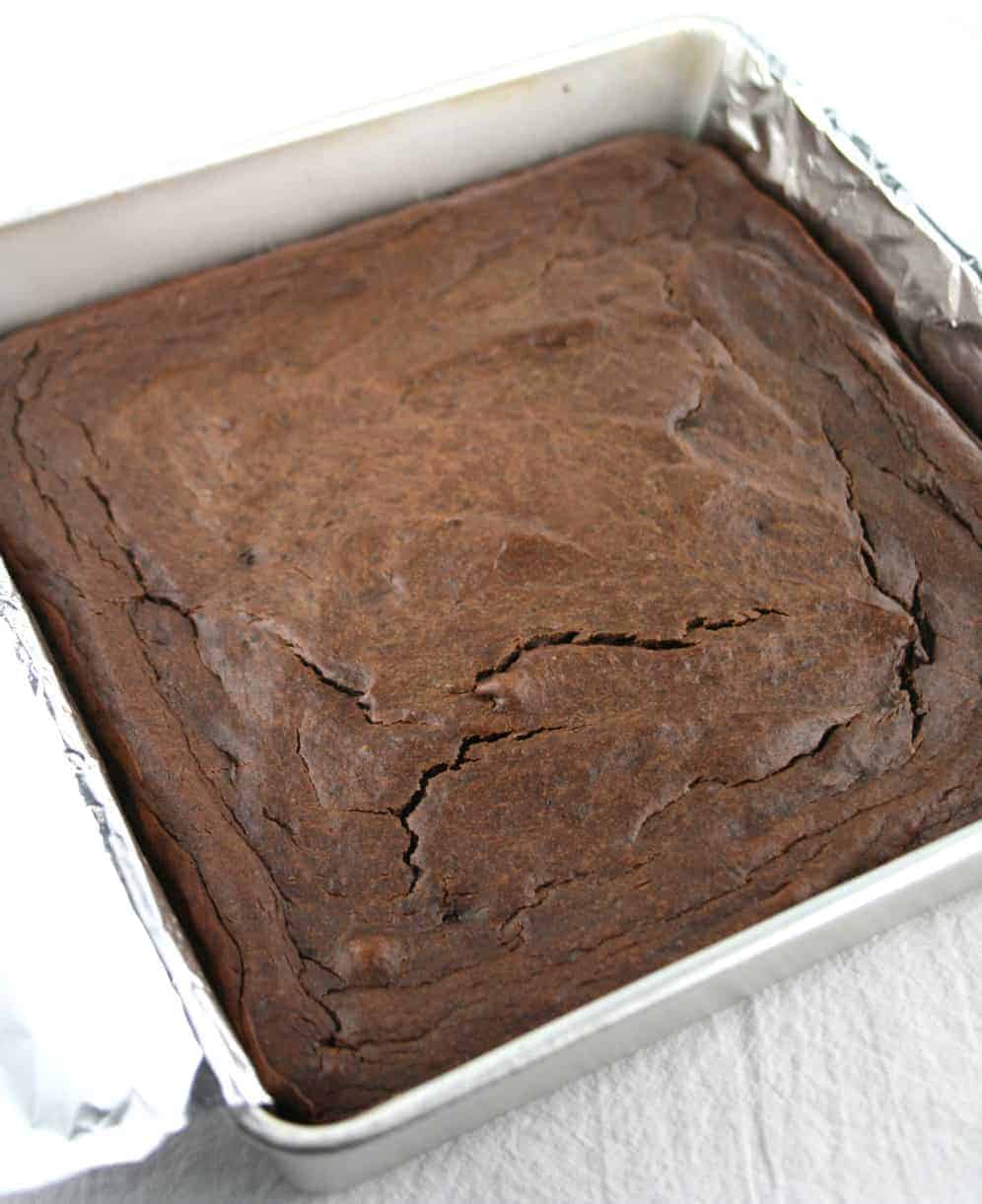 If you wanted to make this recipe on the healthier side and reduce the sugar, then you could serve them without the frosting. They're actually very good alone. And my kids have eaten them plain without a problem.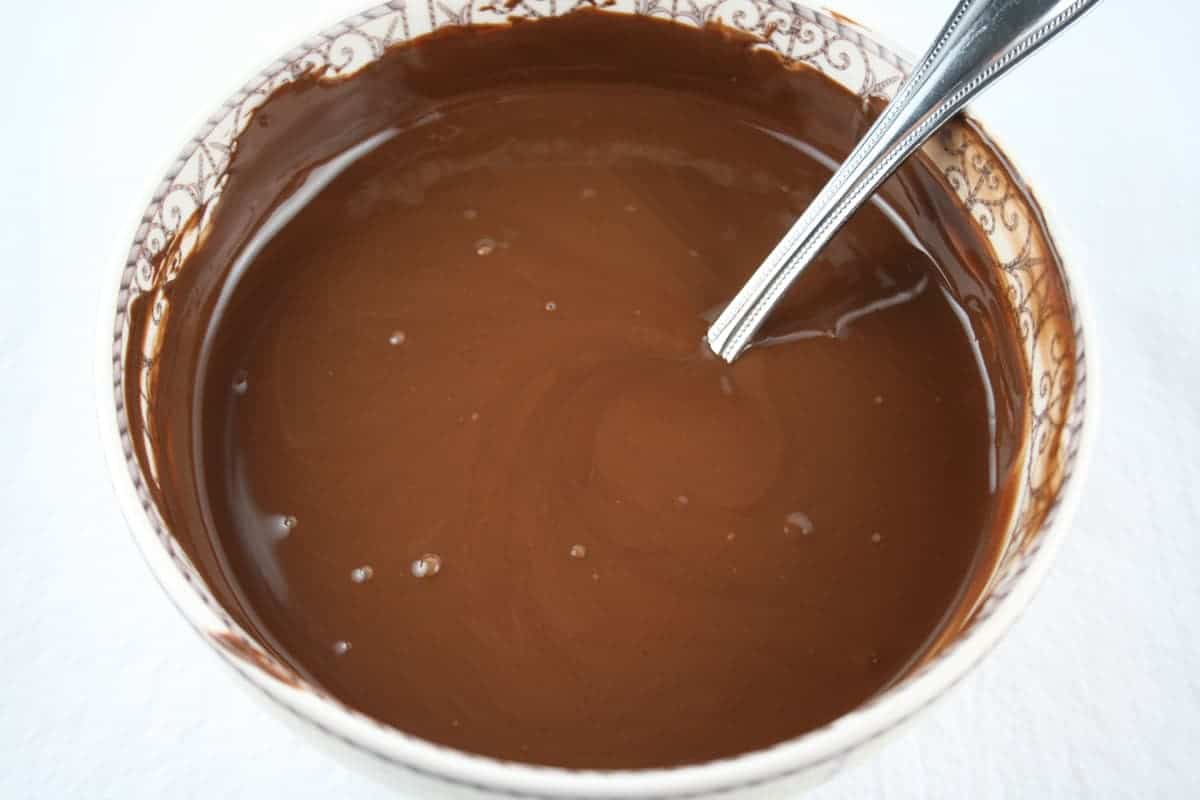 But I just wanted to gild the lily, as they say. I can't resist this creamy frosting made with melted chocolate chips, coconut oil and Nutella®. It's so good.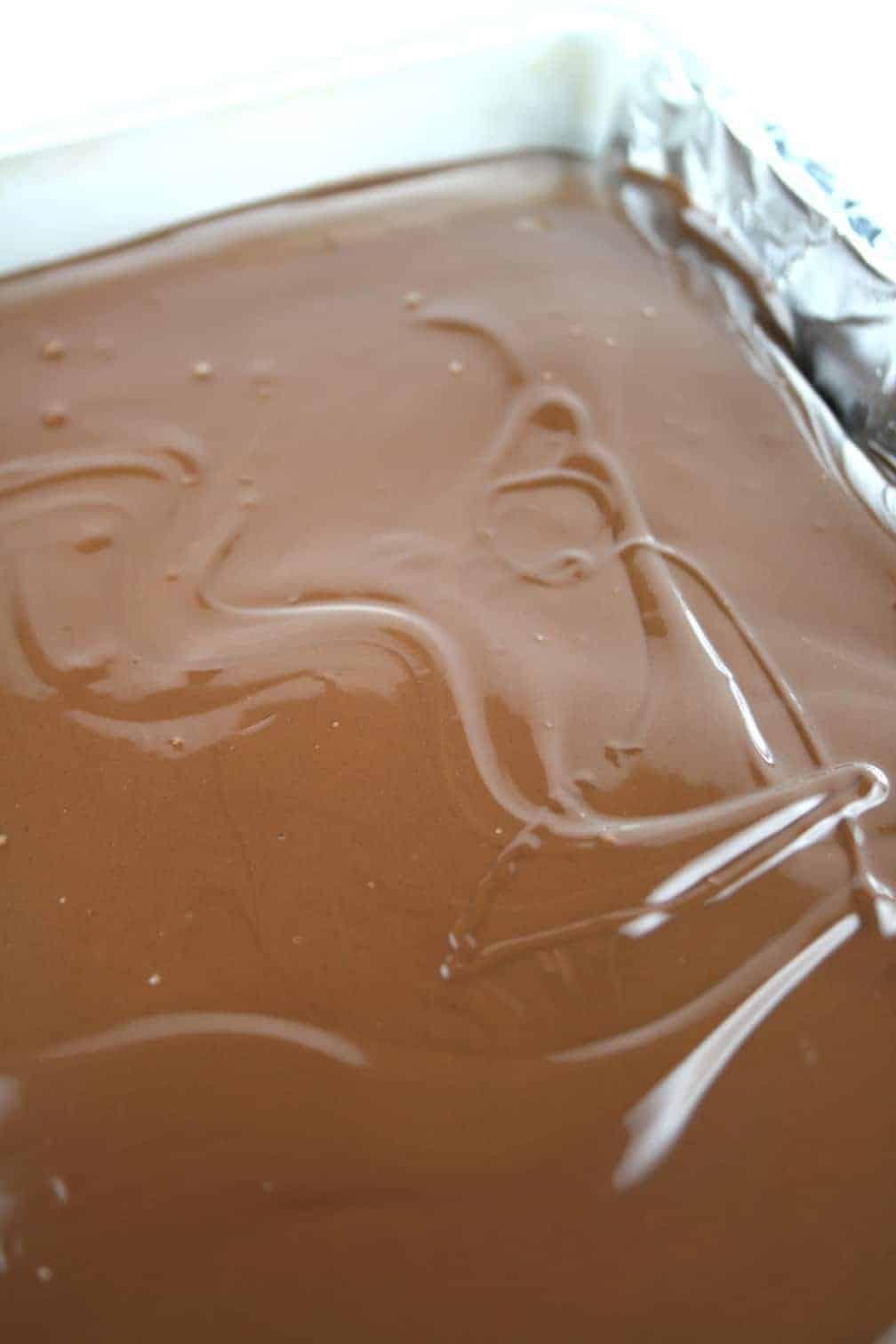 Isn't it pretty!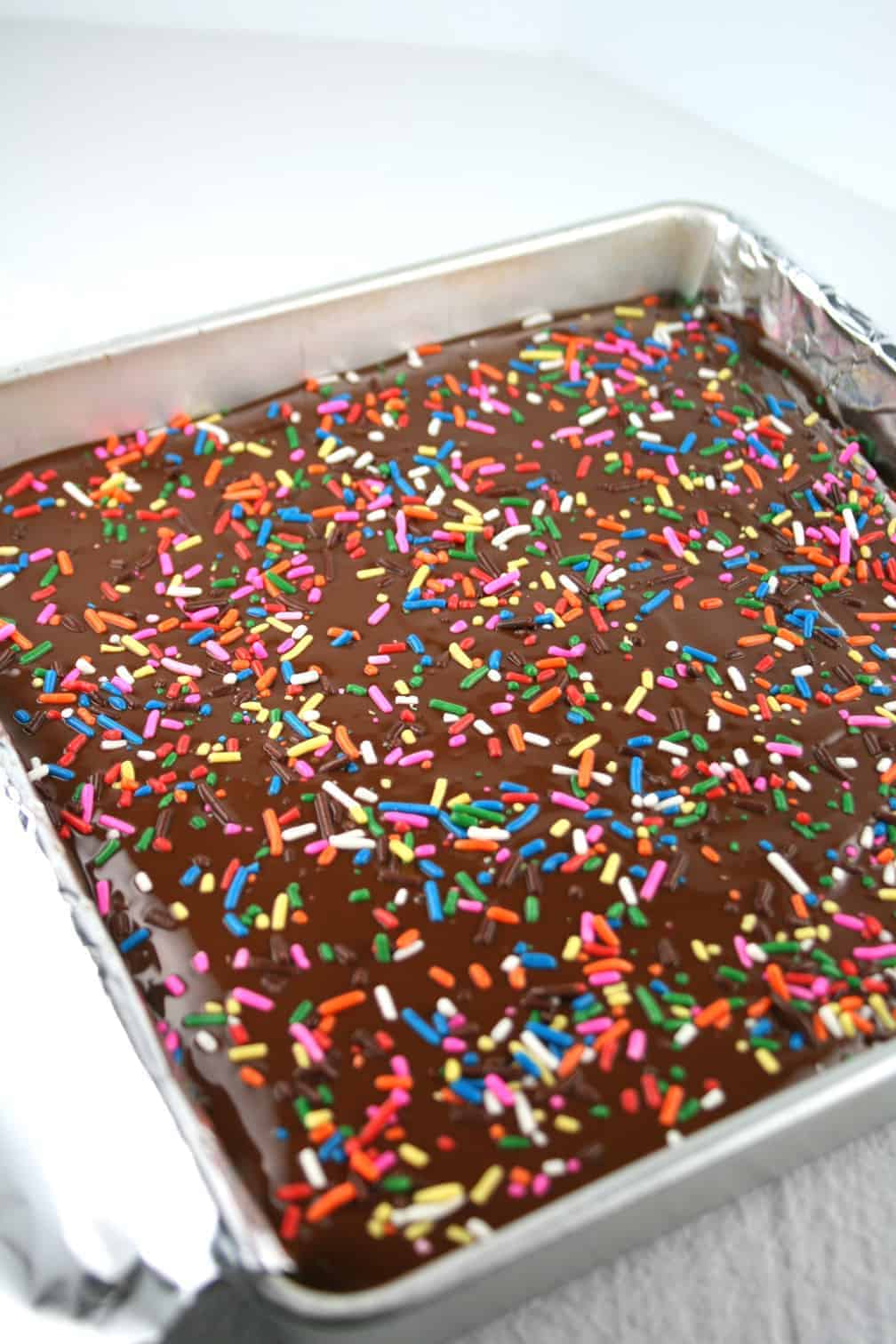 I love to make Fudgy Flourless Nutella® Brownies for my children because they won't eat beans otherwise. And what kid can resist sprinkles. I love the rainbow of colors. Feel free to add more if you like. It's important to refrigerate these beauties for at least 1 hour. 2 hours is even better.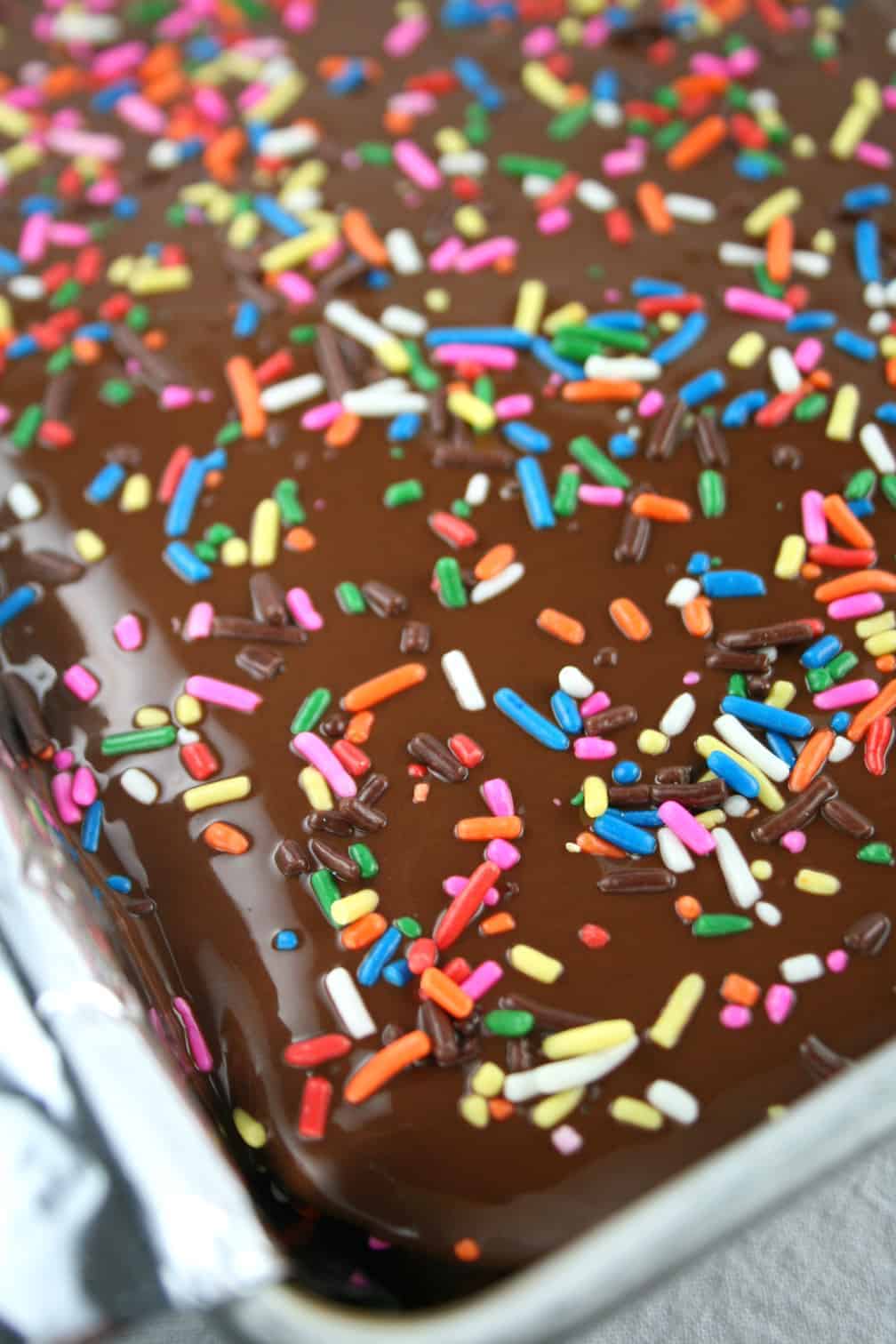 This is what they look like before being refrigerated.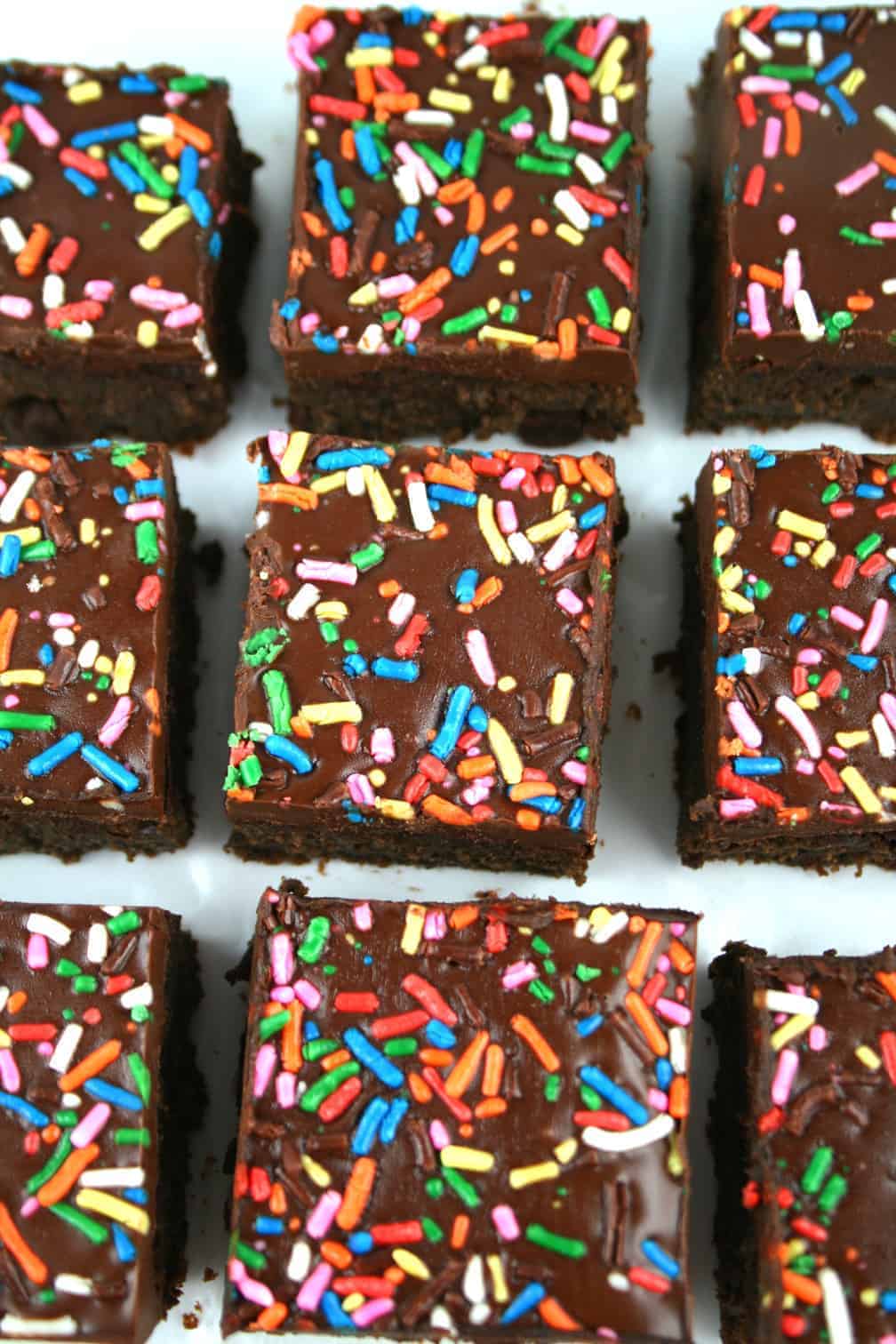 After you take them out of the refrigerator, let them sit on the counter for about 10 minutes. That way they soften up a bit. Run a knife down the sides, then lift them out by pulling the foil up and out. Slice and serve.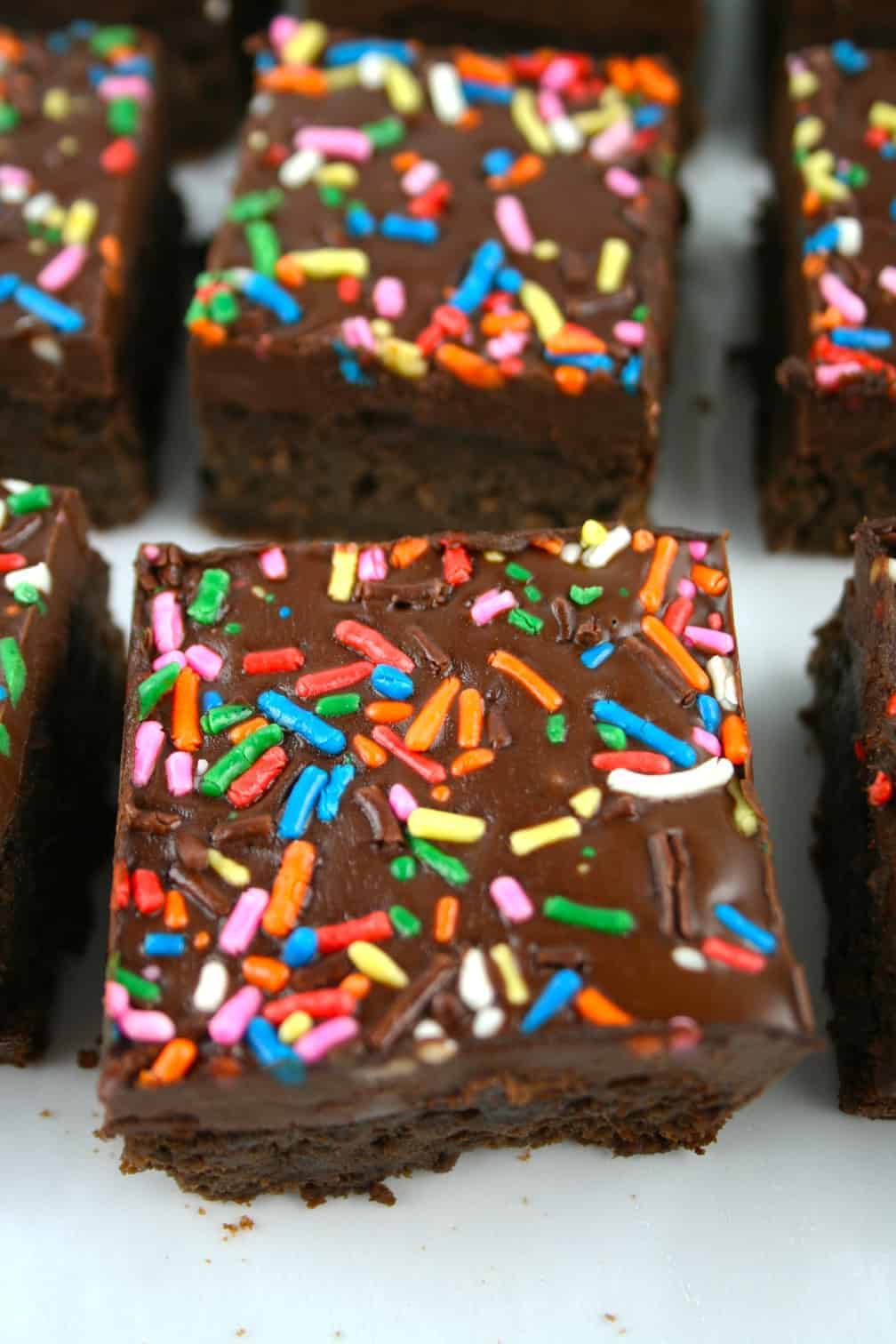 With the extra protein from the black beans, these brownies really satisfy!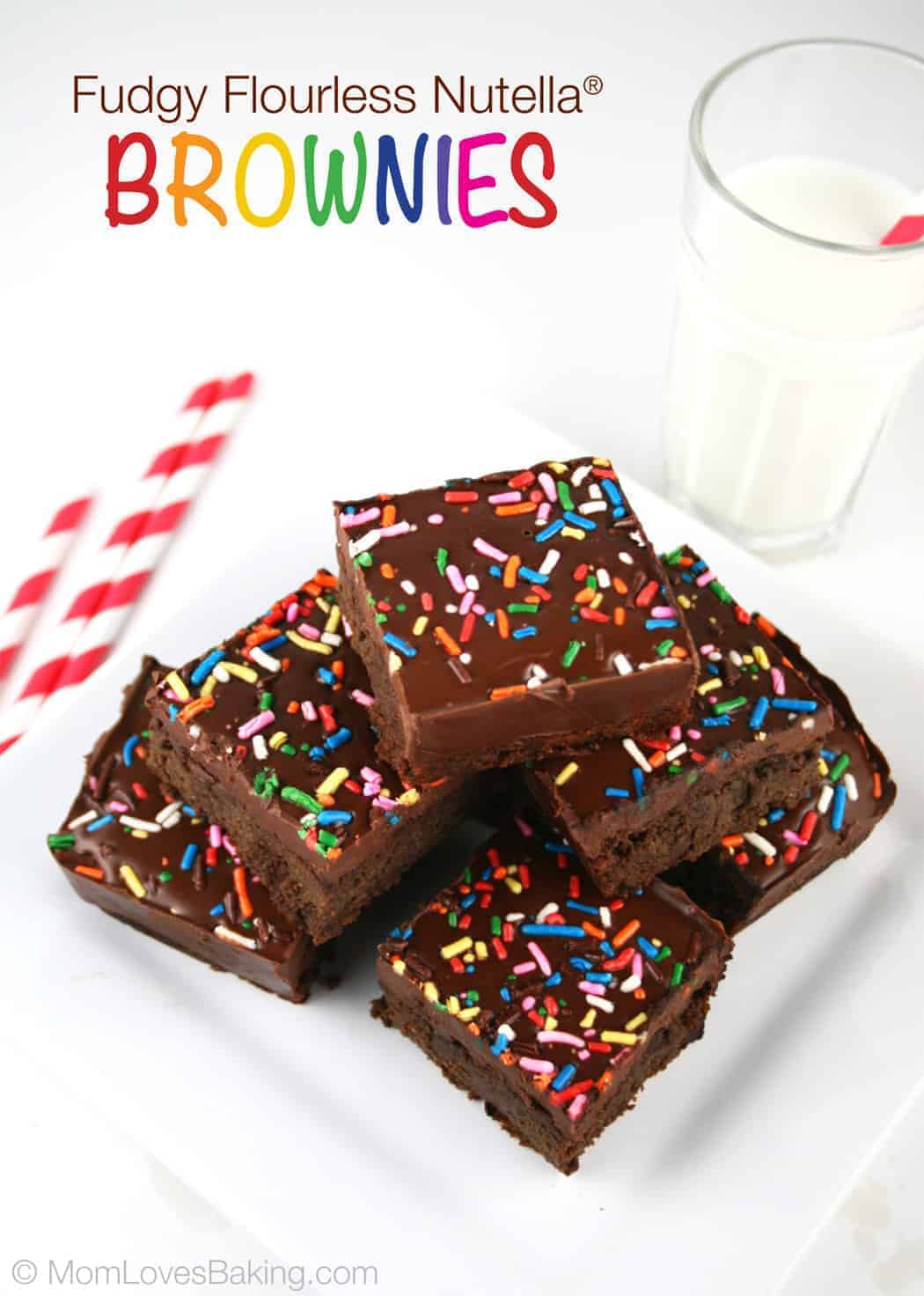 Let me know what you think.
Fudgy Flourless Nutella Brownies
Ingredients
For the Brownies:
1 - 15 oz. (425 g) can black beans, drained & rinsed
3 eggs, room temperature
1/4 cup (20 g) cocoa powder
1/4 cup (75 g) Nutella®
1 cup (200 g) sugar
3 tablespoons coconut oil
1 tablespoon vanilla extract
1/2 teaspoon salt
1 tablespoon baking powder
1/4 cup (45 g) semisweet chocolate chips
For the Frosting:
1 1/4 cups (225 g) semisweet chocolate chips
1/4 cup (50 g) coconut oil
1/2 cup (150 g) Nutella®
1/4 cup (45 g) multi-colored sprinkles
Instructions
Preheat oven to 375°F.
Line an 8"x8" square baking pan with an 8"x16" piece aluminum foil. There will be about 2 extra inches of foil hanging over on either side. Spray the pan with cooking spray before placing the foil on top. Press down, so the foil molds to the inside of the pan. Then spray the foil as well.
Place all of the ingredients except for the chocolate chips in a food processor. Process until smooth, about a minute.
Add the chocolate chips and pulse a few times to distribute them. Pour the batter into the prepared pan. Bake for 25 minutes. Let cool for 30 minutes to an hour.
Meanwhile, make the frosting. Place chocolate chips in a microwave-safe bowl. Microwave on high for 1 minute. Stir until smooth and completely melted. Add coconut oil and Nutella®. Stir to combine. Pour over cooled brownies. Sprinkle the sprinkles on top. Refrigerate for 1-2 hours. This is important for the icing to set. Let it sit on the counter for about 10 minutes before cutting. Run a knife down the sides to loosen the brownies. Cut into squares and serve. Store in refrigerator.
https://www.momlovesbaking.com/fudgy-flourless-nutella-brownies/
You might also like…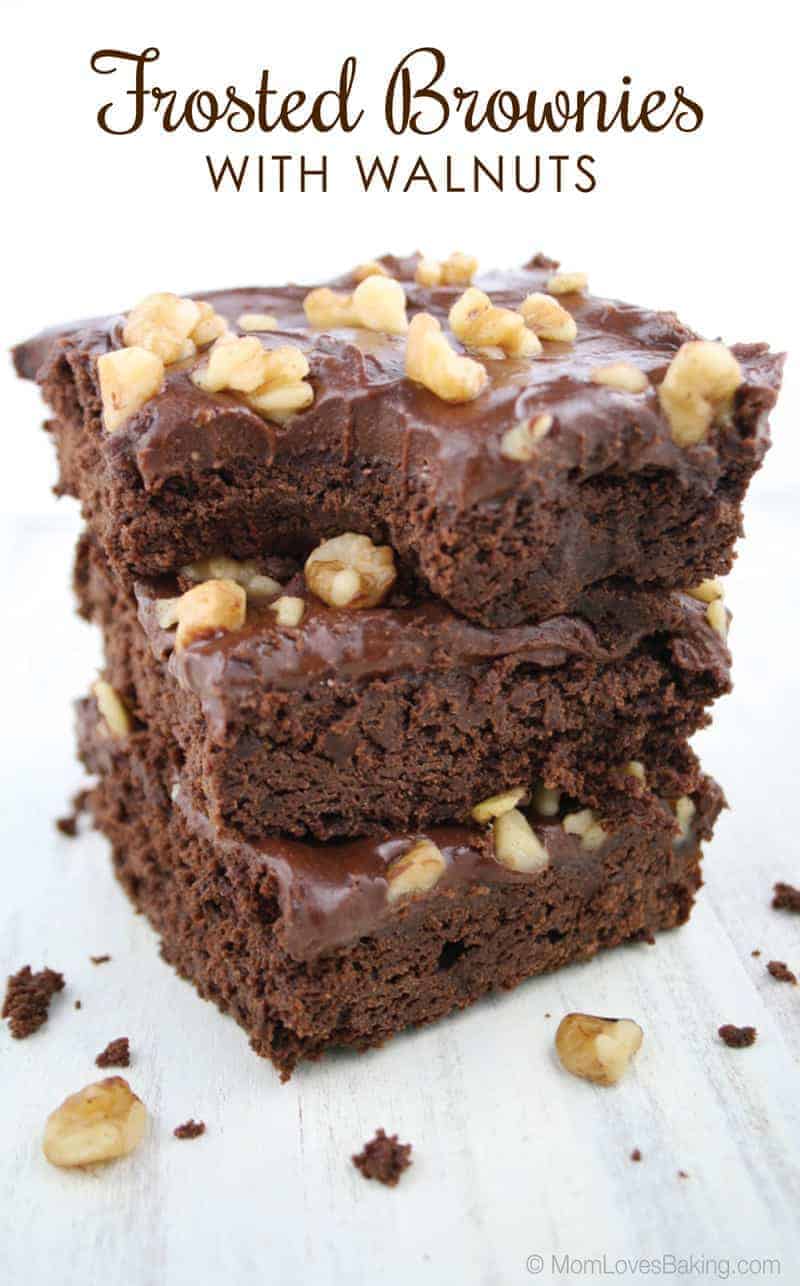 Click here for recipe – Frosted Brownies with Walnuts.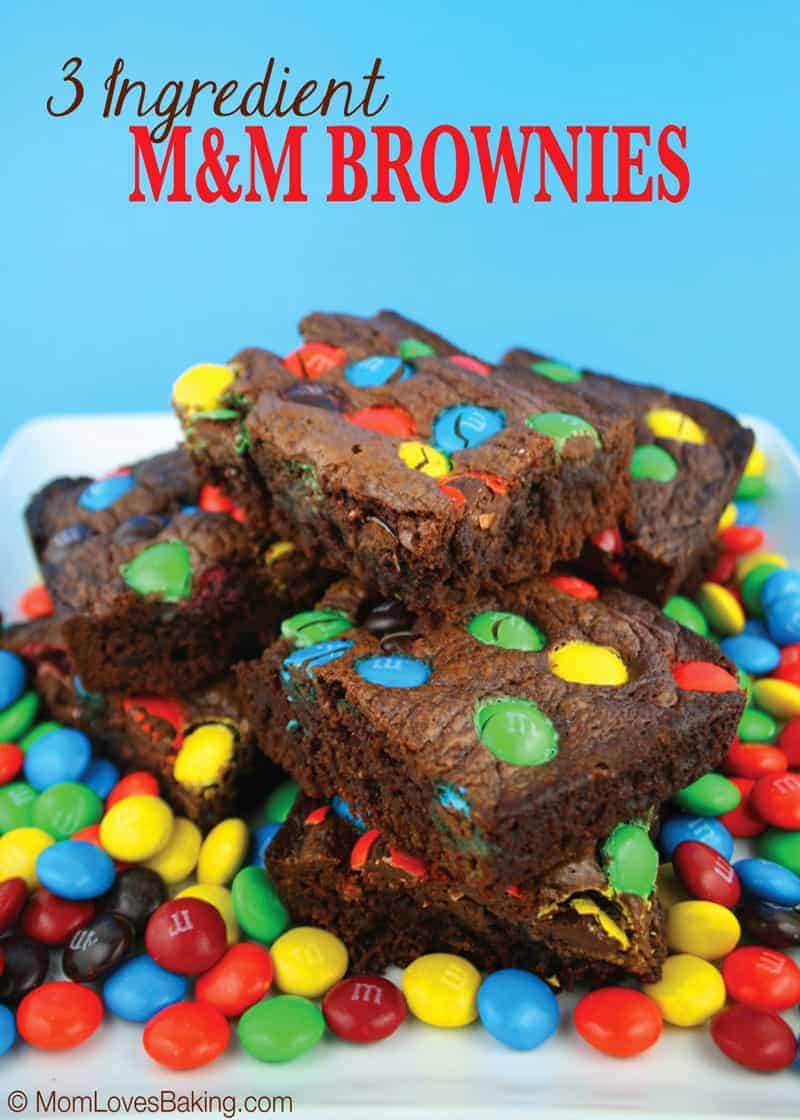 Click here for the recipe – 3-Ingredient M&M Brownies.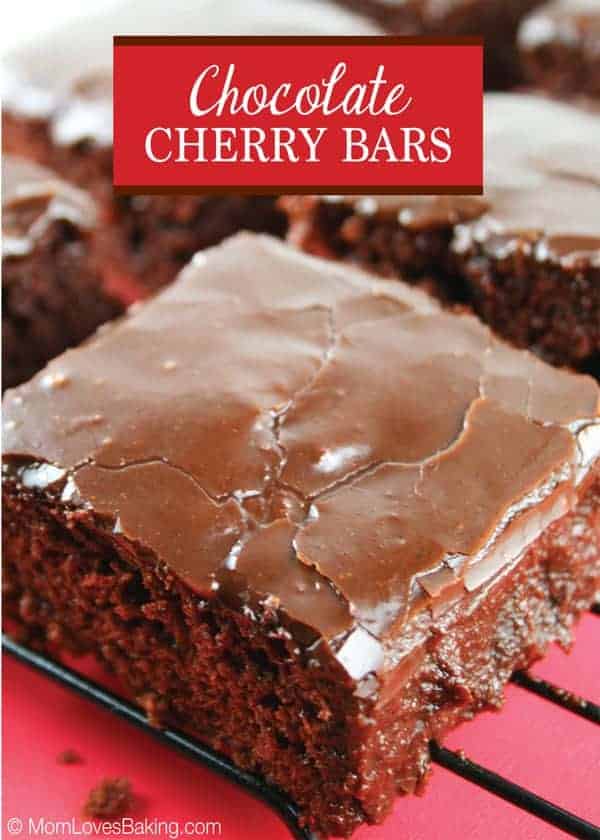 Click here for the recipe – Chocolate Cherry Bars.